Love Strawberries? You're in luck! Get 20 of the BEST easy strawberry recipes for all the flavor you crave! From salads to bakery-inspired favorites, it's a strawberry summer!
Today I'm sharing 20 strawberry recipes that should all be on your must-try list for this summer!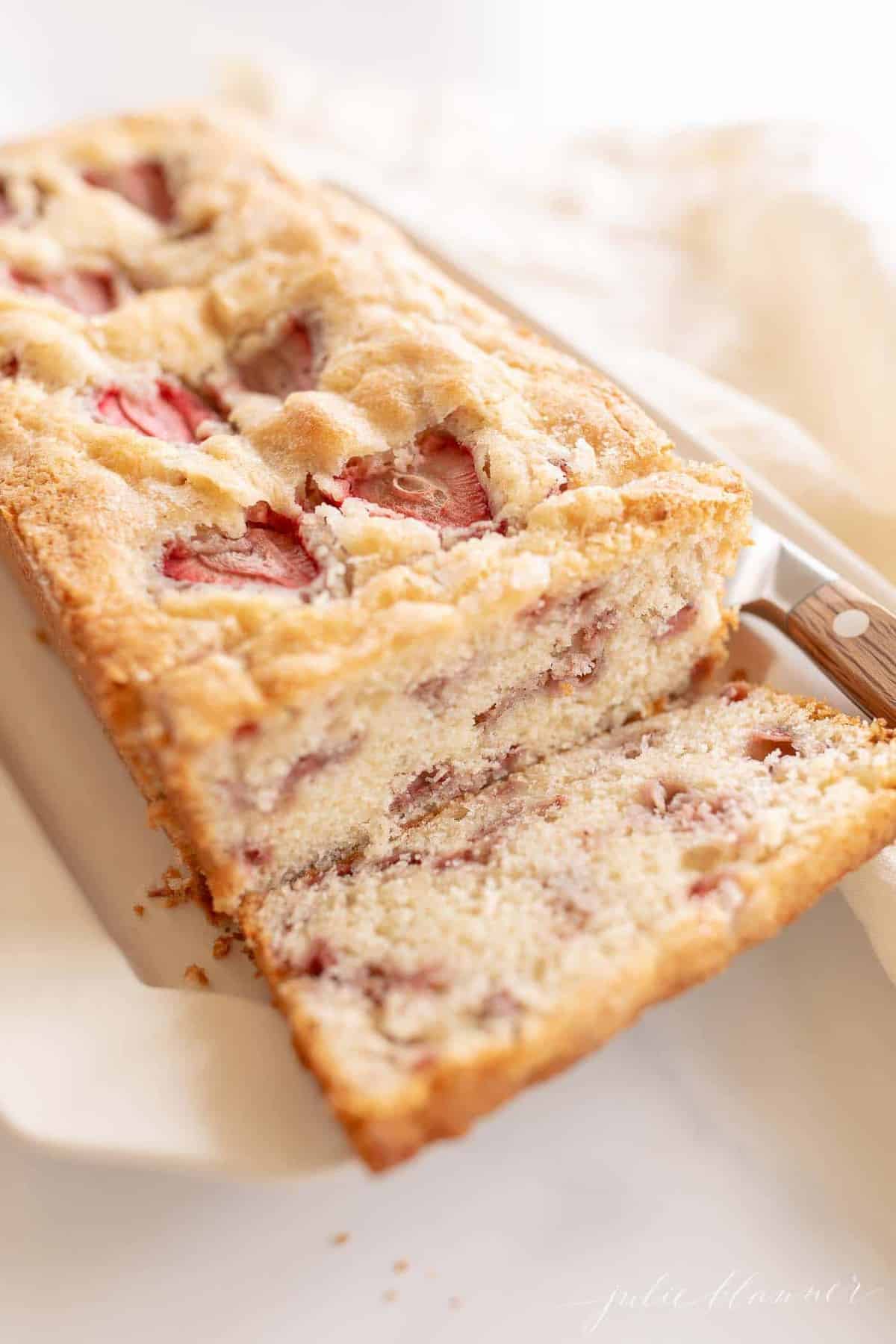 There is no doubt that strawberries are one of the most classic, refreshing and delicious treats of the summer. These sweet berries remind me of the days I spent sitting on the front porch as a little girl eating bowls full of strawberries dipped in sugar.
Years later, sugar coated strawberries continue to be one of my favorite snacks. In fact, as you'll see below, sometimes I even soak them in wine for an extra special adult treat.
I love incorporating strawberries into everything for breakfast, lunch, dinner and dessert. Even my summertime cocktails are not immune from the strawberry love!
What to do with lots of strawberries? Let me count the ways! This post is going to cover so many delicious ways to use your fresh berries.
Use the drop down Table of Contents menu to navigate this post with ease. Each recipe link features a free printable recipe card at the bottom of the individual post! Don't forget to Pin, and save for later!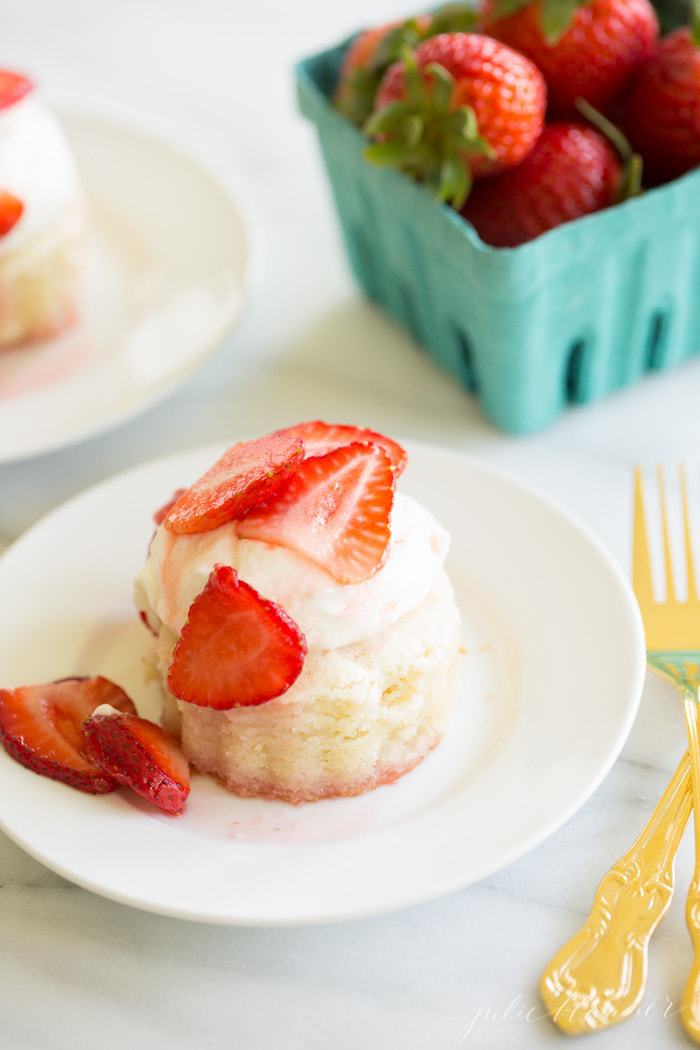 Strawberry Recipes
In our home, we eat strawberries all year long. However, they are never fresher here in the Midwest than they are right now, around Memorial Day weekend! The local strawberry fields are ripe for picking and we love to get out and grab them right off the plant.
When strawberries are at their freshest, they are delicious in strawberry shortcake recipes and a variety of breads, cakes and strawberry desserts. They are bright red and bursting with juicy flavor!
Served warm with fresh whipped cream or vanilla ice cream, there is simply nothing better than ripe fresh strawberries for a summer dessert.
Before we get to all the recipes, here are a few tips, tricks and frequently asked questions that might help you get started!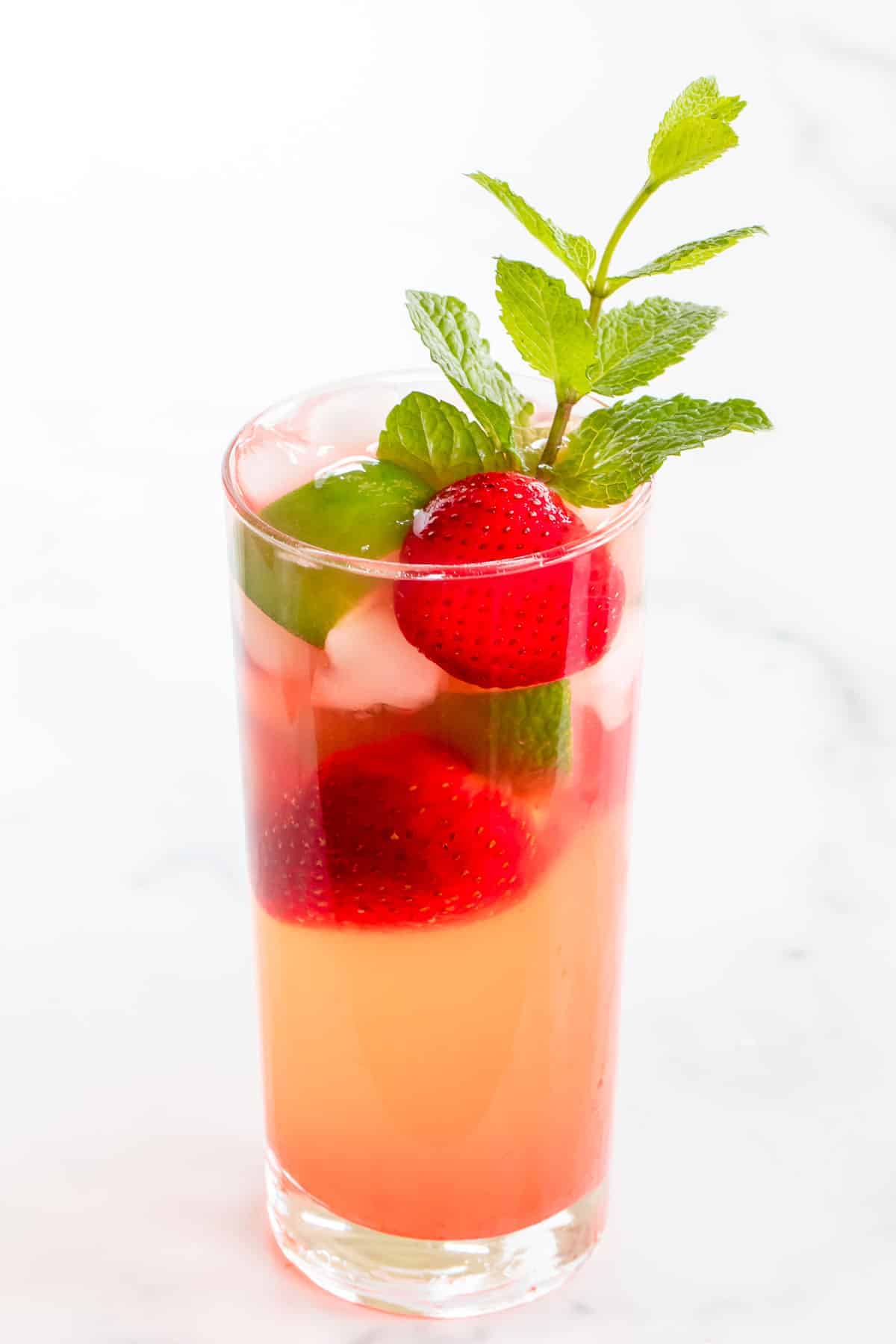 Frequently Asked Questions
How many calories are in a serving of strawberries?
One serving of strawberries has less than 50 calories, which fits in beautifully with a variety of healthy lifestyles and diet plans.
What's a serving of strawberries, you ask? One cup of strawberries is a full serving, which is equal to around eight large berries.
Are strawberries good for you?
Strawberries are a great source of vitamin C and they are very low in calories. They are also a source of potassium, which is always a great addition to your diet.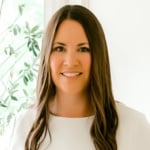 Tips
Strawberries are so good for you! They have zero sodium, and they are also a fat-free, cholesterol-free, and low-calorie food.
If baking with frozen strawberries, choose a bag with no added sugar.
To make strawberries last longer, don't remove the stem, and don't wash them before storing in the refrigerator.
Line your strawberry container with a dry paper towel.
They store best in a single layer.
Store in the coldest part of your fridge.
Scaling up, down or substituting? You'll love this printable Measurement Conversion Chart!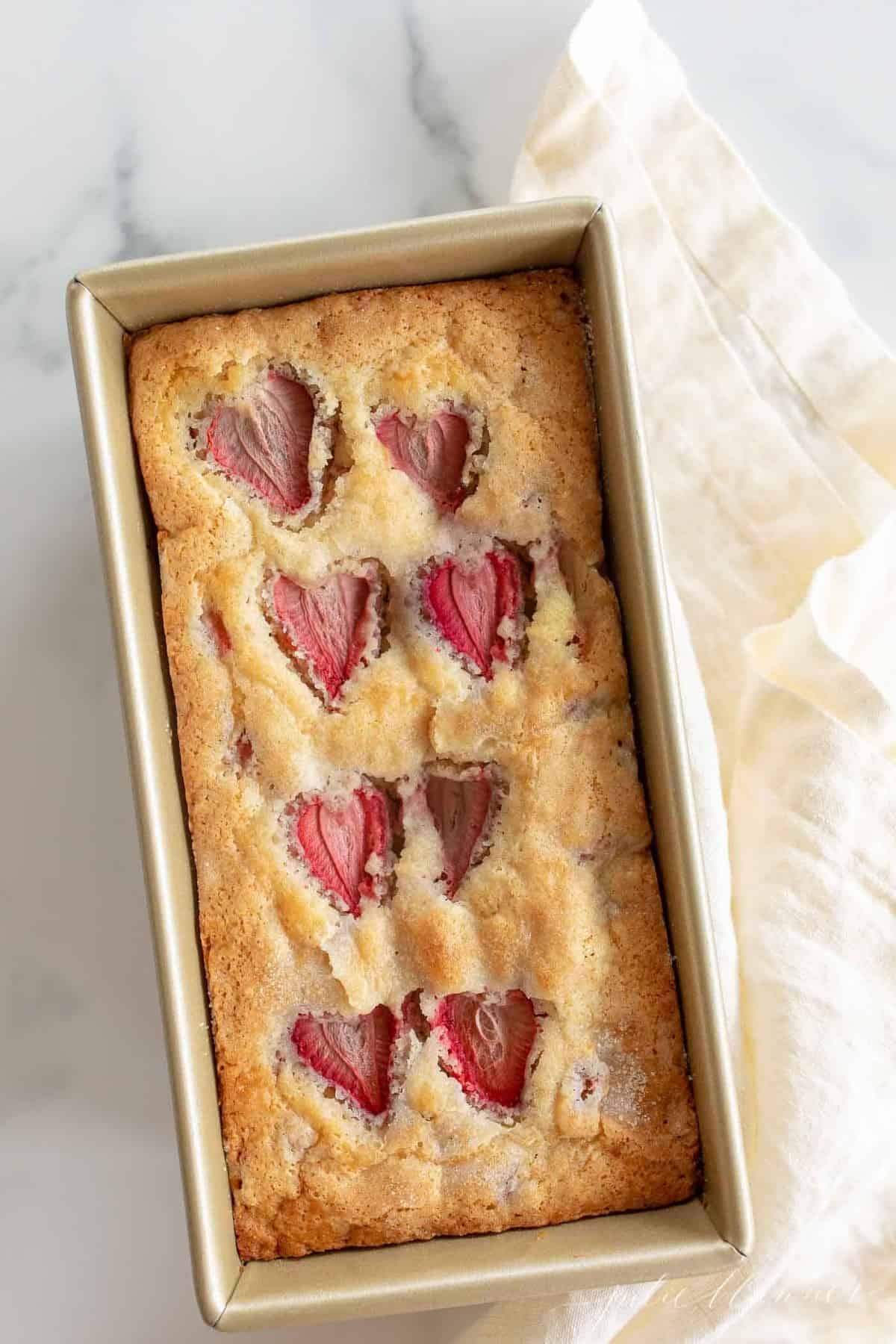 Strawberry Conversion Techniques
It can be confusing to understand the weights, measurements and conversions for strawberries depending on how they are sold, so I am going to show you how to make them work in any recipe you have!
Need more baking tips? Check out my free printable measurement conversion chart, or this list of baking substitutions!
What's the Equivalent to One Cup of Strawberries?
One cup of whole strawberries equals:
8 large strawberries
5 ounces fresh strawberries
1/2 cup strawberry purée
How to Convert Strawberries from Pounds to Cups
Most strawberry recipes will call for fresh strawberries in a cup measurement. However, at most grocery stores they are sold in one-pound containers of whole strawberries.
With that in mind, you'll need to understand some simple conversions for your fresh berries in recipes!
One pound of whole strawberries equals
2 3/4 cups sliced strawberries
3 3/4 cups whole strawberries
How to Convert Frozen Strawberries to Cup Measurements
There are times when you'll need to buy frozen strawberries – perhaps fresh strawberries are out of season, the stock looks a little sad, or just far too expensive for your budget.
Fresh and frozen strawberries can be switched in recipes, often with good results. However, be aware that you can experience more "bleed" from frozen strawberries (the strawberries will bleed their bright red color as they soften or bake) and the texture will not be quite so firm.
QUICK TIP: Buy your frozen strawberries without added sweetener if you're planning to use for baking. Added sugars will change your sugar requirements in recipes, so it's easier to use unsweetened frozen strawberries.
*If a sugar syrup has been used to sweeten the frozen strawberries, reduce the amount of liquid used in the recipe.
20-ounce package frozen whole strawberries= 4 cups whole berries
20-ounce package frozen whole strawberries= 2 1/2 cups sliced
20-ounce package frozen whole strawberries= 2 1/4 cups puréed
The Best Strawberry Recipes
An Easy Strawberry Shortcake Recipe – the quintessential summer dessert! This light and refreshing shortcake recipe is always a crowd pleaser and beautiful, too!
Skip the mix and learn how to make Strawberry Shortcake from scratch topped with whipped cream. One decadent secret takes this recipe over the top!
A beautiful quick strawberry tart recipe that takes just five minutes hands-on-time to make! It's the perfect berry tart for brunches, birthdays and showers!
This lower calorie fruit tart comes together with just four ingredients and it's great for a last minute dessert. Packed full of fresh strawberries, it's so perfect for the summer months!
Sweet Strawberry Muffins with a tender crumb and crunchy sugar muffin top. This Strawberry Muffin Recipe is made from scratch in minutes!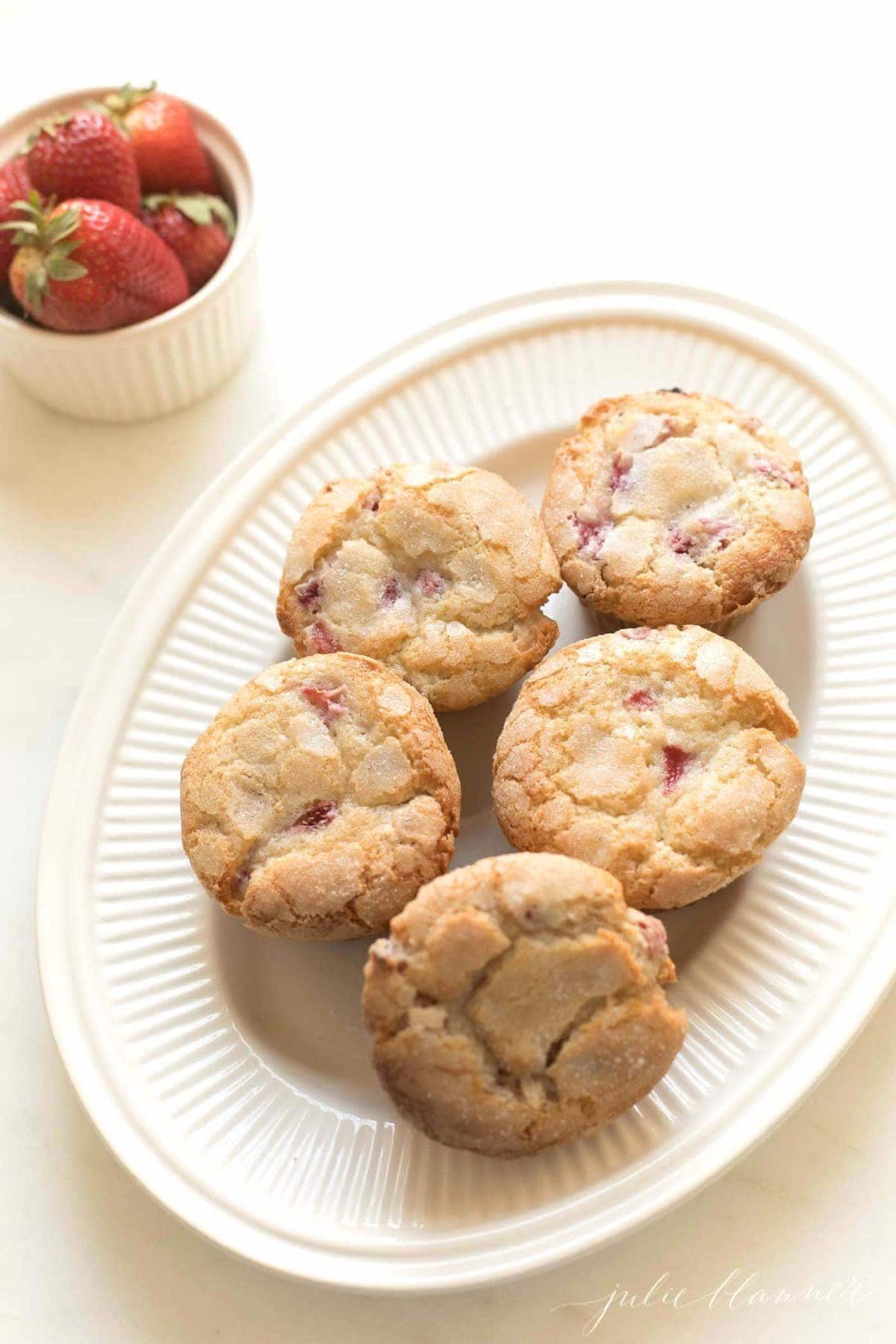 Fresh Strawberry Pie Recipe – a sweet treat perfect for the Fourth of July! Make as whole strawberry pie or mini pies that are great for picnics.
This light and beautiful Heart Shaped Strawberries and Meringue recipe makes a delicious Valentine's Day dessert.
This fabulous strawberry crumble dessert is everything you want it to be! Filled with ripe, juicy berries, it's topped with a crumble topping with oats that is perfectly moist, soft and yet crunchy.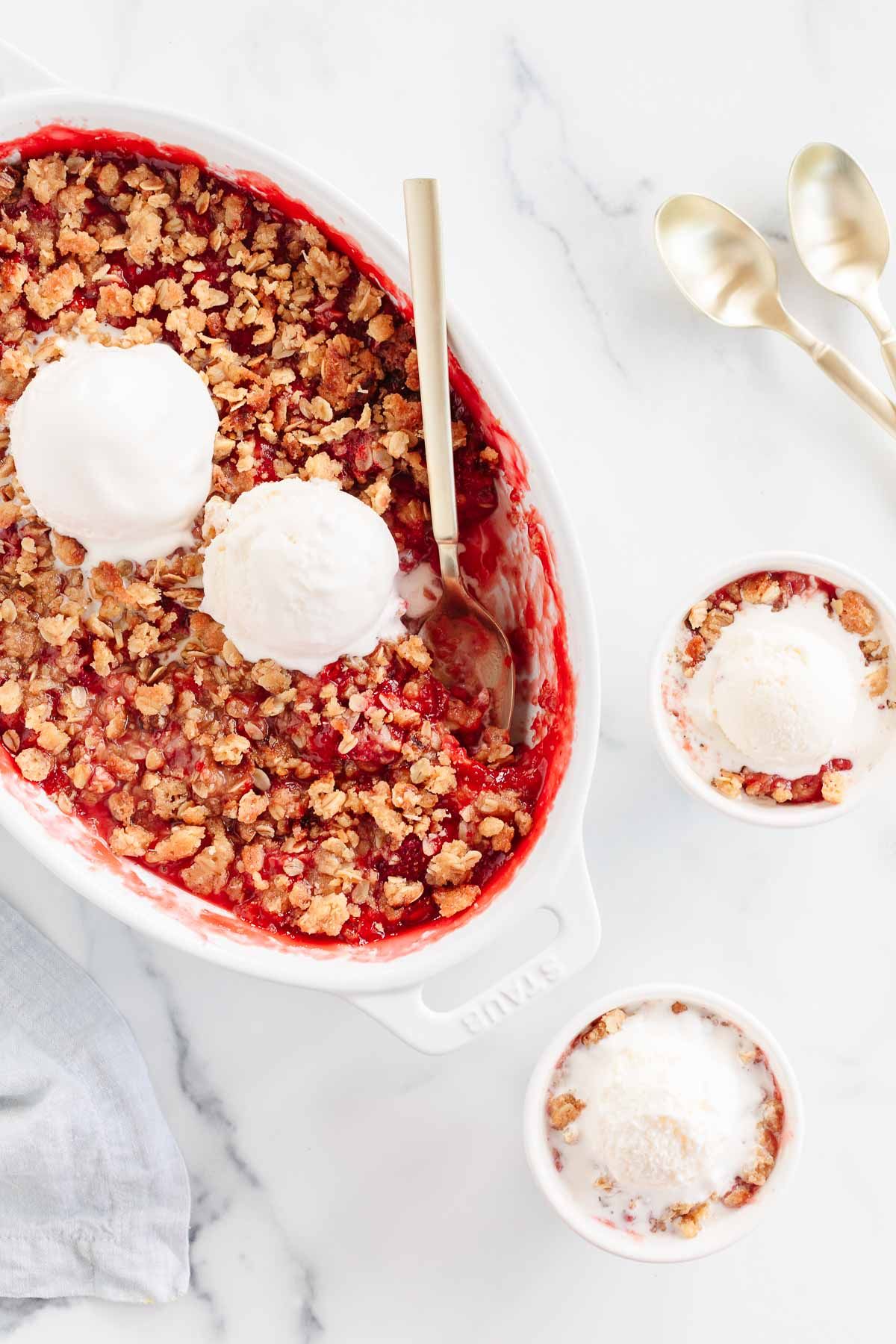 This fresh, moist strawberry bread is so amazing on it's own or drizzled with a little glaze. It requires just a few staple ingredients, fresh strawberries and about 5 minutes hands on time.
This easy Fruit Pizza recipe is made with a better than the bakery sugar cookie crust, covered in a delightfully sweet cream cheese frosting, and decorated with your favorite fruit – in just 10 minutes hands on time! It's always a crowd pleaser.
Recipe for Drunken Strawberries, Rosé Strawberries or Wine Marinated Strawberries – whatever you want to call them, you'll be calling them the perfect summer treat!
Perfect to eat by themselves or topping a dessert. Easy to make with just 3 ingredients, you are going to love these boozy frozen strawberries!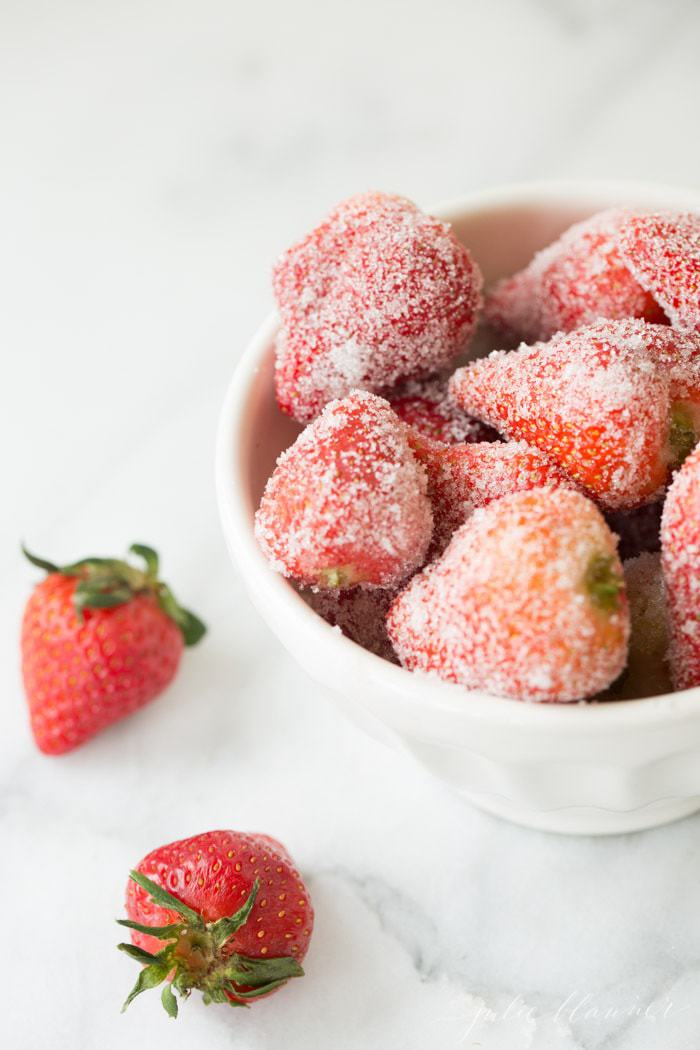 Creamy, smooth, delicious no-churn strawberry cheesecake ice cream made in minutes! You'll never need an ice cream maker again with this no-churn ice cream.
Strawberry Butter is a simple and delicious way to add elegance and fruity freshness to a meal. Spread it generously on anything that tastes good with plain butter – bread, bagels, biscuits, pancakes.
Light and flavorful easy Lemon Pie, that's no fuss, no bake and loaded with beautiful berries. It's the best way to add a touch of sweetness to any of life's summertime celebrations.
Make Strawberry Snow Ice Cream with just four ingredients for a sweet treat and a memorable snow day tradition!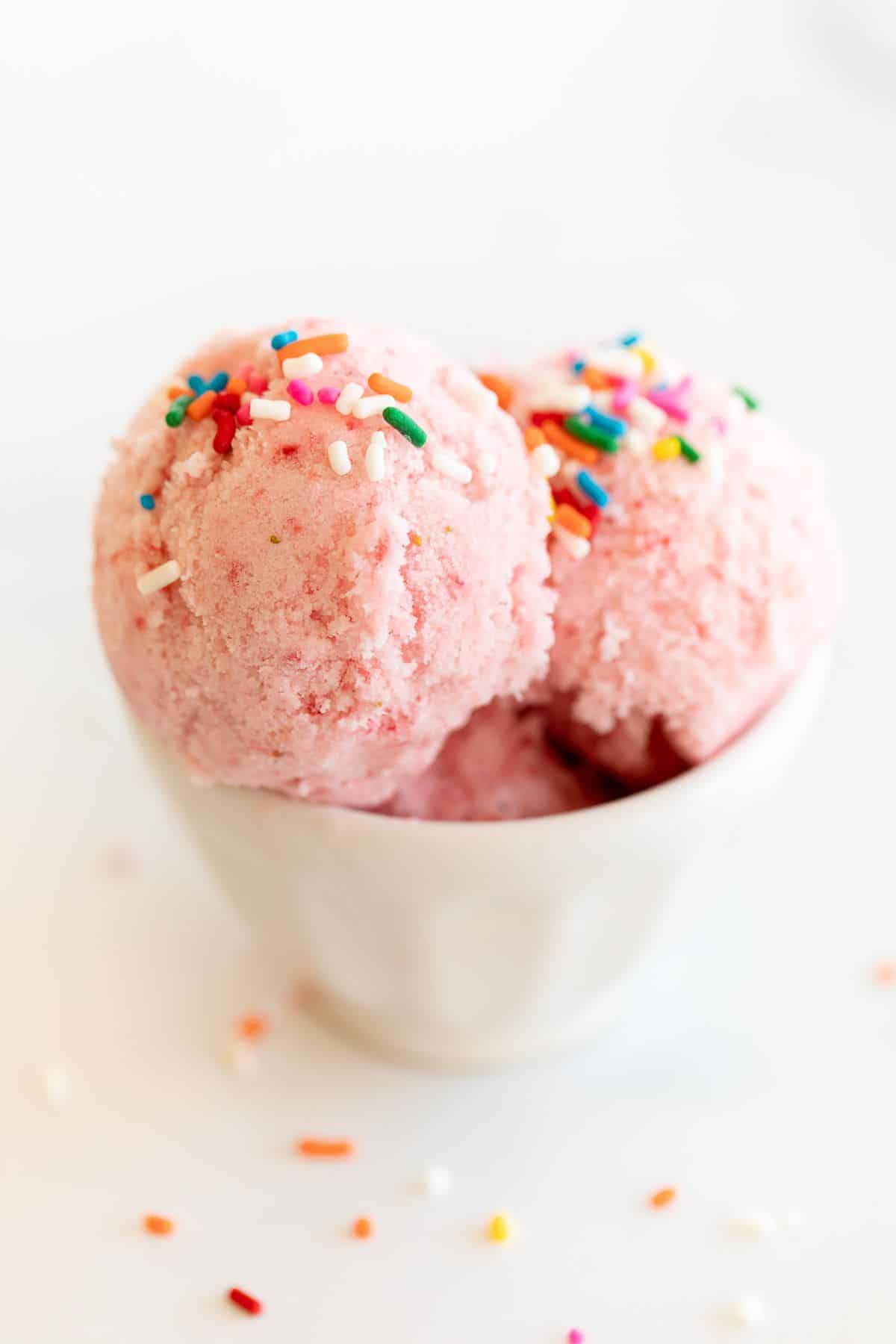 These Baked Brie Bites are a super simple appetizer that's made with just 4 ingredients and they are ready to serve in less than 20 minutes.
Brie is baked in phyllo shells and topped with sugary strawberries for an easy but crowd pleasing appetizer.
Easy and refreshing strawberry salad with a vinaigrette poppy seed dressing. It's a classic go-to summer salad perfect for any occasion!
Quick and easy to make with no cooking required, this is perfect to serve as an appetizer or side salad, or easy to customize with protein for a light lunch.
Strawberry Pinot Reduction is not only one of the best cheesecake toppings, but it transforms even the most basic of desserts; brownies, waffles, ice cream – whatever you fancy!
Easy and simple to make, elevate your homemade or store bought dessert in 10 minutes!
This spring salad mix is the perfect summer salad to take with you to picnics and pot lucks. Full of vibrant fruits like fresh strawberries, pecans and cheese, you can prep the salad at home and whip up some vinaigrette and have a fresh, easy-to-transport salad.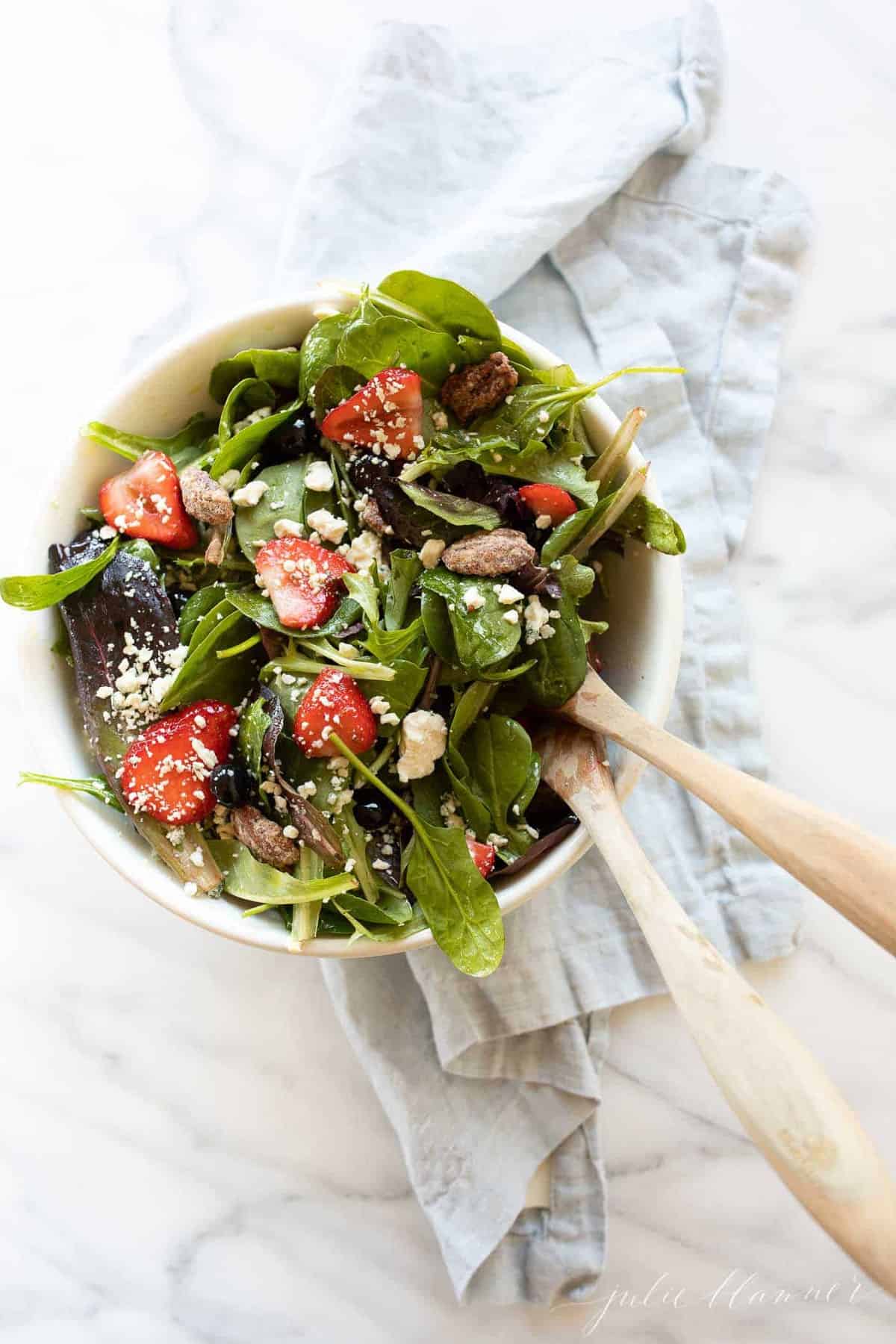 A Fresh and flavorful red, white and blue salad recipe. One of the best 4th of July salads that's ready in minutes and perfect for picnics.
These darling fruit skewers are the ultimate EASY way to serve festive fruit for every occasion! Perfectly bite-sized and oh-so-charming, you'll have guests oohing and aahing over your clever display of fruit kabobs.
This strawberry and lemon mimosa is a wonderfully light and refreshing champagne cocktail that you can make in a matter of minutes.
Made with fresh strawberries, this wonderful spring cocktail is perfect for a Mother's Day and Easter brunch.
This is the ultimate summer sangria – it's a fruity sangria recipe you'll return to time and again. Make ahead and serve a large number of guests with this classic peach sangria cocktail filled with fresh berries.
This easy Strawberry Mojito is bursting with summertime vibrancy and the yummiest sweet juicy berries. It is made with fresh strawberries, limes, mint, rum, sugar, and club soda – always a favorite combination!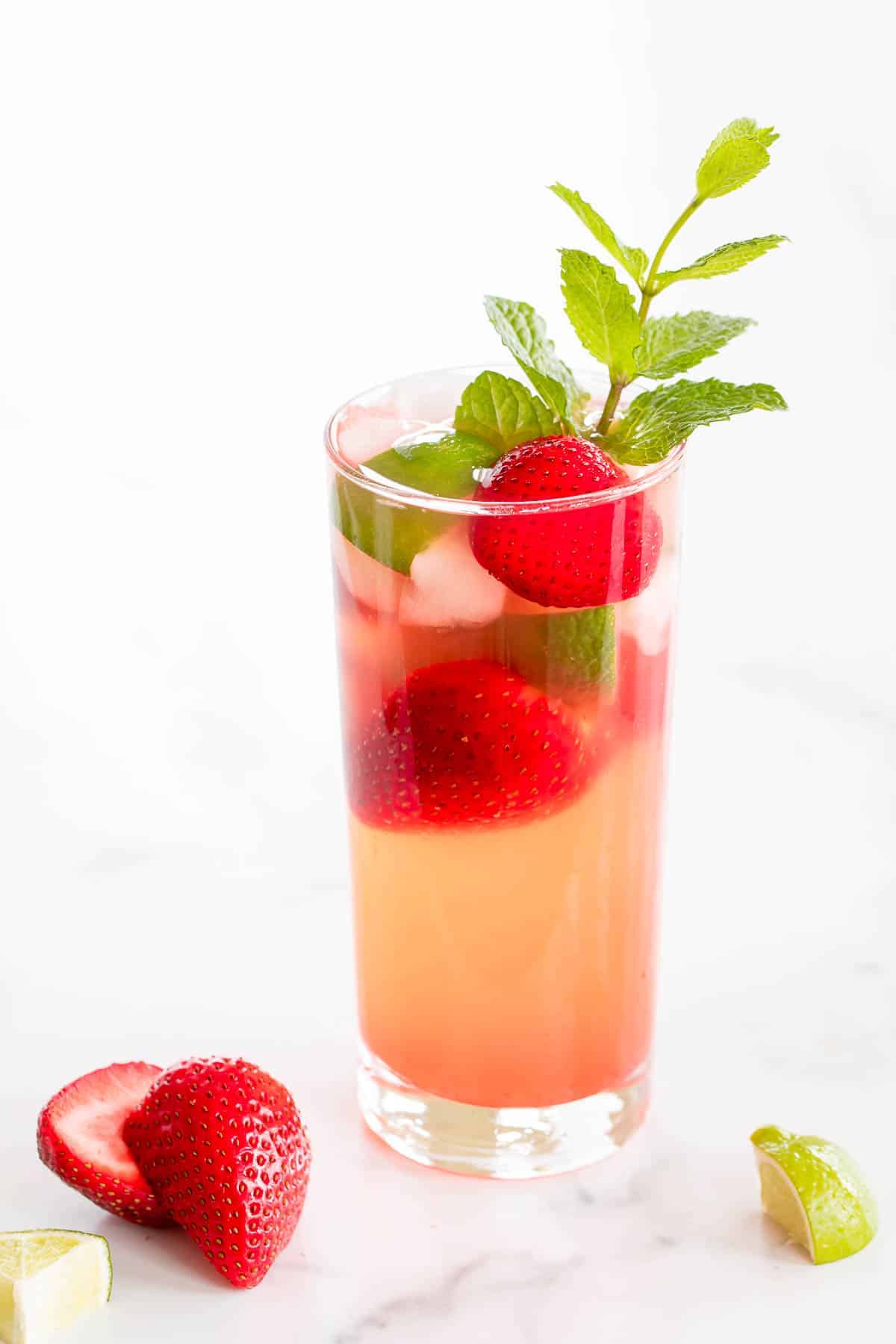 Easy champagne slushies are a quick and easy to sip summer strawberry cocktail recipe.
Made with just two ingredients and ready in a matter of minutes, these refreshing frozen champagne cocktails are perfect for summer entertaining, Mother's Day and 4th of July celebrations.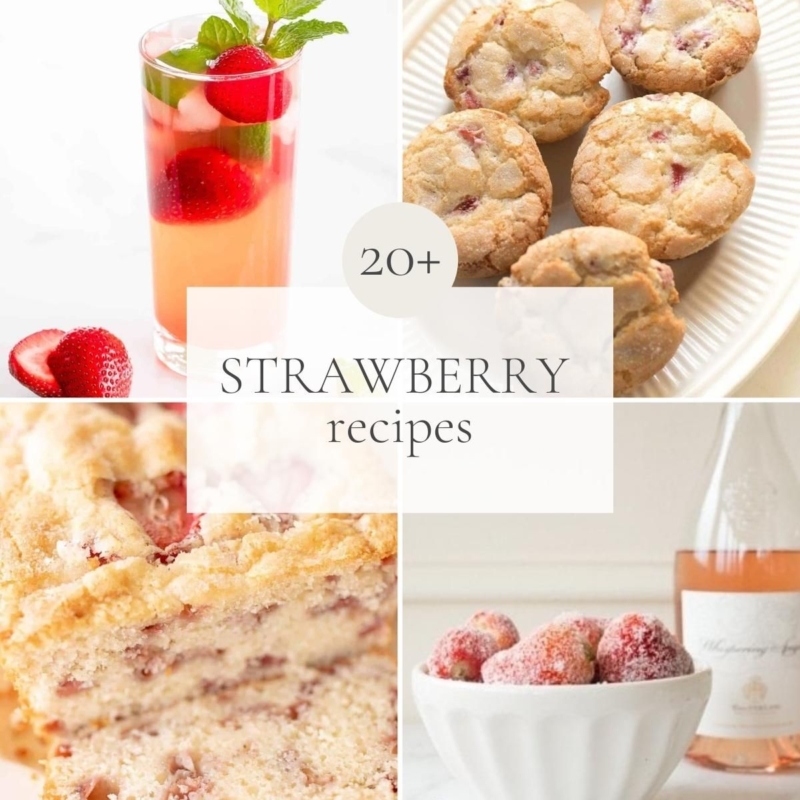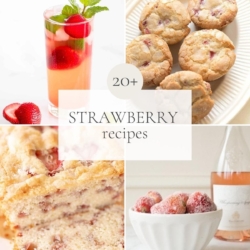 20 Easy Strawberry Recipes
Love Strawberries? You're in luck! Get 20 of the BEST easy strawberry recipes for all the flavor you crave! From salads to bakery-inspired favorites, it's a strawberry summer!
Ingredients
2

cups

strawberries

fresh

1

Refer to each individual recipe for a full printable list of ingredients.
Instructions
If baking with frozen strawberries, choose a bag with no added sugar.
Tips
To make strawberries last longer, don't remove the stem, and don't wash them before storing in the refrigerator.
Line your strawberry container with a dry paper towel.
They store best in a single layer.
Store in the coldest part of your fridge.
Calories:
23
kcal
|
Carbohydrates:
6
g
|
Protein:
1
g
|
Fat:
1
g
|
Saturated Fat:
1
g
|
Polyunsaturated Fat:
1
g
|
Monounsaturated Fat:
1
g
|
Sodium:
1
mg
|
Potassium:
110
mg
|
Fiber:
1
g
|
Sugar:
4
g
|
Vitamin A:
9
IU
|
Vitamin C:
42
mg
|
Calcium:
12
mg
|
Iron:
1
mg
Estimated nutrition information is provided as a courtesy and is not guaranteed.
Explore More