These mini fruit pizza cookies are bright, charming, and delicious. Bakery style sugar cookies are made with staple ingredients and decorated with cream cheese frosting and your favorite fresh fruit for a mini fruit pizza kids and adults will adore.
This is a dessert you won't want to miss! It's fun to serve fruit pizza in an individual format – and each cookie lover gets to customize their own with their favorite fruit toppings. What could be better than that?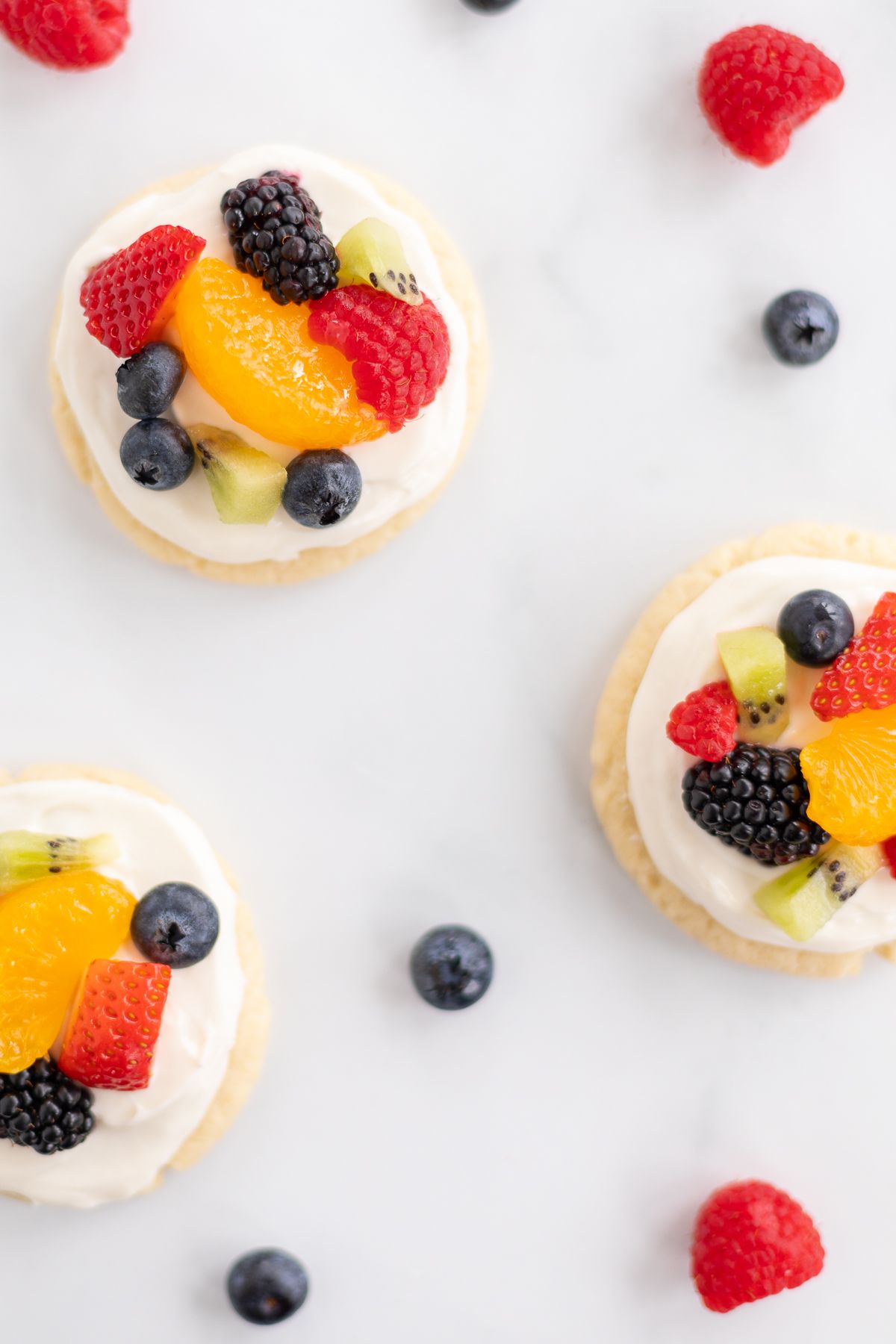 Fruit Pizza is a quintessential spring and summer dessert! You can make them in easy to serve Fruit Pizza Cookies – perfect for parties, brunch bars and more! You can even serve them a la carte in a make your own Fruit Pizza Cookie bar!
The foundation is my better than the bakery sugar cookie with a luxurious fruit pizza icing made with cream cheese. It's topped fresh fruits for the prettiest mini fruit pizzas.
In my opinion, sugar cookies and cream cheese frosting are the perfect marriage of texture and flavor. Soft chewy sweet cookies with tangy smooth cream cheese blend so well together. Once topped with fresh fruit the combination is pure bliss.
Why You'll Love this Recipe
These mini fruit pizza cookies are so easy to make, and they can be made well in advance to serving.
Staple Ingredients
Easy to Customize
Fun, Fresh Flavors
Great for summertime gatherings and one of the best Baby Shower Recipes
Sugar Cookies are a blast to decorate and the options are never-ending with fruit pizza cookies.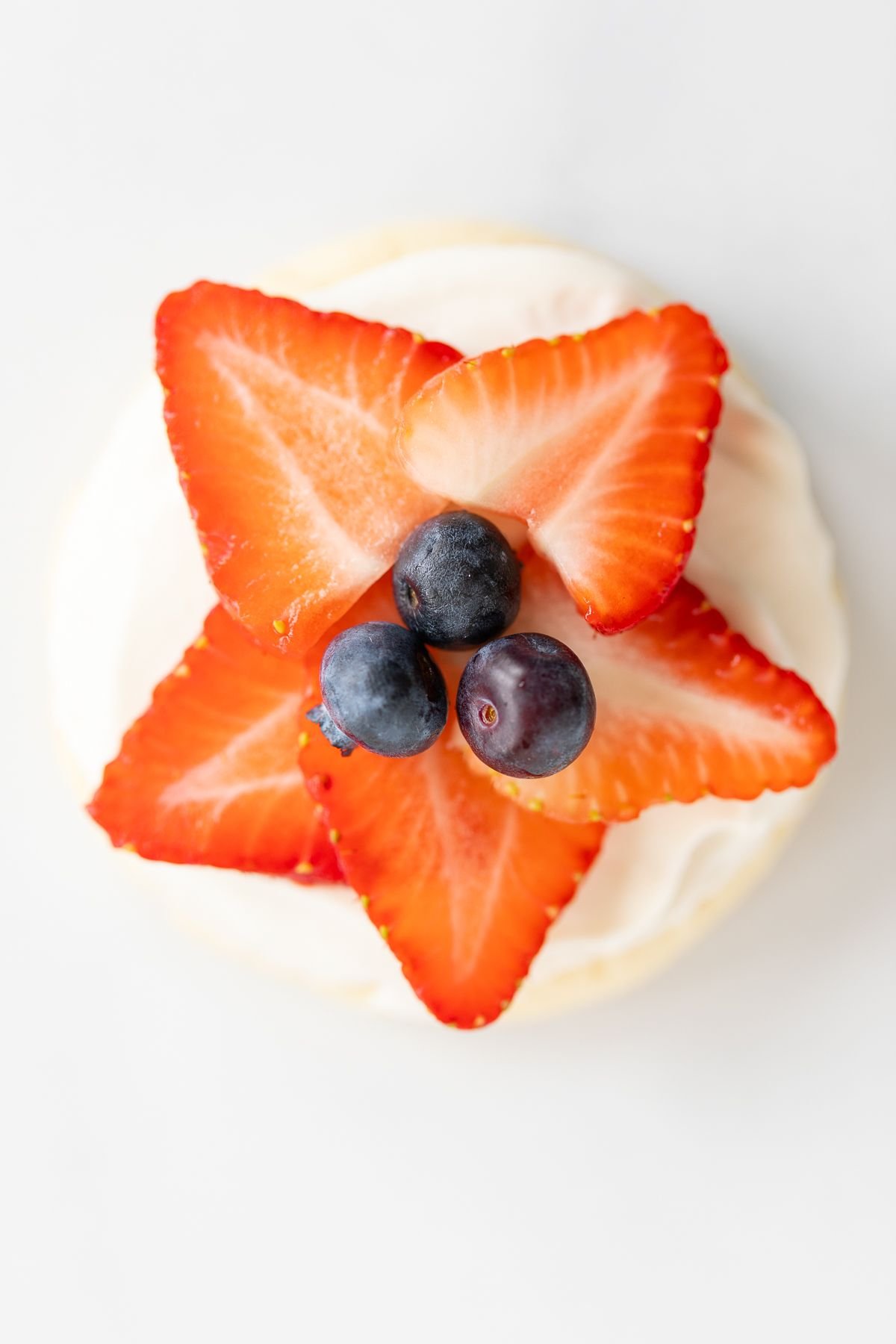 Fruit Pizza Sugar Cookie Ingredients
Butter – Unsalted butter, softened. Read more about How to Soften Butter Quickly. If you only have salted butter on hand, just skip the additional salt in this recipe.
Sugar – Use white granulated sugar in this recipe.
Eggs – I generally use large size eggs for baking unless otherwise noted
Vanilla – I prefer authentic vanilla extract, not imitation. Try making your own vanilla extract, it's so easy!
Flour – All purpose flour works perfectly here
Baking Powder – For the rise to make these soft and fluffy.
Salt – A little salt in your baking helps balance all the sweet.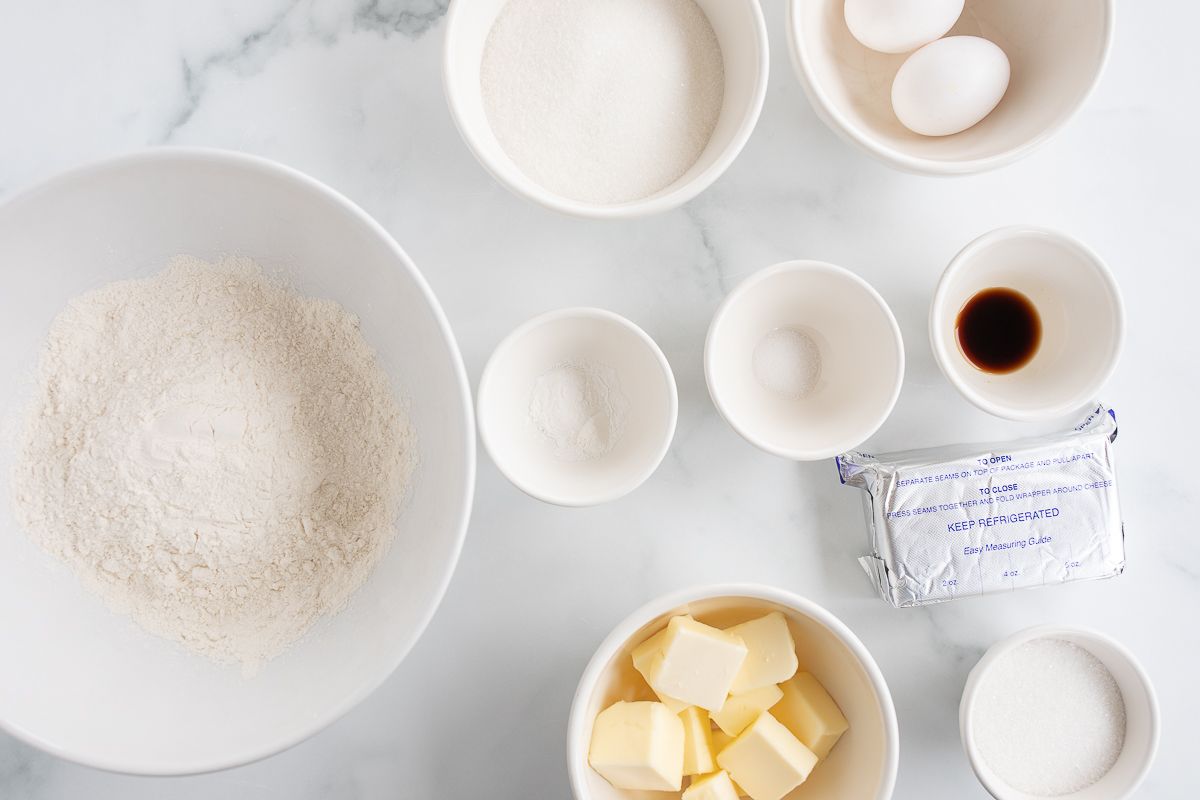 Cream Cheese – softened for the BEST frosting. Learn How to Soften Cream Cheese here, and Can You Freeze Cream Cheese?
Powdered Sugar – Also known as confectioner's sugar, this is important for a creamy, soft frosting.
Vanilla Extract – For a classic fragrance and flavor in the frosting.
Variations
For a tangier icing, you can easily substitute the vanilla for lemon, lime or orange juice if you like.
If you (or your kids) don't like cream cheese, substitute butter instead for a classic buttercream frosting.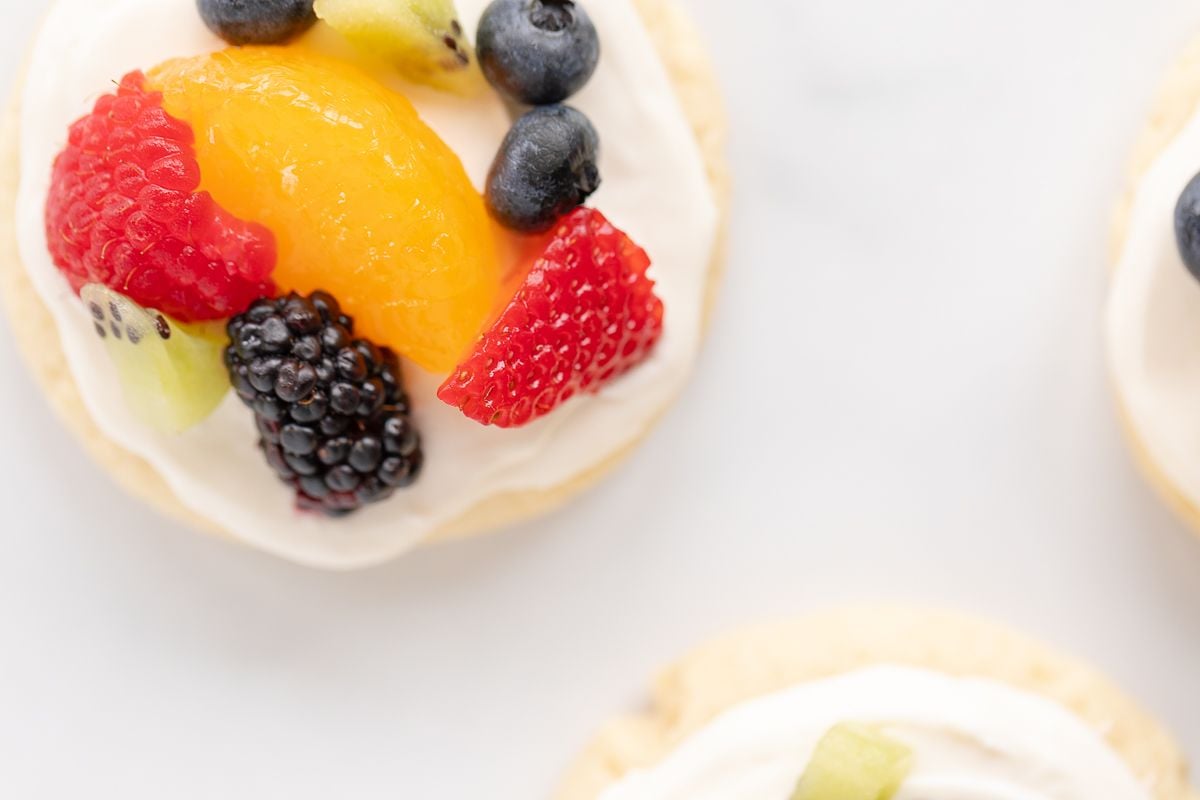 How to Make Fruit Pizza Sugar Cookies
Prep – Preheat oven and line cookie sheets.
Make and Bake Cookies – Combine ingredients as directed. Refrigerate for one hour, and bake as noted in the recipe.
Make Icing – In a large mixing bowl, combine ingredients.
Ice and Top – with your favorite fruits, as noted below.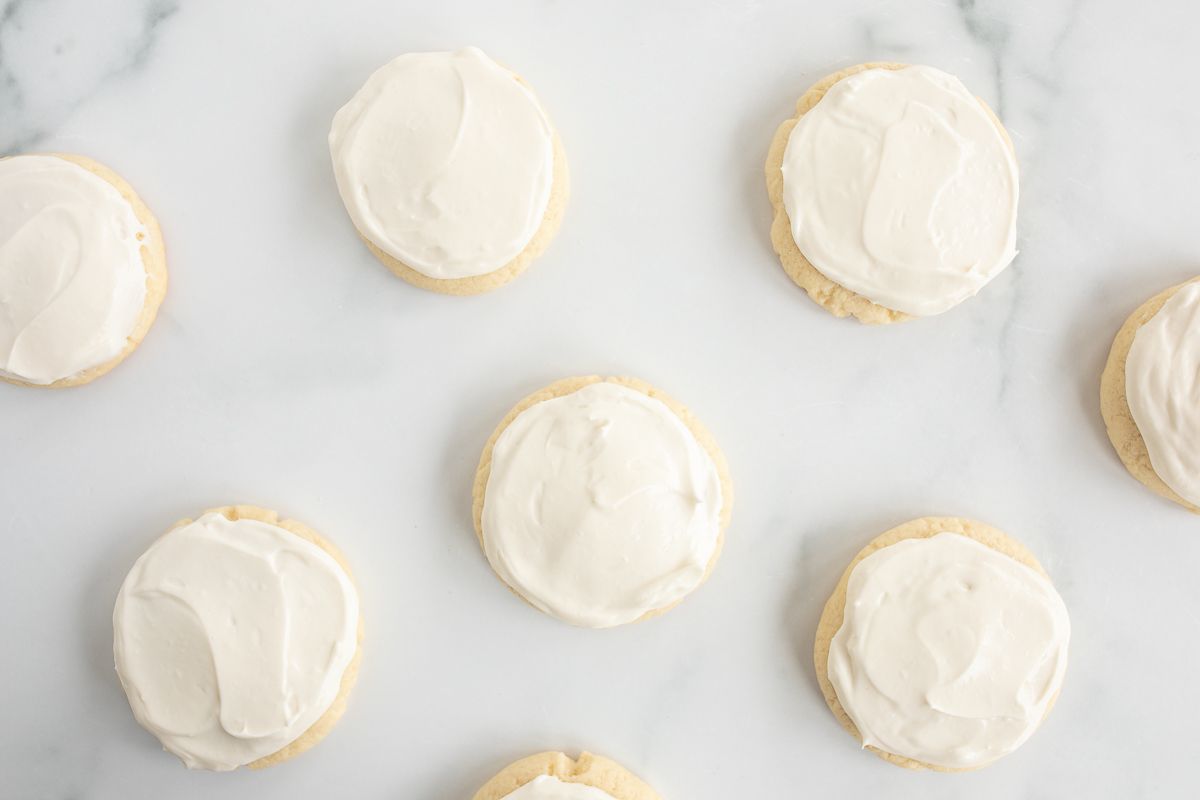 Fruit Pizza Cookie Toppings
Some suggestions for fruit toppings include:
Blueberries
Kiwi
Strawberries
Raspberries
Blackberries
Banana
Pineapple
Mandarin Oranges
Apricots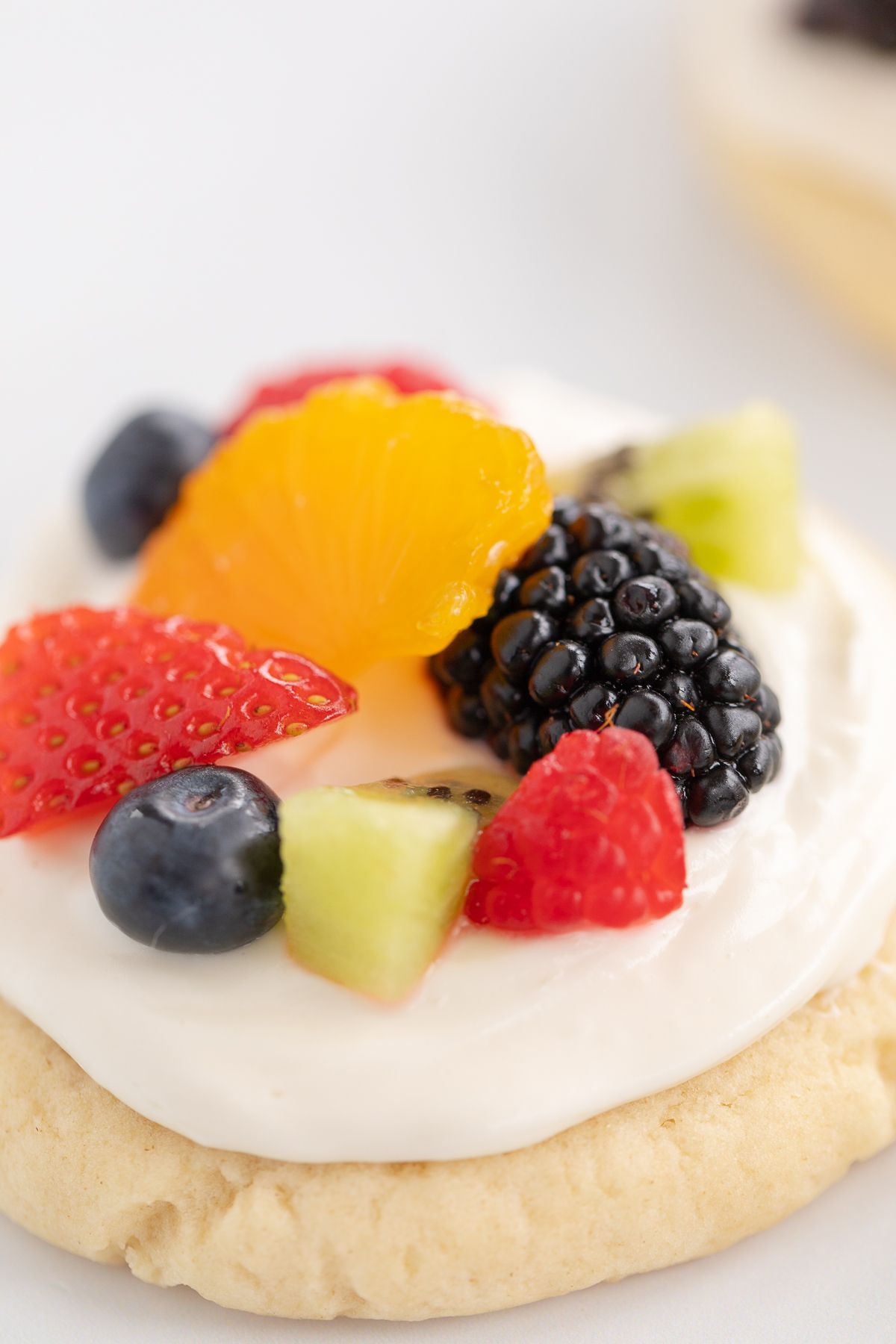 Fruit Pizza Cookie Bar
This recipe is so fun and makes a beautiful colorful dessert for any event. I like to set up a cookie bar for baby showers and wedding showers and use the dessert table as part of the decor!
Brunches are another event that are perfect for serving these mini fruit pizza cookies. It's a treat enjoyed by children and adults alike. Guests can customize to their palate by selecting their own icing and toppings.
It is also an unspoken tradition in our family to make fruit pizza for holidays. Here is where you can get creative and let your imagination run with different combinations and design.
I like to use red, white, and blue colored fruit for the 4th of July, red and green fruit for Christmas, and orange for Thanksgiving.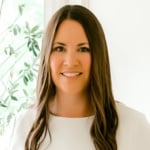 Tips
Sprinkle fruit with lemon or lime juice to help keep the color bright!
If you prefer more of a glaze to icing you can add more liquid such as milk into your icing to make it less thick.
Don't stop at my list of fruit! Mix and match and create the perfect fruit pizza cookie for your tastes!
Slice fruit extra thin to make decorating and eating easier.

Use clear vanilla if you prefer brighter white icing.
Scaling up, down or substituting? You'll love this printable Measurement Conversion Chart!
Shortcuts
Buy premade sugar cookies instead of making your own. It's easier to set up a fruit pizza cookie bar that way. Often your local grocery store bakery can do pre-orders for this!
Make your sugar cookies ahead – even a couple months in advance, if you freeze them!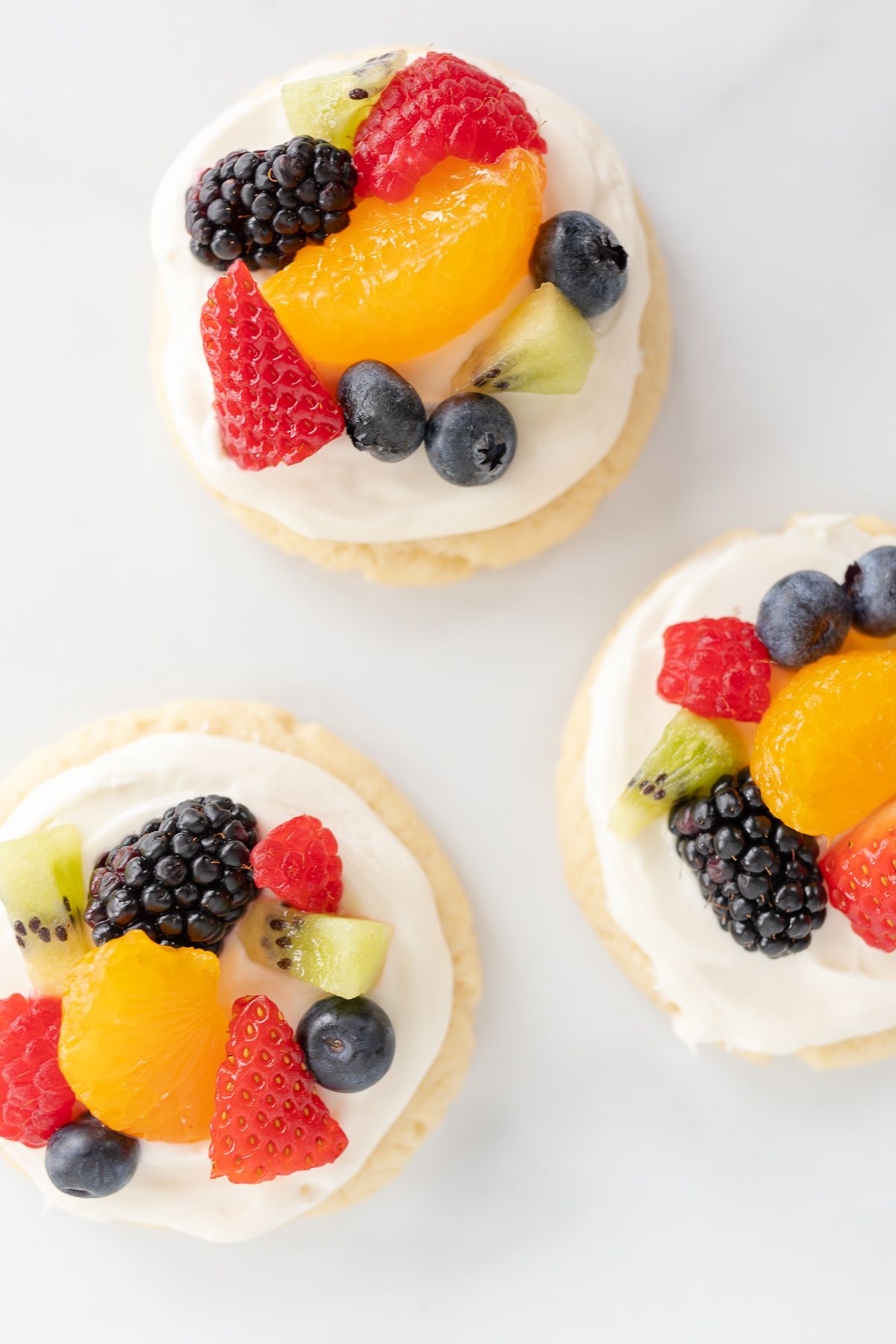 Frequently Asked Questions
Can I make fruit pizza in advance?
Yes, you can make and refrigerate your mini fruit pizza cookies ahead of time. However, sliced fruits will bleed and soften over time, so if possible, add those at the last minute prior to serving.
How many calories are in a fruit pizza?
Luckily, eating fruit pizza in a cookie format means that they are already individually portioned! Of course, toppings will change your calories a little… but before you add fruit, each of these fruit pizza cookies comes in at 216 calories each, with the frosting included!
Make Ahead
Make and bake the cookies for up to 48 hours prior to icing and serving.
You can even make these cookies up to two months in advance, storing them in the freezer until you're ready to serve and enjoy.
How to Store
At Room Temperature – Stack unfrosted cookies in an airtight container with a piece of parchment paper separating the layers. Store this way for up to four days.
Refrigerate – Store unused icing in an airtight container in the refrigerator for up to three days, and once these cookies are iced, they will need to be refrigerated as well. Storing fruit is personal preference. I like to use small airtight containers and store each type of fruit separately in the fridge. Certainly mixing all the fruit together in a large container will work just as well!
Freeze – You can transfer these cookies (frosted or unfrosted – but without fruit on top) to freezer safe storage bags or Tupperware and freeze for up to two months.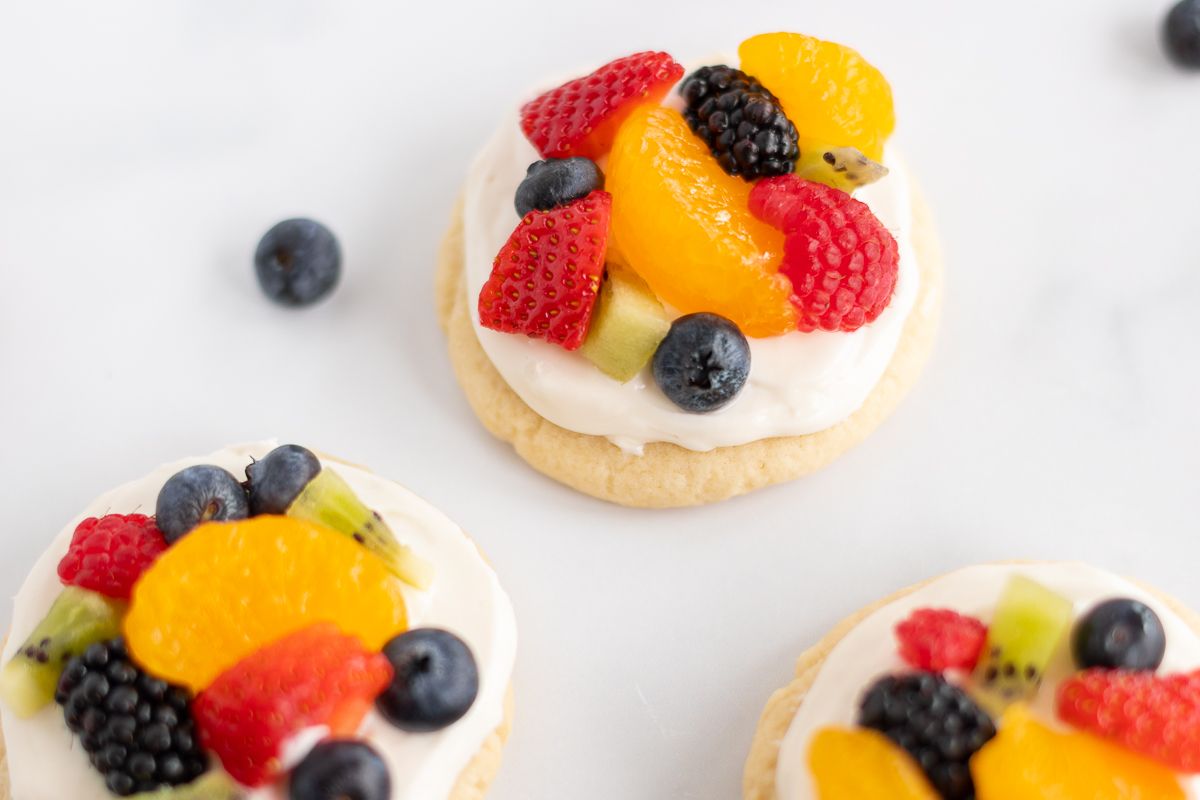 Dietary Considerations
To Make Gluten Free – You can easily substitute white flour for a Gluten Free baking mix to make these delicious cookies allergen friendly.
Vegetarian
Nut Free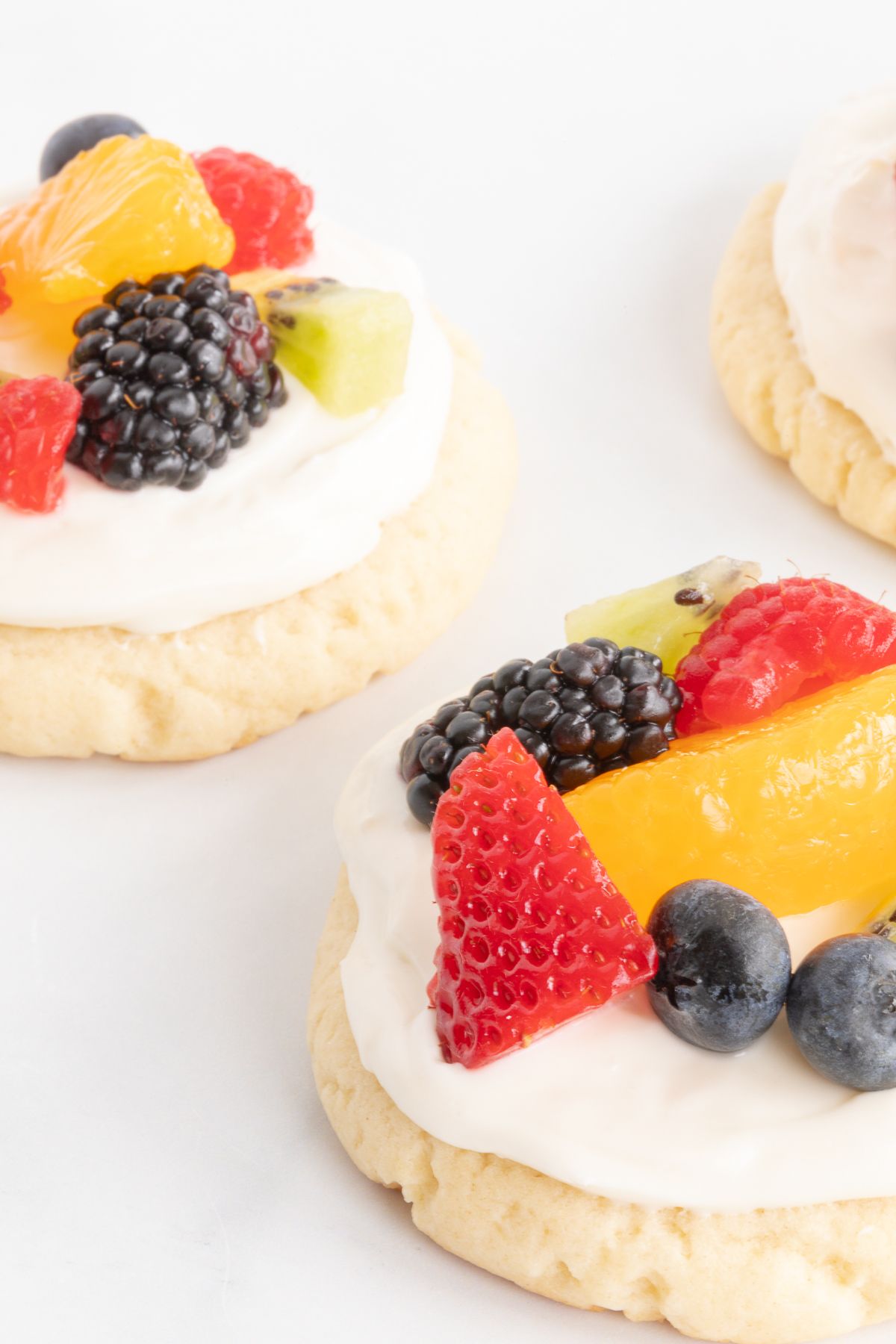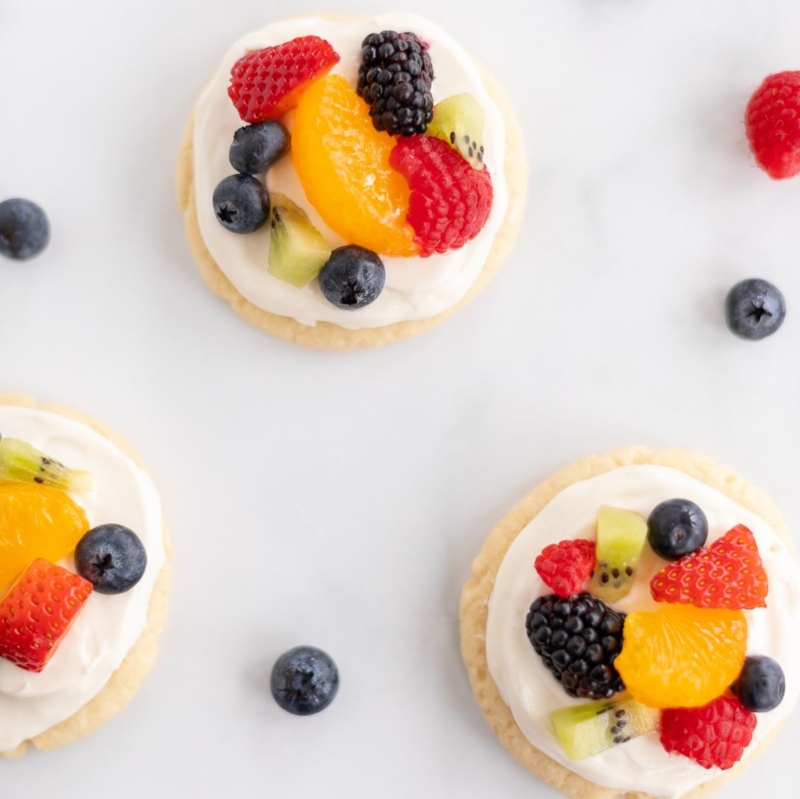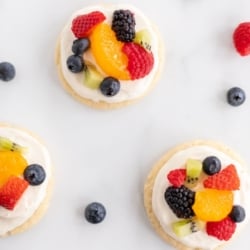 Fruit Pizza Cookies
A sugar cookie recipe and cream cheese frosting recipe to make delicious mini fruit pizza cookies.
Ingredients
Fruit Toppings
your favorite fresh fruits
Instructions
Preheat oven to 400°F and line baking sheets with parchment paper.

In a large mixing bowl or stand mixer, cream butter and sugar on high until light and fluffy, about 3 minutes.

Blend in eggs and vanilla until just incorporated.

Gradually add flour, baking powder and salt and mix until just combined.

Drop dough balls (medium scoop, about 2") onto a parchment lined cookie sheet spacing evenly, 6 cookies per sheet.

Using a glass, press down.

Bake 8-9 minutes, until cookies are set and slighly golden around the edges. Allow to cool 1 minute on baking sheet and transfer to a wire cooling rack.
Icing
In a medium mixing bowl or stand mixer, beat cream cheese and sugar together until smooth. Add vanilla and beat until well combined.
Assembly
Ice cooled cookies and top with your favorite fruits.
Tips
Sprinkle fruit with lemon or lime juice to help keep the color bright!
If you prefer more of a glaze to icing, you can add a little milk to your icing to make it less thick.
Slice fruit extra thin to make decorating and eating easier.

Use clear vanilla if you prefer brighter white icing.
Calories:
216
kcal
|
Carbohydrates:
26
g
|
Protein:
3
g
|
Fat:
11
g
|
Saturated Fat:
7
g
|
Polyunsaturated Fat:
1
g
|
Monounsaturated Fat:
3
g
|
Trans Fat:
1
g
|
Cholesterol:
47
mg
|
Sodium:
102
mg
|
Potassium:
62
mg
|
Fiber:
1
g
|
Sugar:
14
g
|
Vitamin A:
389
IU
|
Calcium:
27
mg
|
Iron:
1
mg
Estimated nutrition information is provided as a courtesy and is not guaranteed.
Explore More