Strawberry Butter is a simple and delicious way to add elegance and fruity fresh appeal to your snacks and brunch favorites. Spread it generously on anything that tastes good with plain butter – bread, bagels, biscuits, pancakes.
Strawberry butter will create a whole new level of butter enjoyment!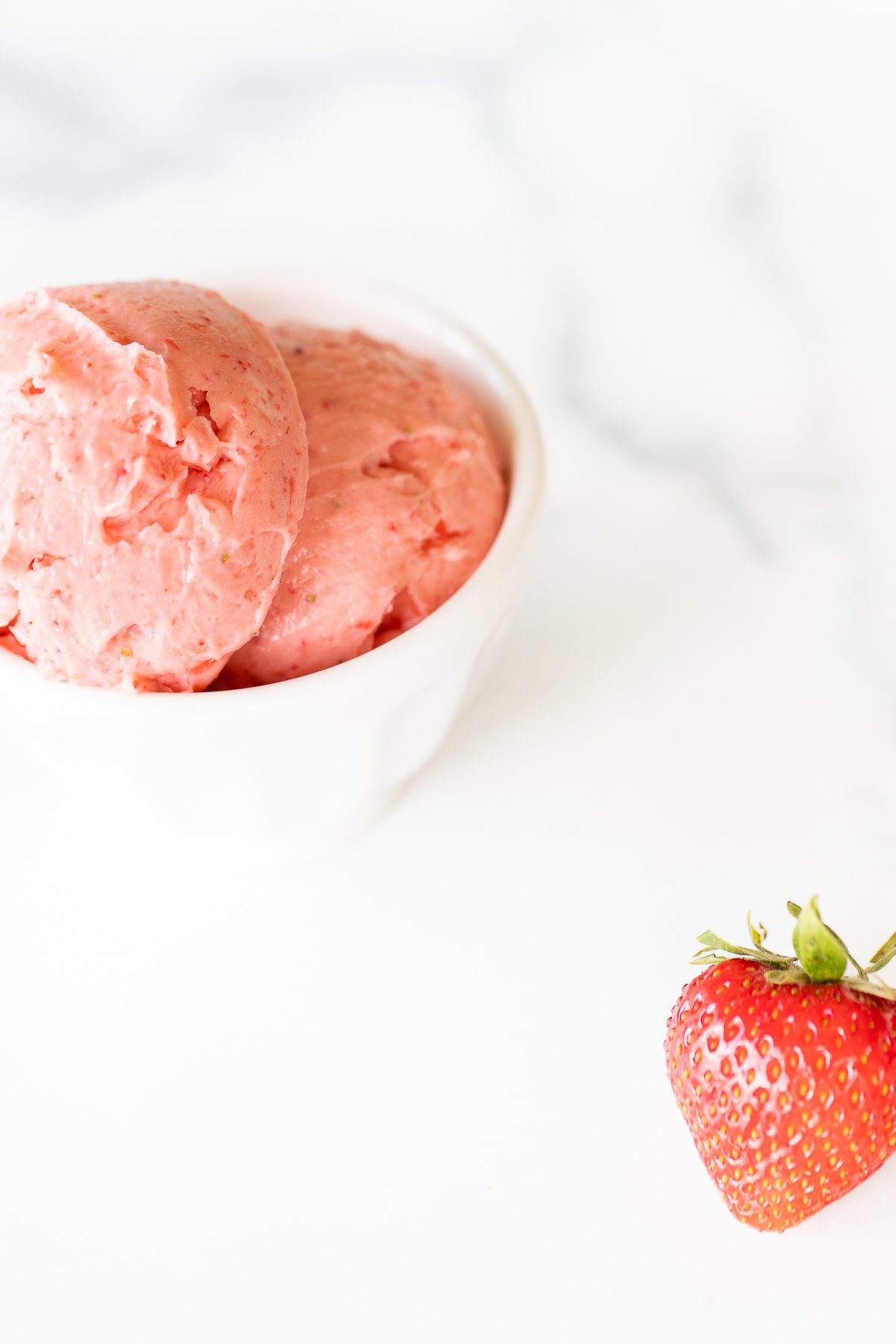 It's often the small details that make the most impact. Strawberry butter is just that- a small detail that doesn't take much time to make but adds an element of thoughtfulness and flavor.
Of course it tastes divine – it's strawberry-flavored butter, after all! And it also looks so pretty served in little dishes on your table or buffet.
It is perfect to serve at a morning brunch, an afternoon tea, a baby or bridal shower, or to your family to let them know how special they are. It also makes a great gift for a neighbor – a loaf of easy bread with a cute jar of strawberry butter!
If you love strawberry everything, don't miss this incredible free strawberry recipe collection! You'll find 20+ Must Have Strawberry Recipes.
Strawberry Butter
Strawberry Butter is mildly sweet, creamy, a lovely shade of pink, and has slightly chunky strawberries. At room temperature, it spreads so beautifully on bread, bagels, muffins, scones, pancakes, French toast, etc.
You don't even have to limit yourself to just strawberry butter. Other flavored butters that taste amazing on your favorite breads and breakfast items are Sweet Butter, Orange Butter and Honey Butter.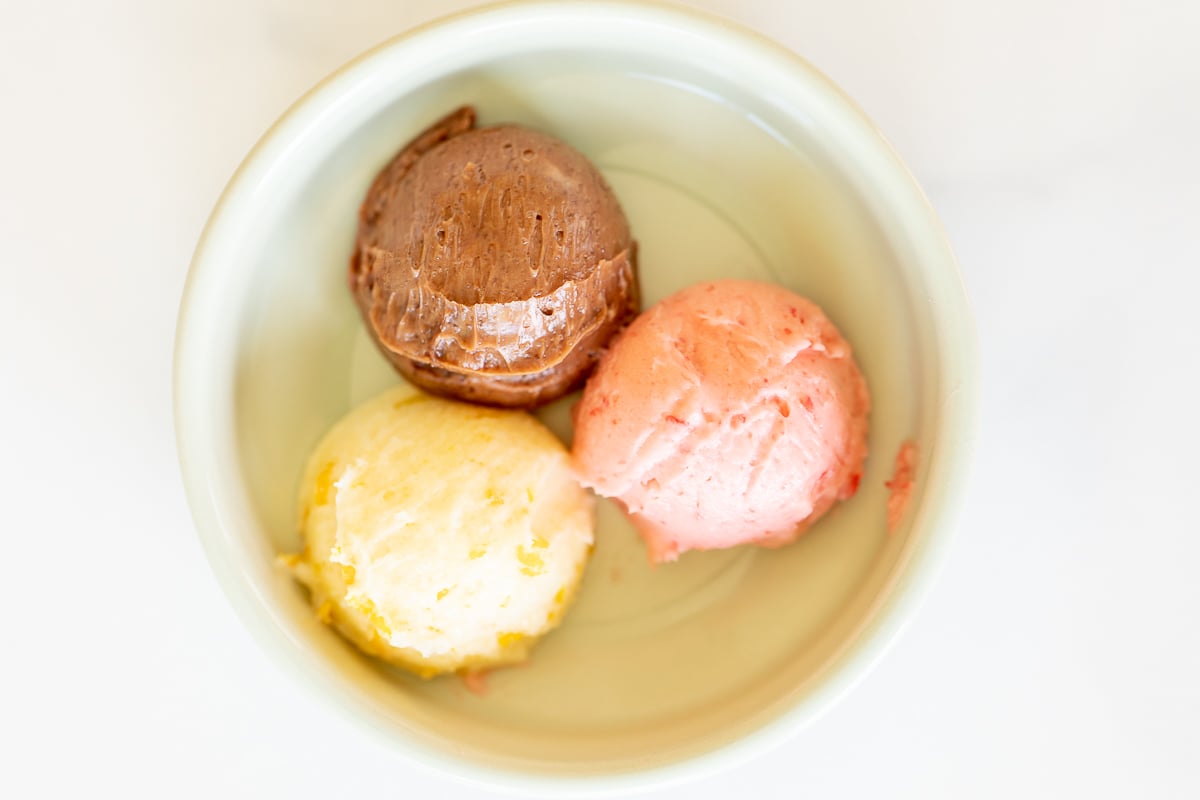 Ingredients and Substitutions
Fresh Strawberries – Stems and hulls removed.
Butter – Salted or unsalted, your preference, but we prefer salted. Room temperature butter is important. Learn how to make homemade butter.
Sugar – White granulated sugar for a slight crunch. If you'd like, you can do powdered sugar for a smoother butter. Learn how to make powdered sugar here.
Variations
Add a scoop of strawberry jam for even more strawberry flavor.
Fold in a cup of marshmallow creme and omit the sugar for a fluffy sweet butter that will retain its fluffiness as it melts. This tastes especially good on scones and cornbread.
How to Make
Soften butter
Clean strawberries, then remove stems and hulls.
Place strawberries, butter, and sugar in a food processor.
Pulse until well blended and the strawberries are very finely chopped.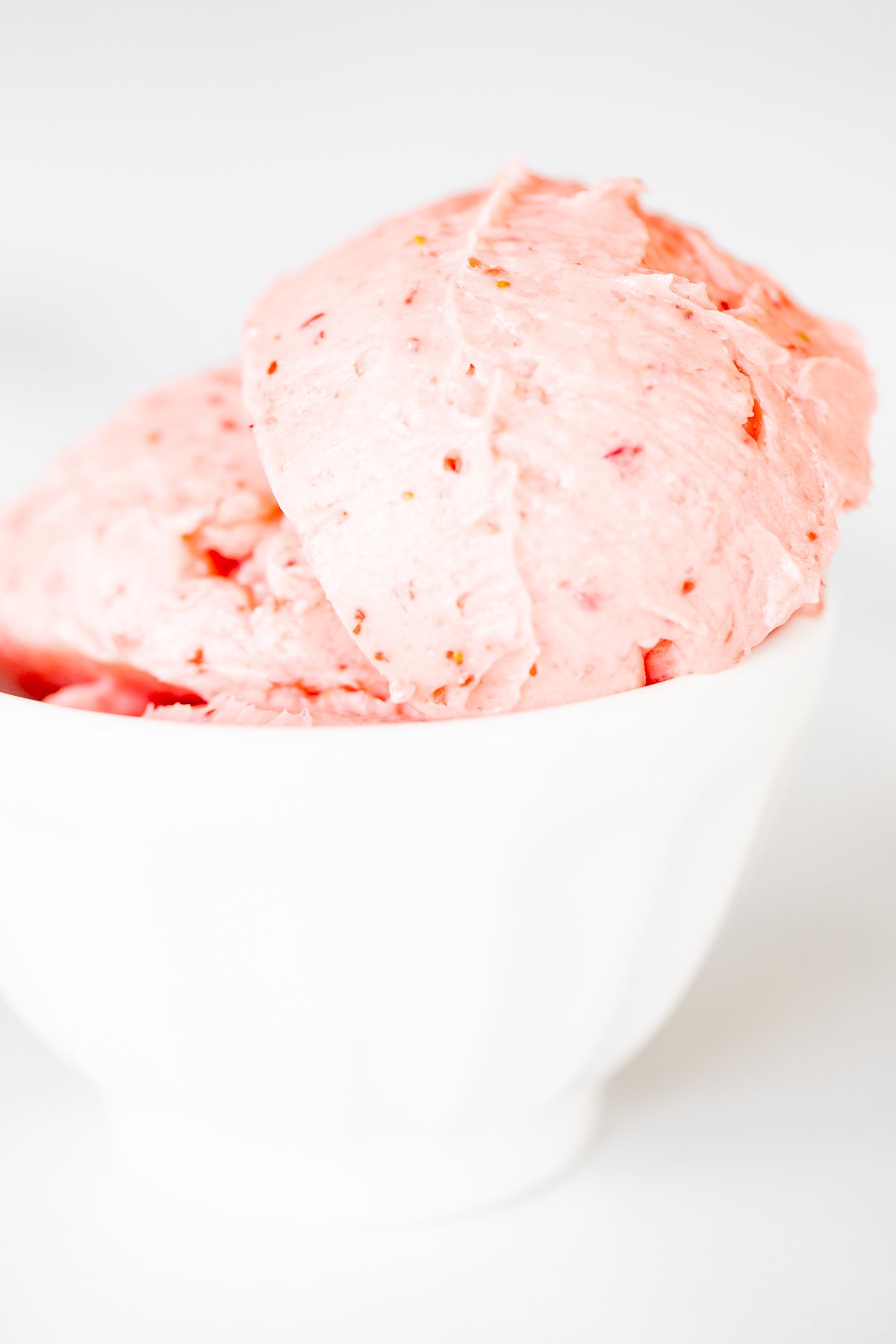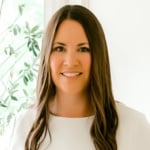 Tips
Make sure the butter is soft – learn how to soften butter quickly.
Use ripe, flavorful strawberries for the sweetest flavor.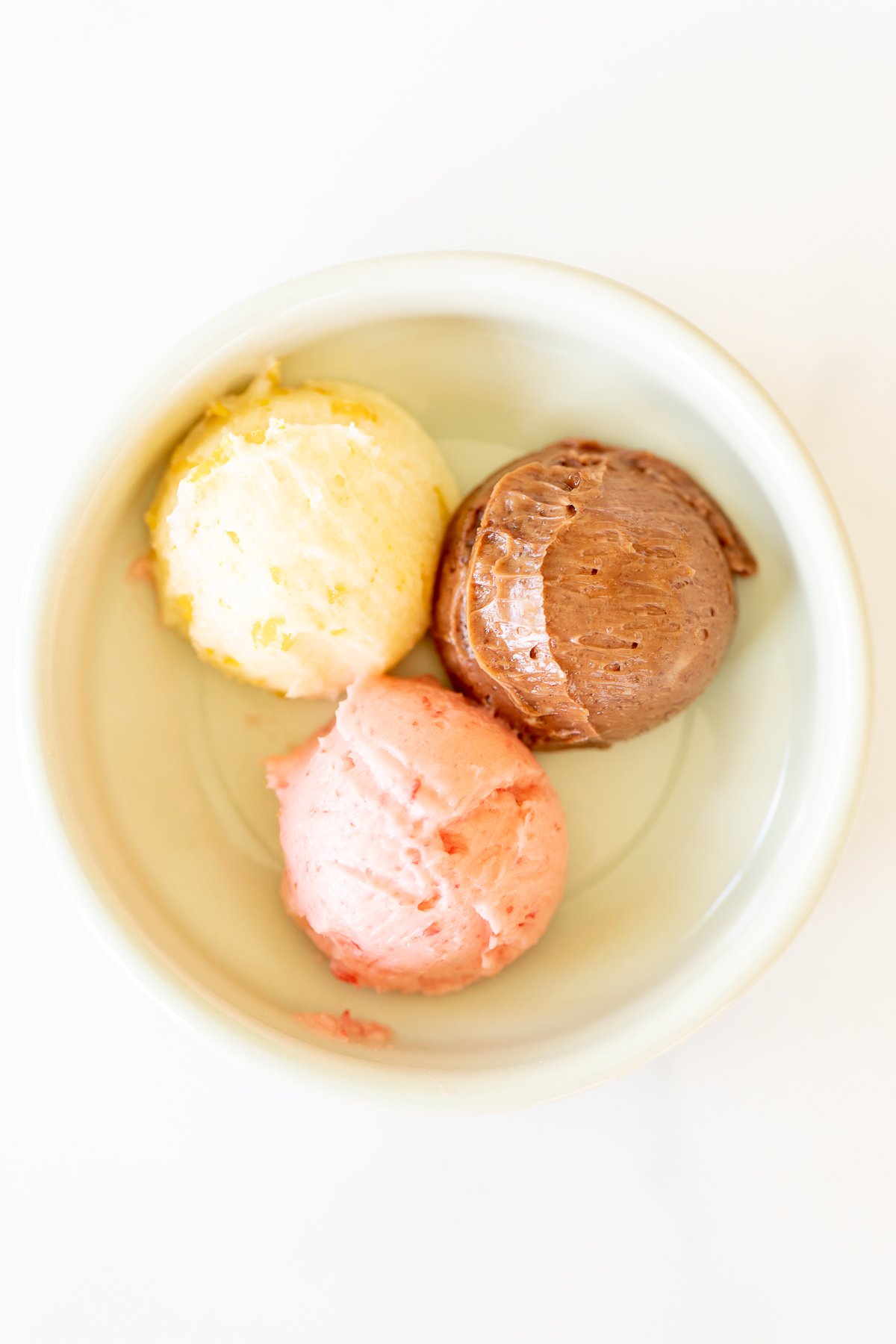 Frequently Asked Questions
Can I use frozen strawberries?
You can use frozen strawberries. Let them thaw to room temperature and then mix all ingredients together. Because thawed strawberries are slightly mushy, you'll want to really mix the butter together as smoothly as possible, rather than leaving chunks of berries.
Can I use margarine instead of butter?
This recipe was written specifically for butter. Margarine is a different product than butter and won't work with the moisture in strawberries the same way to produce a creamy, fluffy texture.
Serving Suggestions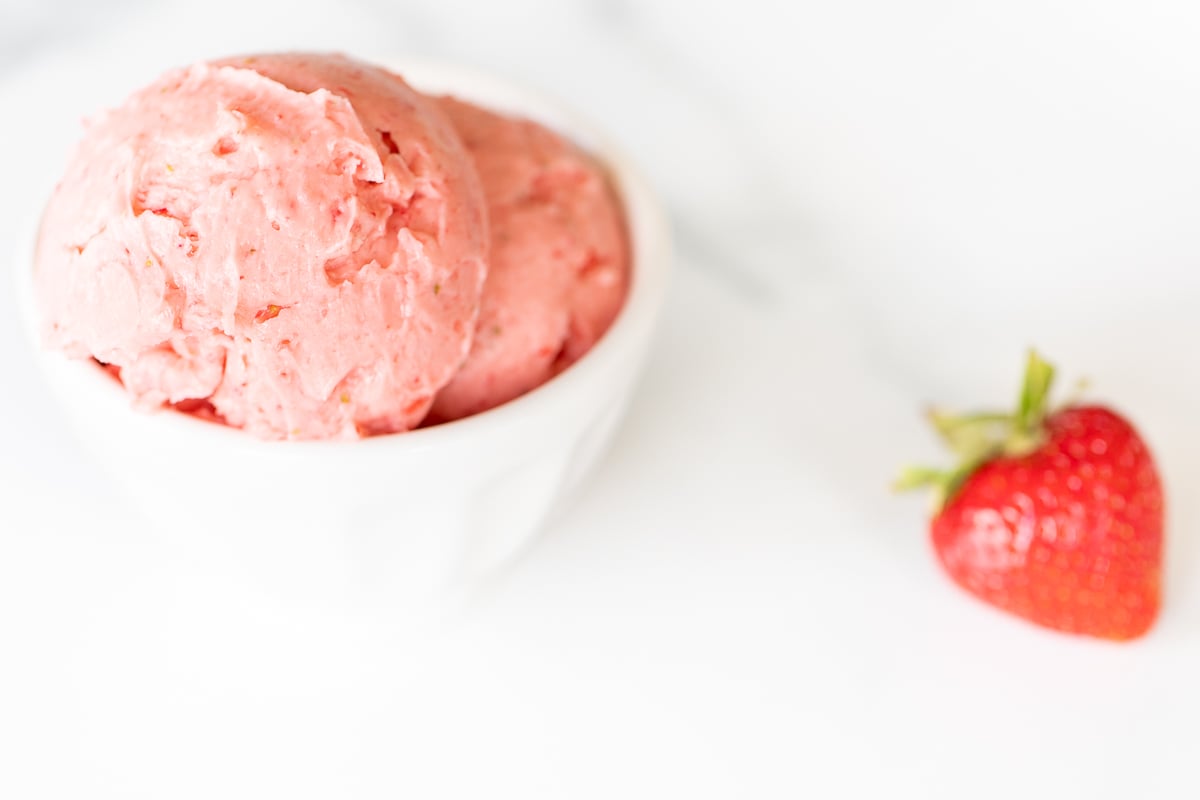 How to Store
Room Temperature – Let sit at room temperature for as long as you are actively using it. Then cover and store in the refrigerator to keep the strawberries and butter fresh.
Refrigerator – Store covered in the fridge for up to a week, or as long as the strawberries still taste good.
Freezer – Freshly made and eaten is definitely the best, but you can store unused strawberry butter in an airtight freezer container for up to four months. Let thaw in the refrigerator or at room temperature when ready to use. You could also freeze small amounts in an ice cube tray and just pull out one cube at a time for a personal sized amount. Remember, thawed strawberries have a mushier consistency than fresh ones.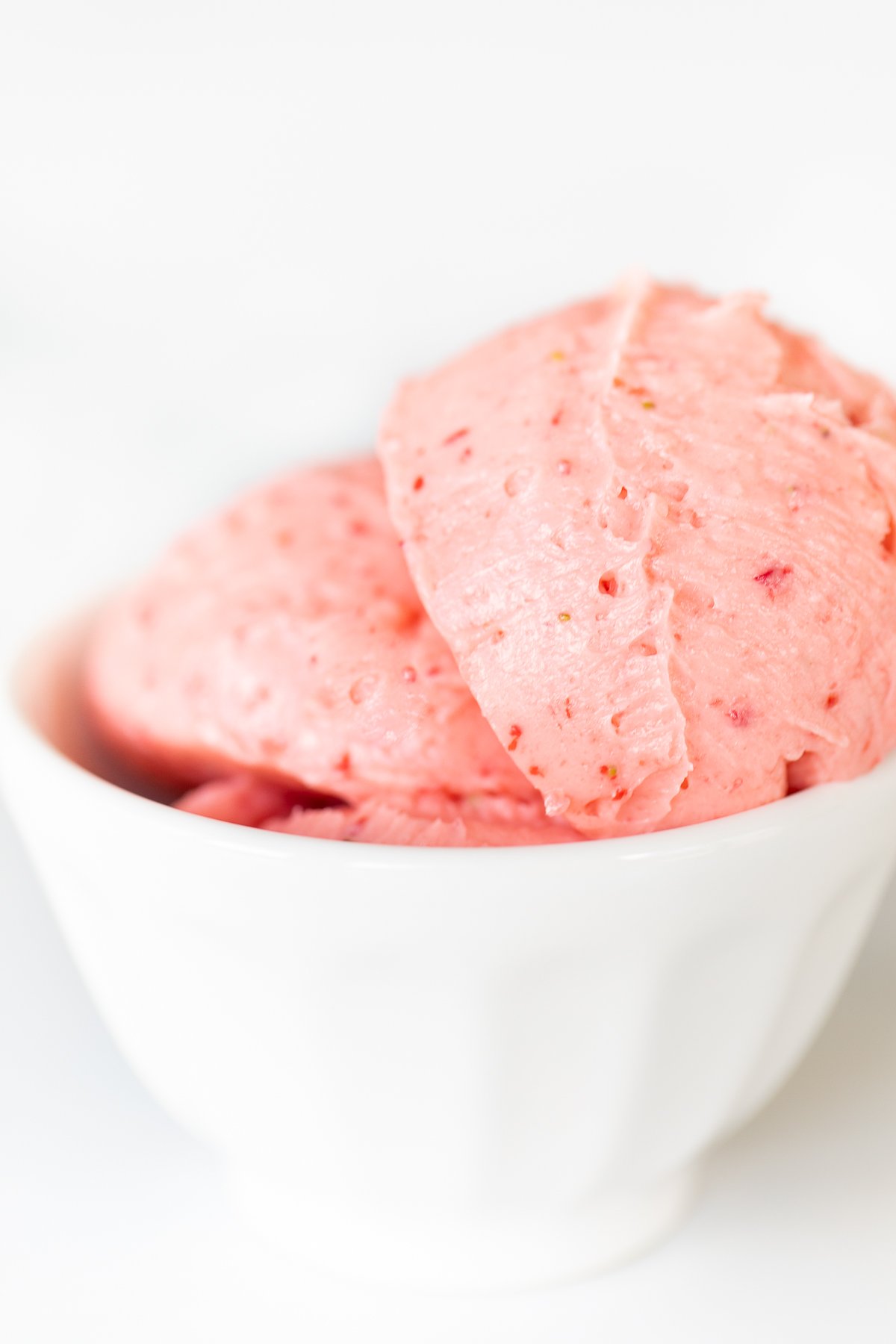 Sauces & Seasonings
5 mins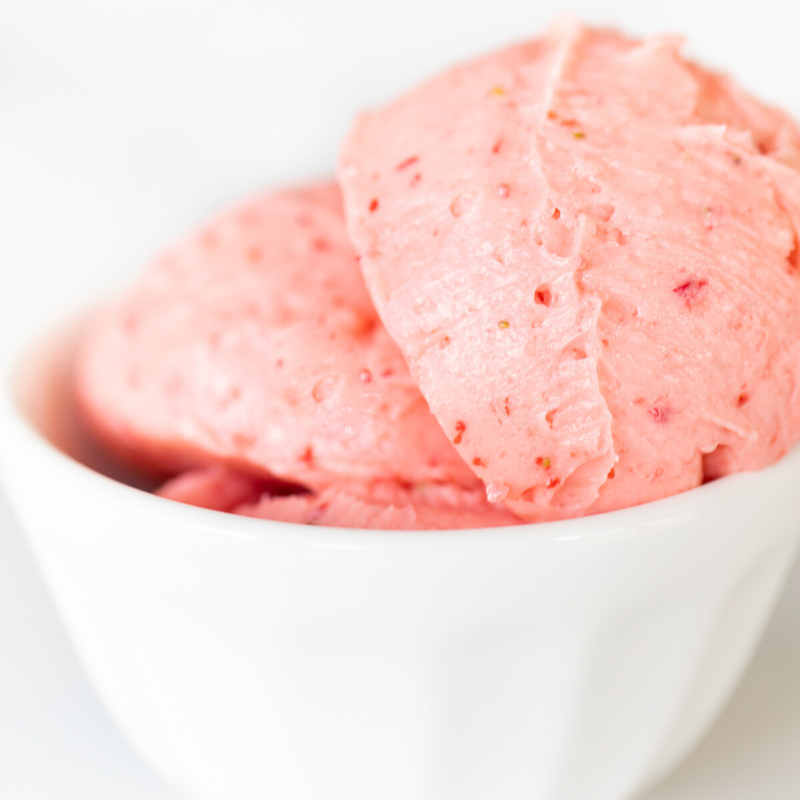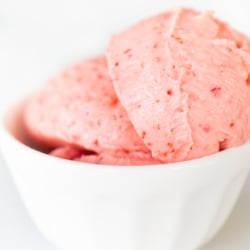 Strawberry Butter
Strawberry Butter is a simple and delicious way to add elegance and fruity freshness to a meal. Spread it generously on anything that tastes good with plain butter – bread, bagels, biscuits, pancakes.
Ingredients
1

cup

salted butter

softened

3

large

strawberries

or 5 smaller, destemmed

¼

cup

white granulated sugar
Instructions
In a food processor, pulse strawberries until fine.

Add butter and sugar. Pulse until well combined.
Tips
Substitutions
Granulated Sugar – Substitute powdered sugar for a finer texture.
Strawberries – Substitute strawberries by eliminating sugar and using 3 tablespoons preserves.
Calories:
115
kcal
|
Carbohydrates:
4
g
|
Protein:
1
g
|
Fat:
12
g
|
Saturated Fat:
7
g
|
Trans Fat:
1
g
|
Cholesterol:
31
mg
|
Sodium:
101
mg
|
Potassium:
11
mg
|
Fiber:
1
g
|
Sugar:
3
g
|
Vitamin A:
355
IU
|
Vitamin C:
3
mg
|
Calcium:
4
mg
|
Iron:
1
mg
Estimated nutrition information is provided as a courtesy and is not guaranteed.
Explore More