Easy white sangria recipe. Make ahead and serve a large number of guests with this classic summer sangria cocktail that's easy to drink!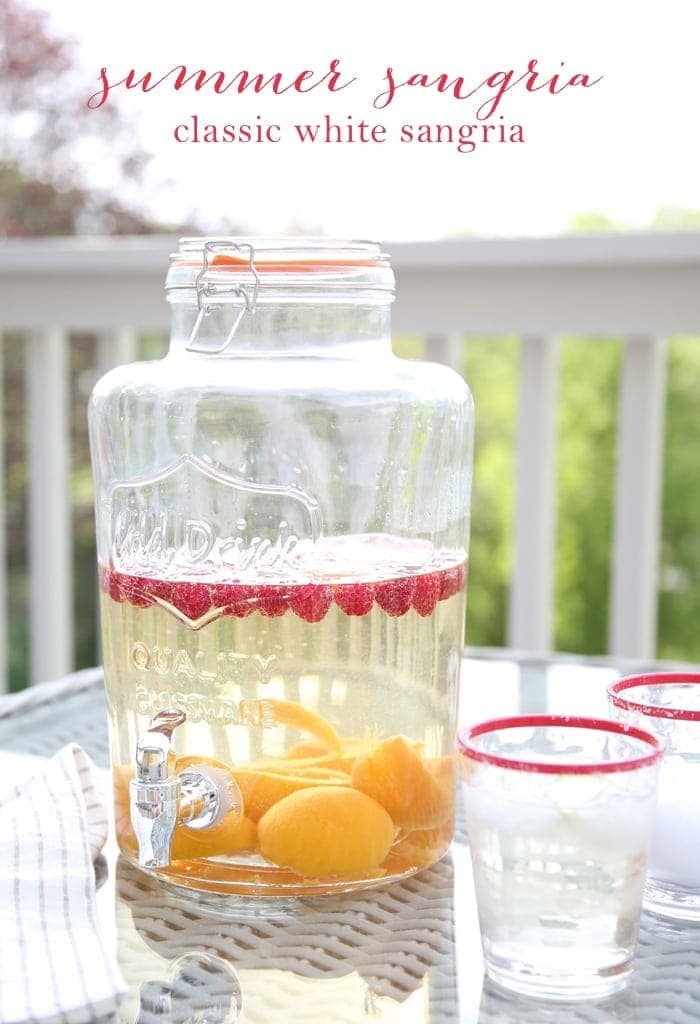 White Sangria Recipe
It's official – we're spending every night on our patio. It's such a peaceful area to relax and an enjoyable place to entertain.We've purchased a couple of oversized chairs and sofa to make it an outdoor entertaining space and have wasted no time putting it to use! In fact, few area patios compete with the comfort of home.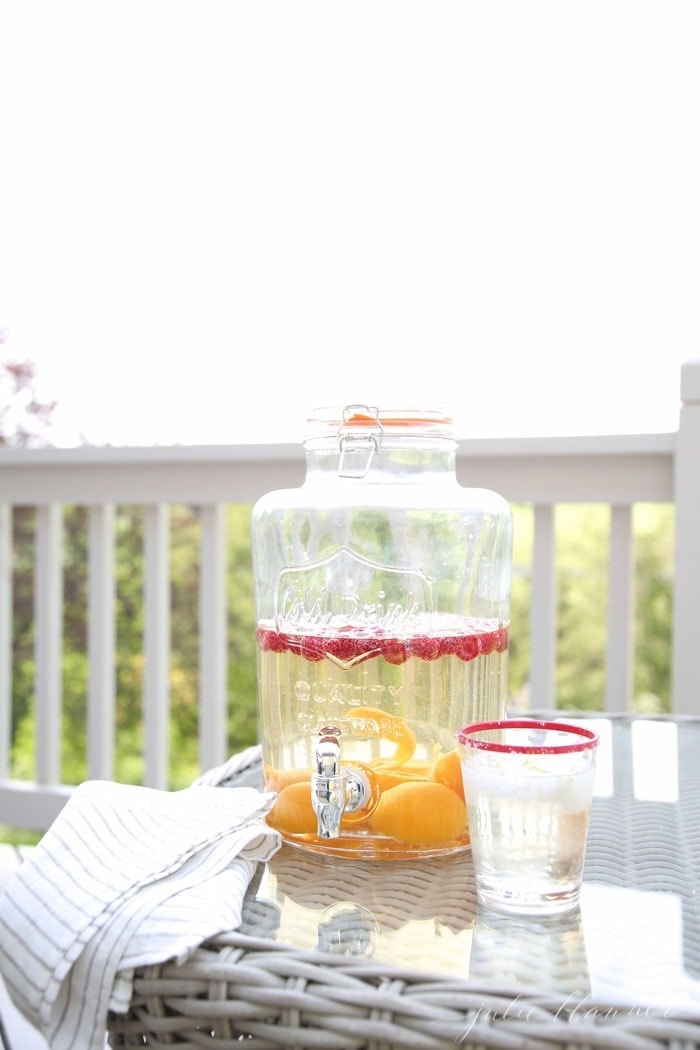 How To Serve White Sangria
You'll rarely find us on the patio with shoes on, so I have purchased these adorable retro juice glasses to be safe. They remind me of summers on my grandparent's farm and I always love a hint of nostalgia.
Just because you want to avoid glass outside, doesn't mean you have to resort to the old red plastic cups, that make you feel like you're in college all over again. I'm sure no of us want to relive any of those memories.
A couple cute reusable plastic cups keep the night sophisticated, without worrying about breaking anything expensive if the night gets a little too fun.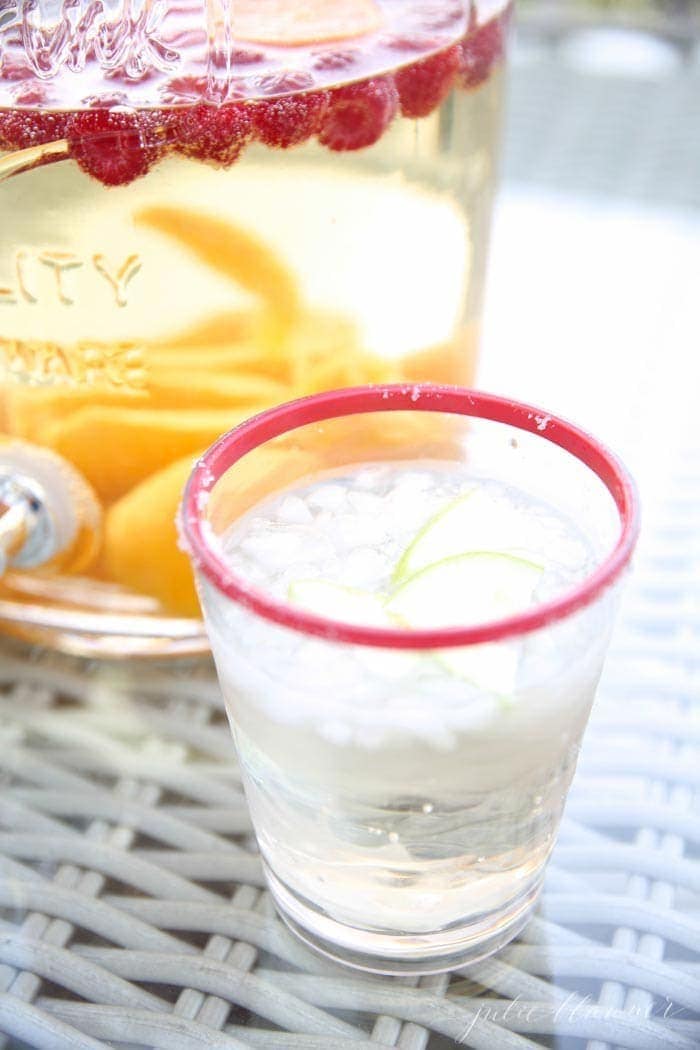 Summer Sangria – The Perfect Party Drink
Beautiful evenings on the patio aren't complete without a great cocktail or lemonade! If we're having friends over, I like to serve from a drink dispenser so that guests can refill at will and I don't have to run in and out of the kitchen frequently.
The party can flow easily without the constant filter of people disappearing to get a new drink. Just set the dispenser on the table outside, and let everyone enjoy.
Drink dispensers also keep unwanted guests from taking part. This summer sangria is a refreshing white sangria that's easy to drink – especially on a hot summer's day!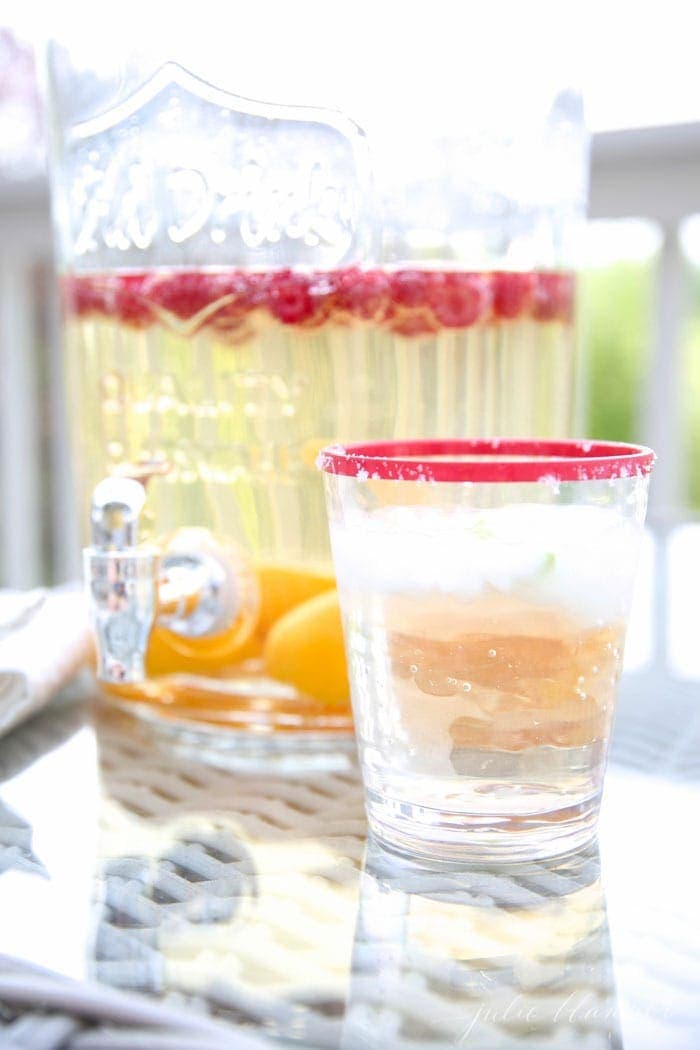 Red Sangria vs. White Sangria – Which One Is Sweeter?
These two drinks, while similar in name, have a lot of differences. The sweetness in red sangria comes mostly from the juice and fruits because dry red wine is typically used for the alcohol. For this white sangria recipe, the sweetness comes from the Moscato, and fruits, instead of a sweet juice.
Due to this, I would say that neither of them is particularly sweeter than the other. They both have a refreshing enjoyable flavor, just in different ways. The sweetness level also depends on the amount of each ingredient included.
In the summer I just perfect white sangria because it pairs so well with the summer fruits I have in the house.
How to Make a Summer Sangria
Making this recipe is as easy as combining all the ingredients in a pitcher or drink dispenser. Simply stir everything together and allow to marinate for 4+ hours or overnight.
I always include peaches in white sangria, but I'll often add in whatever additional fruit I currently have on hand. Apples, strawberries, oranges, blood oranges, and raspberries are all great add-ins!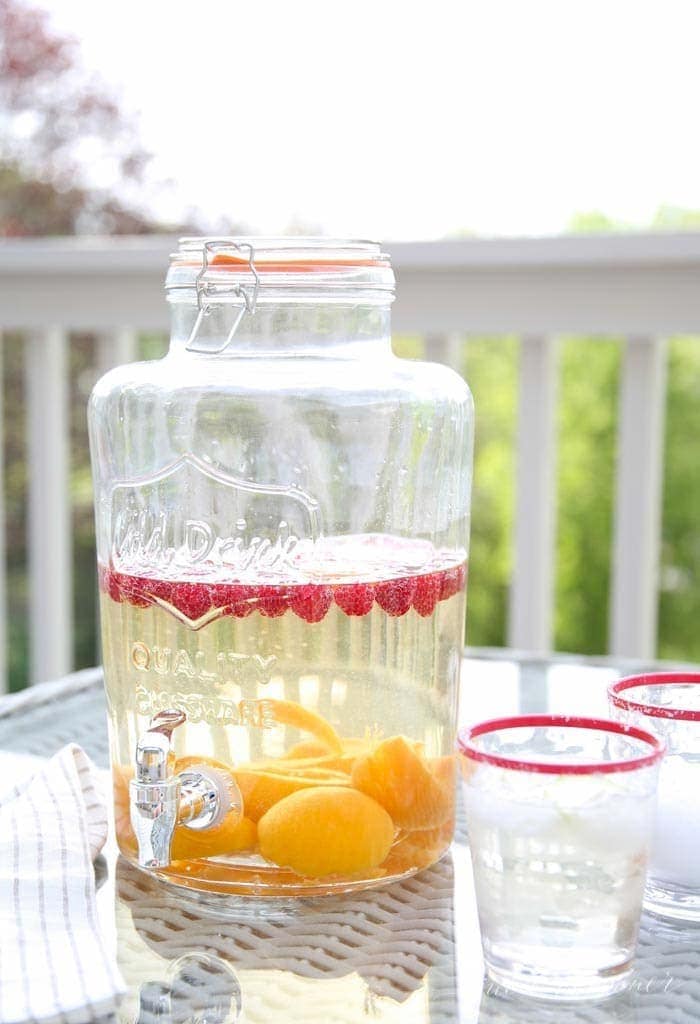 A Simple and Refreshing Summer Sangria
This make-ahead sangria recipe is perfect for a stress-free day of entertaining, or to keep ready in the refrigerator for when you just really need an impromptu drink.
Don't be afraid to play with some of the ingredients to get the perfect combination for your palette. If you find any new great combinations let me know in the comments and don't forget to give a five-star rating!
More Summer Drinks For Any Occasion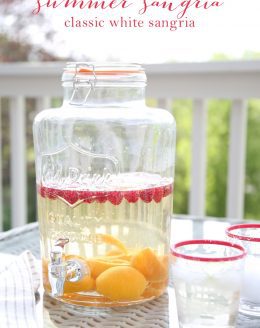 White Sangria Recipe
Easy white sangria recipe. Make ahead and serve a large number of guests with this classic summer sangria cocktail that's easy to drink!
Ingredients
3

bottles

Moscato

1

bottle

club soda

25

oz

peaches

1

c

brandy

6

oz

raspberries

or strawberries, sliced thin

1

orange

sliced
Instructions
Combine ingredients, stir and allow to marinate 4+ hours or overnight.
Recipe Notes
add any fruits of the fruits you prefer, you don't have to stick to the fruits I used. 
Nutrition Facts
White Sangria Recipe
Amount Per Serving (1 g)
Calories 0
* Percent Daily Values are based on a 2000 calorie diet.
Cheers!