Ikea Counter Stools updated with bar stool slipcovers to fit seamlessly into any kitchen! Get tips and tricks to elevate Ikea bar stools.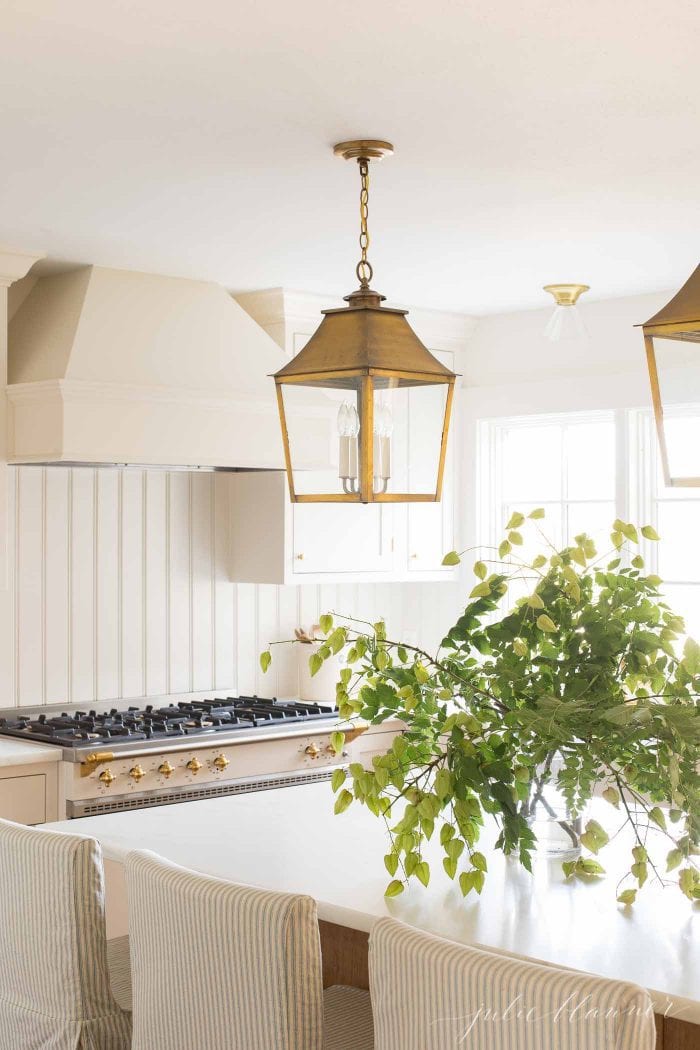 For months I searched endlessly for kitchen stools. I fell in love with the natural riviera counter stool, but they didn't feel practical for kid. I kept going back to them to the point I was paralyzed (kind of like our kitchen remodel).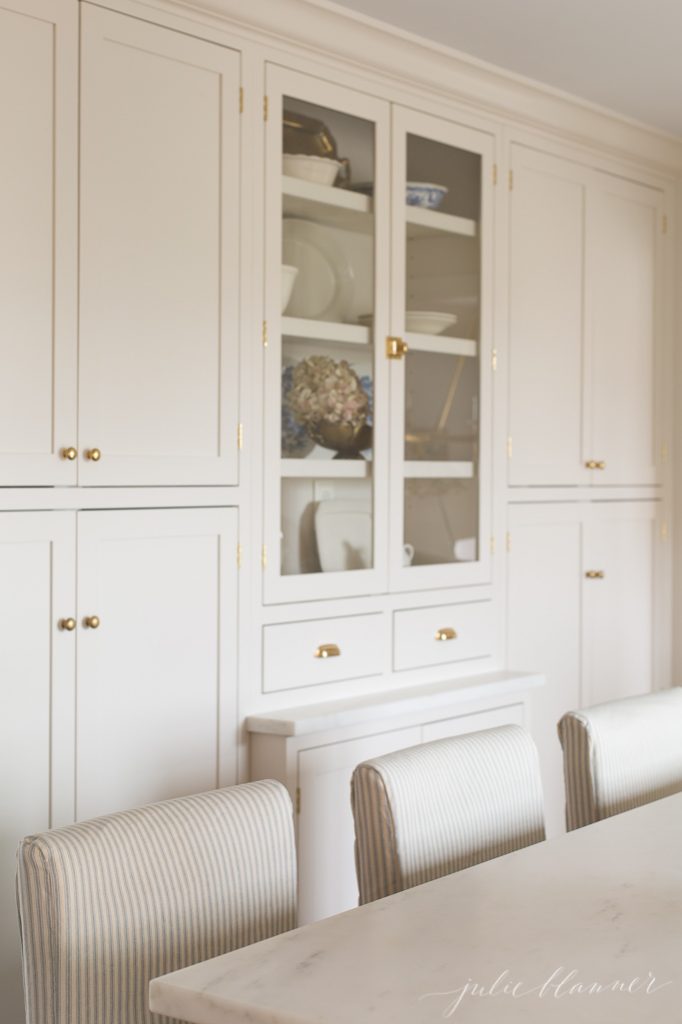 When I finally decided to look outside of the impractical options, we sought comfort. The island is a place we, the girls, friends and family gather.
We love the chairs in the breakfast nook because they're easy to wipe down, but it's not exactly where you want to spend an exorbitant amount of time because wood chairs aren't comfortable.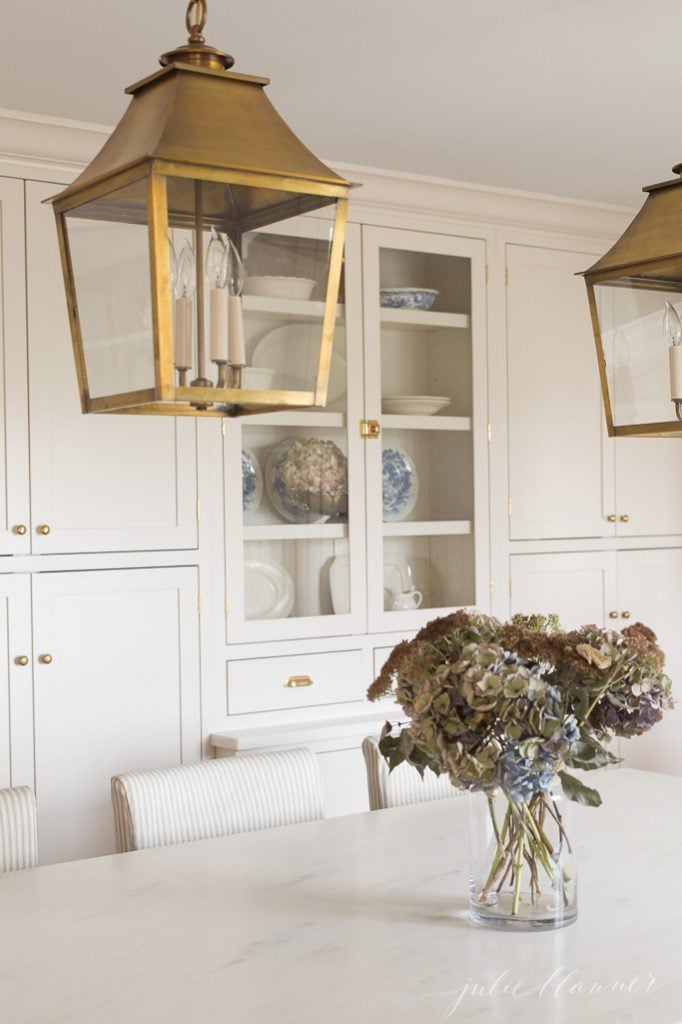 I turned to upholstered kitchen stools and hoped to find some in a durable indoor/outdoor fabric that would be easy to care for.
Given that we decided to go with a wood island, I wanted a little contrast, too, so we needed a cream base.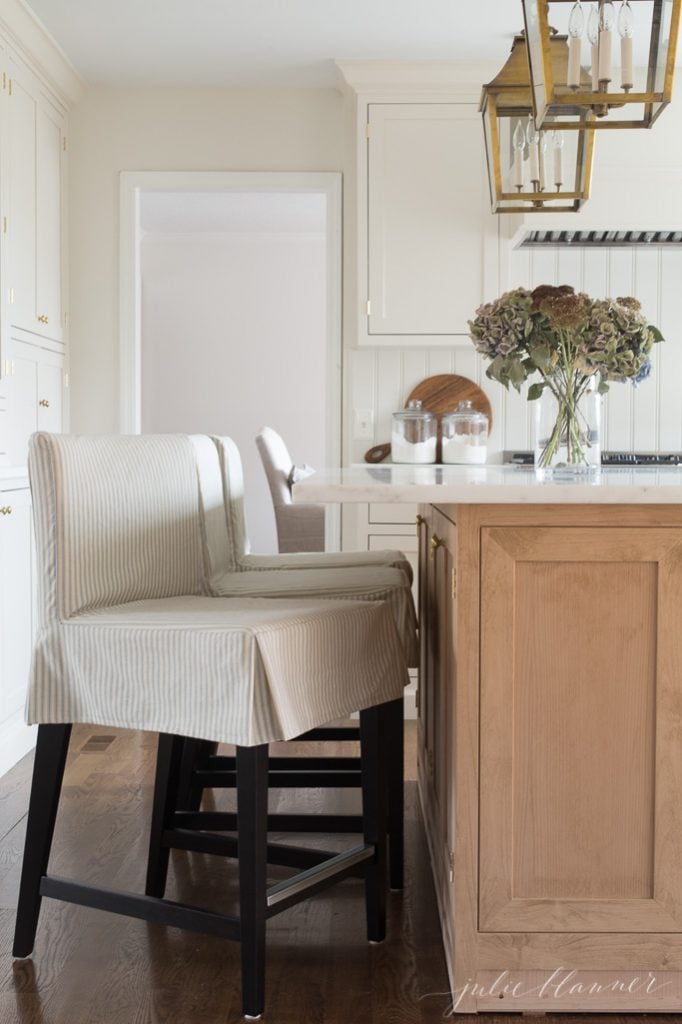 IKEA Counter Stools
I decided we needed to design our own and headed out to brave IKEA. I mean, just walking in the door gets my heart pounding and I want to run away.
So we parked, entered and spent 45 minutes attempting to find the stools to verify the height, depth and etc (I'm a visual person and it makes me feel anxious not knowing what lies inside those boxes)!
Then I worked off the previous evening's wine with a walk to the warehouse where I located the stool, questioned everything I had decided, the height, the width and is this really a good idea?
An hour and a half later the Henriksdal counter stools were loaded and there was no turning back, because it will be months before I could brave another trip to IKEA.
Ikea counter stools are surprisingly well made. Even better, they're really comfortable!
They come in black (though listed as dark brown).
The stools have a metal kick plate to protect where your feet rest. The cushioned back kitchen stools are comfortable enough to spend several hours on.
IKEA offers a few bar stool slipcovers, in white, natural, grey, green and floral. The slipcovers cover just the base of the seat itself and go over the legs.
IKEA bar stools are 30 x 19 while the IKEA counter stools are 26 x 19. It's important to select the right height for your table or island so you have plenty of legroom.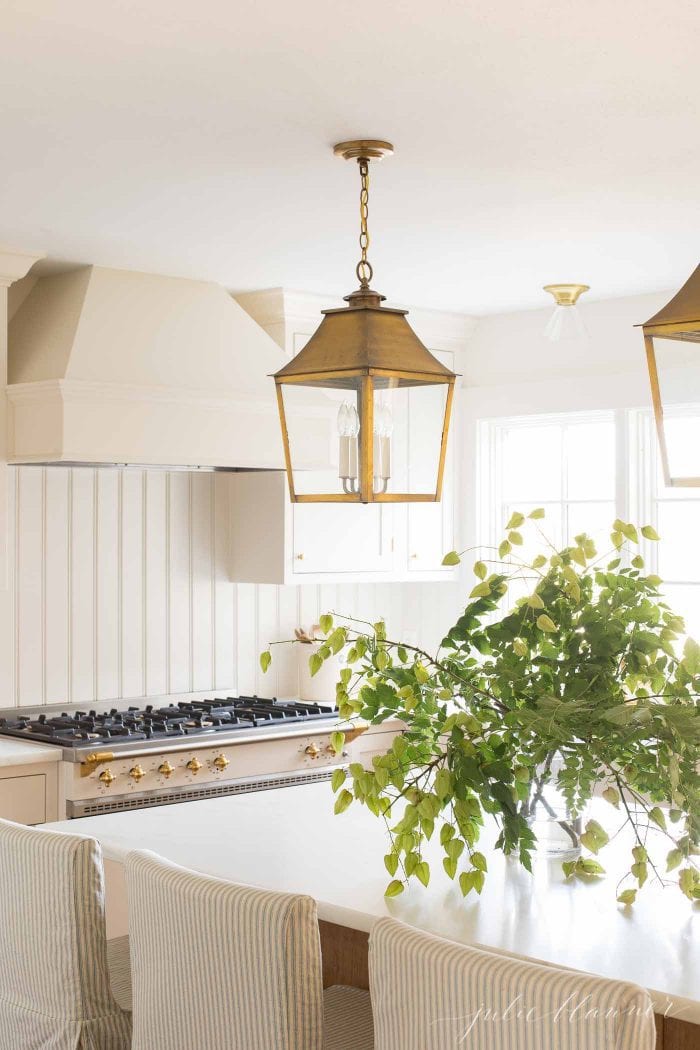 How to Update IKEA Bar Stools or Counter Stools
Paint (or strip) the stools to coordinate with your kitchen.
Sand or use this method to paint without sanding.
Paint using quality furniture paint. We used the same color as our Cream Kitchen Cabinets.
Have a slipcover made in your favorite fabric. You can use one of IKEA's as a guide or follow the tutorial linked below.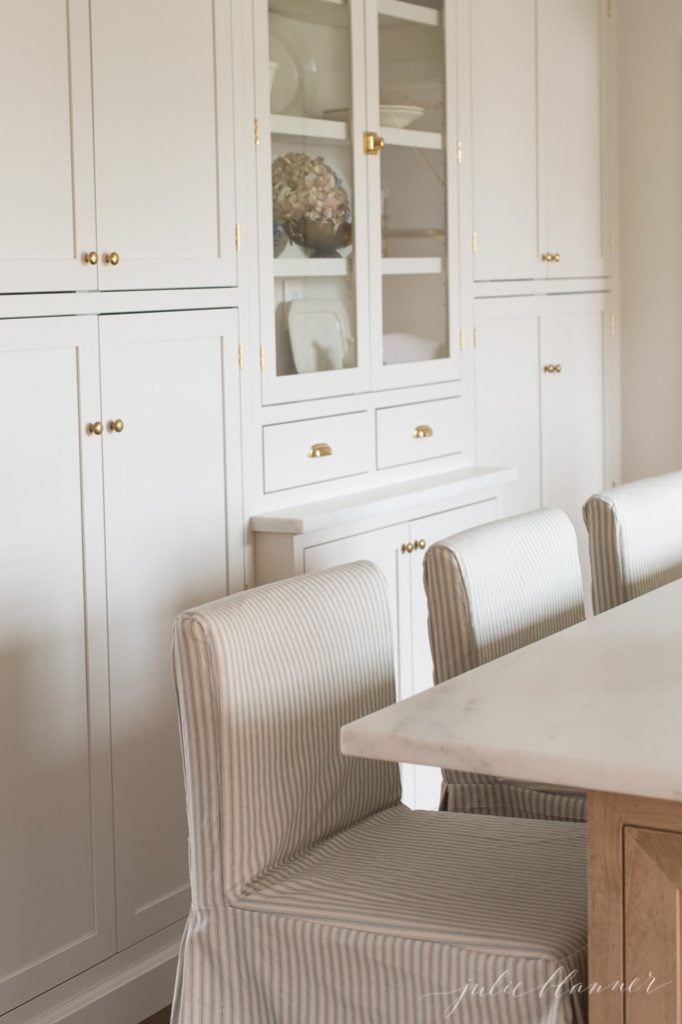 Lisa from Farmhouse on Boone made bar stool slipcovers using a cream and soft blue ticking stripe fabric. I had her make them longer to drape to appear casual, but refined. You can get the slipcover tutorial here!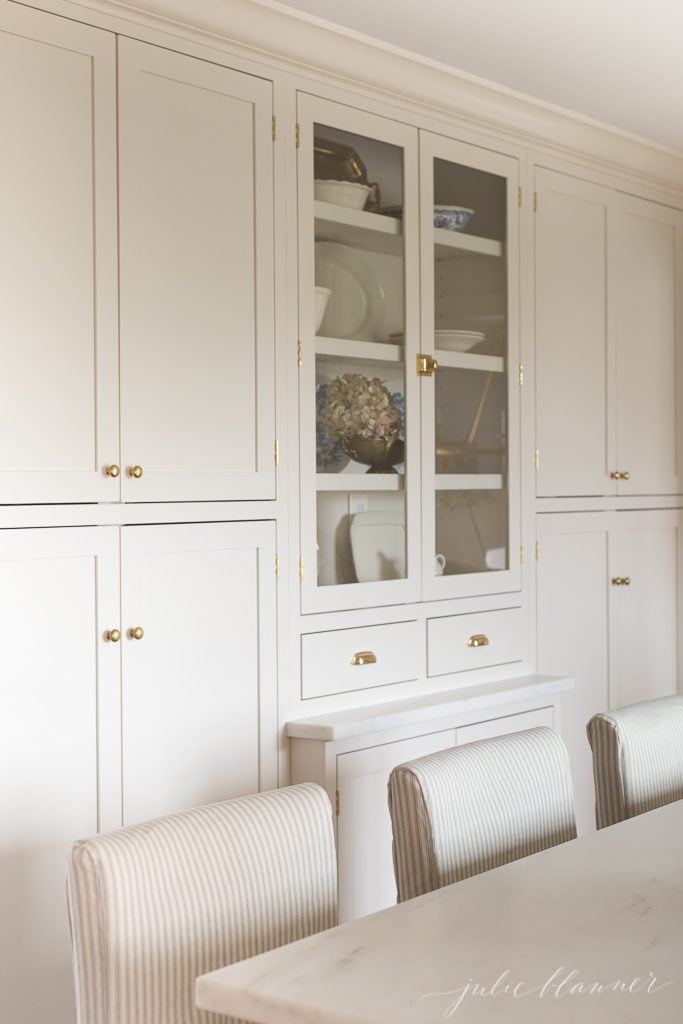 I'm head over heels in love with how comfortable and practical they are. Bar stool slipcovers blend function and design – offering comfort, yet ease of cleaning.
Adapting IKEA counter stools is an inexpensive way to achieve custom kitchen stools that fit any kitchen design.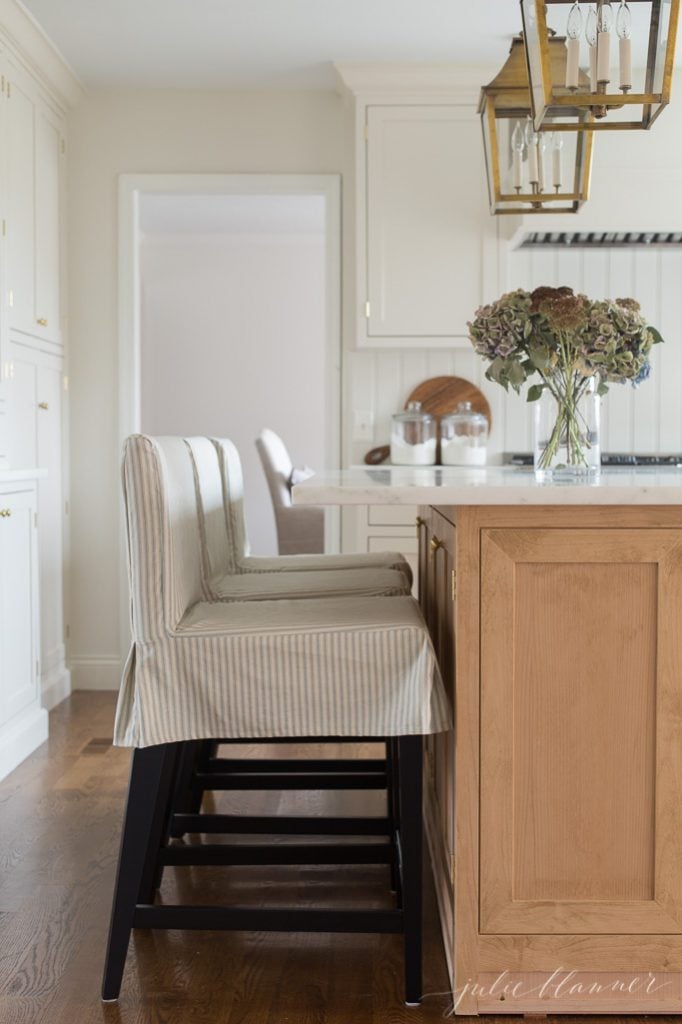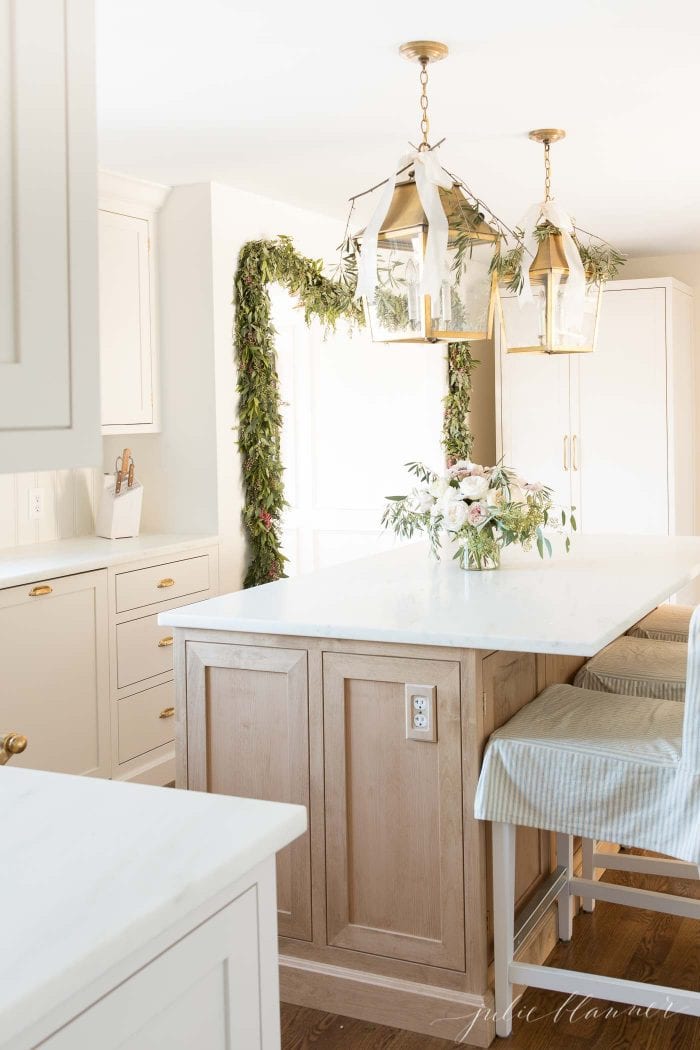 Do you have a fear of IKEA, too? Please say I'm not the only one!