If you're designing a new kitchen, you might be hoping to incorporate a kitchen island for an expansive workspace and extra seating. To see if it fits in your floorplan, check out this kitchen island height and size guide to help you choose your kitchen island dimensions.
There's so much to consider – you'll need to think about the overall size of a kitchen, adequate space for food prep and serving, standard height and room for bar stools.
Designing a new kitchen can be complicated… but it can also be so much fun! Use this guide to help you with your new layout.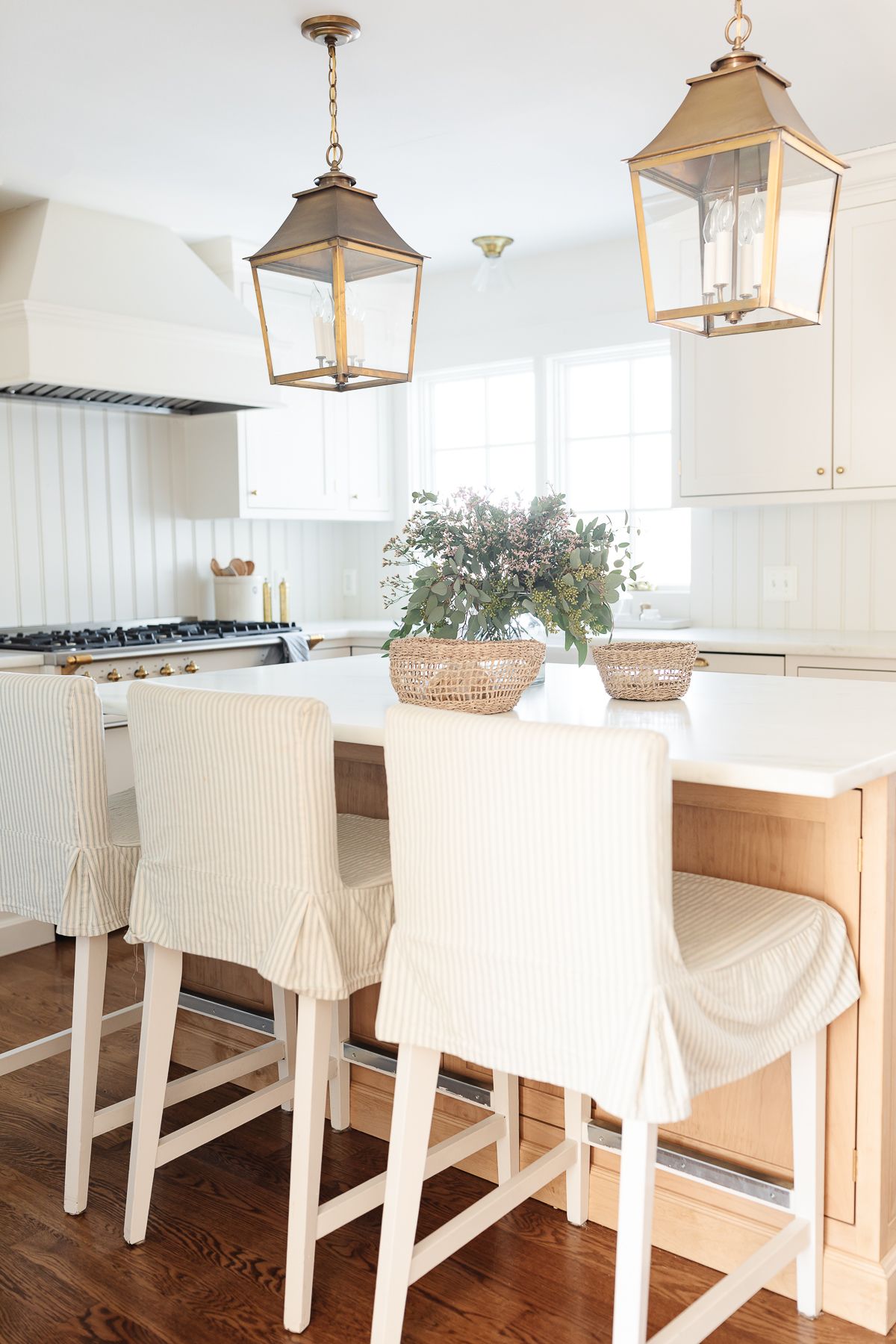 When we started the planning process for our Cream Kitchen, I knew I wanted a large kitchen island with seating for guests and our three little girls. Several contractors and designers tried to convince us that there wasn't space, but I knew we could make it work!
Luckily, we were able to carve out the perfect kitchen island dimensions and I couldn't be happier with the end result. In fact, I modified our back wall of Custom Cabinetry to be much more shallow in order to accommodate a larger island with seating.
There's room for three kitchen stools (customized Ikea stools, actually) and plenty of prep and serving space. I love adding a simple vase of flowers or a basket in the center, but ideally it's simple, clean, and uncluttered like the rest of our home. Get all my best tips for Kitchen Countertop Organization here!
There are no design guidelines that are set in stone. However, it can be helpful to see standard kitchen island dimensions and understand the spacing that helps make your kitchen flow well.
No matter what type of counter space you're hoping to add with your kitchen island, it can add flexibility and efficiency to your kitchen. Get all the best tips for designing a kitchen island you'll love right here!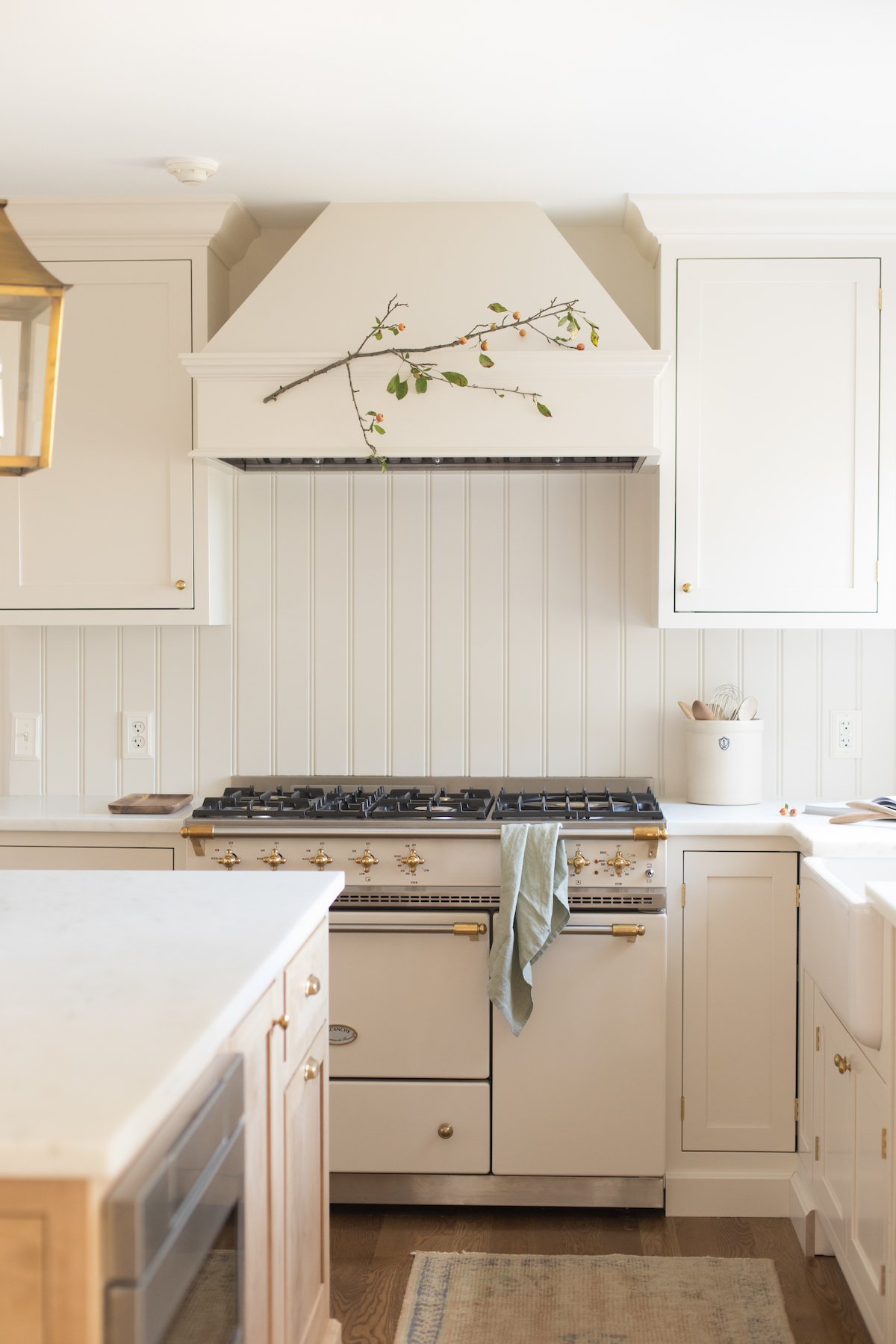 Kitchen Island Dimensions
The average kitchen island size (according to a variety of experts) is approximately 80 x 40 inches. However, keep in mind that this is not a law! It's just a guide to help you with the layout of your kitchen.
Every home is different. Your layout is different, and your needs are your own! Choose a kitchen island size that works for you.
Much more than the specific size of your island, it's so important to consider clearance all the way around to improve work flow.
Our kitchen island is 72″ by 36″, with a marble slab that that is 72″ by 48″ (for the seating overhang).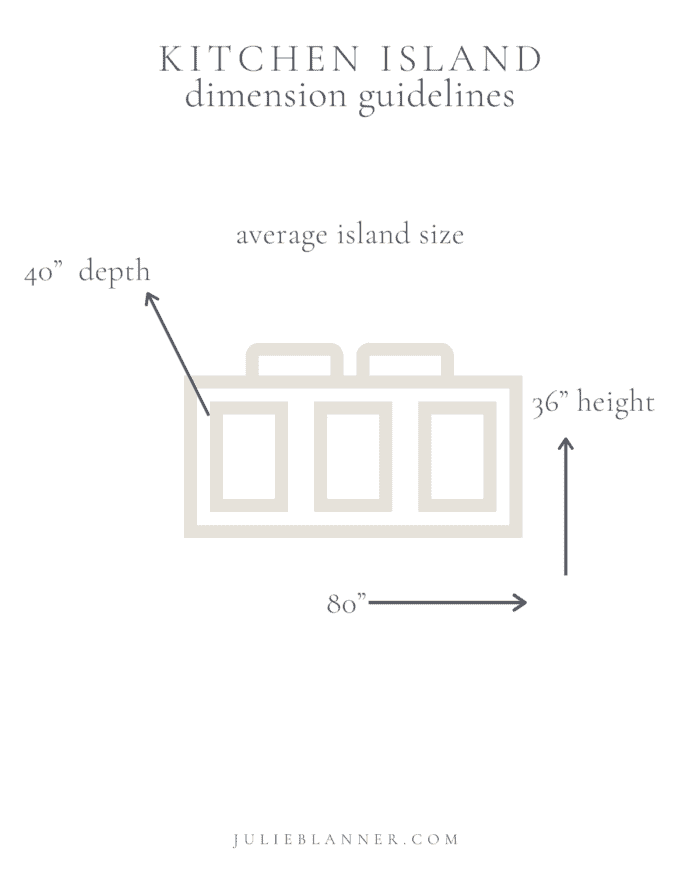 How Much Space do You Need Between an Island and a Counter?
To create adequate space between an island and a counter, you'll need to allow at least 40 inches of space.
This distance is perfect to allow you to work between both countertops, leading to the ultimate work triangle spacing. It gives plenty of space for drawers and doors to open, and allows up to two people to move freely through your kitchen.
If you're like me and tight on space but desperate for an island, you can push this space (also termed a "clearance zone" in kitchen design) to as little as 36 inches. However, use my tips at the bottom of this post to map out your kitchen design and ensure you'll be happy with this more minimal spacing.
Keep in mind, you can also have too much space in between an island and your counters. Don't design this space to be more than 60 inches wide, or it is likely to feel too big for your work triangle and less efficient.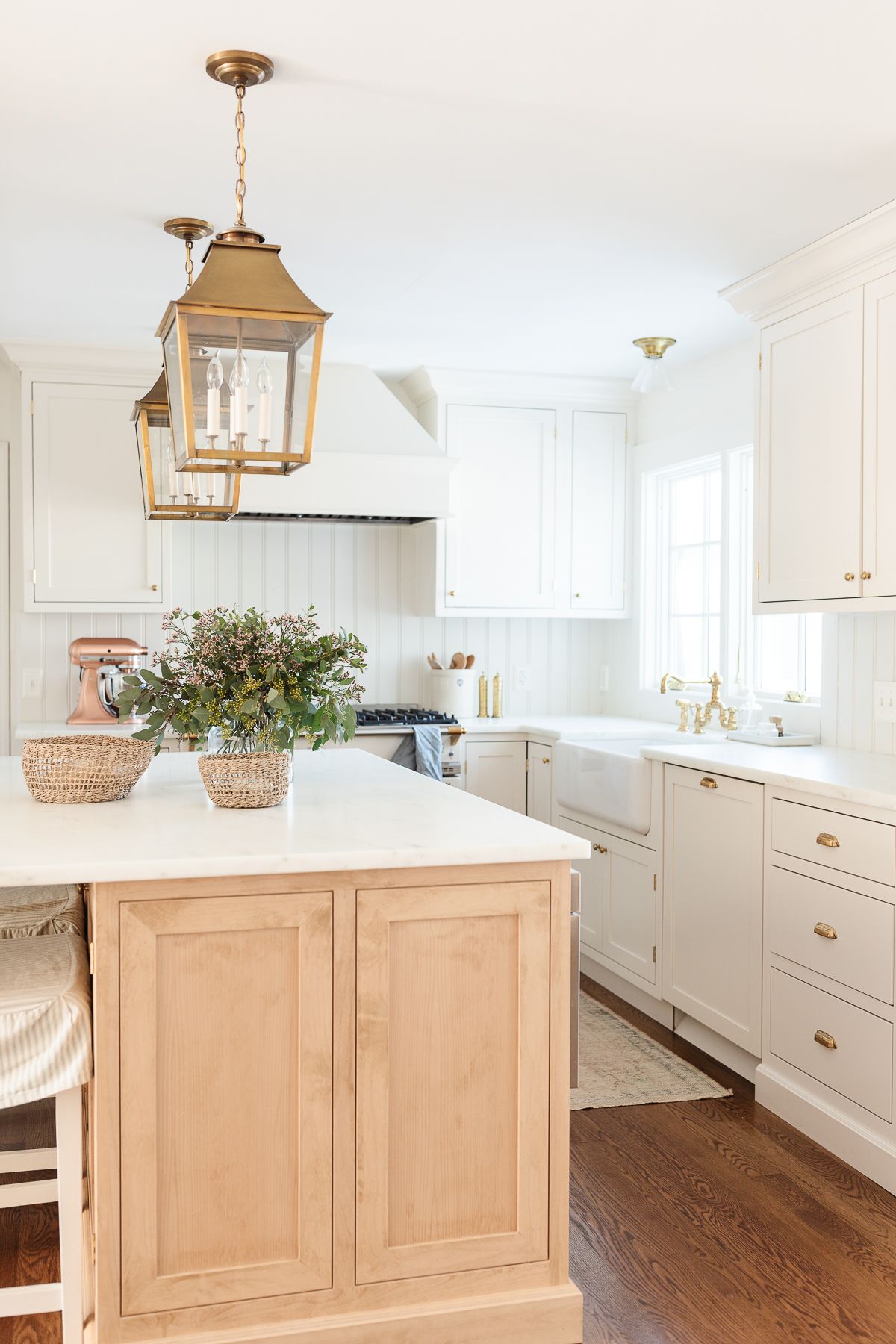 Kitchen Island Height
Standard kitchen island height should be 36 inches just like your regular countertops. They can go up to 42 inches depending on your overall vision.
Generally, if the height of your island is 42 inches, that's considered bar height for a breakfast bar. You'll need higher bar stools, as this is not counter height. Often you'll see this style in a raised area at one end of an island for taller bar stools, while the remaining island remains at a standard height.
Adding a countertop for baking at your island? That can be as low as 30 inches, because you'll need to apply more force for rolling pins and the like. Read about my favorite Butcher Block Countertops if you like that look, too!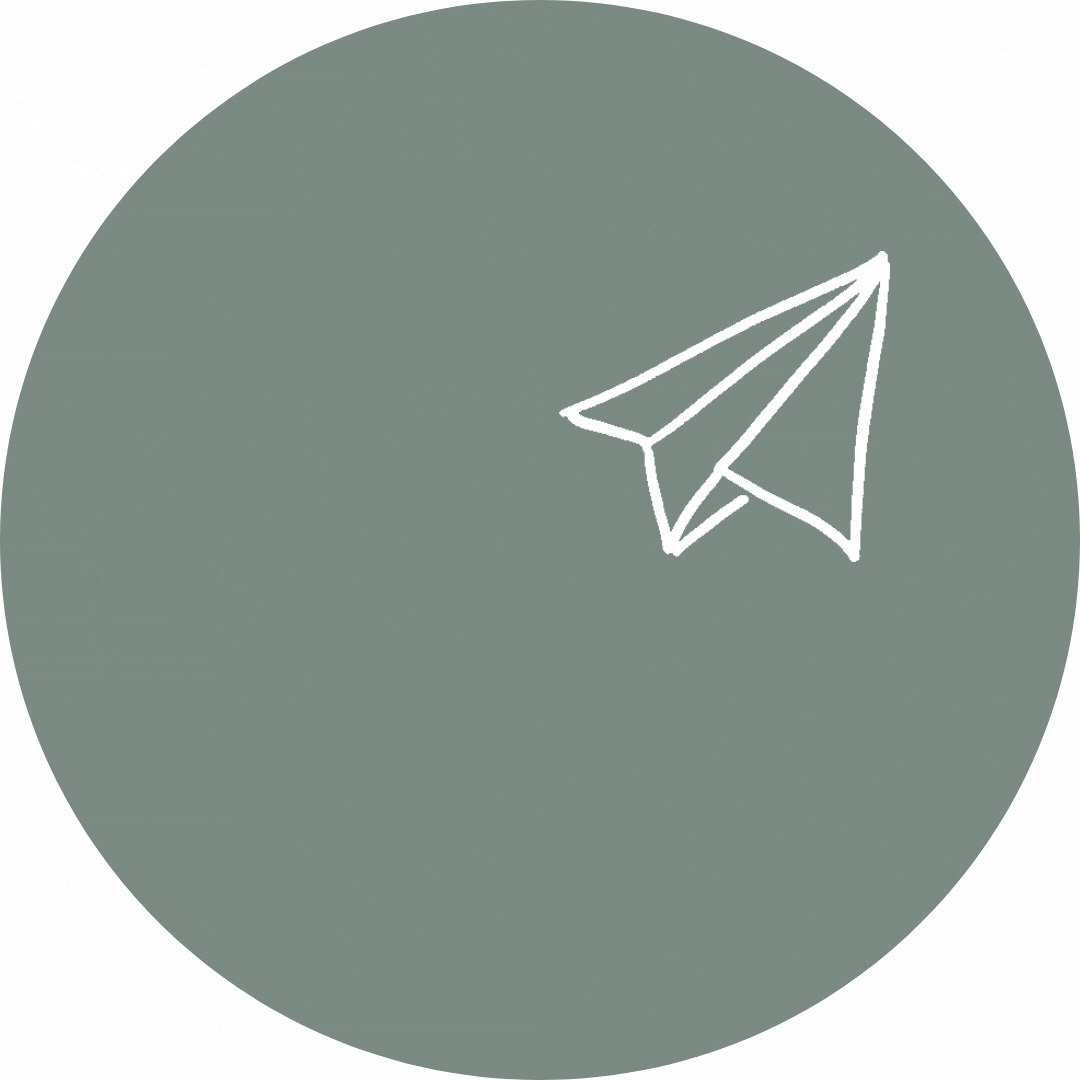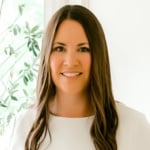 Tips
Set up a "faux kitchen" with painters tape on the ground, or even cardboard boxes to mimic the shape you're considering. Walk around and get a good feel for how much space you'll need.
A finalized island size is generally determined by the size and shape of your room. Not every island has to be large with a seating area – a petite prep space can work equally as well in a smaller kitchen.
Always check your building codes before making finalized decisions.
Learn all the secrets and techniques for how to measure furniture, and get it right the first time! You can also find all the details about bar stools for kitchen islands here.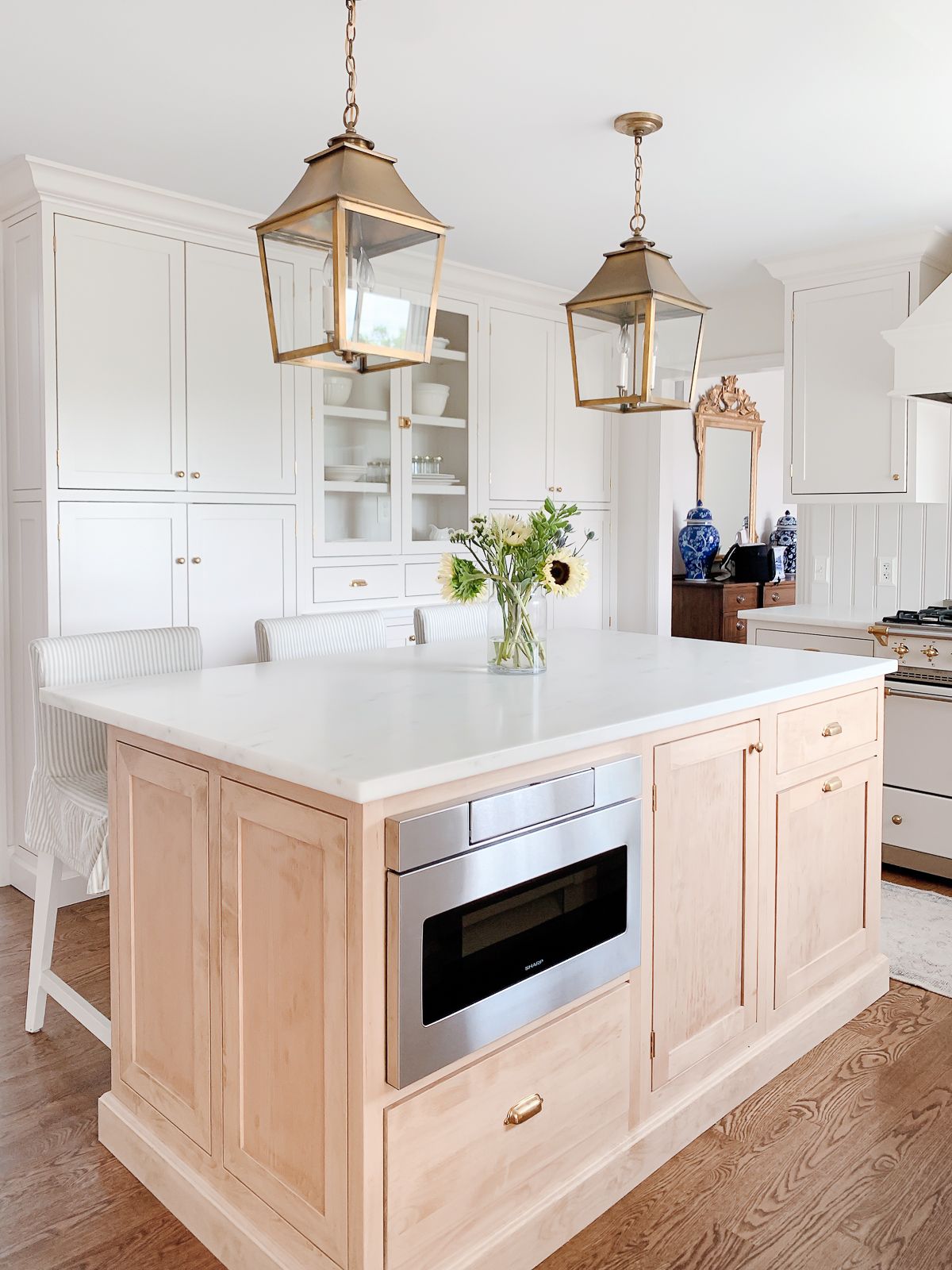 I love sharing ideas for improving your home!
We've renovated many homes during the last 20 years, and I am always thrilled to pass along the knowledge we've gained along the way. See the complete Before and After tour of our St. Louis home here, and our modern Table Rock Lake Cottage as well.
Frequently Asked Questions
How much overhang should a kitchen island have for seating?
Generally, a kitchen island overhang should be between 8 and 12 inches to allow adequate space for dining. Anything deeper and you'll need to add supports for your countertops.
How much space do you need per person for seating at a kitchen island?
Plan on approximately 24 inches per person (up to 30 inches for a spacious feel) when you're calculating your kitchen island dimensions. A seating area is of course flexible and there are no hard and fast rules, but keep that measurement in mind!
Should a kitchen island be the same height as the counter?
Standard kitchen island height is 36″, just like traditional counter height. For most adults, this is the gold standard for the correct comfortable height for working. However, if you do a lot of baking, you might choose a lower height, or go higher if you're planning a breakfast bar.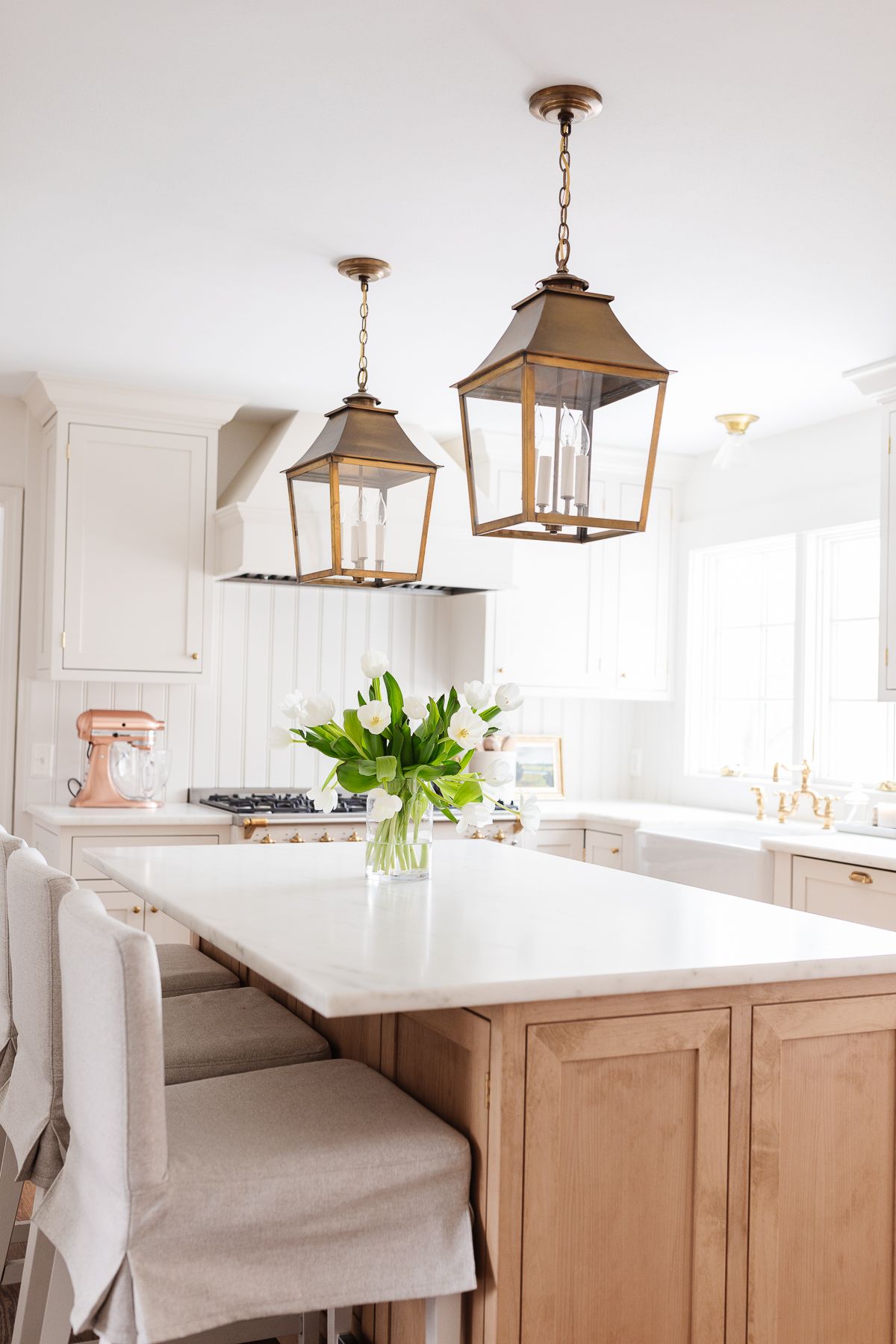 What are your thoughts? Do you have a kitchen island? If so, does it serve as the happy hub of your home? I'd love to hear from you!
Design Guides, Decor & Tips