When you're upgrading or renovating a kitchen, there are so many choices to make! If you've decided on panel ready appliances, you might be debating about appliance pulls.
Get our favorite sources for appliance pulls in this curated round-up. Learn about sizes, finishes and styles to create the kitchen of your dreams!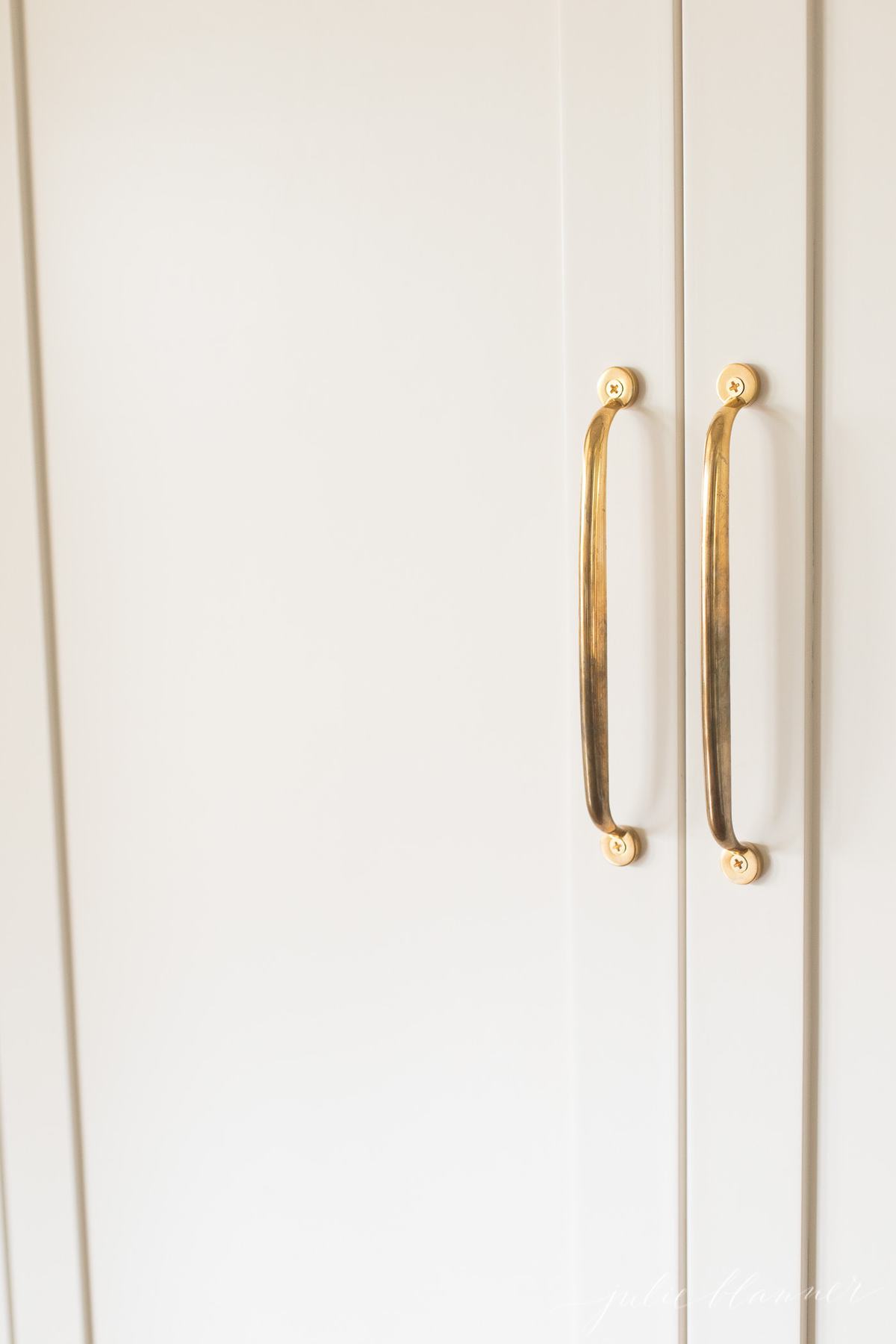 Timeless. That was our goal when we made the decisions for our classic cream kitchen renovation. We chose a stunning Lacanche French range as a focal point, and we let the other elements fall into place.
With each decision we made, we tried to envision a space that wouldn't belong in any certain decade.
From our unlacquered brass faucet, to our farmhouse sink, Danby marble countertops, beadboard backsplash and shaker style cabinets… we wanted to create a simplistic, timeless look. I certainly hope we've achieved that goal!
One of the most important ways we captured that timeless look was with our kitchen cabinet hardware.
While we've shared our selection of unlacquered brass hardware and cabinet latches before, one of the most frequently asked questions I receive is about our appliance pulls. Let's learn a little more about them, shall we?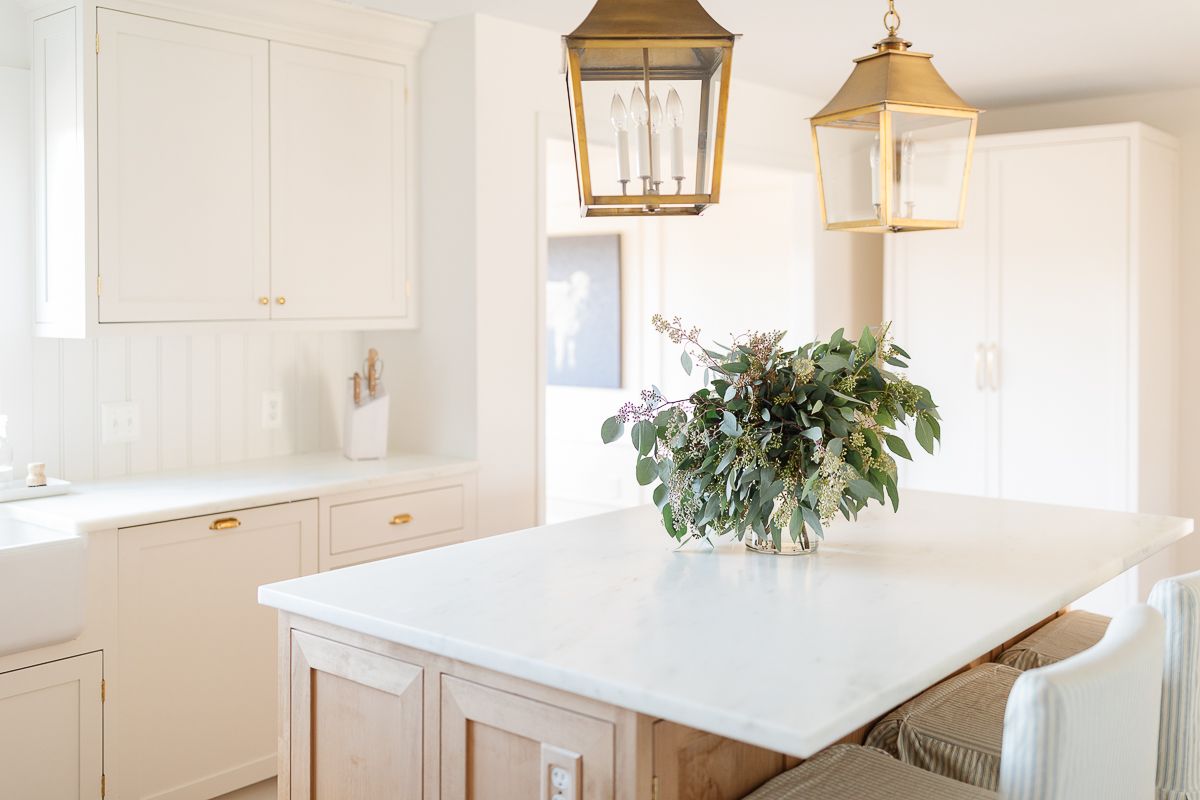 What are Appliance Pulls?
Appliance pulls are a type of heavier duty kitchen cabinet handle often used on wood panel covered appliances. Refrigerators and dishwashers are the two most common places to install them!
They allow you to blend your appliance doors in the rest of your kitchen hardware with ease. Panel ready appliances help integrate your entire kitchen by creating a cohesive look of beautiful wood cabinetry.
However, traditionally smaller knobs and pulls won't work on these larger pieces! That's where appliance pulls come in.
In fact, they can also make an incredible statement on tall pantry doors or larger storage drawers. Ranging from 12″ to 24″ long, they can be as sleek or as ornate as you'd like.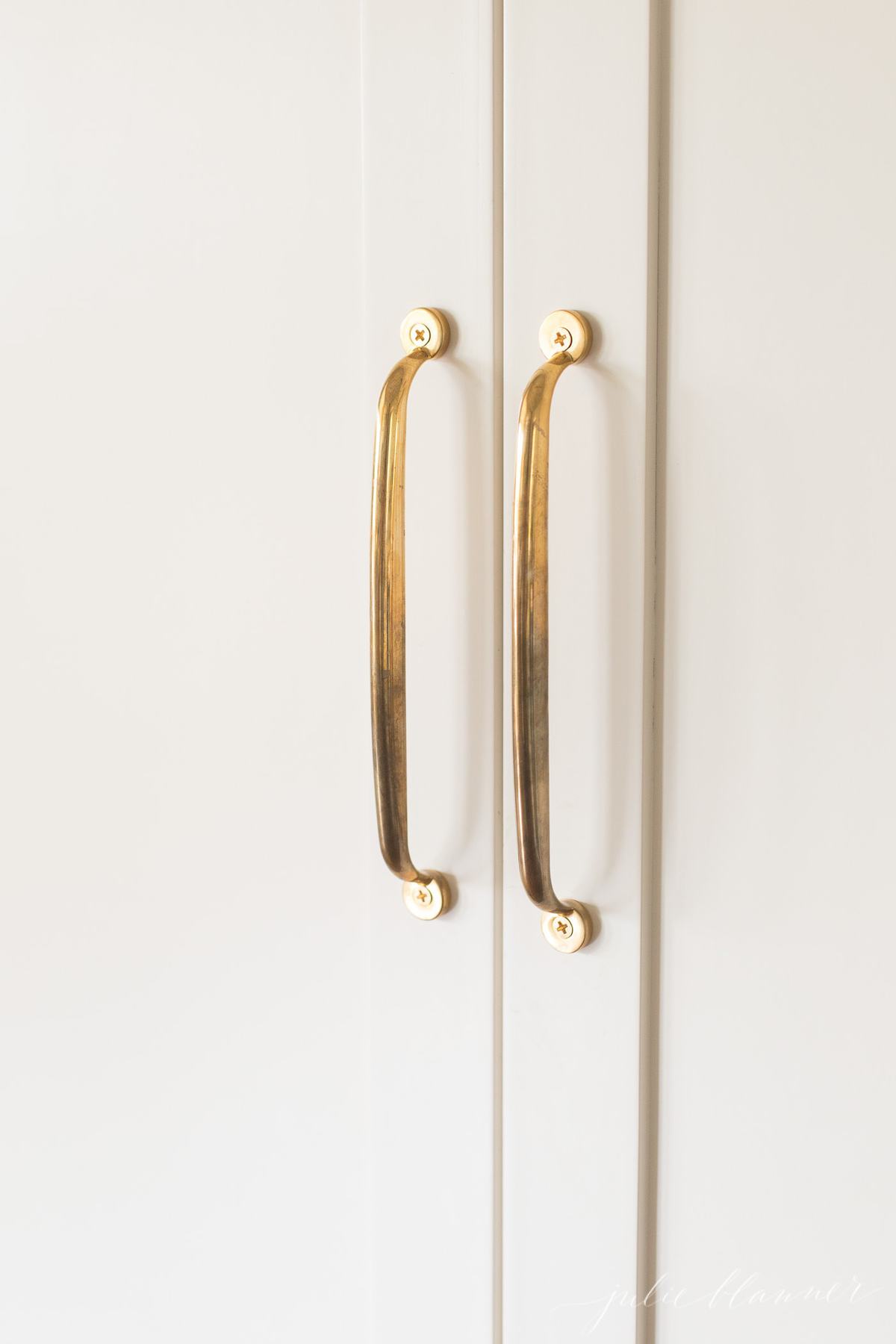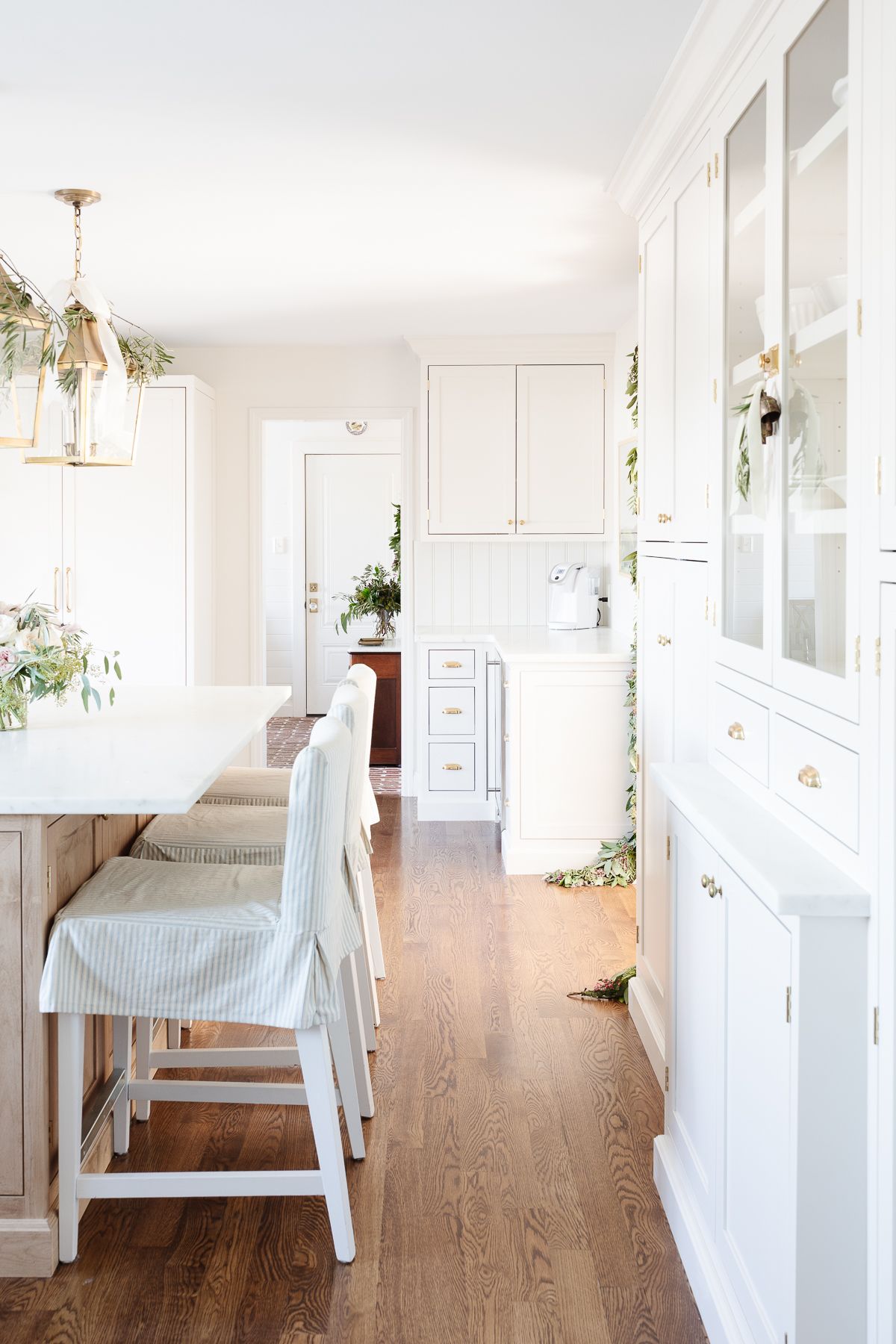 Frequently Asked Questions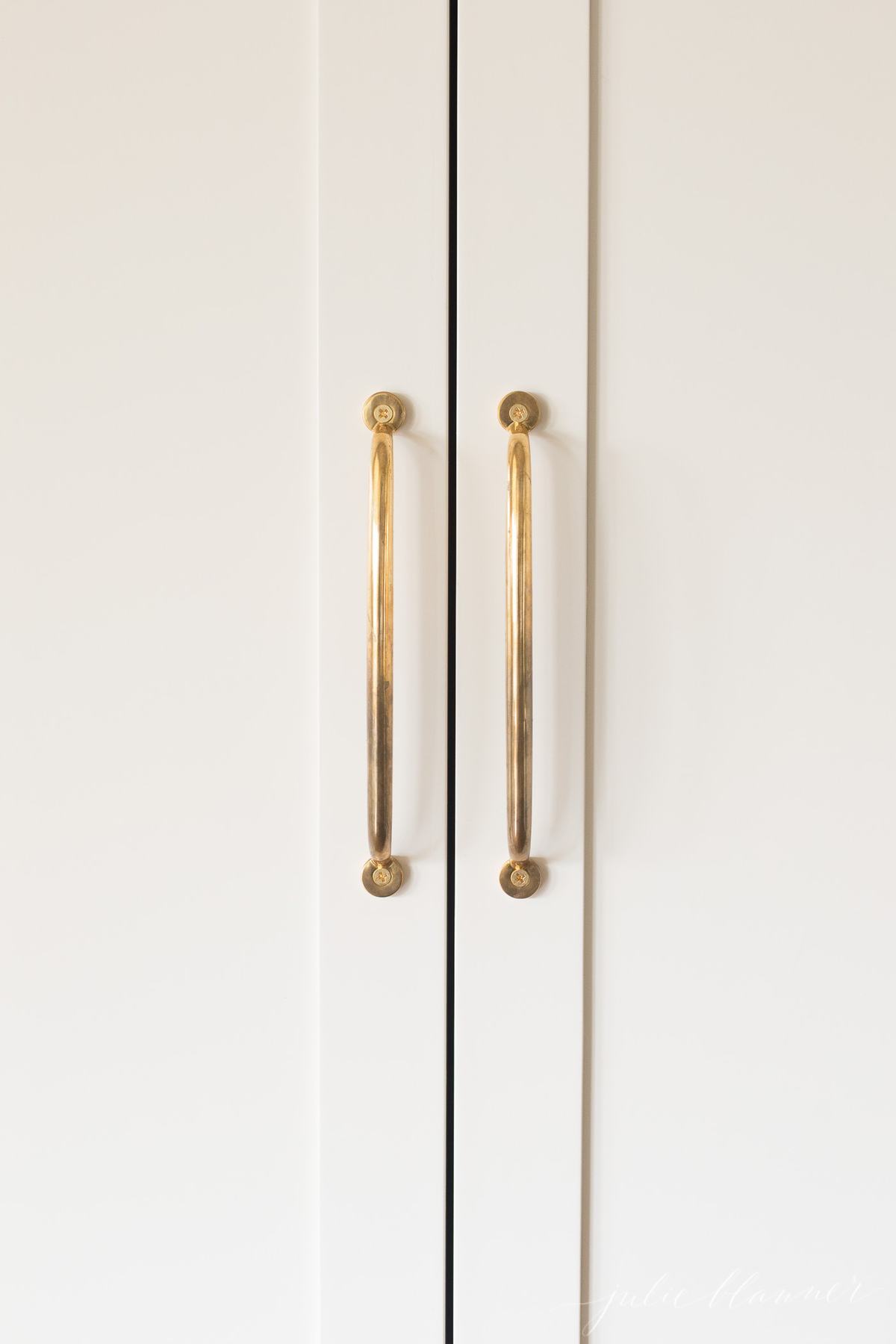 Aged, Satin and Unlacquered Brass Appliance Pulls
You know this is my most beloved category, of course! Find our refrigerator pulls here, as well as a few other standout favorites!
Brass can fit into any style of home – from traditional, to sleek and modern, and cottage or farmhouse. Choose a style to fit your home and tastes!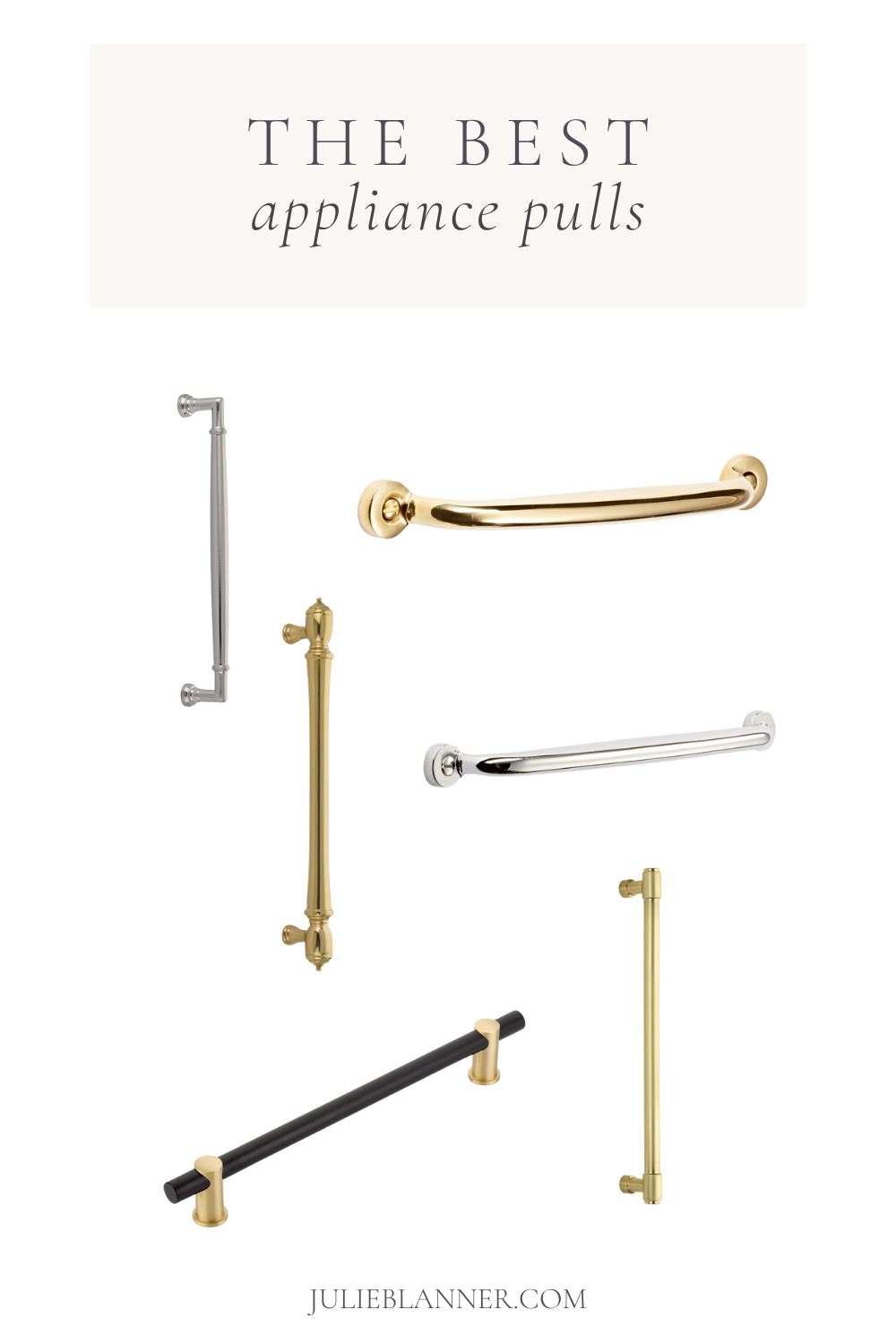 Shop the best selection of quality appliance pulls here.
Nickel and Chrome Appliance Pulls
These finishes are fresh, timeless and modern all at once. Choose from our favorite silver-hued pewter, nickel and chrome pulls below.
Black and Bronze Appliance Pulls
These dark beauties provide a striking contrast from wood or white cabinets.
I'd love to hear from you! Are you working on a kitchen renovation right now?