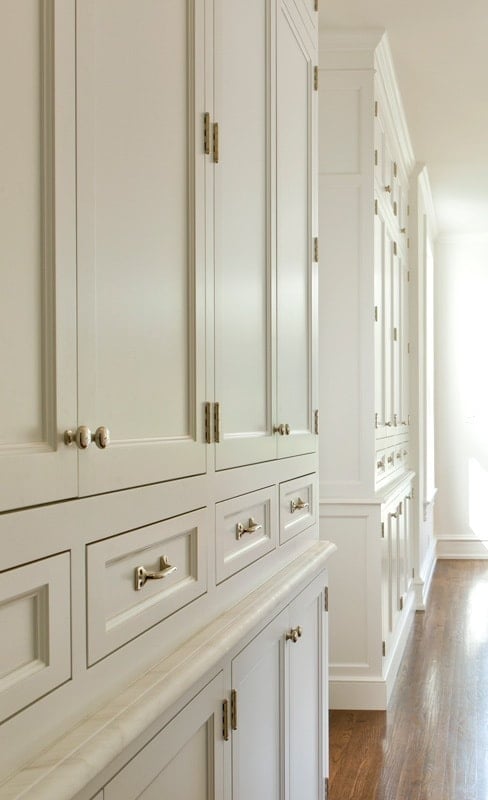 This month I have been focused on our home. It's making me a little crazy, but I'm so excited to see progress. The mudroom and half bath have been completely torn out and the linoleum has been replaced with beautiful brick floors. I can't wait to see how they'll look with cream painted cedar walls that are going in soon. Here's an iPhone sneak: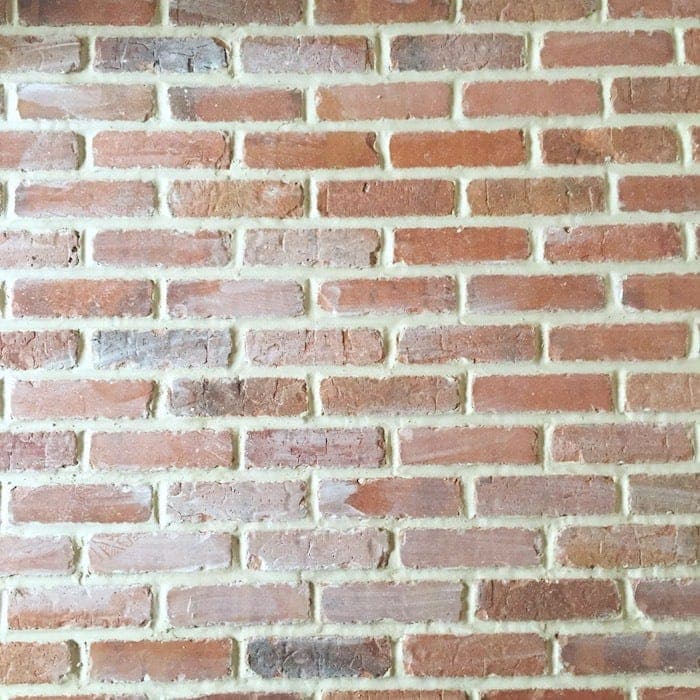 All of these changes forced me to make a decision on our kitchen. Would I love to gut our kitchen adding a butler's pantry with glass fronts in shaker style? Yes. However, we have a perfectly functional kitchen and I don't want to be wasteful. So, after giving it a lot of thought, we're going to tweak our existing kitchen to give it the feeling we want without the expense. So, I'm sharing our new kitchen plans with you!
I desperately wanted to lightly sand and stain our cabinets, however portions of them are veneer. Instead, we will paint them in a soft cream to give contrast to the wood floors that are going in in just a few weeks, retaining the brass pulls I put on shortly after we moved.
I love the kitchen island being directly across from the sink, but given the current layout, it doesn't allow for the kids to easily cook with me or for a breakfast bar. Growing up, I ate my breakfast at the kitchen island. I remember chatting with my mom while she did dishes before rushing off to school. We are rotating the island so that it will square off our kitchen, but allow a 1′ ledge to add barstools. Currently the girls enjoy breakfast in the breakfast room and I feel really disconnected from them while cleaning up, making lunches, etc. I'm still seeking a software program where I can play with the layout. If you know of one, I'd love a recommendation!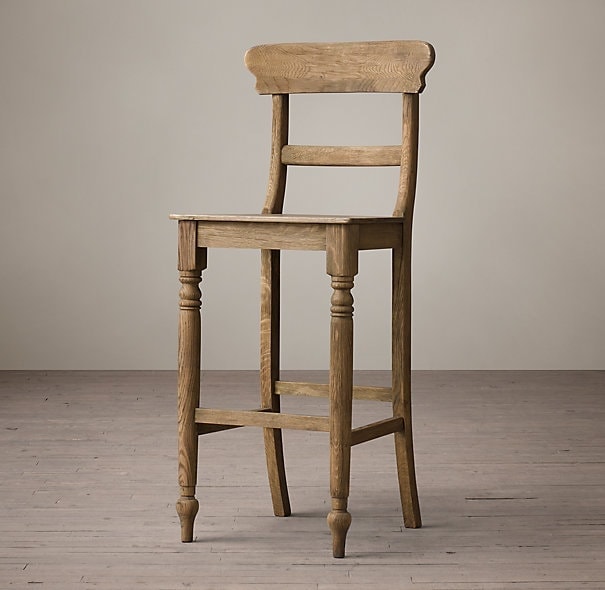 As much as I would love to have my beloved Danby marble again, Chris prefers fuss free countertops, so we're going to do a combination of quartz and possibly butcher block counters. I'm leaning toward Silestone's Lagoon Quartz. They're slightly creamy, which will pair well with cream cabinetry. What do you think?
One of the reasons I would want to replace our cabinets is that typically you take cabinets to the ceiling now. It makes a room feel larger and provides more storage space. I'm hoping to give the illusion of taller cabinetry by adding crown molding to the soffits and paint them in the same cream.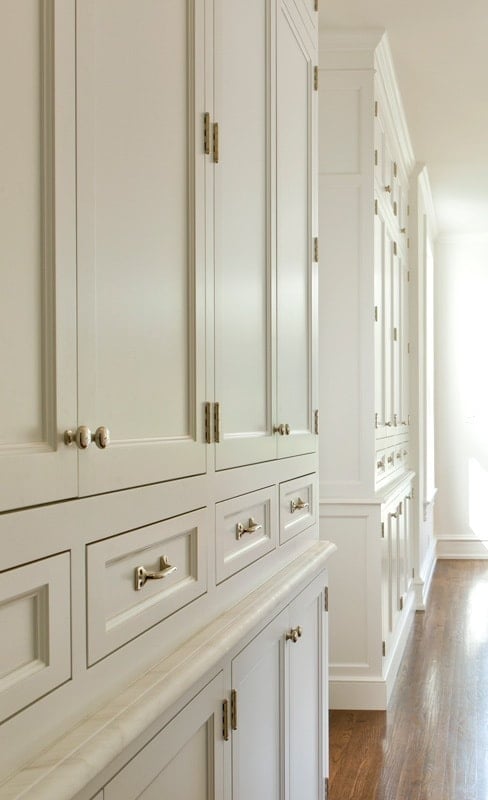 Of course a new faucet, sink and subway tile backsplash won't hurt either, right? If only I could make a trash chute work! I am also hoping to build a beautiful custom hood, much like this one…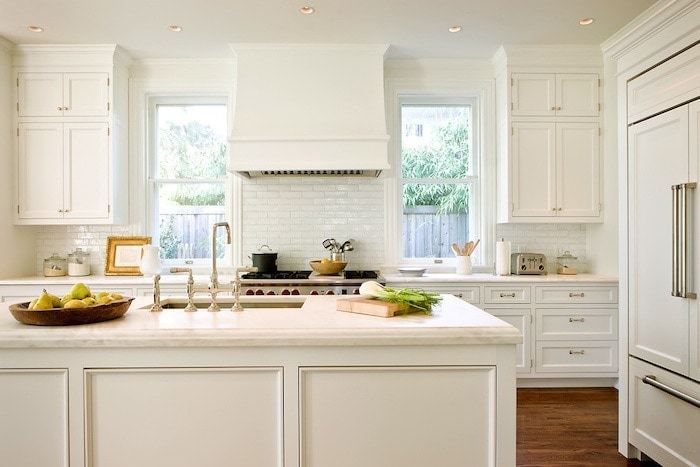 And I'm still dreaming of a pass through to our deck, eliminating the awkward shelves and allowing more light into the space.
So yes, my plans have changed, but this will give us money to redo the bathrooms upstairs while salvaging a perfectly good kitchen. Here is a before photo for perspective, just after we moved in.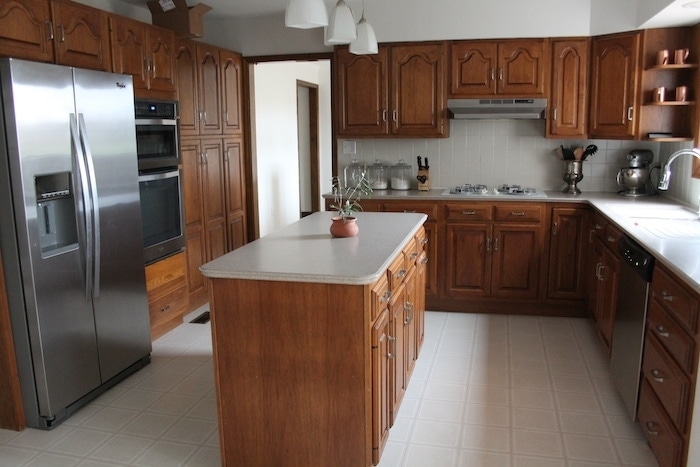 If I can catch some sunlight between all of the storms we've been having, I'll share it with the brass pulls and copper accents. You won't mind the dust, will you?
And as I write this post, our kitchen continues to evolve as we have run into a few issues with our wet bar removal. The upside? Adding extra storage space by the way of custom cabinetry in the kitchen, just to the left of the refrigerator. There's always a silver lining!
I hope you have a gorgeous weekend!