How to Design a Classic Kitchen
Learn the secrets to renovating with a classic kitchen design. A timeless kitchen is possible to achieve – this guide will help you get there! Look to historical classic kitchen designs to help illuminate the process.
Find inspiration for classic kitchen design, including cabinets, countertops, storage, flooring, sinks, faucets, hardware and more. Before you know it, you'll be creating the timeless kitchen of your dreams!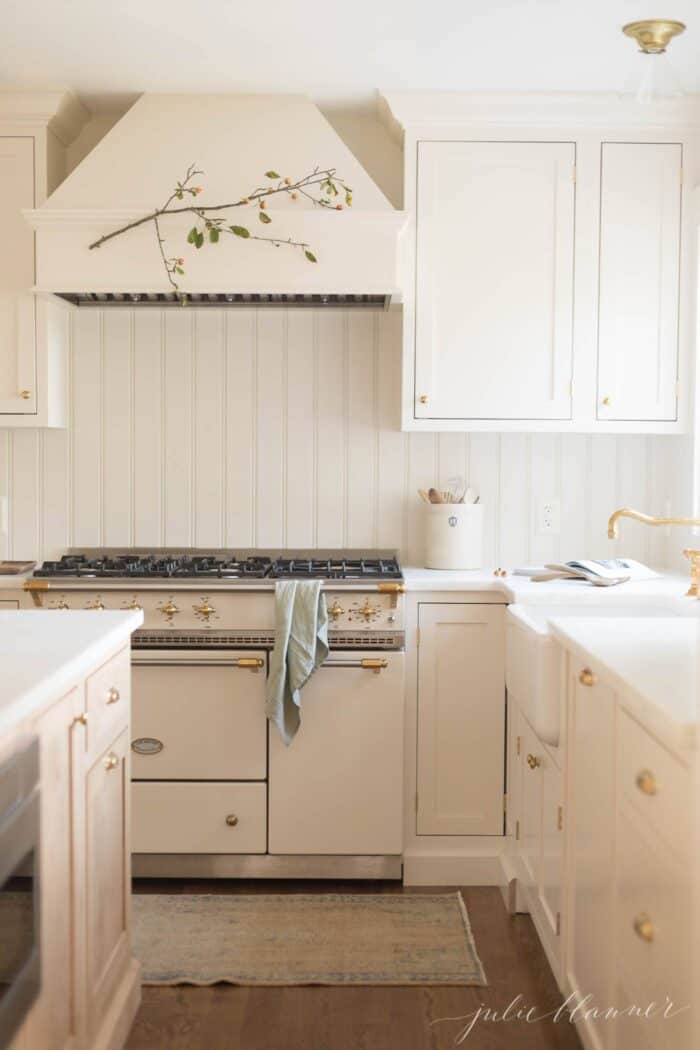 Originally published January 6, 2017 and updated with fresh content and details September 9, 2021.
When we began our kitchen remodel several years ago, there was one thing I knew I wanted. I wanted to capture the feeling of a truly timeless kitchen. I wanted it to look as though it could have been here 100 years ago, 50 years ago… and hopefully even 100 years from now!
We have a traditional style home with lots of doorways and one tiny window in the kitchen. I didn't want to impede on any walkways, but we had some goals to make the effort and expense of a remodel feel worthwhile.
This post breaks down the elements of a classic kitchen into categories. You'll find details about each of our choices: island guidelines, flooring, cabinetry, countertops, lighting, hardware, appliances and more.
I hope this helps you to take elements of timeless kitchens into consideration. While it can be fun to design a trendy, modern space, I think that designing a classic kitchen can actually be more difficult. That's because you're always trying to think ahead and also look back to historical references.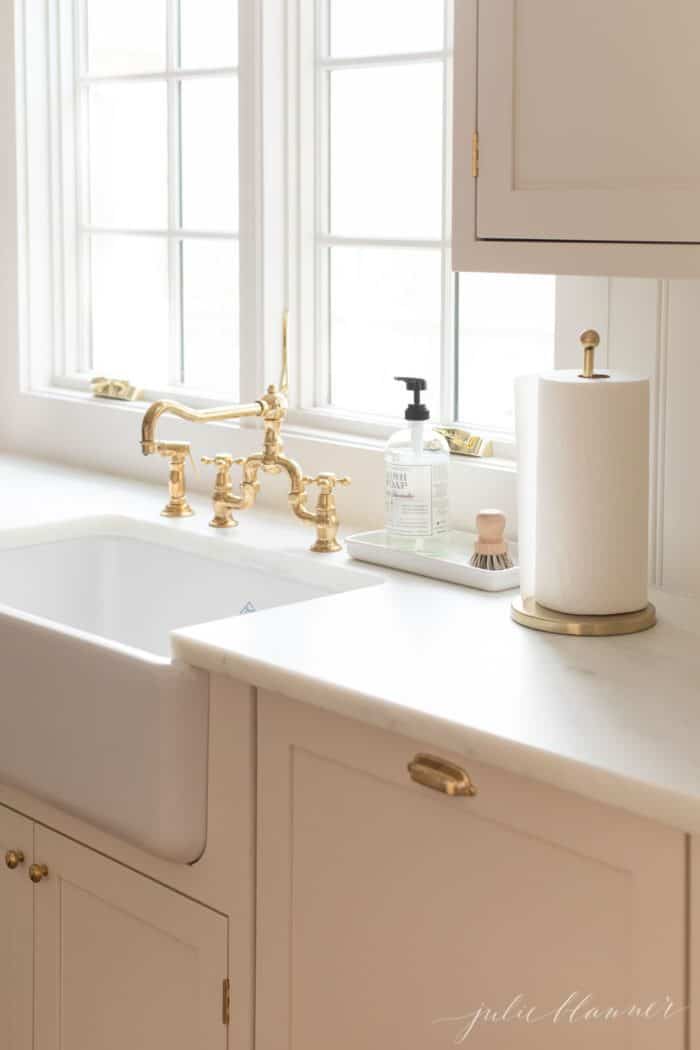 Classic Kitchen Design
It's not easy to make classic kitchen design choices, that's for sure! When we undertook this full scale renovation, we knew that it might be a bumpy road.
We chose to be our own construction manager and our own designer… leaving the labor up to the pros but the decisions up to us. You can see the full scale before and after of our Cream Kitchen if you're interested.
A classic kitchen is possible with some study of timeless kitchens of the past, and narrowing in on the work of your favorite kitchen designers. For us, that was always deVOL Kitchens.
I love the look of a classic English kitchen. Functional, but warm and timeless. They always nail it, and I drew a lot of inspiration from their most timeless kitchen designs.
As you'll see in the categories below, choosing your favorite elements can quickly help you to narrow in on a design style you love.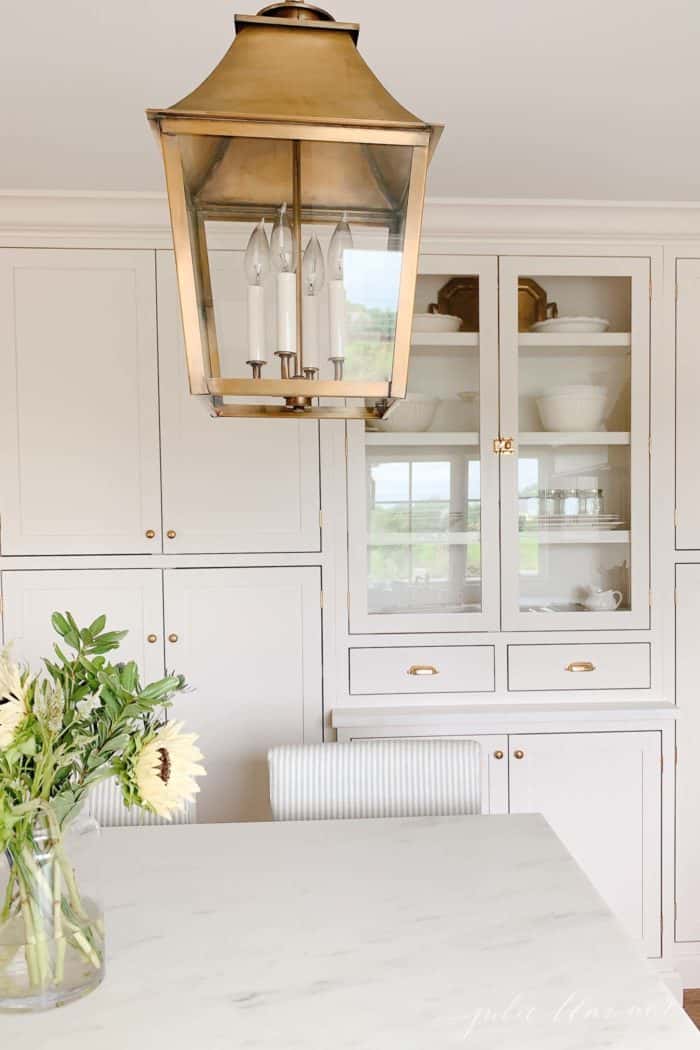 Classic Kitchen Cabinets
One of the reasons I wanted to replace our cabinets is that typically you take cabinets to the ceiling now. It makes a room feel larger and provides more storage space.
Bonus? It's what kitchen often had at the turn of the last century, too. Timeless, indeed! I love that it gives the illusion of taller ceilings, instead of a wasted space above the cabinetry like our 80s cabinets had before.
Read more here about Shaker Style Cabinets, Inset Cabinets, and Full Overlay Cabinets. Learn all about Bar Stools for Kitchen Islands here!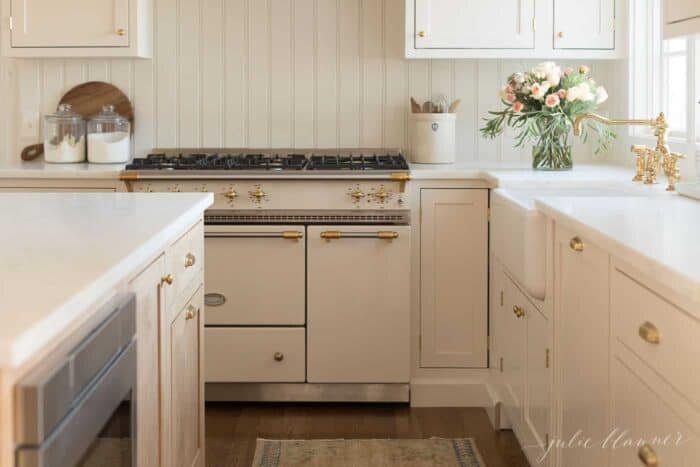 Classic Kitchen Countertops
For a truly classic kitchen design, marble counters are the only answer in my eyes. Marble was used in historic kitchens, and only looks more beautiful as it becomes timeworn over the years.
If you'd like a more worry-free option, look into Alternatives to Carrara marble or Quartz countertops. However, just know that these will likely not be as long-term as far as style goes… even if they last for years, function-wise. They just aren't as timeless, in my personal opinion.
However, we used them in our more modern lake kitchen and are very happy with the results! Learn all about the different types of Countertop Edges here!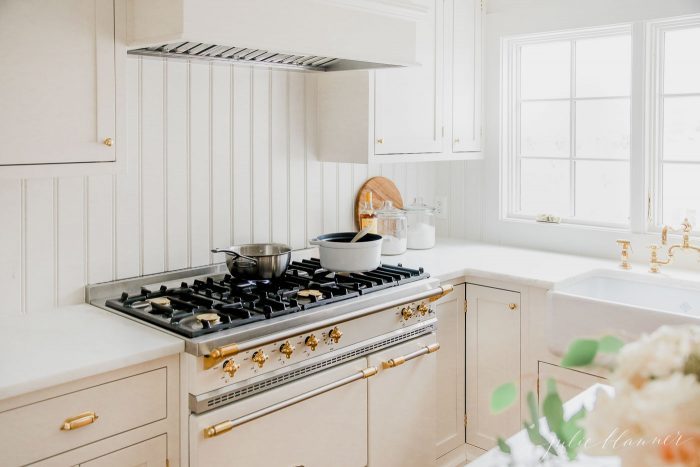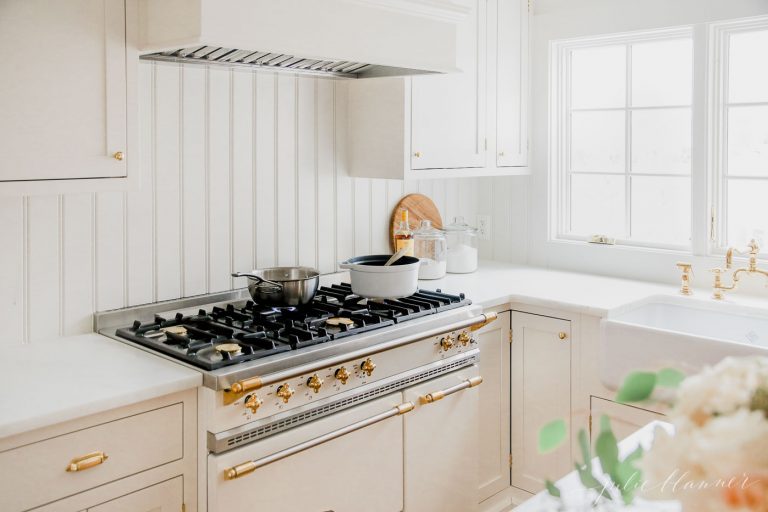 Classic Kitchen Range
I had considered Verona, Viking, Wolf, and La Cornue ranges, but my heart skipped a beat when I saw beautiful Lacanche ranges. It's one of those things you wish you hadn't seen because once you do, you can't take your mind off of it.
I was overcome with its beauty and sold on its solid cooking and baking capabilities. After all, I was working with just 1-2 burners for the last couple years prior to our remodel. You'd think having a working gas range would be enough.
After researching other options, did my best to talk myself out of it and ultimately ordered a Lacanche range. I'm beyond excited as it will not only be the centerpiece of our kitchen, but a work horse.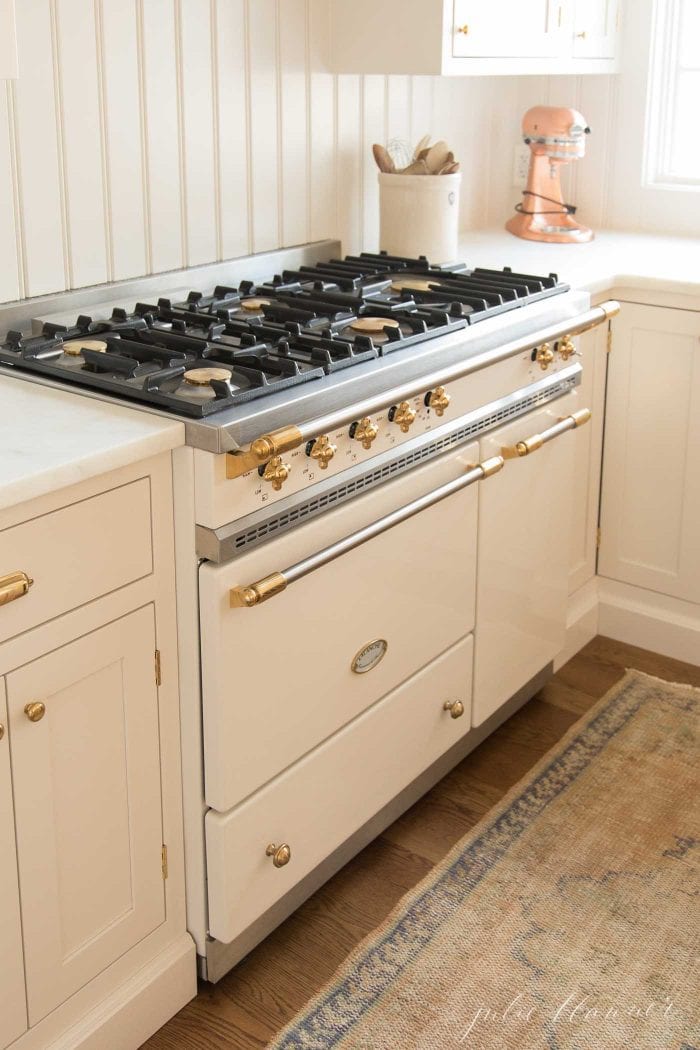 Timeless Kitchen Hardware
Of course, we chose brass hardware for our classic kitchen. Brass is the most timeless metal, in my opinion, and if you choose unlacquered brass hardware, it will only get prettier with time.
From appliance pulls to cup pulls and the sweet round knobs and hinges we used in this space, every piece references historic elements.
Learn how and where to place your hardware onto your cabinets in Cabinet Knob Placement. It's a great guide!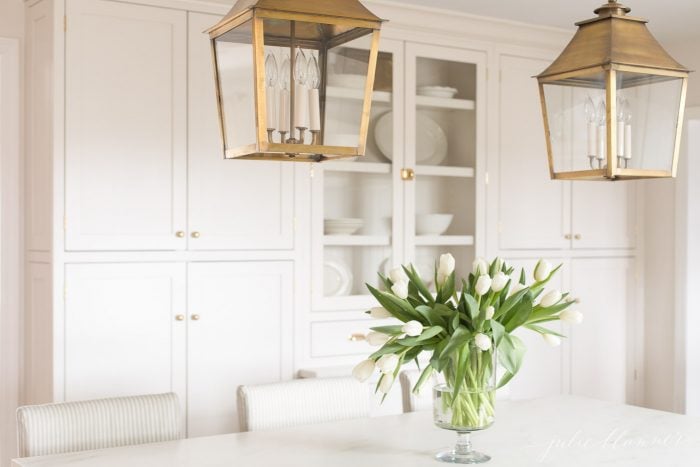 Classic Kitchen Lighting
I'm not a huge fan of traditional recessed lighting. While I realize it can be crucial in different room designs, I just prefer the ambiance of lamps and pendants.
For our classic kitchen design, we chose brass lantern island lights because they felt like a timeless element. Read more about my favorite brass lighting throughout our home.
Classic Kitchen Sink
Our apron front sink is nestled beautiful into its cabinet and works beautifully with the unlacquered brass bridge faucet we purchased.
Also called a farmhouse sink, of course, these sinks have been used in classic kitchen designs for many years! In fact, you can find vintage versions that are spectacular.
We chose one with a sweet little blue emblem that reminded me of my favorite farmhouse from my childhood.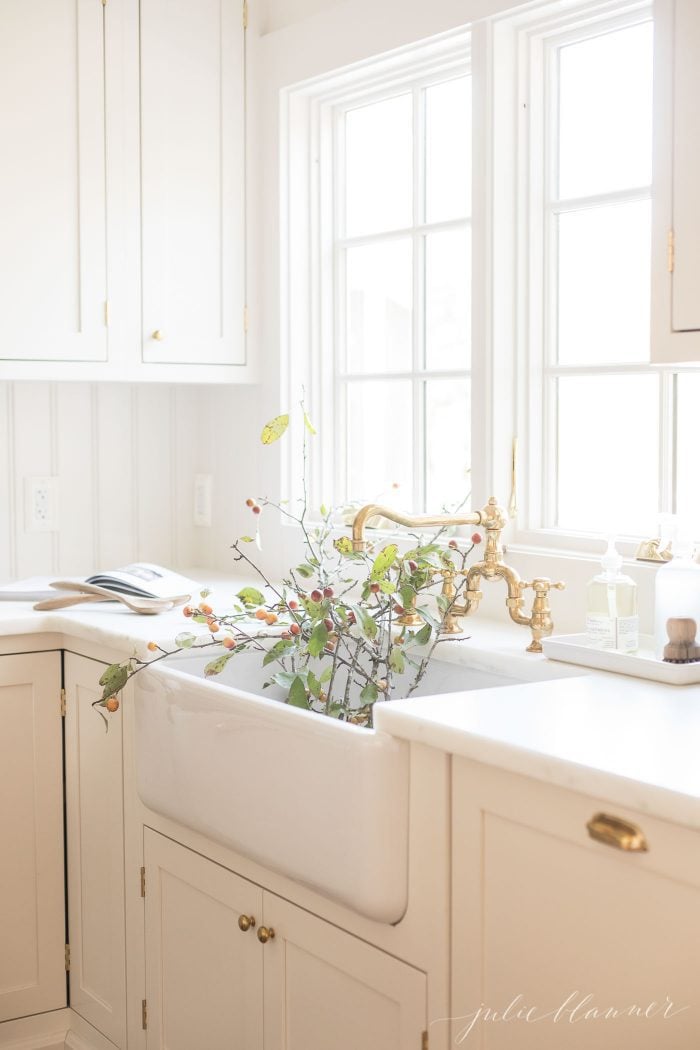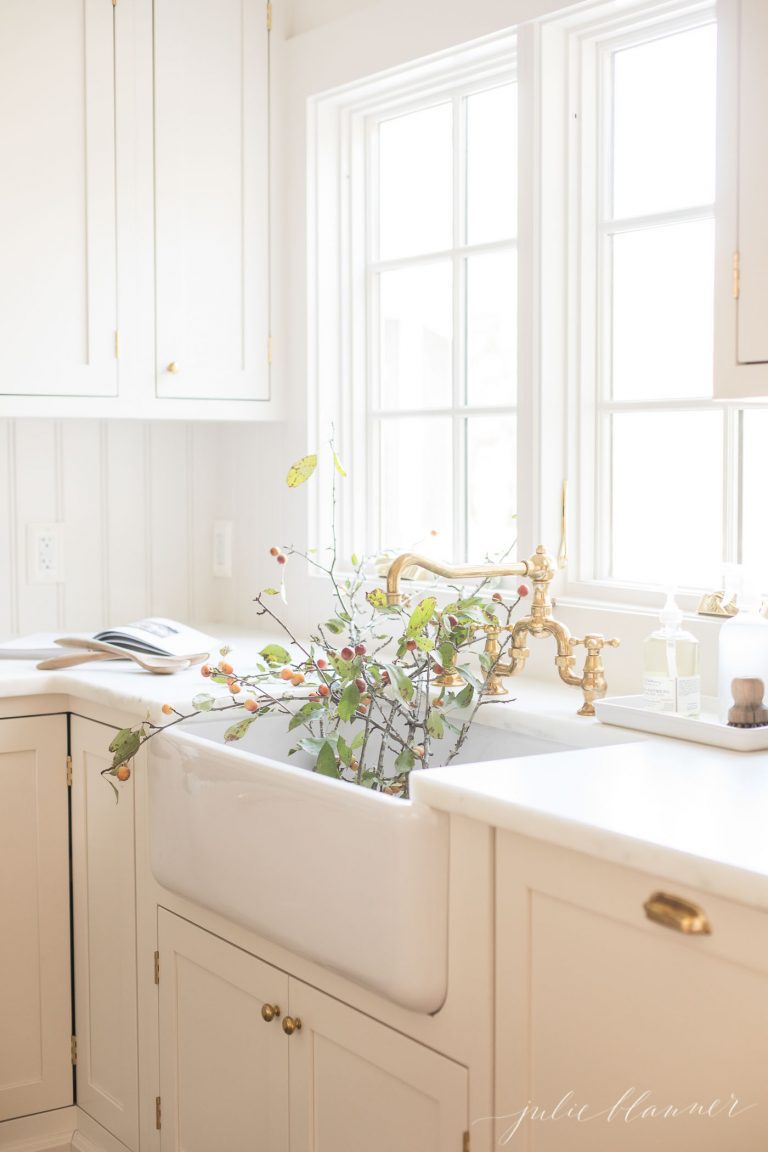 Classic Kitchen Faucet
Read more about our brass kitchen faucet and the classic style of bridge faucets that we fell in love with.
I feel that both brass faucets and nickel or chrome can capture the feeling of a historic, classic kitchen design.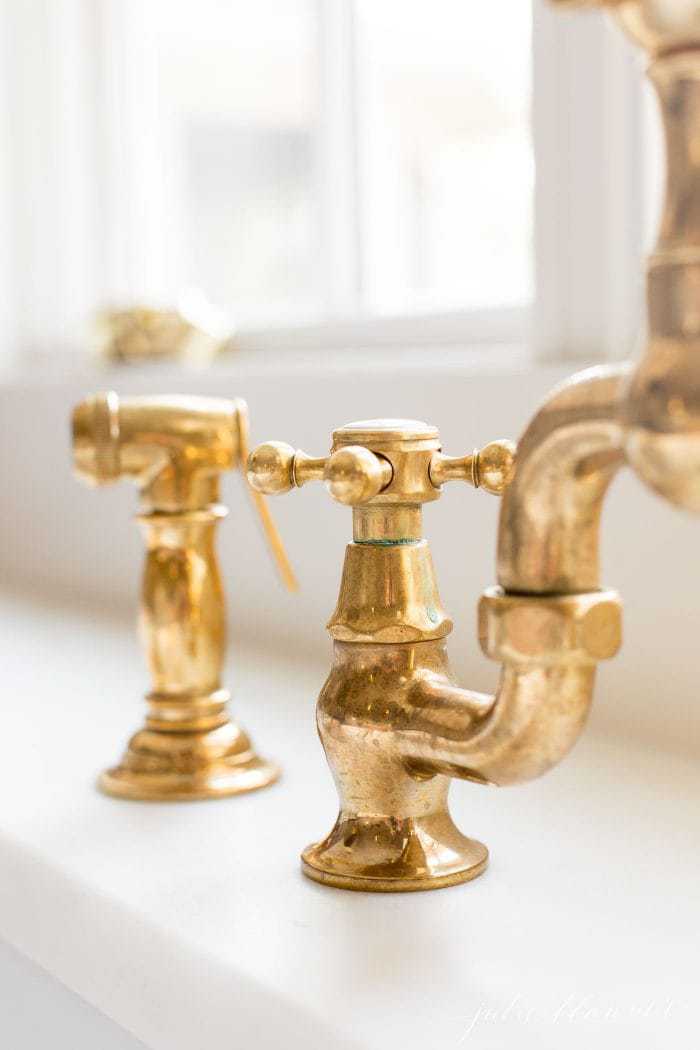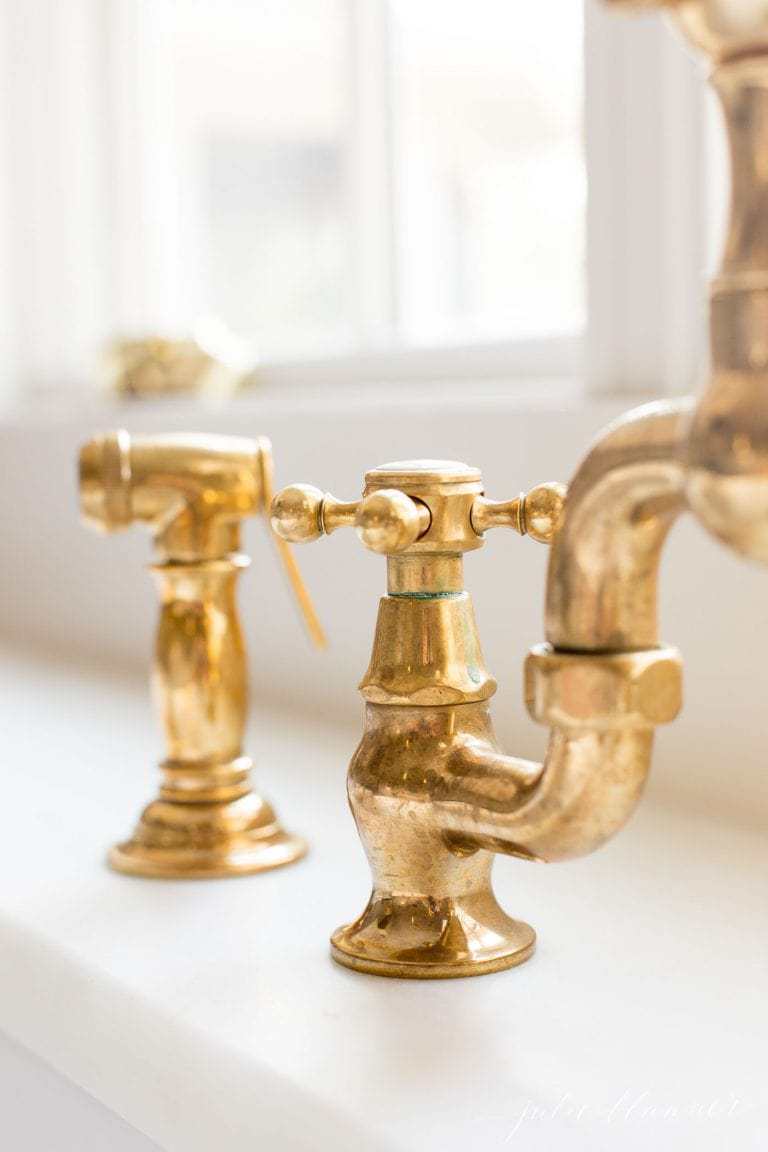 Flooring
To ensure that your kitchen is truly timeless, hardwood floors are always the way to go. We chose white oak flooring for our entire main level, which is the perfect traditional element for us.
In our mudroom that is adjacent to this space, we used brick flooring. This also feels like a historic element that could be found in a classic kitchen.
While I certainly understand the practicality of LVP flooring, it's not an element that will stand the test of time, design wise. Of course it can be friendlier on the budget, but since it's a much newer product, I'd consider your options carefully.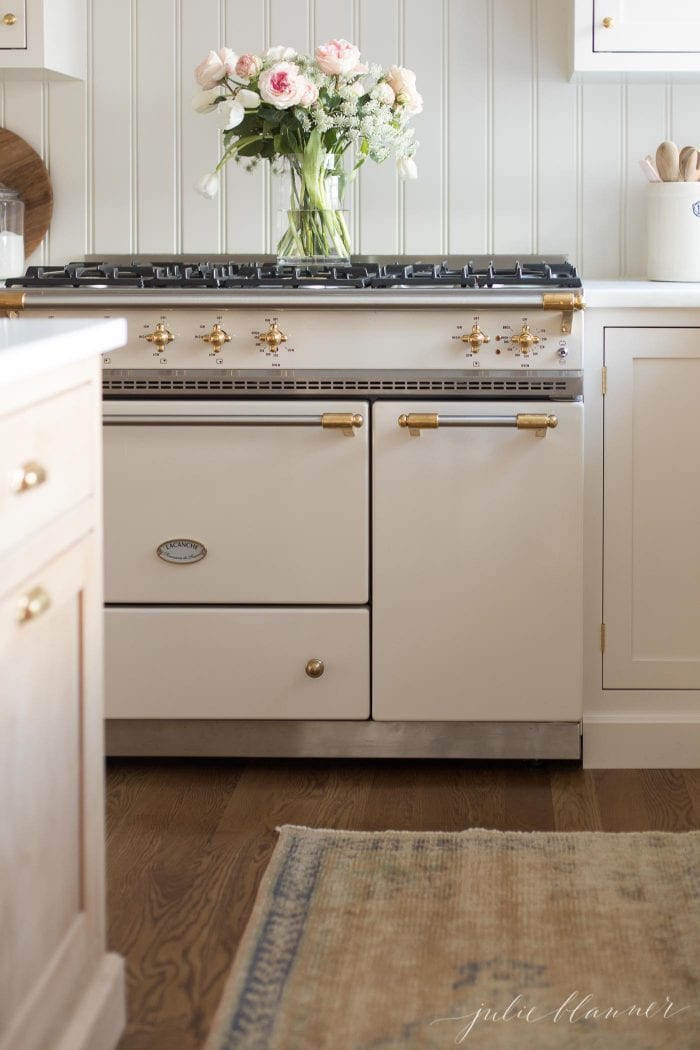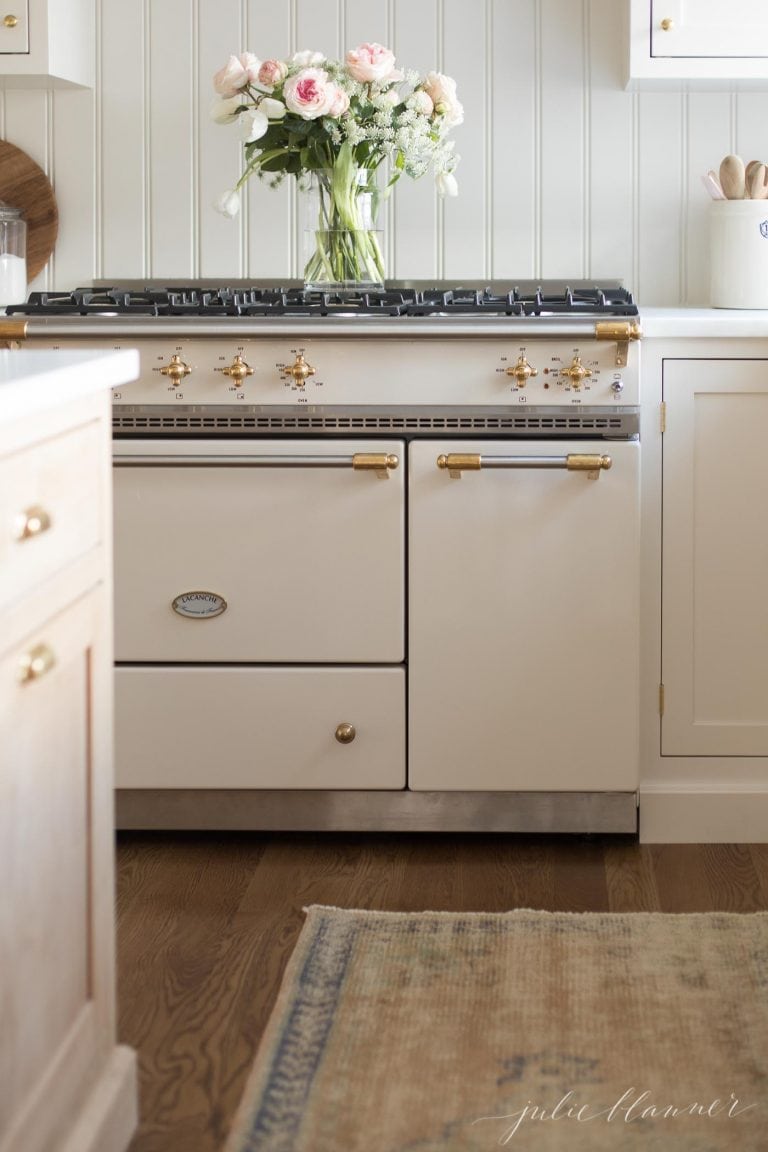 Backsplash
This element is one where we went with a slightly less expected choice: a beadboard backsplash.
It's an kitchen component that's been used in English kitchens for years, so we knew it was timeless. It's also surprisingly affordable, so we were thrilled with that!
For another truly timeless kitchen backsplash option, consider subway tile.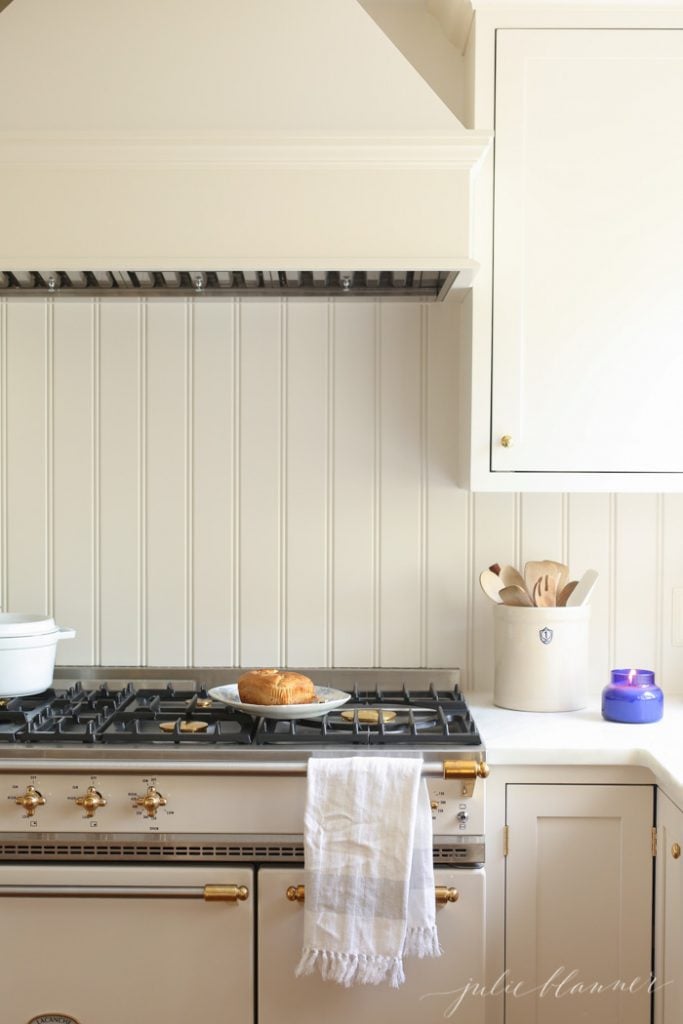 Classic Kitchen Island
An island is not an element that was traditionally used in kitchens until more recently. However, it's something we knew we wanted to incorporate because it fits with our family's lifestyle.
We made it work by incorporating a wall of storage cabinetry in the background to balance out the more modern feel of the island. It's perfect for pots and pans storage, and it gave us a chance to display seasonal pieces.
Check out these island size guidelines, as well as our experience with Modern Masters Dead Flat finish, which gave us the look of a timeworn natural wood.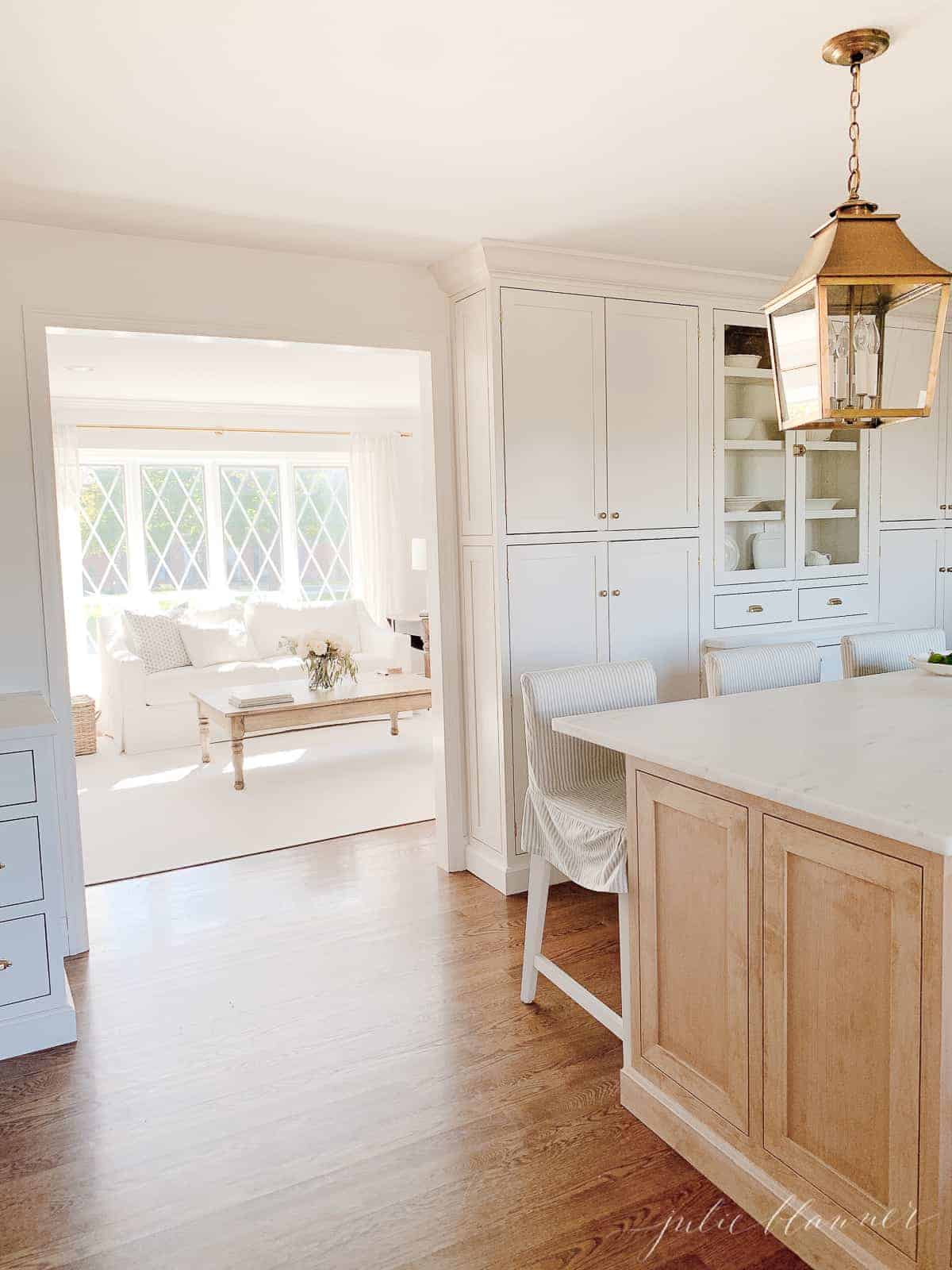 Classic Kitchen Bar
Luckily, we were able to squeeze in a small bar area into one corner of our kitchen. It's the perfect place to set up cocktails for parties, and we often use it to display more food selections.
We incorporated a beverage refrigerator here, along with more of the cabinetry, countertops and hardware that we used throughout the space.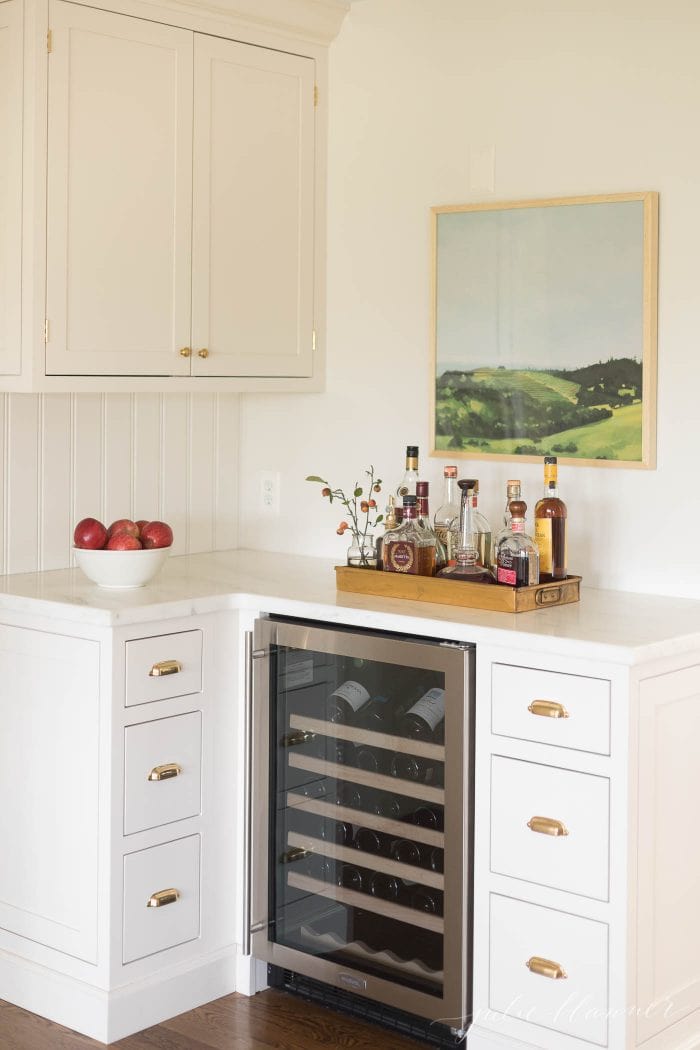 Well, what do you think? Are you ready to design the classic kitchen of your dreams? I'd love to hear from you!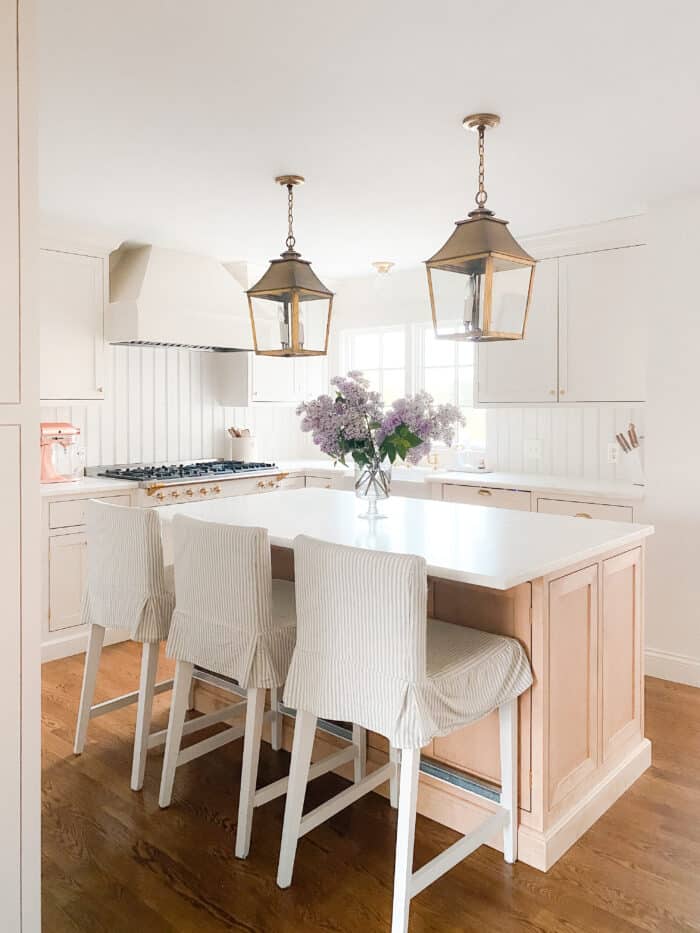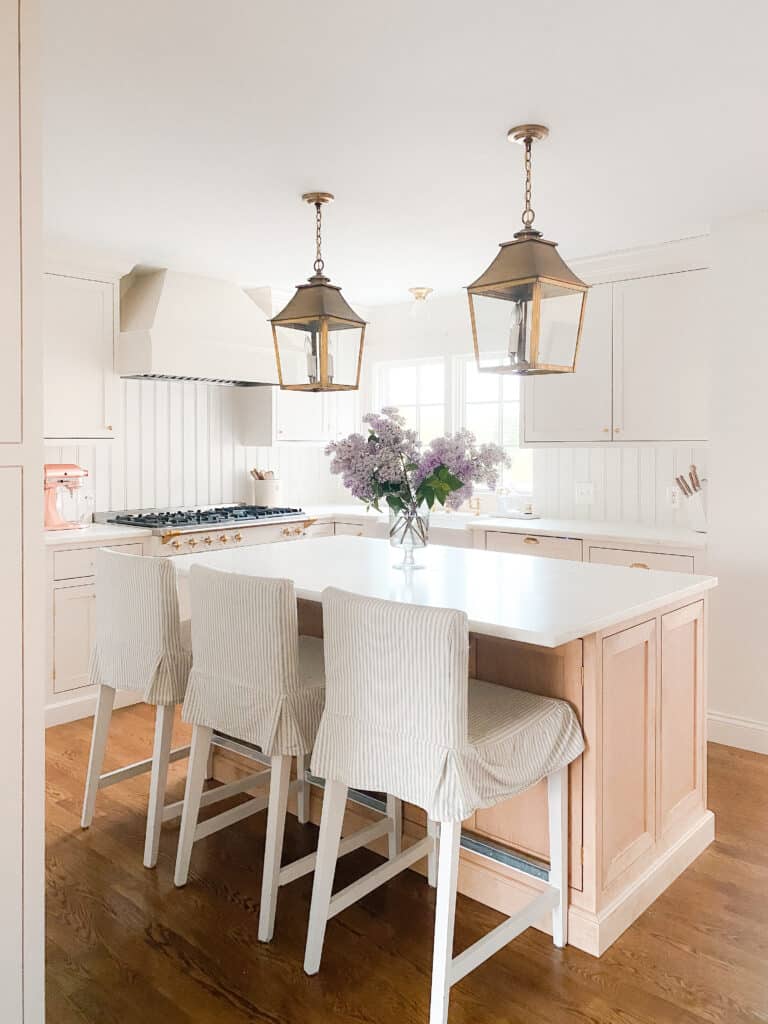 More Kitchen Inspiration