Beautiful art prints give a home a cozy, collected-over-time feeling, but are often really expensive or difficult to find the right piece. These small framed pictures look high end, but they are easy and inexpensive to make!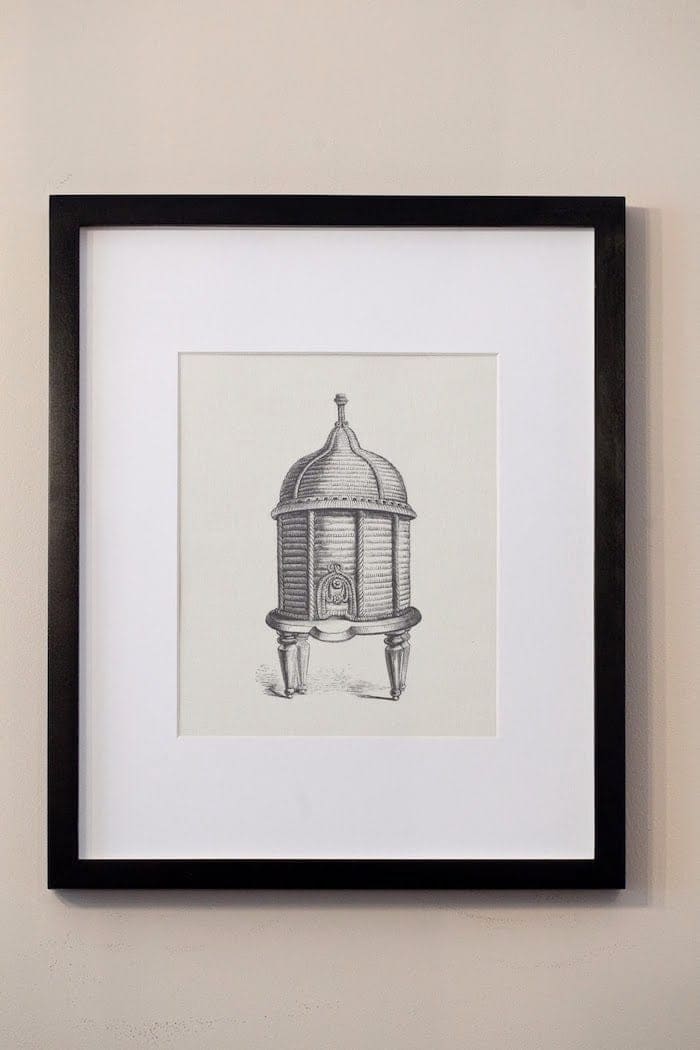 If you're like me, you love easy ways to transition the decor in your home to fit each season. It doesn't take much to make a difference in the feel of your home. Even small, subtle changes in decor and accessories can lighten the mood from winter to spring.
I updated some small framed pictures inside to reflect the changing weather outside. The result was lighter feeling spaces without much effort. You wouldn't know these were so easy to make, though, because they look so luxe with their textured cloth backgrounds.
It is so easy to create your own beautiful framed art in just a few minutes! You can check out 20 Easy DIY Wall Decor Ideas for more.
Changing your artwork is one of the easiest ways to transition your home from one season to the next. Layer in some easy houseplants, a vintage Turkish rug, or a simple DIY table runner for a complete refresh! Little updates can make a significant difference!
What Is Bookcloth?
Bookcloth is a broad term for, well, cloth that is used to cover books. It is usually a type of woven cotton or linen and can be dyed to any color or bleached white. It is starched and backed with paper, which in turn protects it from the adhesives used to attach it to boards.
In the 1700s, with more of the public becoming literate than ever before, books were in high demand. Publishers needed an alternative to leather, which was expensive and in low supply. The solution was bookcloth.
The first books covered in bookcloth weren't well received – the fabric was thin, looked cheap, and faded quickly. Over time, the process improved and cloth-covered books became the standard. Today, colorful vintage books are in high demand!
Book cloth is the perfect textured background for DIY small framed pictures. It has more dimension than regular paper and takes art to the next level. Plus since it's backed with paper, it is stiff enough to run through your home printer. You can find bookcloth at any art supply store.
Supplies
Book Cloth – Gives an upscale texture. Can be white, cream, or dyed a color.
Printer – Your home printer should work fine.
Frame – I used wood gallery frames with wide white mats. Choose frames that compliment your style and artwork.
Paper Cutter – To cut prints to size. Can also use sharp scissors to cut by hand.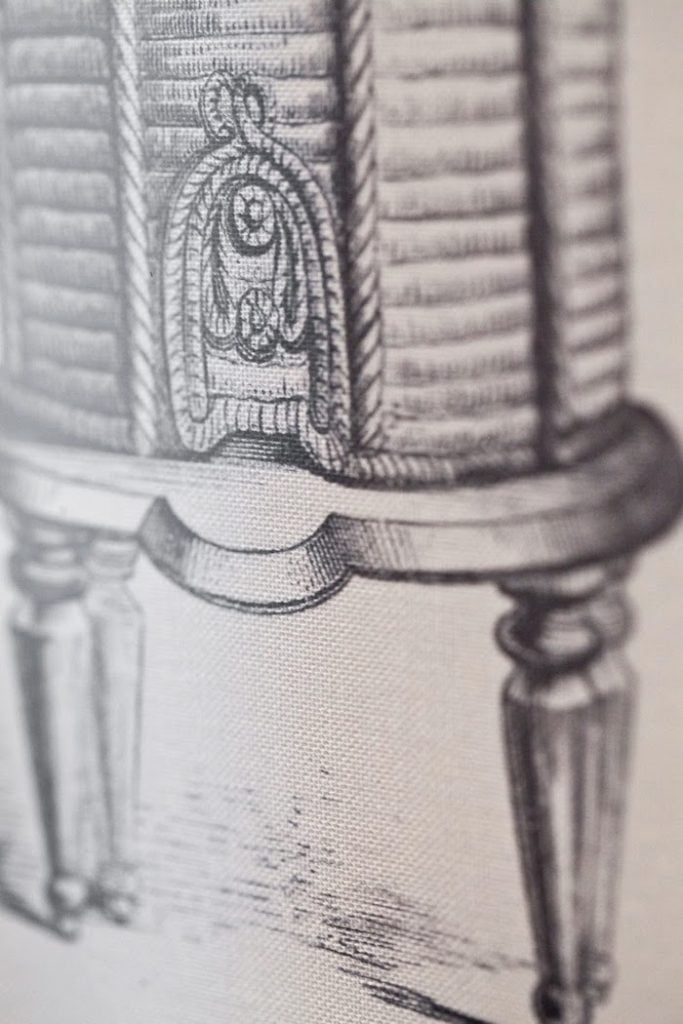 Where to Find Free Art Prints
There are so many wonderful online resources for free art prints. I find amazing printables, like these vintage beehive prints, at Graphics Fairy. It has a huge selection of free vintage images.
It's easy to find what you're wanting for your small framed pictures. You can search images by category or keyword. Once you find what want, simply right click on the image to save it to your computer. There's no need to resize it if you use Graphics Fairy, because all of the images are already full size!
You can find the complete list for copyright free art sources here.
How to Print Free Art at Home
Once you have the image saved to your computer, open it in any design program or Microsoft Word to adjust it to the appropriate size for your mat and frame. From there, simply print it as you would any document. The linen paper runs through the printer seamlessly, one sheet at a time.
Tip: To get the highest quality framed prints, adjust your printer settings to the highest quality. This option is usually found when you click "print" – instead of clicking "ok," select the button labeled "properties" or "printer properties." From there you should be able to set it to the highest print quality possible. Click "ok" then print as usual.
How to Make Small Framed Pictures
Once you've printed your art, you're almost done! Simply cut your prints to size and slip them into a frame of your choice. Then stand back and admire your hard work. Make sure to lean in close and soak in that cloth texture – it makes this framed art appear so rich. It is such a beautiful detail, much more than regular printer paper.
If you are using a frame without glass, you may want to use a spray sealer to protect your art from fading. You can find sealers (such as Krylon's Preserve It) at any art supply store or online. I recommend using a matte finish, so it doesn't detract from your framed print's vintage feel.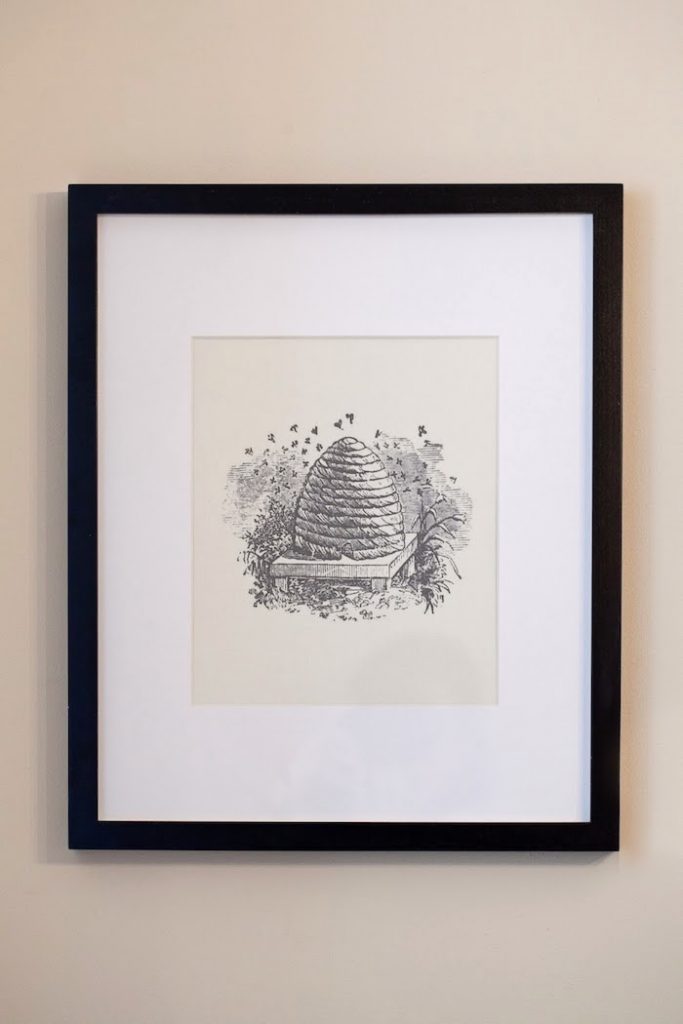 The linen texture gives the artwork a luxe feel and will soften any room. Framed and matted with wood gallery frames, these small framed pictures look stunning hung in a grid or as part of a gallery wall. They also look so sweet on their own or in a pair.
This is the perfect afternoon DIY project. The entire project only takes a few minutes! While you're at it, it would be so easy to find and print extra images to keep on hand. That way you can easily switch things up whenever the mood strikes!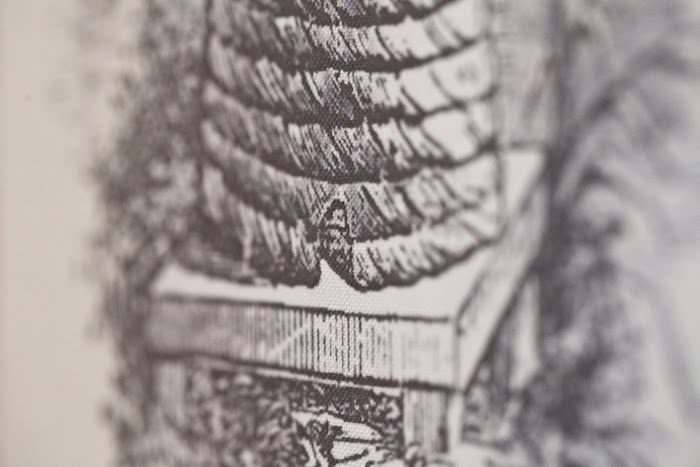 Variations for DIY Small Framed Pictures
Tea Dye – Try tea dying the book cloth before printing, or just the edges, for an even more vintage flair.
Color – Try a colored book cloth background. A soft blue, green, or gray would be a beautiful with a black vintage print and wide white mat.
Banner – Print images or letters onto book cloth, then cut into triangles or scallops and sew onto ribbon to make a sweet banner. Can be customized for any special occasion!
The possibilities for these free small framed pictures are endless! For spring, try birds or botanical prints. These free printable antique bird egg prints are so sweet! For fall, how perfect would a series of vintage turkeys and owls be scattered throughout a home? Find free printables for any holiday or season! Vintage word art would be beautiful up against book cloth texture as well.
These luxe framed prints are so easy! Try one today and you will fall in love with creating your own art at home.
Where can I buy cheap framed prints?
There are many options for buying framed prints online, but it's so easy to make your own! That way you can get exactly what you want and it's even less expensive than buying them already printed. See my tutorial above for the complete how to.
How do you make high quality art prints?
Start with a high quality digital image. I like to use free vintage printables from Graphics Fairy. For the best results, select the highest quality print option on your printer. To make your small framed pictures look truly high end, print them on linen textured book cloth instead of regular paper. It's easy to do and adds so much dimension.
More Art Ideas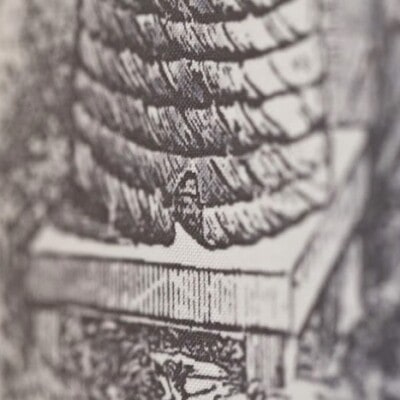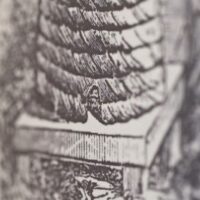 How to Make Small Framed Pictures
Make beautiful DIY framed prints using free vintage printables on linen book cloth for a luxe, textured look.
Instructions
Find image using online resource such as Graphics Fairy. Right click on image to save it to your computer.

Open image in any design program or Microsoft Word, and adjust it to appropriate size for your mat and frame.

Print image onto sheet of linen book cloth. When printing, click "printer properties" and choose highest quality option, then click "ok" to print.

Measure and cut print to size using paper cutter or scissors.

Optional: If framing print without glass, seal it with a matte sealer such as Krylon's Preserve It sealer. If covering in glass, skip this step.

Insert print into frame and hang according to instructions.