Step inside the fabulous Patina Farm in Ojai California for French Farmhouse Decor inspiration and design tips.
Learn how to bring the feel of a european farmhouse into your own country decor.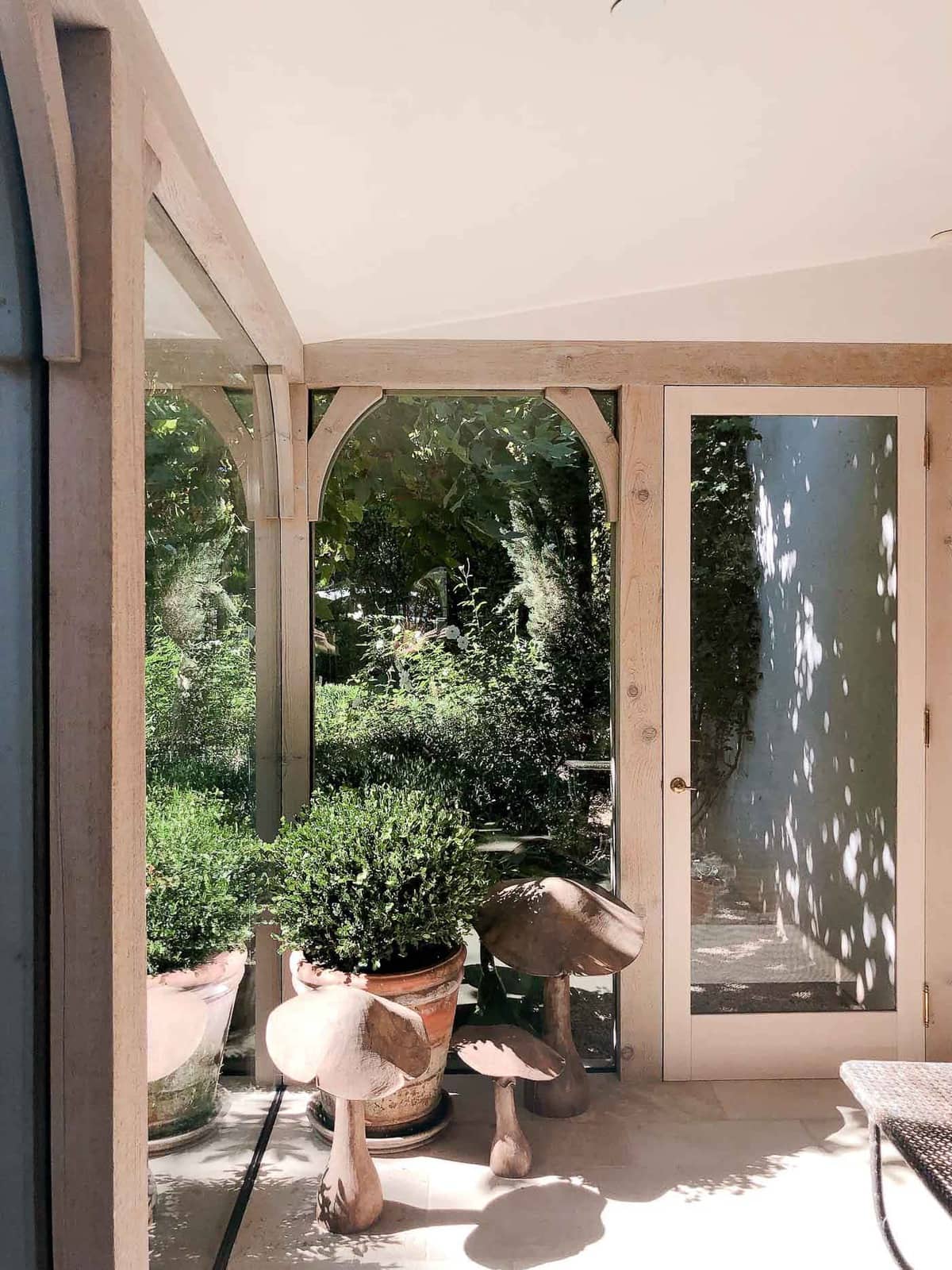 If you're not familiar, Steve and Brooke Giannetti are the dynamic duo behind Patina Farm. Whether you know it or not, chances are you've seen their work somewhere!
French Farmhouse Decor in California
Brooke is the voice behind Velvet and Linen, interior decorator, boutique owner and author. Steve is a designer, architect, talented artist and author.
Together, they're unstoppable. They design and decorate the most thoughtful, serene spaces that just take my breath away!
Let's take a look at the way they brought a French country farmhouse feeling into their California country decor.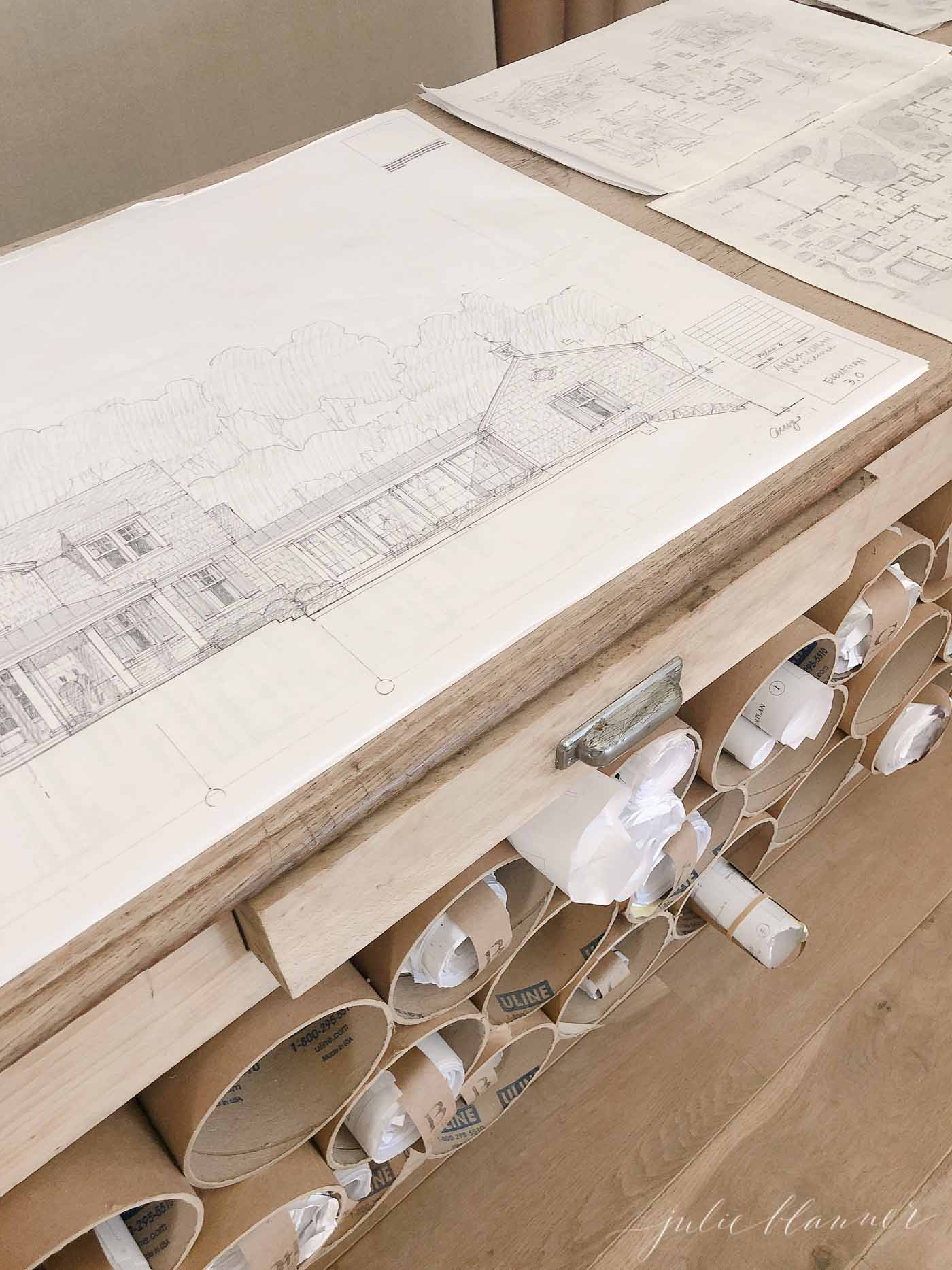 French Farmhouse Inspiration
Last fall they invited me to their beautiful home, Patina Farm, to celebrate our mutual friend Courtney's book launch. I'm taking you along for a tour!
You can start the tour of Patina Farm here. Since I couldn't squeeze it all into one, I'm doing a follow up today sharing more of their home and some of my favorite features.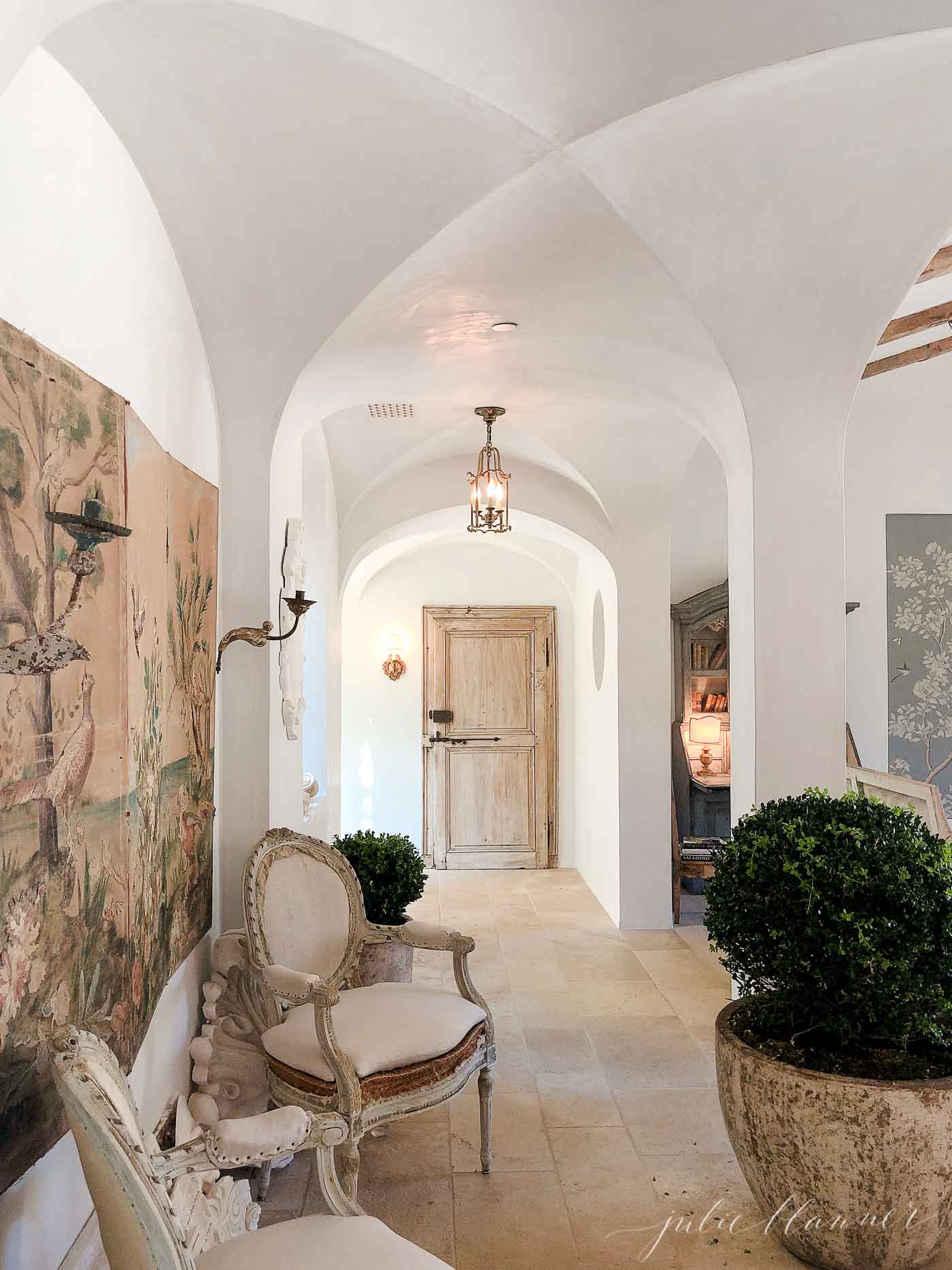 In this tour you'll see these key features of design:
Blending old and new
Integrating fabric
Personal art
Collections
Utilitarian element
Blending indoors and out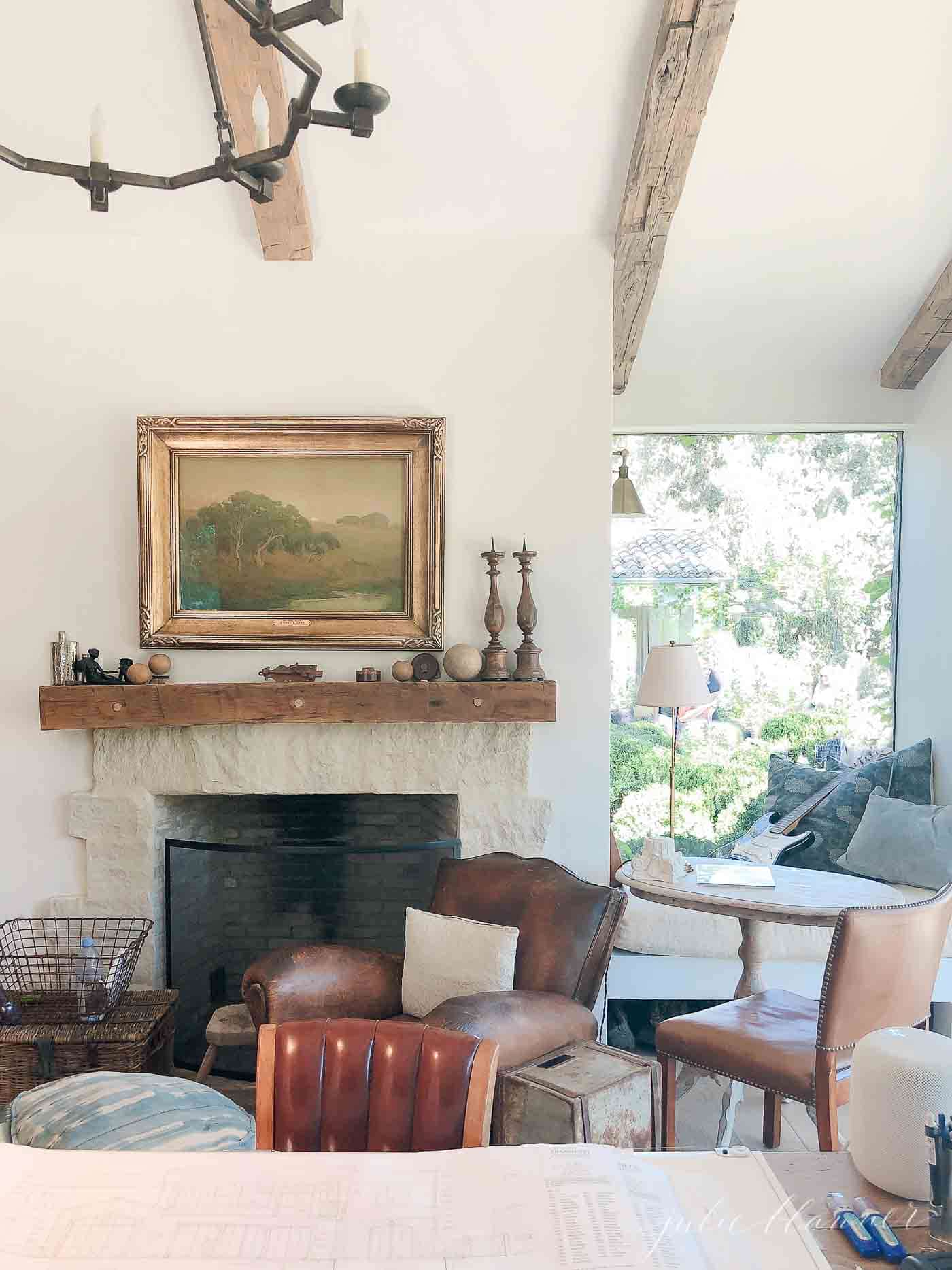 The Art Of Blending Old And New
Their store, Giannetti Home, offers an array of antiques. You'll see a lot of their beautiful finds in their home. Blending old and new adds a lot of interest and makes a house feel like home.
One of the most appealing things about their home is the combination of the rustic charm of raw and painted Swedish antiques, contrasted by the more utilitarian and modern lines of much of their upholstery in linen and leather.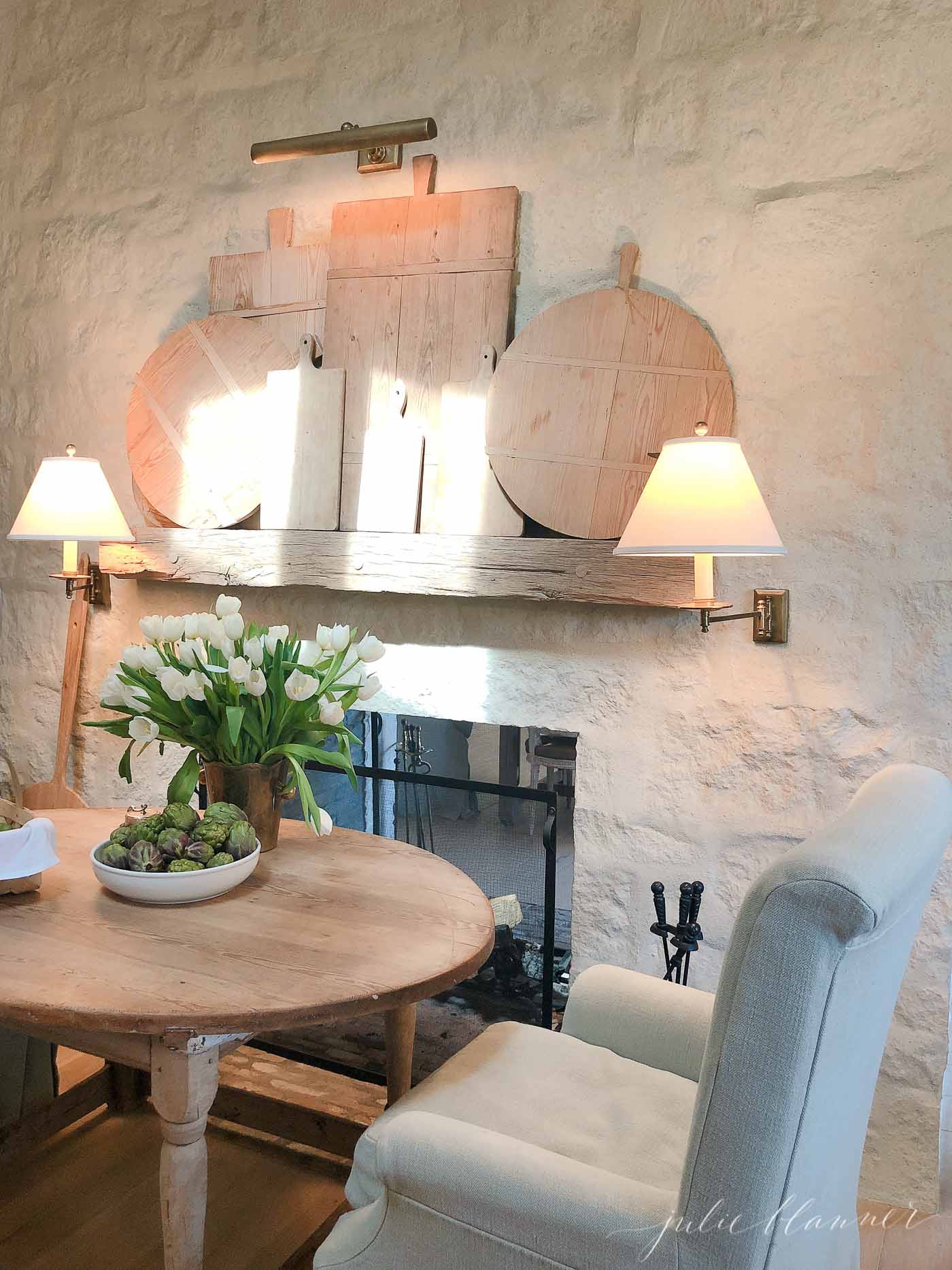 Using Fabric in French Farmhouse Decor
Another one of the many things I love about their home is their use of linen. In the bedroom, their beautiful bedding is streamlined and so elegant, yet minimal.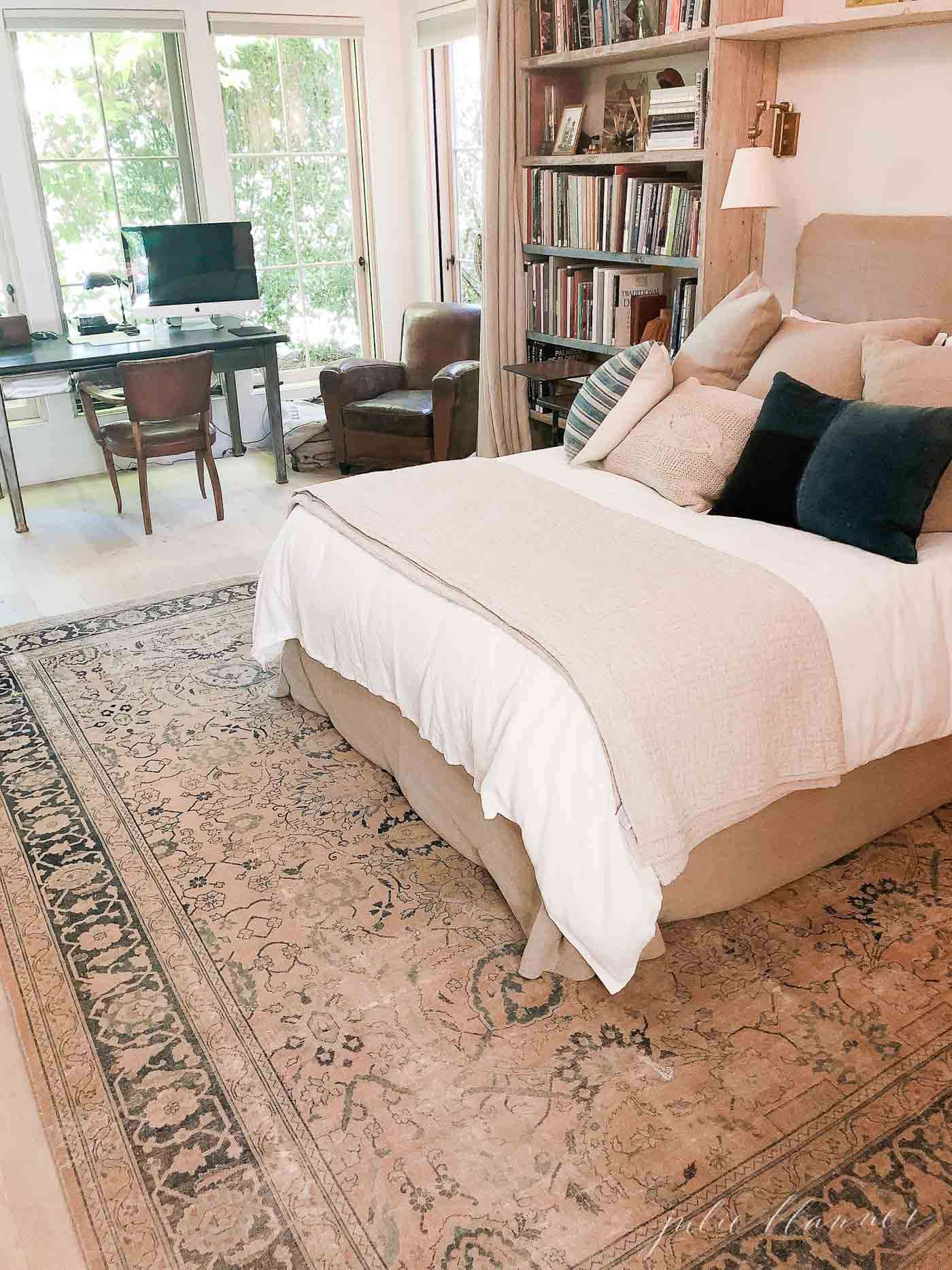 You'll also see the use of linen in the butler's pantry, in lieu of doors in the closet, below sinks and in bedding. The custom roman shades in the guest cottage are no exception. They're impeccable- tailored to perfection and such simple lines!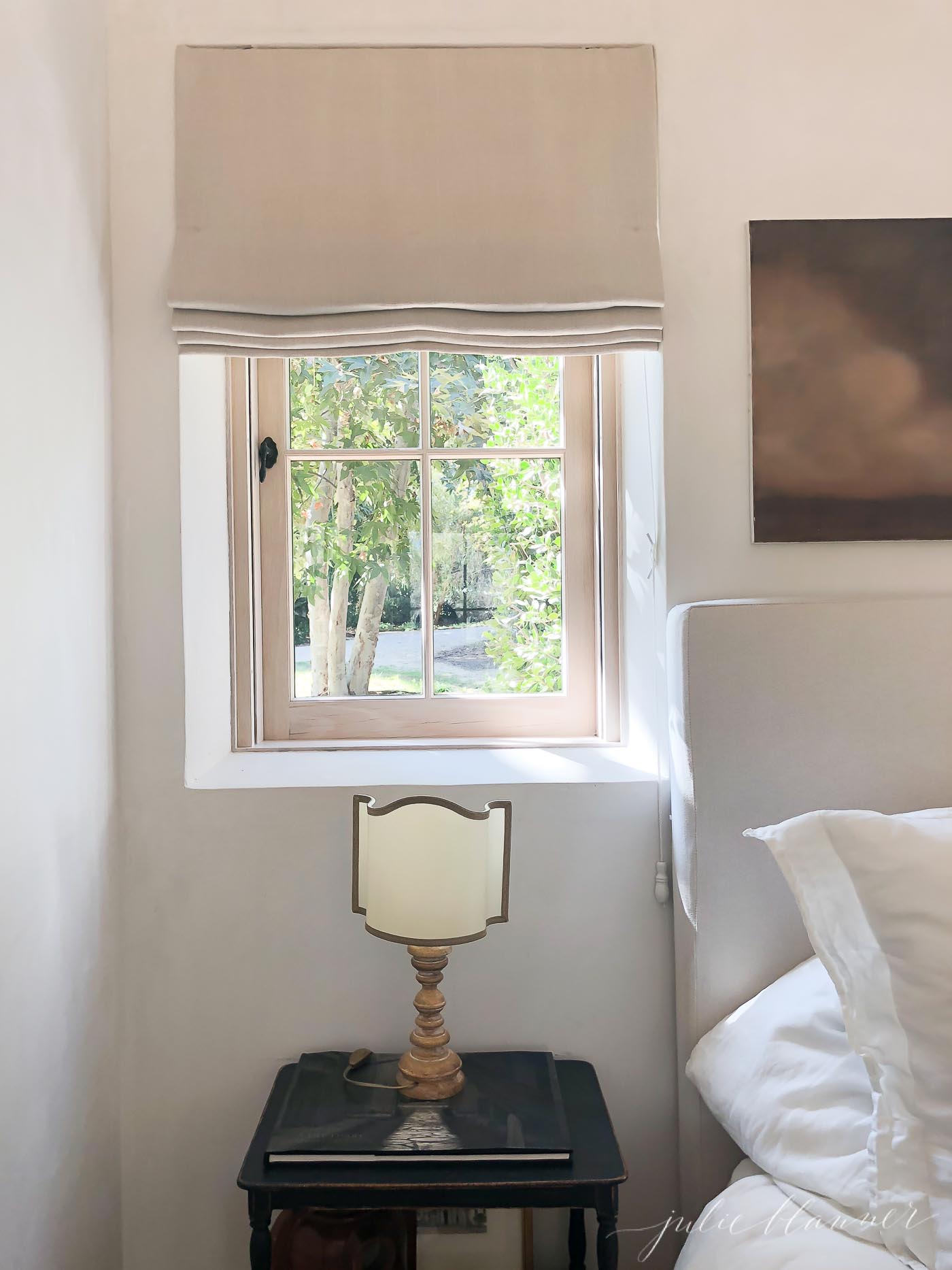 Adding Personalized Art To Your Home
Much of Steve's own artwork is on display throughout their home. Using art (especially if it's made by you or a family member) truly personalizes the space. Color, style, location and more can all be part of the story of your home. Art doesn't need to be a painting- it can be anything that speaks to you and fits into your home!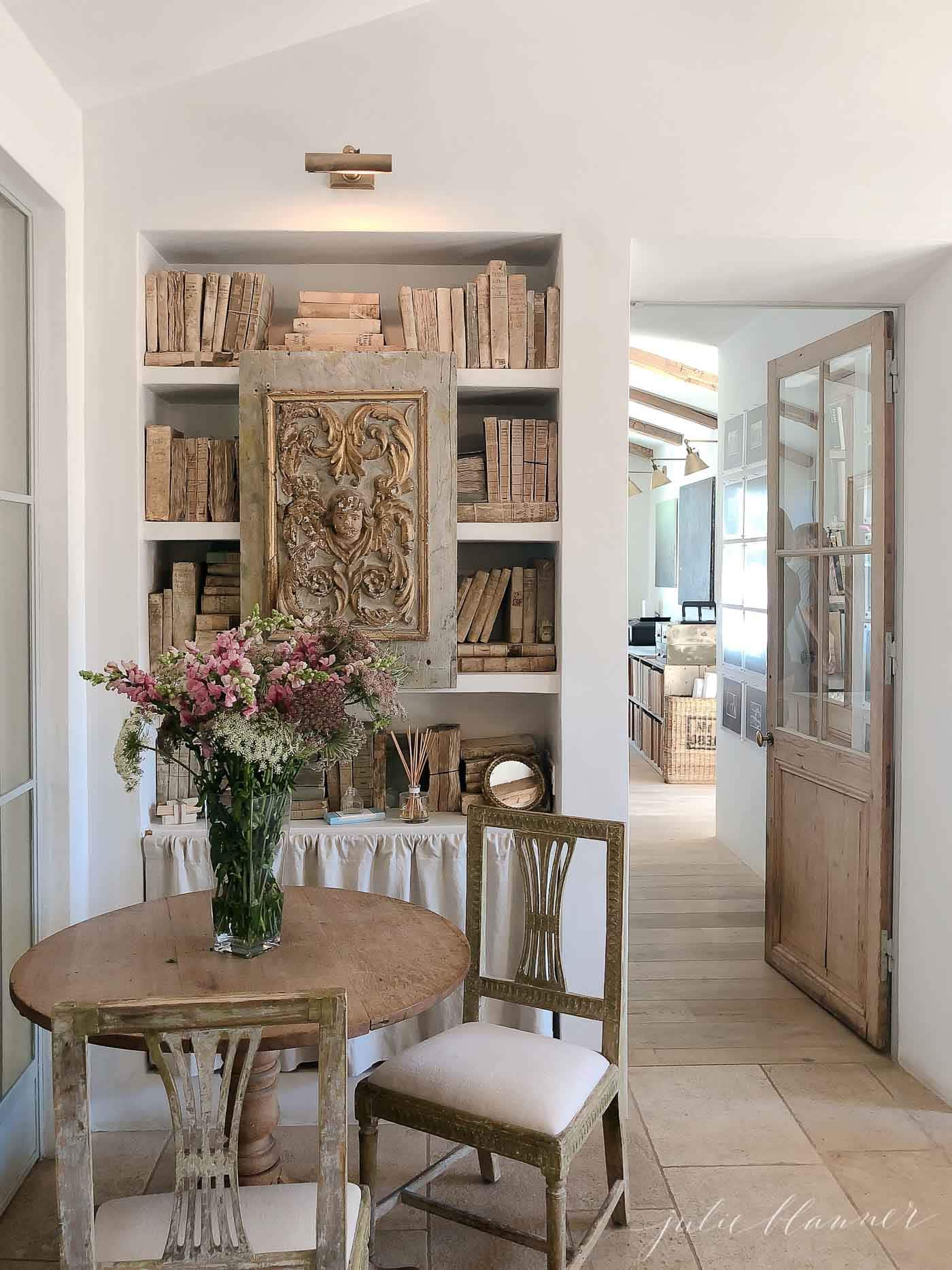 Allowing your art to tell your story is something anyone can do. Creating unique, personalized art doesn't have to be expensive, and you don't even need to be an artist to accomplish something beautiful! If you're looking for ways to create your own artwork, check out these inspiring ideas: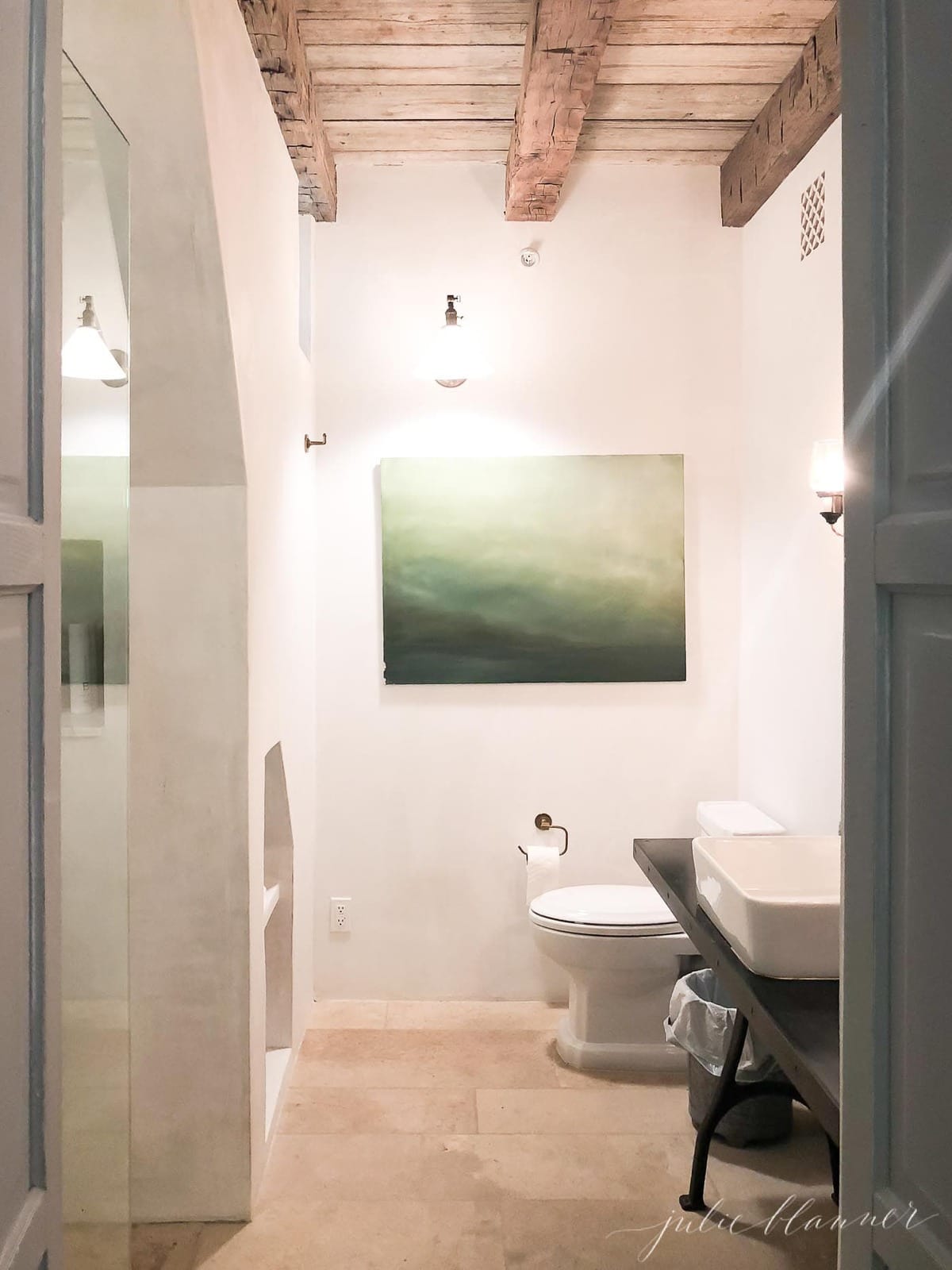 How To Display Collections
The Giannettis also have a number of collections. They feature works of art, books, pottery, antiques and more. Arranging pieces as a collection is one way to create a space that's all your own. Collections tell a story about you, your family and so much more!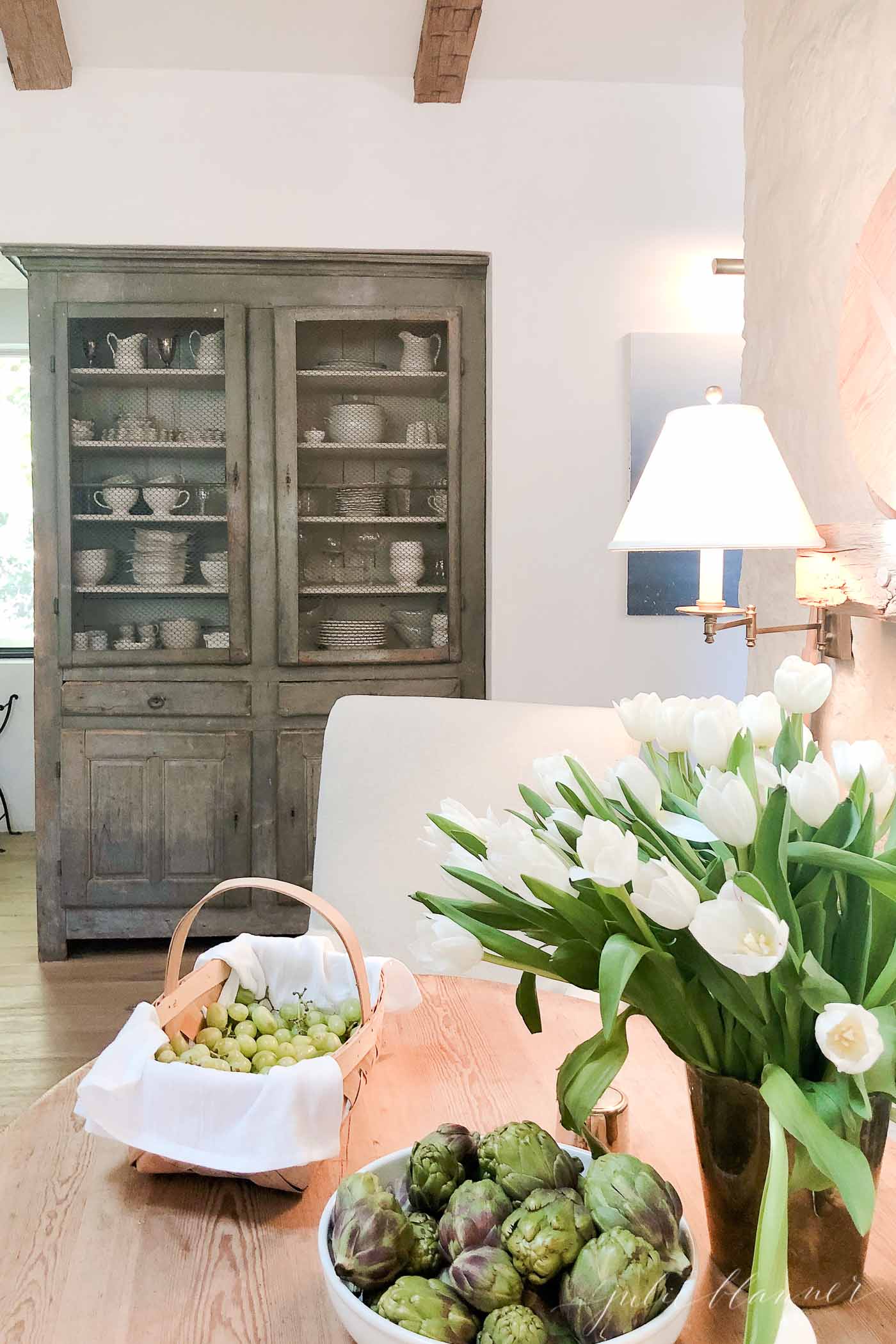 A collection (especially when displayed beautifully) can be an amazing conversation starter, and something that helps guests learn more about your life, hobbies and travel experiences. Especially when like items are grouped cohesively, they become another type of art- anyone can accomplish this look! All country decor can benefit from displays of collections, and it especially fits with the French farmhouse style.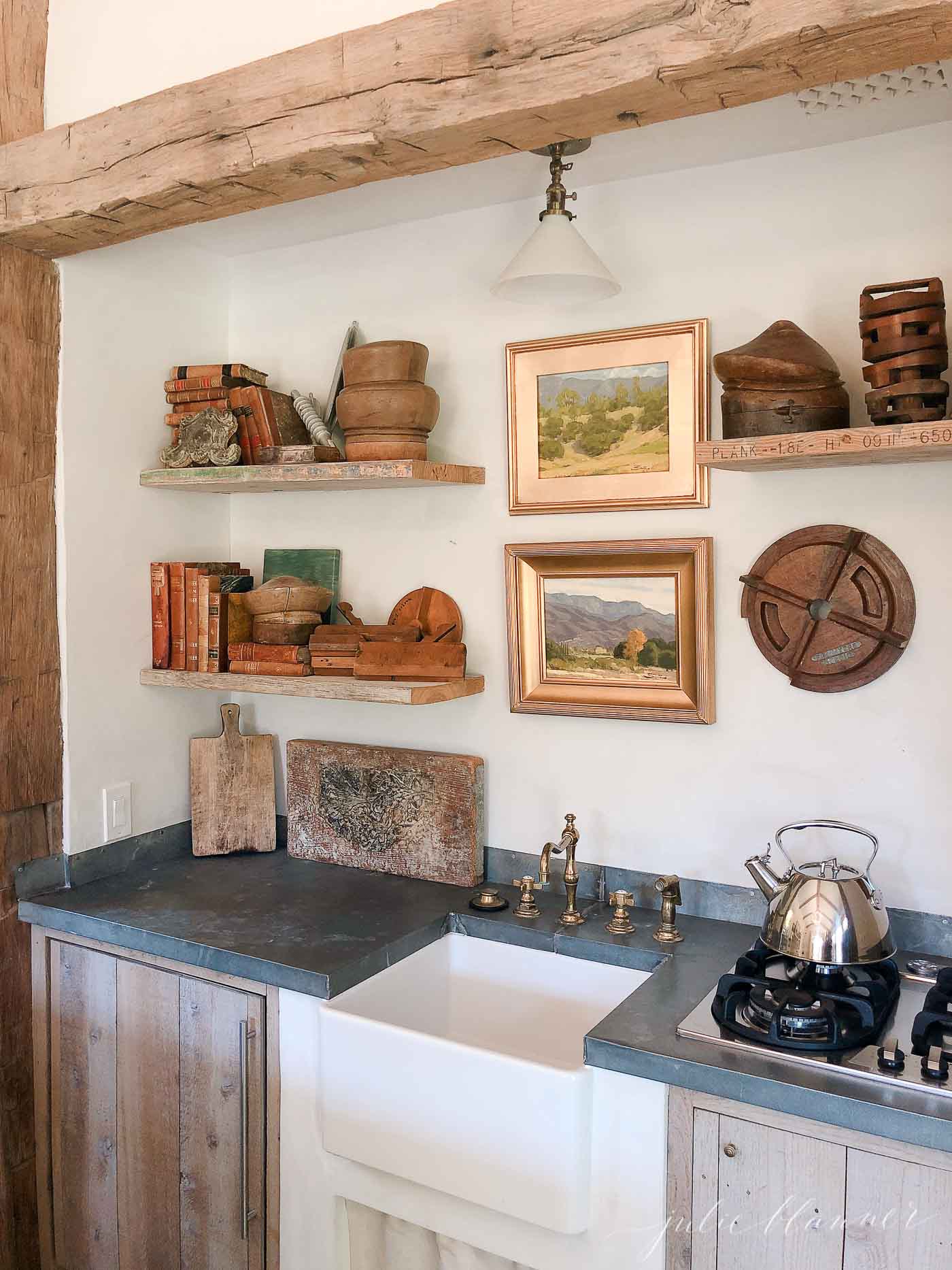 Utilitarian Design Elements
I love their utilitarian approach to design. You'll see this in the doggy doors, which appear to be reclaimed cabinet doors. It's such a thoughtful, intentional way of designing a space, while also adding character and charm to a newly built home. If a doggy door is a necessity in your life, why not make it beautiful or let it tell a story? Especially if it fits in with your French farmhouse decor!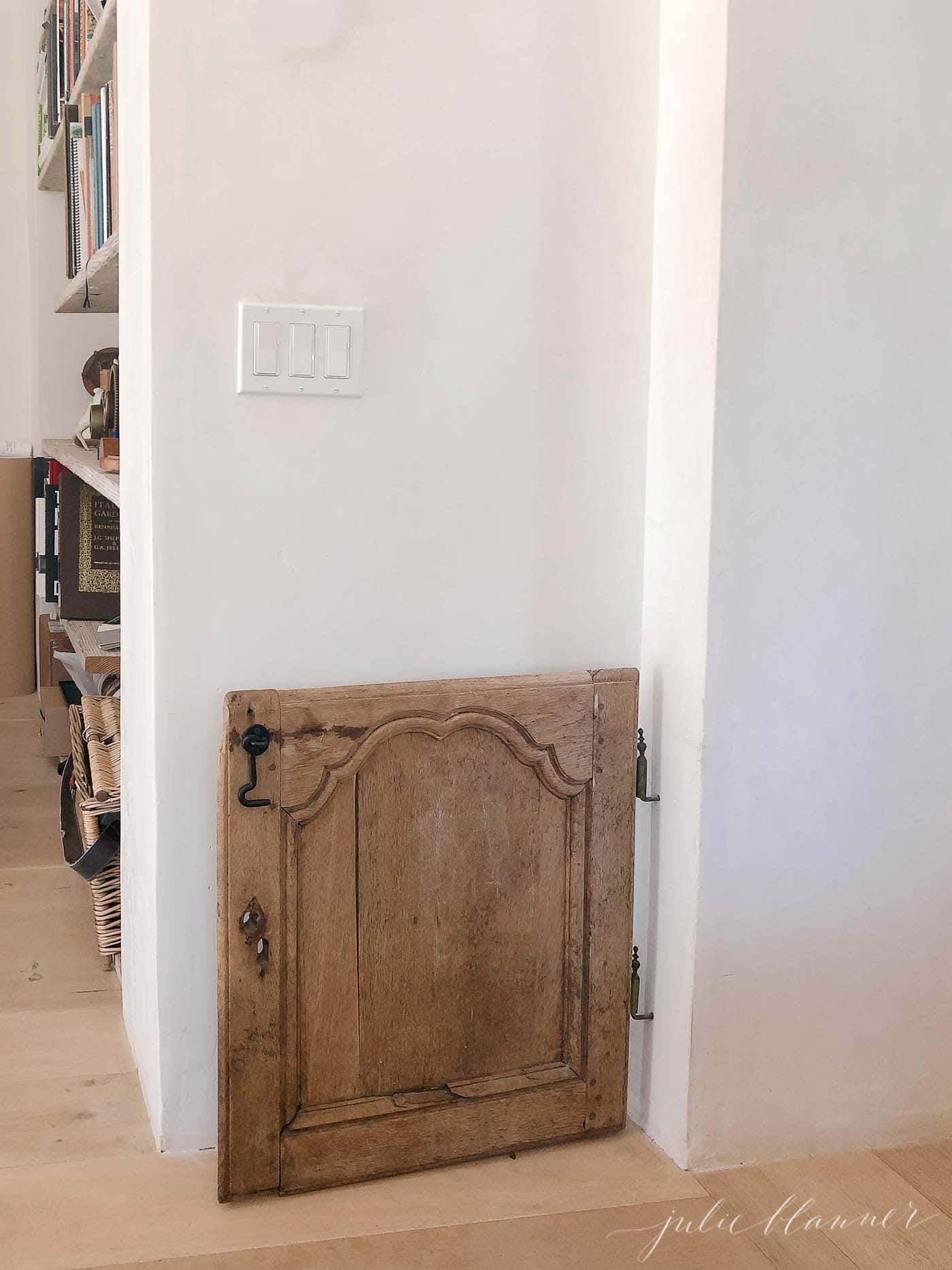 "If you want a golden rule that will fit everything, this is it: Have nothing in your houses that you do not know to be useful or believe to be beautiful."
― William Morris
Utilitarian design approaches are implemented throughout their home, and are a hallmark of French country decor. Like all farms, they have outbuildings, animals and many daily chores.
As you can see, their home is filled with endless inspiration for displaying useful and beautiful items in every space!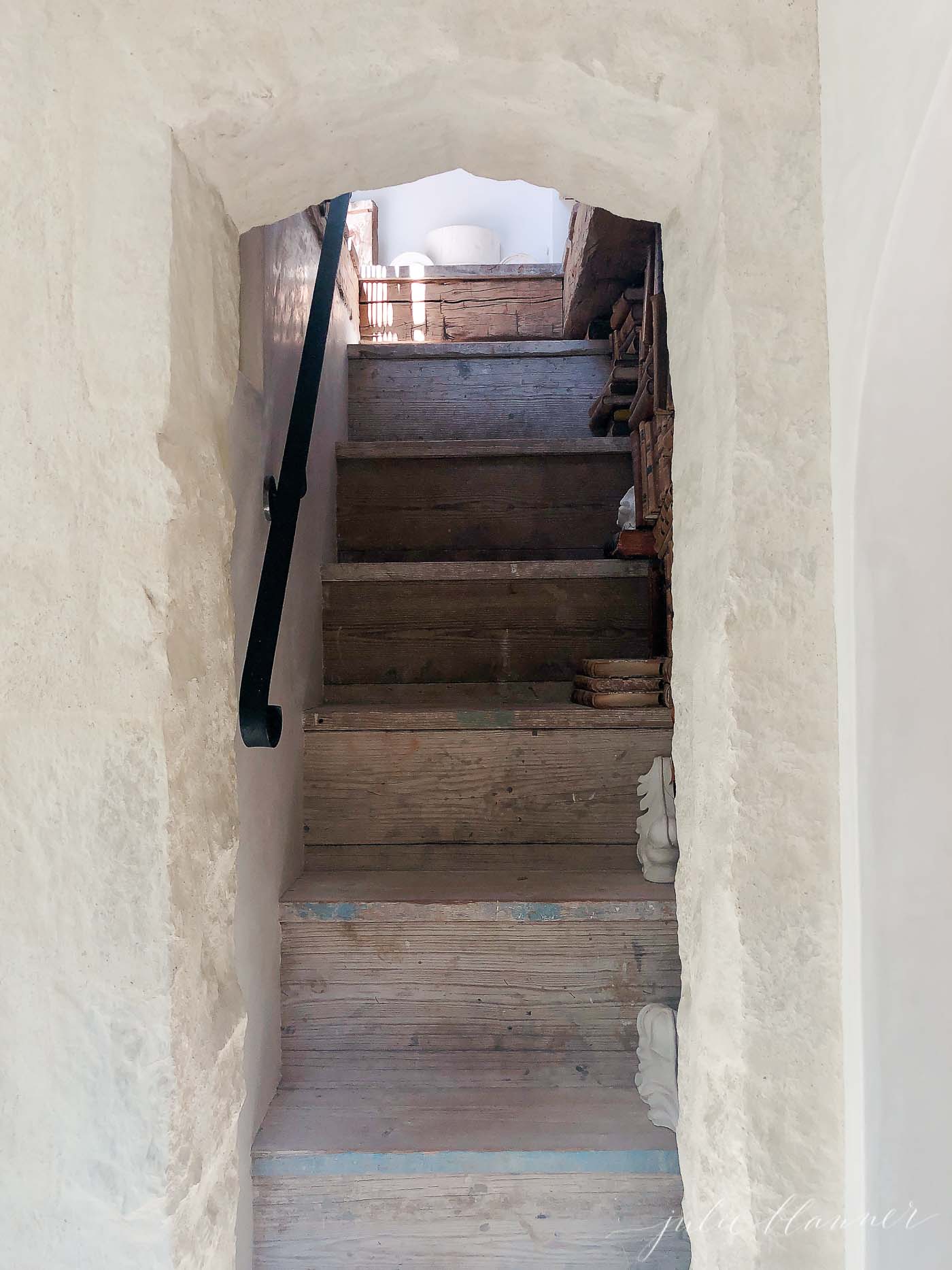 Yes, pots and pans are the perfect definition of a utilitarian design element (and a collection, as well). While many of us choose to hide them away behind cabinetry, I think this display of well-loved cookware behind their range is so inspiring!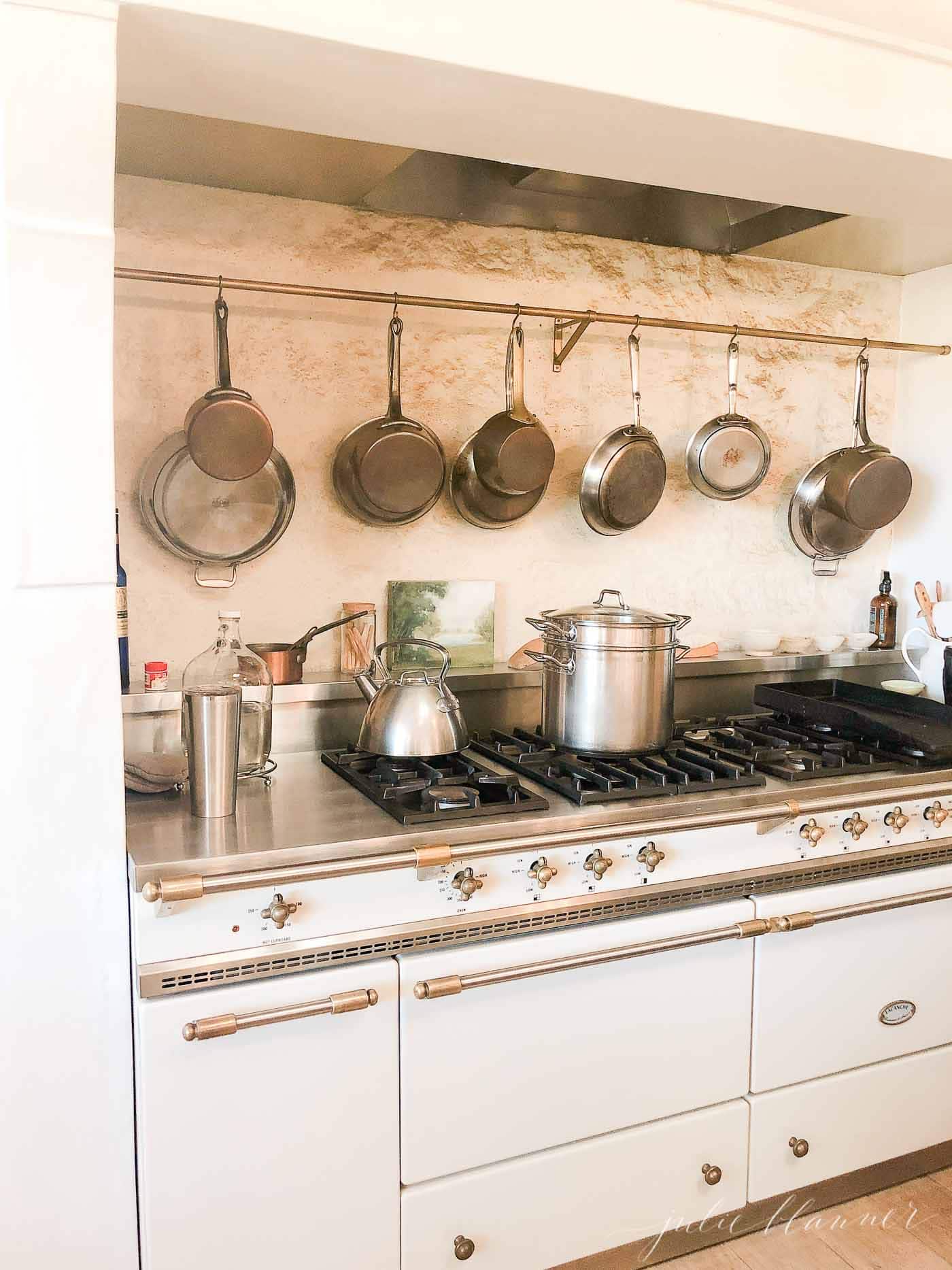 In fact, they can even make utilitarian cleaning supplies look beautiful when they are displayed in a natural, useful way…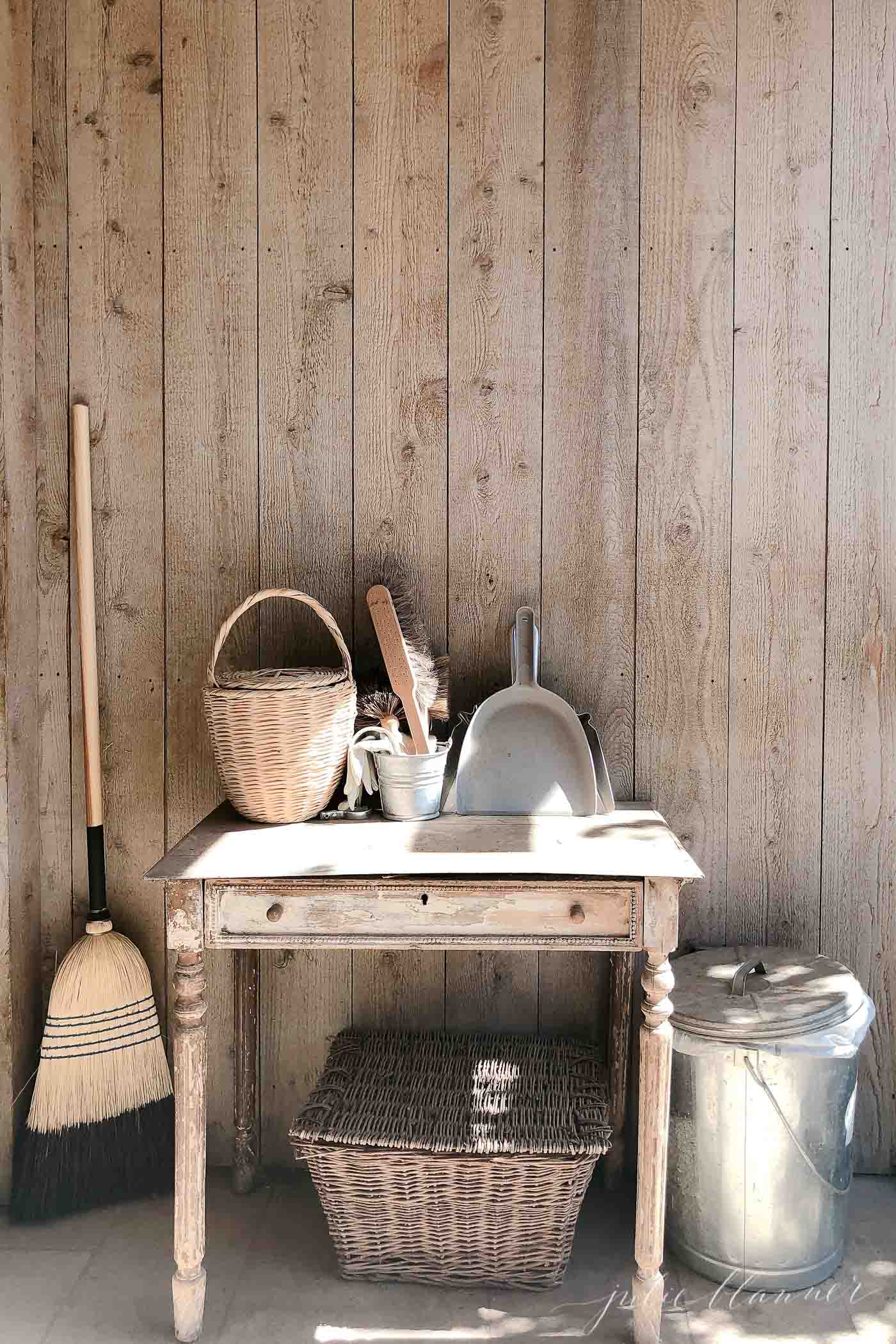 Blending Indoor And Outdoor Spaces
Another area where their home truly shines is in the way they've combined indoor and outdoor living. There are open doors and windows throughout the home, leading to charming garden pathways and patios.
Patios and sunrooms bring the sunshine inside and join their home to their outdoor spaces. Imagine the crunch of pea gravel beneath your feet… sipping coffee (or even better- wine!) in that golden California sunlight.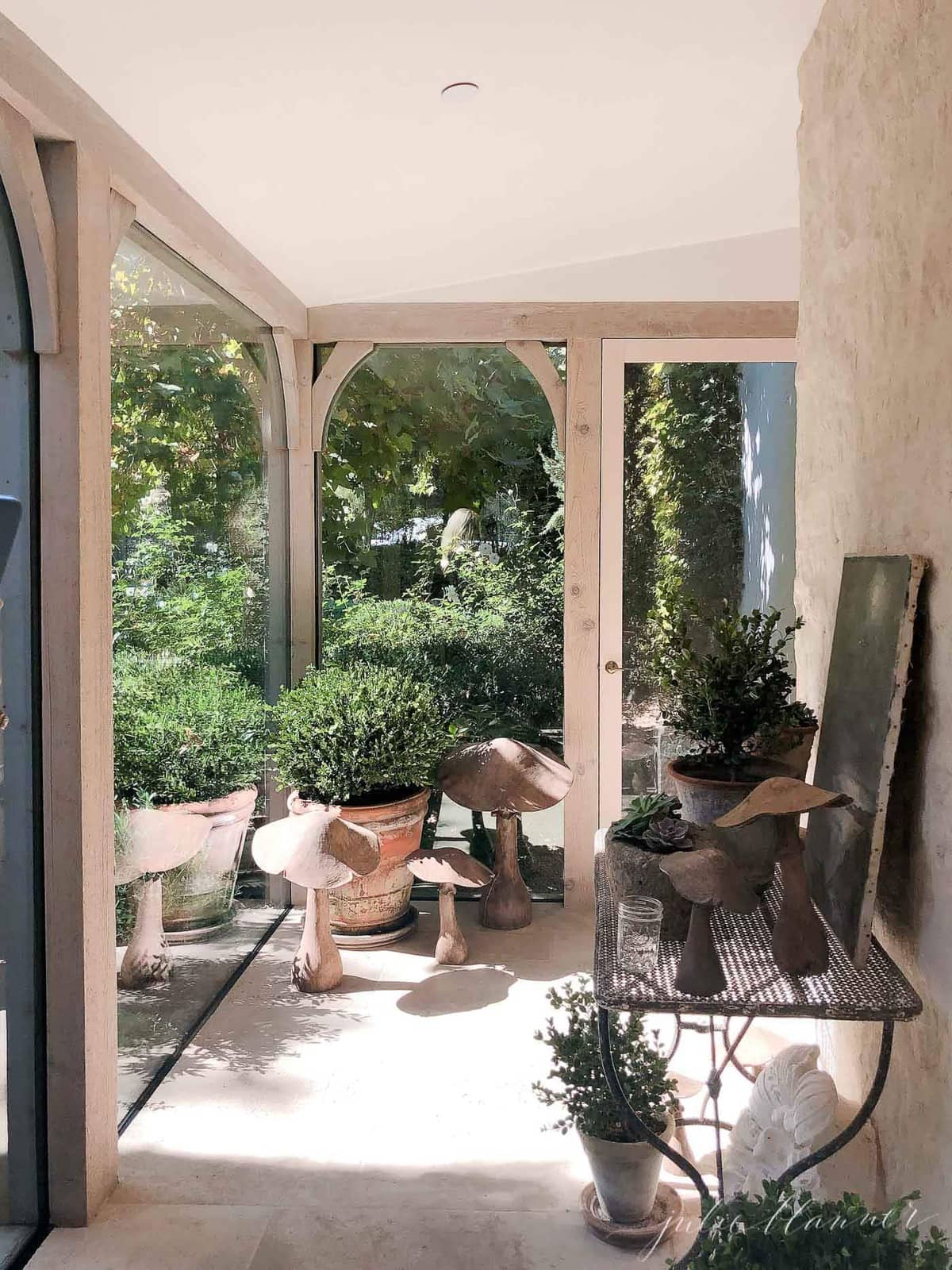 While we can't all bring that beautiful California sunshine home with us, we can certainly incorporate their ideas! I noticed so many beautiful potted plants, both inside and outside their home. It brings the outdoors in, even when garden space is lacking! Another simple idea that I appreciated is the use of art throughout their outdoor spaces as well. This creates the feel of a true outdoor living space- why not incorporate your own art to your patio or deck spaces?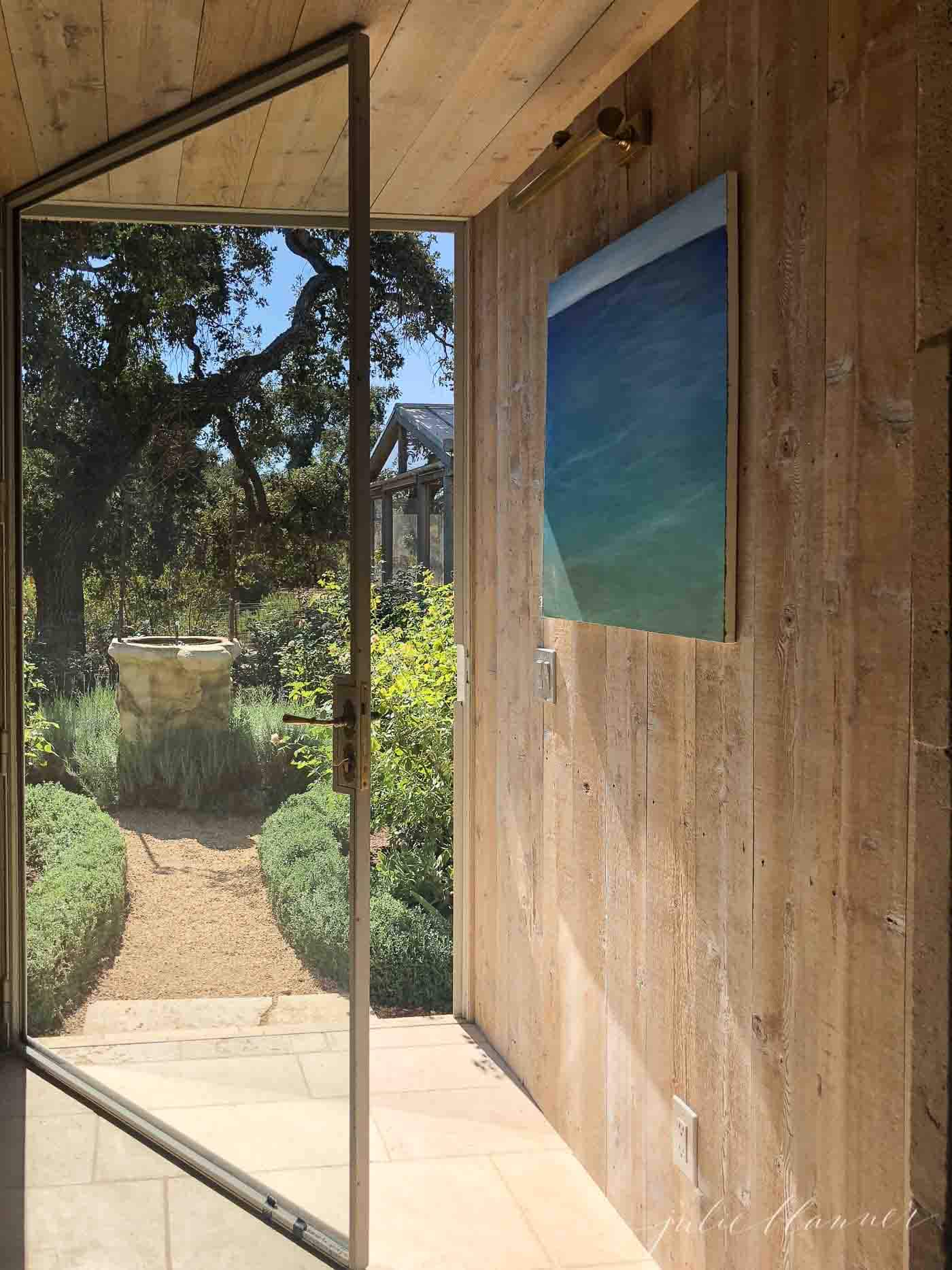 I hope this tour leaves you feeling inspired to bring some California-inspired French Farmhouse Decor into your own home. Do you love the feeling of European style mixed into your country decor as much as I do?