If you're feeling suffocated by all the stuff inside your home, you'll love these 10 minimalist decor ideas! Learn where to begin, what to focus on, and how to pare back in this easy guide.
Minimalist decor is a simple, clutter free approach to home design. Learn how to create a calm and clean minimalist interior design style that your friends and family will love!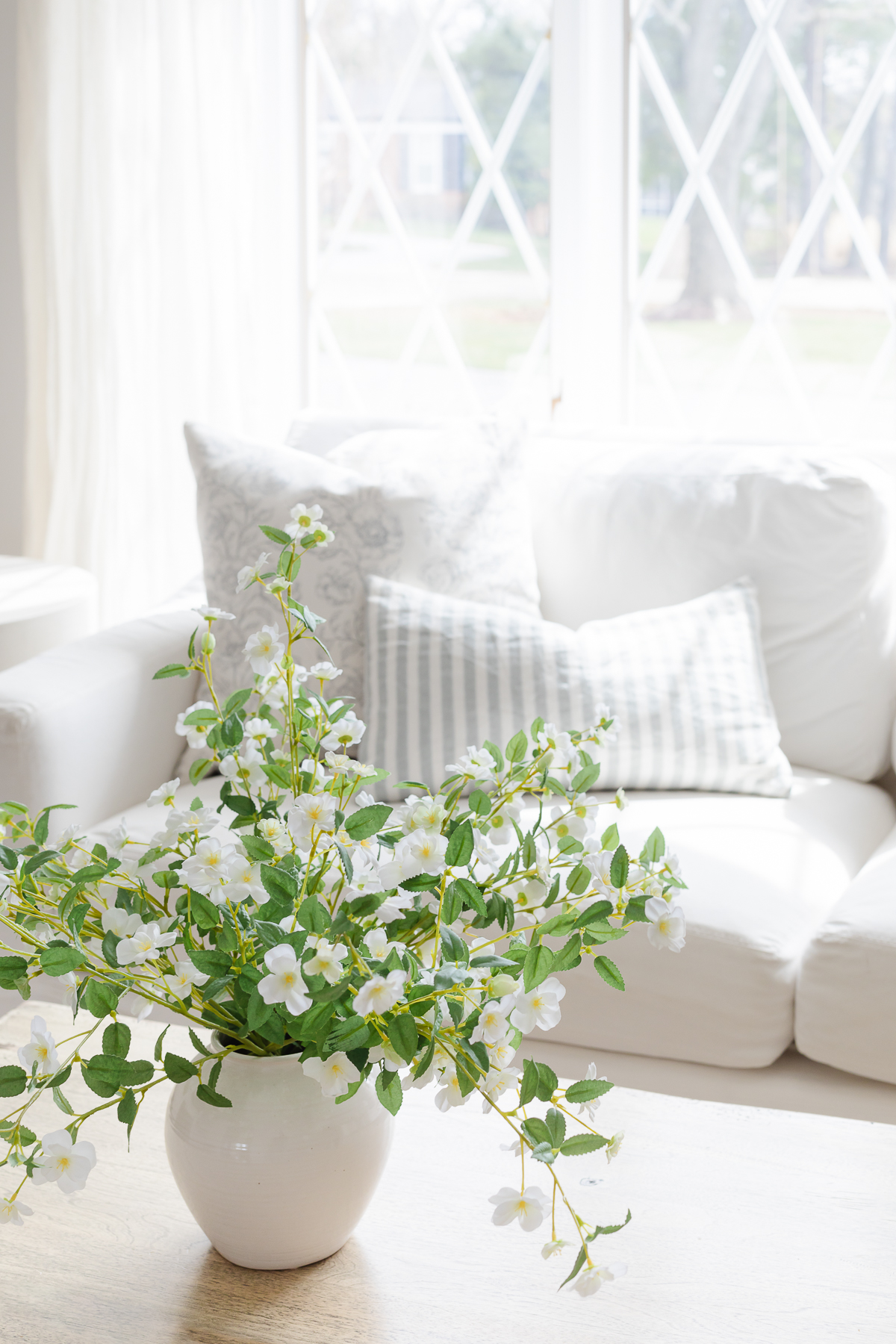 The minimalism definition is "a style or technique that is characterized by extreme spareness and simplicity". I don't feel I take it to the extreme, but simplicity has always been key in our lifestyle.
This less is more approach has infused itself into most of our home in one way or another, especially during our construction phases.
Less is more, especially if you're a minimalist. Creating a home with a minimalist design technique will translate into spaces with a sense of peace and calm… not to mention clean, too!
Minimalist Decor
While my style has shifted over the years (just like everyone's), one thing remains true: less is still more in our home. With the right organization systems in place, we keep it a fairly stress free place.
That's the essence of minimalist decorating, really. It's thoughtful design, pared back style, and totally stress free. But it doesn't happen without a little effort. Here's my best tips and ideas to get you started!
I love sharing ideas for improving your home!
We've renovated many homes during the last 20 years, and I am always thrilled to pass along the knowledge we've gained along the way. See the complete Before and After tour of our St. Louis home here, and our Modern Lake House Before + After as well.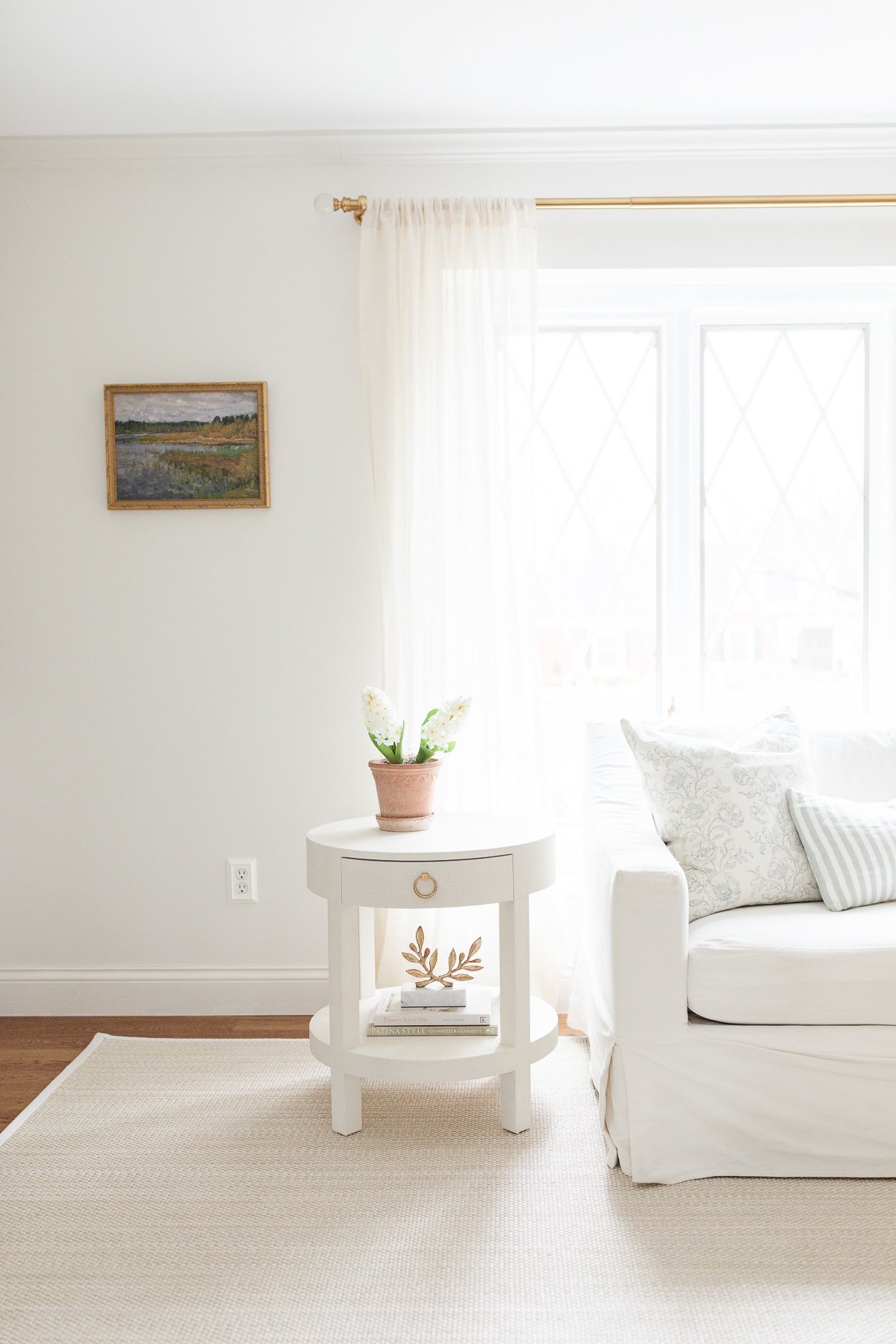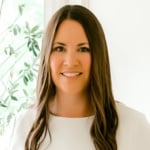 Tips
One of the most impactful steps is simply decluttering. Decluttering will instantly give the illusion of additional square feet in your home.
Minimalist decor can even help you save money! Decorating with a minimalist heart will help you choose your purchases thoughtfully, so you can enjoy them for years to come.
Take it slow! If you are able to choose quality pieces over time, items won't need to be replaced year to year. That's the ultimate minimalist decorating trick!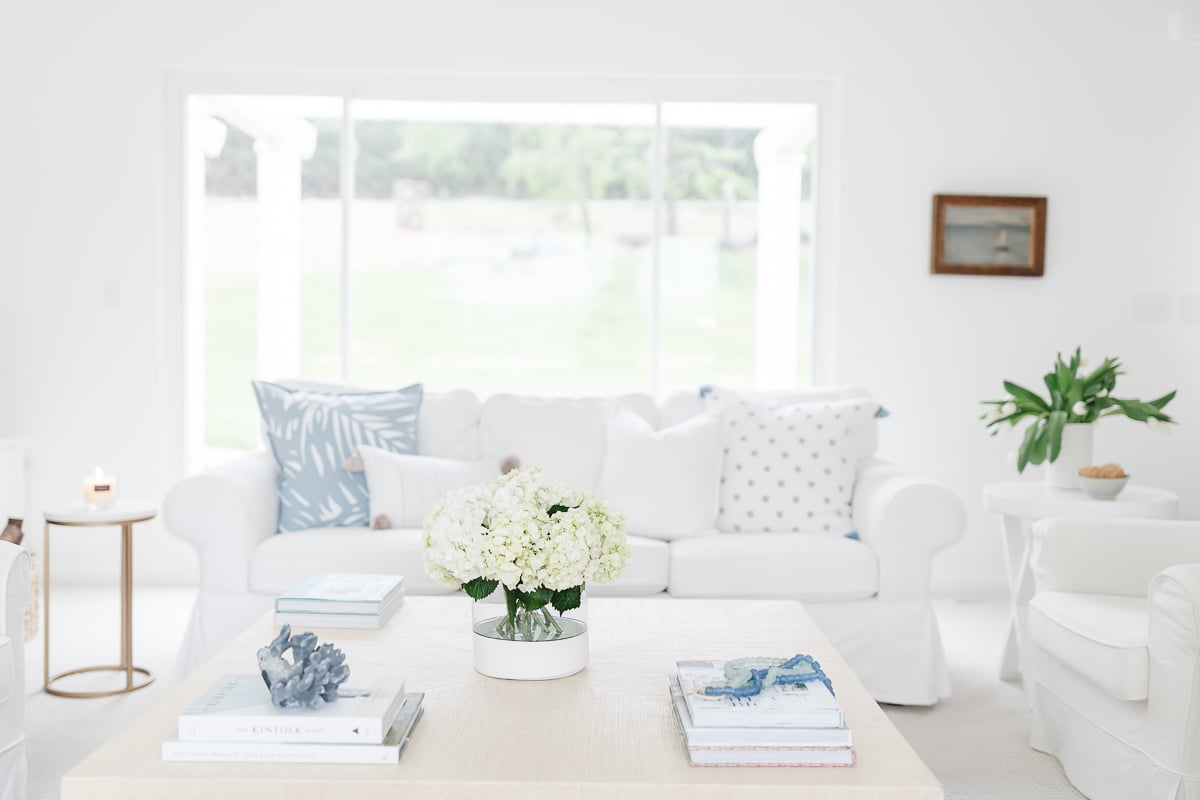 1) Start with a Neutral Backdrop
I know that it's not always possible to paint a room, but if you really want a fresh, minimalist start, this is the way to begin!
Have you ever noticed how art galleries showcase priceless pieces of art against a backdrop of white paint? It's the best way to showcase something important. In your home, the most important thing is your family, of course!
Get a round-up of our favorite Warm Whites and create the soft neutral backdrop of your dreams!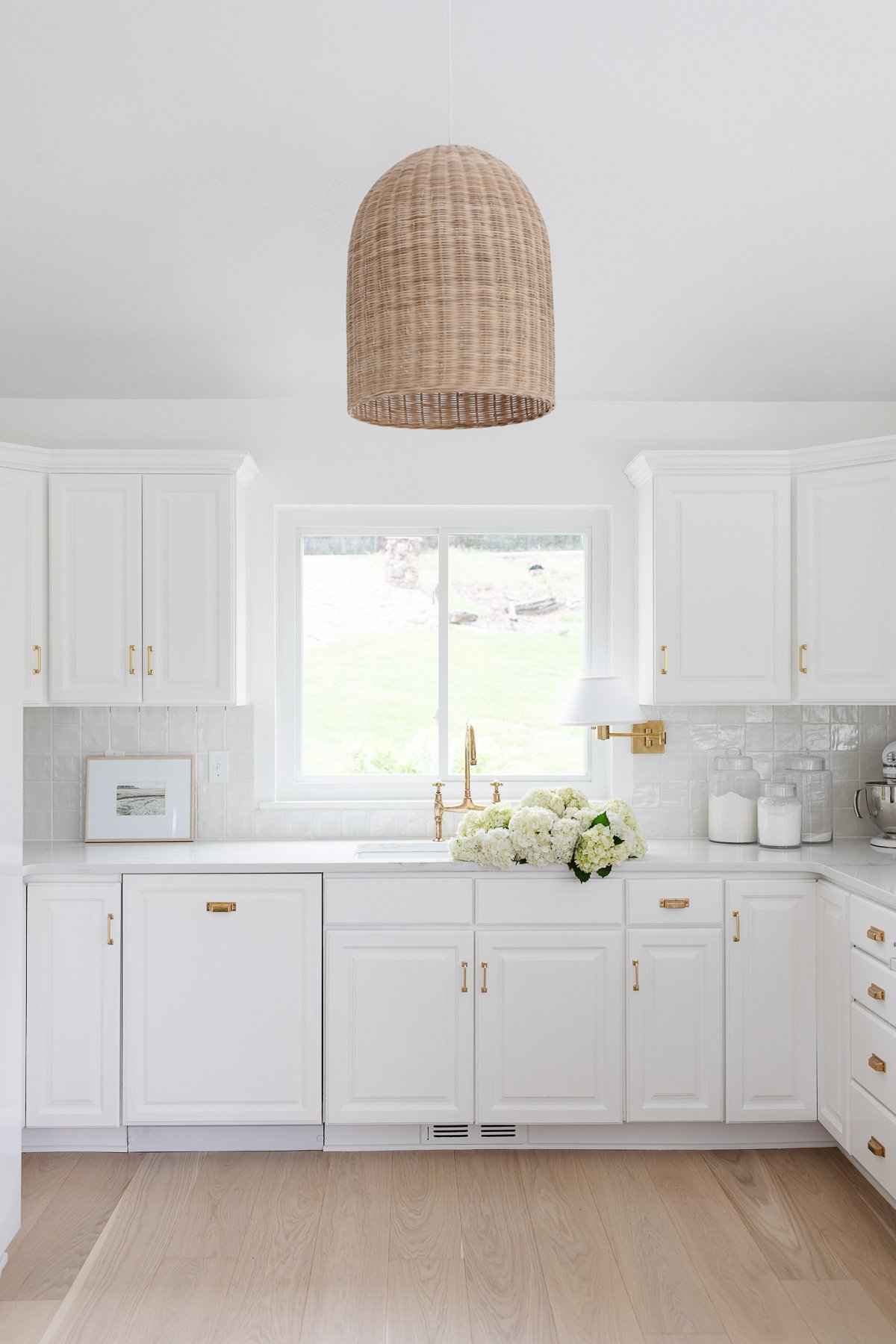 2) Declutter
While paint can make an incredible impact in a space, decluttering is what really creates a calm, soothing minimalist decorating touch.
When you eliminate all the clutter, you're letting a room breathe, and your family can breathe too.
It just feels so good to eliminate the clutter from your life – even if you're not taking a more minimalistic approach to your decorating. Get the Decluttering Checklist here.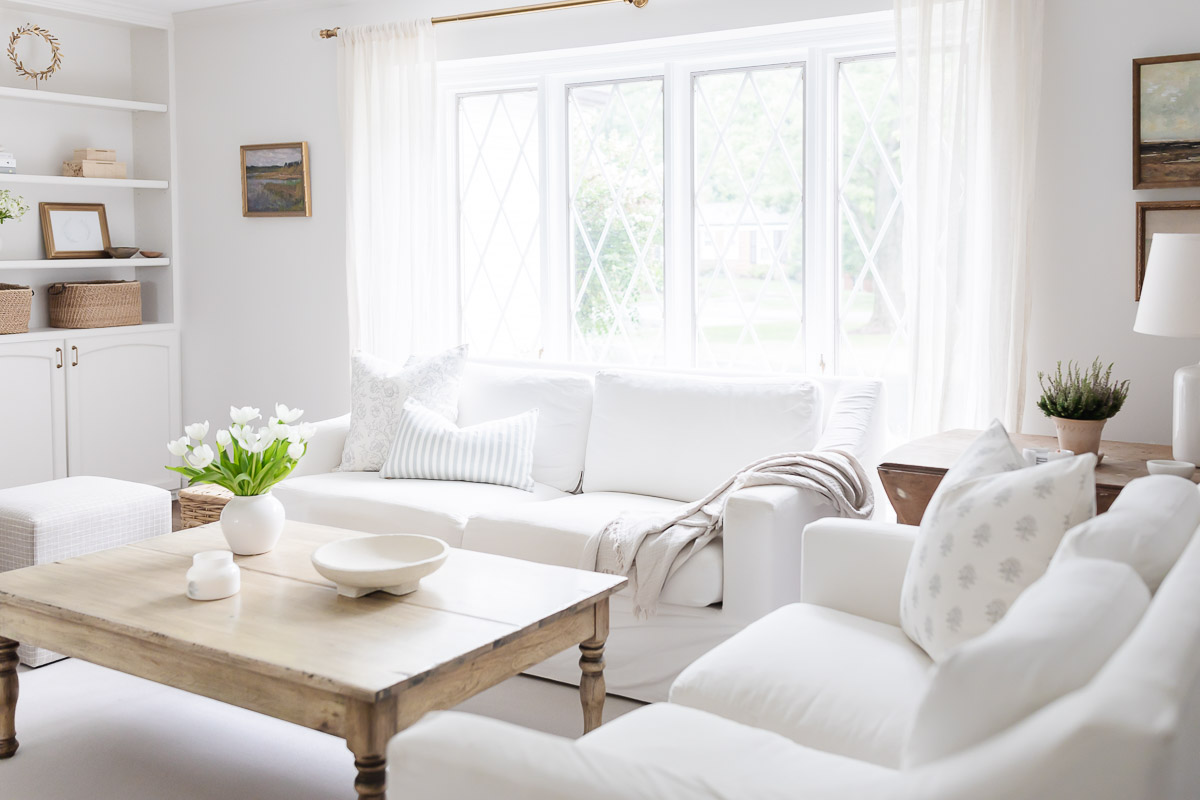 3) Designate a Space for Messes
We certainly aren't perfect, and a tour of our basement on a daily basis would definitely show you the truth of the matter! If you've got young kids in your home, you've got to allow the messes a space of their own.
In our home, the basement has long been a space for the girls to get creative, make messes, and yes… leave messes, too. In fact, I rarely ask them to pick up down there because I just don't see it all day long.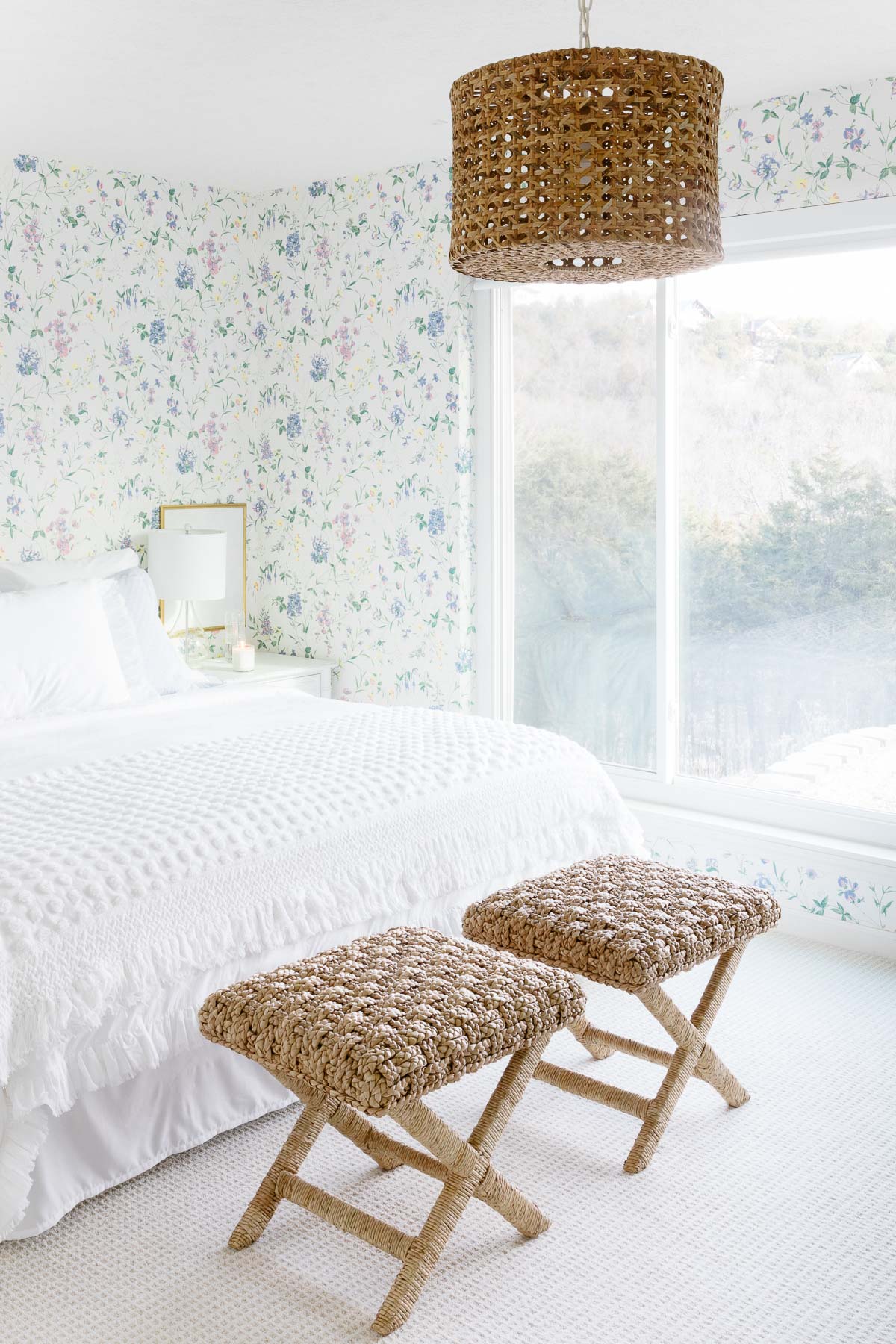 4) Style Your Bookshelves Sparingly
In my complete guide to Bookshelf Decor Ideas, you'll see that less is more, and empty space is your friend!
You don't need furniture in every space, artwork on every wall, and drawers filled to the brim. In fact, we've used our built in bookshelves for storage, too – consider a hidden bar cabinet, or even just baskets to hide remotes and other necessities in baskets on the shelves like we did!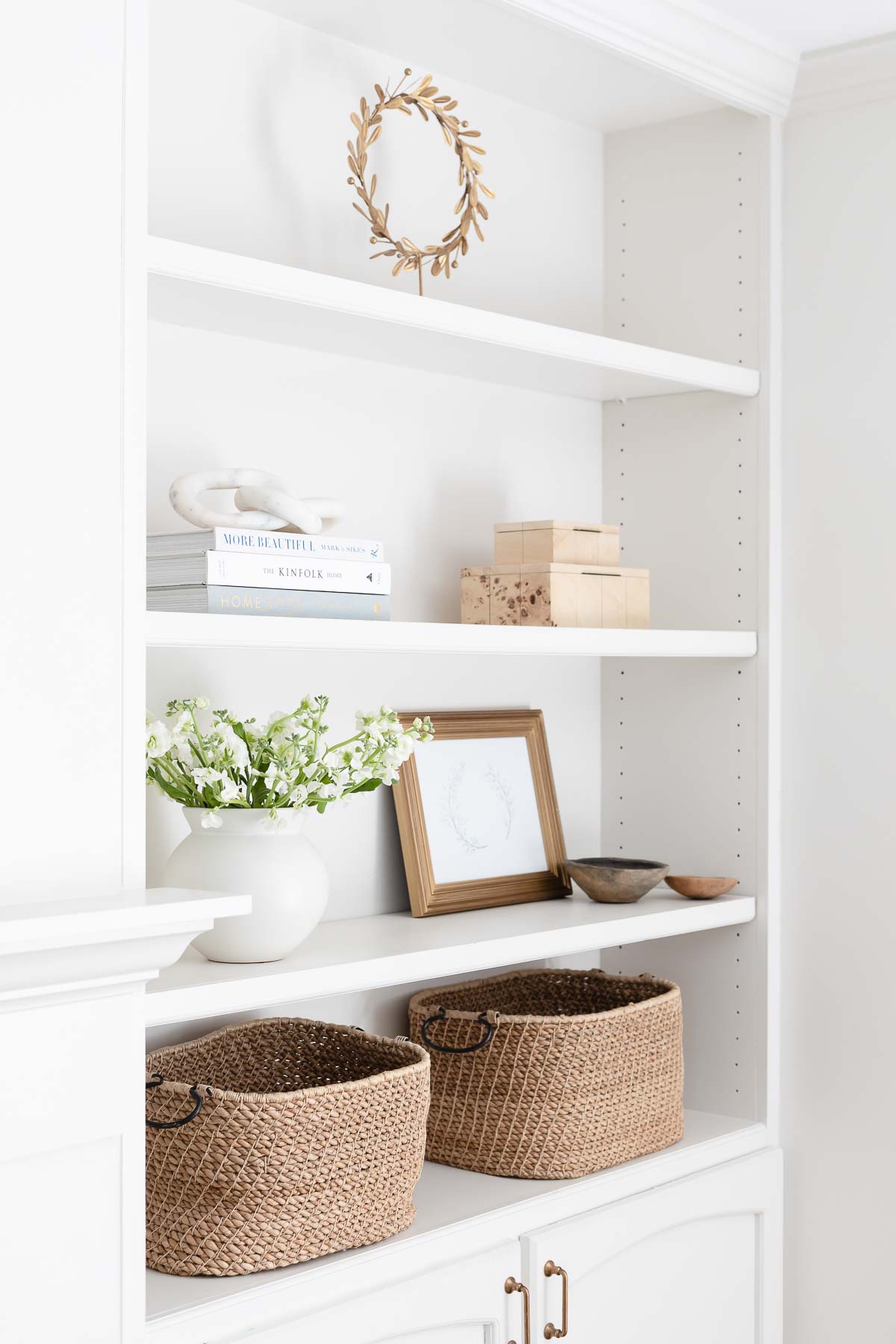 5) Leave Empty Spaces
It can be hard to implement this one, but it's so important. Leave empty space without furniture against the wall and artwork on every expanse of walls.
Empty spaces are important in minimalist decorating because it allows the eyes to rest, and creates an instant sense of calm.
In fact, it allows your special items and artwork to become more important, too – when there are less items, the ones you keep will really stand out!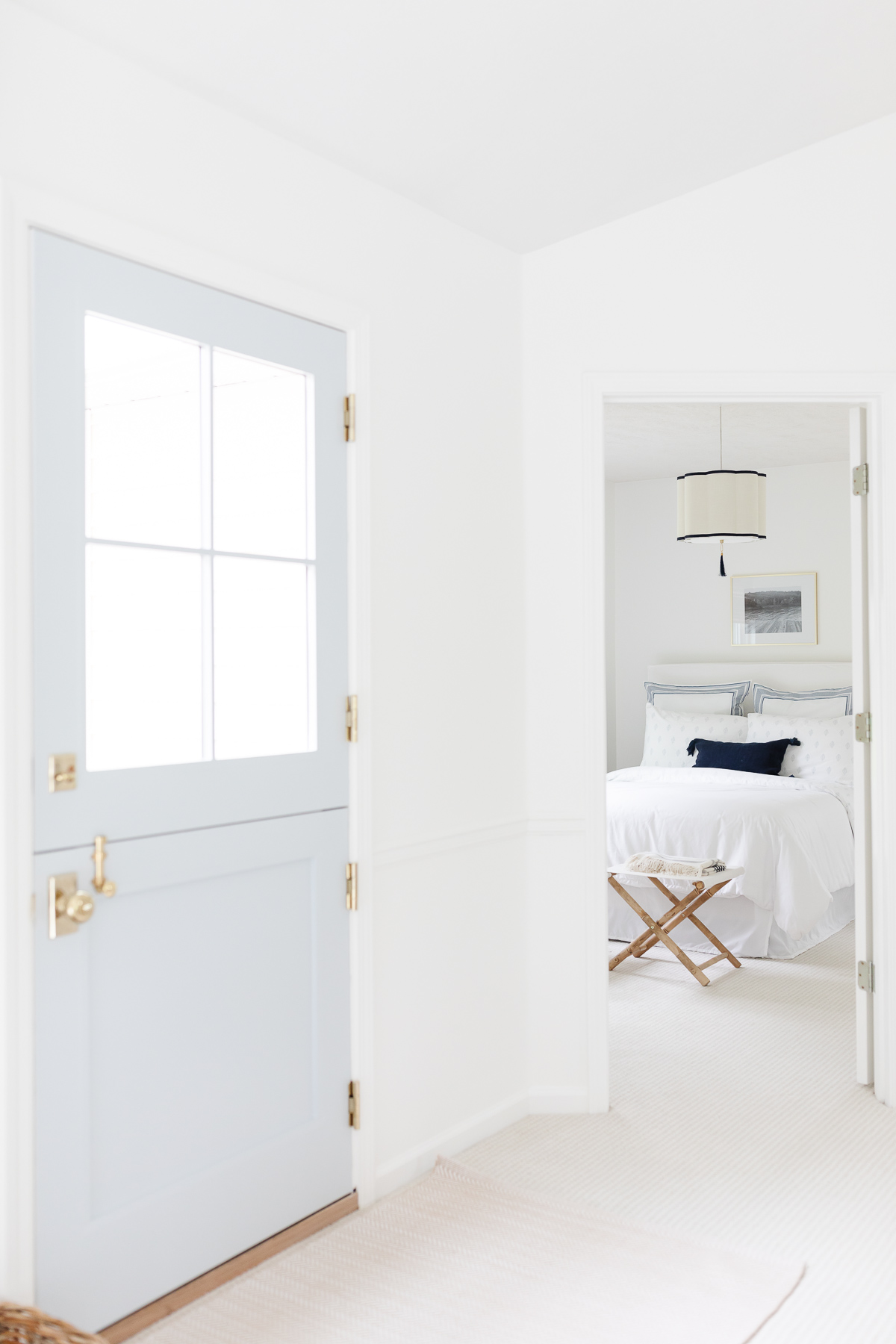 7) Choose Items that do Double Duty
Multipurpose furniture is one of my favorite suggestions for minimalist decor. In fact, I've incorporated this idea throughout our homes.
I love items that work overtime in our home. Often, this is items like stools that double as seating and luggage racks, as you can see throughout our lake cottage.
Choosing furniture wisely is a way to ensure that you're not cluttering a space.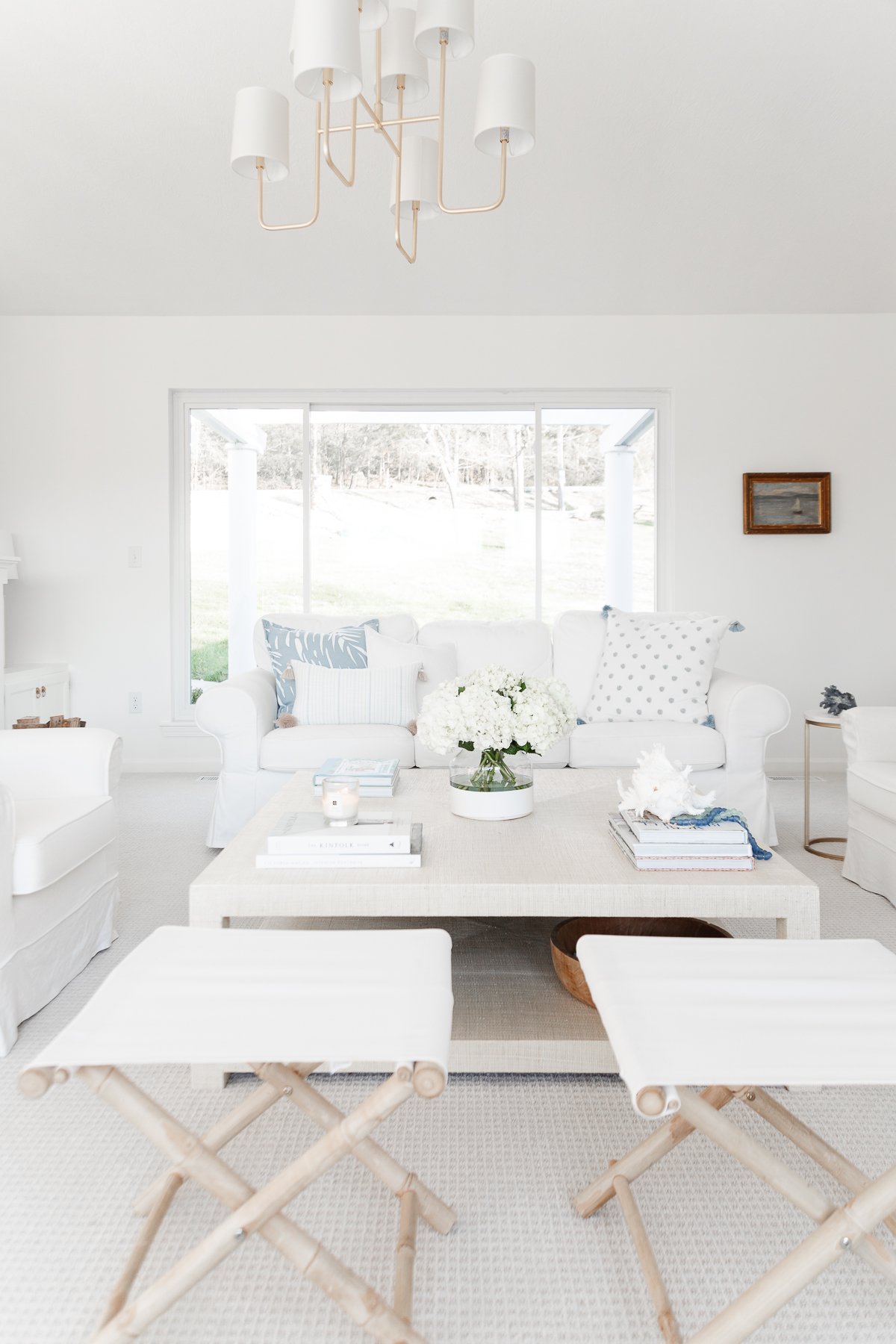 8) Add Texture
A minimalist decorating style is often monochromatic, and for good reason. However, when you don't have pops of color to interject into a space, you'll need to make it cozy with other elements, like texture.
Consider textural items like rugs, blankets, pillows and more. Minimalist doesn't have to mean cold and empty – it can still be cozy!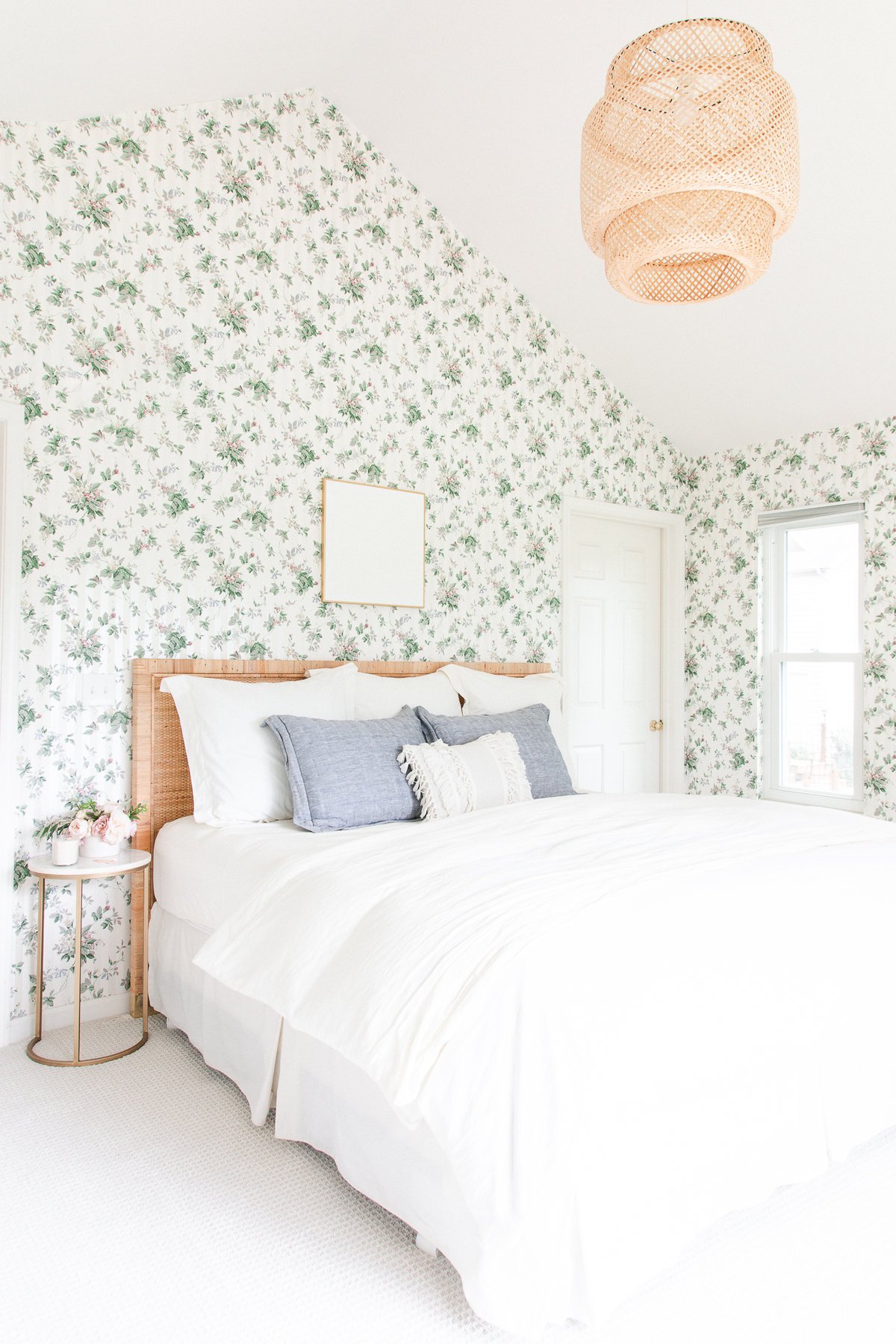 9) Add Something Organic
For me, this is always about fresh flowers and even plants. I love a soothing, calm and neutral background with a pop of fresh beautiful blooms.
Adding a pop of green in a spare, peaceful space can immediately create a sense of peace. It captures the minimalist aesthetic and it's something you won't want to skip in styling your space!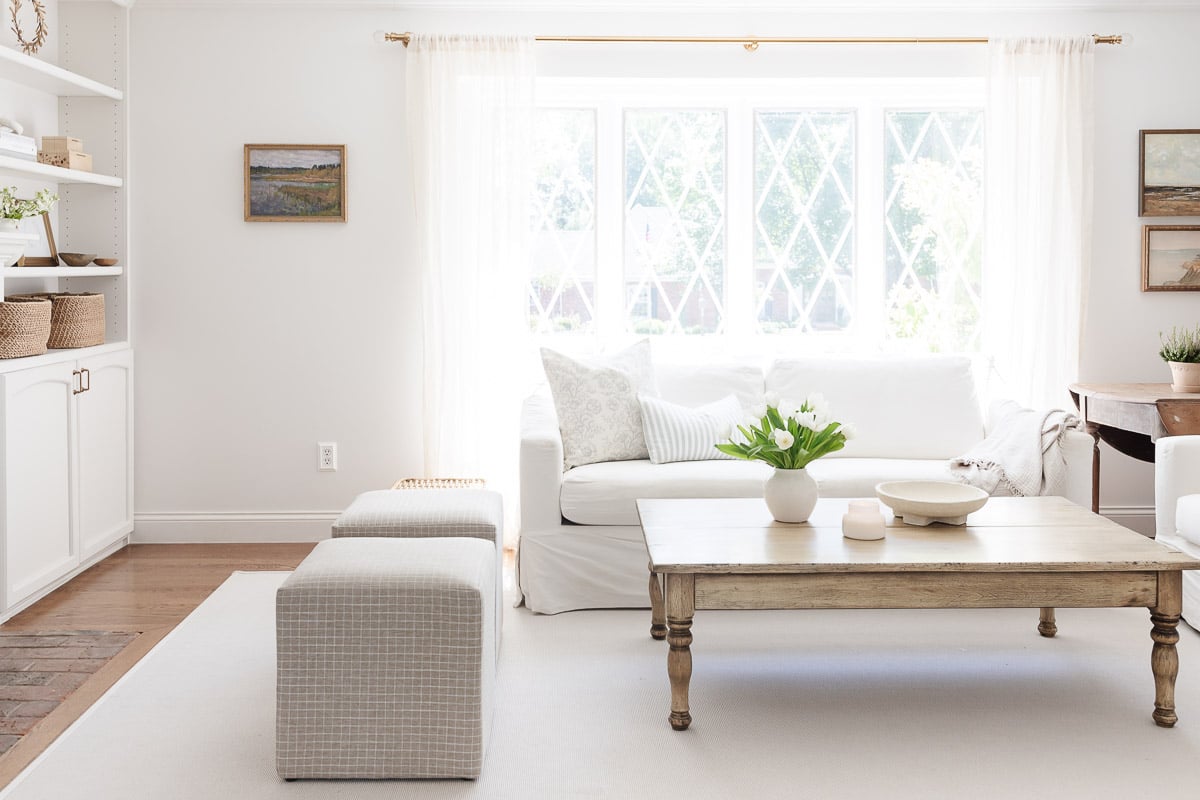 10) Eliminate Electronic Distractions
I know, I know… this is one that many folks don't want to hear! But we've done this in a couple ways throughout both our primary home and our lake cottage getaway.
In St. Louis, we've invested in Samsung the Frame televisions, which allow us to hide the visual clutter of a television because they double as art in our spaces. I love that I'm no longer looking at gigantic black boxes on our walls and furniture.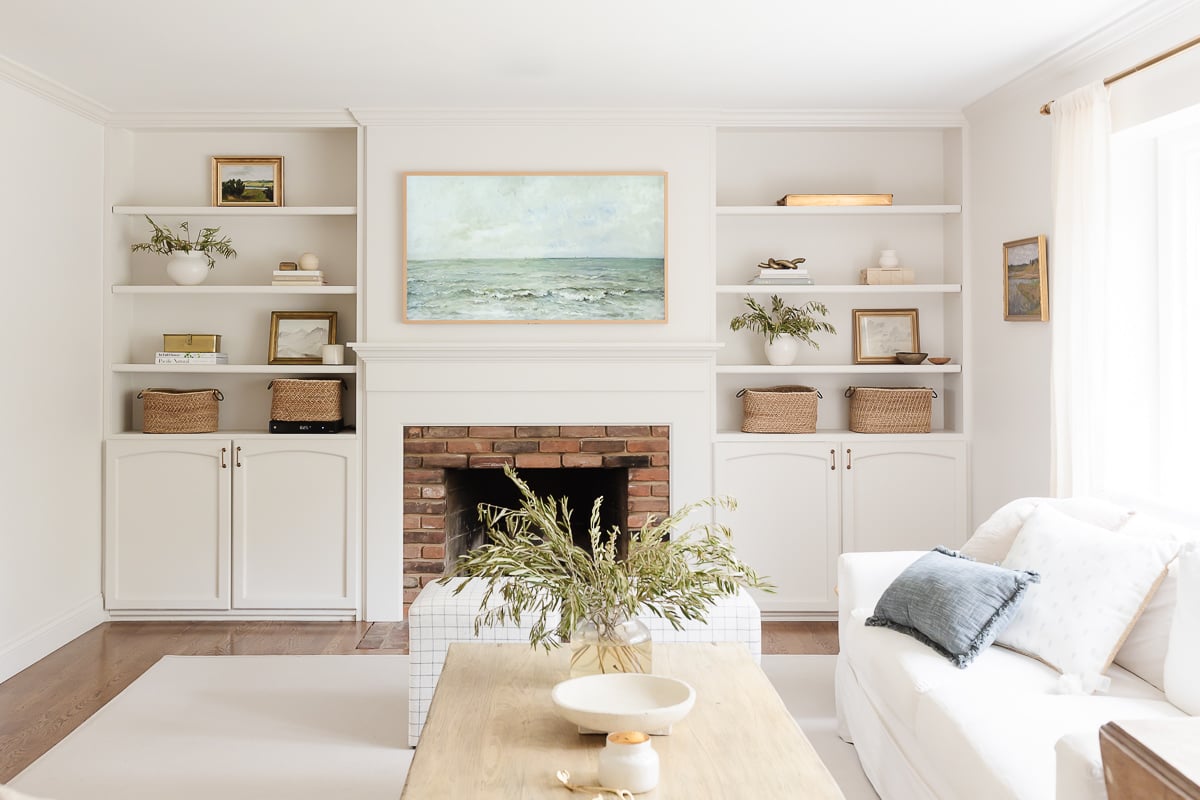 At our lake cottage, we don't have any televisions at all. We go there for peace and quiet, after all. And while this won't work for everyone, it's possible to remove the distraction of screens throughout several rooms of your home!