An inexpensive children's Solid Wood Bunk Bed room makeover, without a lot of effort! Perfect solution for families with multiple kids or fun Twin Over Twin Bunk Beds at grandma's house.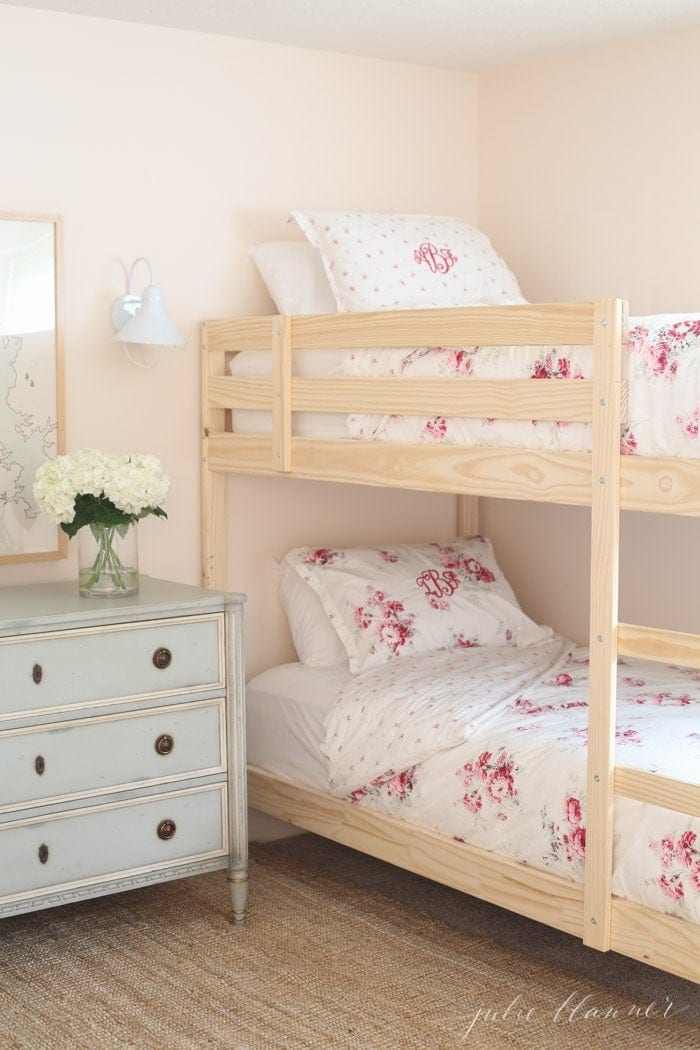 I often take a laissez faire approach to decorating, allowing rooms to evolve over time, but when I was invited me to partner with a paint store on a project, I was anxious to get on board to create a dreamy bunk bed room for the girls at the lake cottage.
I was also excited that it gives me the opportunity to take you on the journey of decorating the space from start to finish, which is really difficult to show when my typical projects tend to span over a couple years.
First, let's take a peek at the before: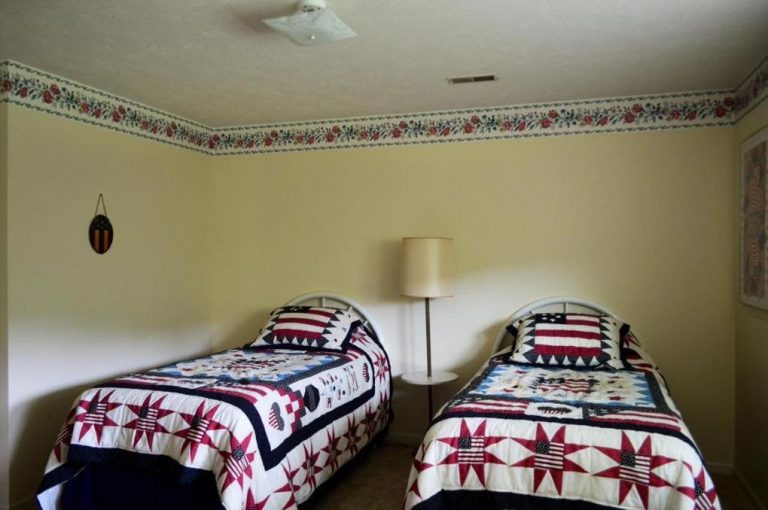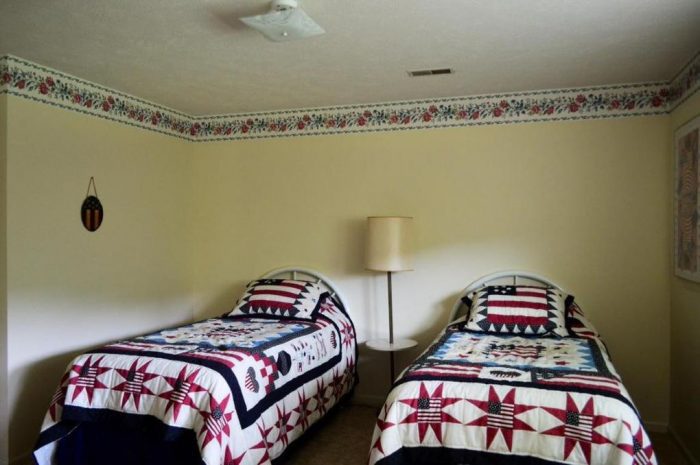 You can see that the space is tight and a bit dark having a single small window.
Girls Bunk Bedroom Source List
I have a complete list of sources for the items used in this room right here. This will be helpful if you're looking for a specific piece of information. However, keep reading if you'd like to know more about the steps we took to accomplish this sweet rustic bunk bed room!
If you're joining me today for the first time, you can see how I planned the girls twin bunk bedroom, with more here. Decorating this room was a little more challenging than some spaces, because I was planning from our home nearly 4 hours away. I neglected to take measurements when we were previously at the lake cottage and had to guesstimate based on a few snapshots I had taken.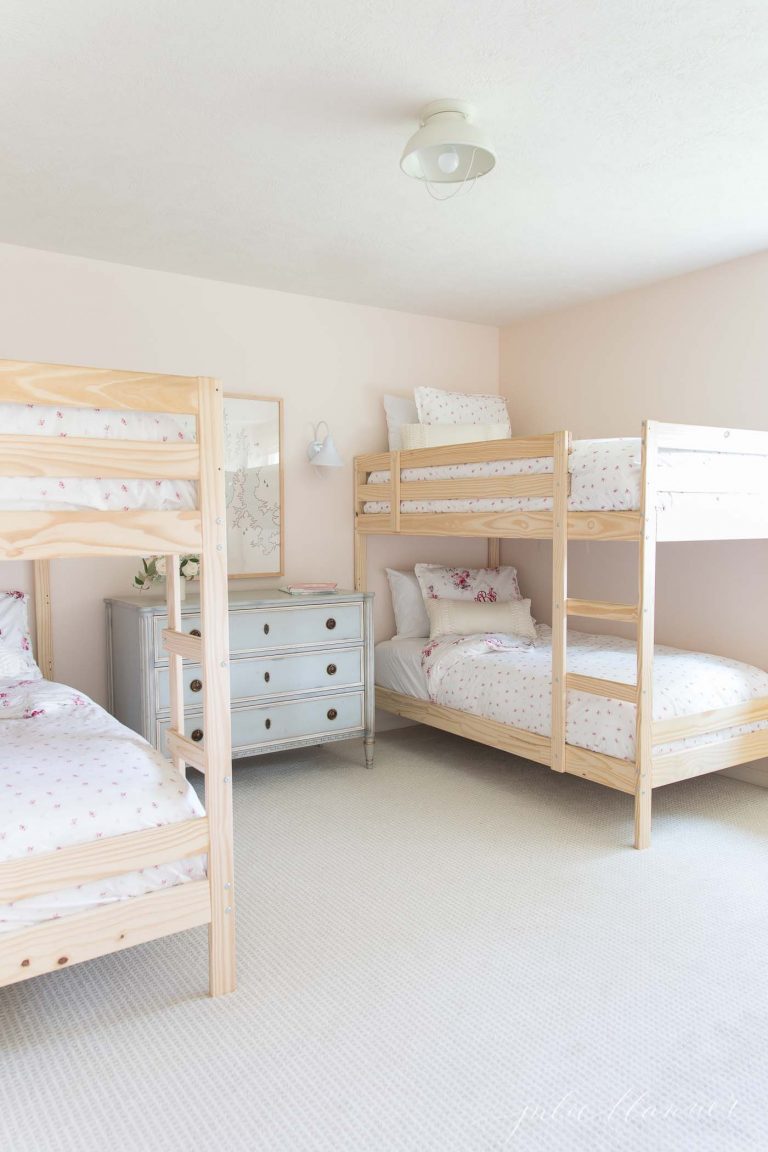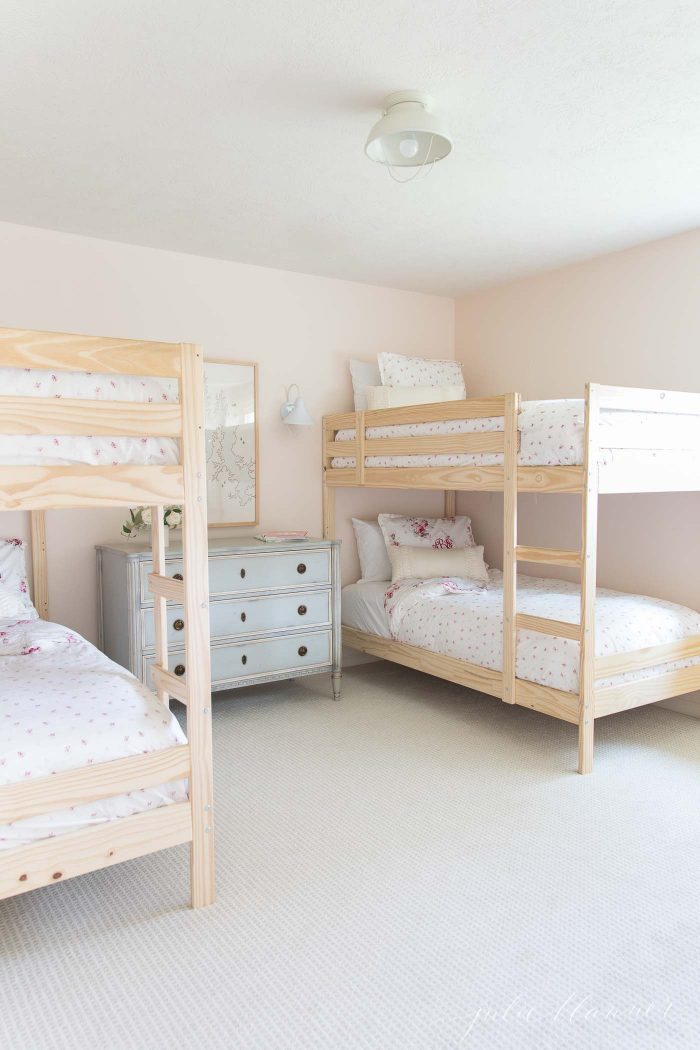 Where Do I Find Twin Over Twin Bunk Beds?
The very first decision we made in this room was that we wanted twin over twin bunks. With three little girls in our family, we knew that this was a space where memories would be made for years to come. I wanted it to feel like a slumber party all the time, and what's better for sleepovers than bunk beds?
We settled on these solid wood bunk beds from IKEA. They felt sturdy and timeless. I loved the look of the raw wood, and I knew I could balance that more rustic bunk bed style with feminine additions to the space later on.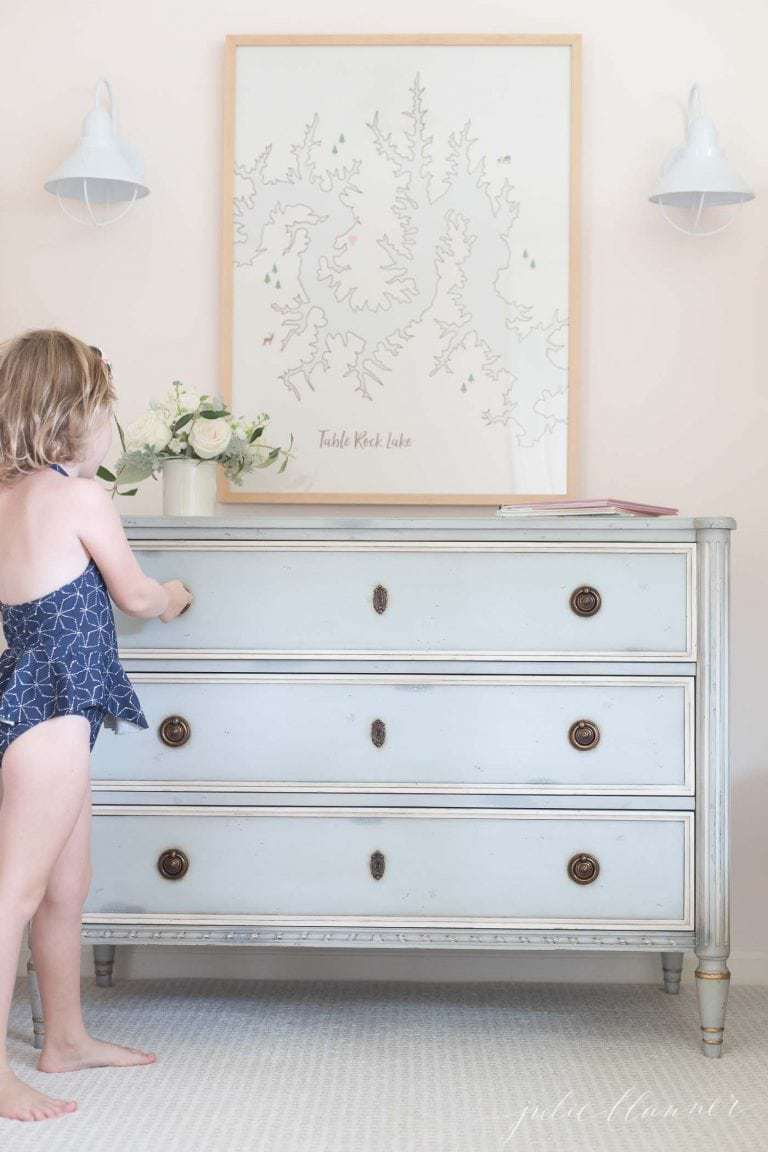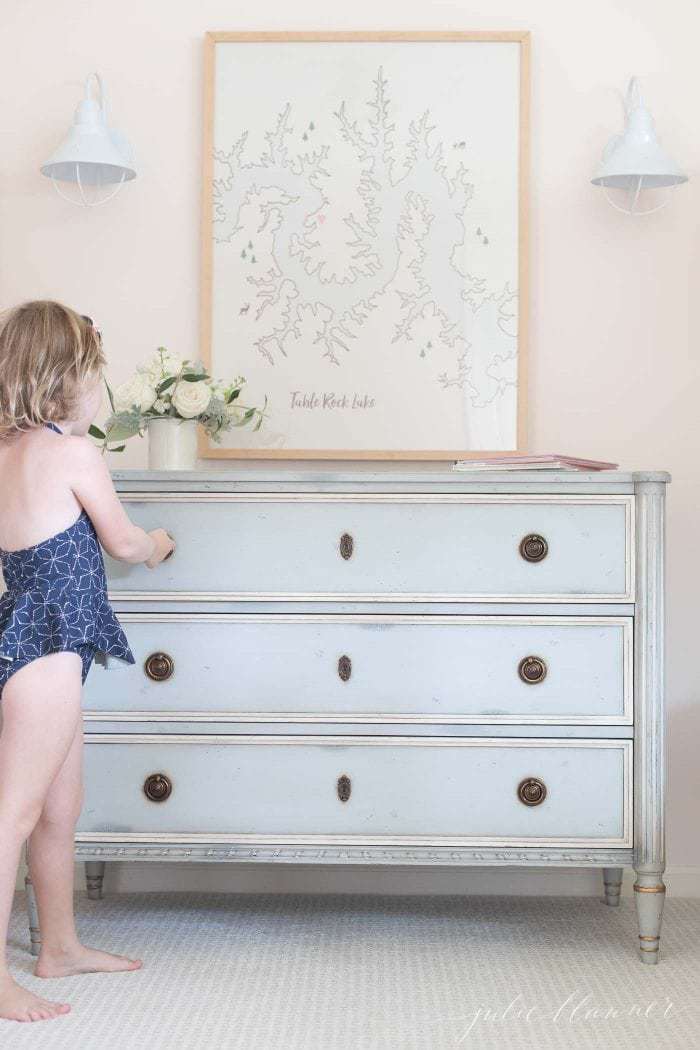 Choosing a Paint Color for a Double Bunk Bedroom?
Having double bunks consumes a lot of space. Pair that with a basement bedroom and think can appear small and dark. These two factors made choosing a paint color that works with the space even more important.
Pro Tip: to make a room appear brighter and larger, choose a paint color with a high LRV (light reflective value) in eggshell sheen or higher.
As you know, there's always a wide array of colors to choose from, including some very pretty pastels. While I certainly could have chosen a more high contrast color, I wanted this room to feel soft, pretty and feminine.
I narrowed it down to two pinks and tested swatches, opting for the slightly darker of the two, Grandad's Girl. (from PPG Paints.) Isn't it sweet?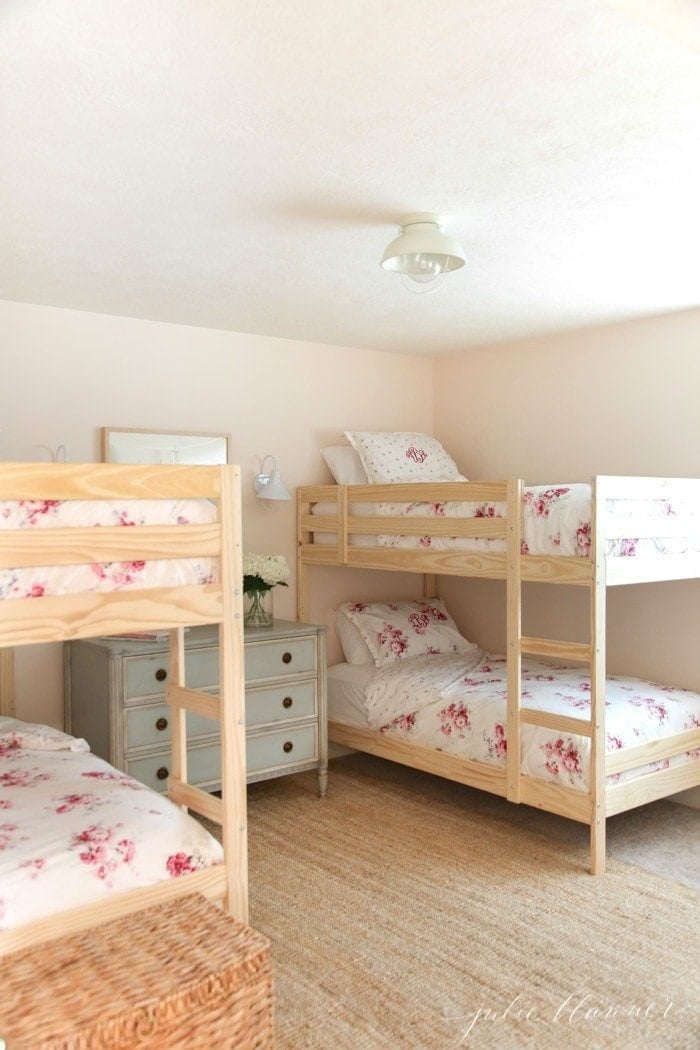 To make the space feel playful, I used two additional hues – Pinch of Pistachio, which I used to paint the light fixture and a dresser I purchased in blue, which I color matched for you to UFO!
How Do I Color Match Paint?
Most paint stores have an online color matching system where you can upload a photo of the color you'd like to match. Below, you can see the image I uploaded into their system, and the color that it directs us to as the best match. This can be an excellent solution when you can't bring the product itself (ie, this dresser, a wall color you no longer have the the information for, etc) into the paint store.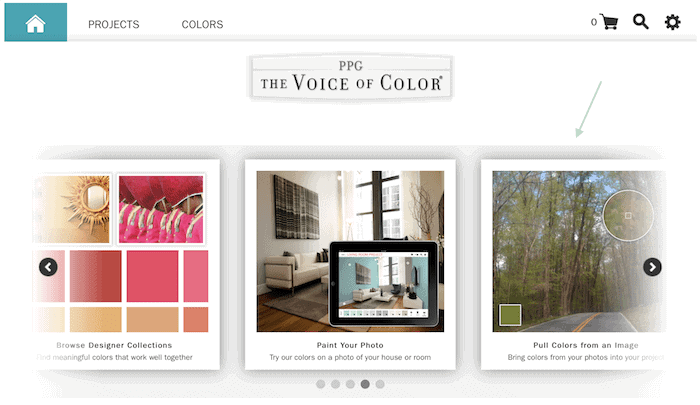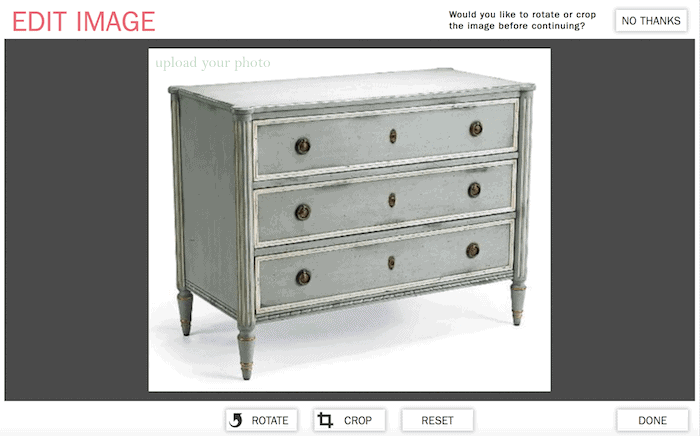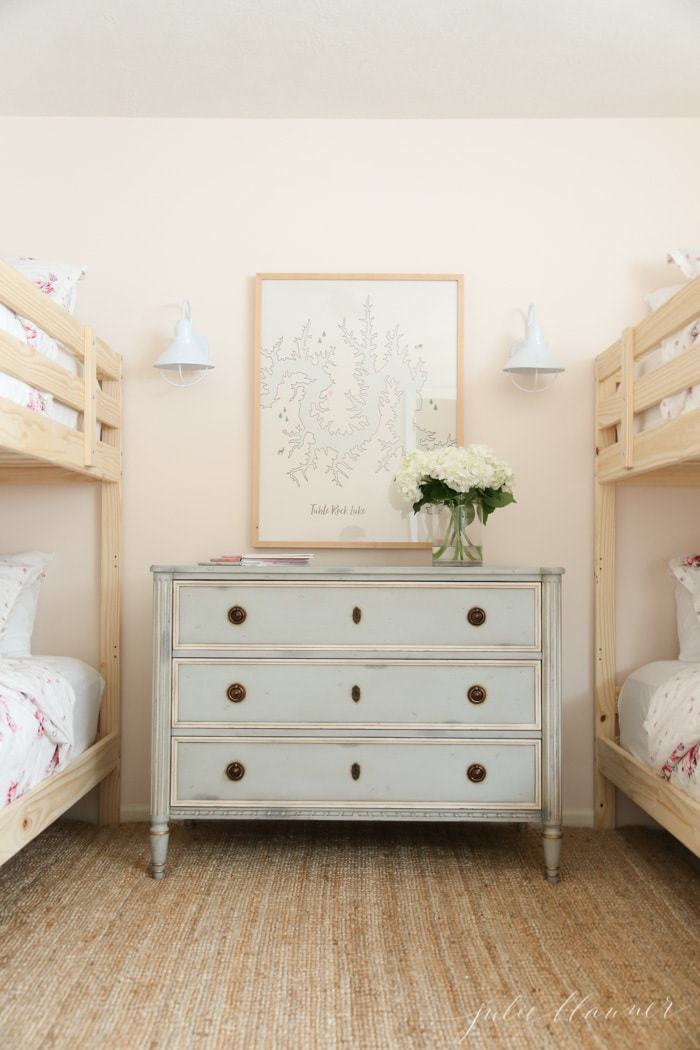 Ready to watch me decorate in a day?
Whew! That was fast. Let's get to the details, shall we?
How Do I Decorate With Rustic Bunk Beds?
First, start with a blank slate. Empty the room.
In our case we had to remove a dated wallpaper border and prep the walls.
Next, paint!
We loved this sweet light fixture but wanted a slightly different color. We painted it, too!
Bring color or texture into the flooring with a rug or patterned carpet if possible.
Bunk bed setup: this is a two person job!
Choose fun bedding. These duvets can be alternated because they have a different pattern on each side, which adds interest.
Add accent furniture. As a minimalist, I chose a pretty dresser that acted as both storage and bedside table.
Personalized wall art is the ultimate addition to help warm up your space and make it your own.
Keep reading for more details on our choices!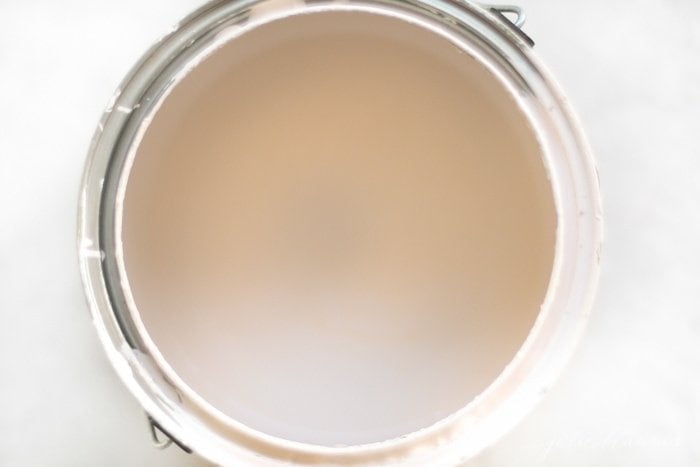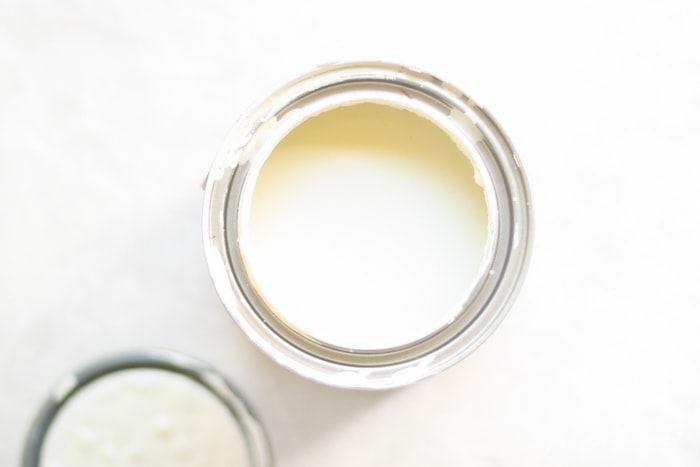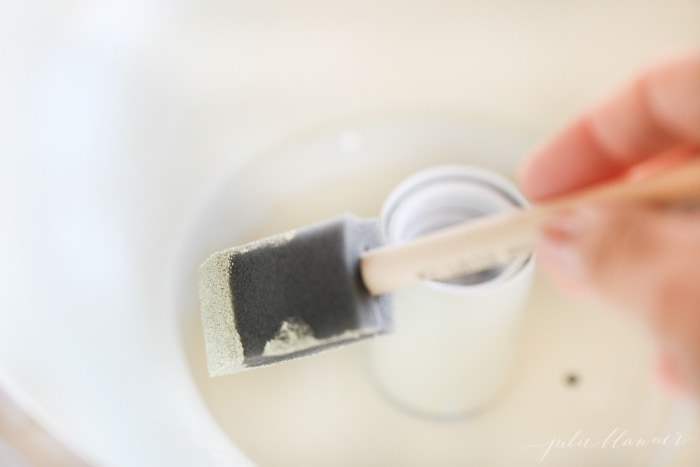 We added a soft jute rug to minimize the carpet and add texture. While not everyone agrees with layering a rug over carpet, I find this to be a great inexpensive solution to warming up spaces throughout our homes.
This can be helpful if your carpet is tired and dated, like the one in this room. We weren't ready to replace it just yet, and the rug bought us some time. (See the more of this room after we replaced the carpet, right here.)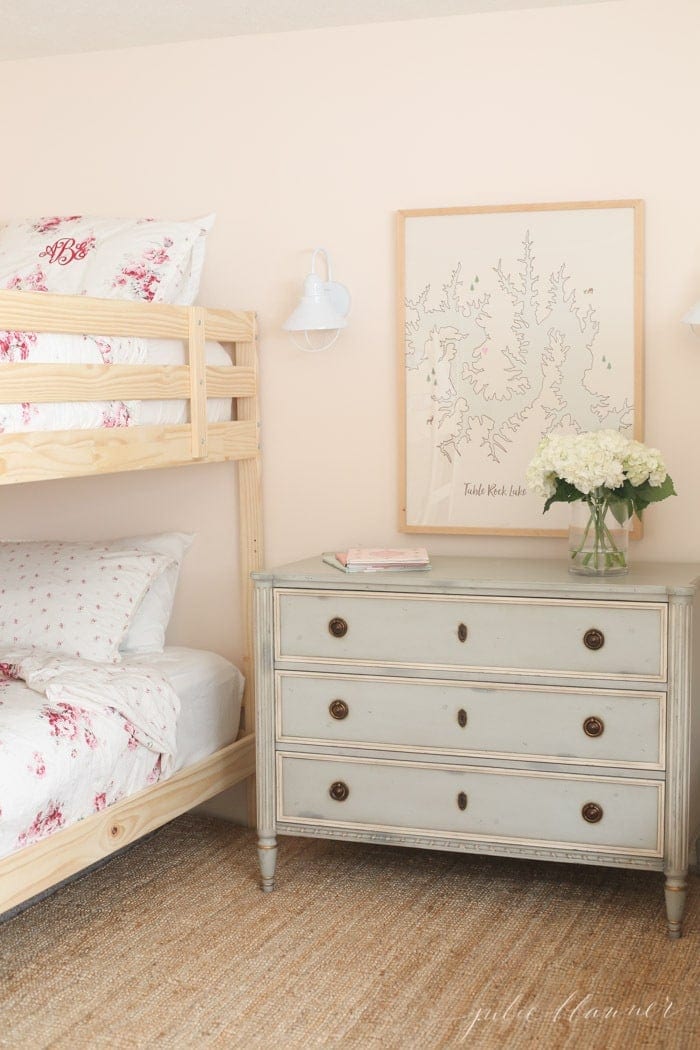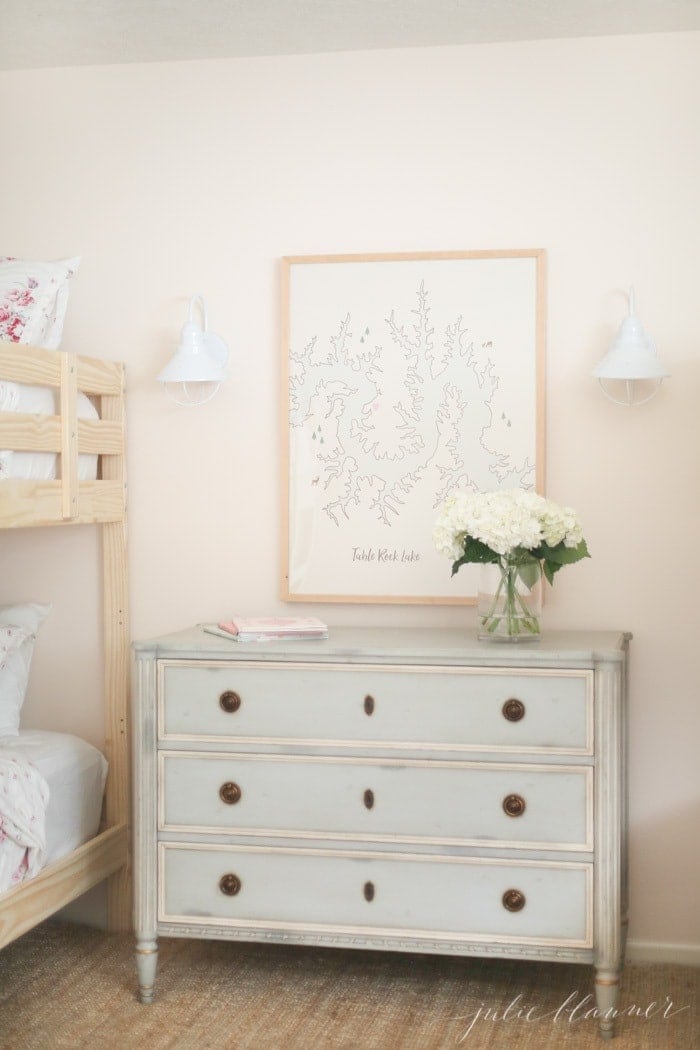 You may also notice that I incorporated a few nautical light fixtures as a nod to our lakeside location along with a map of the lake I commissioned an artist to create for the girls. I selected a flush mount light with a canopy that draws the light down, to minimize the dated ceiling texture.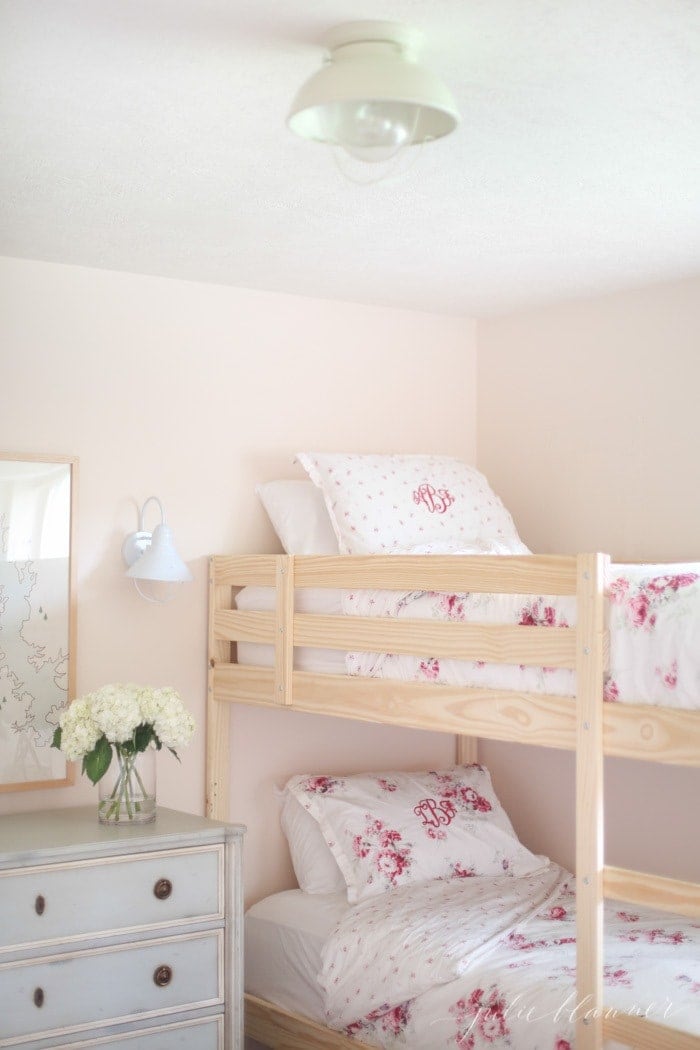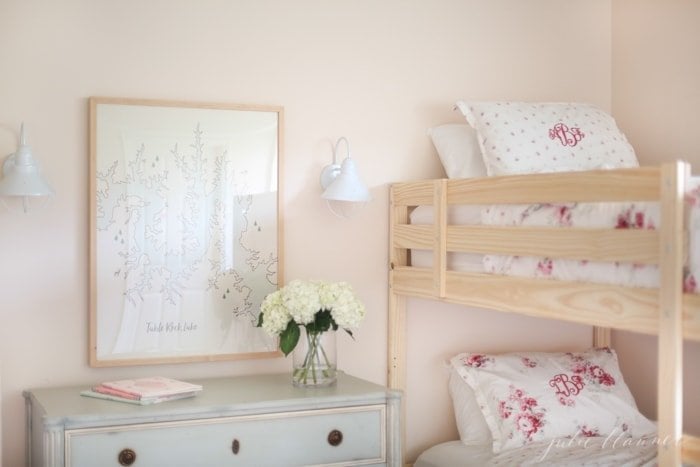 In addition to color, the patterned bedding makes the girls' room feel playful. I had their pillowcases monogrammed to bring in a little detail and another touch of color.
The bedding was a budget-friendly find from Target (no longer available but this bedding is very similar and has great reviews), but monogramming the pillowcases takes it up a notch and really helps the room feel special.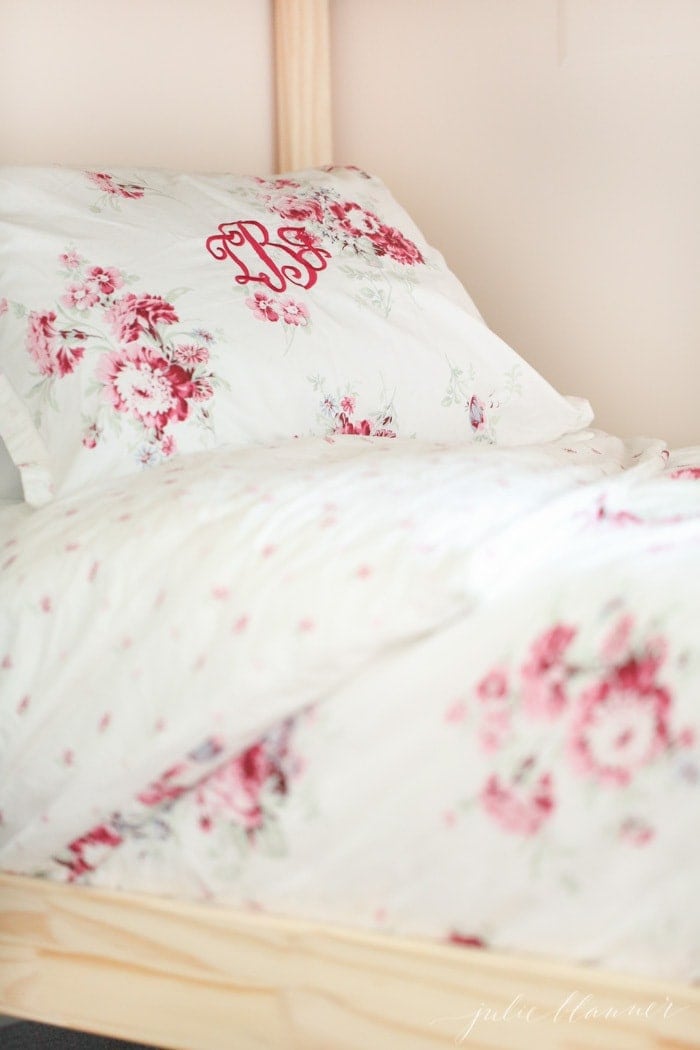 Questions and Tips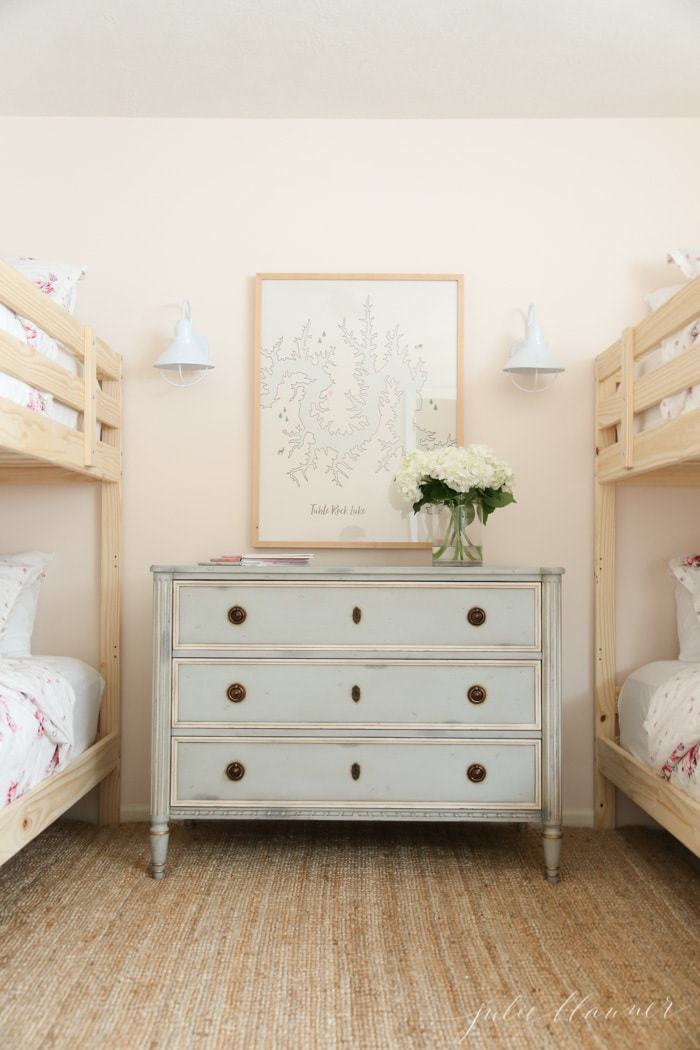 The focal point is this hand drawn piece of art of our little section of the lake. However, since the artist is no longer in business, I always suggest searching for custom wedding maps on Etsy. There are so many artists that do this kind of work and it makes for really affordable custom art work!
I have a lot of my art framed here. You simply send them a digital file or your artwork and they frame it to your specifications.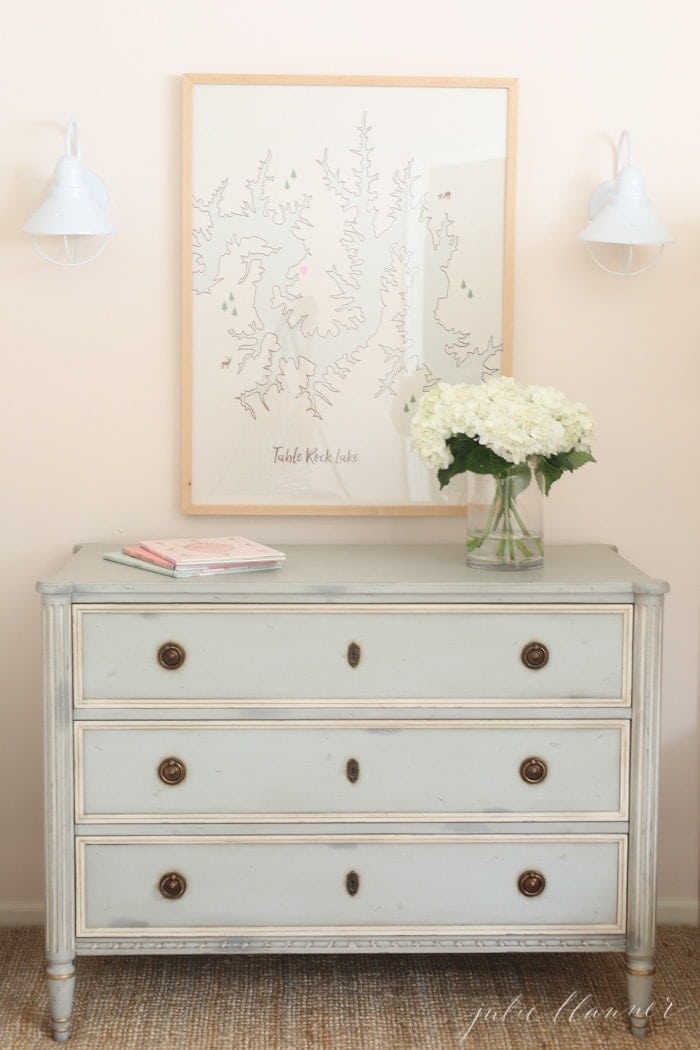 and the piece that this room and color palette – this sweet gift from my friend Tori…
Happy girls are the prettiest.