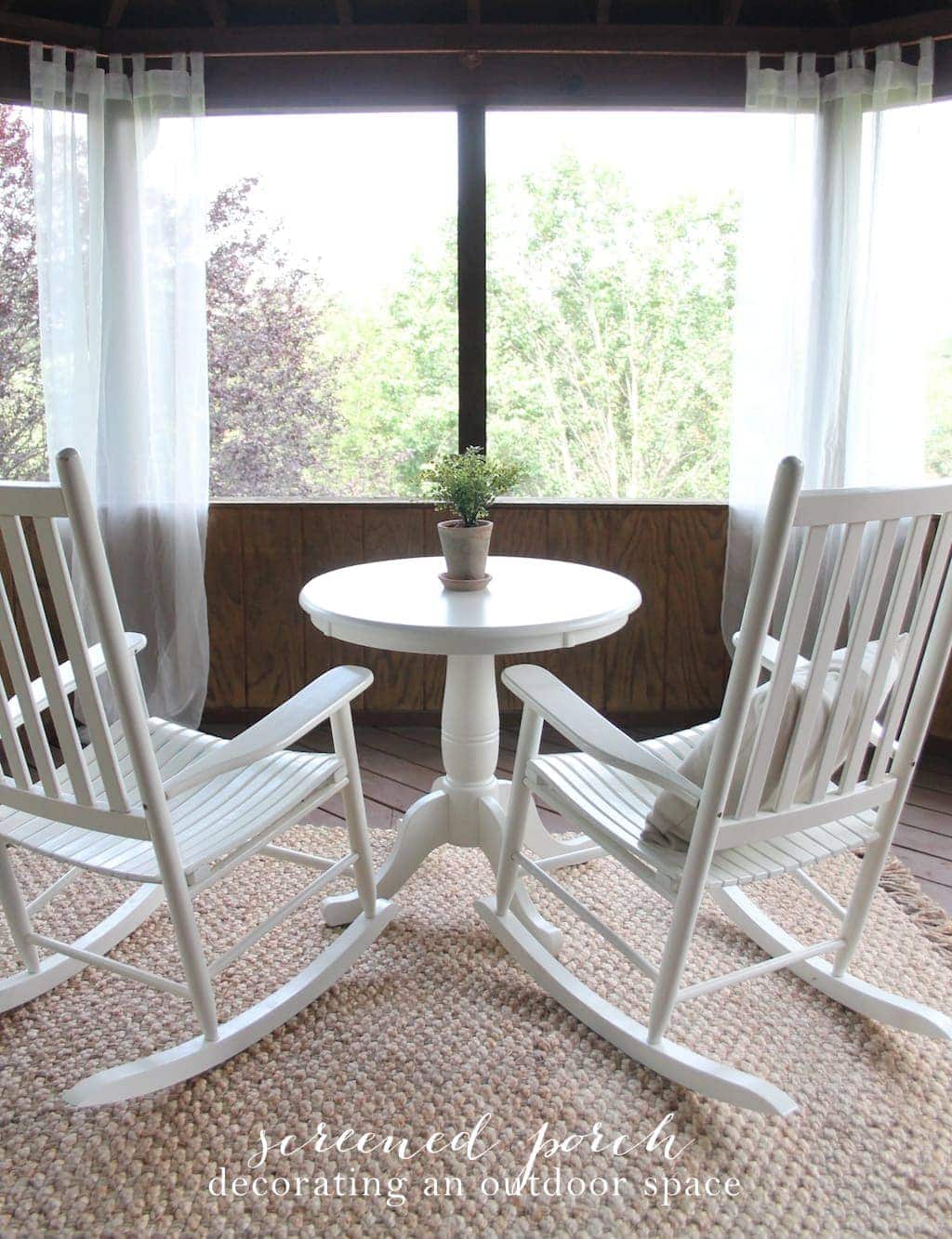 We are slowly making progress on our new home. We've been adjusting to the new space & seeing how they flow, how we use them. While I'd love to jump in & have the home decorated & completed, it's unrealistic & won't give the home the warmth & charm I want. I love pieces with a story, design with function. The fun is in the process. I started our first project – a mini screened porch makeover. For the longest time, I had set unrealistic expectations for myself that to reveal a space, if had to be completed. That's not a reality for many & it isn't for me. Between the kids, work & everyday life, there's only so much I can accomplish & budgets are always a factor as well. I'm proud of how we transformed this room & made it feel cozy in just a nap time.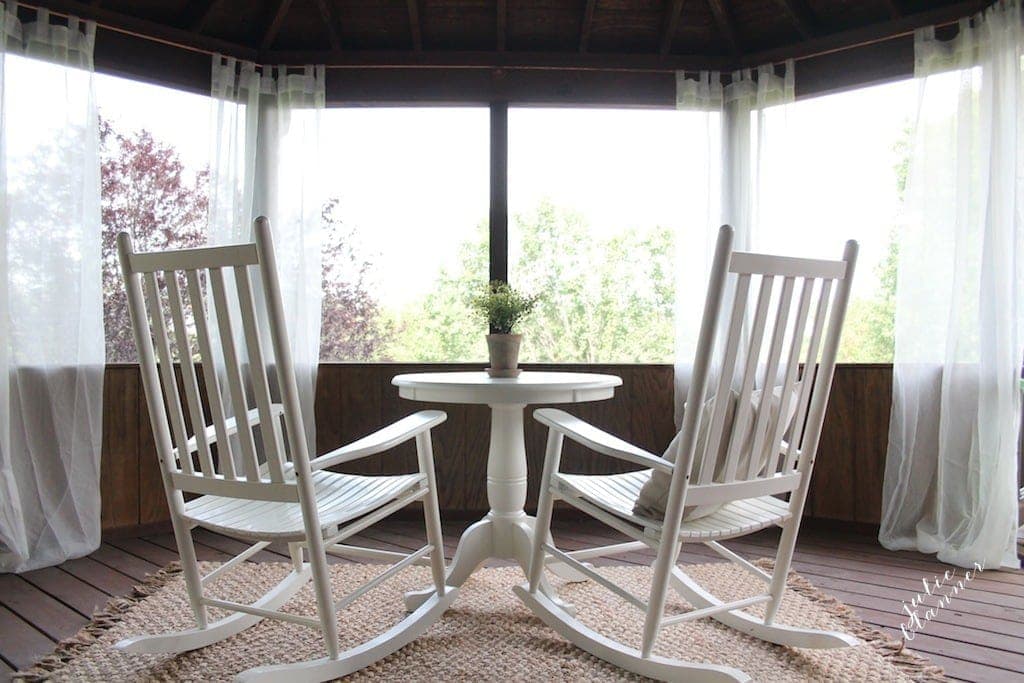 We fell in love with our apple trees when we moved in. To be honest, our crabapple – apple trees. I'm not sure how, but we were told that an apple took into the root system of an existing crabapple tree! I just love the charm they add to our home. It makes our suburban address feel a little more country. We wanted to embrace that feeling & tie it into our love for California wine country. After all, this is where we'll be sharing a bottle of wine after the girls go to bed.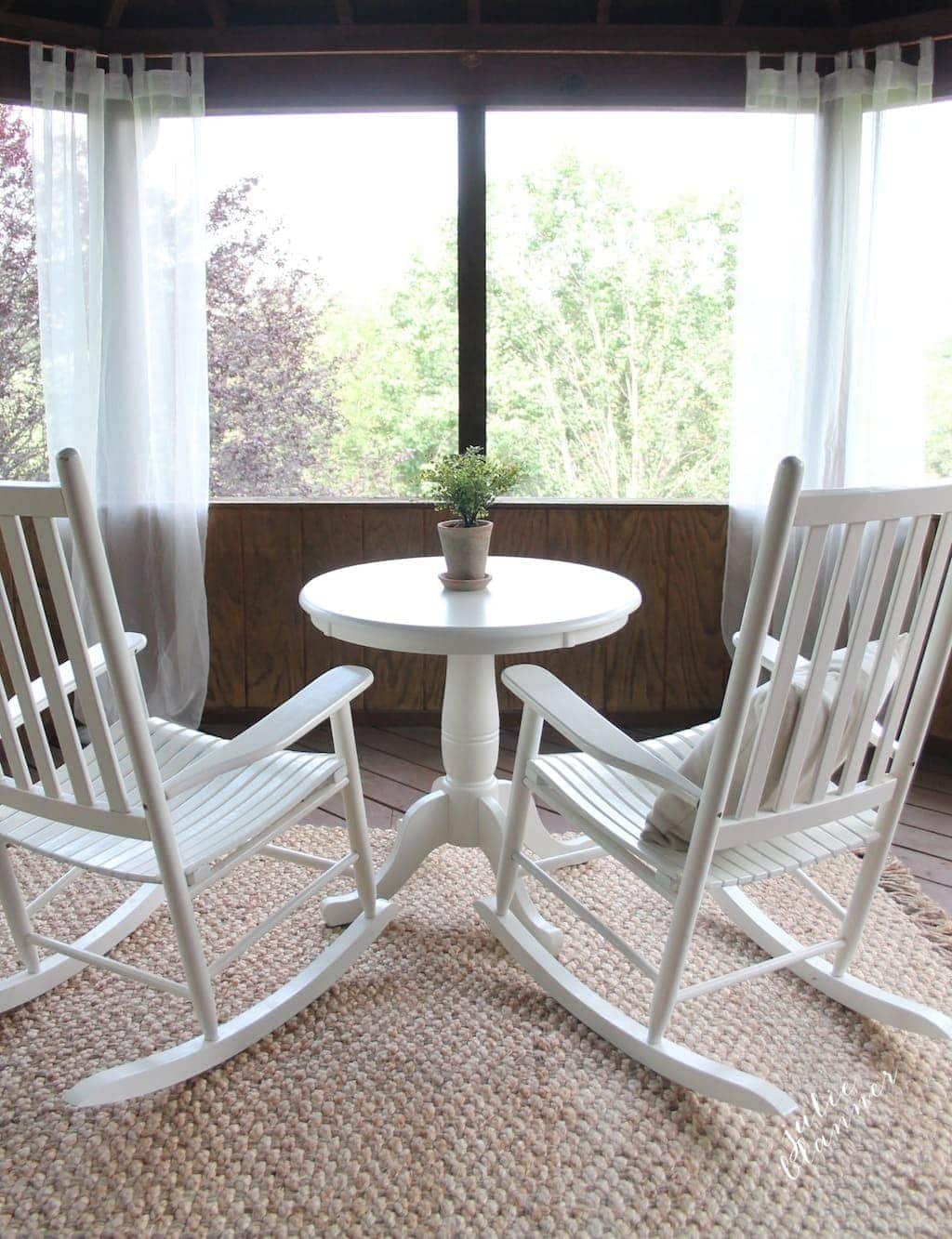 I like to treat our exterior spaces like our interior spaces, with curtains, rugs, accessories & decor. We started the makeover with by making custom curtain rods to fit the porch impeccably in one of my favorite metals – copper. I'll be sharing the step-by-step tutorial Monday! I didn't want to hinder the view, but wanted to define the space, so I selected sheer tab top curtain panels. They're soft & wispy, making the space feel romantic. I ordered them in 96″ length to create a puddle.
My love for Sonoma doesn't end with wine. The olive trees are just as gorgeous as grape vines. They're leaves are subtle, yet reflect light. I keep a small olive tree in our kitchen, but didn't think I'd successfully maintain one outdoors in Missouri. I found a life-like olive tree & placed it in a basket in the corner so that it doesn't catch wind. I try to add something organic to every space – if I can't, I fake it 🙂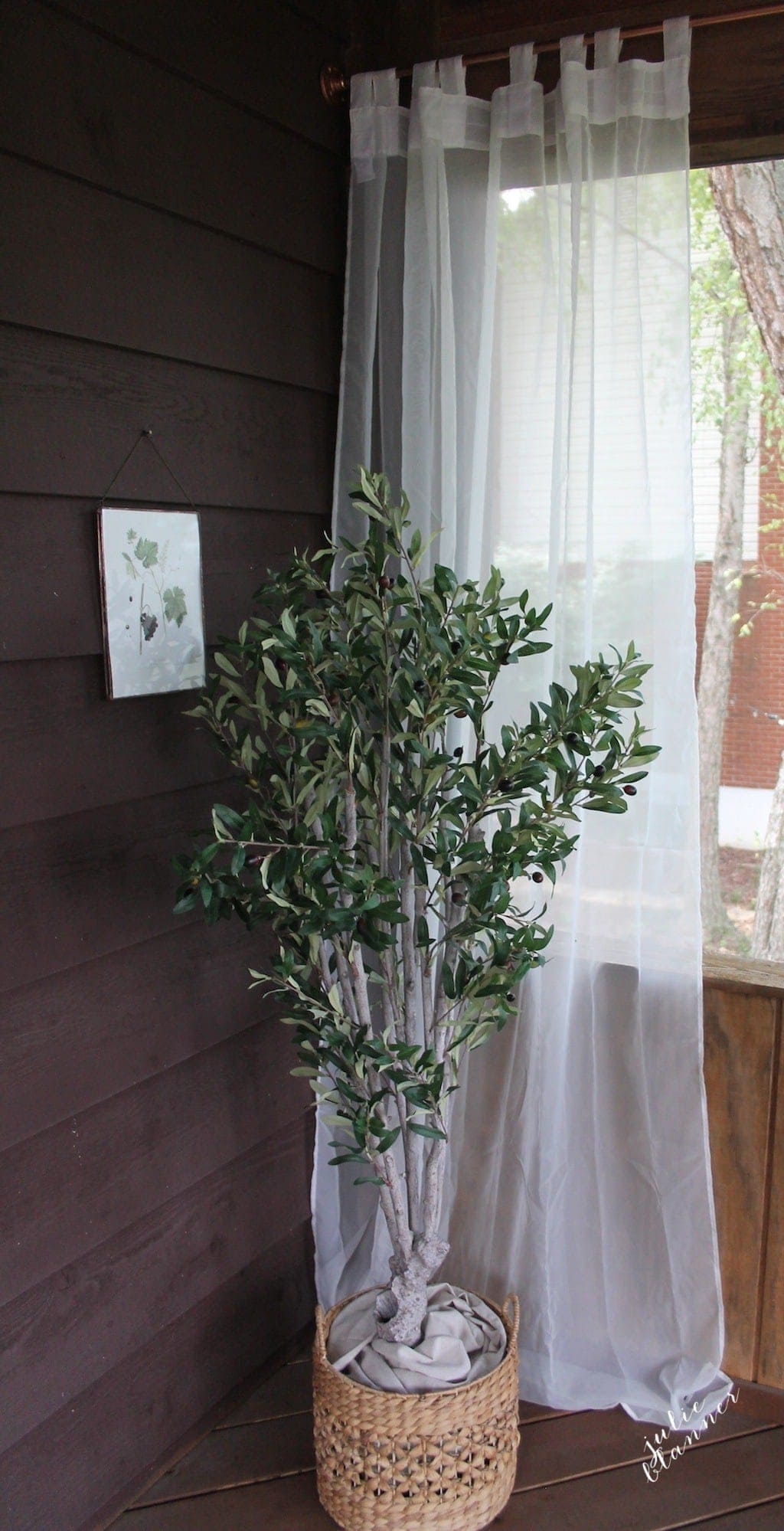 I recently discovered a maker on Instagram, Copper & Torch & found these unbelievably gorgeous handmade copper frames. I had to have them! I included grape botanicals for quick, effortless & replaceable art since it's still outdoors.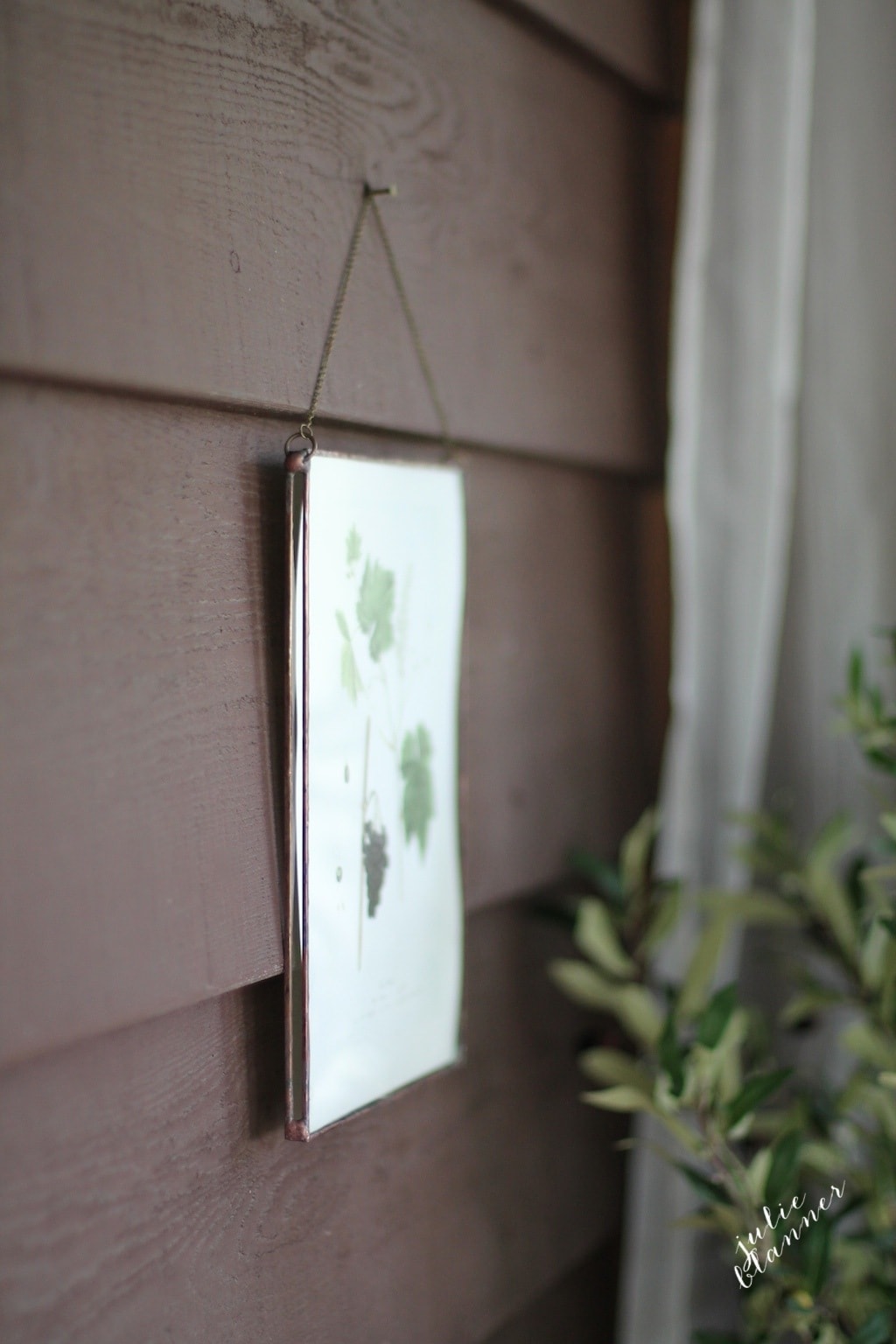 After we paint, we'd love to add furniture & a chandelier or lantern, but I'm completely content with the screened in porch! It's amazing what a few hours can do!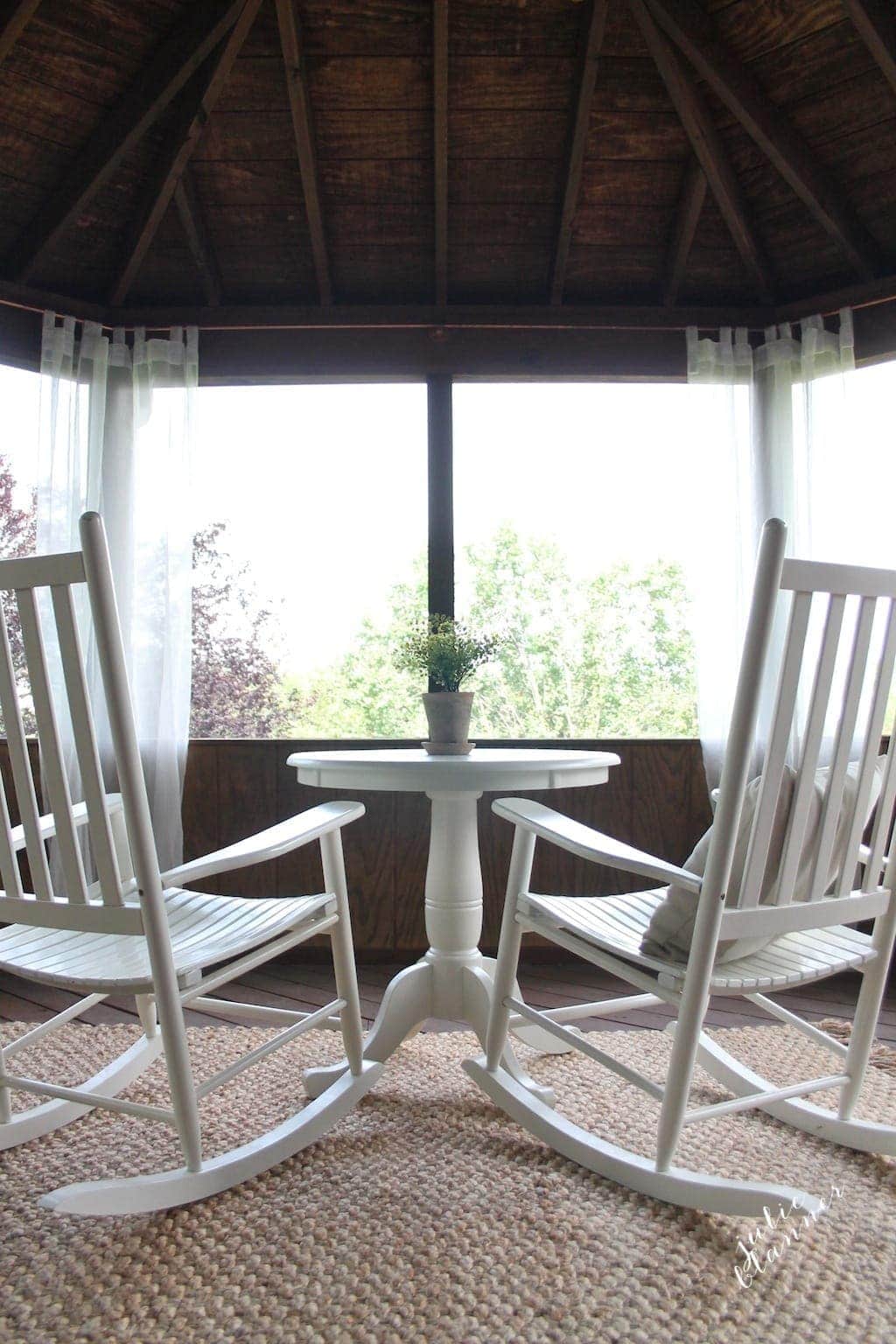 I repurposed the rug from the finished basement at our previous home, the table from my office & rocking chairs from the front porch.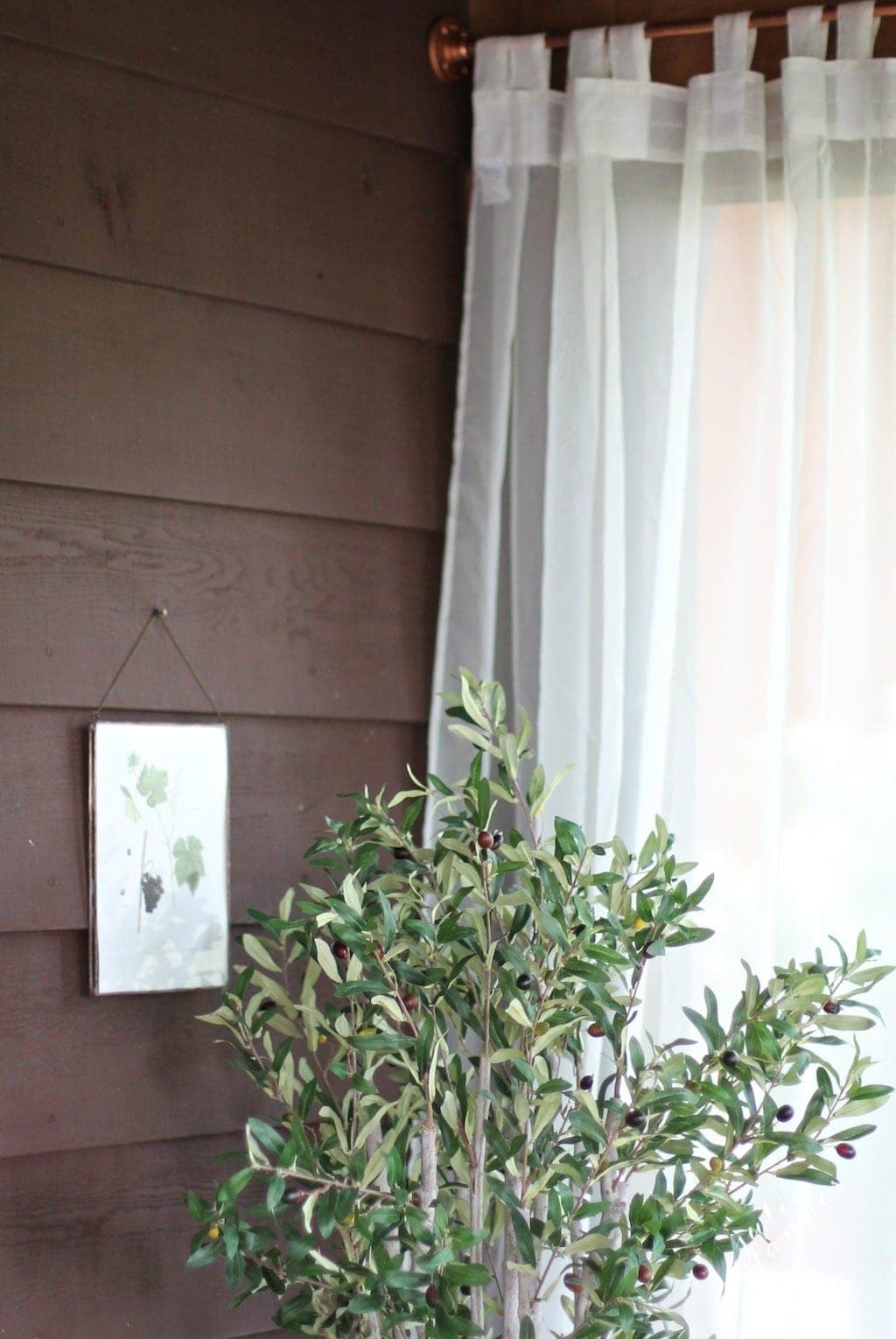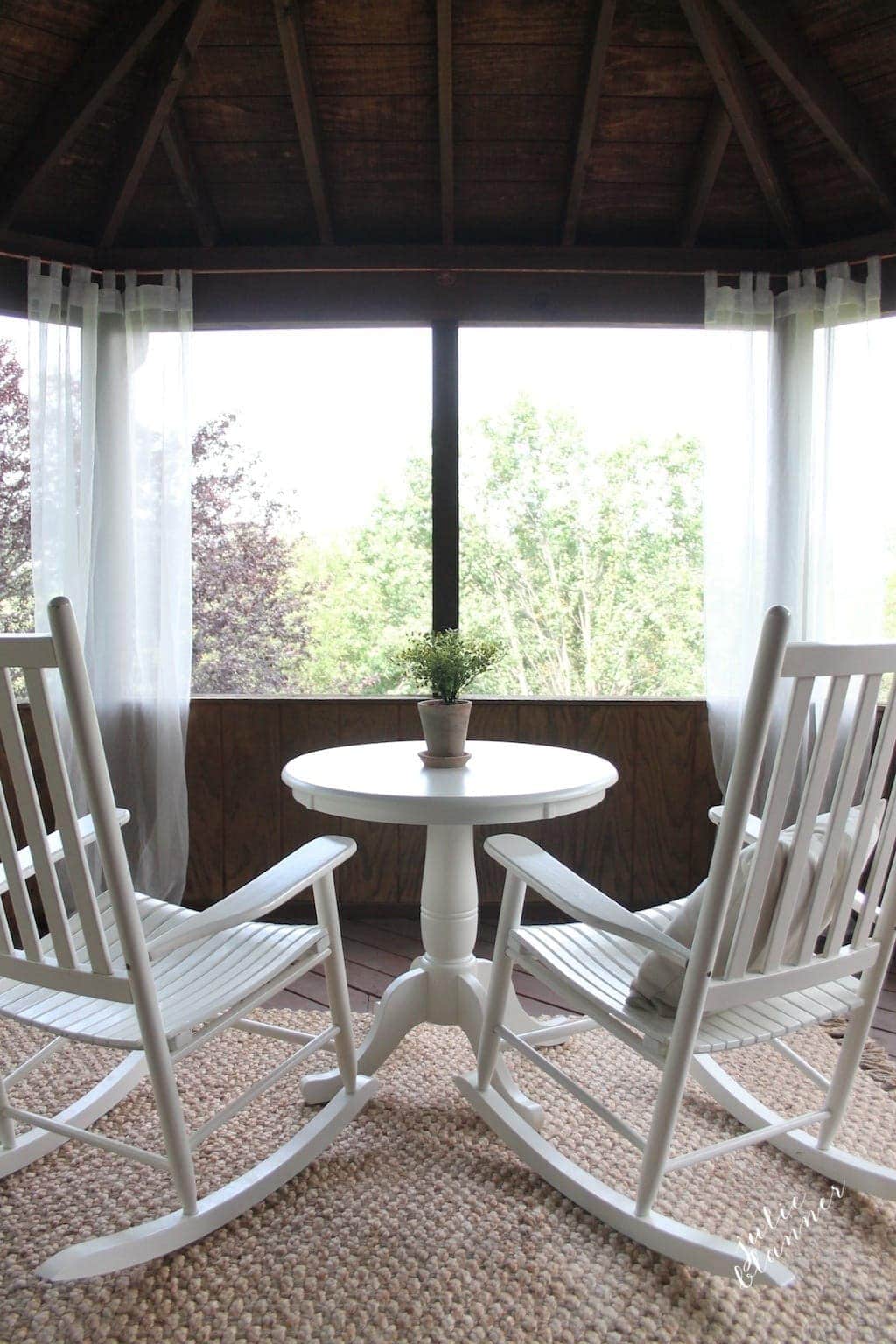 The pretty little pot is just one of many I picked up during a visit to St. Helena a couple years ago.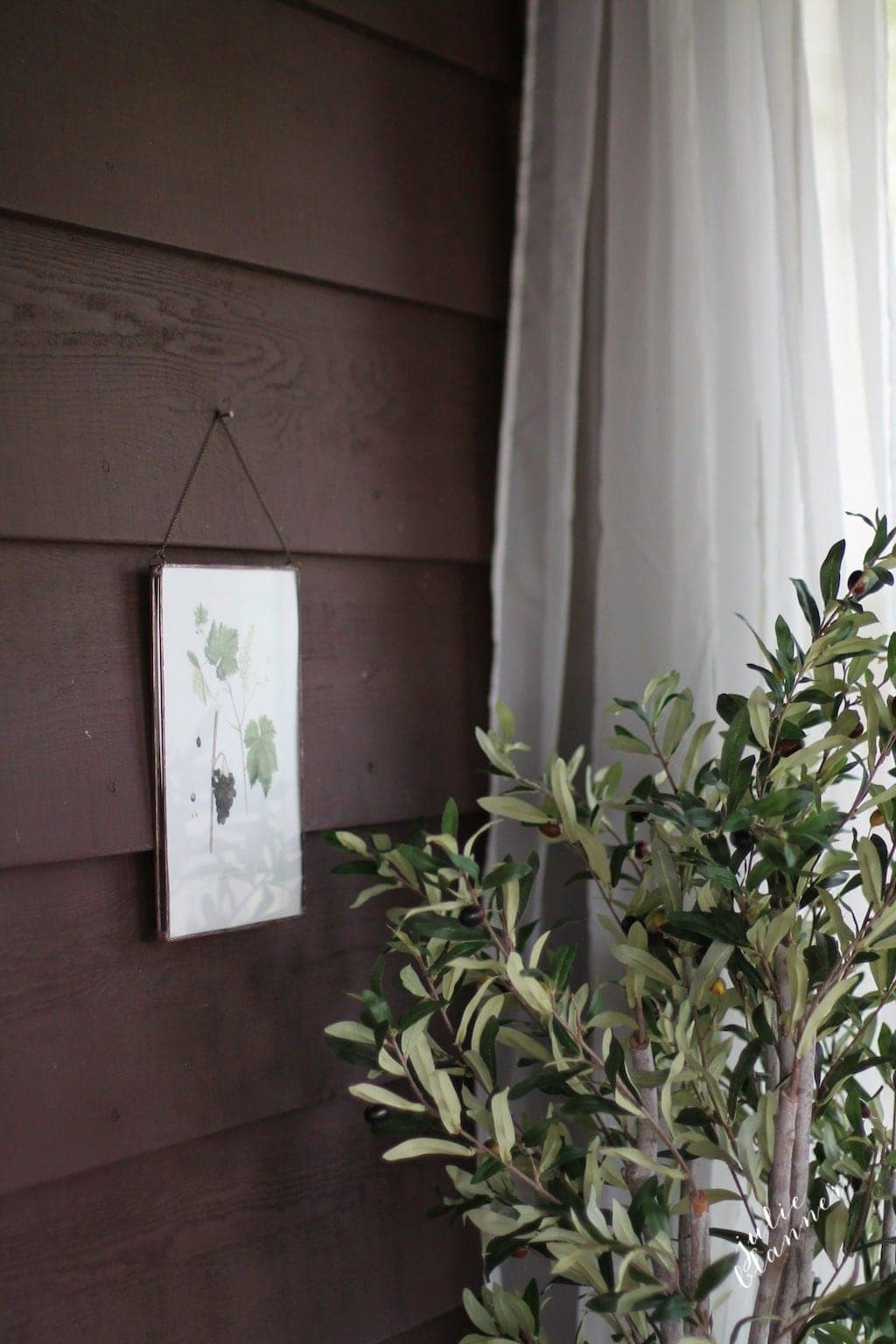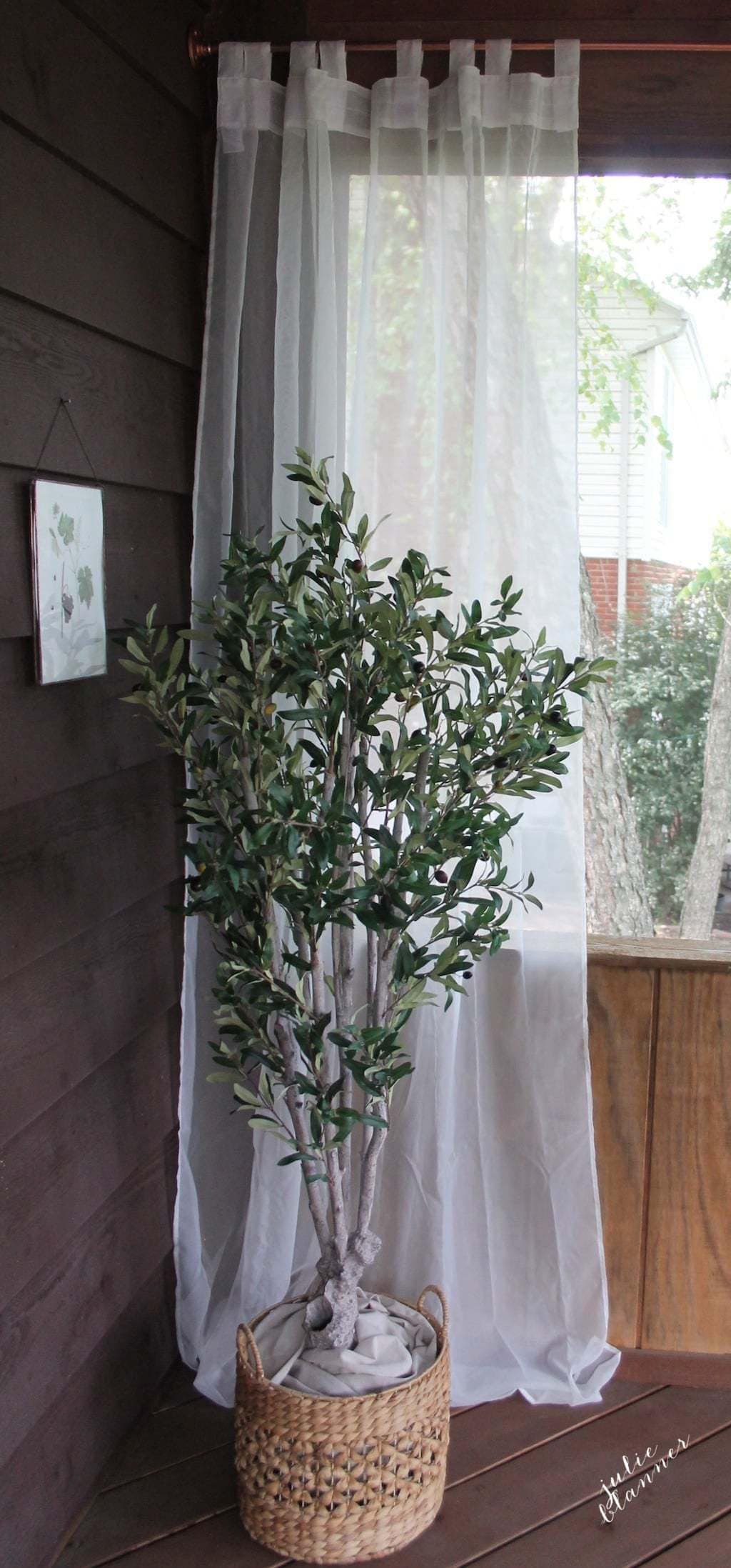 This project was a minimal investment of time, but I'm still feeling accomplished! We see this space as our family room, sunroom, dining room & deck, so it makes a big impact on our home. We had it painted in October & it's even dreamier…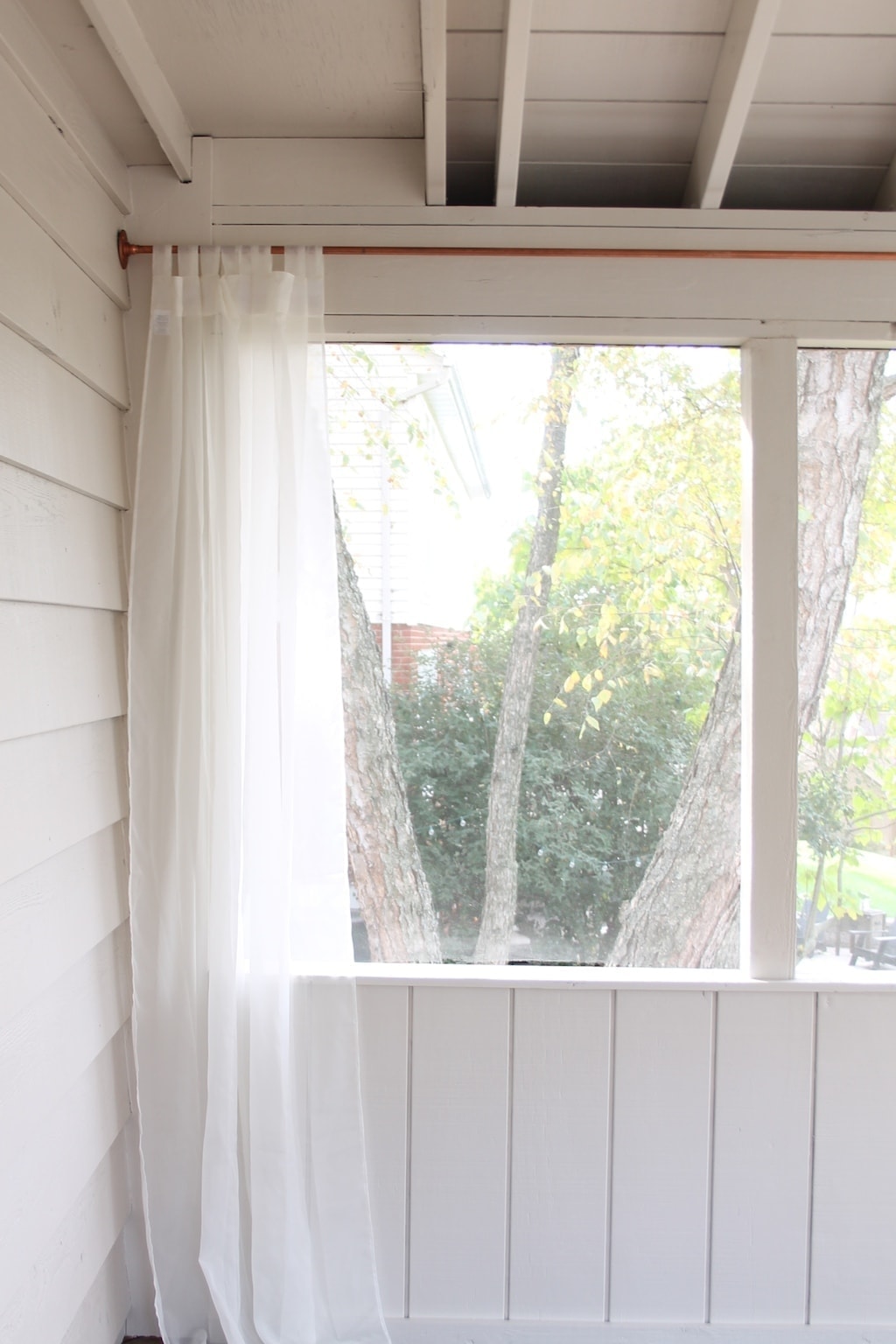 You can see the completed screened in porch here. You can also see the before and after pictures here.