Fresh or Faux? The Best Artificial Flowers
Get all the insider info you need to find the best artificial flowers for your home decor. In fact, fake flowers don't have to look FAKE ever again! There are faux flowers for every season now, and many look incredibly natural.
Find all the tips and tricks you'll need to get a beautiful result with adding just a few artificial flowers to your home for spring and beyond. You might just be surprised by what's out there… read on to find out!
It's no coincidence that to get to the fresh fruits, vegetables and everything a grocery store has to offer, you usually pass the floral section. How can you resist picking up a bunch of fresh flowers? (Psst… read all my best tips for grocery store flowers here!)
I dream of the ways I can use them in a big beautiful bouquet or in little bud vases throughout our home. I love nothing more than a home filled with fresh flowers, but all good things must come to an end.
Or not.
Luckily, the retail market for faux flowers has come a long way! There are so many options out there for artificial flowers that truly look real.
There are a few keys to doing this well, and getting a natural look you're going to love… and today, I'm sharing all my favorites with you!
I love sharing ways that you can bring the outdoors into your cozy homes. Read all my favorite florist secrets, check out this round up of the prettiest spring wreaths, and read all about eucalyptus – one of my favorite types of fragrant fresh greenery to use all year!
Artificial Flowers
It can be argued that for many of us, the 80's ruined a few things (as much as we love the memories!). Dried and flowers might be the biggest offenders in my eyes… the colors, styles and the dust just remind me so much of grandma's house. And not necessarily in a good way!
For many years, I rarely, if ever used fake flowers with those memories in mind. As much as I appreciated the convenience, I could just never find any that felt real enough to fool my eye!
Well… times have changed, friends. And now, I am happy to share that I think artificial flowers are having a moment. Some are so realistic that they can fool even my florist friends! That's really saying something, isn't it?
The quality has improved so much, and there are offerings that create the soft, romantic look that you know I just adore. I think there are a few important things to keep in mind when you're choosing artificial flowers for your home, though.
Frequently Asked Questions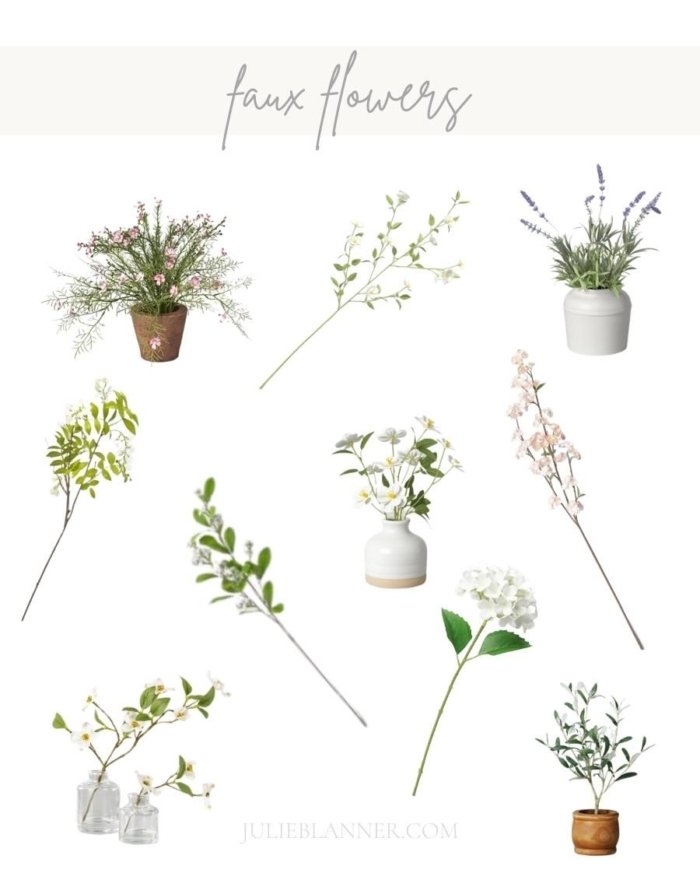 Sources for the Best Faux Flowers
Faux Flowering Branches
Looking for more inspiration for decorating and design? Don't miss my curated Amazon Storefront, where I comb through everything to bring you the very best of Amazon!