---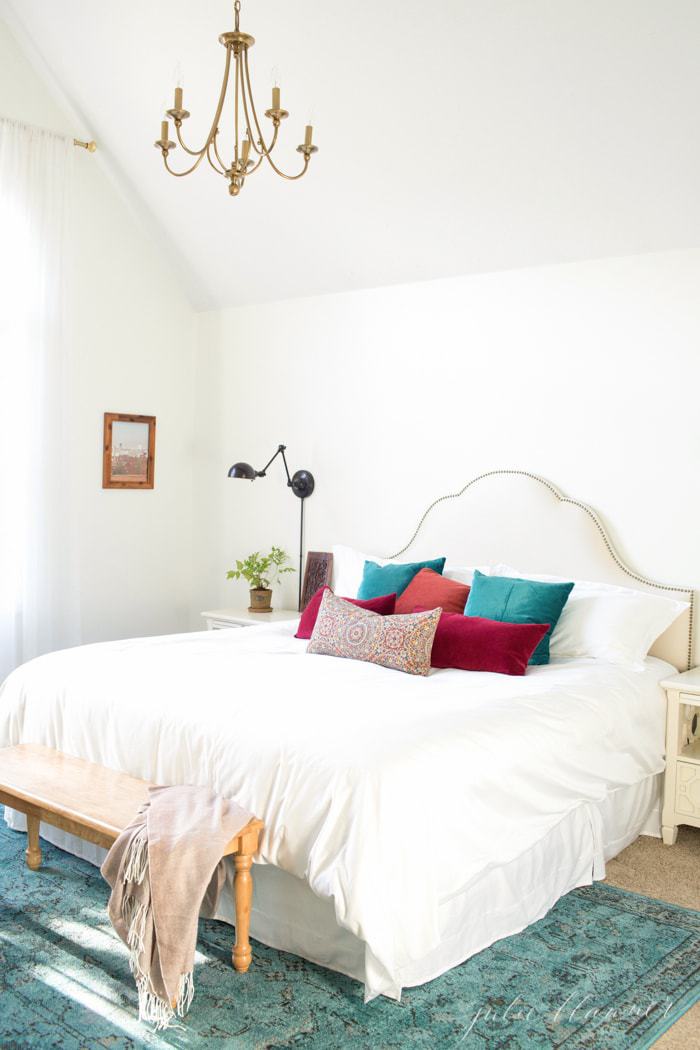 A few weeks ago, I had the opportunity to give the Bartlow's a master bedroom makeover, thanks to my friends at Lowe's. They are like so many of us, giving every bit of their energy to their 3 young children and putting their needs before their own. Their master bedroom lacked luster, was dark and needed a little more function, personality and color, because Carrie was full of it! They had tested a couple colors, but they never seemed to work, so they primed and sat on in for a few months when they submitted for a Lowe's Fall Makeover.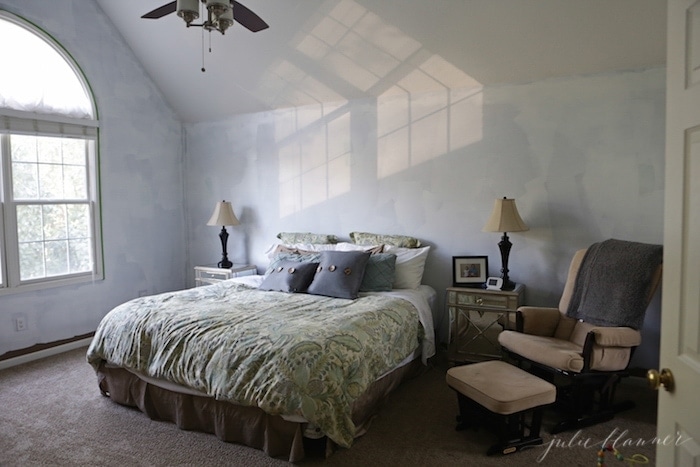 Carrie and Nick's submission resonated with me – first of all, she quoted songs, and lots of them, but by the time I was through the submission, I felt like I knew their family. Fortunately I had the opportunity to get to know them and to create a master bedroom retreat. I think the master bedroom is one of the most important spaces in a home, yet it's often the most neglected. After emailing Carrie back and forth, I learned that she wasn't afraid of color, just didn't know how to use it.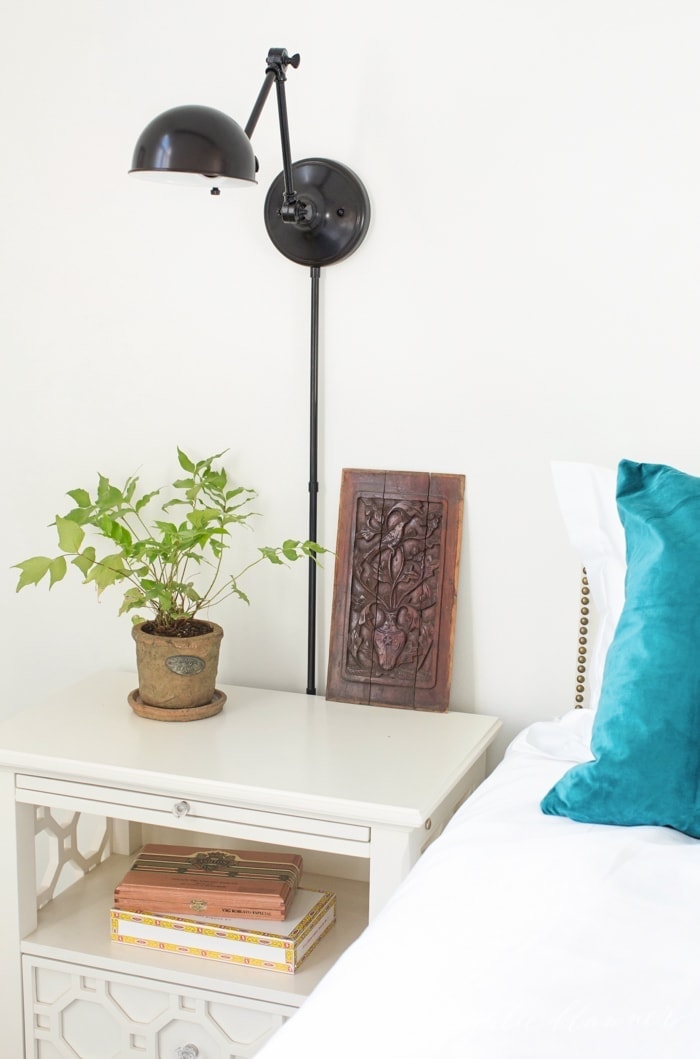 In addition to making the master feel like a sanctuary, she wanted to make it functional for their family for a little wind down time at night, so I added 2 nightstands with storage for books. A simple tap on the side turns the sconces on and off, along with their radio, etc. I added seating so they could all pile in, whether in the reading nook in the corner or the bench at the foot of the bed, which doubles as a great place to get dressed in the morning.
One of my favorite finds from Lowe's were the plug-in sconces. They eliminate the need for electrical work and add both function and ambience.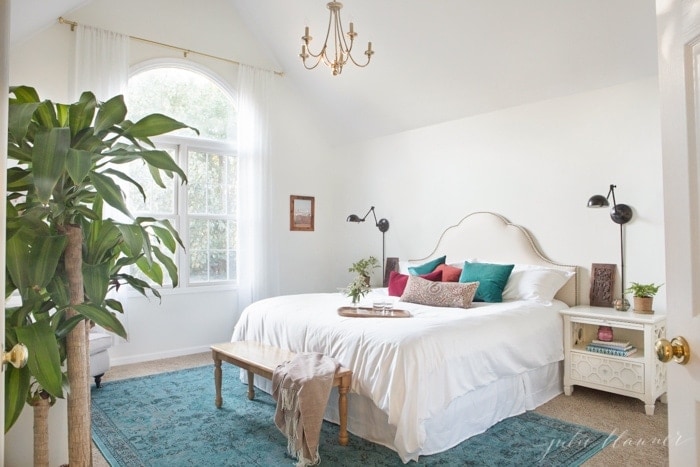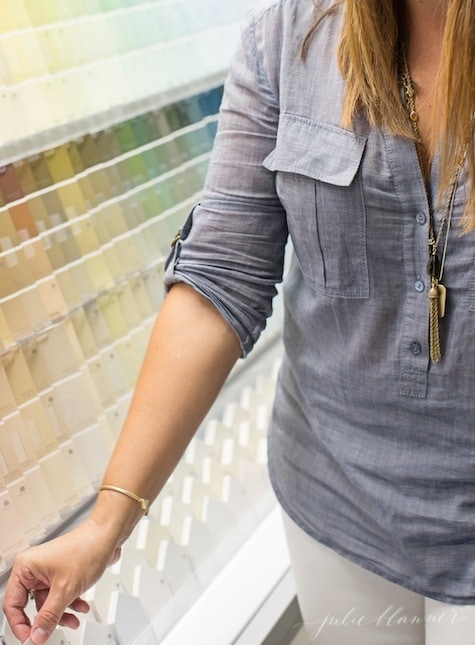 It's much easier to update a rug than it is a paint color, especially with high ceilings, so I painted the room in HGTV by Sherwin Williams at Lowe's Greek Villa and the trim in in semi-gloss. The oversized rug adds a pop of color, which makes the room feel a warmer and more intimate while minimizing the carpet.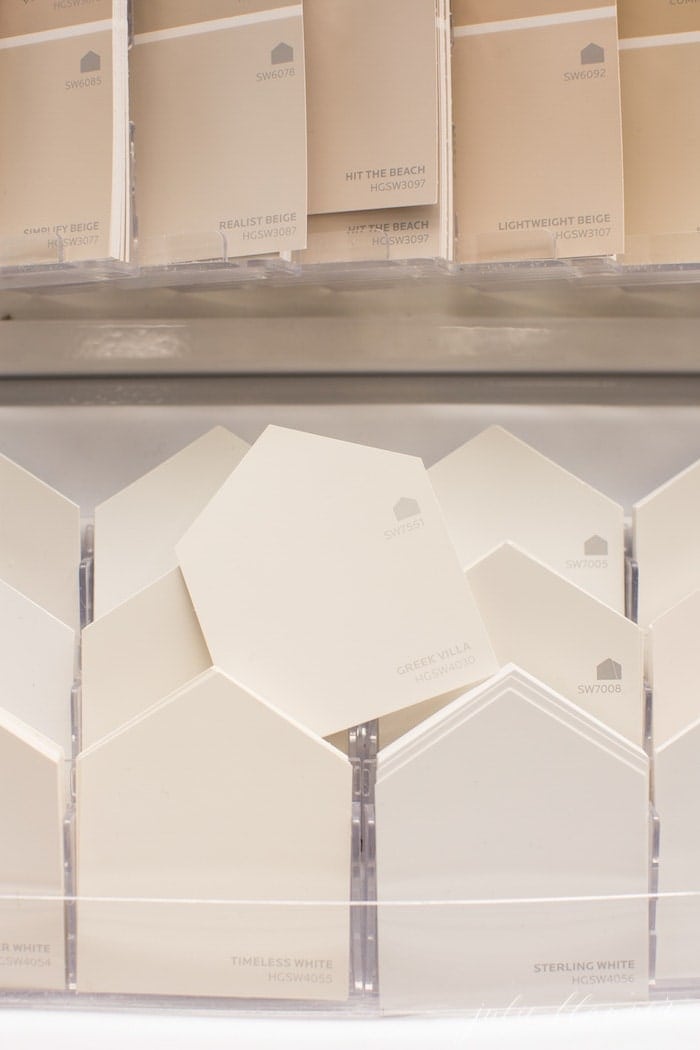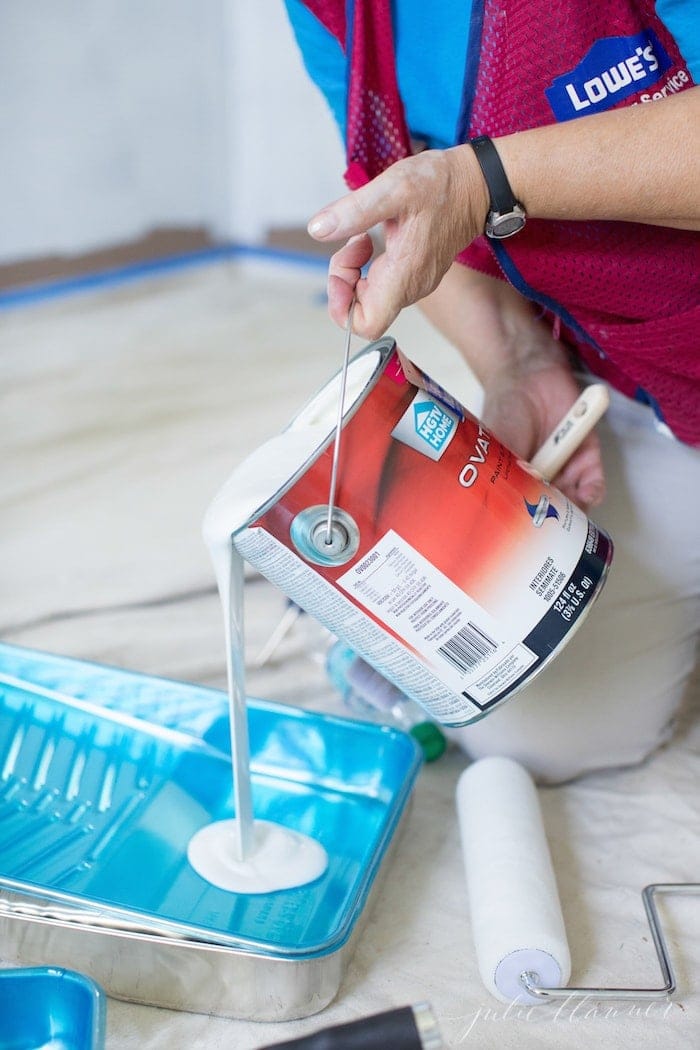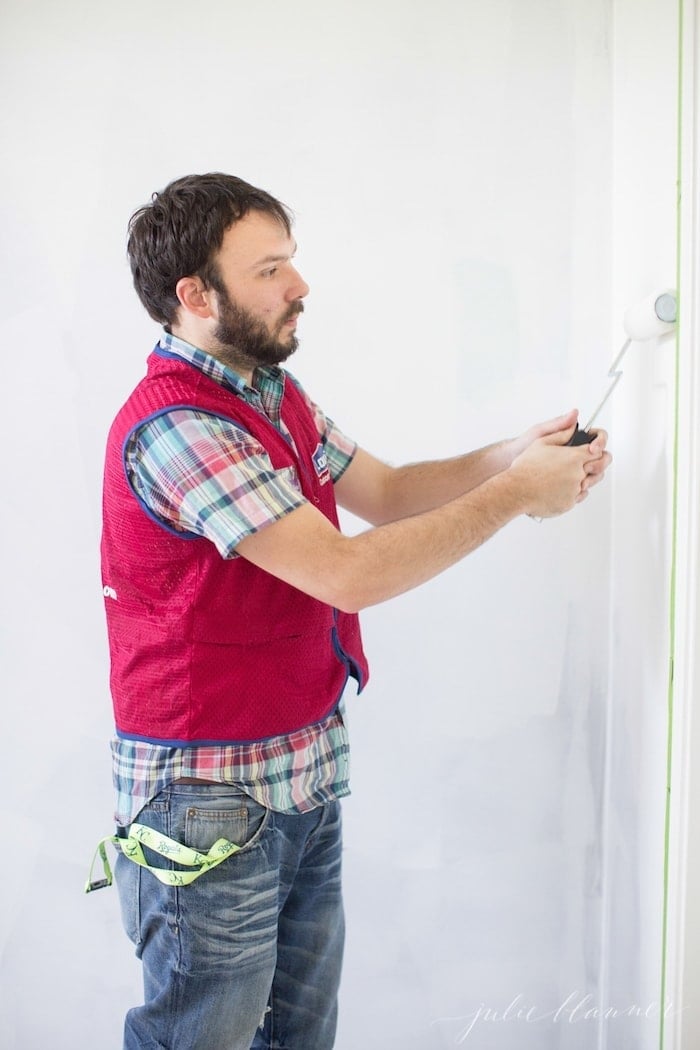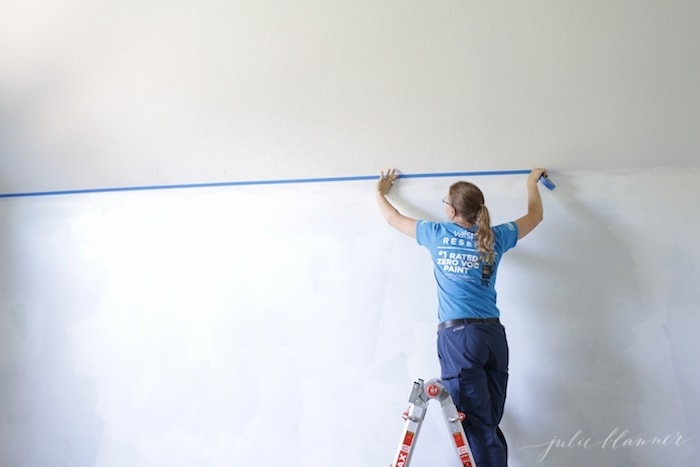 I love adding pieces of functional art, so I asked the Bartlow's to find a piece of driftwood or a branch that would mean something to them. They kindly obliged and selected a branch from their front yard since it's the first home their family has shared collectively. Now it's a place to display Carrie's jewelry! You can get the easy tutorial here.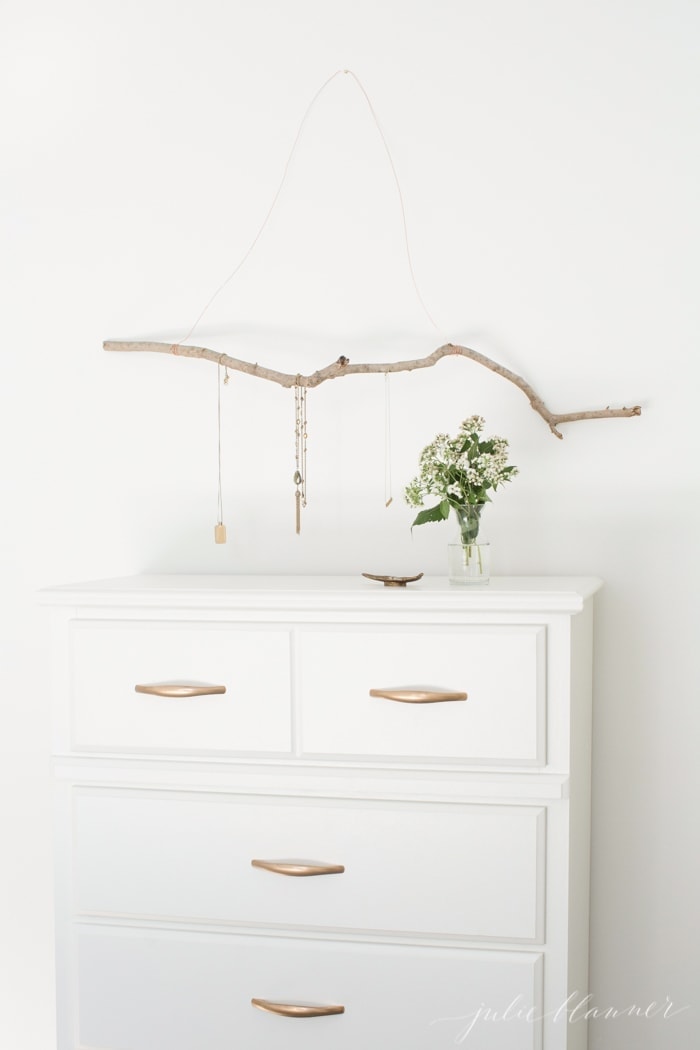 I updated their dresser and chest of drawers with the help of Lowe's volunteers Rebecca and Tim. Rebecca primed and painted them in HGTV by Sherwin Williams Ovation Creamy and Tim sprayed the pulls and hinges with Valspar Gold Spray Paint. Originally, I had intended on replacing them, but they were an awkward size. I'm so glad I didn't, because I love them!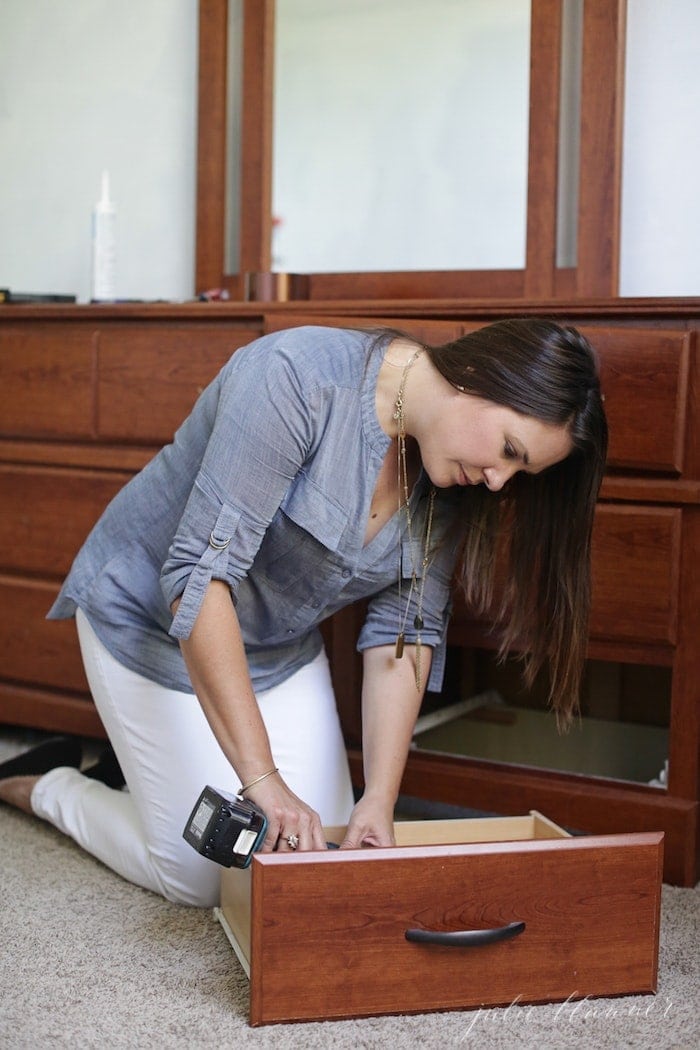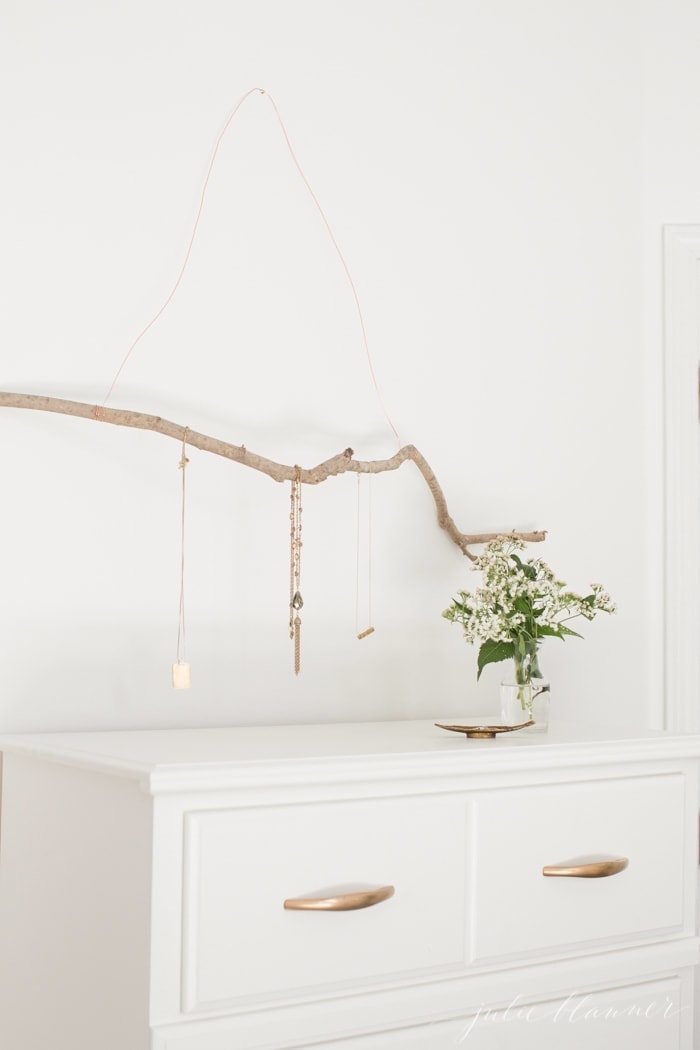 One of my favorite features of the room is the warm brass chandelier. It adds a lot of character to their master bedroom and demands attention.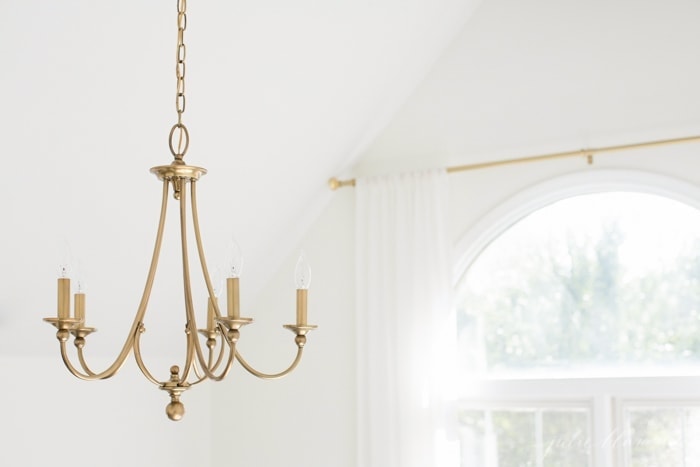 The half moon window had a sheer treatment, blocking a lot of beautiful natural light and dating it. I took the linen panels above the half moon, making it feel grand and updated, allowing light to filter through.
Before: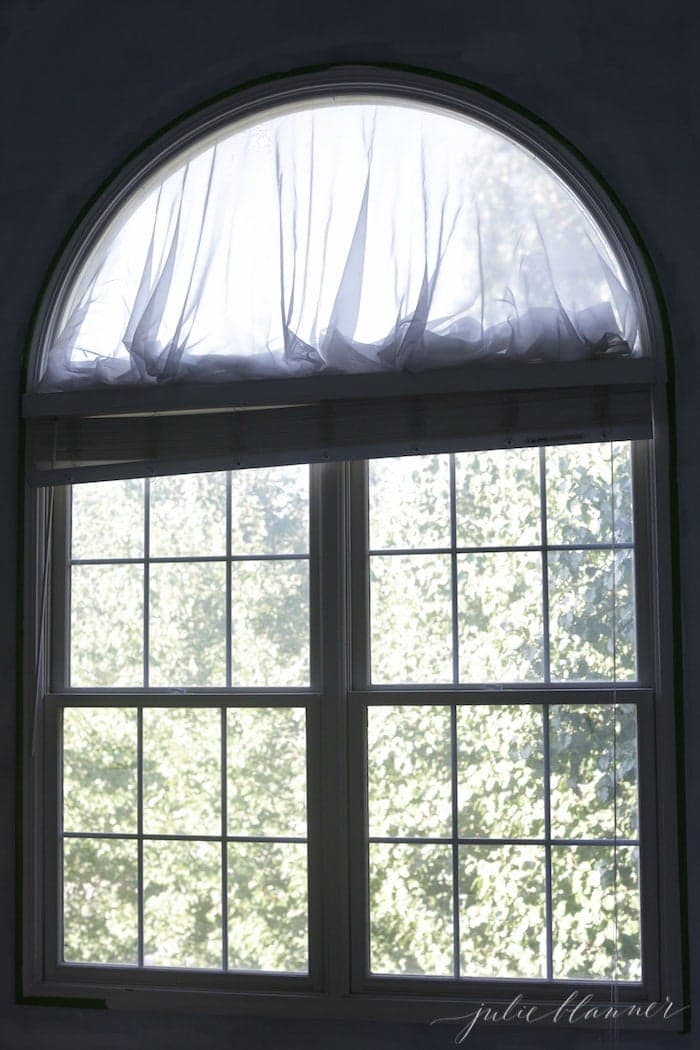 After: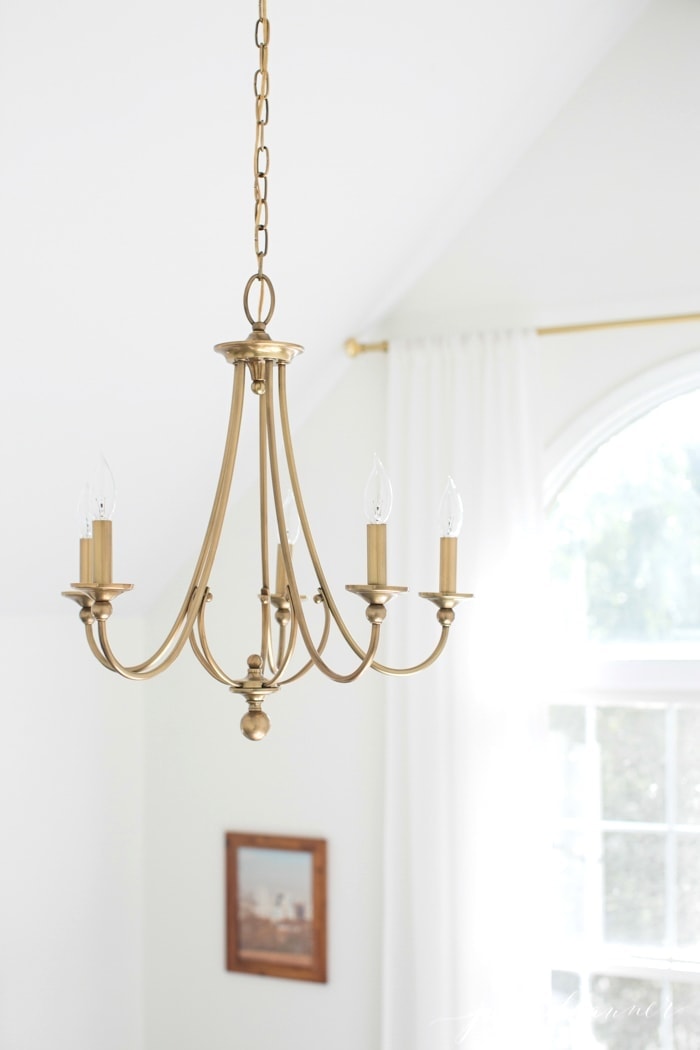 I replaced their nursery rocker with a luxe English roll arm chair, creating a reading nook or a place to relax paired with a floor lamp.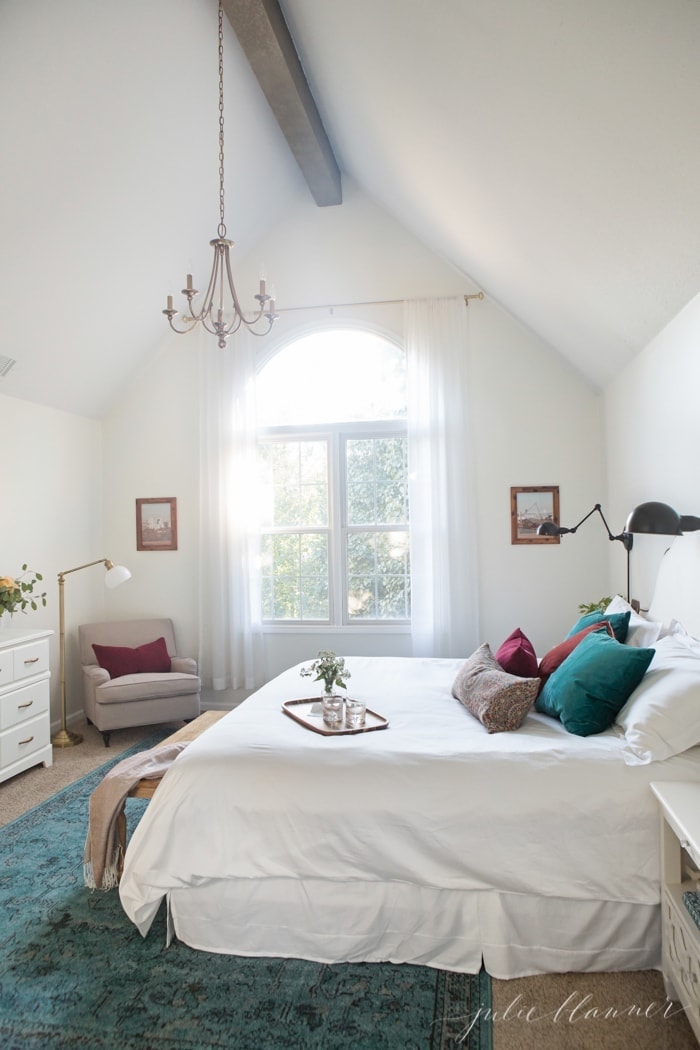 At the foot of the bed, I added a bench, which I slightly darkened with Minwax Gel Stain for additional seating and a place to get dressed.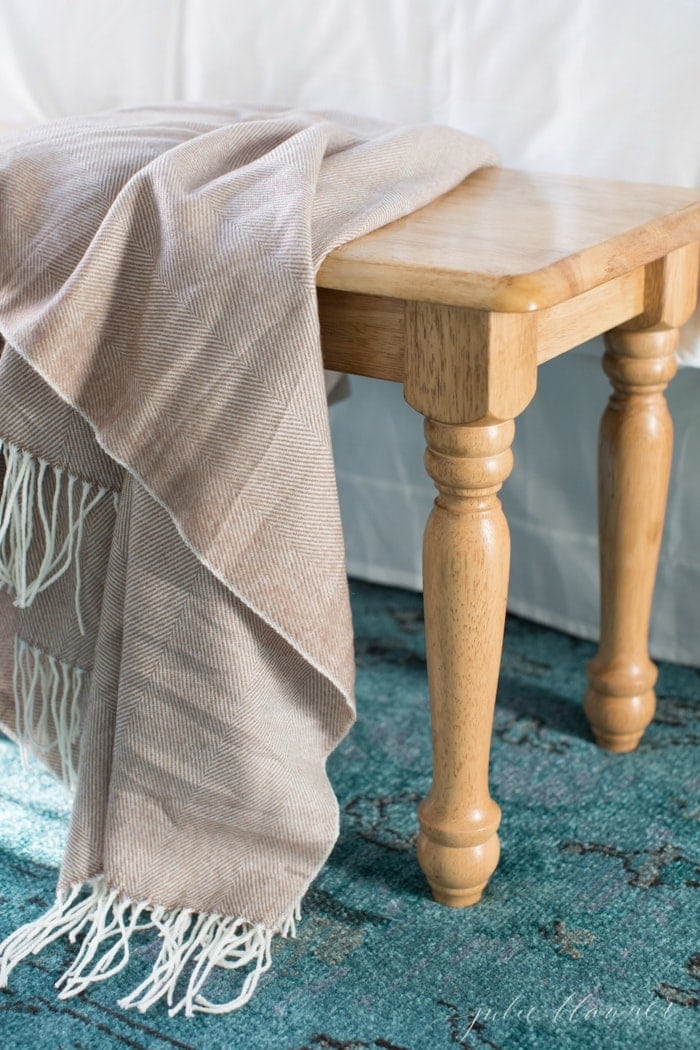 The upholstered headboard with nailhead trim adds a touch of sophistication.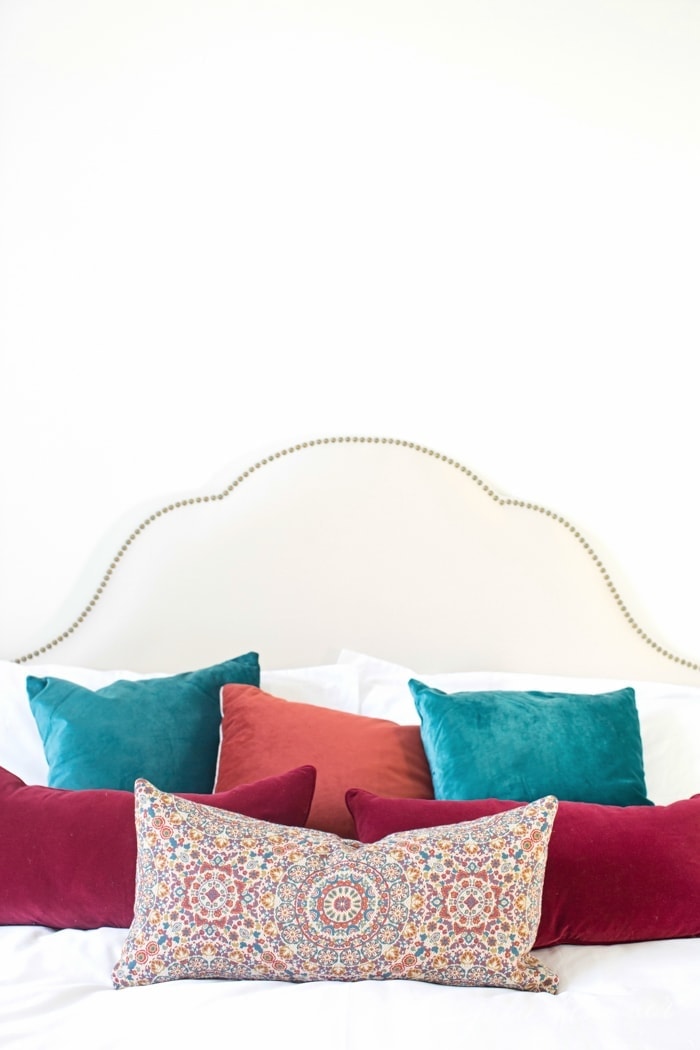 Removing the attached mirror and replacing it with a statement mirror that hangs just a few inches above elevates a basic dresser without a lot of effort.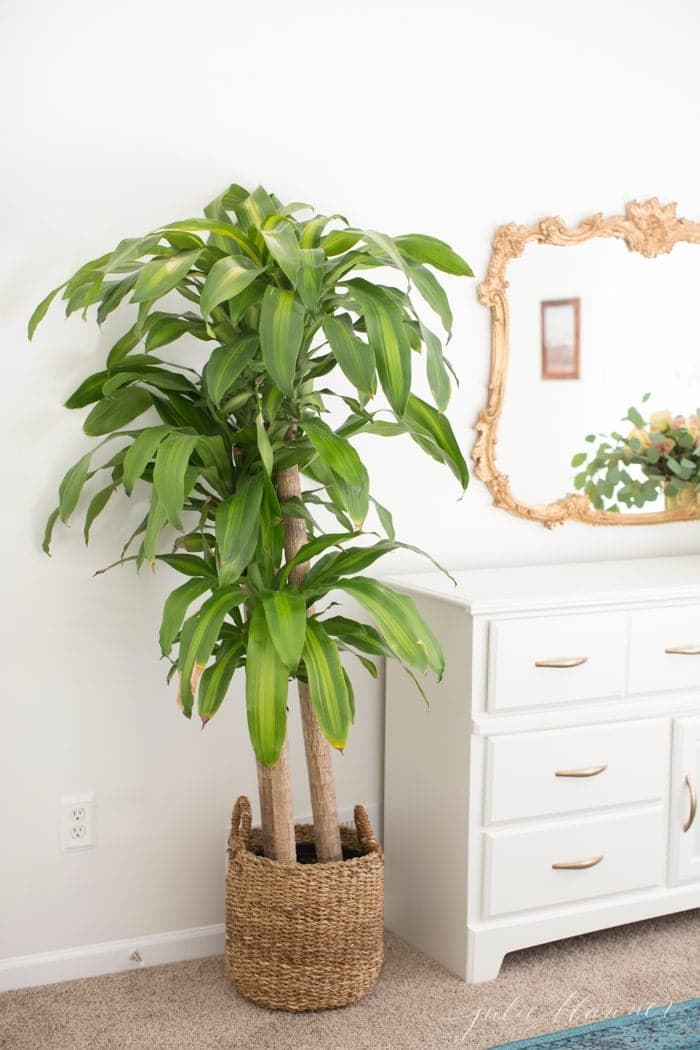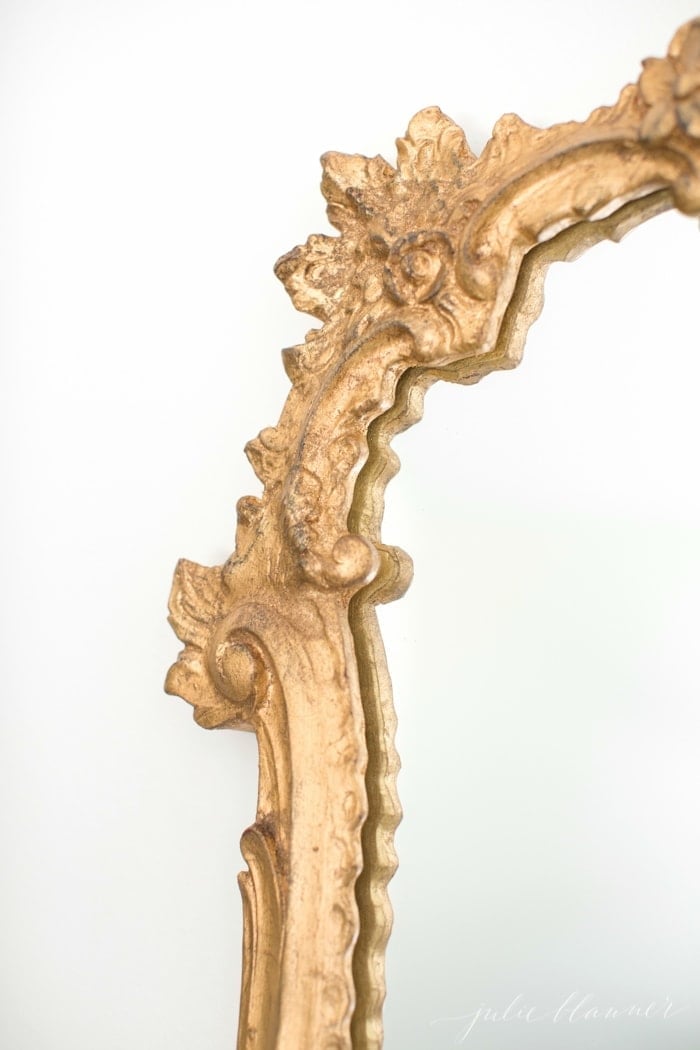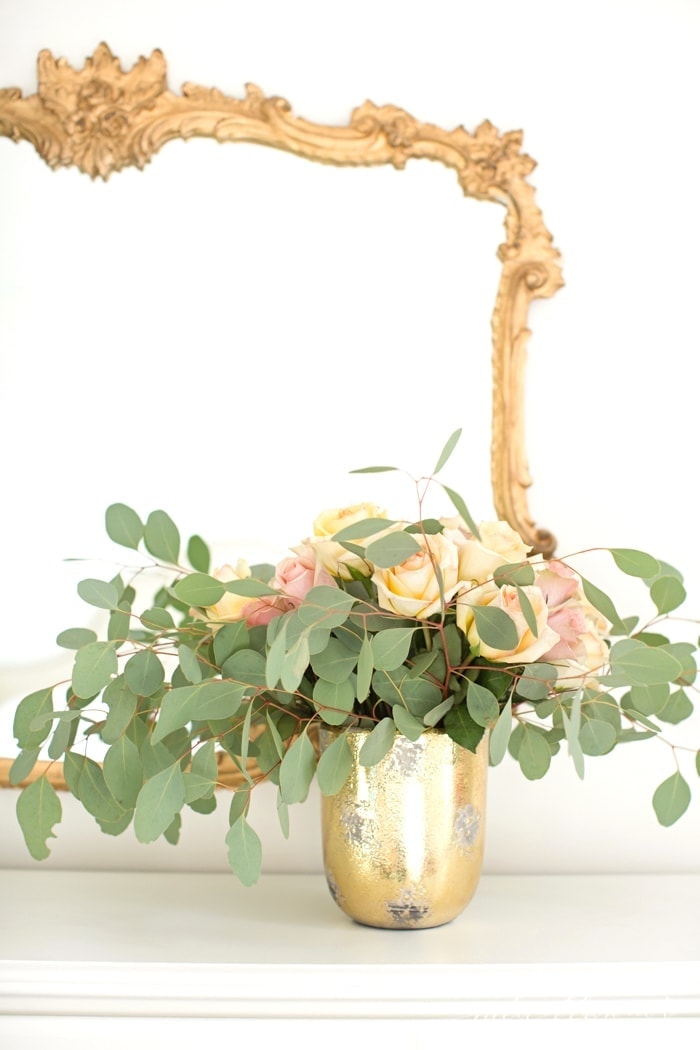 Nick loves the occasional cigar, so I incorporated a couple boxes for his loose change, watch, ring, etc. I also added a couple of wood carvings I found at an antique store when I was en route to their home. 3M self adhesive rubber bumper pads keep them in place.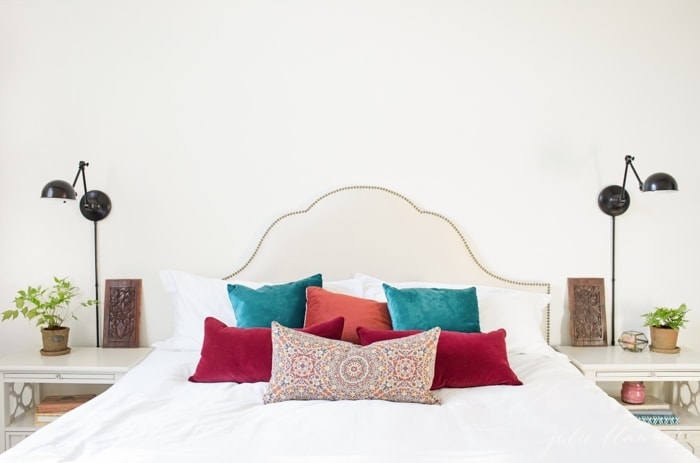 Of course no room transformation would be complete without adding organic elements. A dracaena in a basket gives their master bedroom life while plants on their bedside tables accent the room.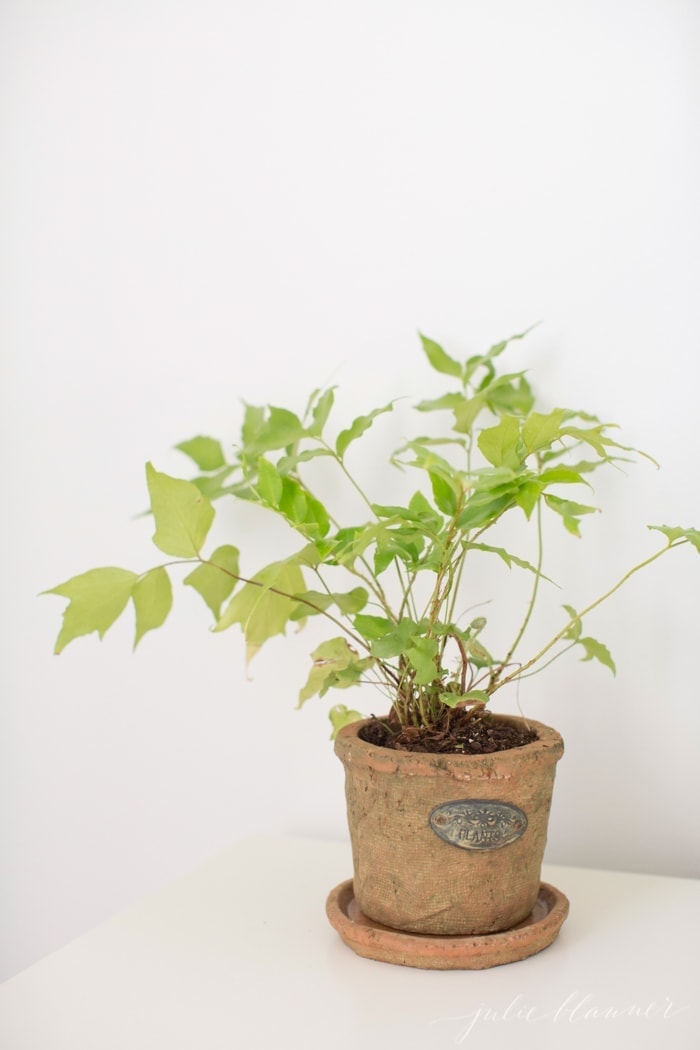 It was so fun surprising Carrie and her family with the makeover.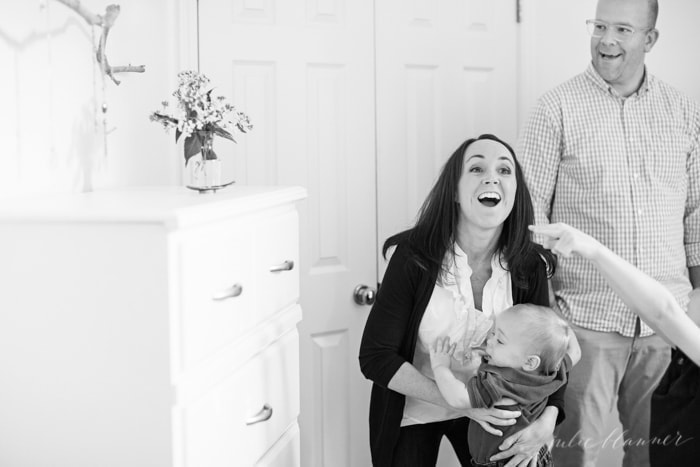 No peeking…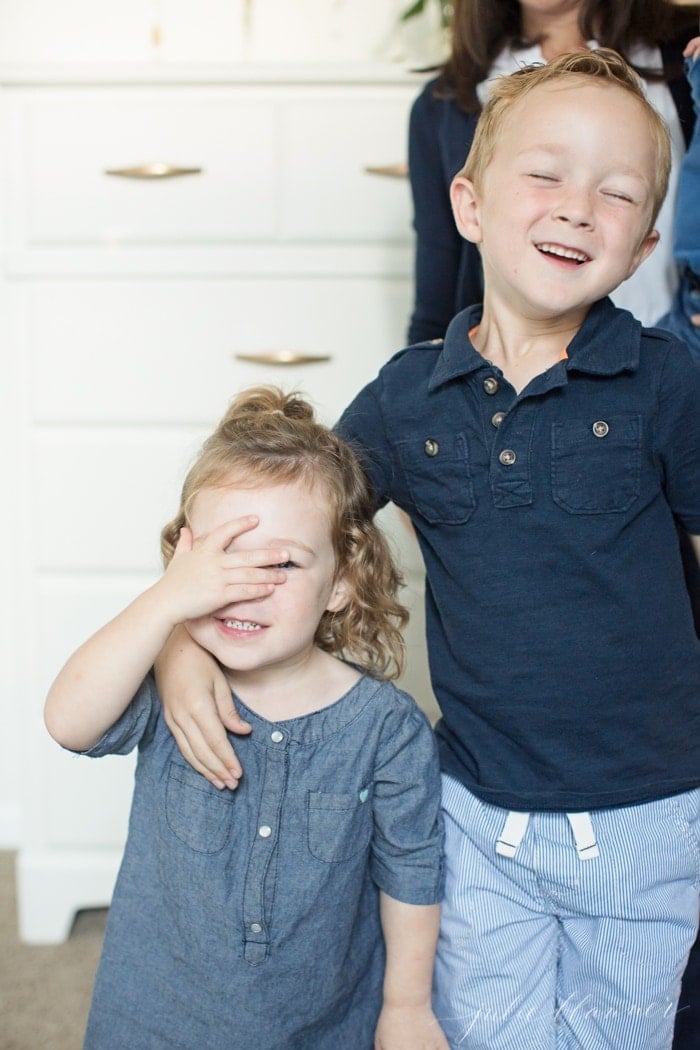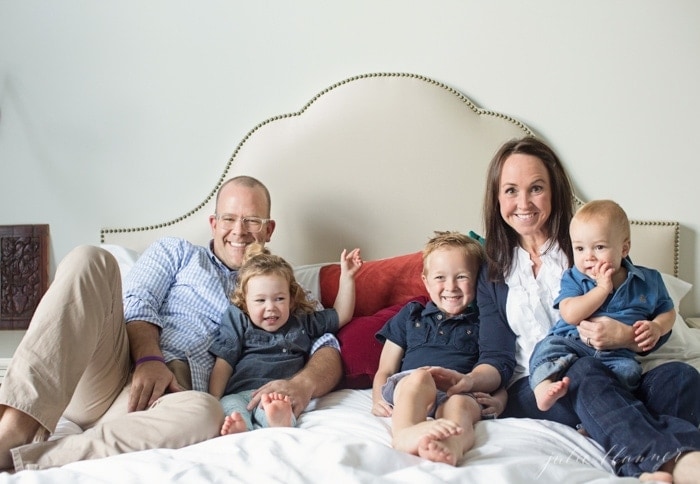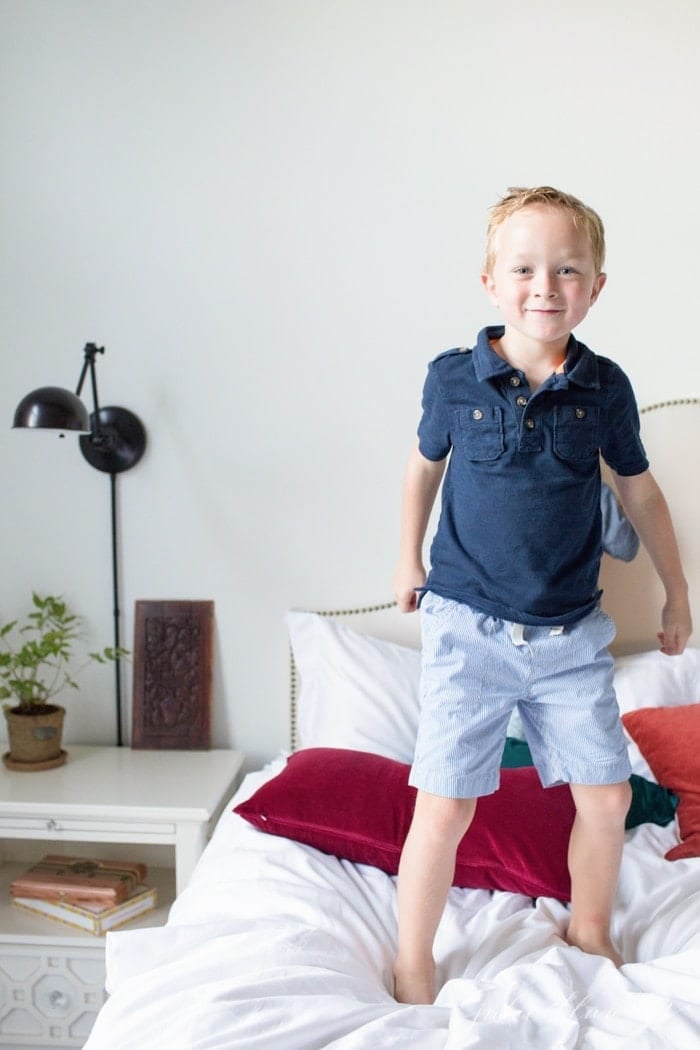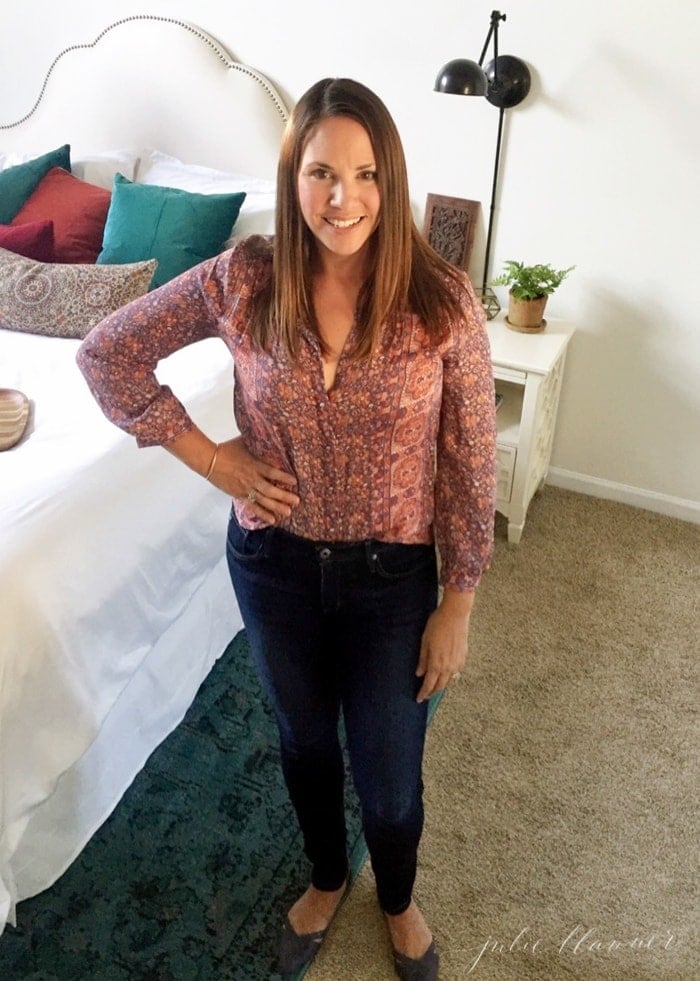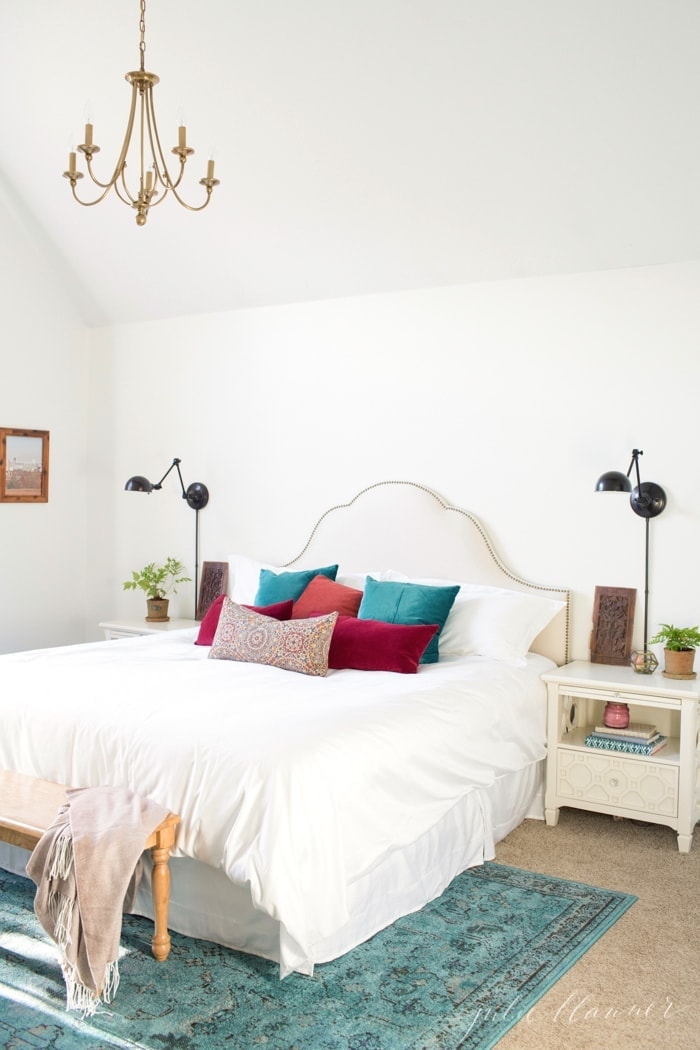 Shop this post:
bench | chair | linen panels | curtain rod | duvet set | headboard | lamp | linen curtain panels | mirror | nightstands | rug | pillows | sconces

Thanks to my friends and partners at Lowe's for making this project possible!
Photography: Lark