It's one of the easiest home improvement organization projects ever: kitchen drawer dividers! Adding silverware drawer organizers is the perfect way to give this much-used spot in your kitchen a fresh clean start.

We've all got a kitchen junk drawer, right? Or wait… is that just me? You know the drawer – it's the one where you sweep every little thing inside when you need to clean your counters quickly.
Before you know it, the junk drawer can barely close and you have no idea why you kept so many of those objects. Why do we do this to ourselves?
In fact, it's not just the junk drawer that can cause trouble. It's alllll the drawers! It's so easy for these spaces (meant to simplify our storage) to turn into a breeding ground for disaster. See this Nightstand Organization inspiration, for example.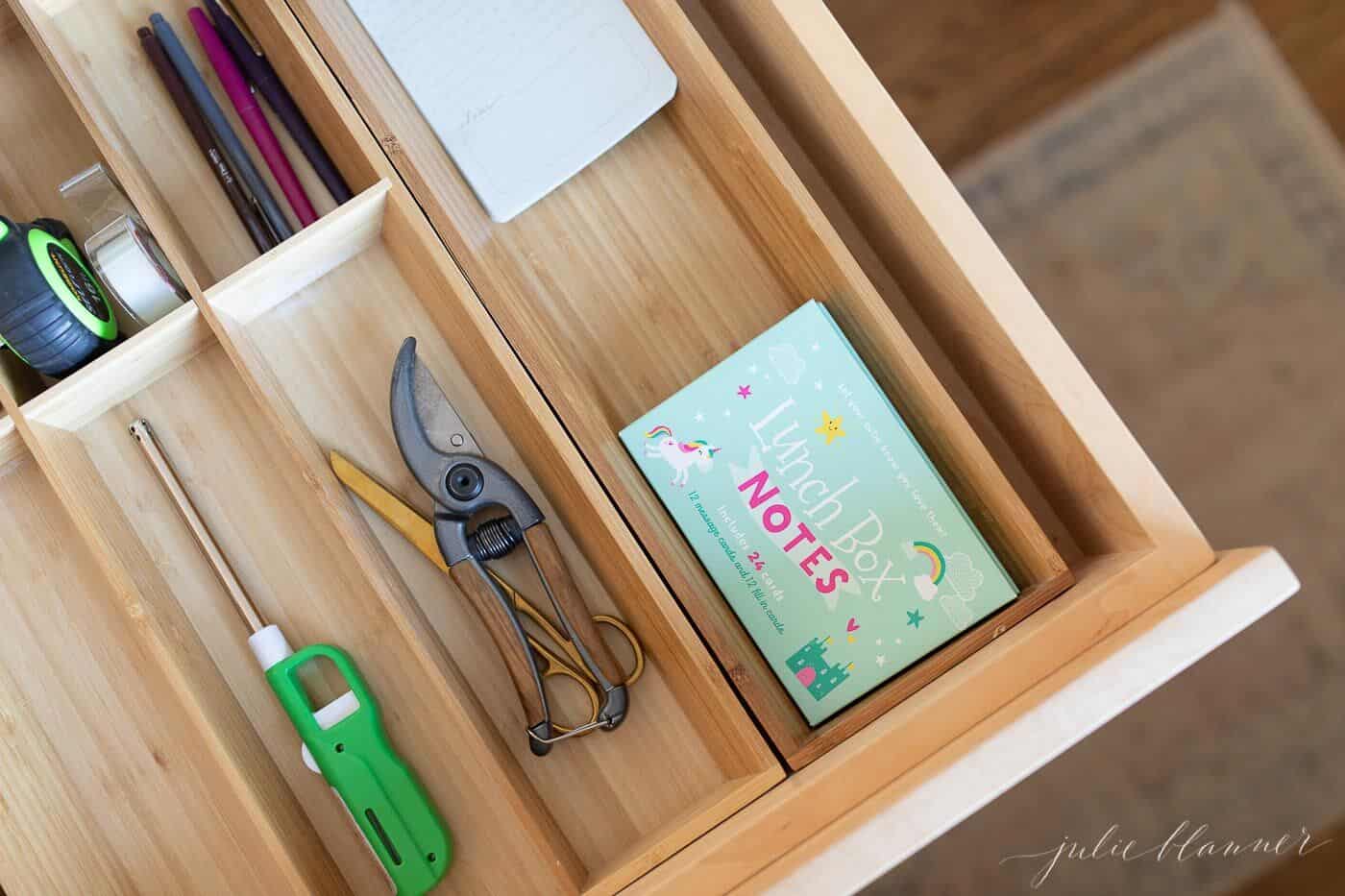 Over the years, I have learned a few kitchen organization tricks that have made our lives so much easier. I've shared our organization of pots and pans, our pantry organization, baking supplies, and so much more.
You can click through for all of my kitchen storage and organization series and take some time to make an incredible impact in the most frequently used room in your home!
These drawer organization tips can actually work for nearly any area of your home! Bathroom drawers, office supplies in your desk drawers, living room storage drawers – you get the drift. Any drawer in your home can benefit from proper dividers and inserts!
Kitchen Drawer Organization
One area of kitchen organization that I've never touched on is our drawers!
When we remodeled our kitchen, I realized that kitchen drawer inserts were going to be a big priority for me in our organization moving forward. No more messy drawers, lost items and confusing systems! I can't believe what a difference they've made – just watch the video for a visual!
Utensil trays (A little wider and roomier in design) are the best way to organize a utensil drawer. For your stainless steel kitchen utensils and the like, bamboo trays and organizer blocks are perfection!
Then you can of course use a traditional drawer divider insert for flatware storage.
Depending on your drawer size, there are a multitude of options to choose from online! (All of my pieces shown in the video are linked at the bottom of this post!)
Long Lasting Organization with Kitchen Drawer Dividers
For the most successful organization in your drawers, you'll want to start from scratch.
First thing's first, measure the interior of your drawers and search for which insert (or in our case, multiple inserts) will fit inside your drawers. Ideally, you want very little gap on the sides for items to get buried and go missing!
Once you're ready to place your dividers, you'll empty your drawer completely. I like to do this one at a time – don't empty every drawer in your house intending to accomplish everything at once!
Wipe the interior of your drawer down well so you're starting with a clean slate.
Place your inserts as they fit. Play around with various configurations to ensure the best layout for your needs.
Now begin to return the items you're keeping into your drawers.
Remember, now is the time to eliminate the things you rarely (if ever) use.
Place like items together! This makes it more visually pleasing and adds efficiency when you open the drawer to find something.
Stand back and admire your brilliant organization skills!
Junk Drawer Storage
When it comes to junk drawer storage, you'll ideally want dividers with a variety of storage sizing. A larger opening for larger items, and smaller sections for pens, paper, and all those random items you need day to day.
You'll follow the same steps to organize this drawer that you used for your utensil and flatware drawer.
Remember: now is the time to eliminate the items you don't need or use. There's quite simply no time like the present!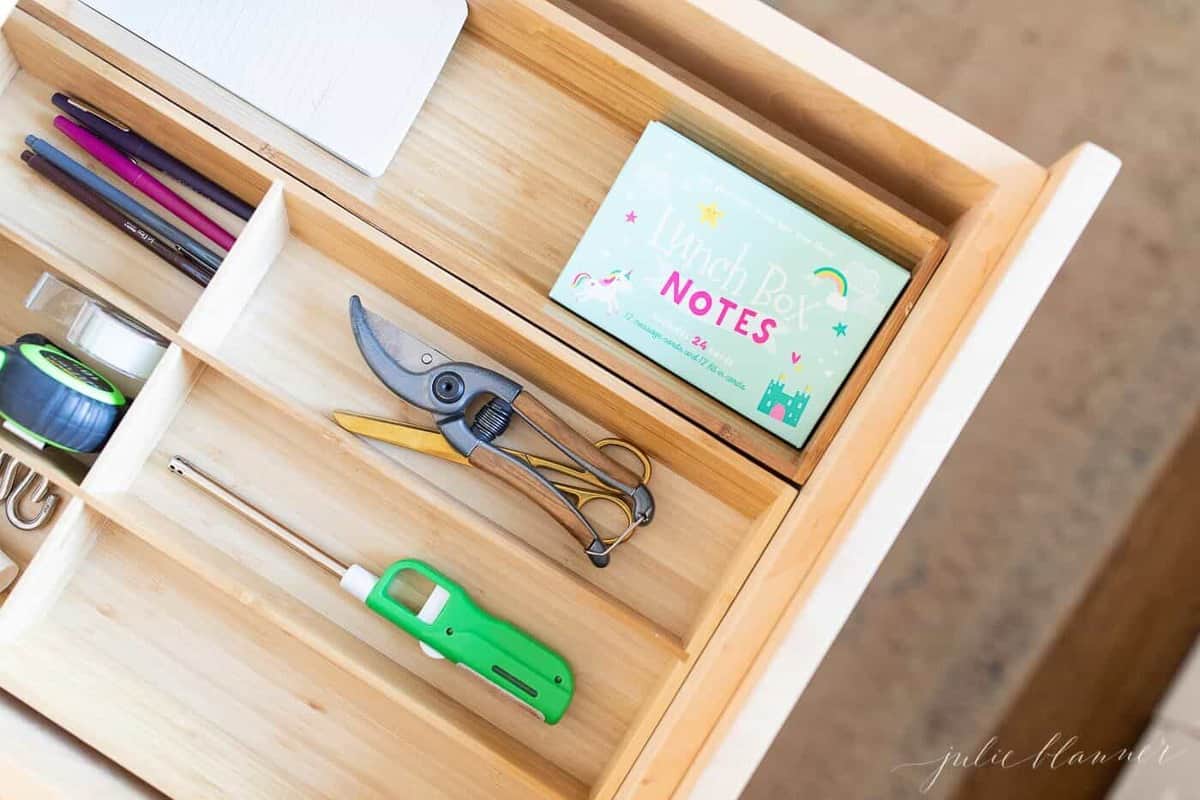 Making the Most of Storage Space
One of the things that I love most about a storage system like this is that it's an excellent way to plan for future use as well as your current needs.
Leaving an empty spot or two in your drawers will leave room for new necessities as your family's needs shift over time. Check out the following detailed YouTube videos for more information on this simple trick.

---
"Organization Isn't About Perfection; It's About Efficiency, Reducing Stress And Clutter, Saving Time And Money And Improving Your Overall Quality Of Life."

Christina Scalise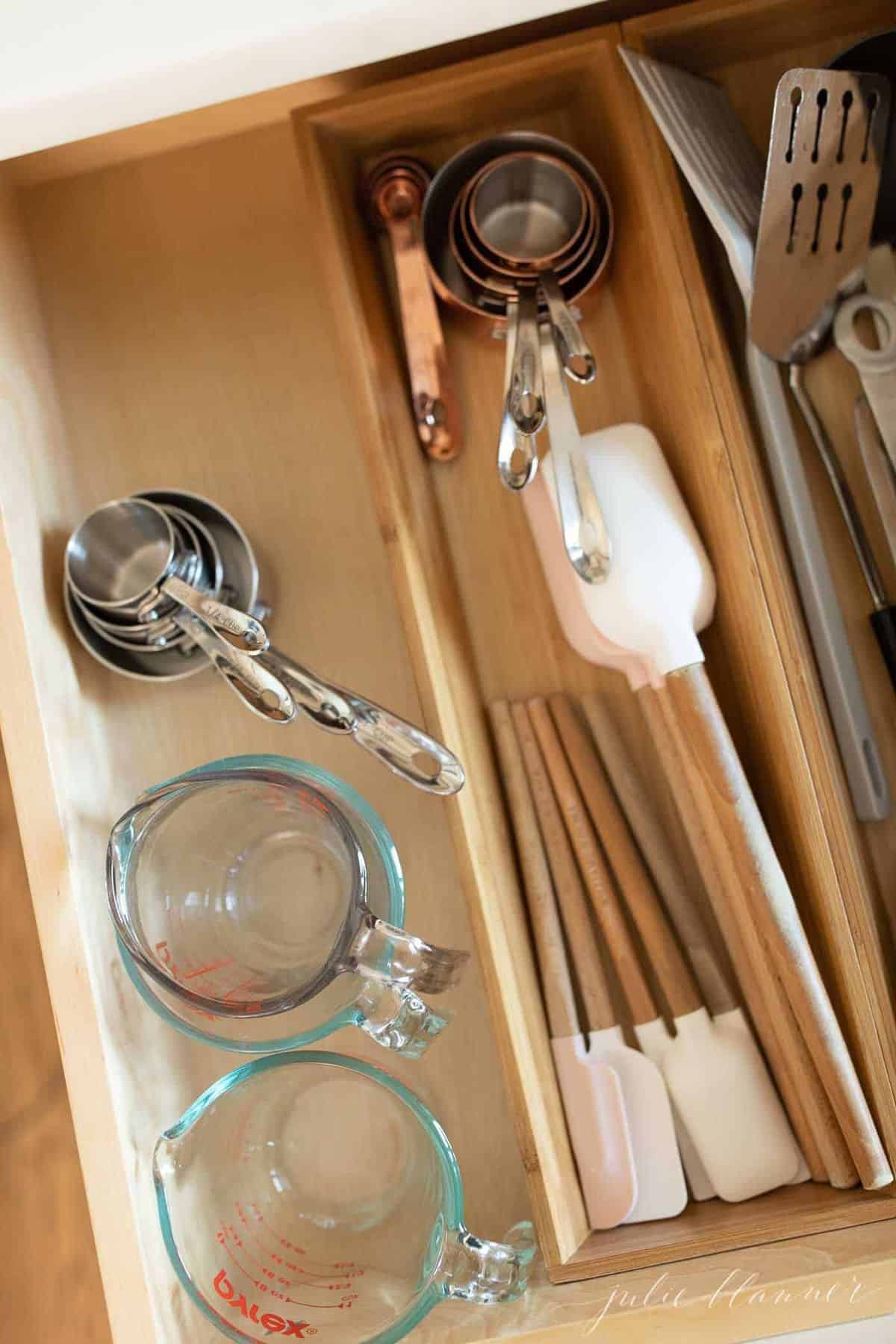 Favorite Drawer Organizers
Seen in this Post/Video
If you love the look of our classic cream kitchen, don't skip this post about our Inset Cabinets! You can find our cream cabinet color and details about our Danby Marble countertops, too!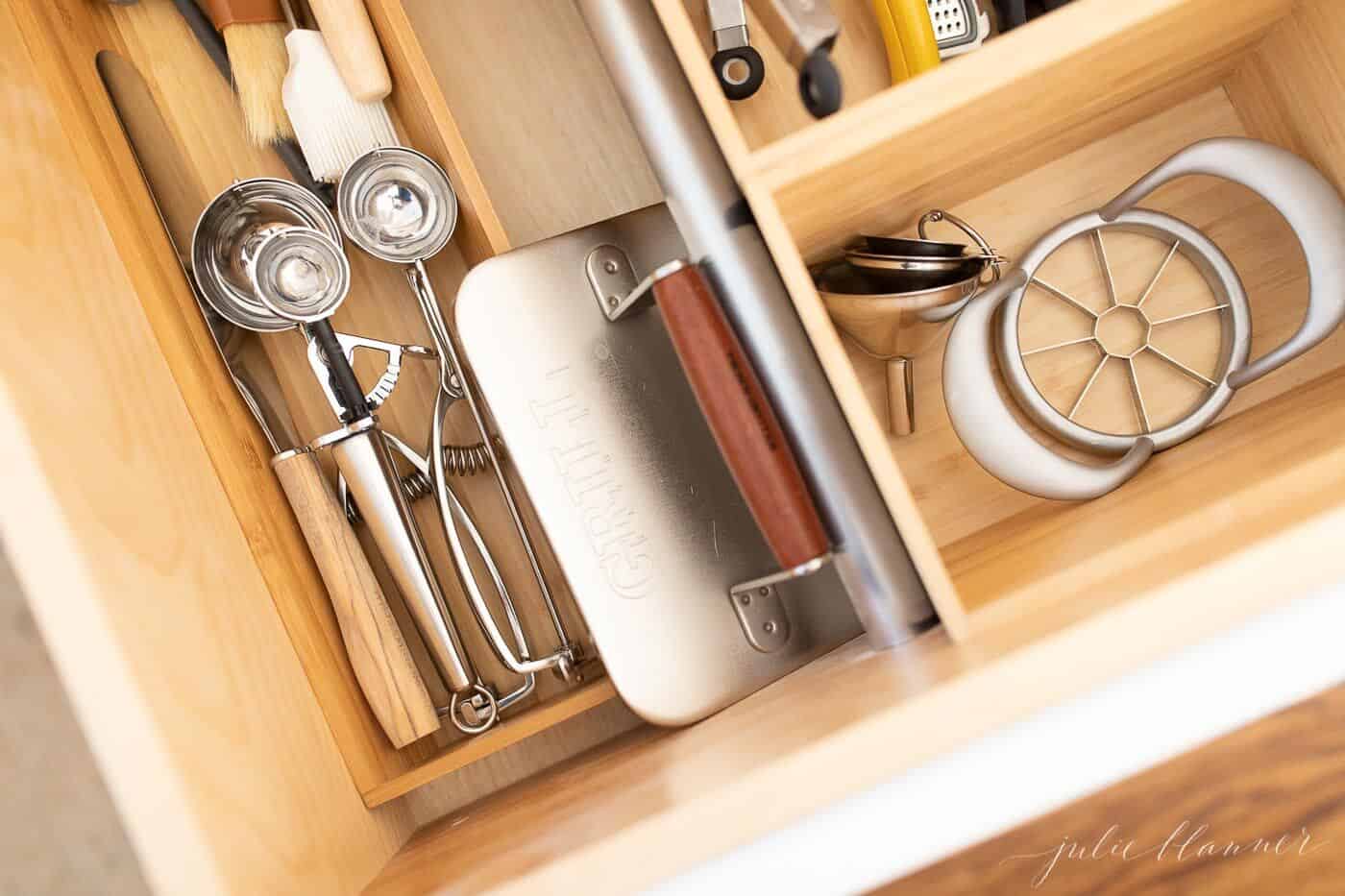 Do you have any kitchen organization ideas and tips I missed?
I'd love to see yours! Share in the Celebrating Simple Facebook Group or tag me on Instagram! For more easy ideas, subscribe on Youtube!
More Tips for an Organized Life