Learn the keys to creating the ultimate guest bedding display that will keep your friends and family coming back time and again.
If you love hosting friends and family in your home, you probably already know how to create a warm and cozy guest bedroom. However, one of the most confusing parts of setting up any bedroom is often the bedding!
A guest bedroom doesn't need much, but a few simple touches go a long way to keeping guests happy. Giving a guest the experience of a luxurious hotel with bedding that feels oh-so-special might be a double-edged sword… they might never leave!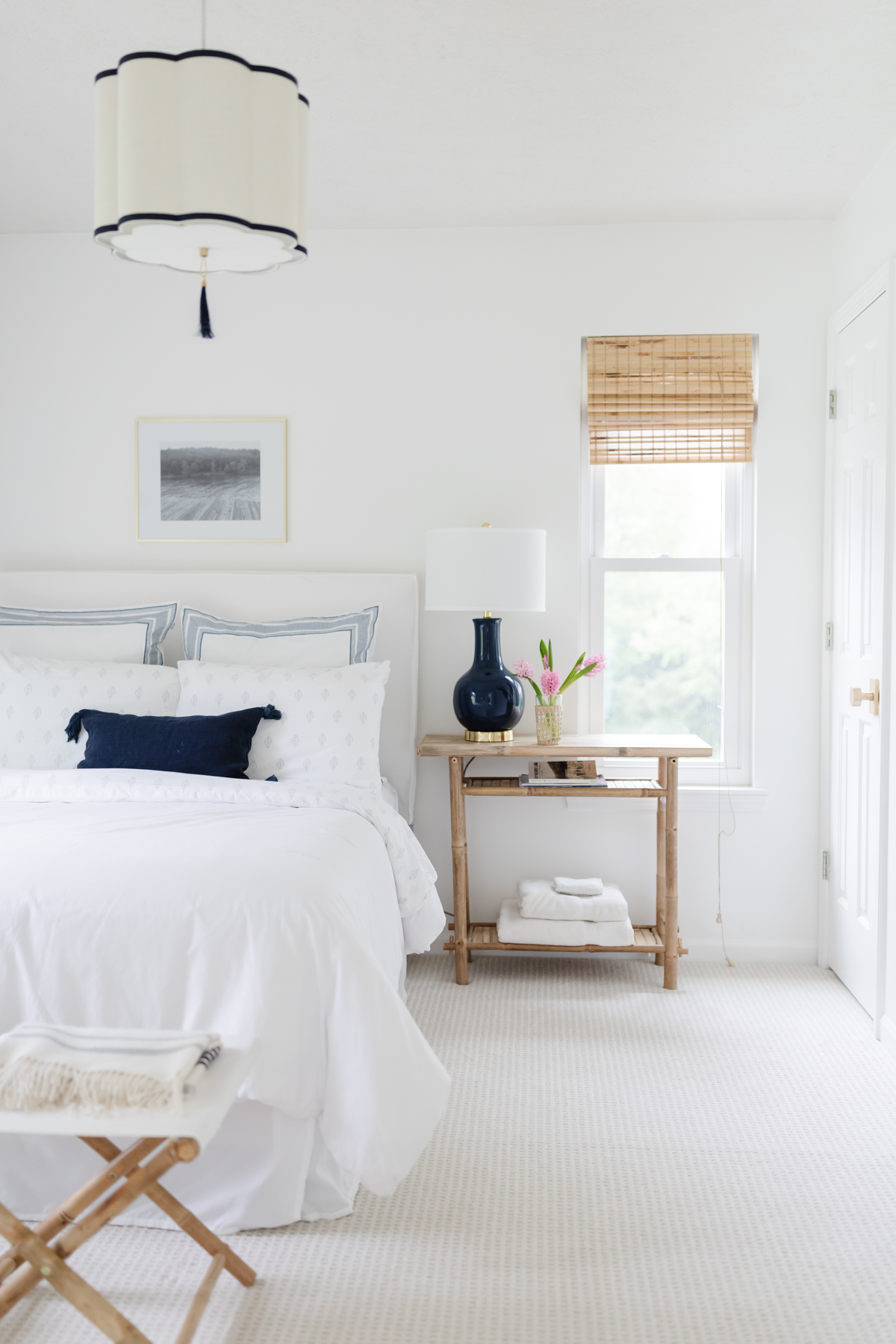 Creating a Guest Bedroom is actually possible anywhere in your home (as you can see in our former Colonial home). Even if you don't have a dedicated space, you can come up with something special!
I've chatted with you in the past about What to Include in a Guest Room, and today I thought it would be fun to discuss what you should include in your guest bedding. It's an important part of anyone's overnight experience in your home, and it's so much fun to create something beautiful for treasured guests!
Selecting the right guest bedding can create a boutique hotel experience for your guests. At the lake house, we frequently host guests, which means that we often have to reset bedrooms weekly. In effort to make it quick and easy,
We often host bloggers for retreats, family and friends and want them to feel welcome, relaxed and comfortable. So I treat guest beds like a boutique hotel, ensuring a comfortable stay. Get the tips and secrets hotel use to make their guest bedding feel luxurious.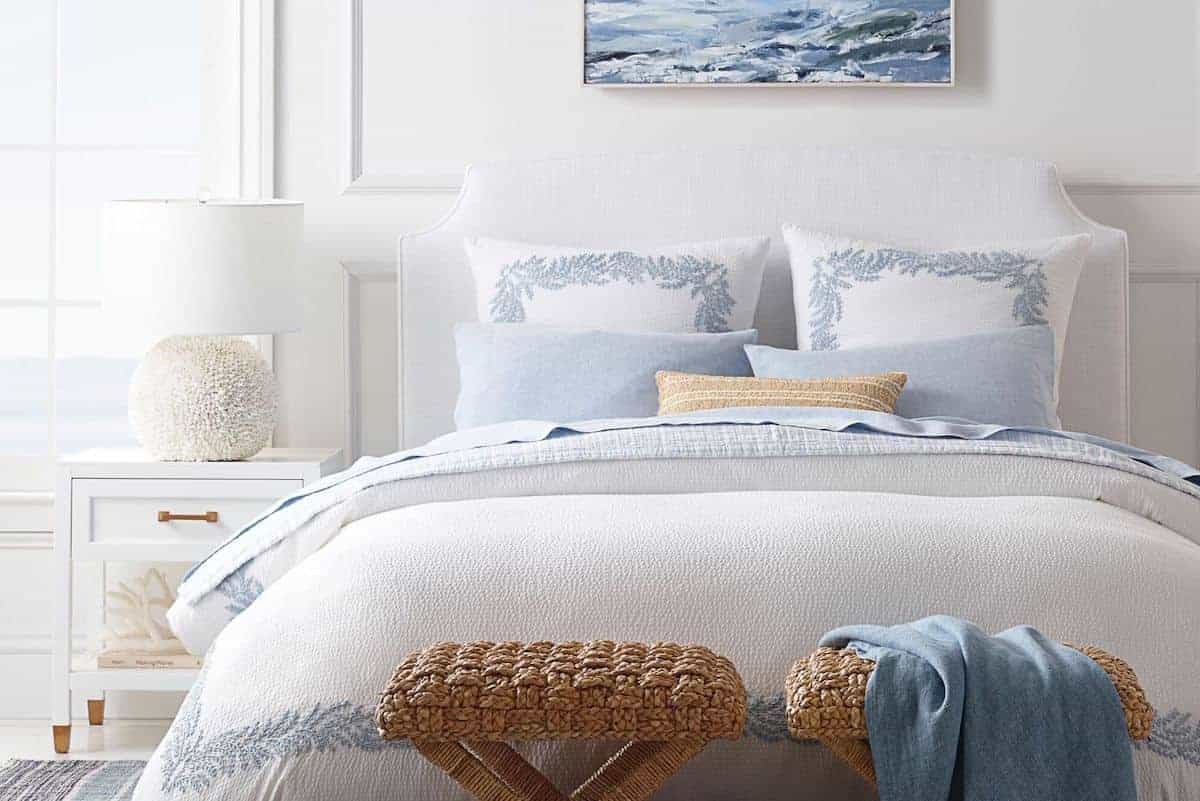 Guest Bedding Tips
Set the Foundation with Bright Whites
It's no secret why hotels often use white bedding. It may feel counterintuitive to use white, but you don't want linens to hide stains. White make them easy to spot and address so that you can ensure your guest beds are pristine. Guests sleep peacefully knowing they are in the nestled in a fresh, clean bed.
White linens are extremely practical, too. They can be bleached when needed… For an easy to maintain guest bed, I recommend using white sheets and a white duvet cover.
White also feels luxurious – and relaxing. From the moment you crawl in, you feel restful, not distracted by busy patterns or bright colors. Crisp white linens feel inviting and create a blank canvas to build from. They never go out of style or season.
White is also incredibly versatile. An all white color theme is easy to carry over with towels and robes as well, making it easy to wash them all at once without concern of colors bleeding. You can quickly turnover a guest room in a single load of laundry.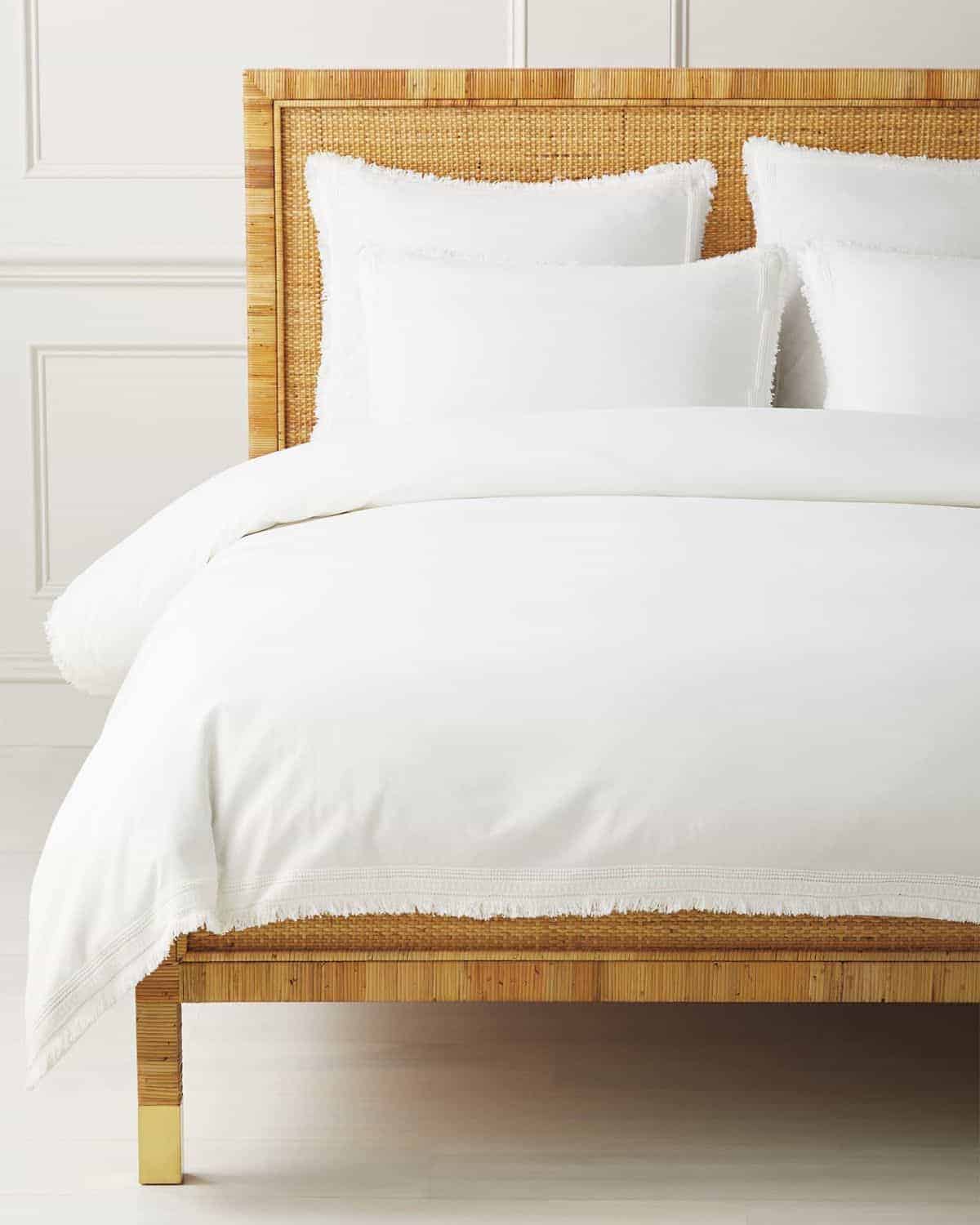 Make it Restful and Cozy
Ideally, my minimalist approach to our home is also reflected in our beds and the bedding we choose. While I like things to feel simple and restrained, I also want them to feel luxurious and special!
I love to create a cozy look with layers of pillows, blankets and duvets. In fact, you can even learn How to Fake a Headboard with pillows if you fill in the space and fluff them well!
How to Make a Guest Bed
Mattress Protector
A mattress protector is an important, yet often overlooked layer of guest bedding. Mattresses are the most expensive part of the equation, so it's essential to protect them from stains. Fortunately the days of squeaky, uncomfortable mattress covers are over!
Mattress covers are waterproof and breathable. You can choose a slip on mattress cover or a zip on mattress cover (for even more protection).
Sheets
300 thread count hotel sheets are generally the best for a luxurious feel. Of course, you can always use a higher thread count, but I find that those numbers tend to be misleading. Simple is quite simply the best in this department!
Don't forget to wash and dry new sheets. Freshly laundered sheets feel soft and silky.
You don't have to spend a fortune to outfit your guest bed with luxuriously soft sheets. In fact, a few of my favorites are extremely budget friendly!
300 Count Ultra Soft – These are our very favorite sheets, and believe me, we've tried them all! We also love the 400 Print Sheets. The pockets are deep and the patterns are simple and pretty.
Microfiber – I use these on guest beds because they're incredibly soft, inexpensive, easy to clean, and dry quickly (which is amazing when you're turning over a guest room in a hurry). Should they become stained, they are inexpensive to replace.
Sateen – This 300 thread count set has a silky, lustrous texture.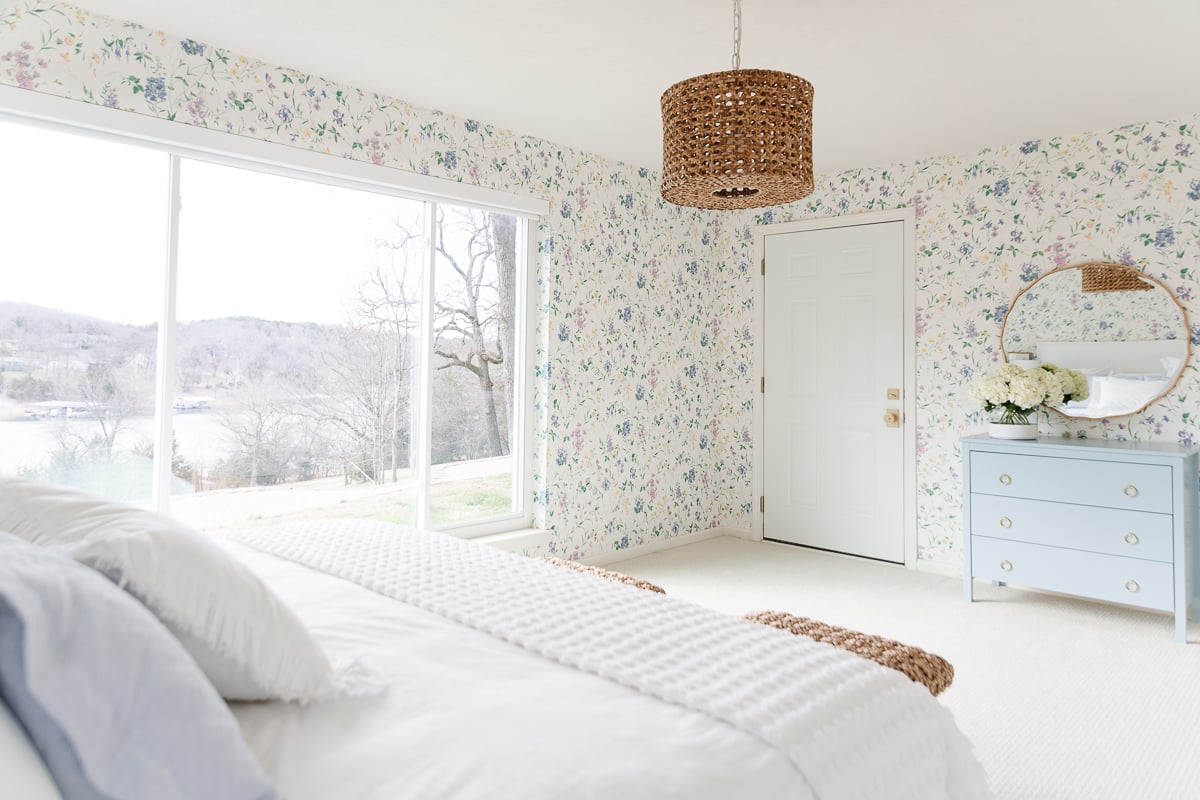 Duvet
The fluffier the better, of course!
I like to use a classic, simple white duvet cover on all of our duvets in the guest rooms. They feel luxurious, clean and hotel-like. Further, when they are protected you can simply remove the duvet cover… much easier to wash than a comforter!
Our favorite down comforter is this 600 Fill option. It feels so decadent and luxurious!
For the lake, we like these lightweight down alternative comforters too – and they are an incredible price point!
Quilt or Coverlet
You can use a quilt or coverlet in place of a down comforter or in addition to it.
A quilt or coverlet at the foot of the bed, or layered over your comforter, provides an extra layer of warmth should guests get chilly in the middle of the night.
These chambray linen blend quilts are an excellent, affordable choice in pretty pastel colors. For a truly luxurious feel, go with our favorite Lush Linen Quilt from Pine Cone Hill.
Layer
Mattress Protector
White Sheets (A small pattern works well too!)
White Duvet Cover
Duvet (the fluffier, the better!)
Quilts, Coverlets or Throws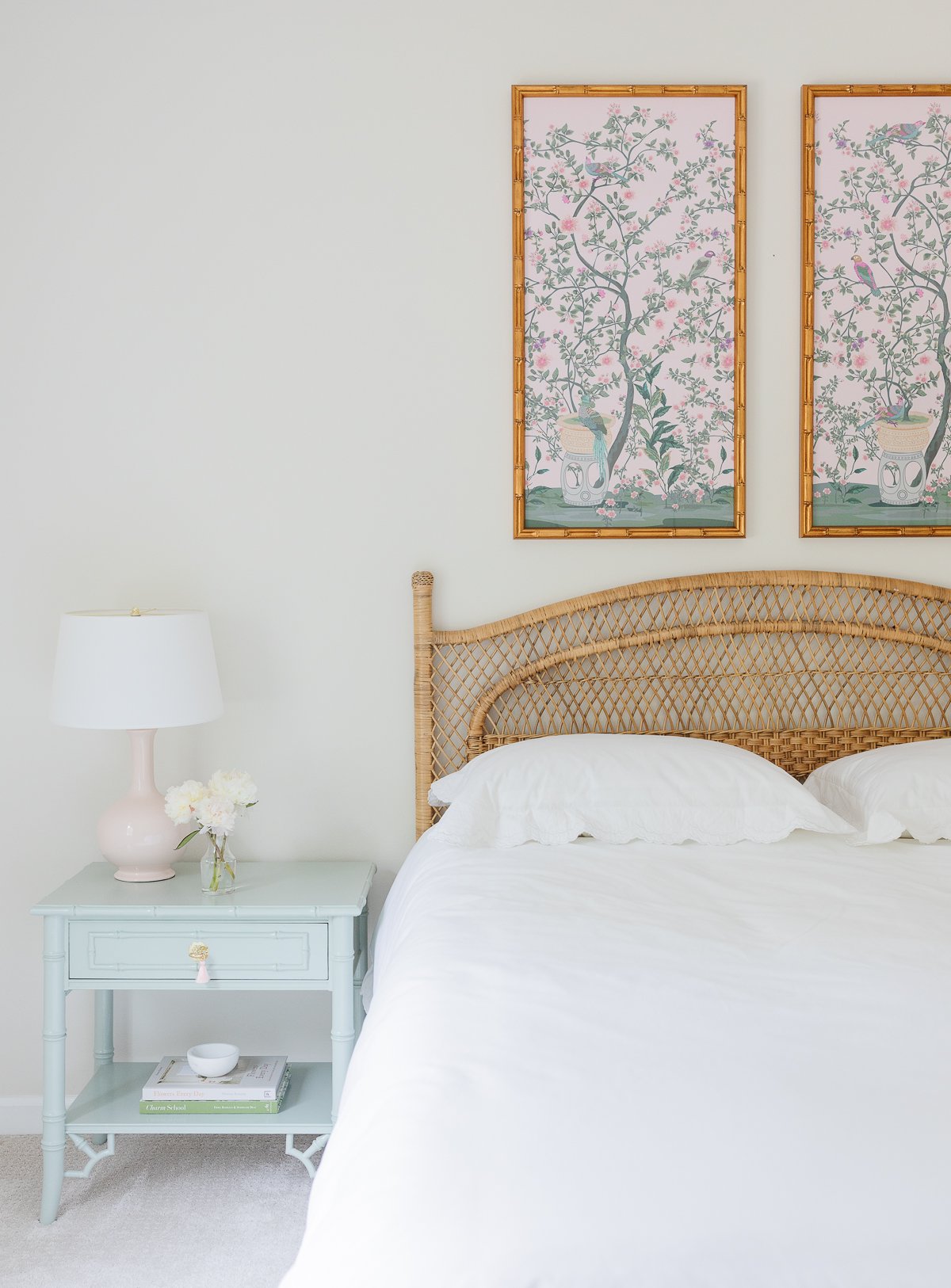 Quick tip: I love adding a few local magazines or pretty Coffee Table Books to the side tables in our guest rooms! It adds a cozy layer to your decor while also giving guests something to enjoy during their down time.
Pillows
Provide an abundance of options, and a variety of weights of pillows for your guests. They are easy to layer at the head of the bed, and I also like to keep extras in the closets of our guest rooms.
Use pillow protectors to reduce allergens, while protecting your pillows from saliva, sweat and stains. They also keep down feathers from poking through.
Decorative Pillows
Keep decorative pillows to a minimum. They should feel thoughtful, not fussy. No one wants to spend their evening carefully peeling the bed apart and their morning artfully putting it back together.
You also don't want your decorative pillows to be confused for sleeping pillows… nothing ruins those shams faster than that!
For a twin bed, use two standard and one Euro pillow. On a full or queen bed, four standard pillows and two to four Euro pillows. For a king sized bed use four king pillows and three Euro pillows. Euro pillows nestled close to the headboard allow a guest to kick back and relax to read or watch tv.
This is a great place to infuse color, pattern and detail. Have fun with it! Read more about how to choose Pillow Covers for a great tutorial on mixing patterns and colors!
Throws
Throws at the foot of the bed are a great way to add texture and warmth. Not only do these give you another option for a great pop of color, but they serve a practical purpose and give guests the option of a lighter weight blanket for sleeping.
Look for options of varying weight and textures to create a look you love! This Chunky Knit Bed Blanket comes in an array of colors and is the prettiest texture!