Step into our lakefront cottage for a coastal Christmas tour! Get all the details on coastal Christmas decorations in a soothing, calm color palette inspired by the water.
From a coastal Christmas tree to simple, breezy touches of ribbons and greens, you're sure to find ideas for your home, no matter the style!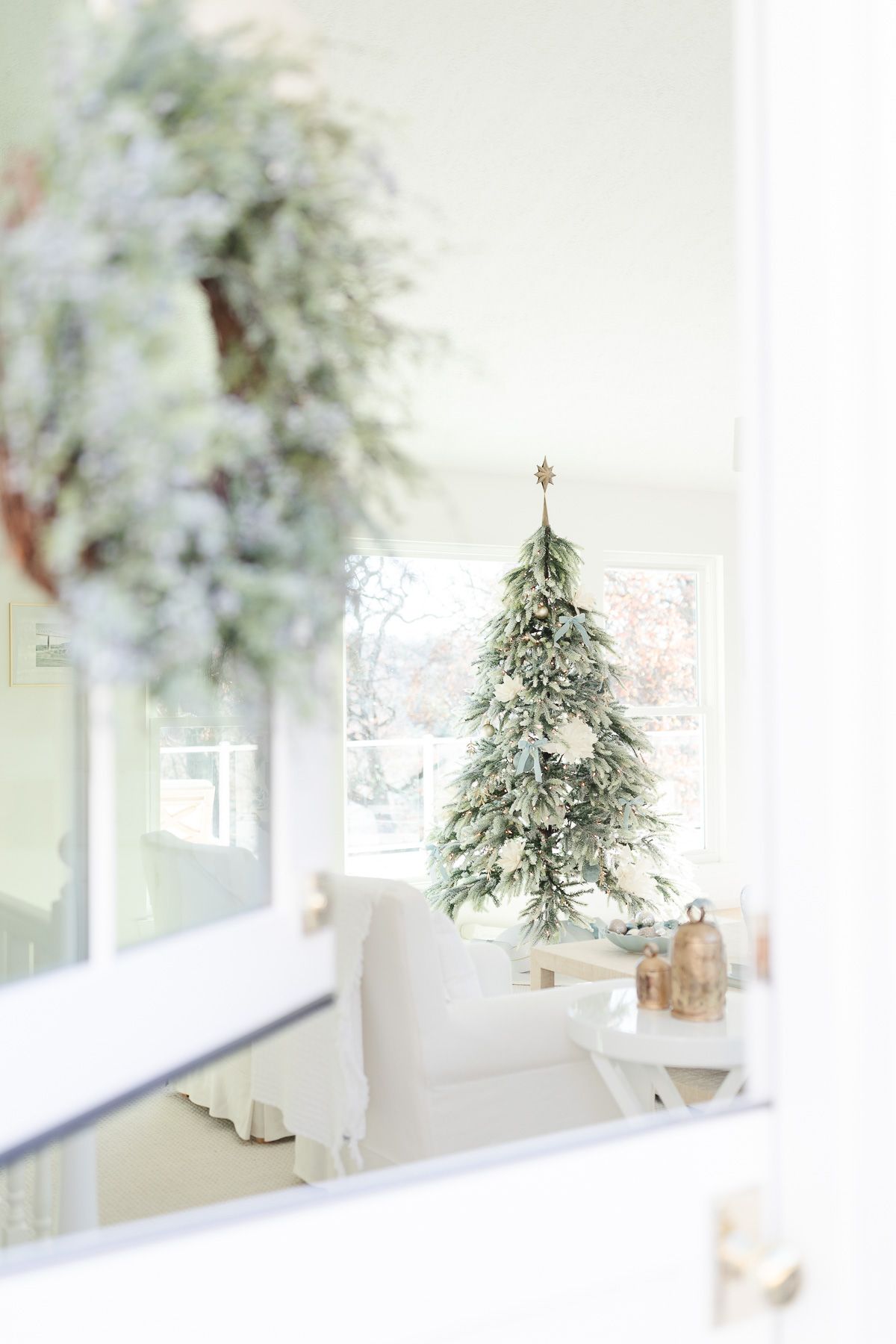 If you've been following the blog for long, you already know that I'm a big fan of coastal decorating!
When we bought our getaway cottage, we knew we would transform it into more of a modern lake house over time. I was so excited to add the modern coastal home decor elements I've loved for so long!
When a friend asked if we'd be willing to open our lake home up for a holiday homes tour benefiting local charities, we were all in! We always decorate for Christmas for our family to enjoy, but I love to share our ideas and inspiration with others, too – especially when it benefits great causes.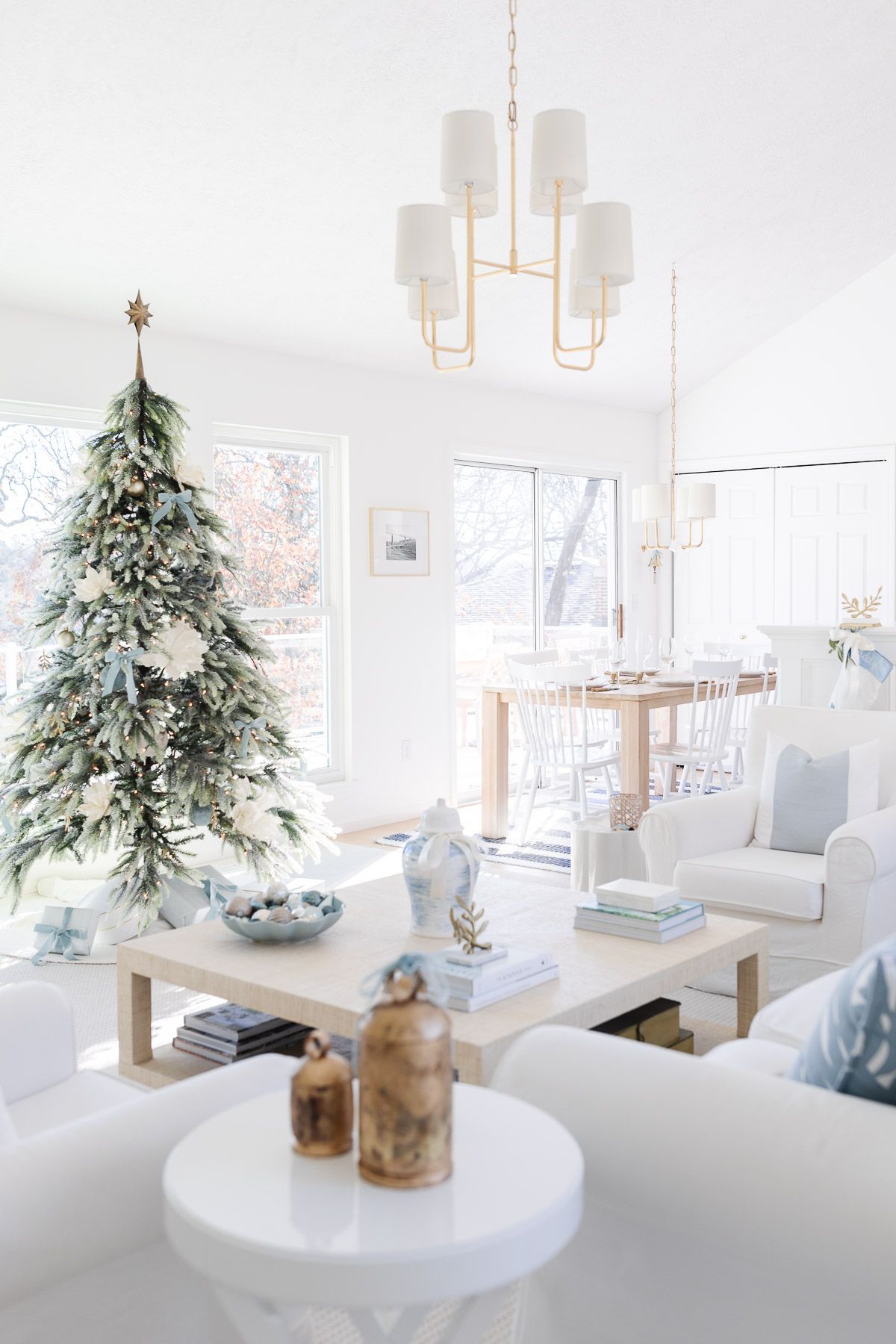 If you're in the neighborhood, stop by this weekend! Learn more about the tour at the Neighbors and Friends of Table Rock Lake website. While you're at it, you can enjoy the Silver Dollar City Christmas lights and make a whole holiday weekend out of it!
We enjoy sharing our love for Table Rock Lake, whether in person or right here with you, through images and video. Luckily, if you can't make the tour this weekend, I'm bringing it here to you today! Step inside our Coastal Christmas inspired home.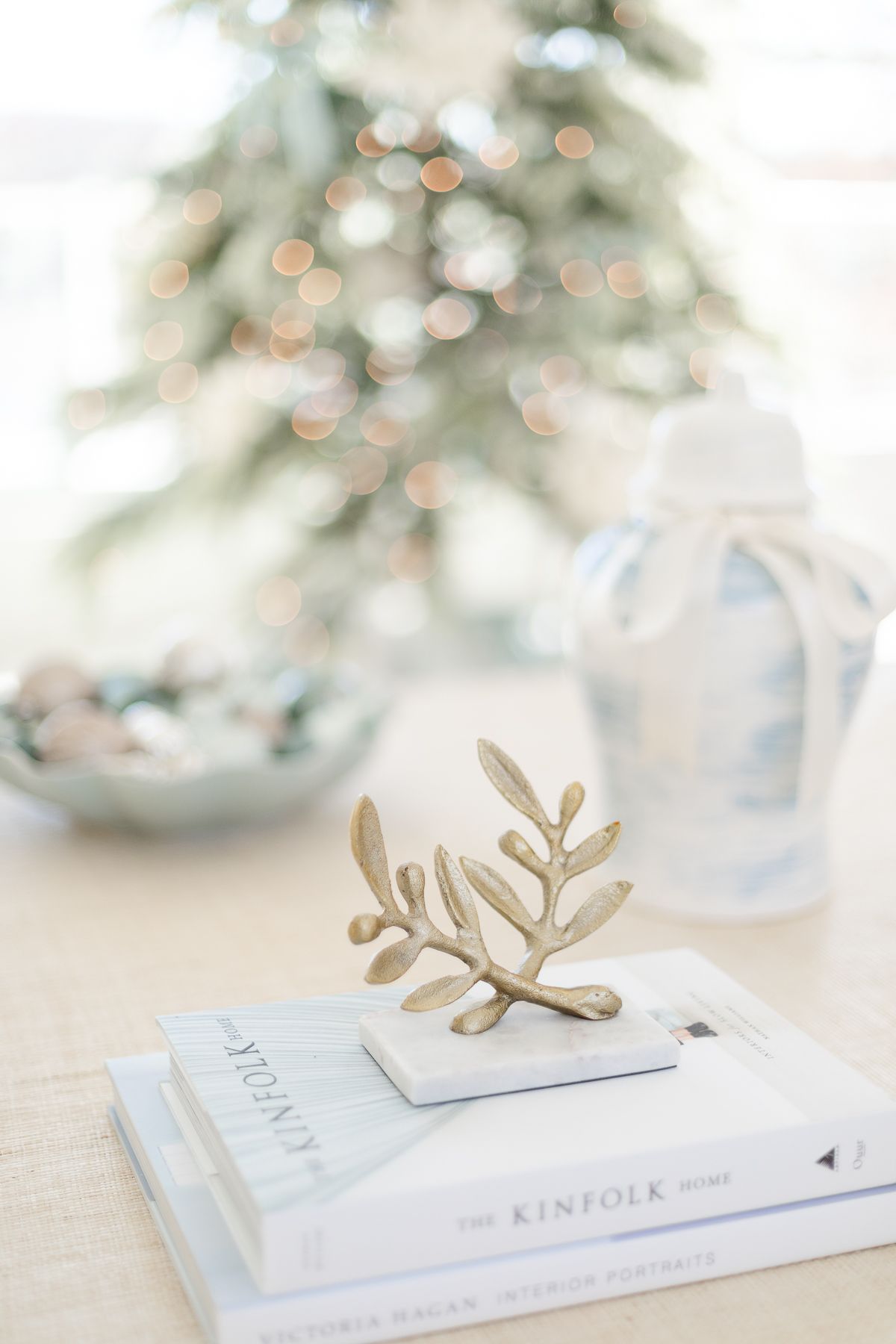 Coastal Christmas
What defines a coastal Christmas? Generally speaking, coastal decor tends to take inspiration from blue skies and water, sandy white beaches, and nautical elements.
Even if you're not living a coastal life, it's easy to bring some of this relaxed, casual style into your own home. If it makes you happy, there's a place for it in your home – no matter where you live!
For our coastal Christmas inspiration, we began with a fabulous new downswept Christmas tree with a soft blue-gray tint to the flocking. From there, we chose fresh and faux greenery elements, velvet and satin ribbons, and design elements with waves and scallops inspired by the sea.
Of course, we also used soft touches of blue and white, and my favorite: sparkling golds and brass!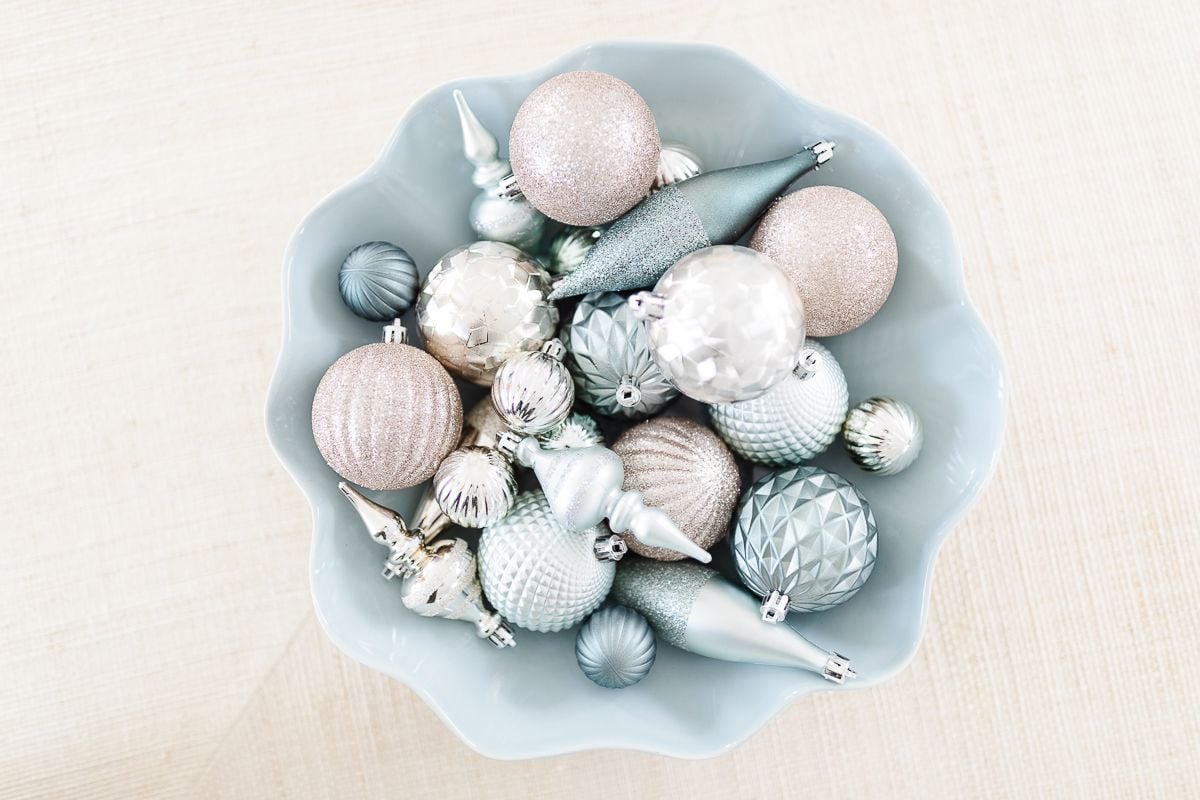 Navigate this post with the drop down Table of Contents menu for ease of use. Find sources for all of our coastal Christmas decorating elements at the end of the post!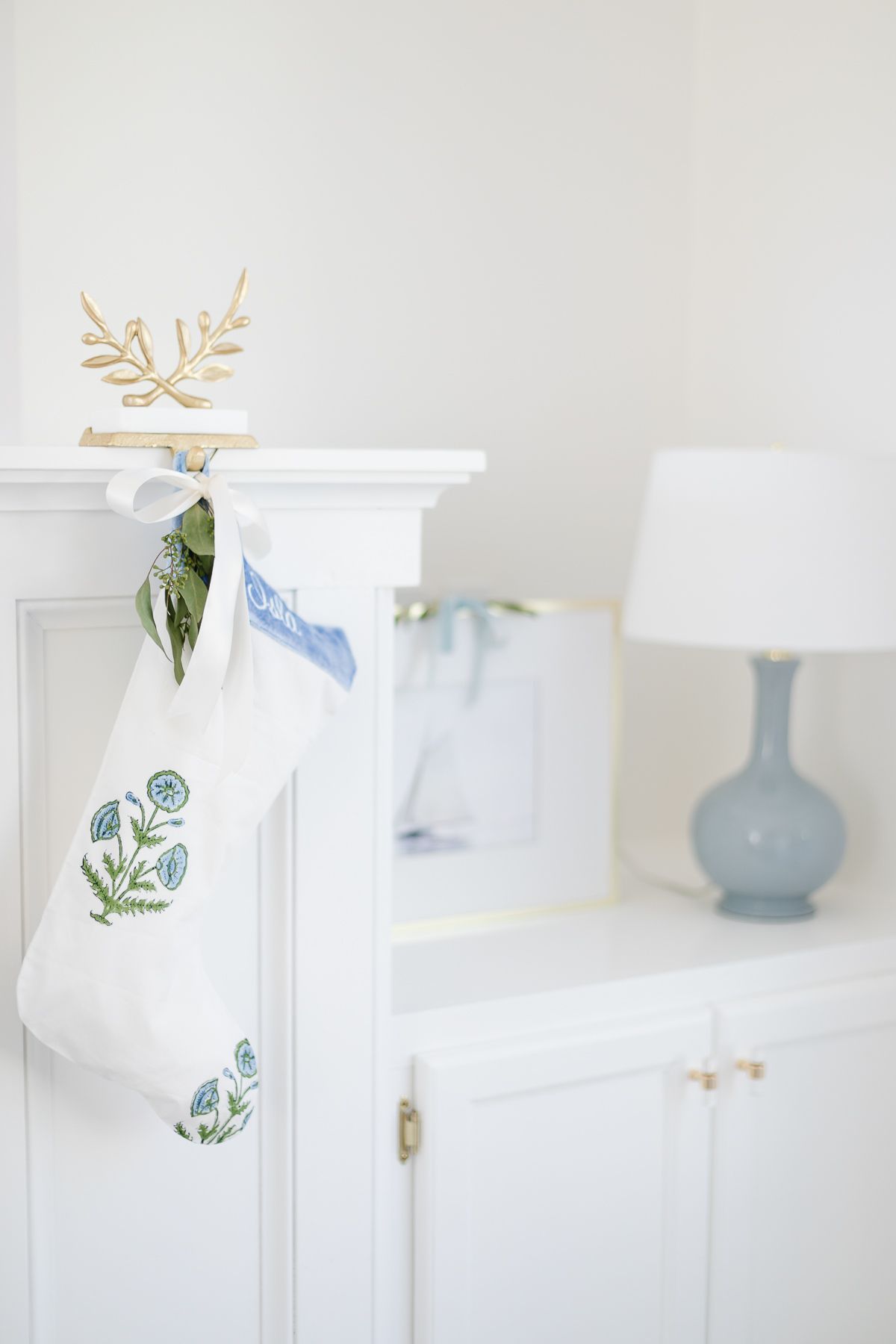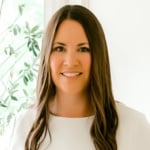 Tips
Not sure where to begin, when it comes to incorporating a coastal style? Start with your walls! Check out my guide to Warm White Paint Colors to create an open and airy beachy style instantly.
Of course, a coastal Christmas incorporates shades of blue! Check out my guide to the prettiest Blue Gray Paint Colors for more painting inspiration, or simply add blue ribbons, ornaments and pillows for a coastal vibe.
Add pieces of rattan for instant coastal vibes! Check out our guides to rattan bar carts, rattan mirrors, and even rattan bar stools for a touch of the islands.
While your main entry that guests use should always be a focus, don't forget to decorate the entry your family uses, too! Something about coming home in December just feels more special when you add little touches that bring joy.
Coastal Christmas Tree
Of course, most holiday decorating tours begin and end with the tree, and this one is no different! While I still adore our sparse Christmas tree (and we used it on the patio this year) we found a new tree this season that we simply couldn't pass up.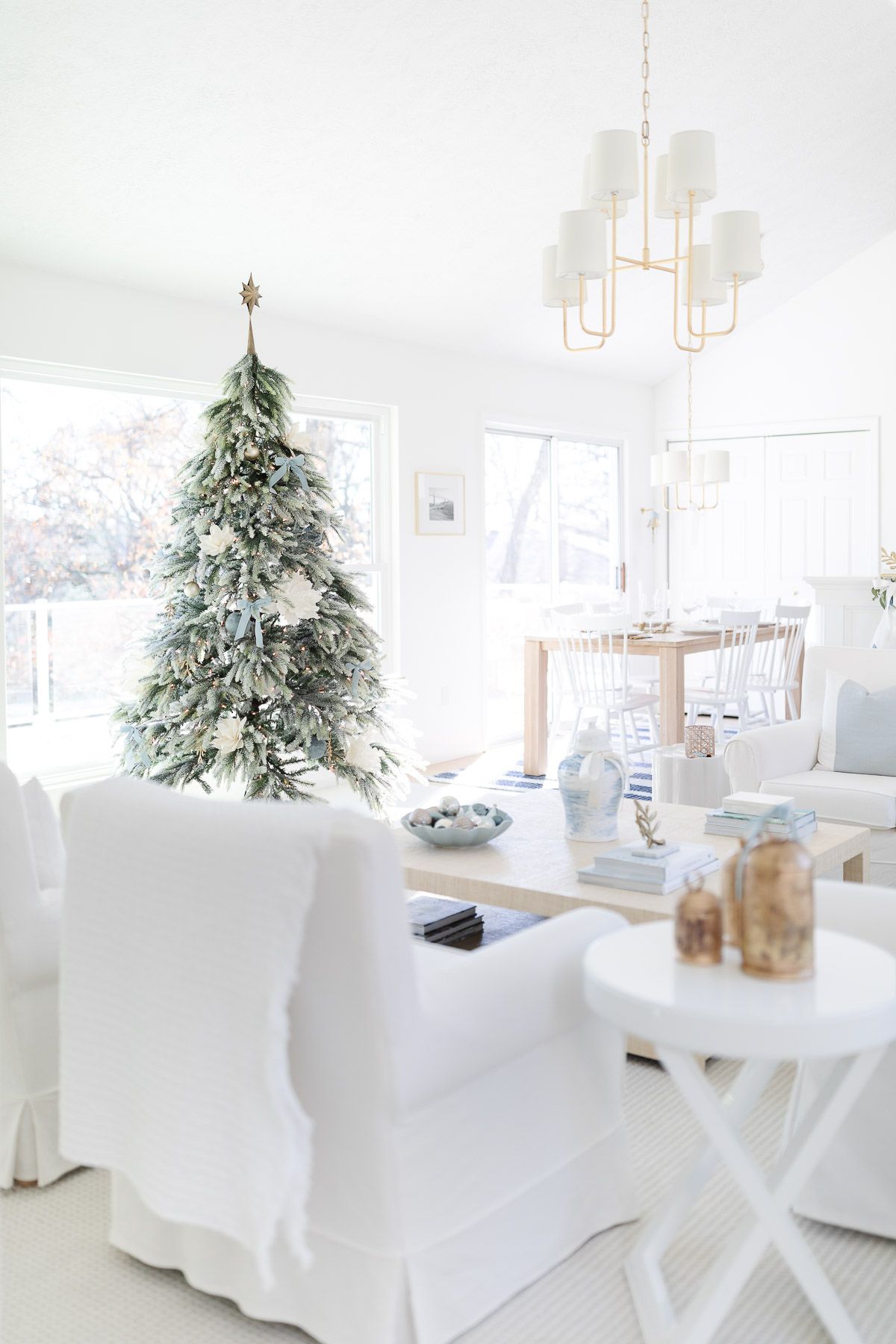 This lightly flocked downswept tree is such a great mix of rustic and elegant. It's the perfect soft color and we're totally in love with it!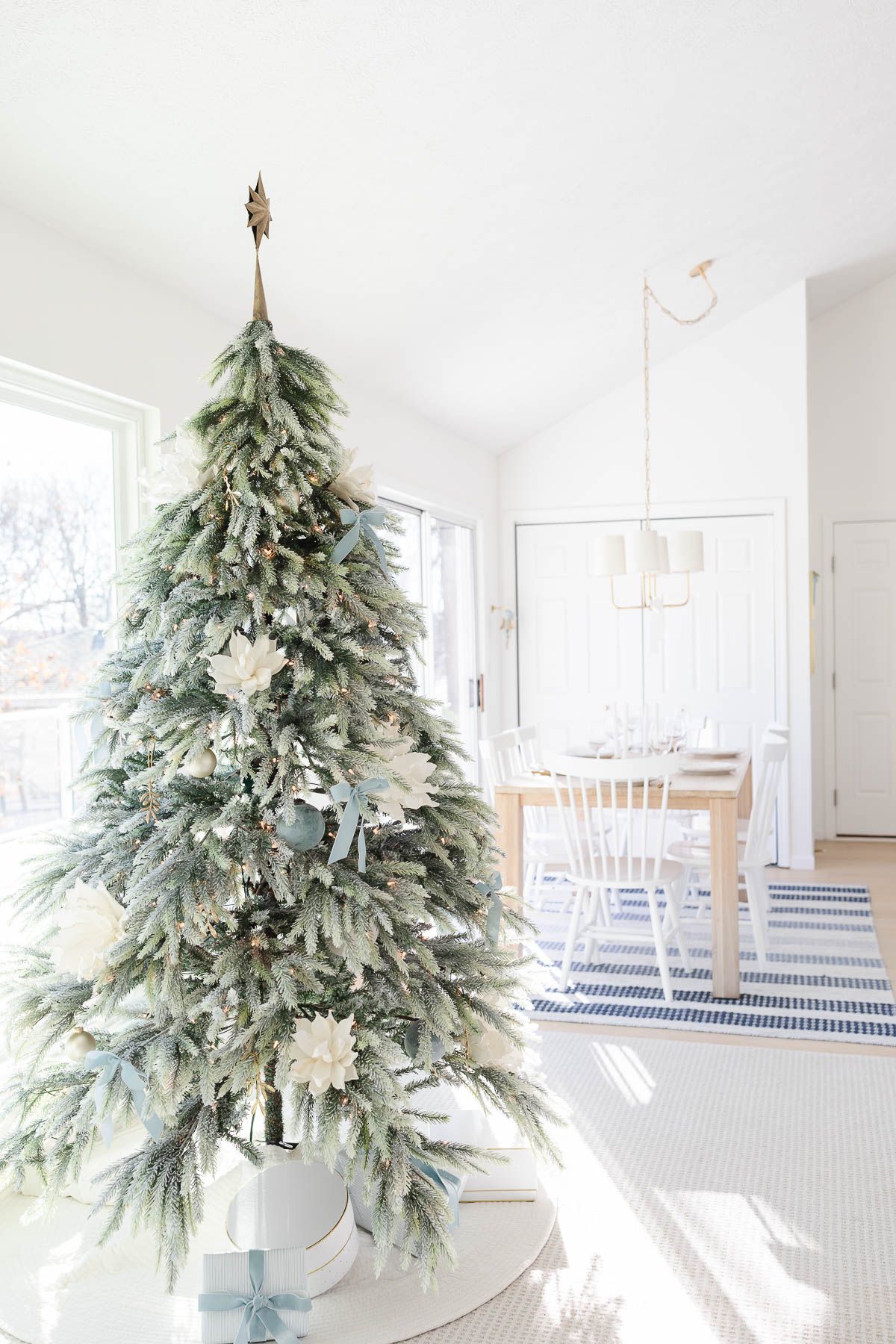 We also added a sweet pastel Christmas tree in the girls' room. While it's not necessarily coastal, it works beautifully with the rest of our decor.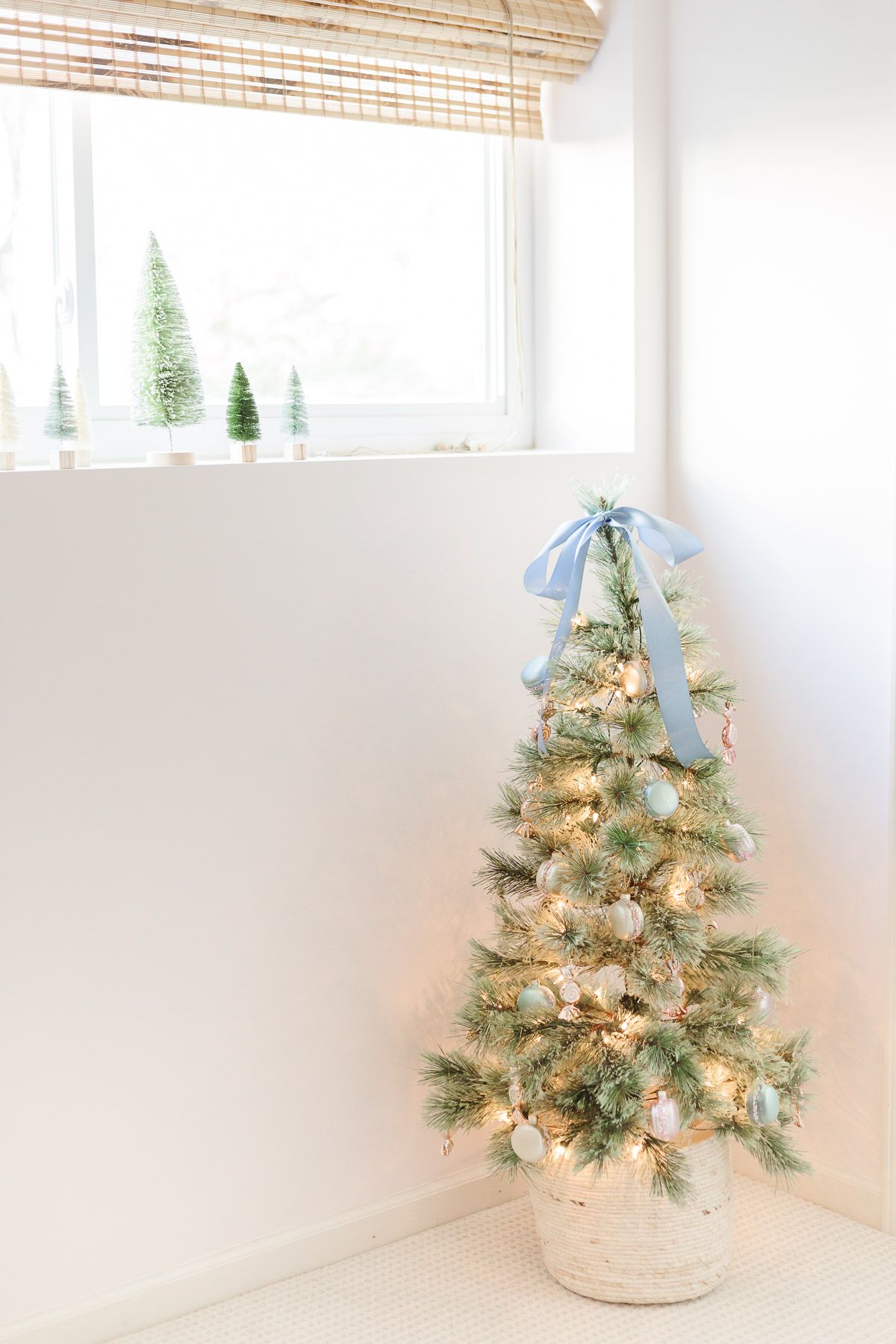 Ornaments
Because I always love a minimalist Christmas, I knew I wanted our coastal Christmas tree to be quite simple. I love a glitzed out tree but my heart sings with simplicity.
We chose oversized faux flowers for this tree, some matte velvet ornaments, and sprigs of gold metallic mistletoe.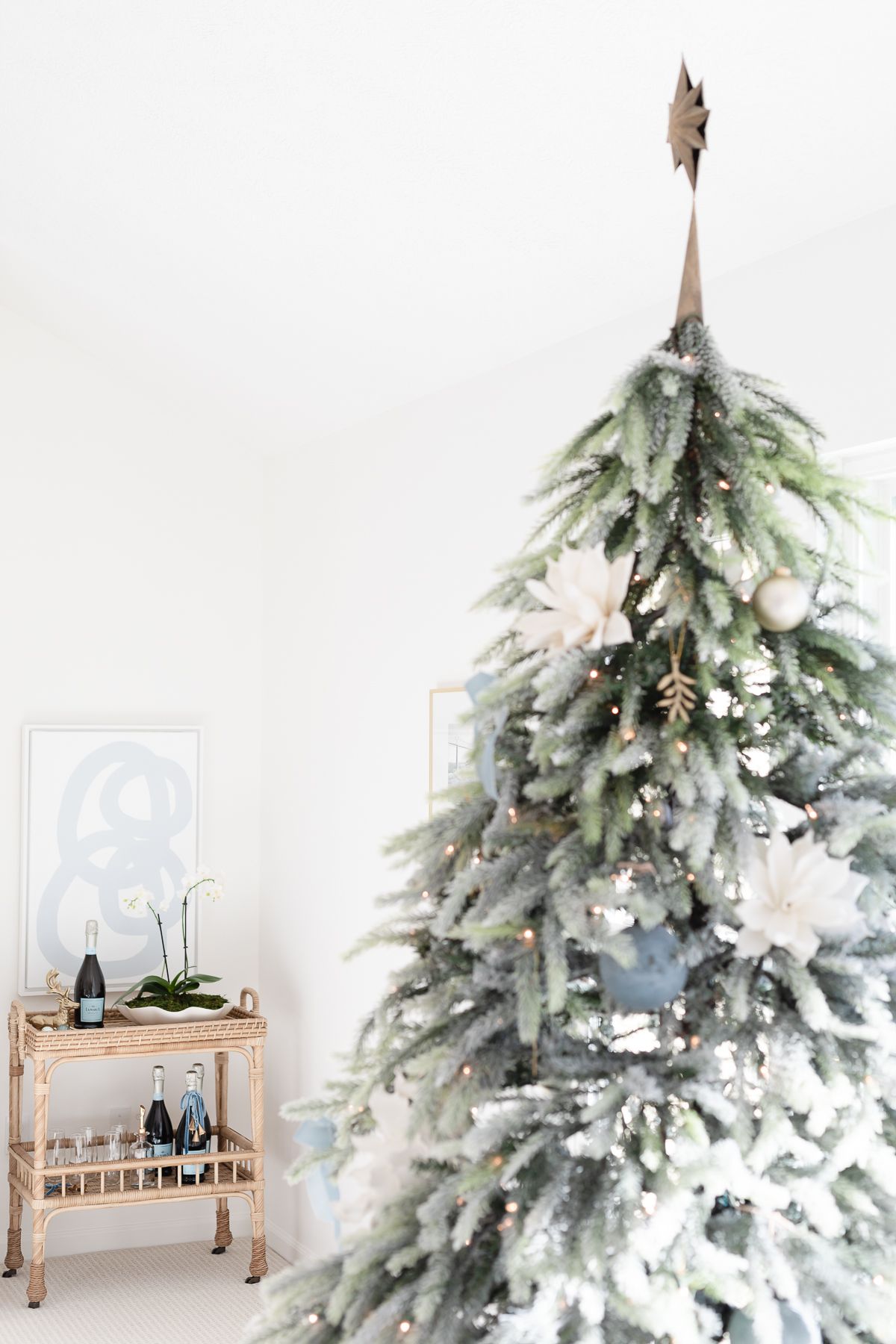 Soft blue velvet bows bring everything together. Sometimes the littlest things take up the biggest space in our hearts, right?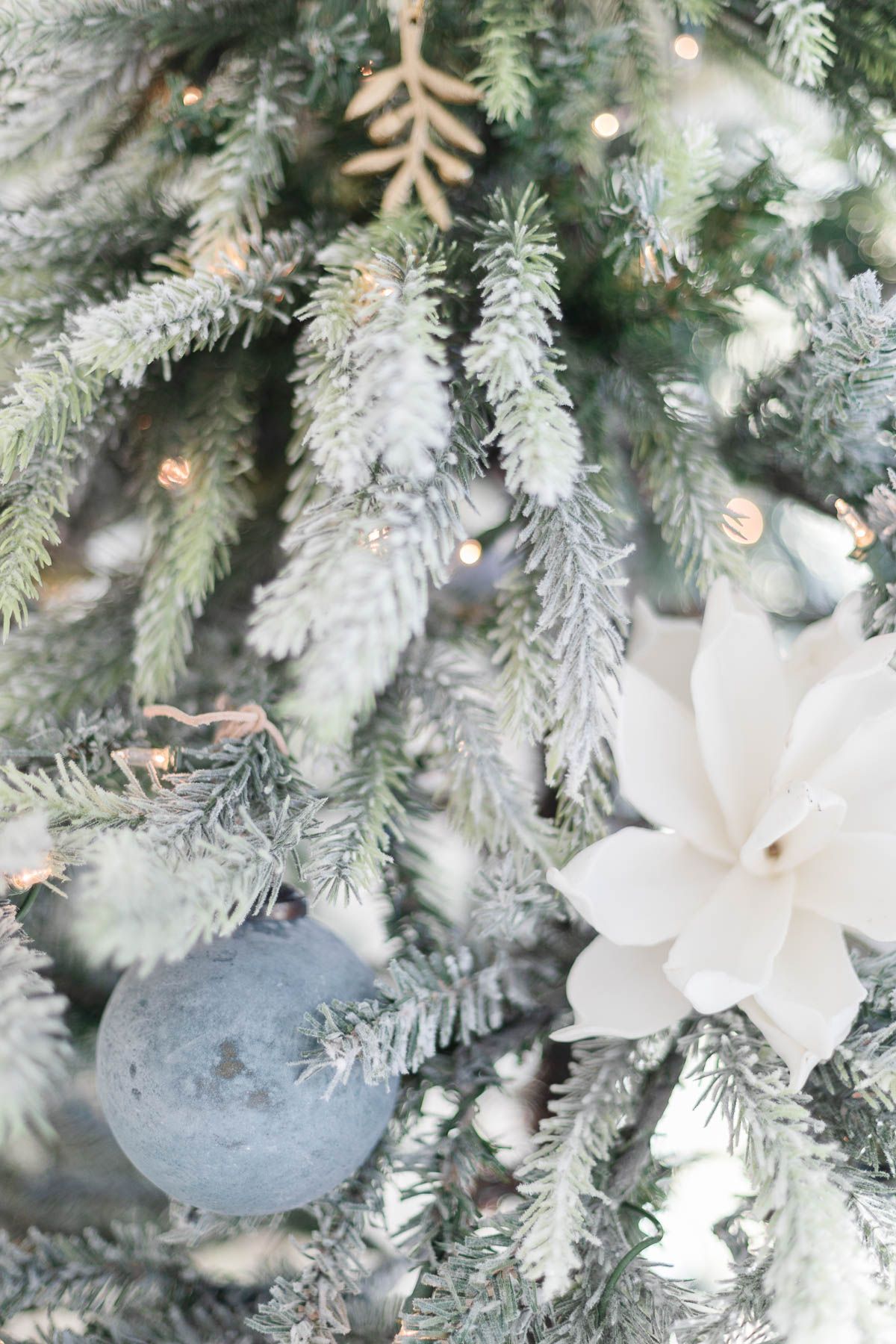 Brass Bells
Brass bells, both large and small, take center stage in our holiday home decorating this year.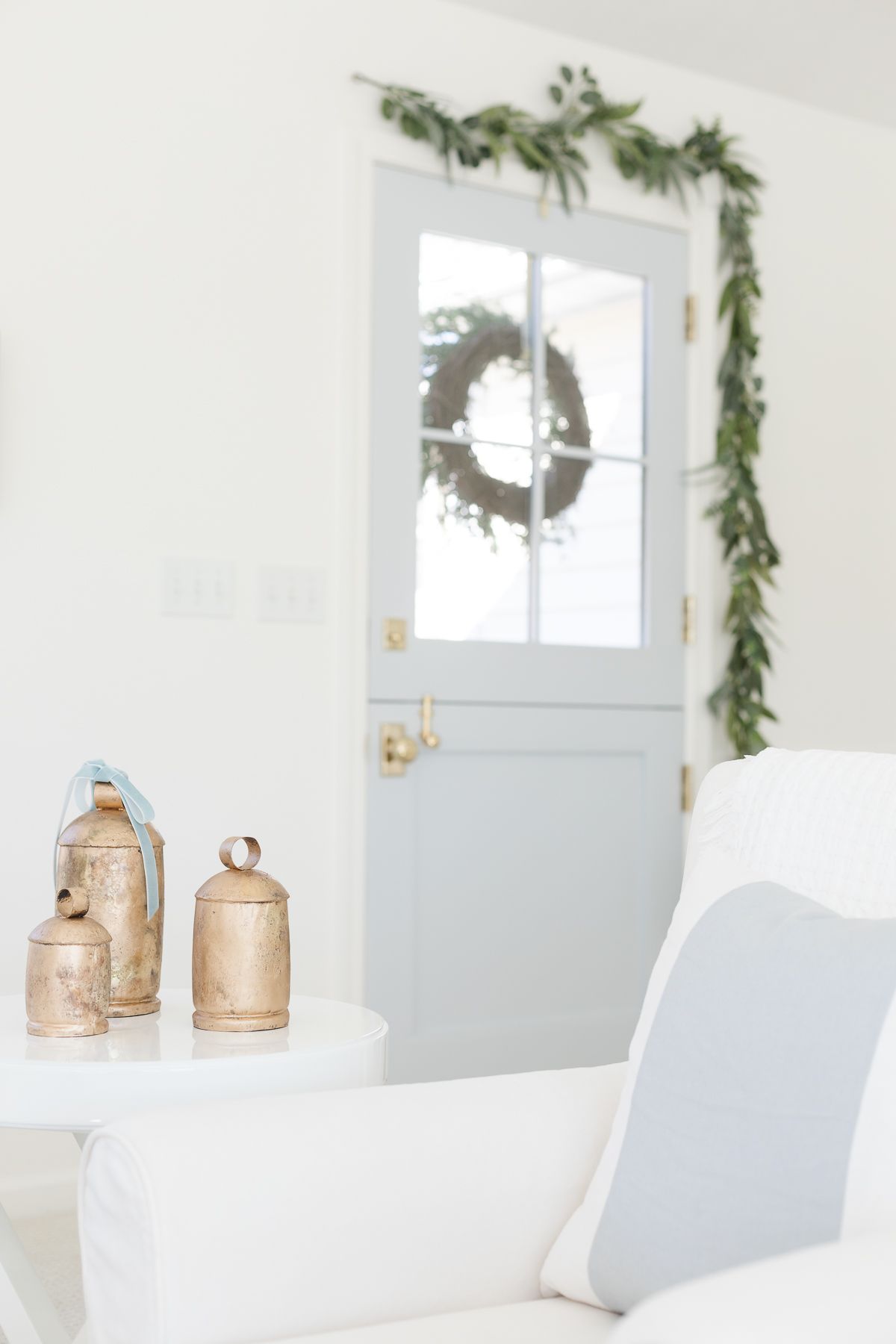 I just adore the warmth and simplicity they offer… they are such a traditional Christmas element, and the faded gold color works beautifully with both of our homes.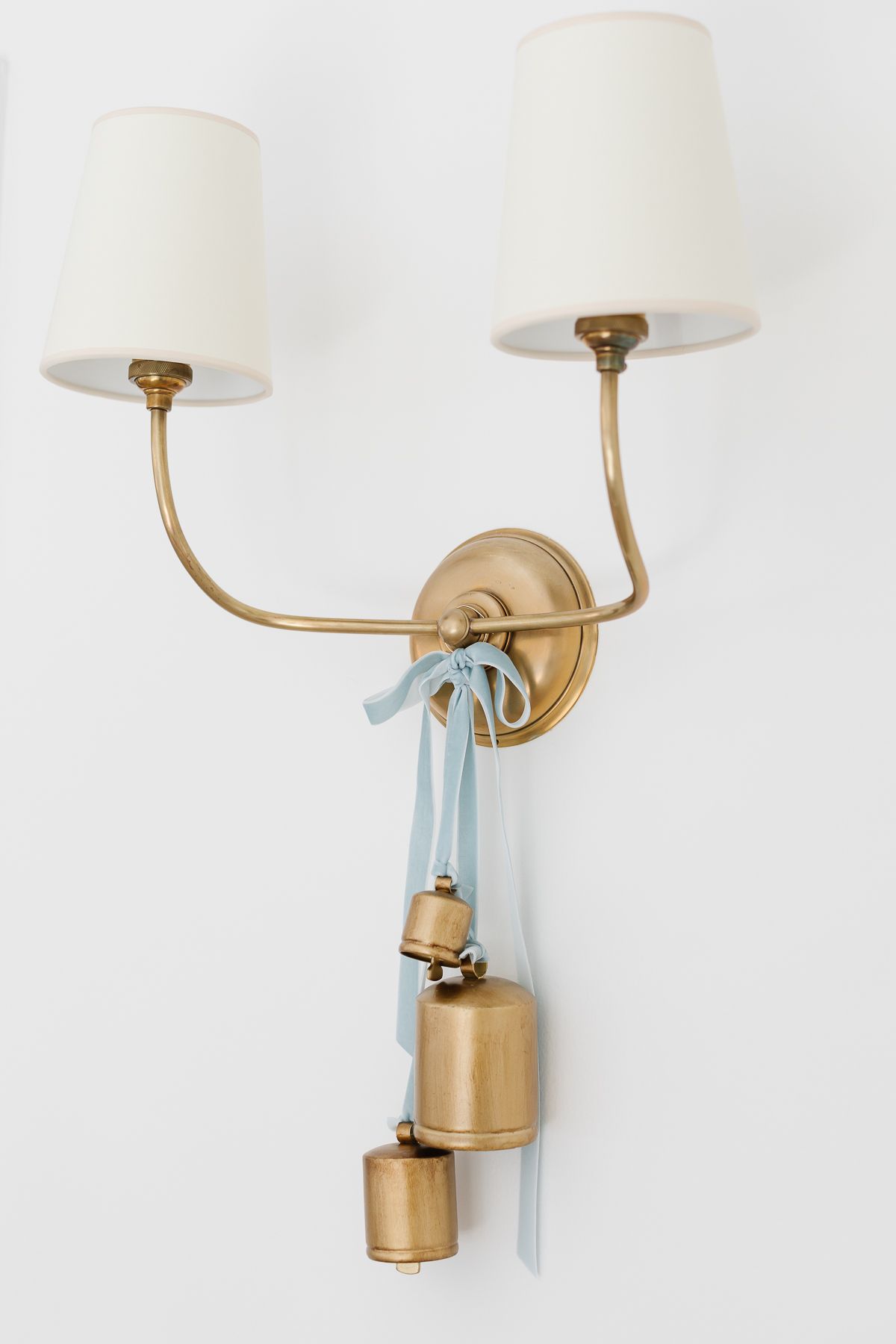 We added bells and bows to our wall sconces, accent tables, and even bottles of champagne for a celebratory look. Bells are gorgeous accents to trees and wreaths, too – you can't have too many!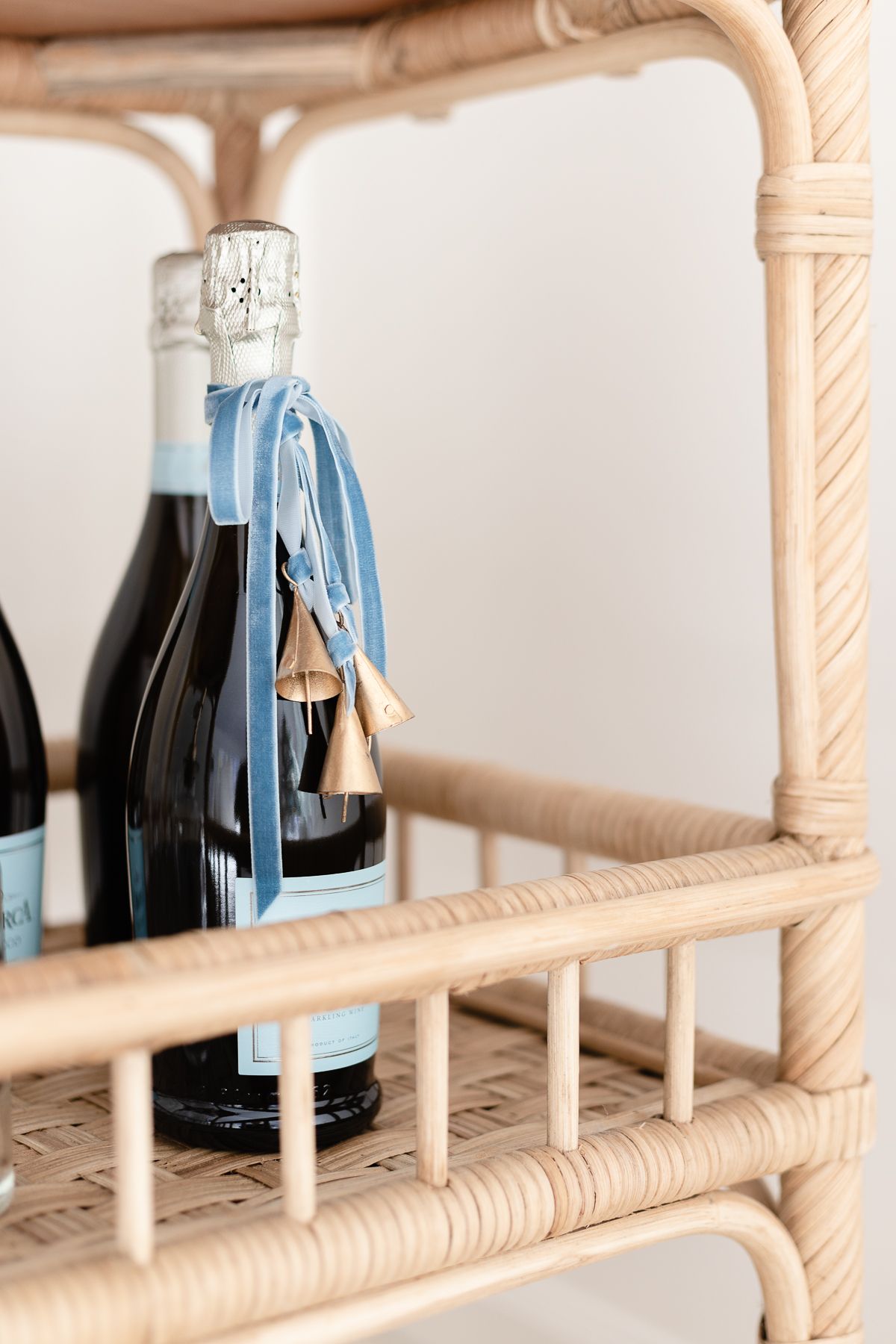 Velvet Bows
This soft blue velvet ribbon worked overtime this year. From an accent on our new Christmas tree, to wrapped presents and more, it created such a simple, cohesive affect.
We even used it to create more elegant displays for all the brass bells (replacing the rope they often come with). Velvet really has such an elegant wintry look, and it's inexpensive enough that you can use it anywhere.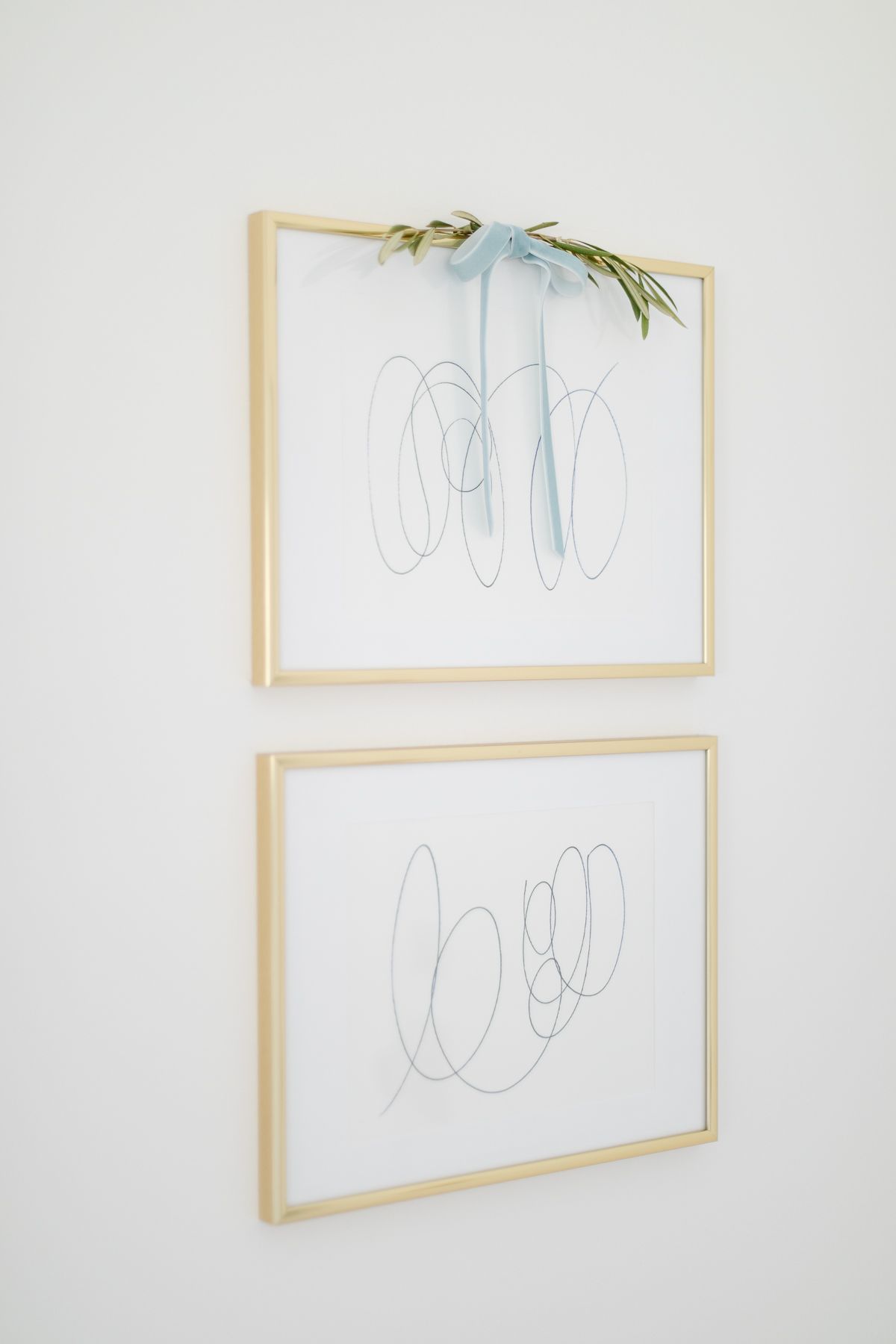 Satin works well too – and we used a combination this year. It's affordable and available in so many fresh colors!
Make a year round ginger jar look festive for the holidays with an easy bow – it really is as simple as that!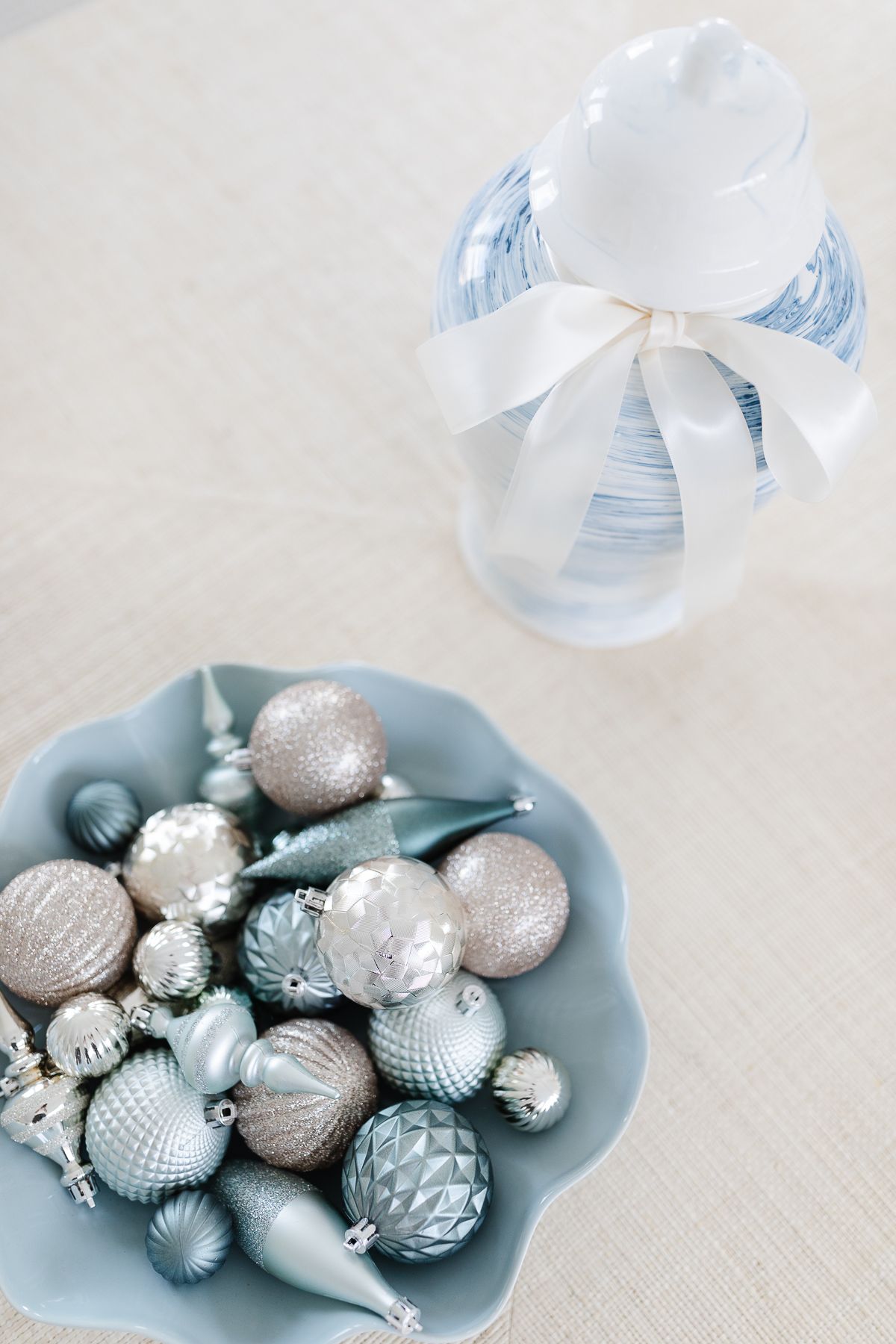 Fresh Greenery
With a combination of fresh and faux greenery, we added sprigs of festive greens throughout our coastal Christmas home.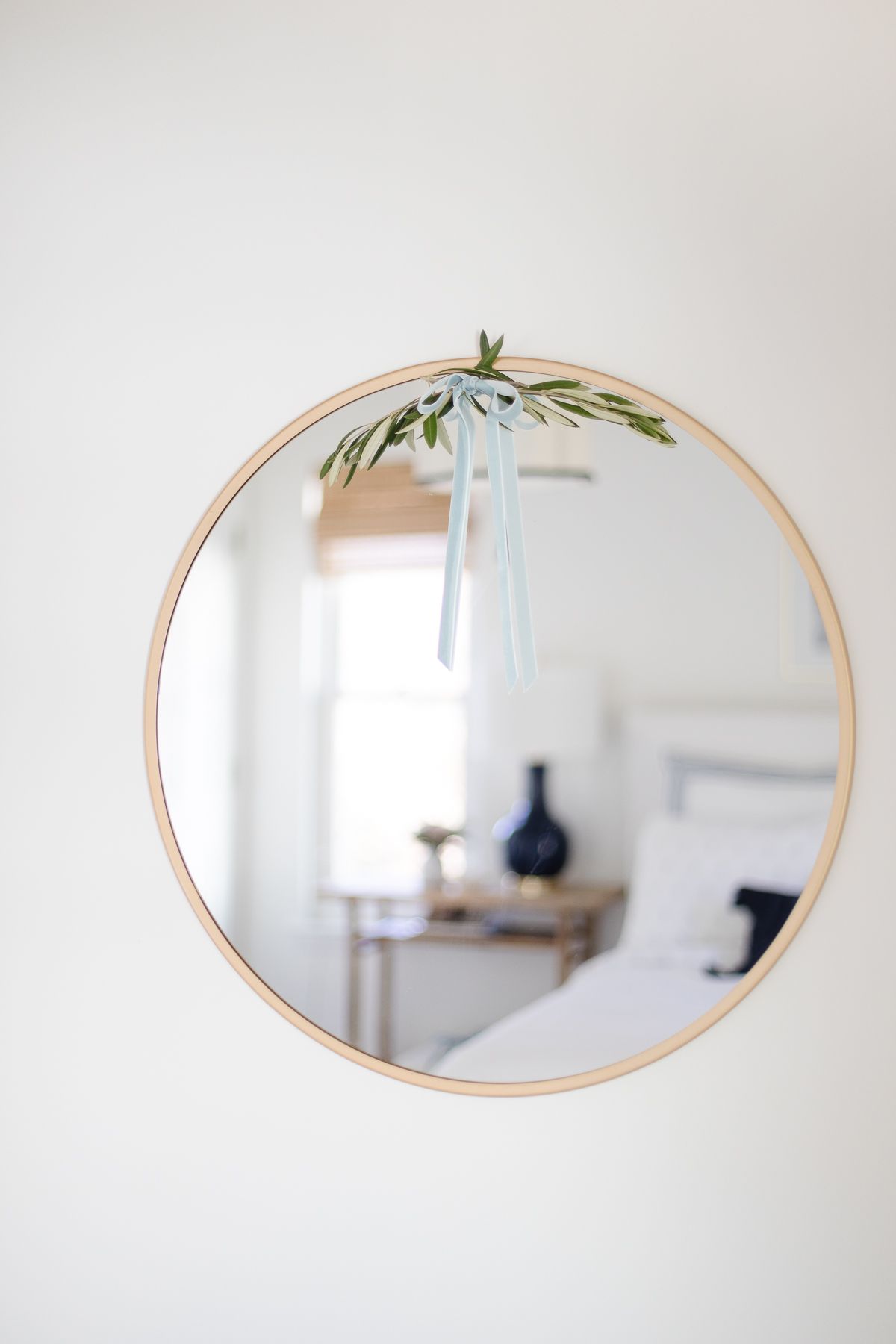 With touches of greenery everywhere, our home really came to life. We added sprigs of eucalyptus to the stockings, along with touches of olive branches on sconces, over framed photographs and art, and even as an accent with fresh towels in the guest bedroom and bath.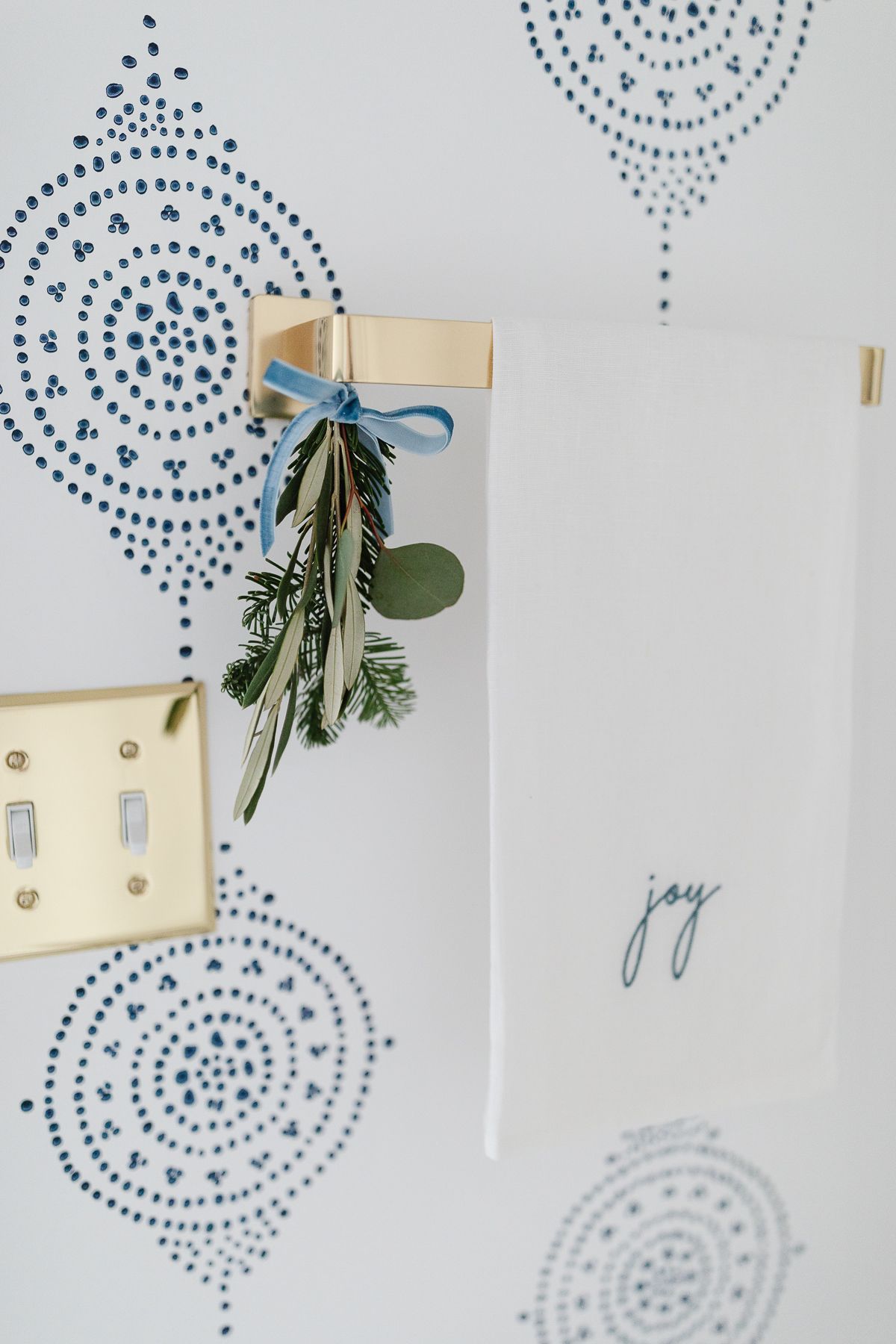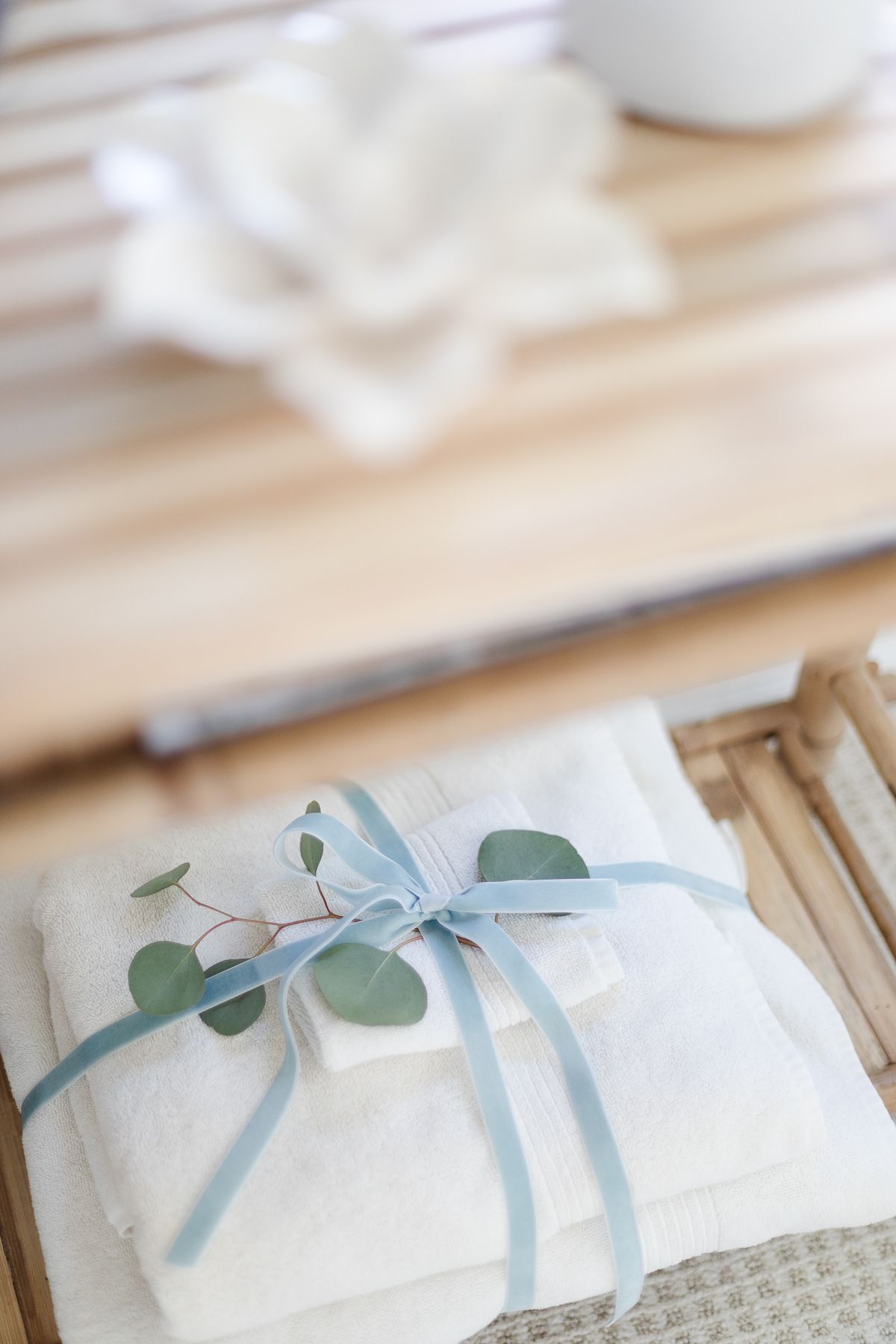 Garlands
Fresh greenery instantly makes any home feel festive, but faux has its place too. Read all about cedar garlands and pine garlands here.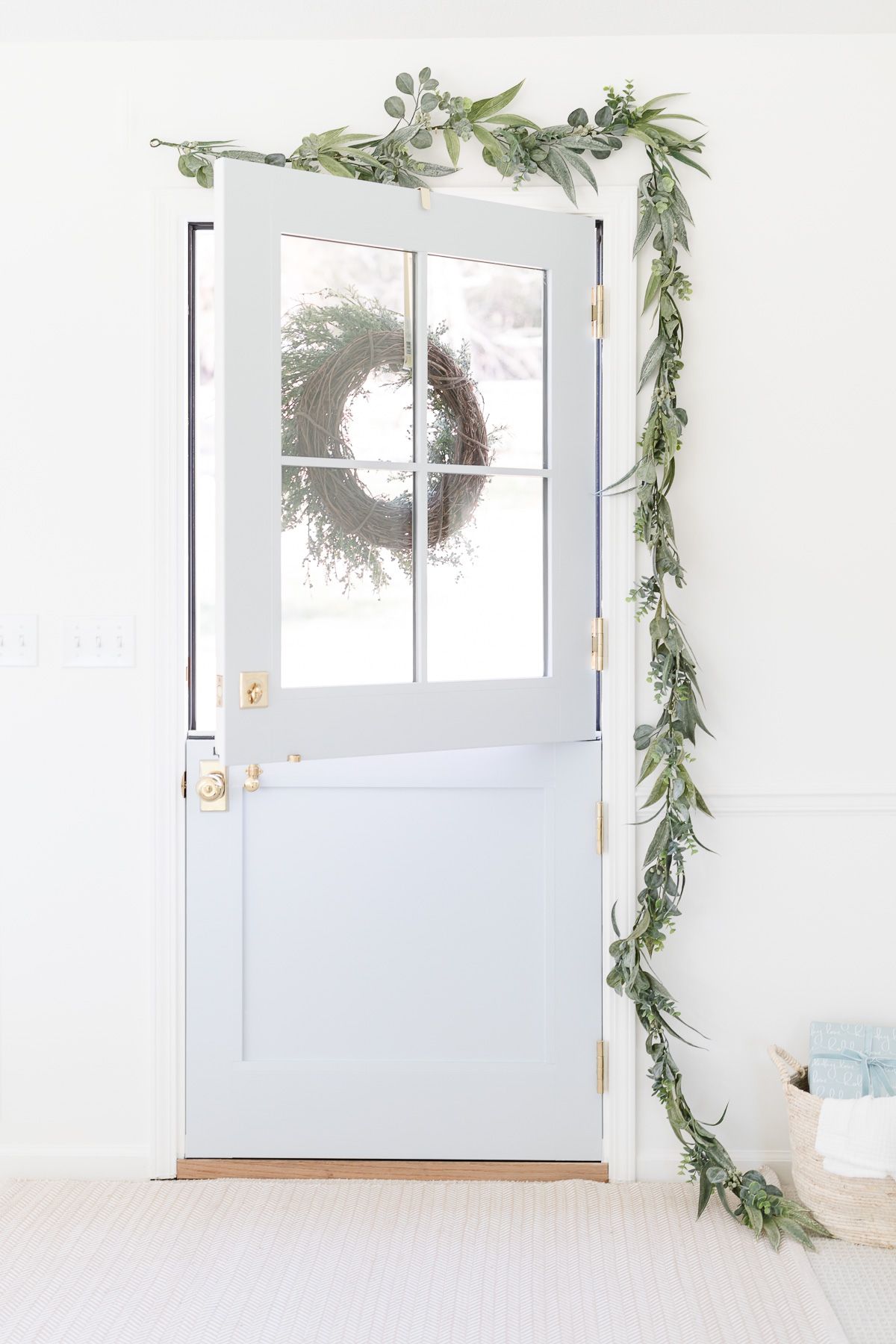 This year, we incorporated several different types of faux garlands. Eucalyptus garlands were perfect with our soft blue and white color scheme, and a heavier norfolk pine garland created the coziest reading nook in our downstairs living space.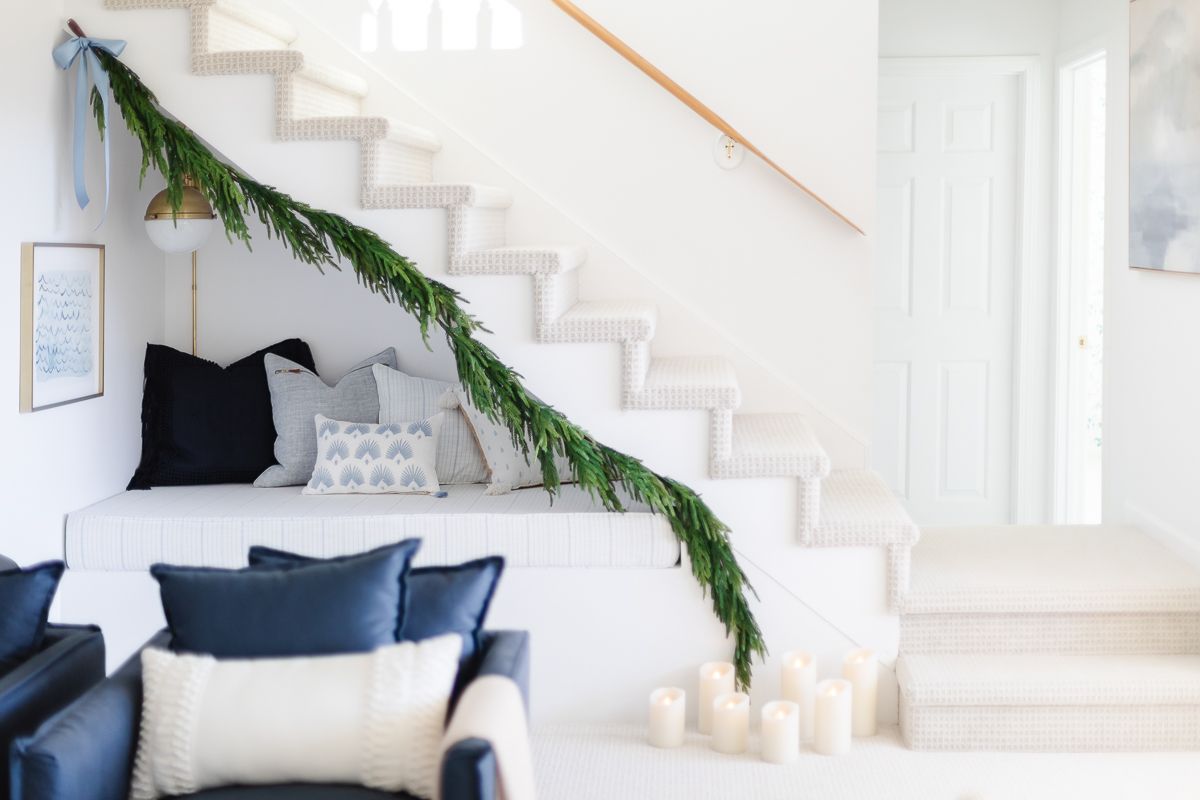 To accent our glass deck railing on our deck stairs, we added the simplest eucalyptus garlands and touches of year round rattan lanterns. A basket of greenery adds even more warmth here.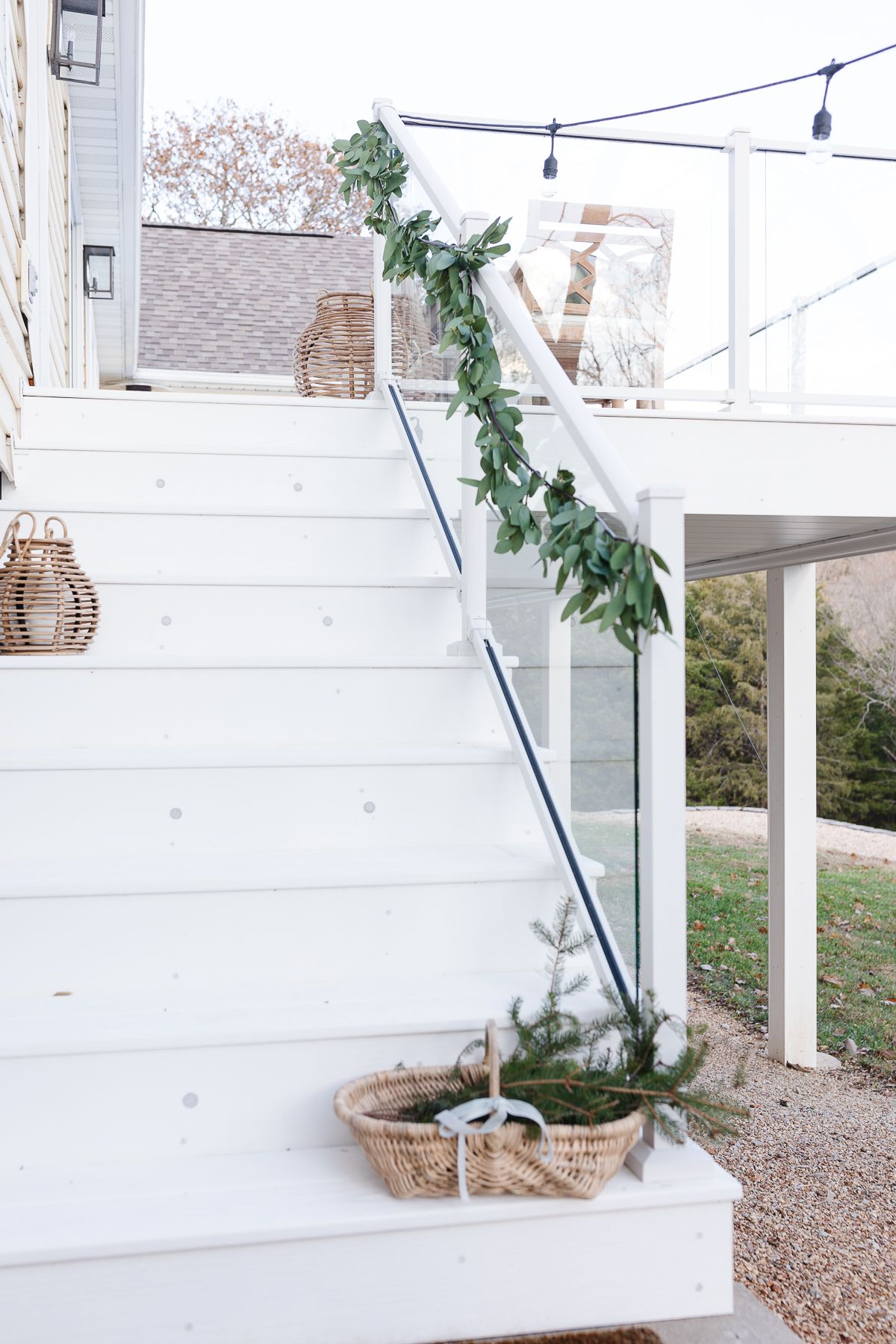 Garland is one of the simplest ways to add holiday warmth to a room. A simple tuck of this eucalyptus garland onto the bunk beds, and the room instantly felt like Christmas!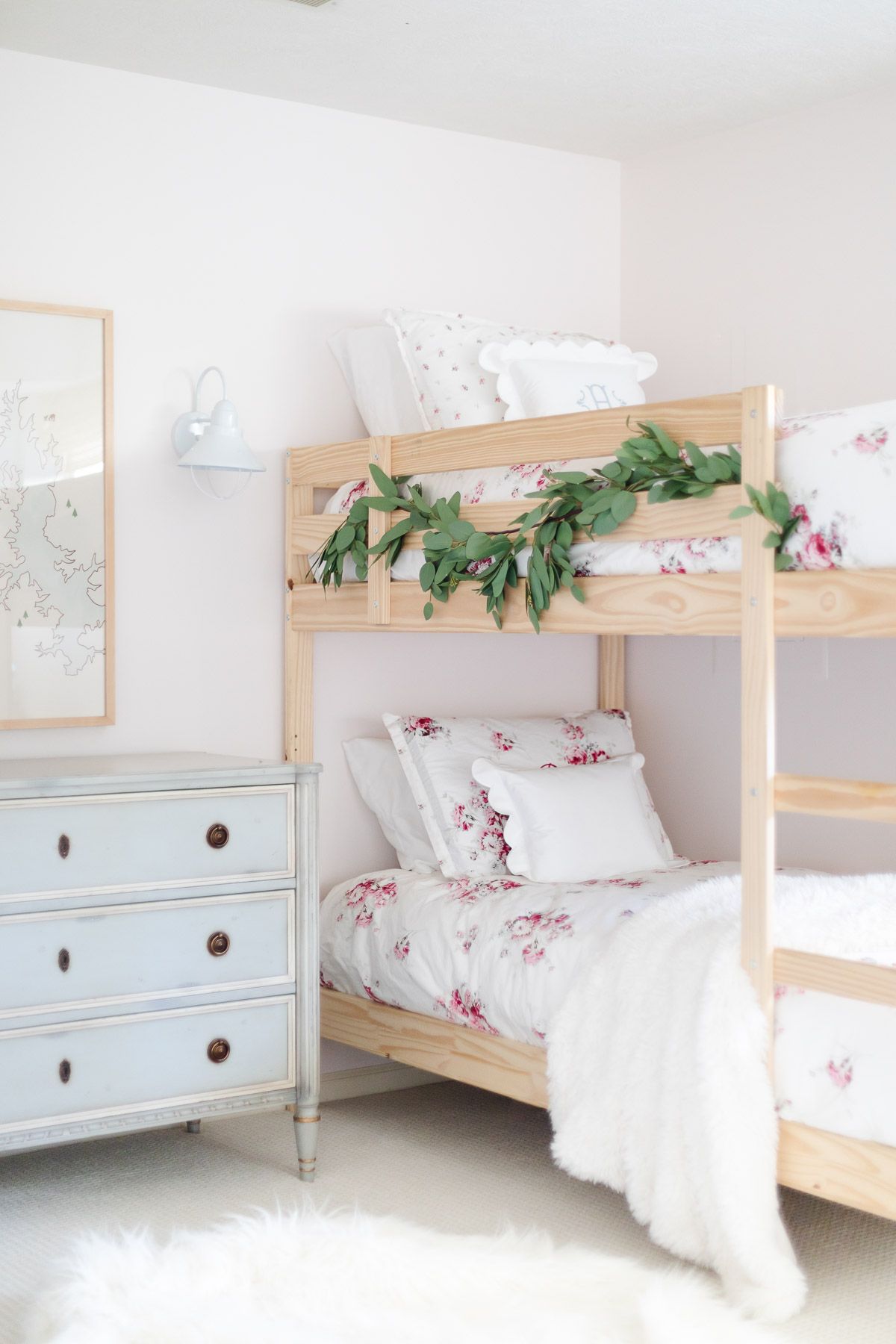 Speaking of greenery and garlands… I'd be remiss if I left my favorite kind off this coastal Christmas guide!
Oh, I love this fragrant greenery so much. I use it every year, but it fits especially well into our coastal Christmas look. The soft blue gray color of this greenery is so subtle, but elegant.
You can see it here in this charming eucalyptus topiary in the girls' room, as well as sweet touches elsewhere. We just adore this fragrant addition!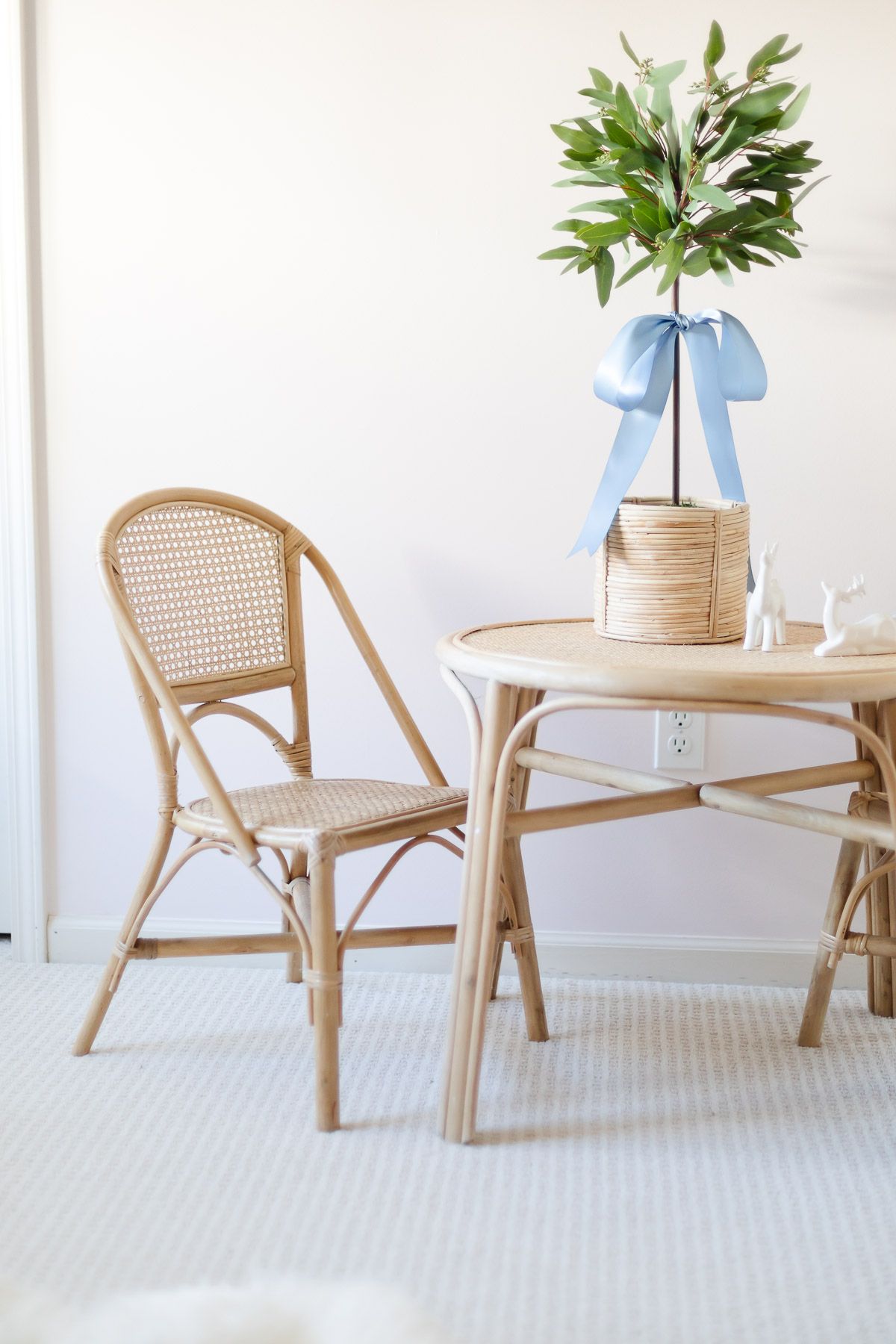 Fresh Flowers
I love both the fragrance and color of holiday greenery, and when mixed with fresh flowers, my heart sings!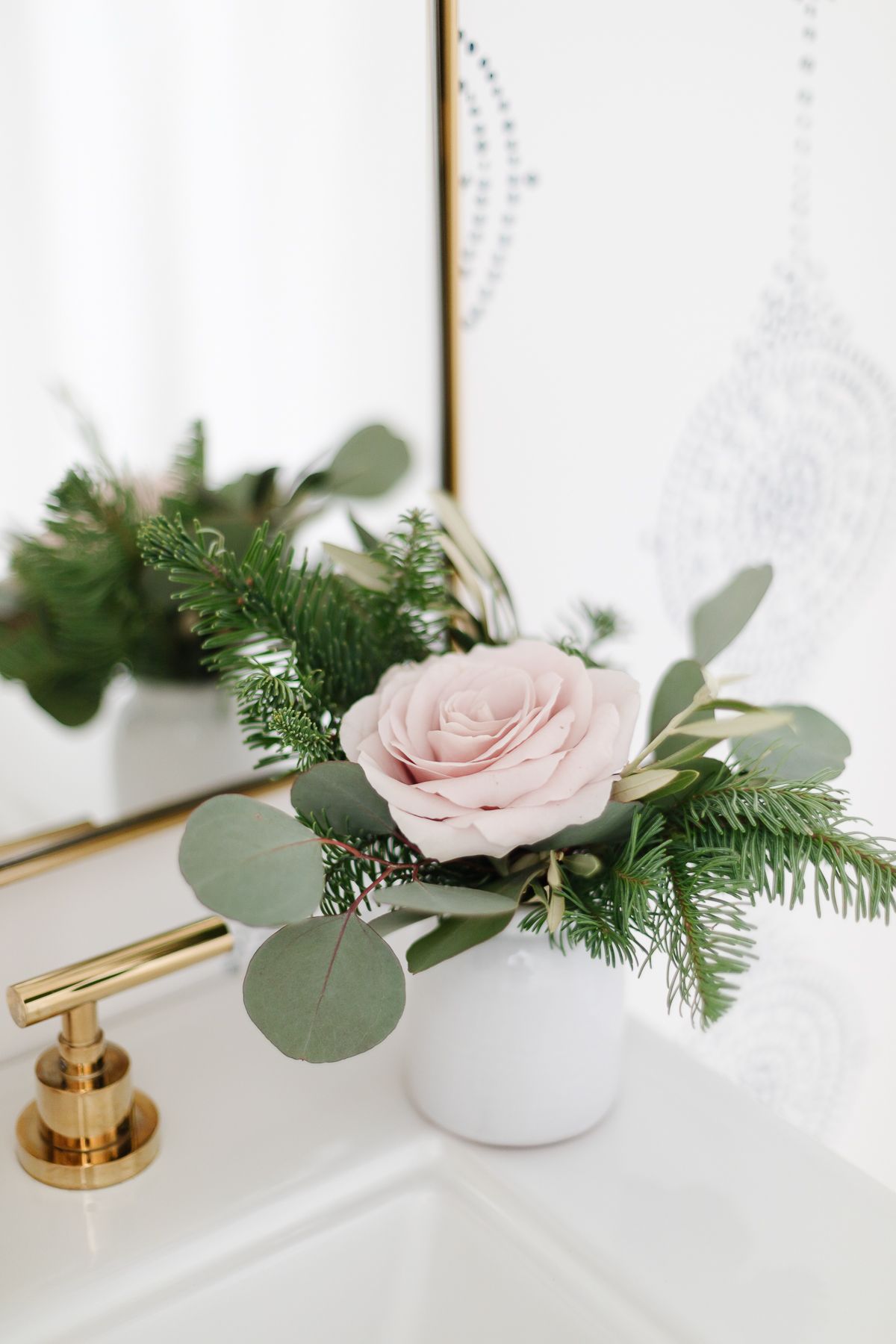 We had so much fun creating pretty little bouquets (made with Trader Joe's Flowers, of course) to bring cozy warmth and color to every room.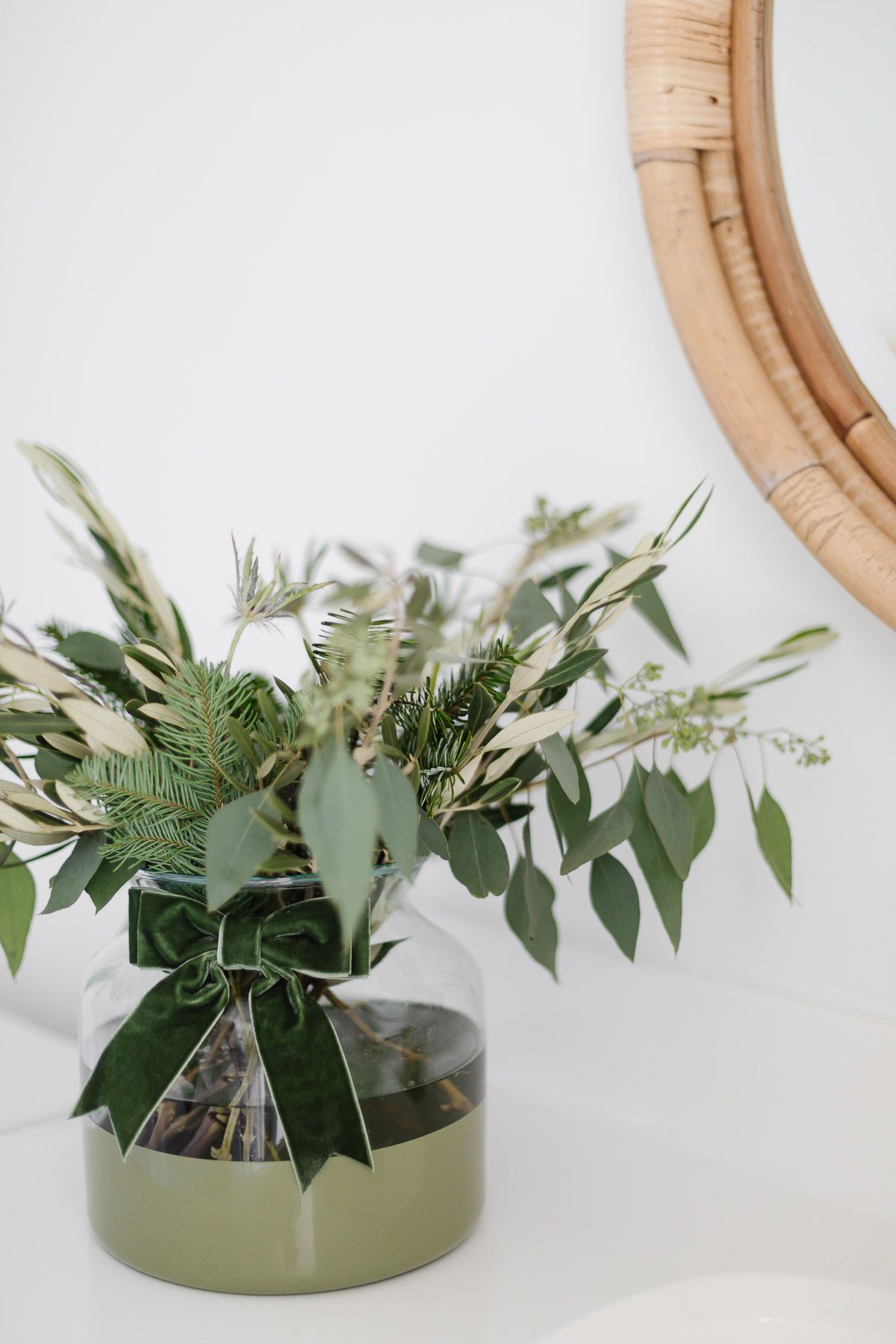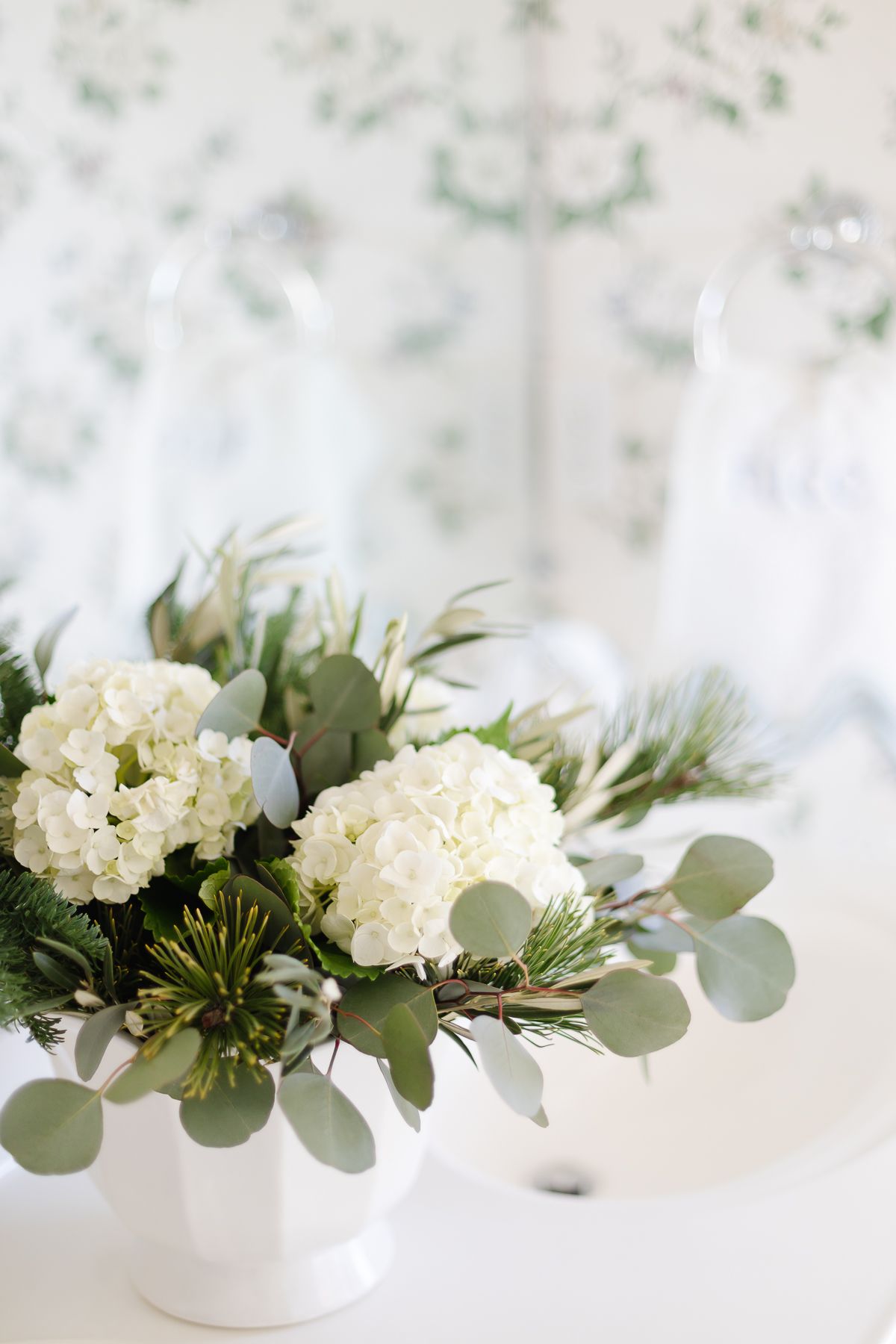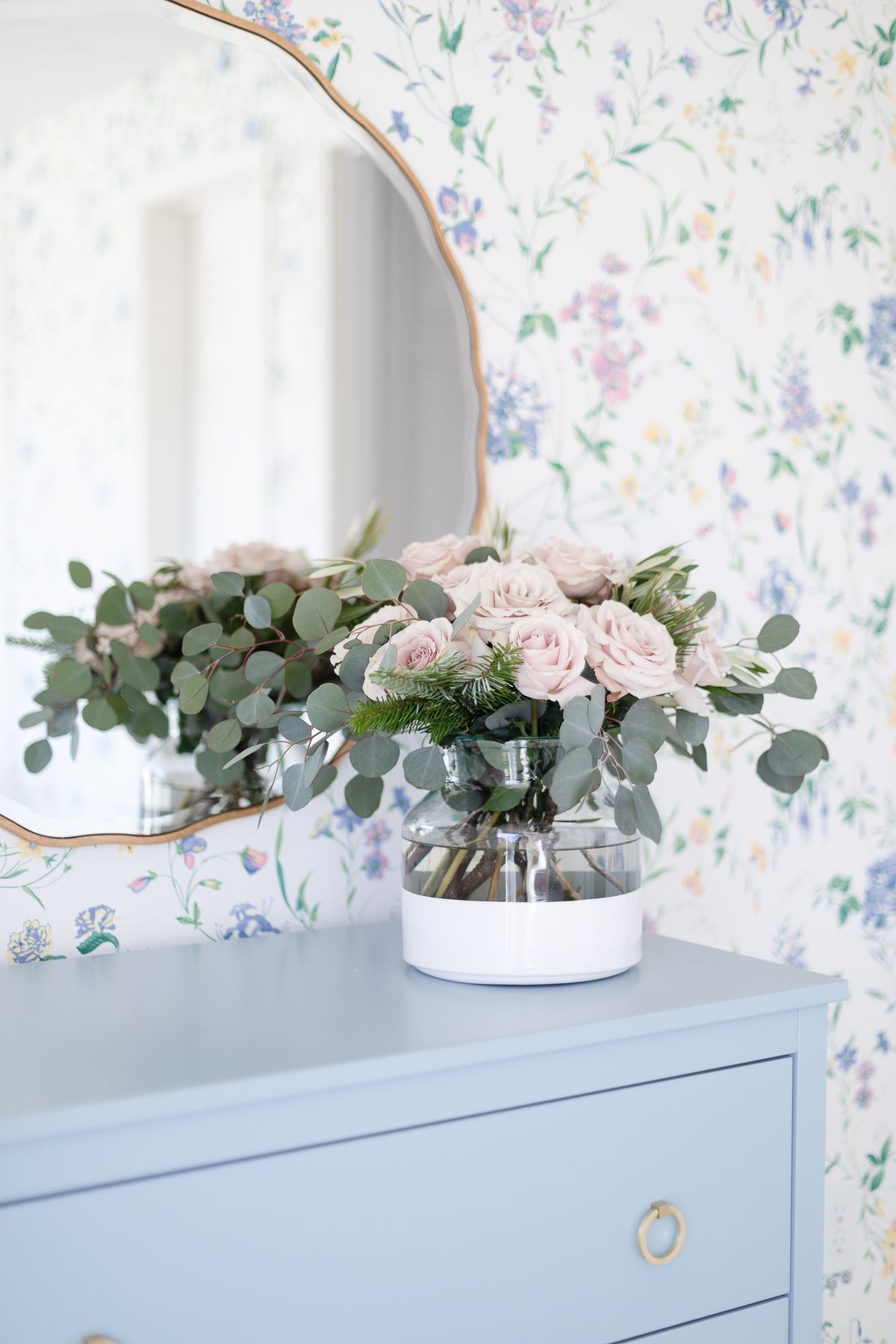 Scallops
No, not the seafood… the design! I love scalloped everything, especially in coastal decor. Something about the style just speaks to the shape of waves and feels so charming!
We used scalloped hand towels (monogrammed naughty and nice, of course) as well as fresh new shower curtains and bath mats to freshen up the baths.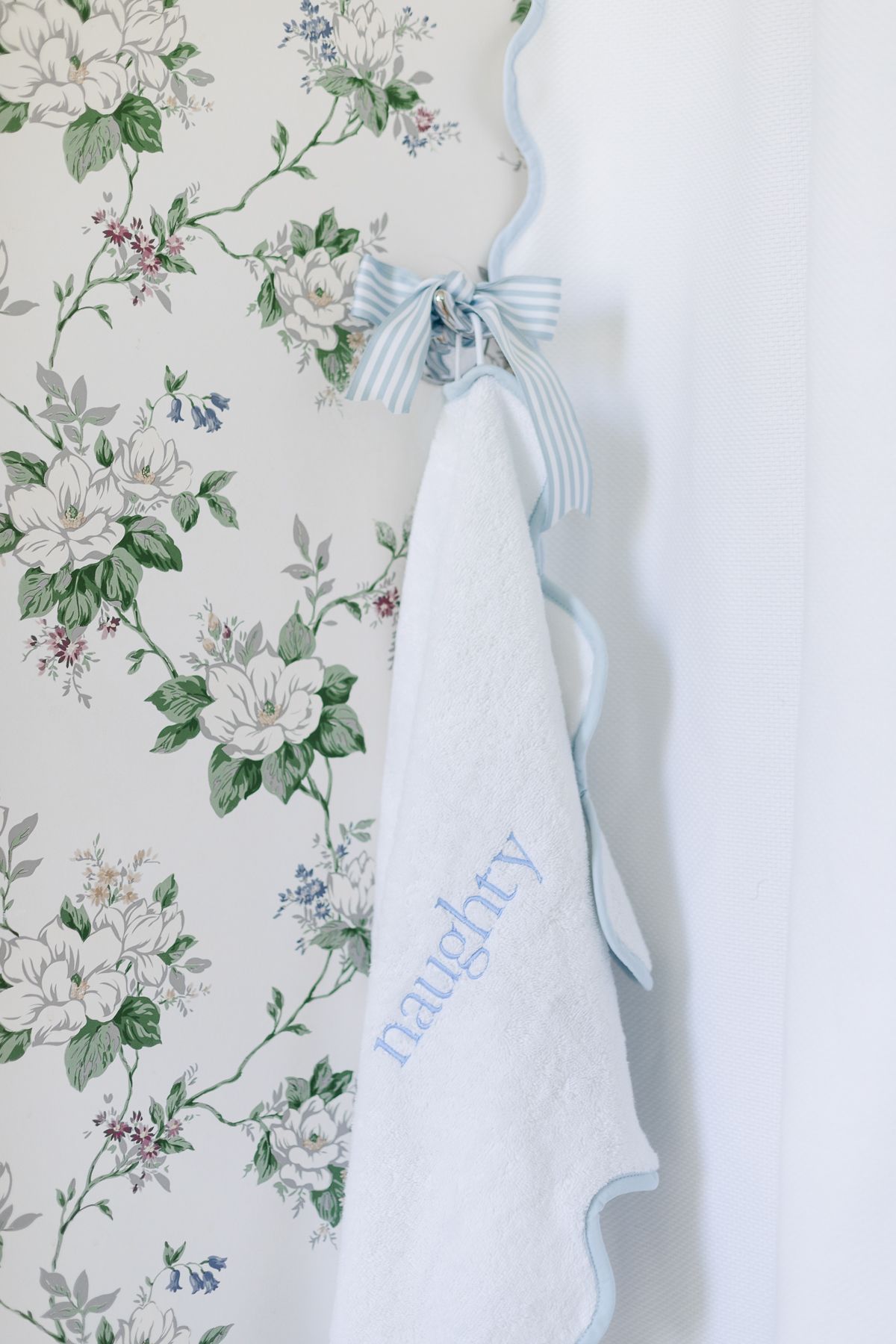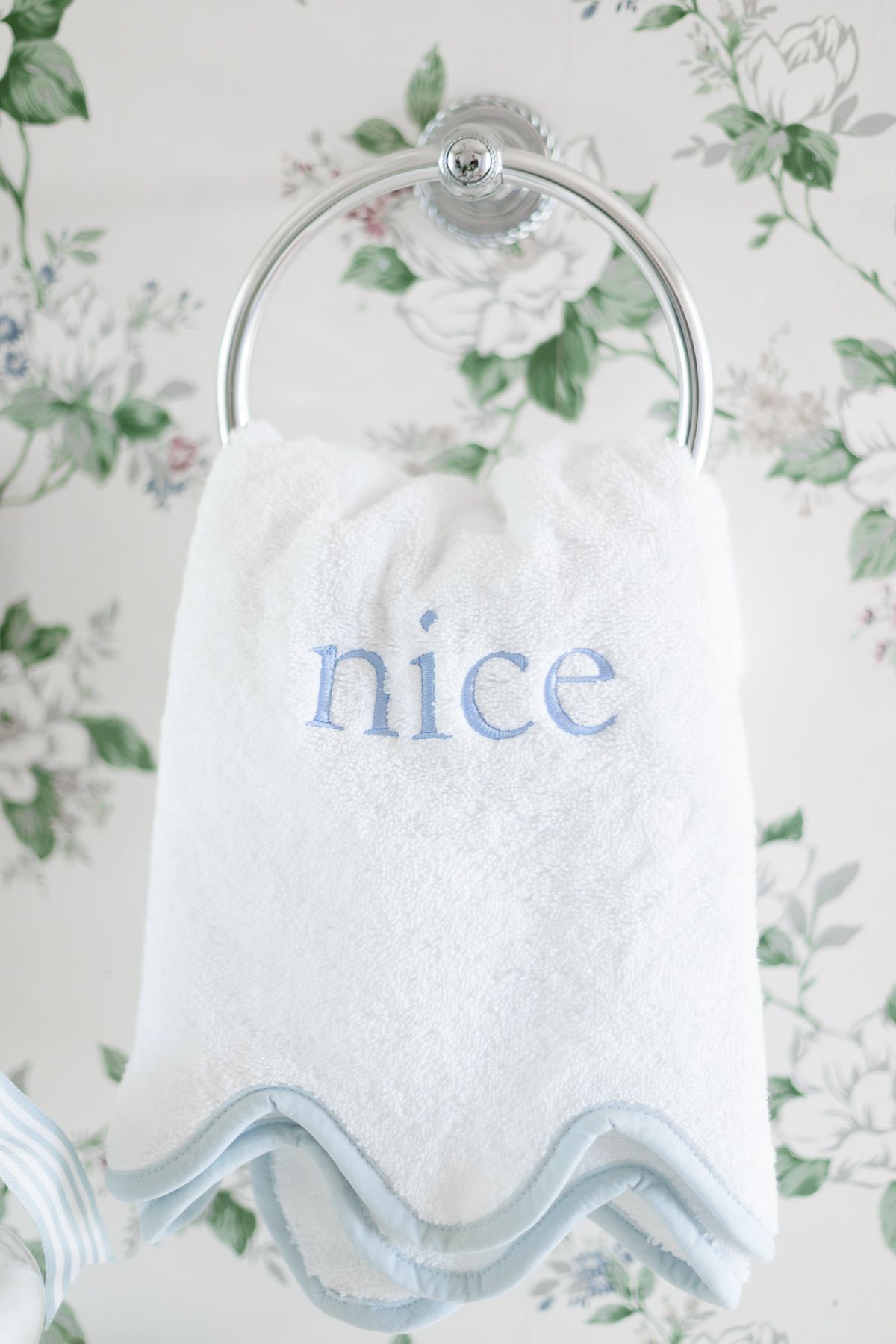 These darling scalloped pillows added a fresh new layer to the girls' bunk beds, too.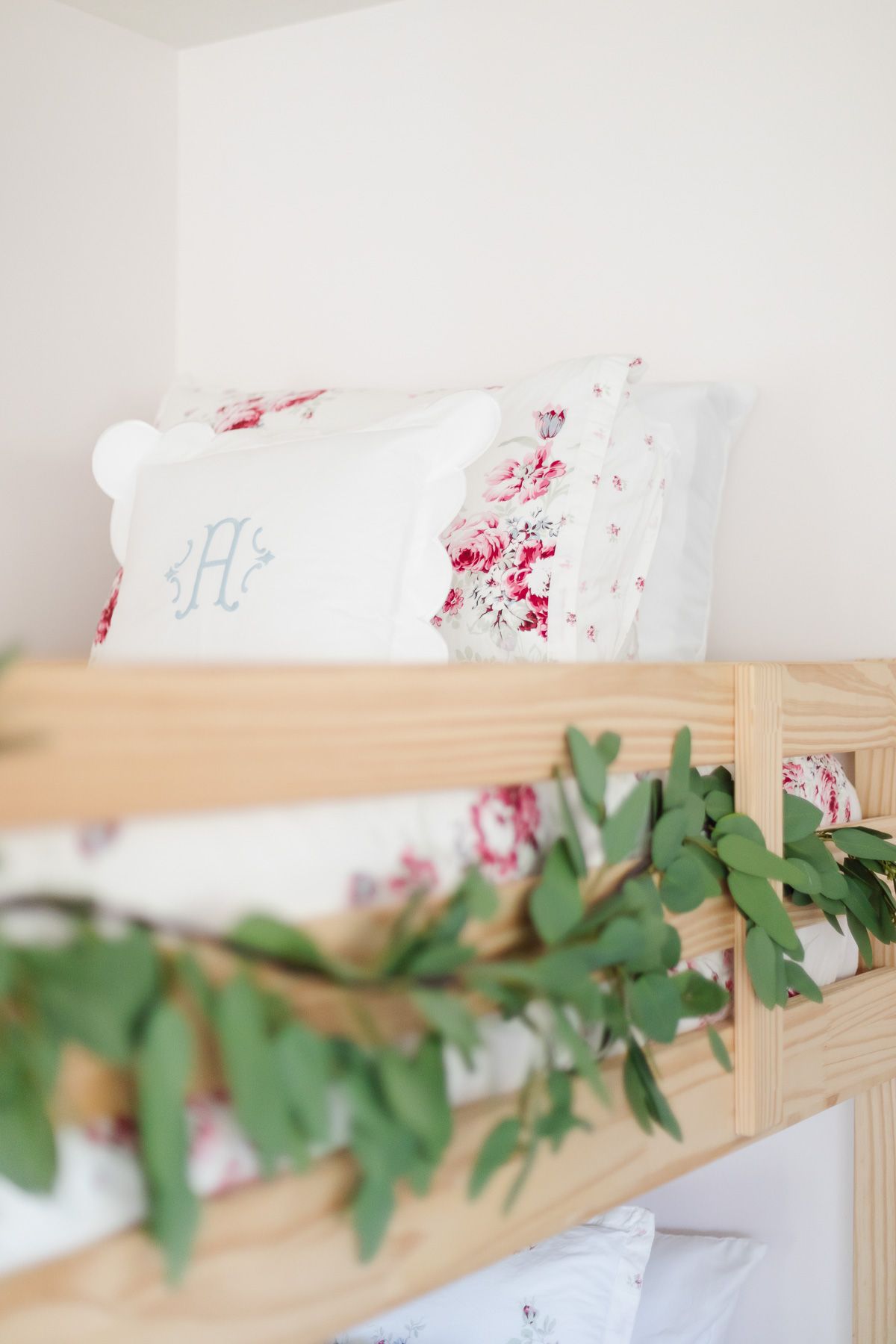 Wrapped Gifts
They aren't just for under the tree, my friends! This is one of my favorite holiday decorating ideas. Add charming wrapped gifts to any space – they bring instant holiday warmth and create the feeling of anticipation for the weeks ahead.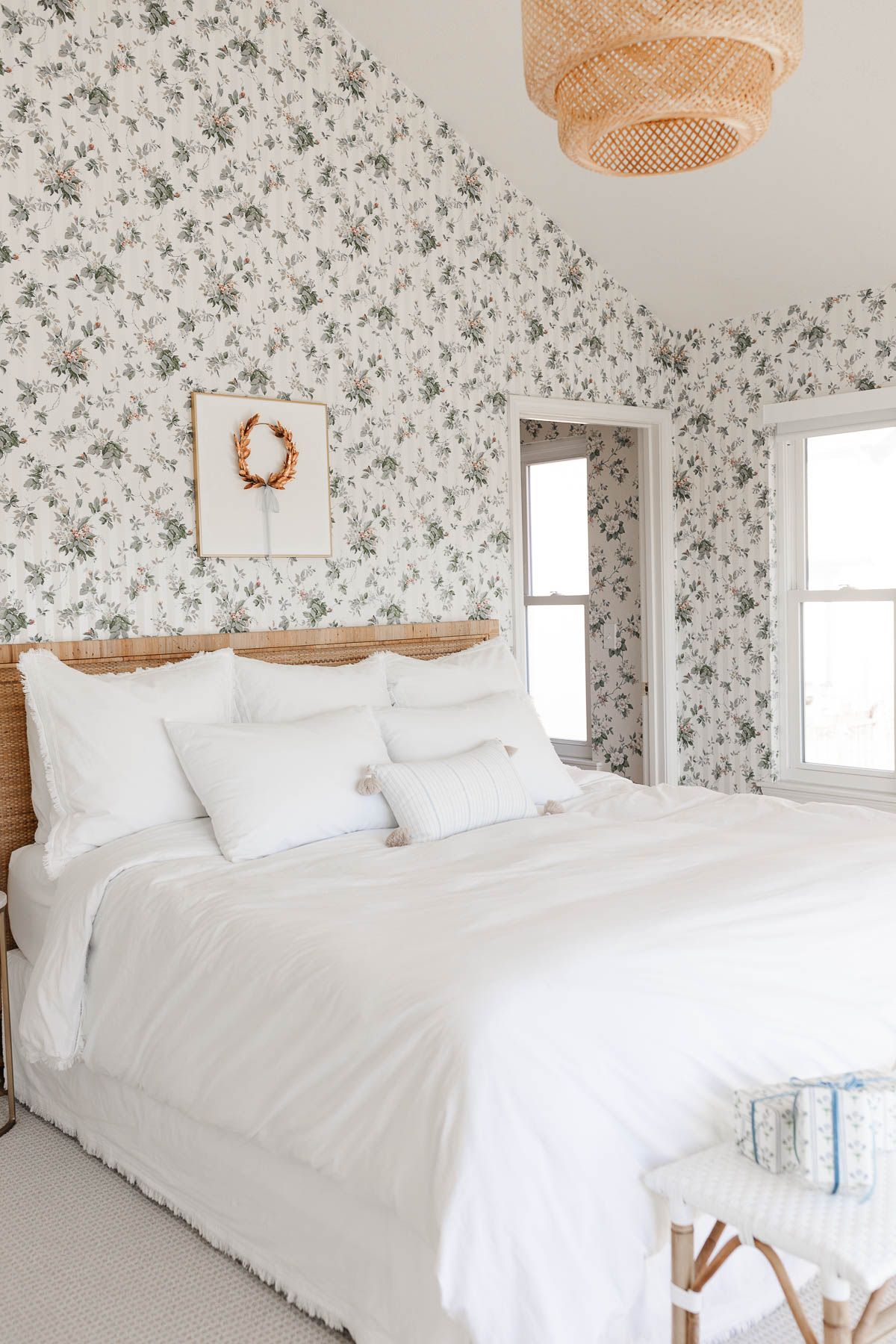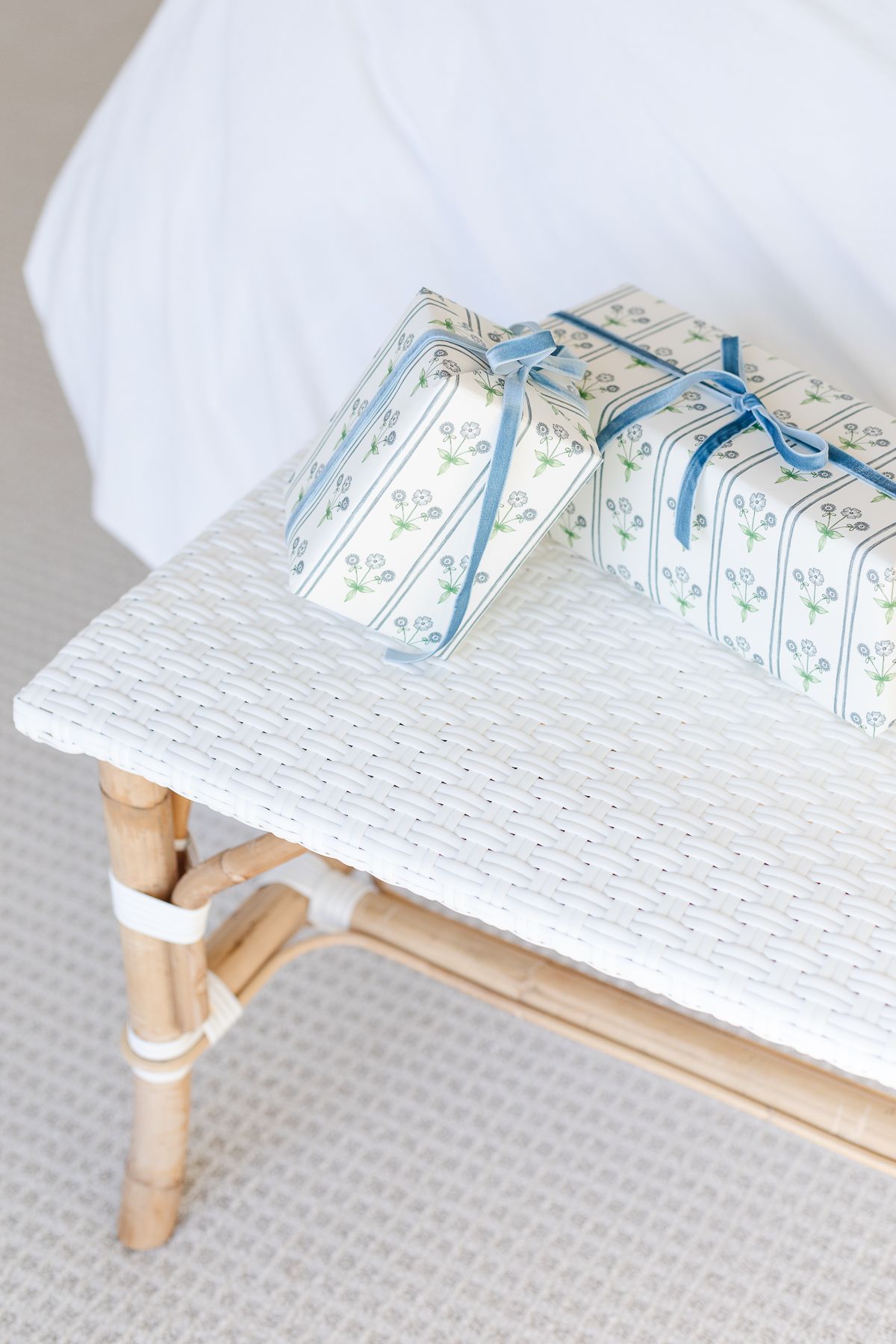 We added beautiful wrapped gifts to benches, dressers, and even baskets throughout our home. If you're going to wrap them, you might as well enjoy them!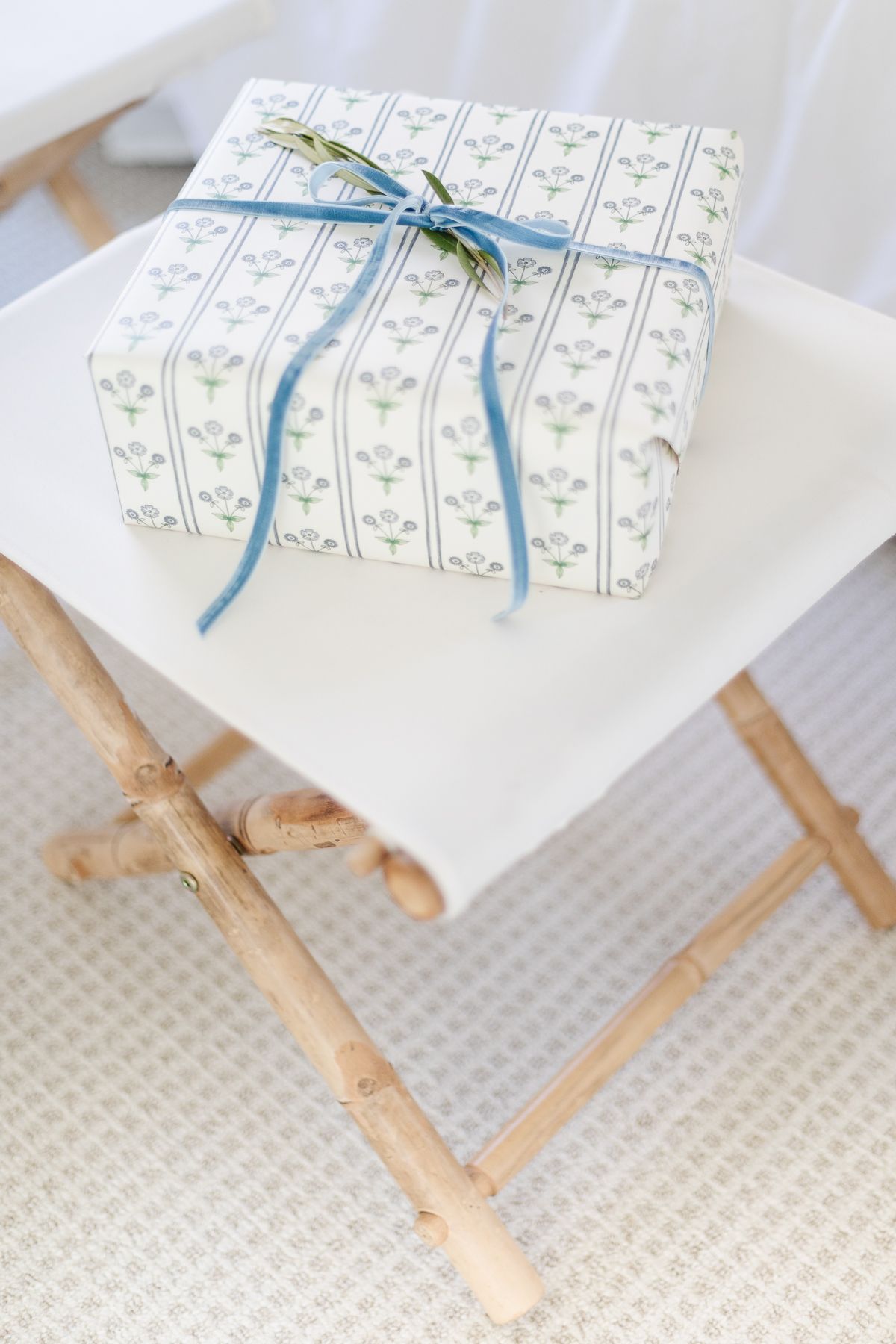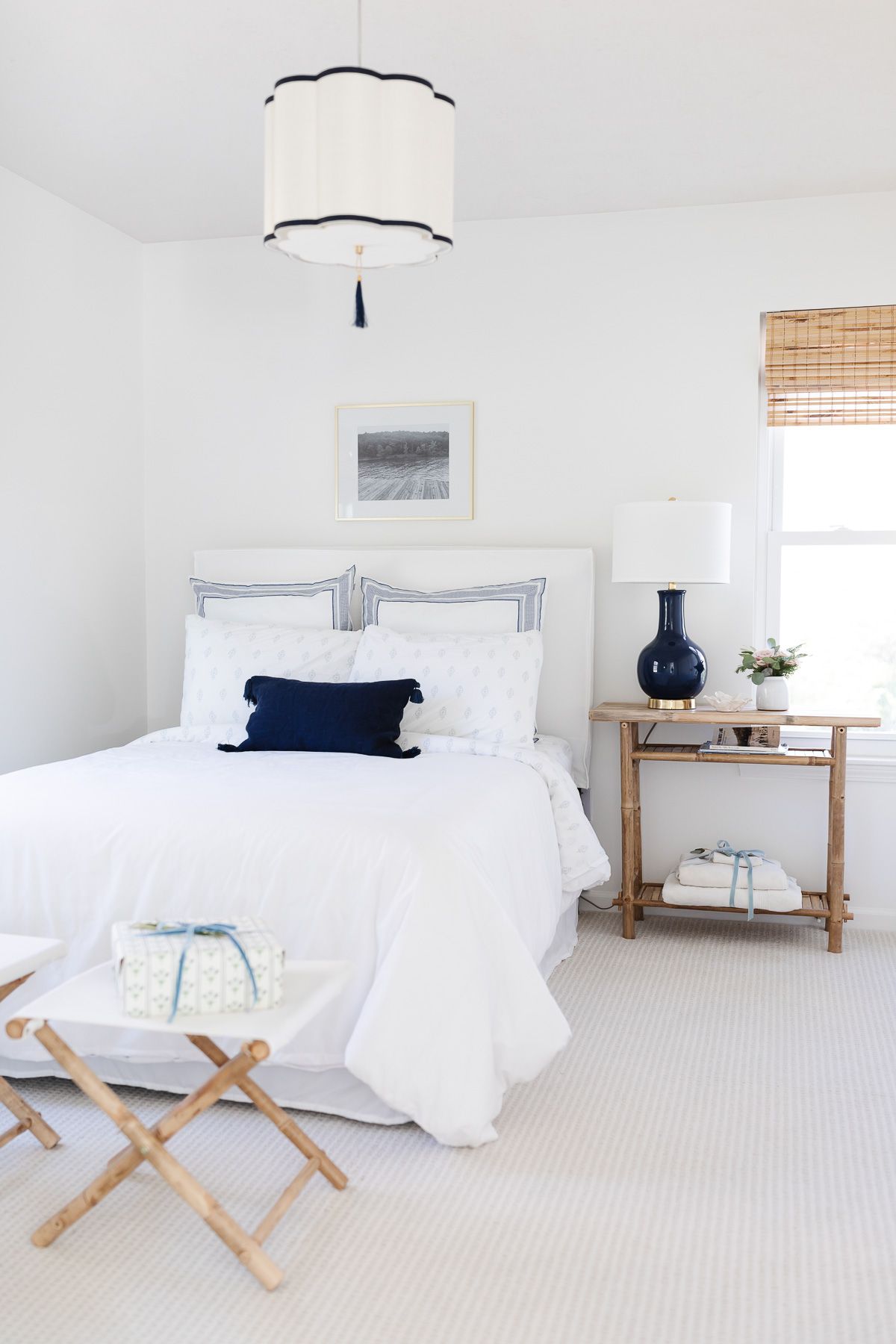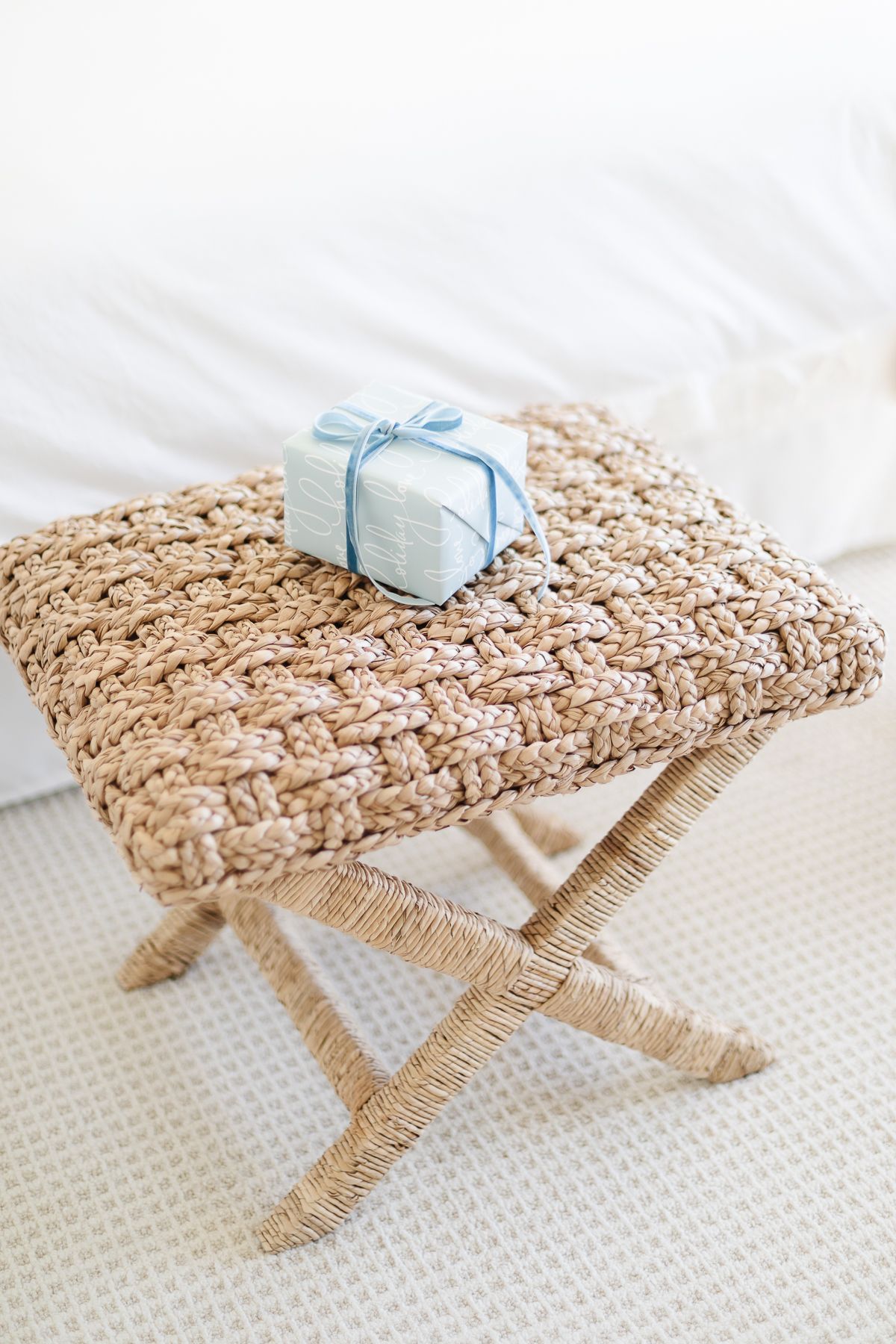 Touches of Tradition
While we love a modern spin on the holidays with our coastal Christmas style, we still love to use the traditional elements that make our hearts sing, too.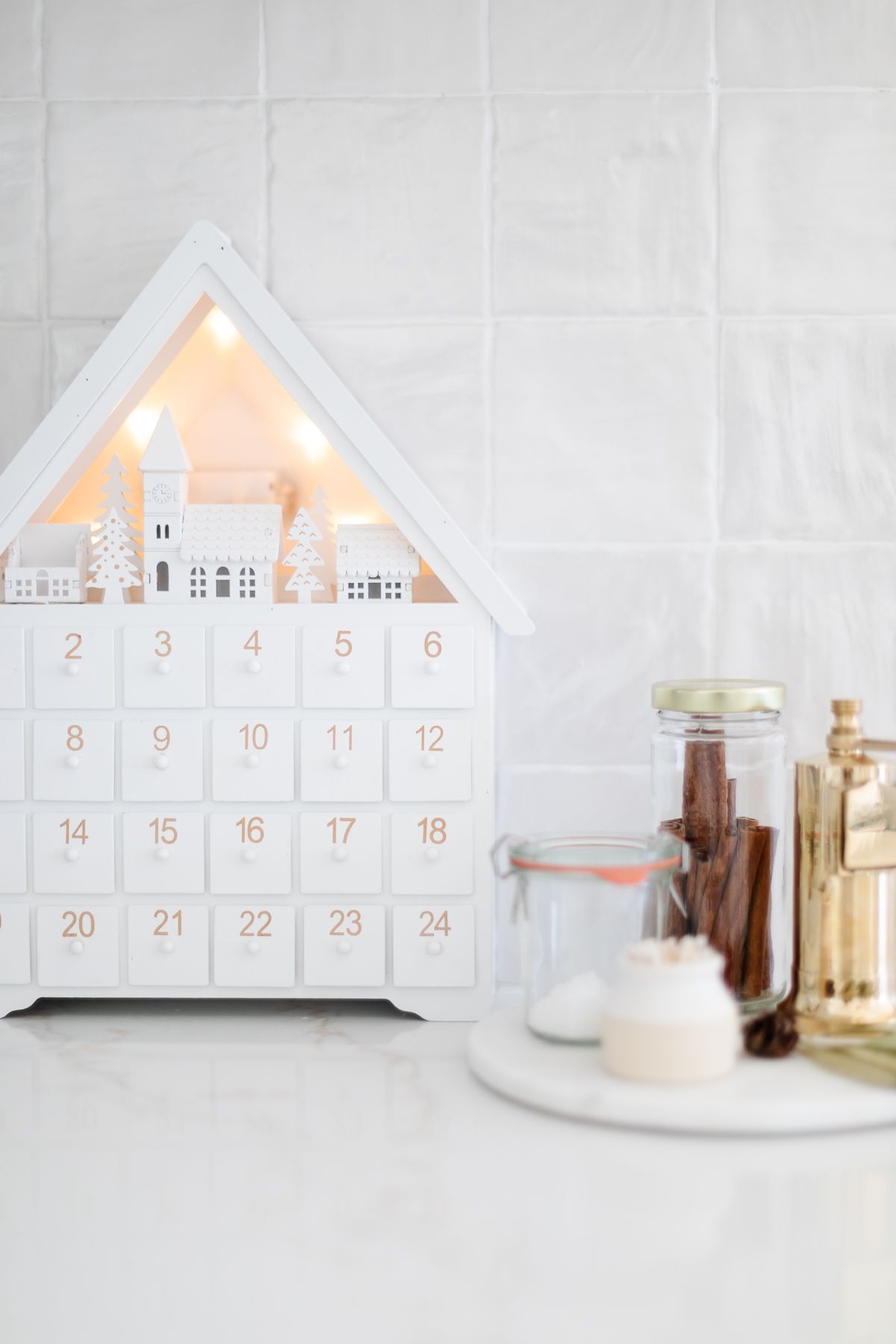 For example, our wooden Advent calendar makes an appearance in the kitchen. Gingerbread houses and lots of holiday baking help bring the warm cozy vibes, too.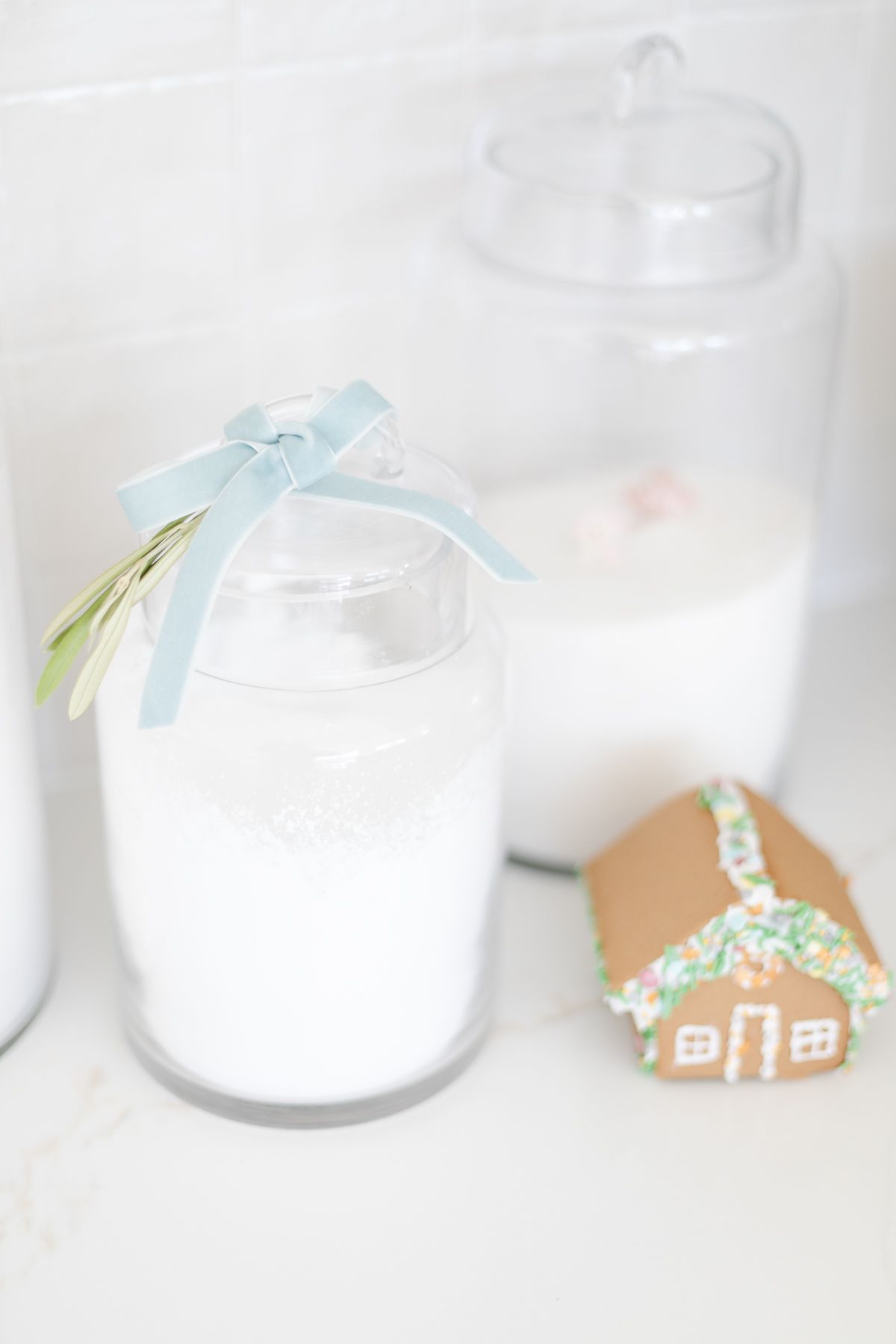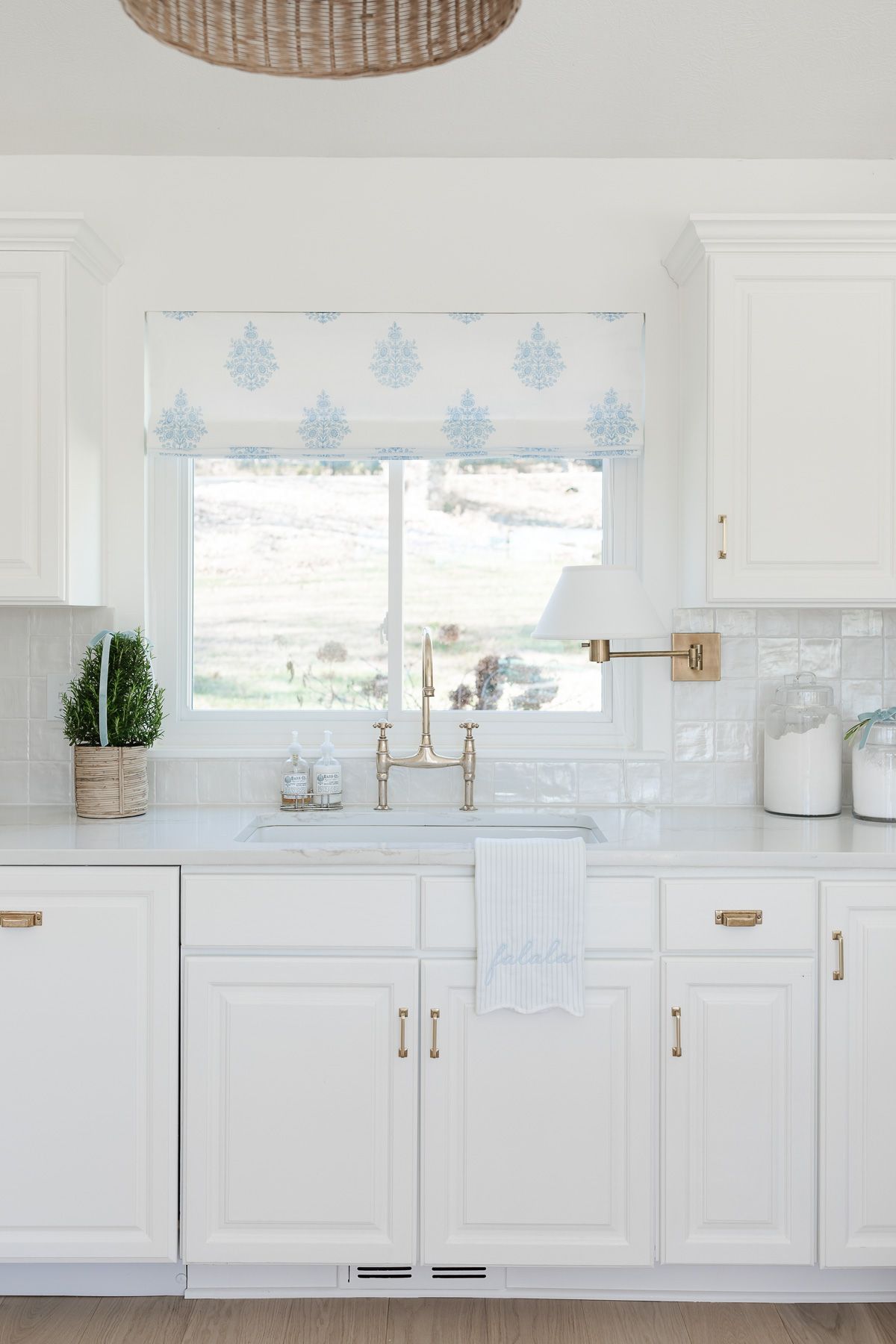 Coastal Christmas Porch and Patio Decor
While the intense winds this week put a little damper on my front porch plans, I didn't let the weather dampen my spirits!
We added these rustic little cedar trees (that pop up all too frequently in the wooded areas around our home) along the steps. They are not only free, they are an evergreen element that will be long-lasting, no matter the weather.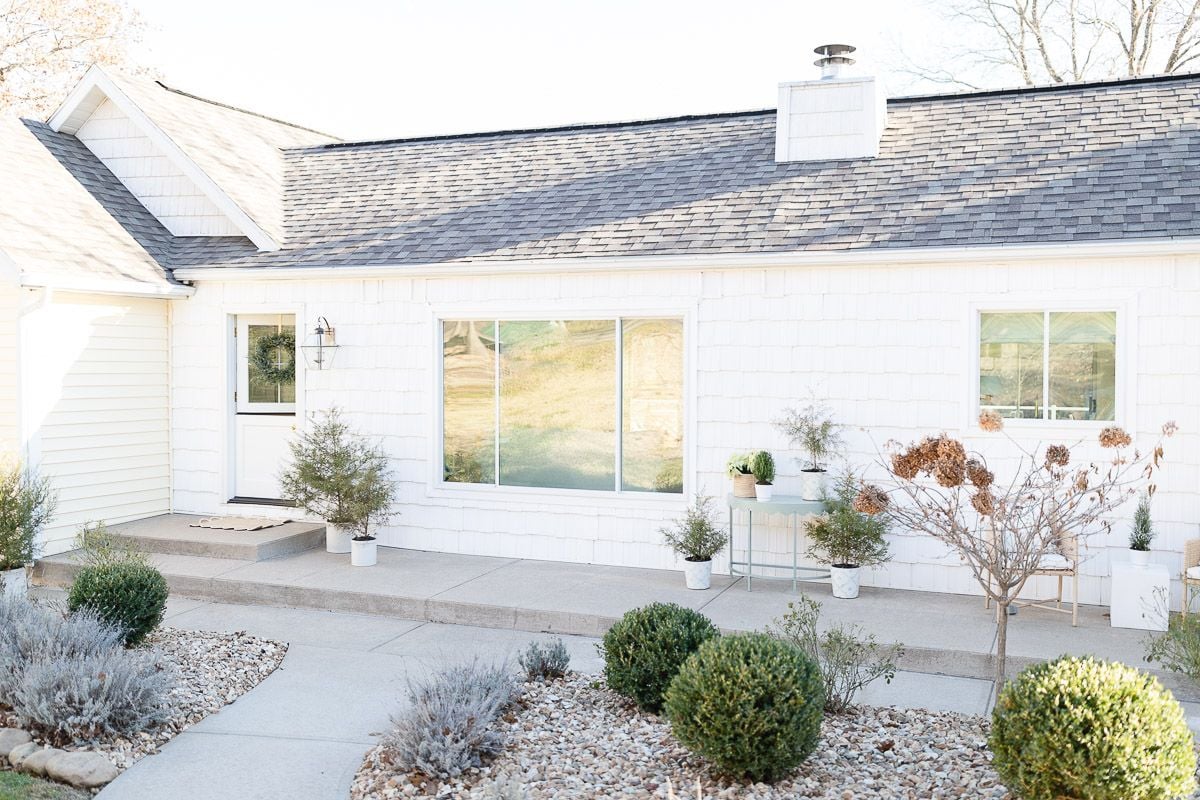 While the branches are too delicate for traditional corded lights, they work well with fairy lights. They help create the instant ambiance I love for the holidays!
This charming green metal console table also adds the perfect holiday look, especially when loaded up with a variety of holiday plants. I love the garden effect this look brings, although we'll have to bring a few of the plants indoors when the weather turns.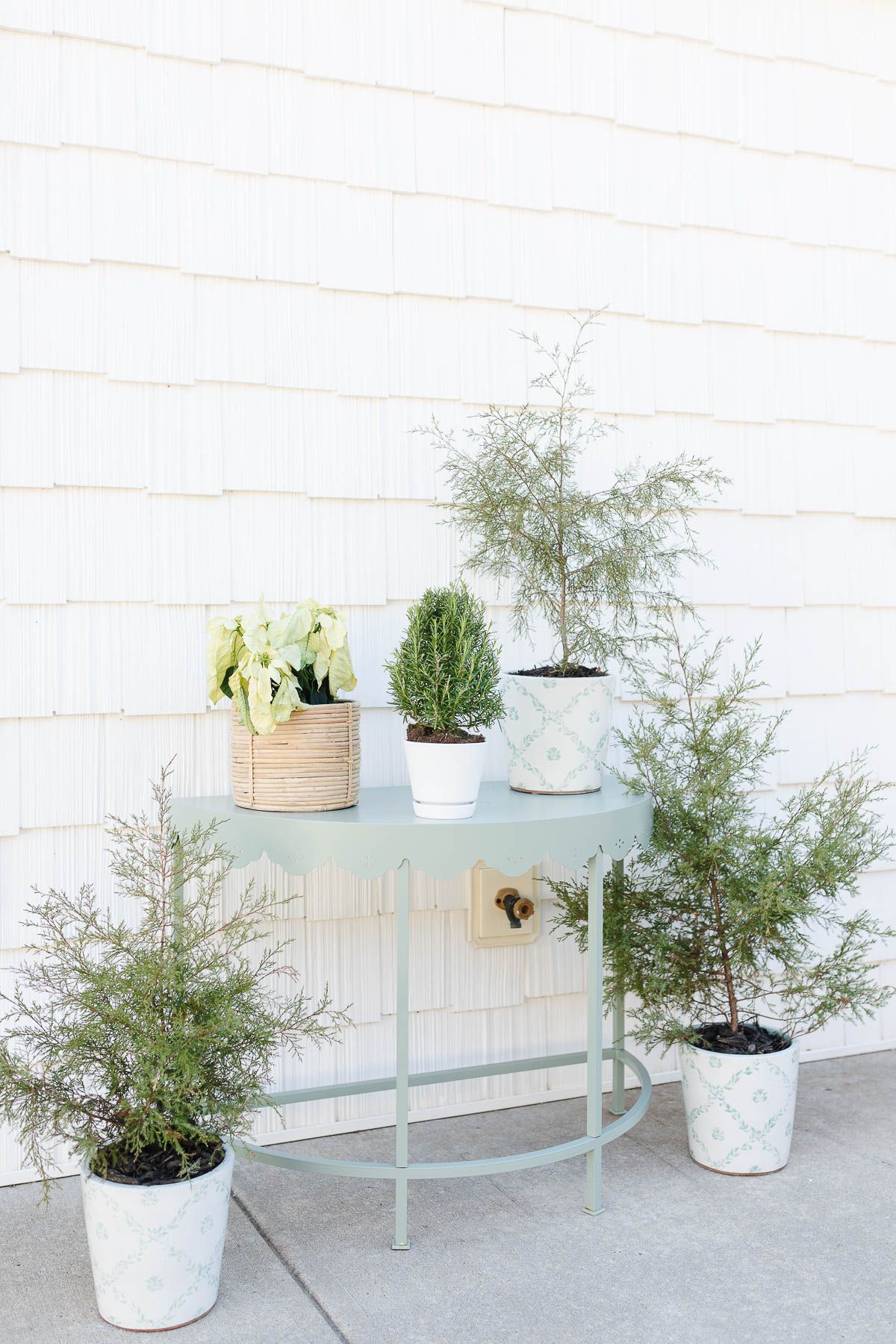 For our patio that faces the lake, we added sweet little touches that allow us to enjoy the sunshine on warmer December days.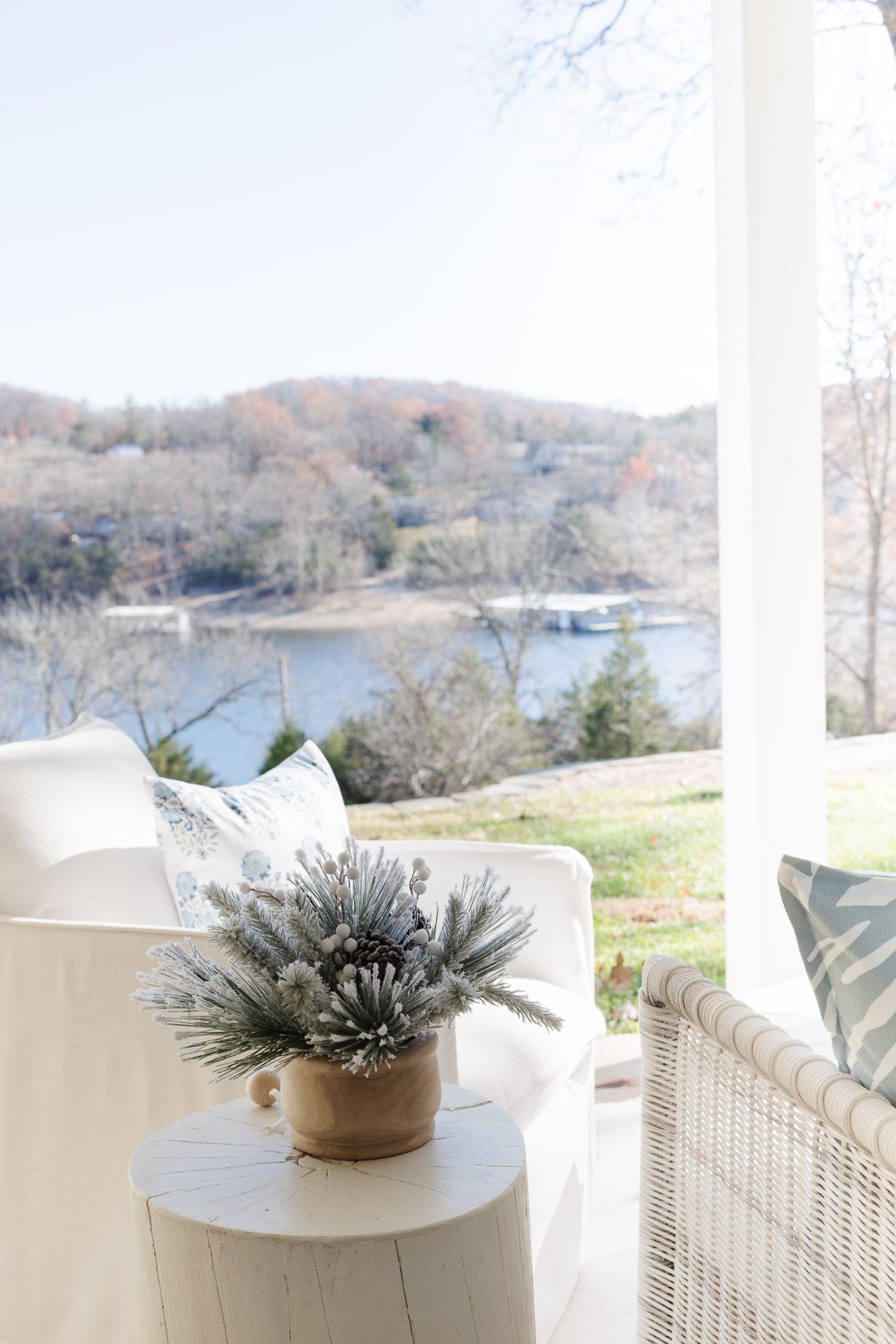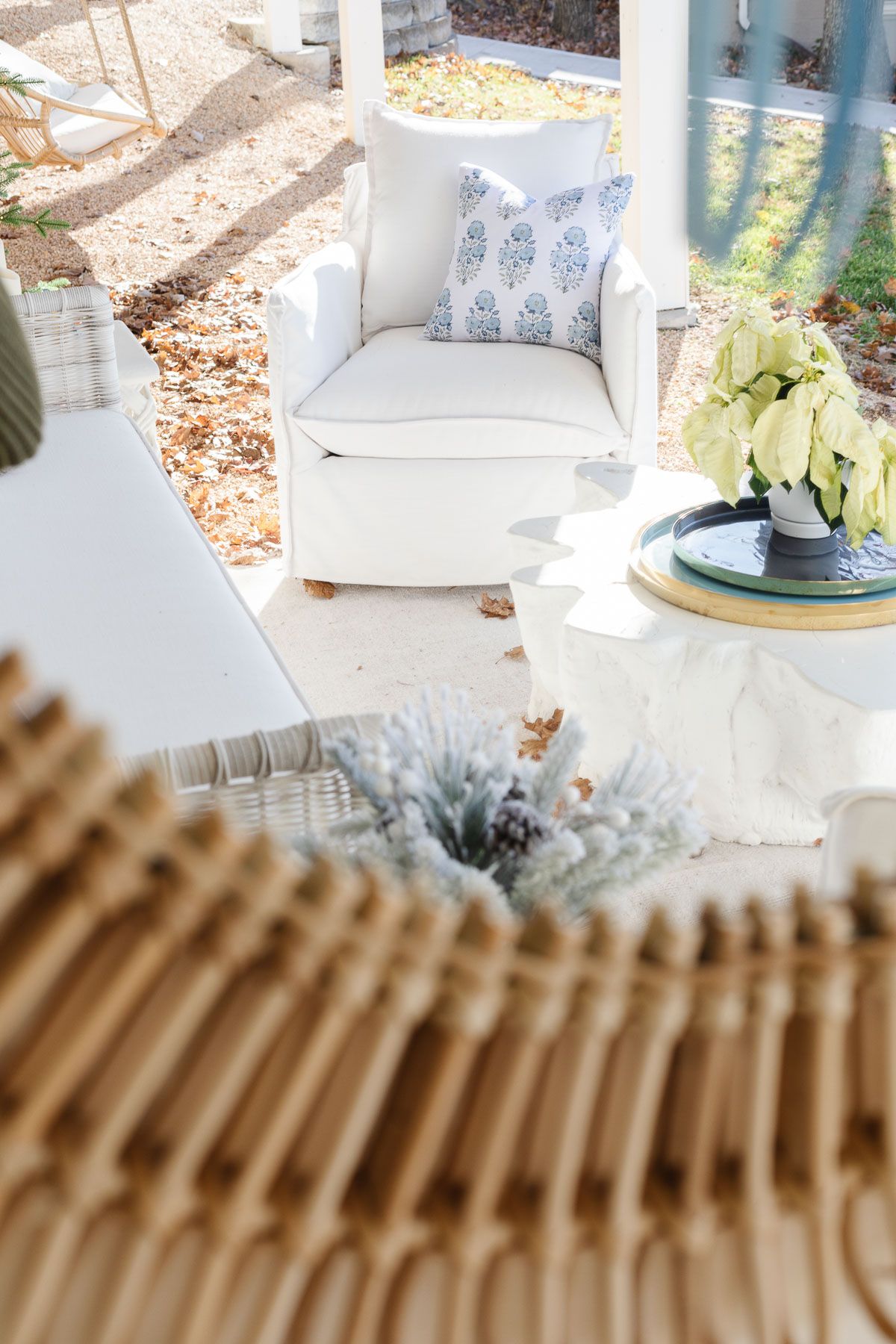 Beach Cruiser
Finally, check out our charming bike, all dressed up for Christmas!
As a fun way to create interest in front of our home, we added holiday greenery to my beach cruiser! I love the basket and it makes for such a fun display.
Why not enjoy it as a holiday decorating element in those colder months when you can't take a ride?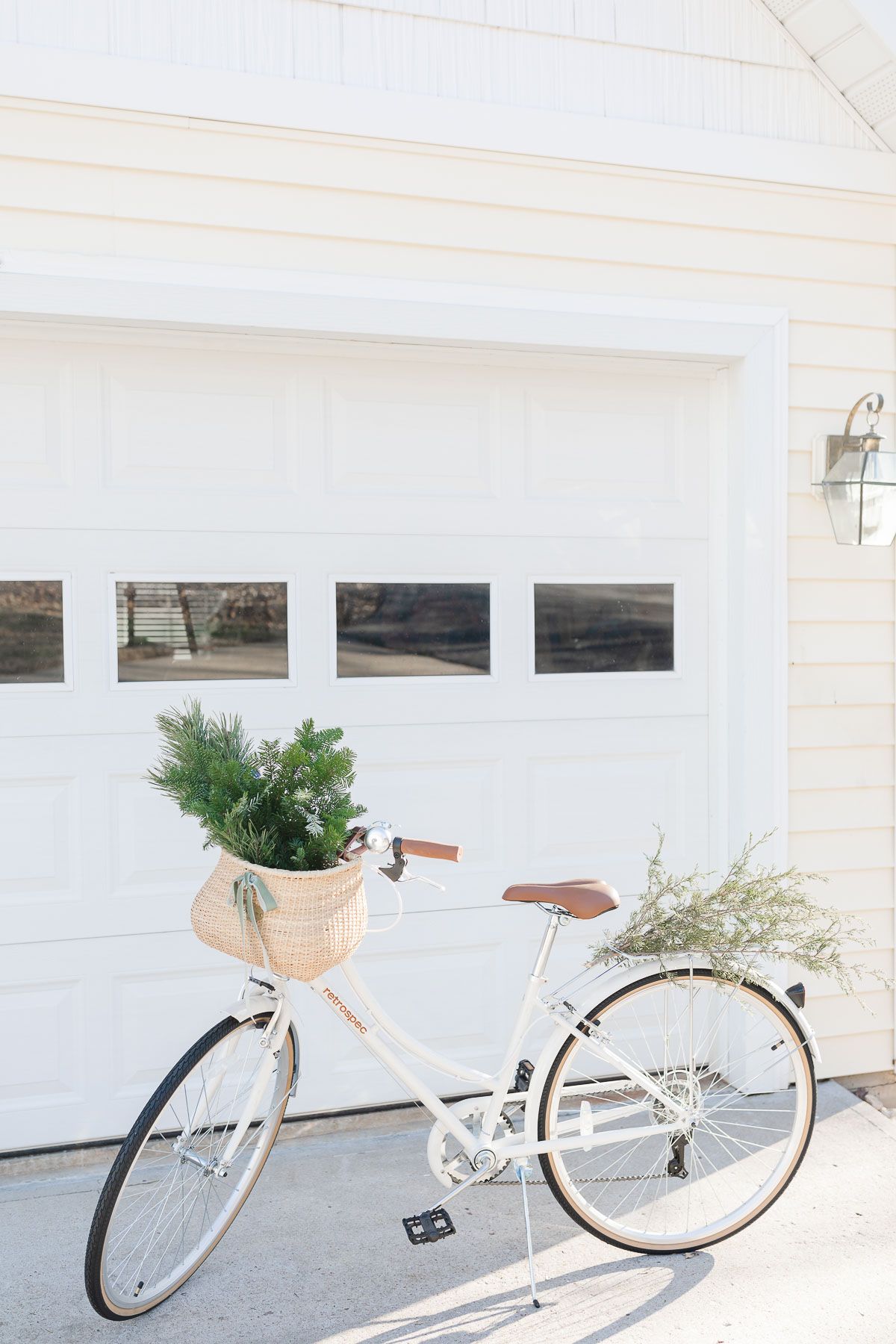 Coastal Christmas Sources
Indoors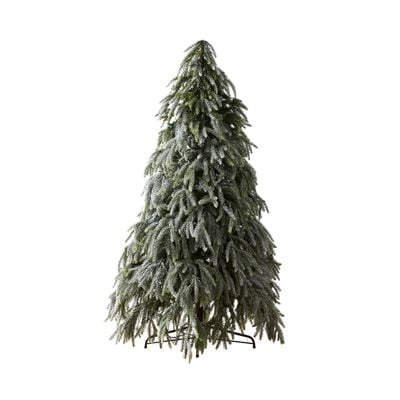 Downswept Tree
While this tree is already out of stock, we're hoping they bring it back next year – or you might be able to find it at a local store if you have one!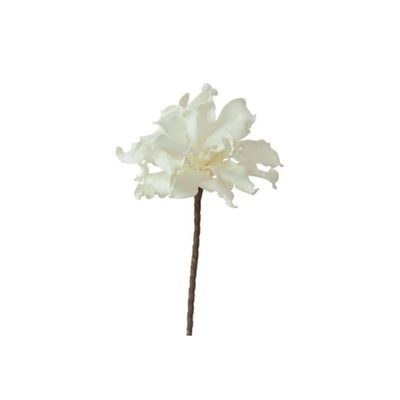 Large White Floral Stem
I love how these filled in so much space on our tree.
Eucalyptus Garlands
We used two of these to style over the Dutch door.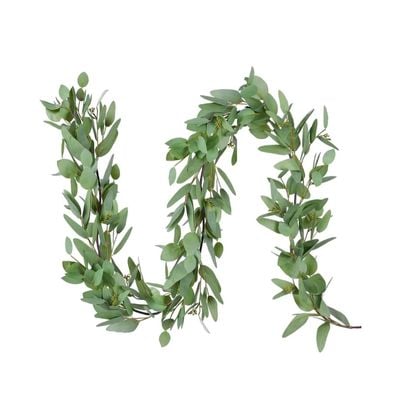 Seeded Eucalyptus Garland
This one bends beautifully, in a simpler style. (used on bunks and stairs)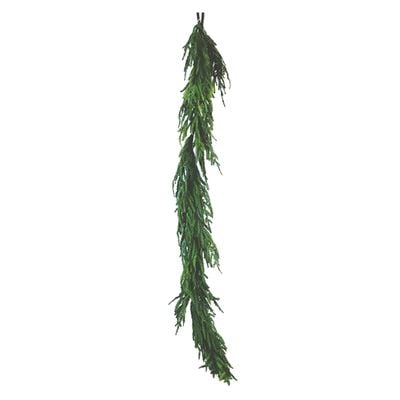 Norfolk Pine Garland
Such a popular garland, and it's so realistic! It's sold out right now, but watch for it to come back. (used on staircase nook)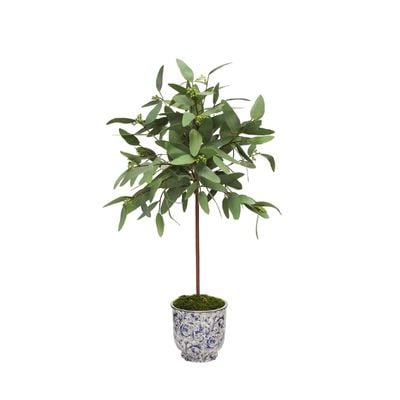 Eucalyptus Topiary
We plan to use this sweet topiary year round! (As seen in the bunk room.)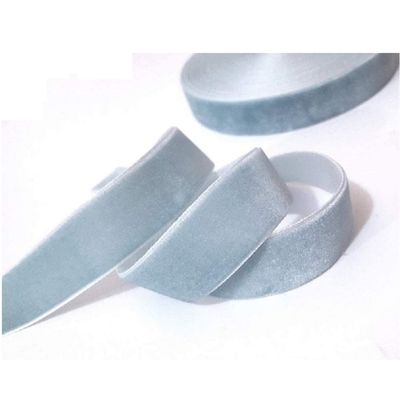 Velvet Ribbon
So affordable, we used it everywhere.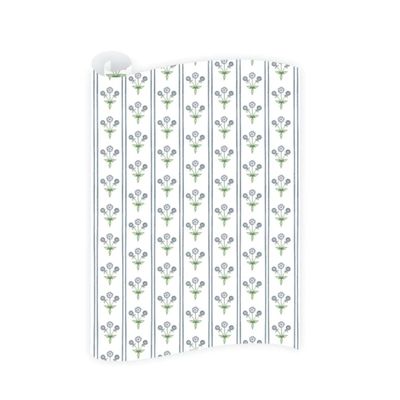 Flora Blue Wrapping Paper
A year round pattern that feels so pretty in our home.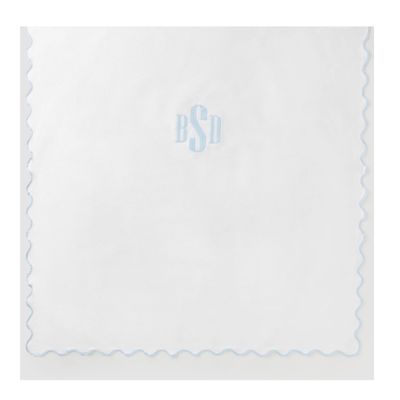 Scallop Shower Curtain
This is such an easy trick to disguise our dated shower.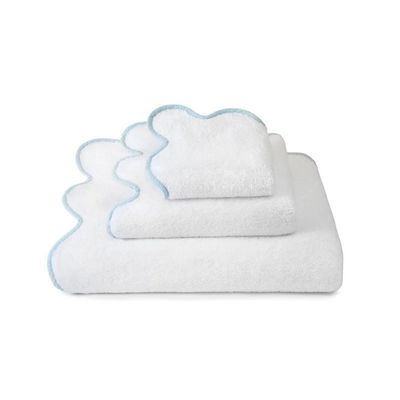 Scallop Hand Towels
We added naughty and nice to ours.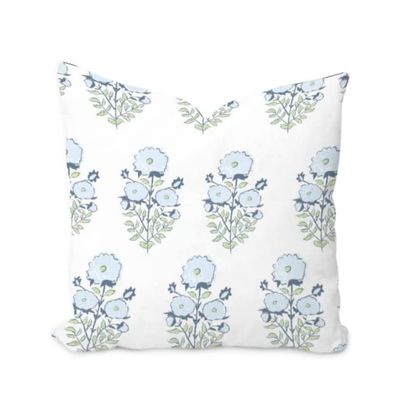 Block Print Pillow
Pretty pillow covers at an amazing price point, in a fabulous coastal blue and white print.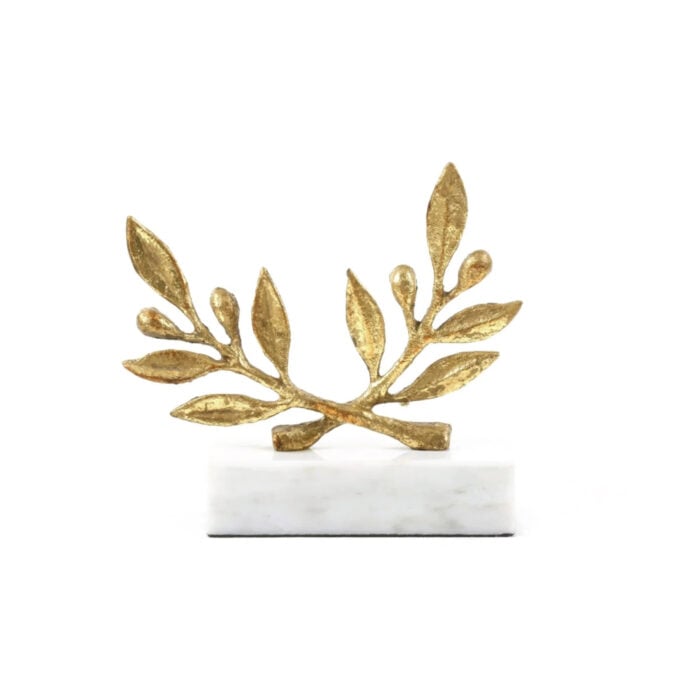 Gold Leaf Statue
The prettiest holiday mistletoe accent.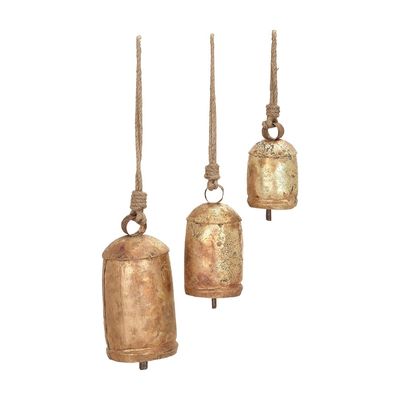 Brass Bells
To use anywhere and everywhere.
Outdoors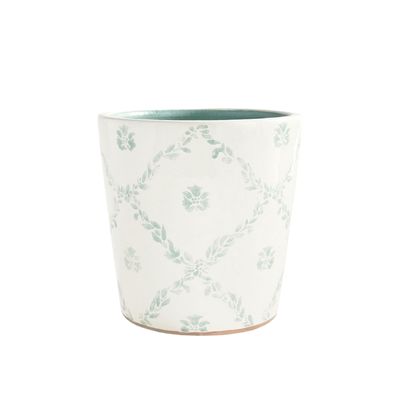 Terracotta Planters
I am using these beauties year round – and they are on clearance at an incredible price!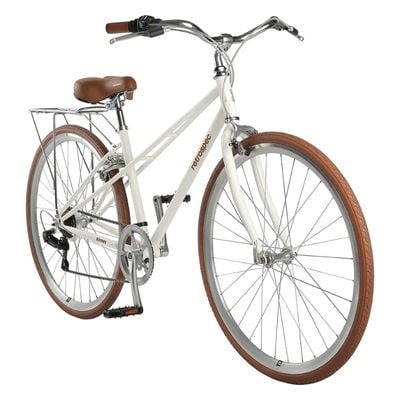 Beach Cruiser
A cute white bike is a great decorating element, too!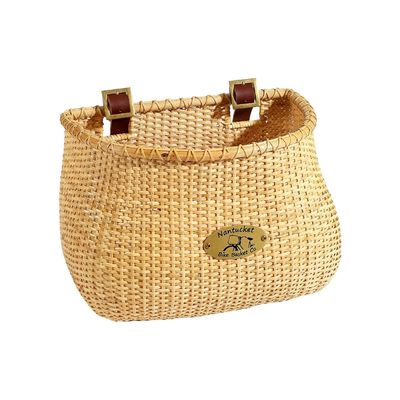 Bike Basket
For flowers and holiday greens, of course.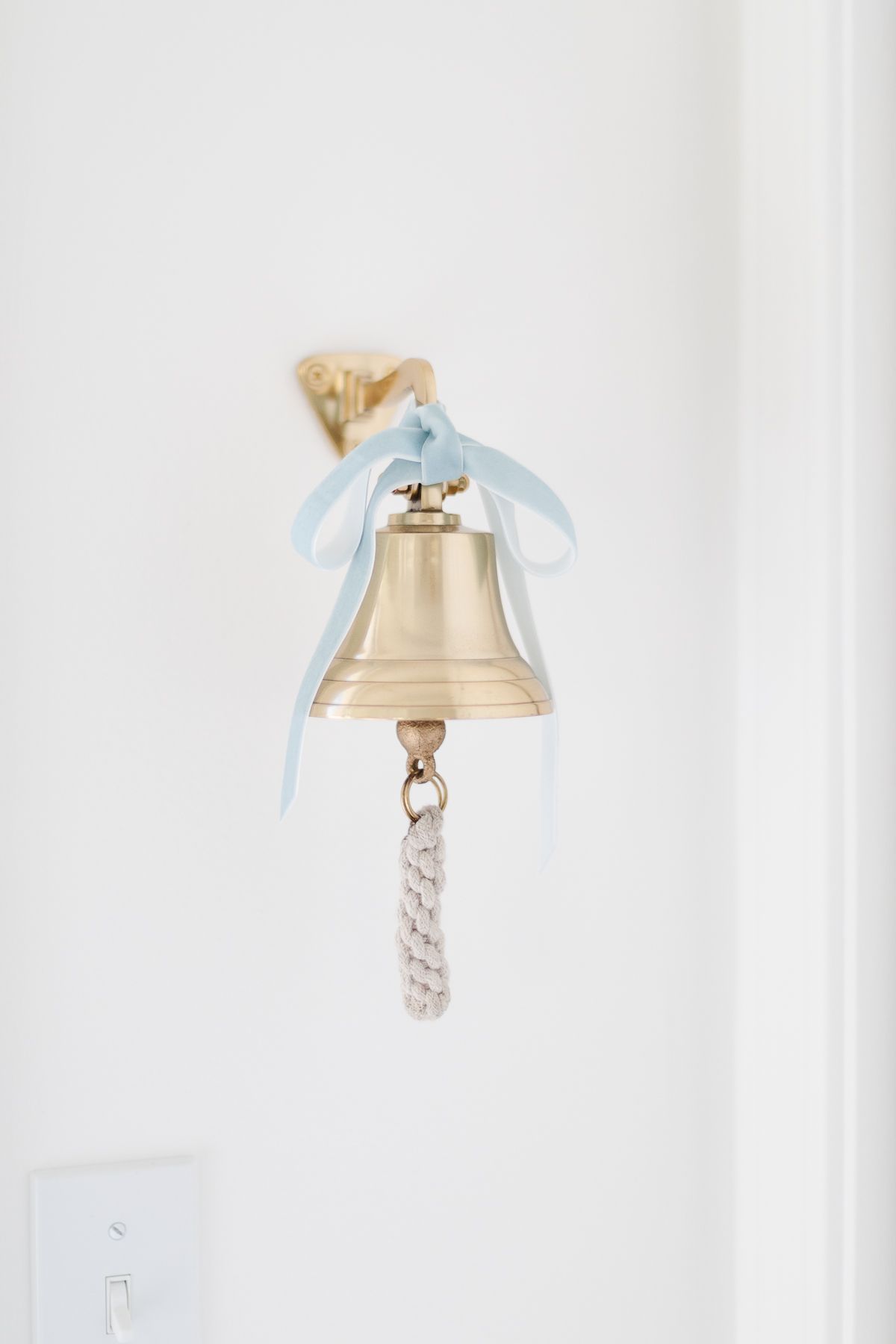 Let's keep in touch! Receive exclusive content, including never-seen-before photos, our favorite home decor DIYs and more!
Paint Colors, Tutorials & Tips