Can't make it to Silver Dollar City or just want to preview what the Silver Dollar City Christmas is like? Come inside for a festive tour on this edition of A Day in the Life!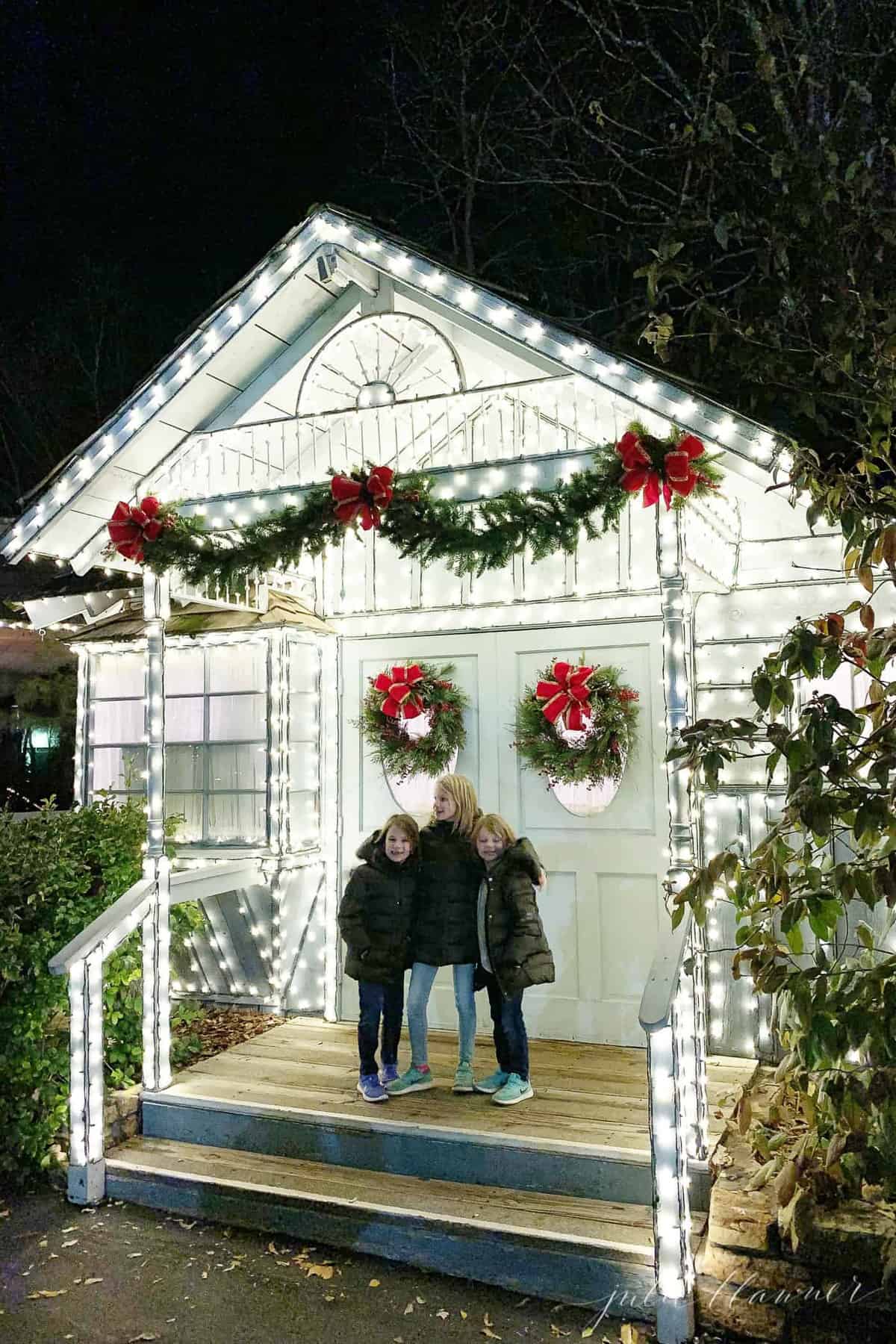 Silver Dollar City Christmas is one of our favorite family traditions. In fact, it's just 10 minutes from our lake house in Branson, Missouri. If you are visiting Silver Dollar City for Christmas and have any questions, leave them in the comments below, I'm happy to help!
We've been so lucky to enjoy our little home away from home at Table Rock Lake, Missouri. In fact, I've written about all the things to do at Table Rock Lake, as well as enjoying Branson with kids.
Christmas is one of the best times of the year to visit Silver Dollar City!
From the moment you drive to the entrance you'll see twinkling lights on the trees. You're greeted with your first photo opportunity entering the park beneath the large wreath.
We love that Silver Dollar City offers not one, but two children's areas filled with rides and activities that could alone keep them occupied for an entire day. Not to mention, there are so many "all ride" rides and those for 36″ and up.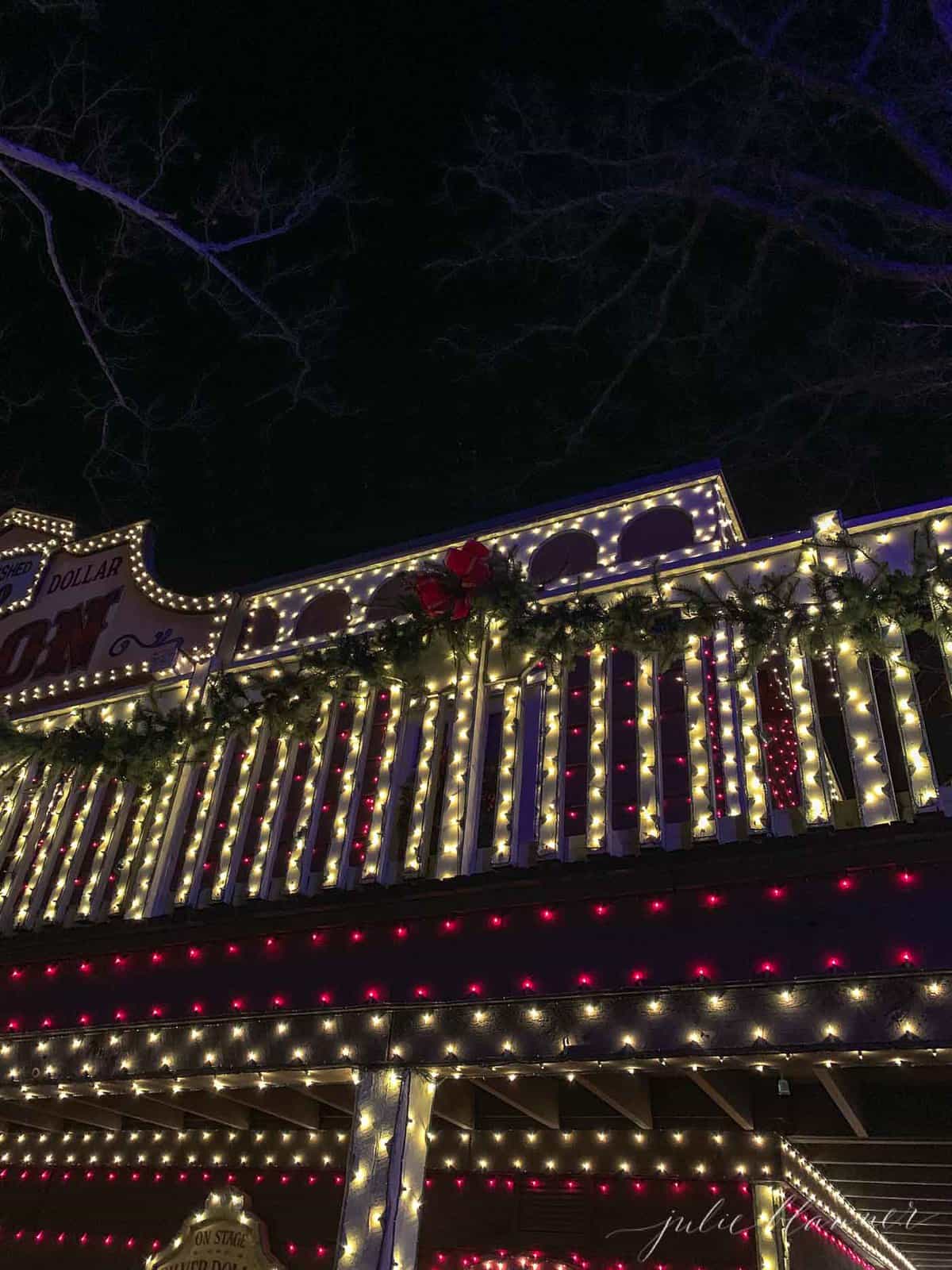 An Old Time Christmas at Silver Dollar City
In addition to rides, Silver Dollar City is filled with old time favorites like glass blowing, candy making and more! It's fun to stop by to see what they're creating that day.
But what truly draws us to Silver Dollar City at Christmas are all the lights. It's so magical walking past building after building that's not only outlined with lights, but filled with lights. It makes me feel like a kid again!
Strolling through Midtown or one of the many tunnels of light is nothing short of spectacular! It's truly breathtaking. (You can find my tips below.)
There are several photo opportunities within the tunnel – IF there is not a lot of foot traffic, but just beyond where you can stand in front of a building for a family photo or become an angel by poking your head through.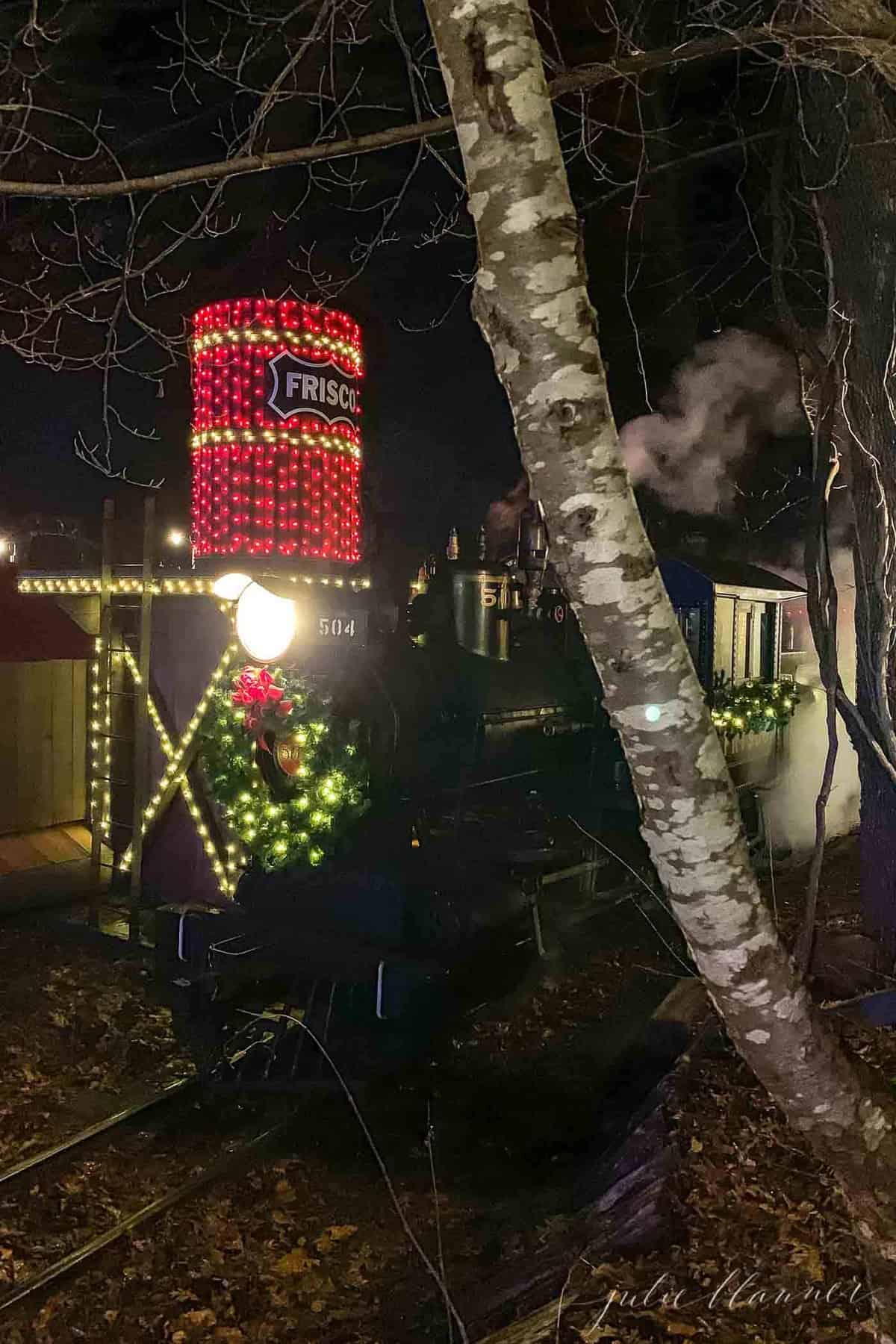 The sing-a-long train ride is also a favorite! Grab a cup of hot cocoa at the station and board a sing along train lined in Christmas lights.
You'll have great views of lights throughout the park and make a stop to hear the story of Christmas.
Silver Dollar City is filled with lights for Christmas. How many, you ask? 6.5 MILLION LIGHTS! It's a magical winter wonderland that you can't miss!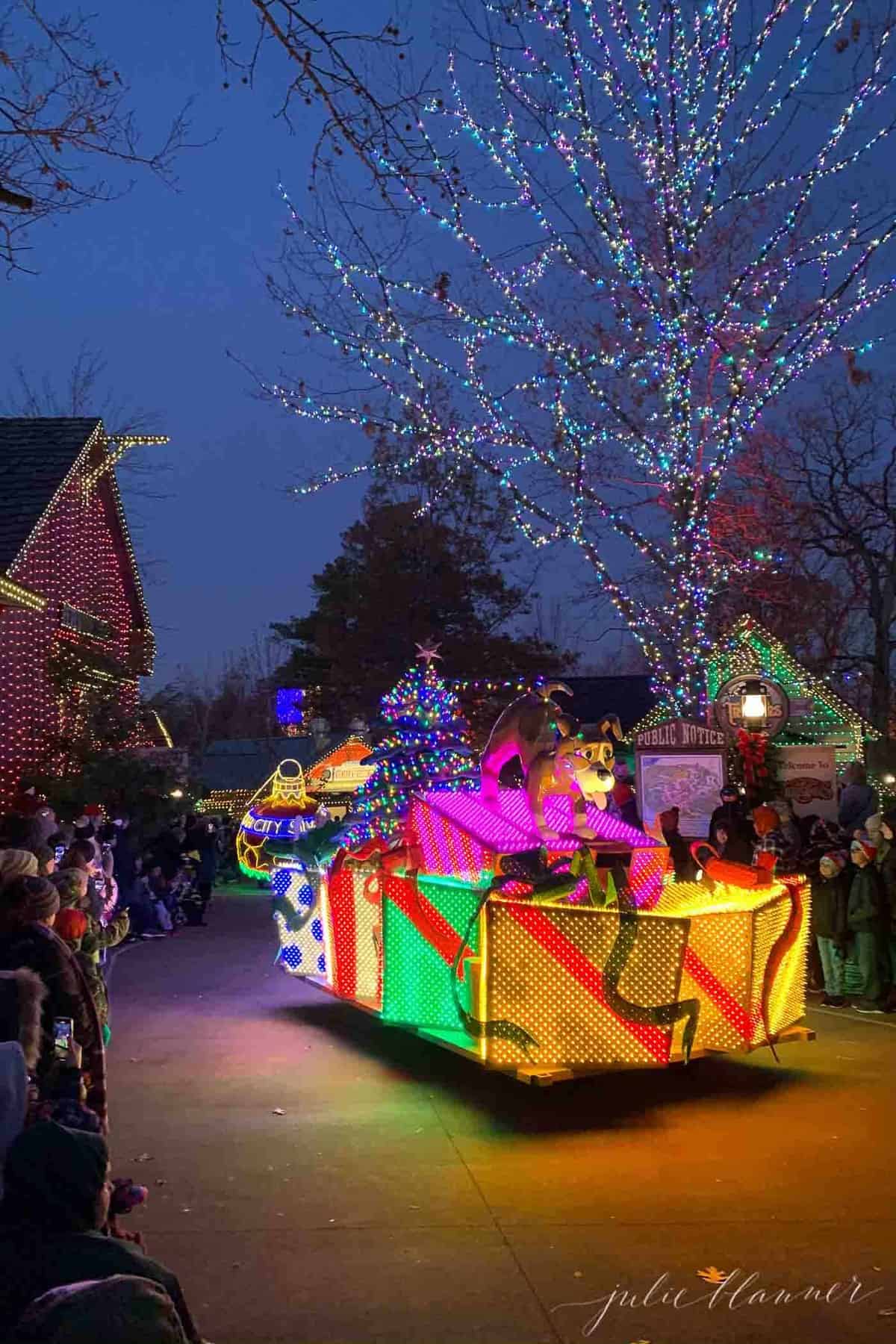 Rudolph's light parade is also not to be missed. While just 5 or so minutes, it's truly a beautiful experience. You can see more in our YouTube video!
Tips For Visiting Silver Dollar City at Christmas
Go early or after the first parade for parking. Otherwise you may find yourself waiting for hours.
Traffic is best coming from Branson West, so go grab a cinnamon roll at the Old Fashioned Dough Company, a peanut butter shake at Mickey's or a burger at Danna's BBQ first – you'll save time, enjoy some amazing eats and support our favorite local businesses. (Read more about traffic alternatives below.)
Check the Silver Dollar City Facebook page for new information – they post traffic and list additional parades, show times and hours based on heavy attendance.
You can also ask anyone inside the park for updated information.
Don't have a bag/purse/stroller? Bypass security on the left.
Skip the first parade – so many people clear out after the first one. Meanwhile enjoy the rides, some great eats like Walking Tacos or Cookie S'Mores.
Catch the train AFTER the first parade and as close to the end of the evening as possible. It's a must! Your wait may be as short as 10 minutes with this simple tip!
Silver Dollar City Christmas Attractions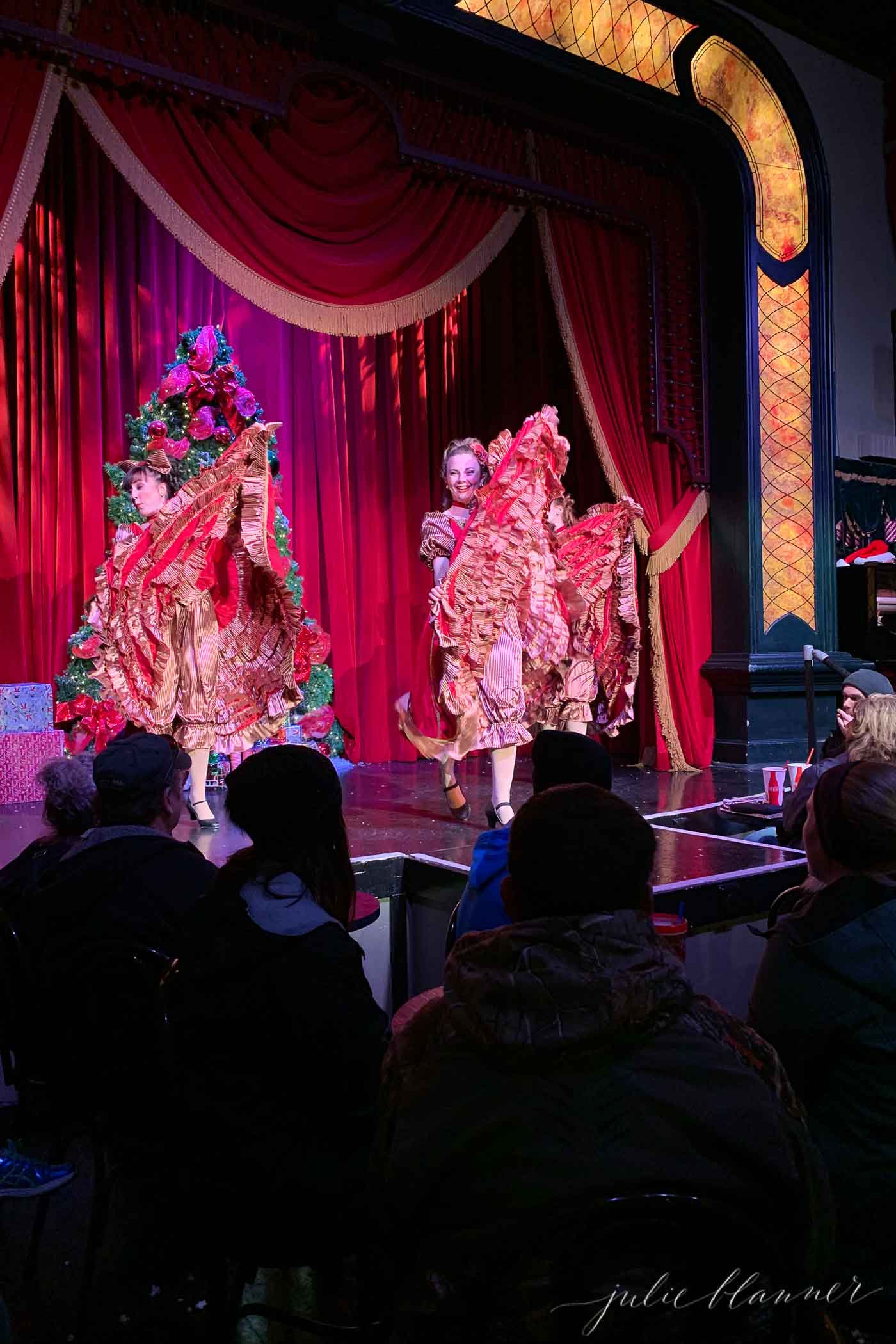 Don't miss the Fa La La Follies – it's our favorite broadway style show and filled with laughter. Get there a half hour in advance to ensure your seat! It's a short show, just 30 minutes. A CASH ONLY bar offers a delicious Snowball Fight (hot chocolate and vanilla ice cream), root beer floats, peanuts, popcorn, pretzels and hot chocolate.
Catch the second, third (or often fourth) light parade on the OTHER side of the park just past midtown by the saloon. It's less crowded as the parade didn't use to venture there. This light parade is so fun for children! It's short and sweet and sure to bring a lot of smiles (and awe).
Of course the highlight are the 6.5 million lights at Silver Dollar City for Christmas! Every building and ride is lined with them and even the train is decked out! Spend some time walking through Midtown (just go straight from the entrance) to take in a spectacular show.
Speaking of show, the new 8 story Christmas Tree on Town Square dances to music for a light show every fifteen minutes – all coordinated with surrounding lights!
While you're there, take advantage of one of the many photo opportunities in front of the tree, on a sleigh, by the gingerbread man and more! This is the perfect activity when entering or leaving the park.
Lunch with Santa
Live Nativity
Hymn Sing-a-Long at the Wilderness Church (near the entrance)
Meet Rudolph, Bumble, Clarice and the Abominable Snow Monster
Meet Santa at Santa Claus Lane
For younger children, Tinker's Toy Shop (outdoor interactive play)
Grandpa's Mansion
The Tree House (climbing)
Balls and Climbing at Fireman's Landing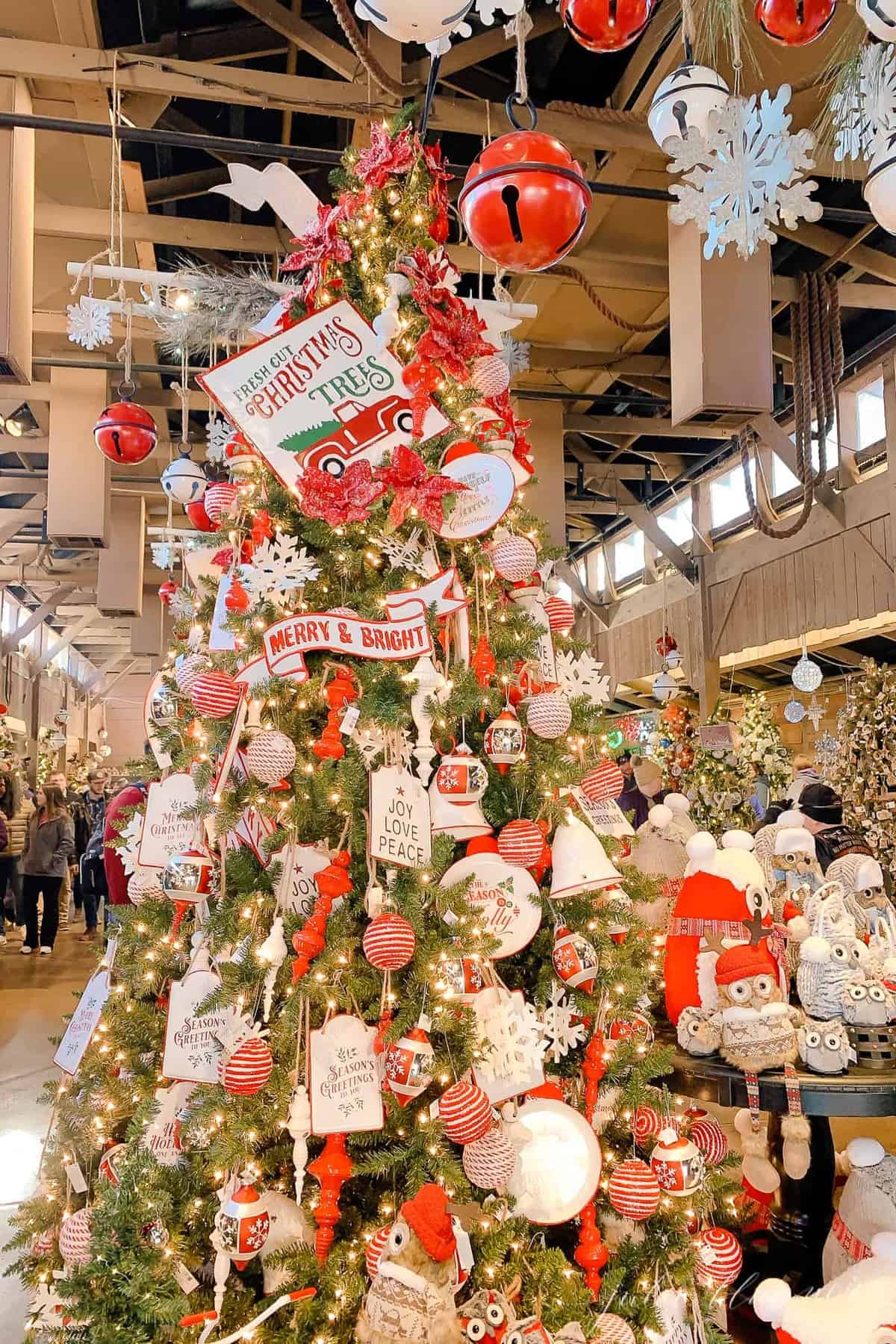 Everyday Attractions
Rides – Check the app to see which are open as many close due to cold and staffing.
Live Music – A variety of outdoor performances all day!
Shop – The shops are filled with gifts, Christmas decor and more.
Visit Brown's Candy Shop
Watch Glass Blowers, Glass Cutters, Blacksmiths, Wood Carvers, Leather Craftsman and more
Watch them make candles, soaps and more
Cold? Indoor Activities at Silver Dollar City
Enjoy one of the indoor shows

It's a Wonderful Life
The Fa La La Follies
A Christmas Carol

Take a cooking class at the Culinary School
Eat Indoors (see below for a list)
Tour the Marvel Cave – where it's always the perfect temperature!
Sit Down / Indoor Restaurants
Crossroads Pizza
Ice Cream Parlor
Mine Restaurant
Molly Mill
Reunion Hall
Percy's Southwest Grille
Driving and Parking Tips
Again, you'll want to come early or visit the park after the first parade to avoid traffic. Preferred parking (the right lane) often has the longest line to funnel in. Avoid purchasing in advance in case you should want to choose free parking.
Driving From Springfield, St. Louis or Kansas City
From Springfield, take Route 160 East
Take State Highway 13 South
Turn left onto State Highway 76 and follow signs to Silver Dollar City
On busy days, they will be utilizing a second entrance – you will leave from that entrance as well.
More Things to Do in Branson
Branson is filled to the brim with Christmas festivities! You can find more Things to Do in Branson here including an all white
You'll also love these videos: