Learn how to blend function and design with underdecking! We took an under-utilized space in our lake cottage and added an under deck ceiling so that we could enjoy the patio year round.
Creating an outdoor living room with an under deck drainage system is an incredible investment for your home. Keep reading to find out how the system works, and take a tour of this updated exterior space!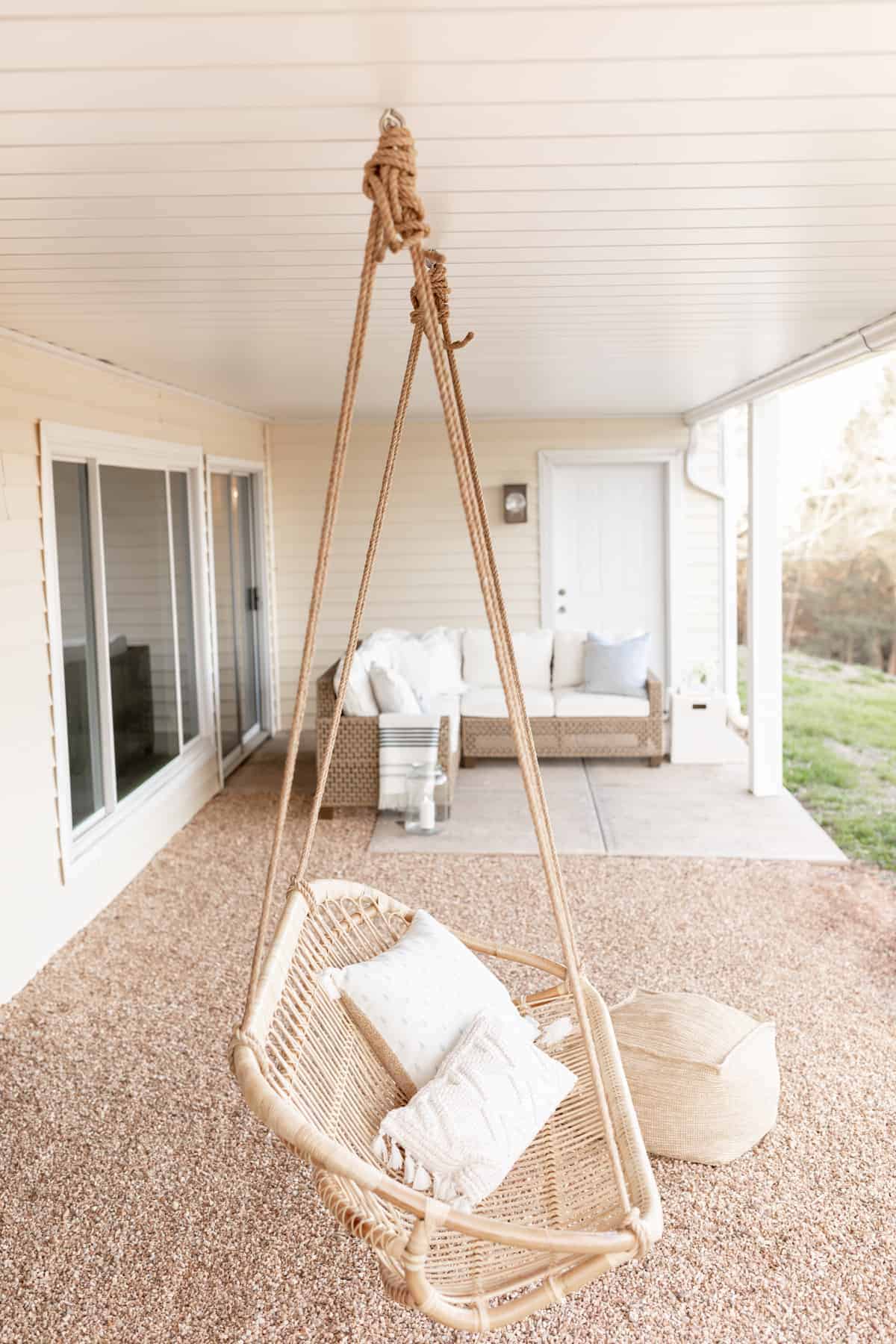 *This is not a sponsored post, just sharing a product we love!
When we purchased Calm Water Cottage, we knew there was work to be done. This much-loved lake escape is several hours from our home in St. Louis, though, which can make large projects a difficult undertaking.
One year, we replaced the roof. The next year, it was landscaping and drainage solutions. Last year it was a new vinyl deck with a glass railing and under deck ceiling… and this upcoming year, an updated kitchen!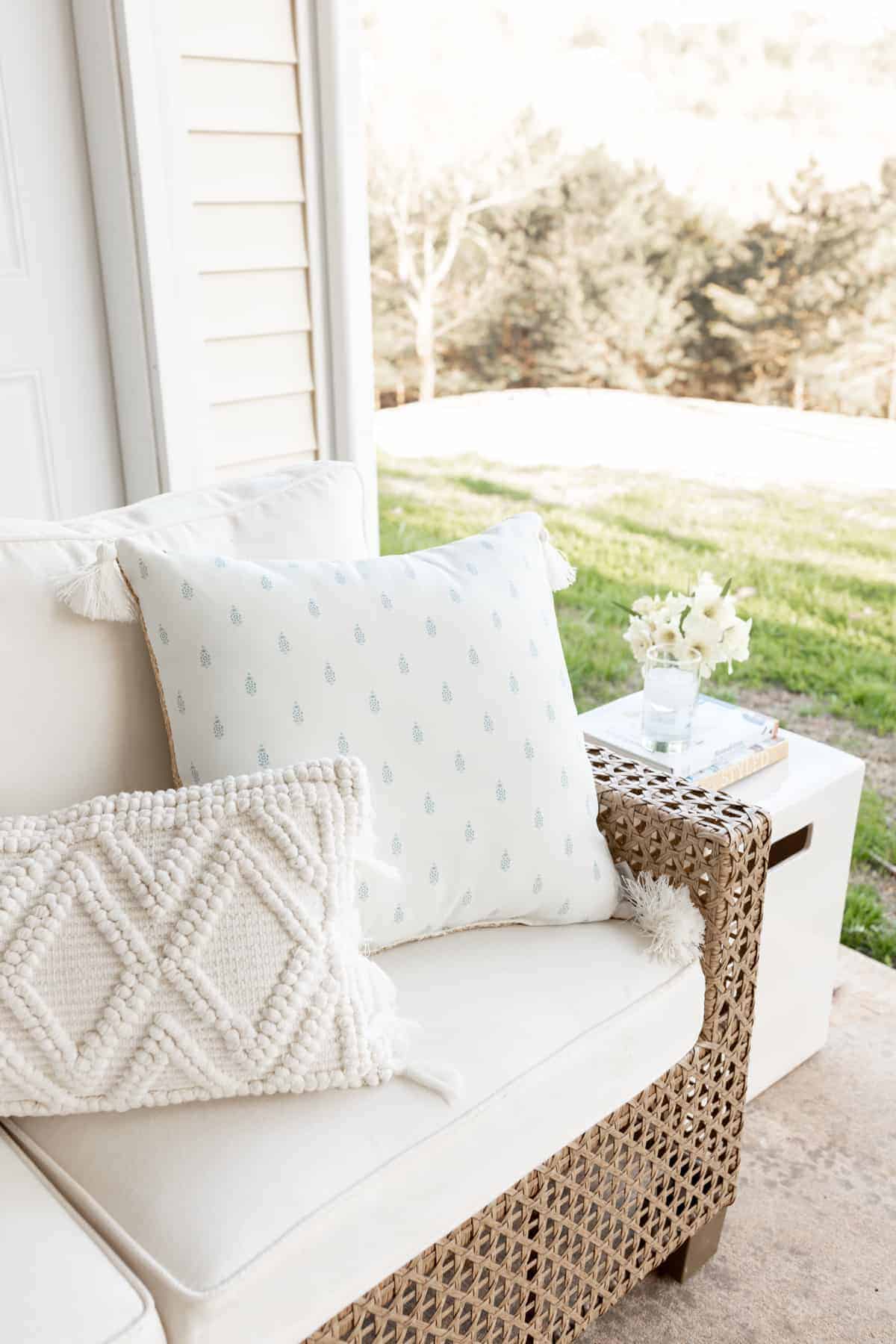 While this house is perfectly livable and not too old (it was built in the 90s), we wanted to make it our own and we've enjoyed doing that over time. No rush, because we really want to spend our time there relaxing and enjoying friends and family!
While adding the new white deck and pretty see-through glass panel railings made an incredible impact here, we took it a step further. We created an entirely new family entertaining space with an under deck drainage system.
While this process seems complex, it's actually quite a simple concept that's a real game-changer! Under deck waterproofing is the most incredible way to create a new outdoor room in your home.
Join me for a tour and learn why this might be a game-changer for you, too!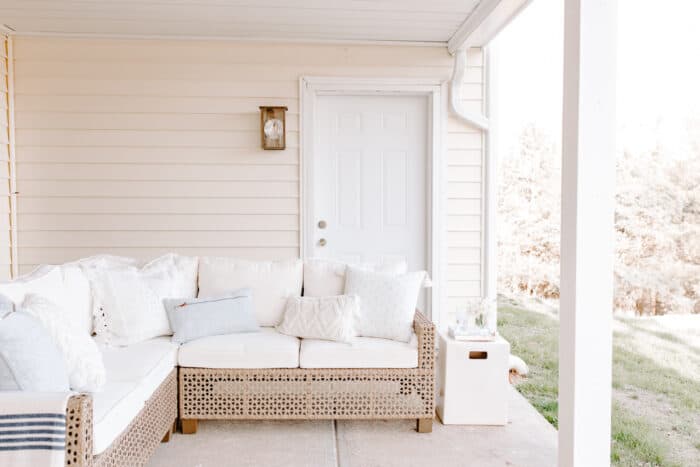 Why You'll Love an Under Deck Ceiling
An under deck drainage system helps pull water away from your home.
This particular system (called Inside Out Underdeck) creates a truly finished feeling – the gutters even look like crown molding!
It gives you an entire outdoor room – an under deck patio.
It automatically creates a cooler (shaded), dryer living space to enjoy the outdoors.
Boosts your home value because it protects your deck and creates more outdoor living space with the space below your deck.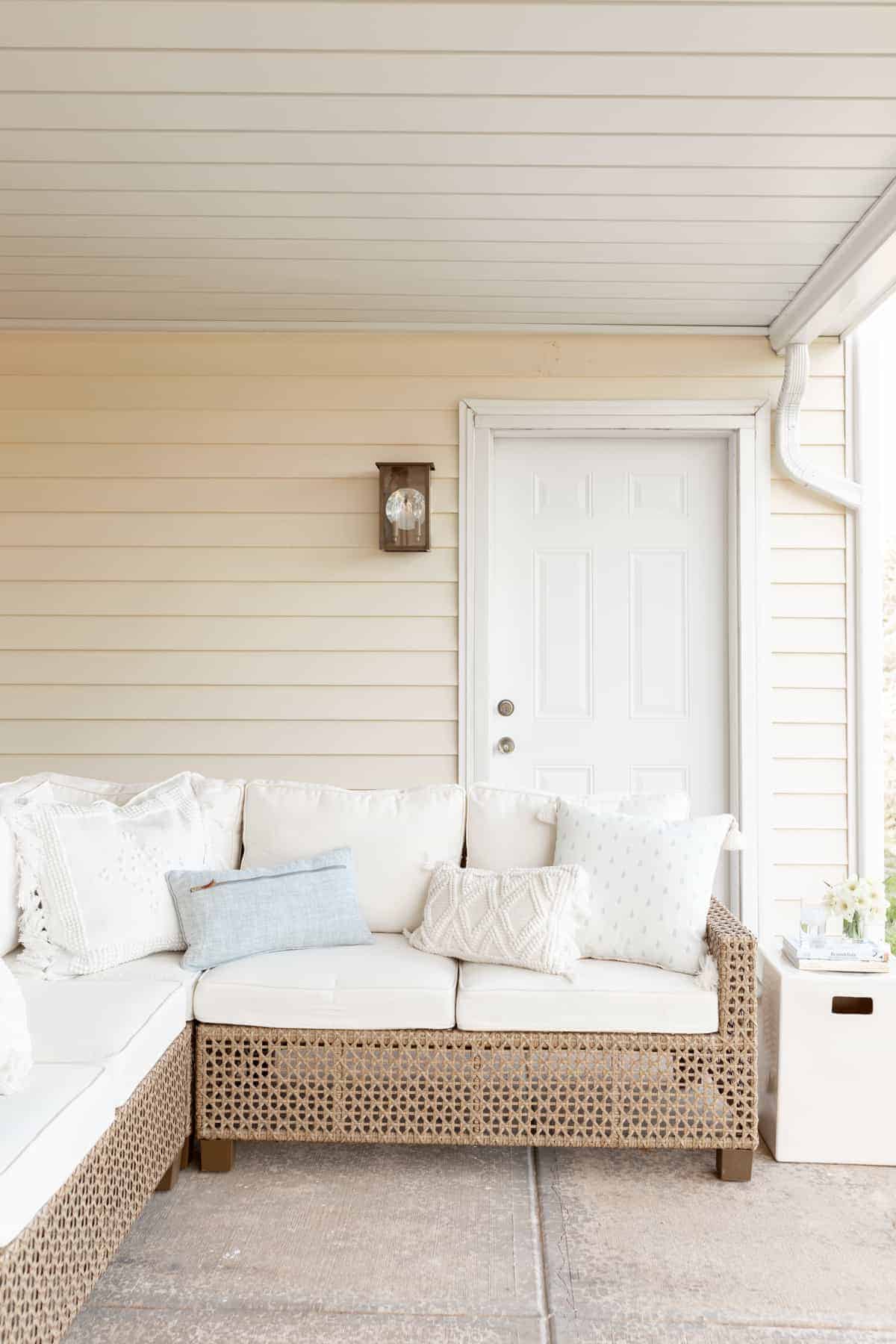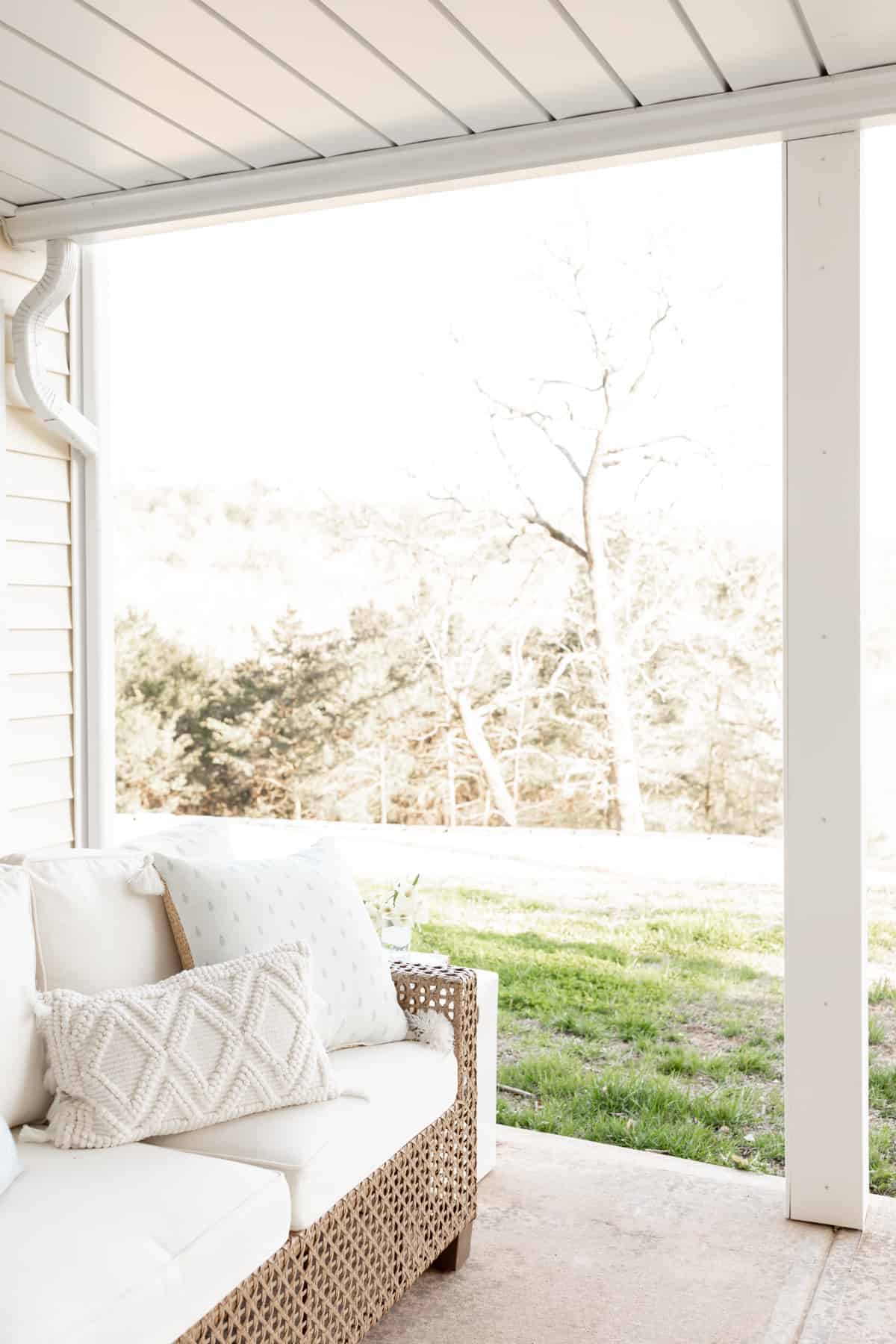 Under Deck Waterproofing: How it Works
An under deck waterproofing system is actual quite simple! When you have a second story deck on your home, it's easy to create a patio space below the deck.
Panels that carry water are hung from a bracket system, which holds the panels in place. These panels collect water run-off from rain or snow that would normally seep through your decking.
This system channels the water into a gutter system and away from your home. The under deck roof is completely waterproof and made of aluminum, preventing water accumulation. This actually helps to strengthen the structural integrity of the deck.
Why we Chose Inside Out Underdecking
Maintenance free deck ceiling
Aluminum, weather proof
Bright white wood look finish option
Looks like real wood
Excellent trim finish that creates the look of crown molding
Lifetime warranty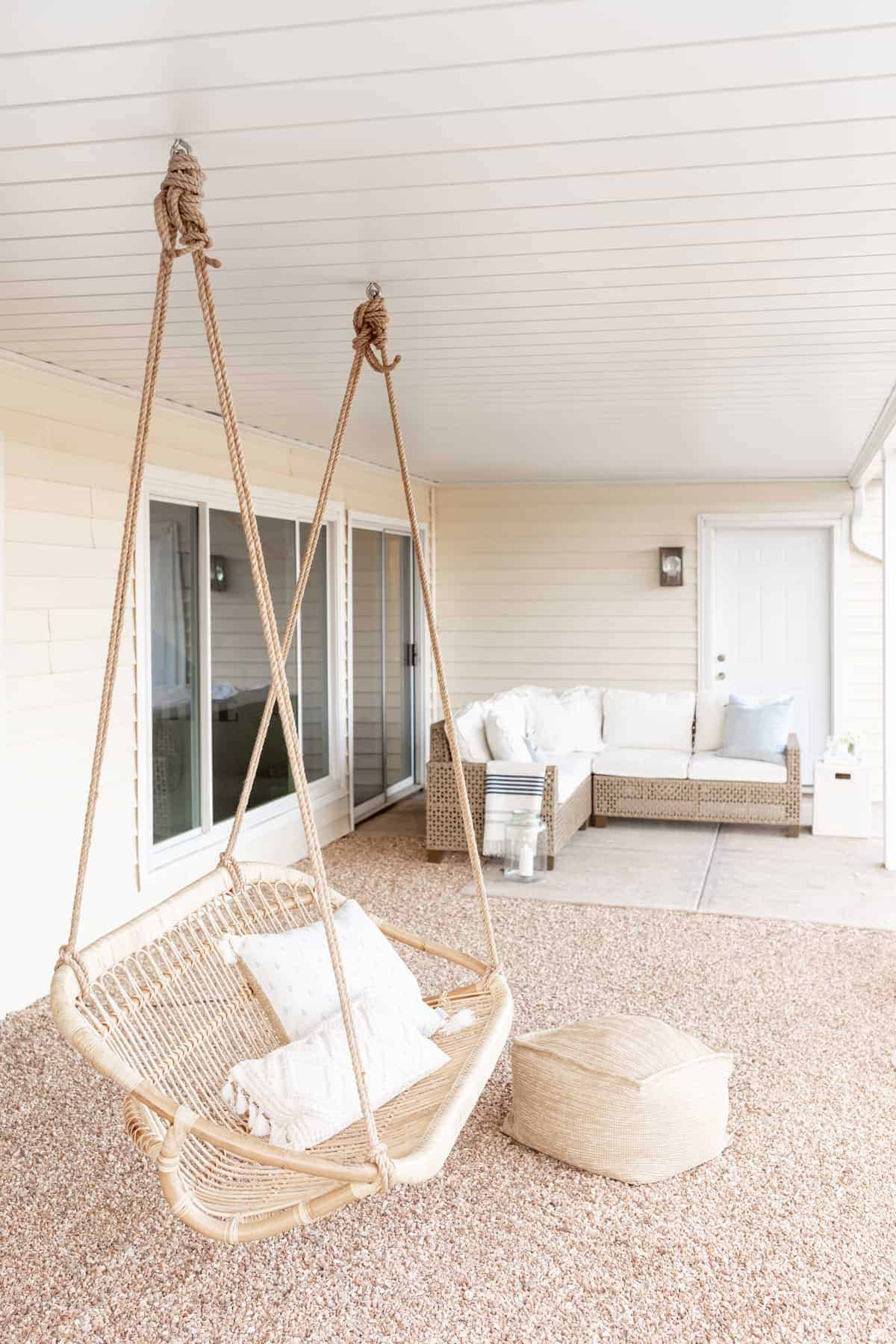 Under Deck Drainage System
Underdecking is a seamless system that not only creates an extra outdoor living room under your deck. It also helps alleviate drainage and moisture issues within your home by pulling so much water out and away through the gutters.
In our lake home, we have been plagued with water and drainage problems even though our home sits on a sloped lot that should pull water away naturally.
With water and drainage upgrades in mind, we have replaced our roof, changed our landscaping, and added new gravel and paths for water run off.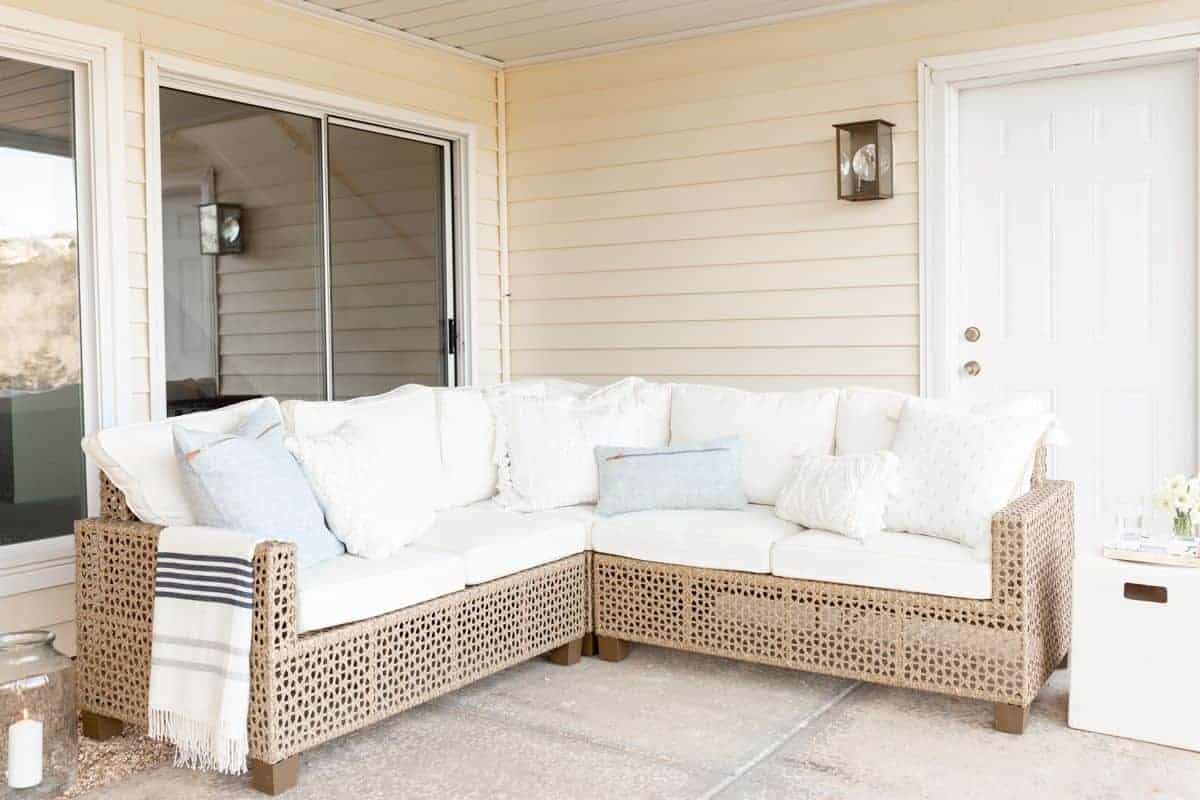 Under Deck Ceiling Uses
Replacing our existing deck with a new vinyl deck was one of the biggest upgrades we've made. At the same time, we replaced much of the flashing that was damaged under the siding where the decking was attached.
Adding this underdecking system was a no-brainer for us, because it was just one more step to ensure that water never enters our home again. Any time a system can help pull water away from our home, count us in!
This newly dry space is one where we plan to spend lots of family time, playing games and swinging around, making memories.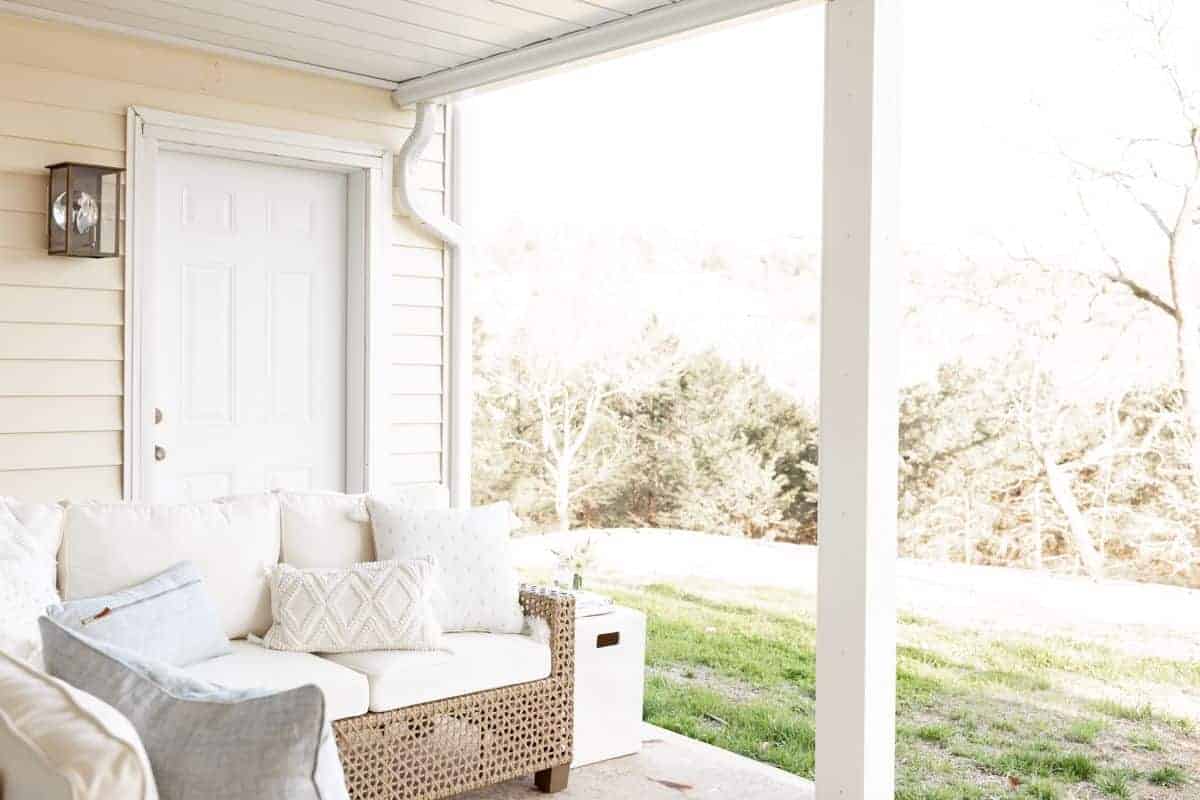 Want to see the inside of this house? Check out the updated Coastal Modern Living Room!
Underdecking Sources
Shop this Post
Sectional – sold out, unfortunately
I'd love to hear from you! Do you have a deck that would benefit from an under deck drainage system to create a new outdoor living space?