It's not just the charming, faded silvery color of the leaves, or the soothing fragrance. Learn why fresh eucalyptus (specifically, silver dollar eucalyptus and seeded eucalyptus) should make their way into your home, your flower vases, and your heart!
Long-lasting and affordable, eucalyptus is the ultimate touch of aromatic greenery that can be used anywhere in your home.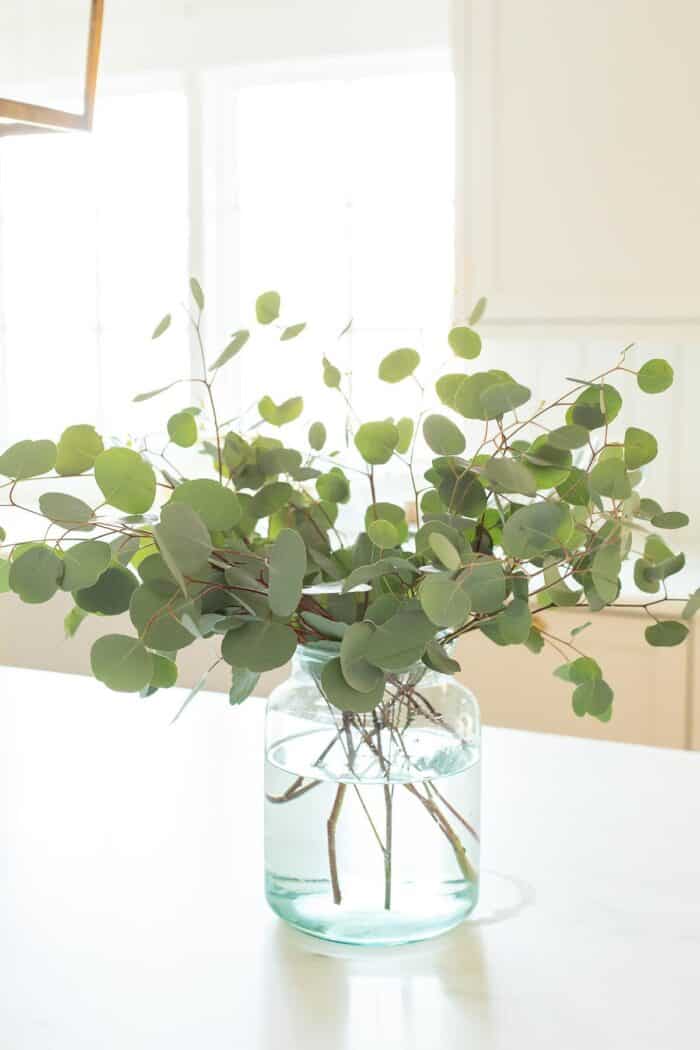 One of my very favorite self-care items is fresh flowers. I love grabbing a bundle of blooms at the grocery store and creating something beautiful when I come home.
It's like a few moments of soothing, all-natural therapy… and if I'm lucky, we'll enjoy the fruits of that floral labor for a week or more! A few dollars spent on Trader Joe's Flowers can bring us joy for many days to come.
That's one of the many reasons I love fresh eucalyptus. It's not only incredibly fragrant, it's so affordable and I can almost always find fresh bundles of silver dollar eucalyptus or seeded eucalyptus at the grocery store.
Whether I'm using it as a filler or accent in a more traditional floral arrangement, or creating something where the eucalyptus stands all on its own, it's a forever favorite in our home.
I enjoy sharing my lifelong love of flowers with you! Don't skip my favorite Florist Secrets, Where to Buy Flowers and even How to Revive Wilted Hydrangea.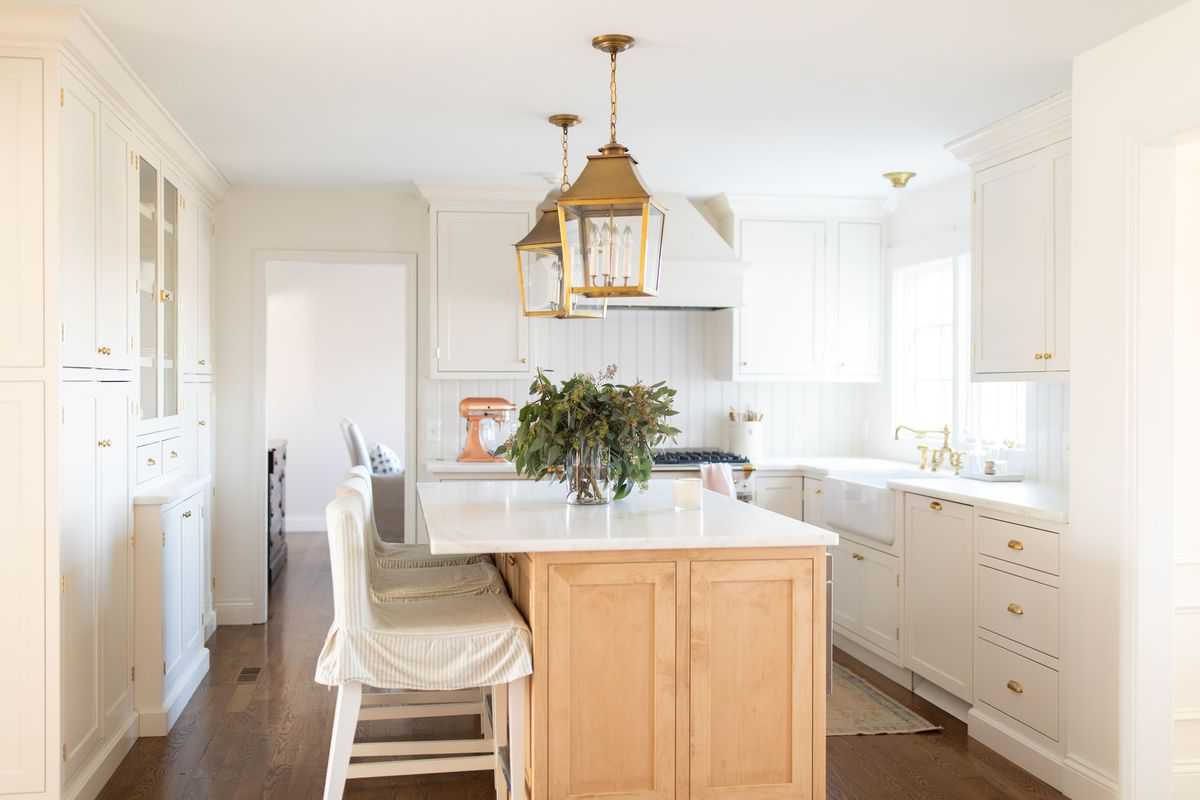 What is Eucalyptus?
Fresh cut eucalyptus that we use for floral design comes from live eucalyptus trees. This evergreen tree is native to Australia but grows around the world in subtropical and temperate climates.
There are many varieties, varying in height from small shrubs to tremendous trees at 300′ and taller. Fast growing evergreens, they are prized for a multitude of reasons from bark, to oil, to the hardwood… not to mention floral design!
Long touted as a natural decongestant, eucalyptus has natural medicinal qualities. Not only does it help freshen the air in your home with a clean, cool scent, but it might help cold and allergy sufferers, too!
While there are many styles of cut eucalyptus, my favorites for our home are silver dollar and seeded.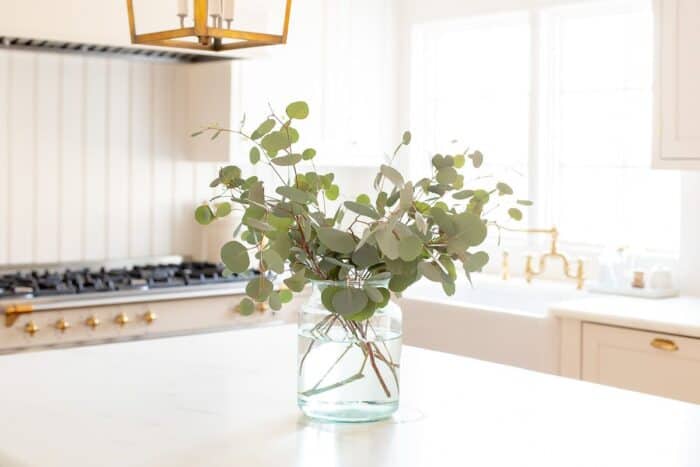 Why You'll Love Fresh Eucalyptus
Because I love a soft neutral palette almost as much as I love a warm and cozy home, fresh eucalyptus covers so many bases for me.
The scent of eucalyptus is a gentle, calming note added to a variety of fragrances. Known for a clean aroma that exudes a fresh, neutral tone, it's frequently found in home cleaning products like soaps and detergents, as well as beauty products from lotions to perfume.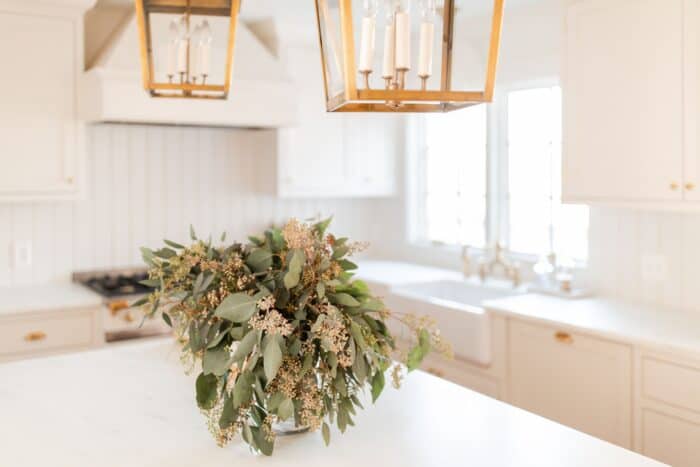 Silver Dollar Eucalyptus or Seeded Eucalyptus: What's the Difference?
You might be familiar with the dried spiral eucalyptus of the eighties… the kind that hung in "swags" over doorways and decorated every empty corner of your grandmother's house.
Often, I've found that craft store style of dried eucalyptus is treated with something that creates an off-putting scent. Thankfully, fresh eucalyptus is much more in line with current tastes and styles!
While there are many different types of fresh eucalyptus that can be cut and used for fresh floral arrangements, my two favorites are silver dollar eucalyptus and seeded eucalyptus.
I love them not just because they are affordable and found at nearly every grocery store in my neighborhood, but because of the beautiful drape. They soften every arrangement and add a certain grace and gentle structure that I can't get enough of!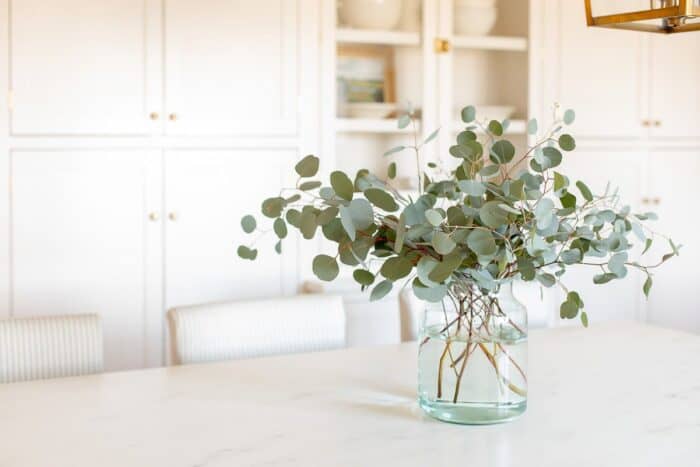 Silver Dollar Eucalyptus
Silver dollar eucalyptus gets its name from the shape of the rounded, flat leaves. It has a fluttery, romantic feel and (in my experience) tends to be available in slightly longer, more spaced-out stems.
There are many smaller branches shooting off the main stem, making it flexible for vase arrangements or longer, lower centerpieces. As shown here, it's lightweight and yet incredibly hardy!
I love to break the smaller pieces off of silver dollar eucalyptus and work it into petite vases for bathrooms and special corners of our home.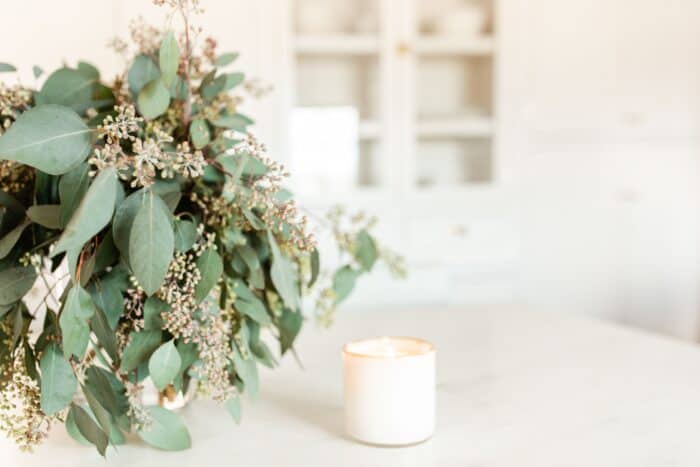 Seeded Eucalyptus
This type of eucalyptus is heavier and more textural. The seeds that you see here add so much depth to arrangements.
While the stems are quite heavy, they are incredibly sturdy and help to give every arrangement more structure, acting as a sort of "nest" that helps prop up other stems in the vase.
The name seeded eucalyptus comes from those charming seed pods, which can of course open and drop. As with many types of plants and greenery that we bring into our home, all types of eucalyptus can be toxic to humans and pets when ingested in large amounts, so be mindful!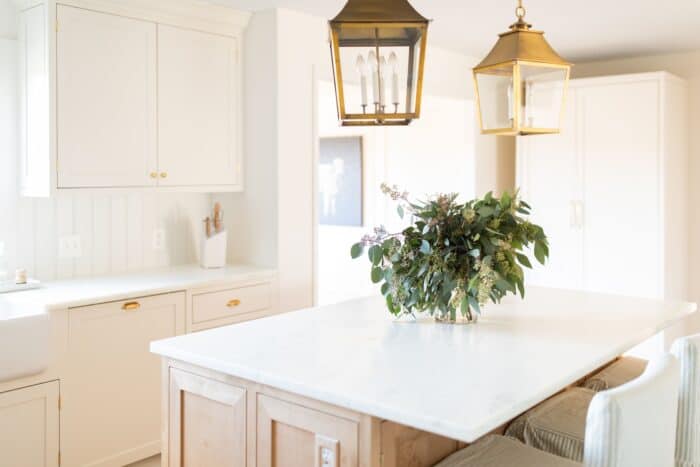 How long does fresh eucalyptus last?
Seeded eucalyptus will generally last for at least a week before it begins to dry. Silver dollar eucalyptus seems to last even longer, often looking fresh for up to 2-3 weeks!
Where do they sell fresh eucalyptus?
You can order fresh eucalyptus from your local florist, or find it in the floral department of your grocer.
Does Trader Joe's sell fresh eucalyptus?
Trader Joe's almost always stocks bundles of eucalyptus greenery. They are generally sold for as little as $3.99 per bunch in our area.
Does eucalyptus make your house smell good?
Yes! In fact, it's one of the most popular scents for home fragrance lines and oils. Fresh eucalyptus breathes life into your home with the soft color, graceful shape, and exceptional fragrance!
How do you dry fresh eucalyptus?
Tie a small bundle of eucalyptus stems together using a string or ribbon. You can hang them from the ceiling in a dark, dry space – try to avoid humidity to prevent mildewed leaves. They will dry quickly. You can also simply remove the water from your vases and allow the stems to dry as they are, which gives them a different shape.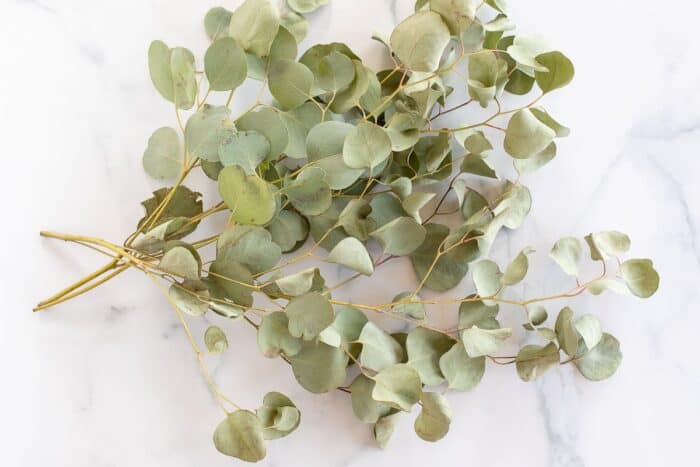 Where to Use Fresh Eucalyptus Stems
Where to Buy Eucalyptus
I love supporting my local florists and you can often find fresh cut eucalyptus at flower shops or local grocers. Here's a few places where you can buy it online, both fresh and faux!