Laundry room organization ideas that blend function and design. Get the best tips to make the most of your laundry room.
Laundry room organization can streamline your workflow and make the task quicker and easier!
We're fortunate enough to have an entire room to dedicate to laundry, but that wasn't always the case. We have had basement laundry, entry laundry and have closet laundry at the lake house.
Now matter how big or small your space is, these space saving design tips will make the task feel a little lighter – and maybe even, enjoyable.
Your laundry room is one of the hardest working spaces in your home. It's important to organize it so it works for you! It's often not just a place to wash, dry, hang and iron laundry, but also a space to store cleaning supplies. PS pretty cleaning supplies never hurt! You can shop my favorites here.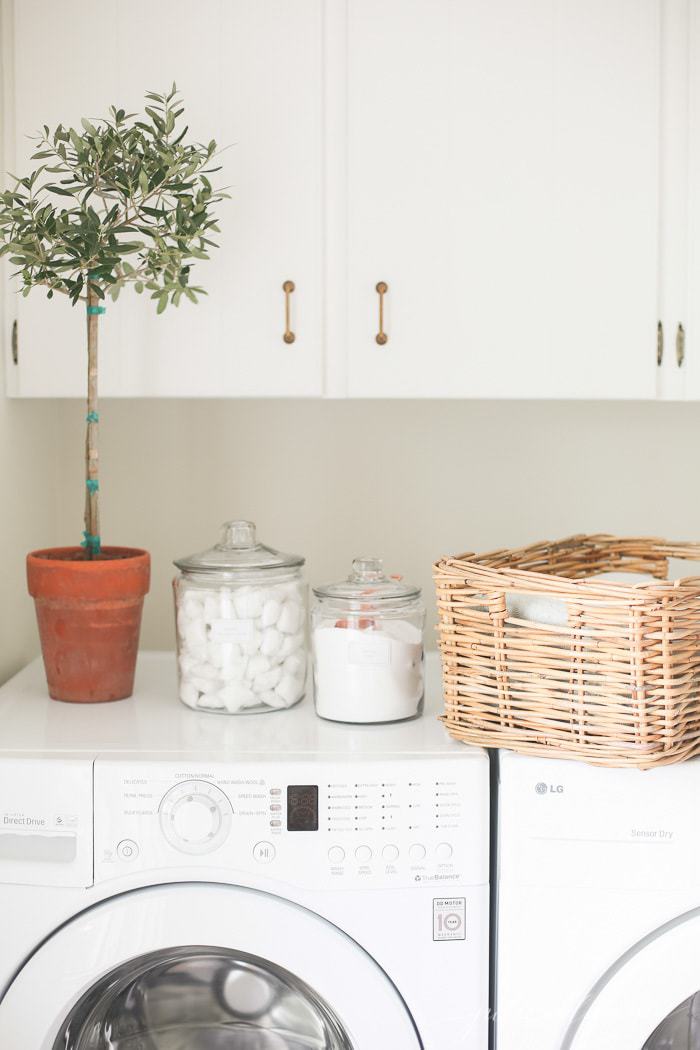 You don't need a ton of space to enhance the usability of your laundry room. In fact, you can pack just as much function into a laundry closet as you can a laundry room with these simple organization tips!
As with any organization project, start by decluttering (you can get my decluttering checklist here). Eliminate excess and combine duplicates and you'll instantly find more space!
Laundry Room Organization Ideas
Maximize Space
You can make the most of a compact space by integrating shelves, cabinets or pegrail above your washer and dryer. They can hold detergent, stain remover, frequently used cleaning supplies, a sweater stone and more.
The top of a washer and dryer are perfect for folding and stacking. To make it feel even more appealing, add a counter or simple butcher's block.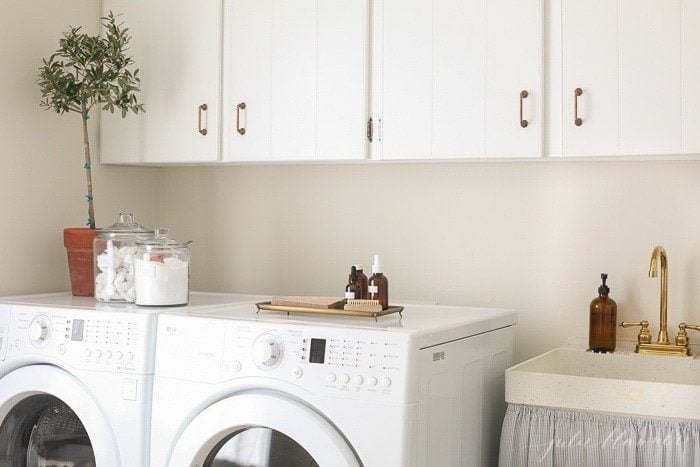 Make it Accessible
Don't be afraid to place frequently used items where they are readily available. You can Keep them visible and within reach so it feels more effortless.
Upgrade packaging by eliminating it! Glass canisters work well for pods, powdered detergents, baking soda and more! Add a scoop or measuring cup for powdered detergents.
Instead of hiding them, I keep an array of natural cleaners like hydrogen peroxide, vinegar, natural dish liquid and baking soda for tough stains in apothecary bottles on a tray with dryer sheets for convenience (see my free printable difficult stain guide).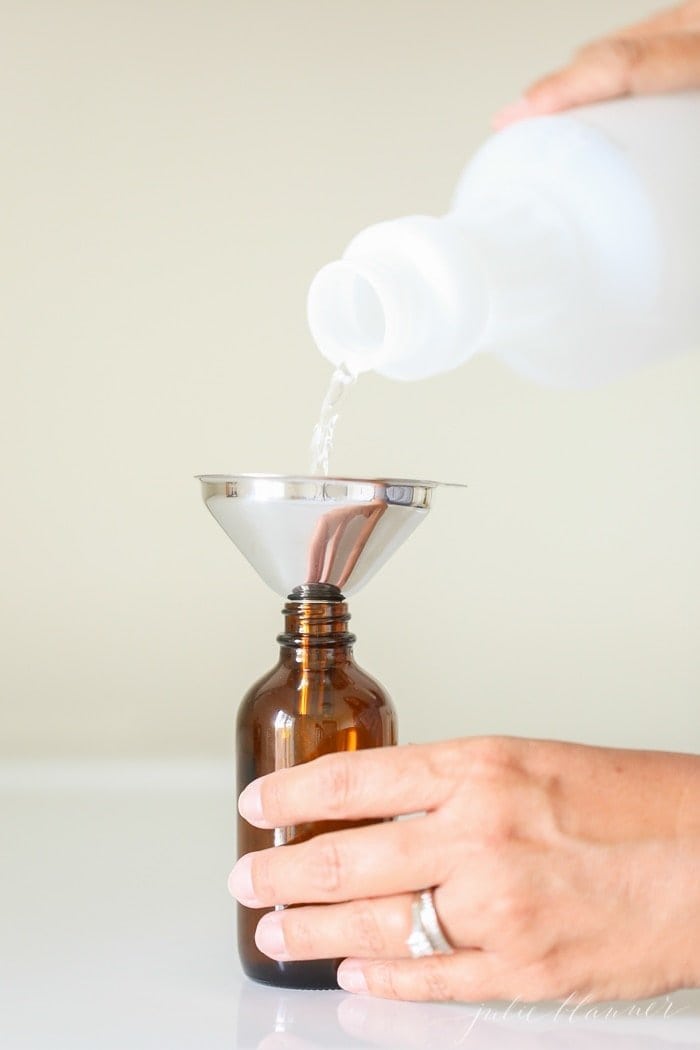 Pour cleaners and solvents into clearly labeled glass bottles to make them aesthetically pleasing.
Storing product in clear glass canisters rather than their original packaging allows you to buy in bulk and always know when you're running low.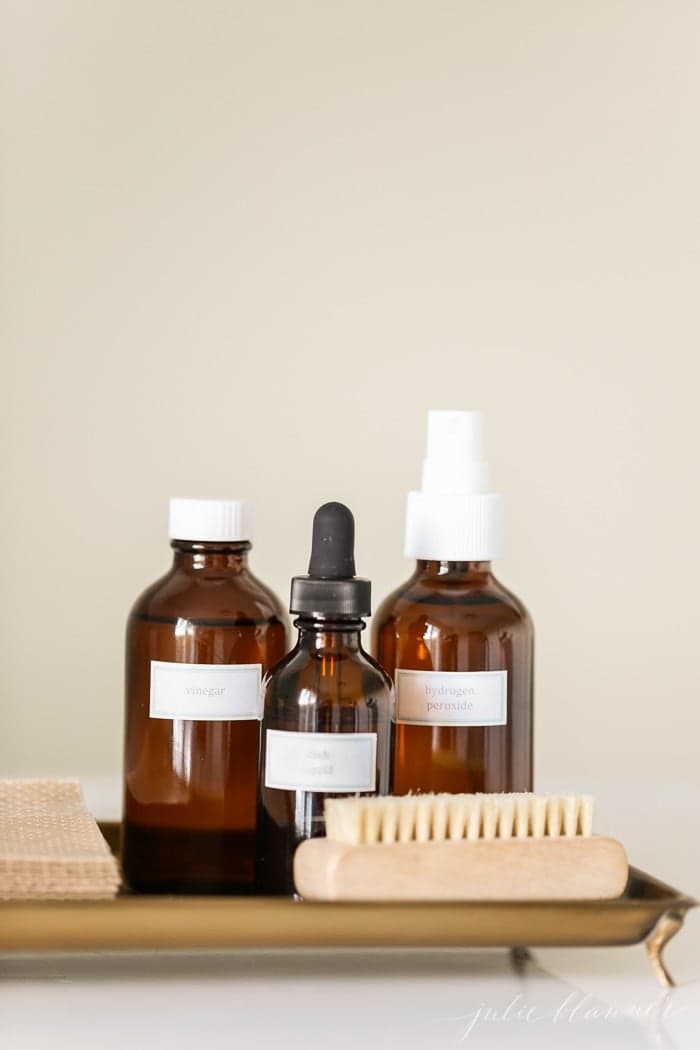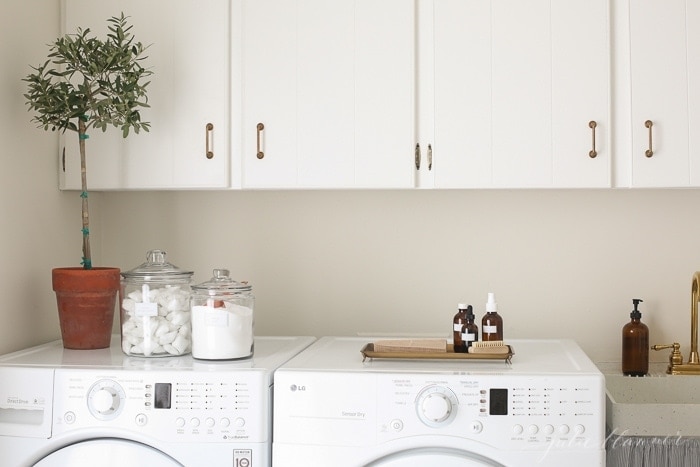 Hang It
One of the best ways to maximize space is to make the most of your walls, by adding hanging storage.
You can add a peg rail (like we use for our garage organization) as mentioned above, perfect for excess hangers, cleaning brushes and a dust pan.
A closet hanging rod is also ideal. You can hang in under cabinets, in a closet or even use a free standing rod to hang recently ironed clothing, wet dresses and more.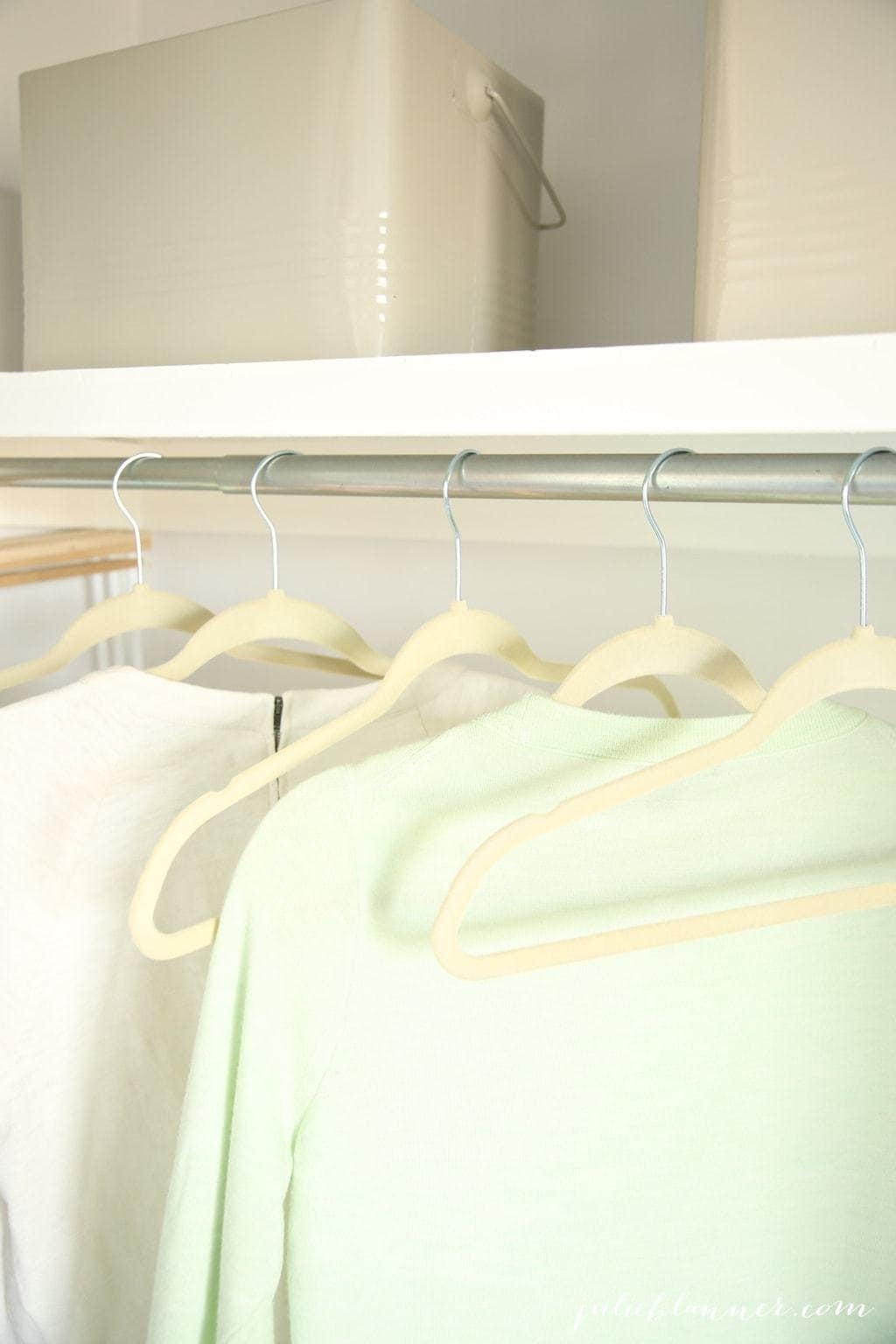 If you don't have space for or a closet rod or frequently hang clothes, incorporate a drying rack. You can easily install using two coat hooks spaced apart at the same level. It's easy to stow away in a closet or on a wall.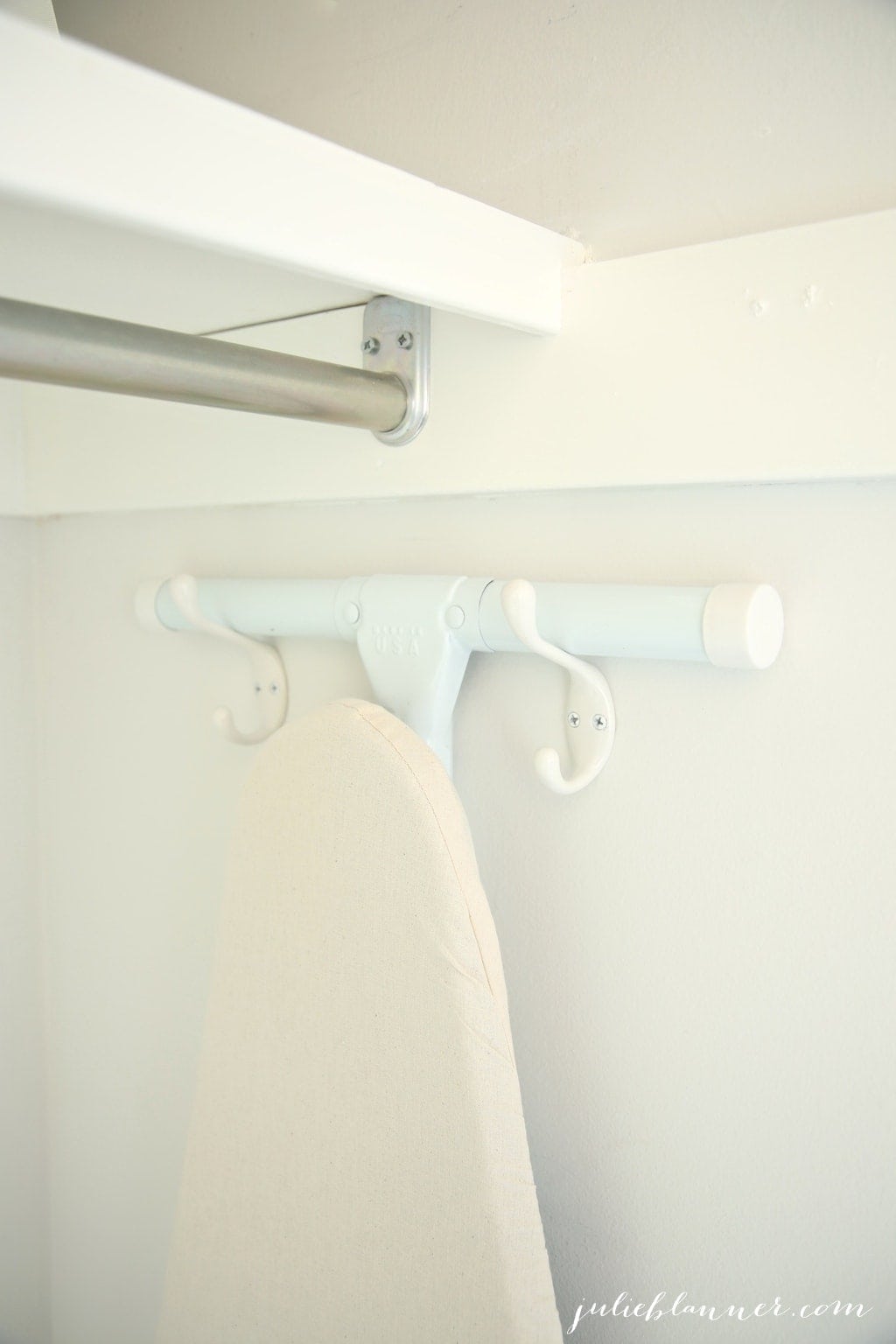 To stow an ironing board, you can use the same method, hanging 2 coat hooks at the appropriate distance. This keeps it stowed away while not in use, but easily accessible.
If you frequently iron, make an oversized ironing board with rubber feet the size of your washer and dryer. It is always ready for a quick touchup!
If you iron infrequently, a small over-the-door ironing board will do the trick!
Use Baskets
Baskets are not only great for moving clothing and linens, but they're also great to store cleaning supplies, keep things tidy and from falling over. You can find some of my favorite baskets in the shop along with more Storage Containers and Supplies!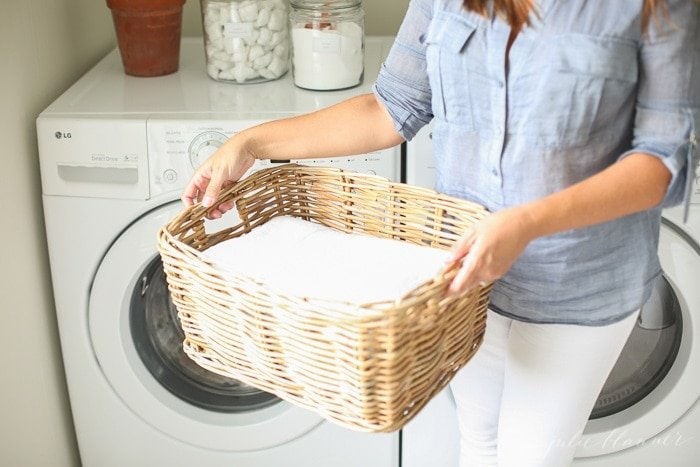 Rolling baskets are great for large families and can move freely throughout your home.
Brighten it Up
Utilizing a light and bright paint color with a high LRV (light reflective value) not only makes your space feel larger, but also makes things easier to find. This is especially important for cabinet interiors! You can find all of my favorite cream color paints here including Soft Chamois (shown), Navajo White, Zurich White, White Dove, Trim Paint and Ceiling Paint.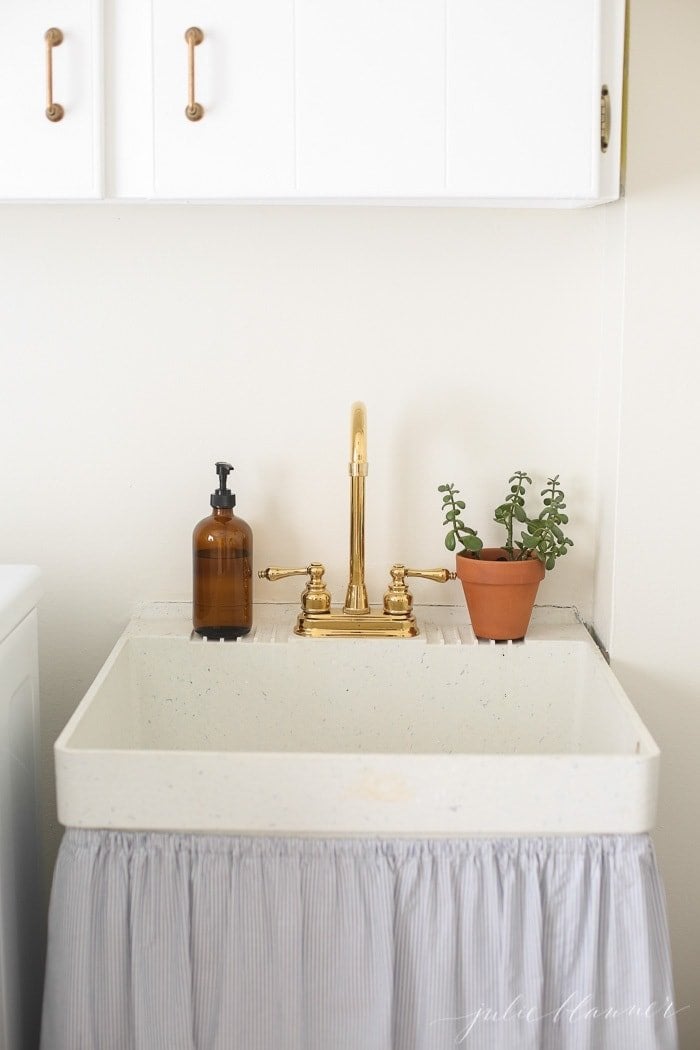 One of the best laundry room organization tips is to utilize hidden space. Have a nook? Find a way to utilize it! We integrated a sink skirt in our laundry room. It's the perfect place to store unsightly goods.
You can download my stain guide and coordinating laundry room organization labels here!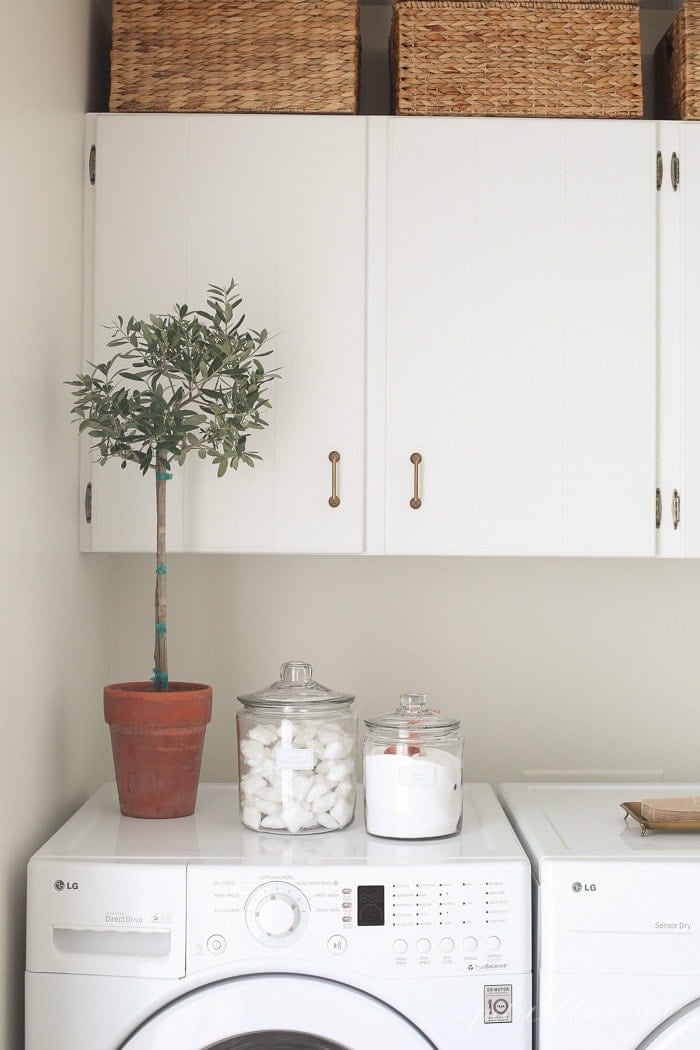 Of course you can bring any room to life integrating something organic like houseplant. Add an olive tree, Meyer Lemon Tree, ZZ Plant, Lavender, or a succulent.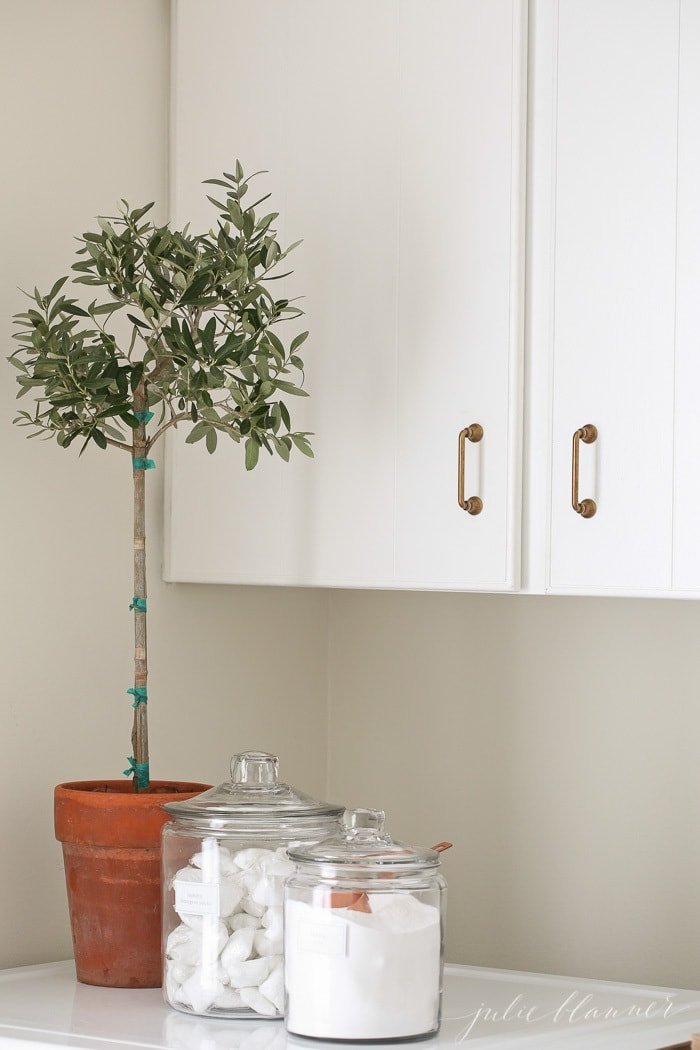 Let's stay in touch! Join our newsletter for access to exclusive content, never-before-seen photos, your questions answered, and our favorite projects. You'll receive the best design secrets delivered directly to your inbox! Sign up here!