Can you paint over stained wood? YES. If you've ever wondered if you can paint without sanding, I have the easiest solution for you! You can paint over stained wood, painted wood and so much more with this simple (not-so-secret) method.
Through the years, I have received the questions "can wood be painted without sanding", "can cabinets be painted without sanding", and "can trim be painted without sanding"? The answer is absolutely.
Learn how to use liquid deglosser! It's an affordable, easy-to-use product that will take your projects to the next level – quickly!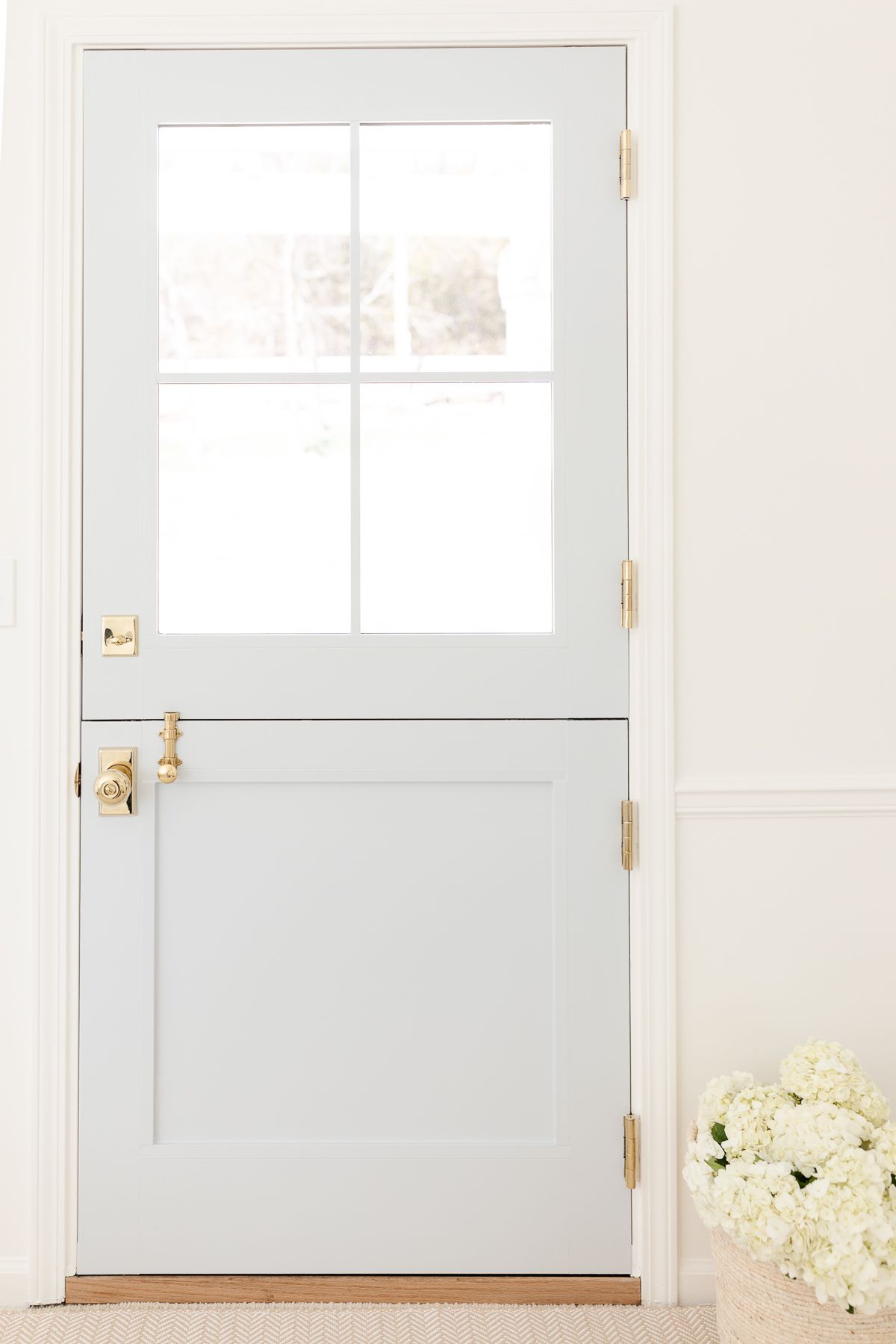 A few years ago, I discovered liquid sander deglosser. It's a life changing product that has been around for years, but I just never noticed it nestled in on the shelf at the home improvement store.
To navigate this post with ease, use the drop down Table of Contents menu below. And don't forget to pin and save it for later, too!
Can You Paint Over Stained Wood?
Of course. But you don't want to do it without a little prep work first!
To get paint to adhere to wood, you have to sand it, to rough up the surface. This allows the paint to grip the surface, especially with anything that's varnished.
As we all know, sanding is both messy and time consuming. Painting over stained wood can be such a chore!
I should know. We have painted dark cabinets, trim and doors in multiple homes now. You can easily paint over stained wood – if you sand first. It can take a long time.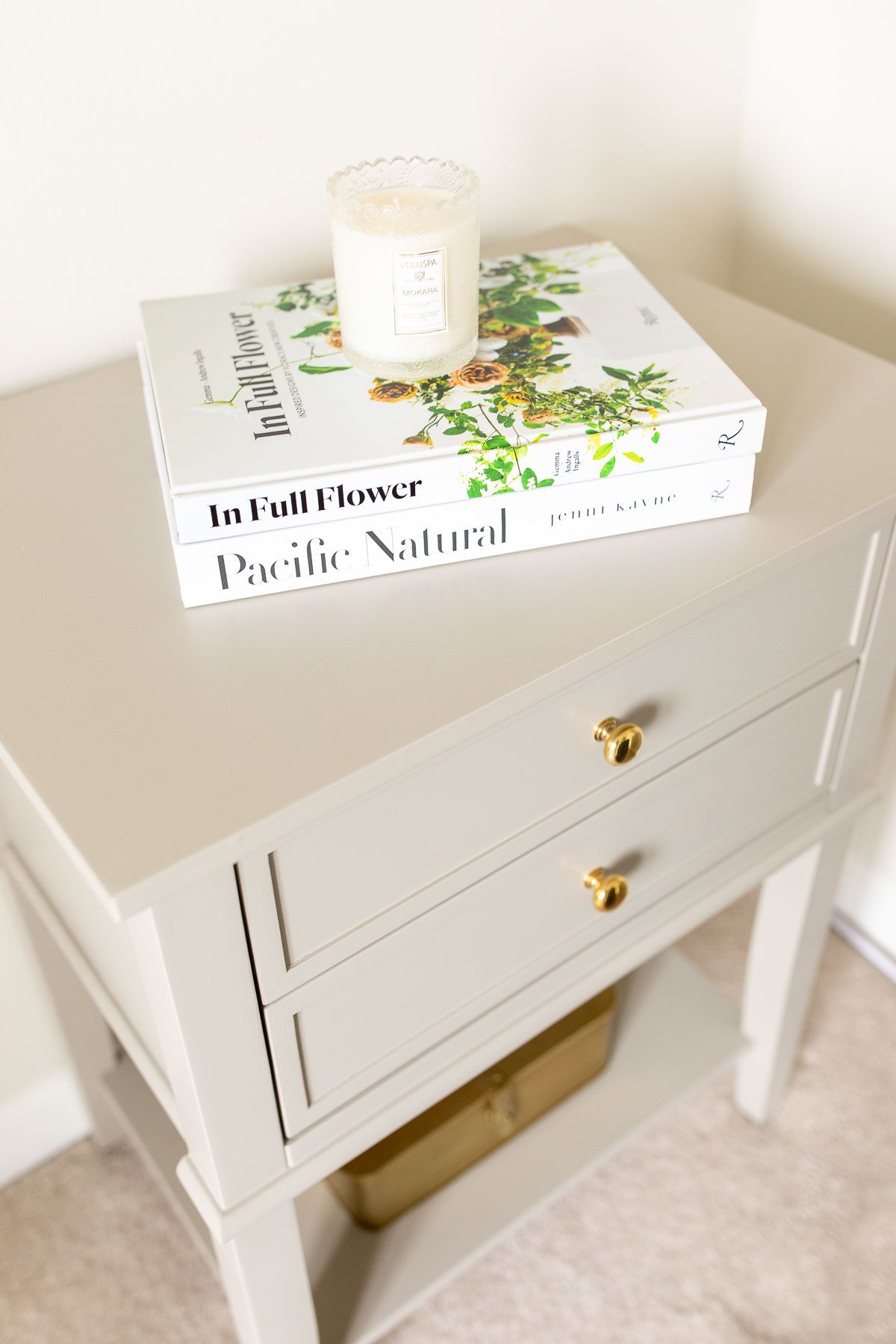 Why You'll Love Liquid Sandpaper
Liquid sandpaper dulls a glossy surface, with far less effort! It's a great alternative to sandpaper that provides that same "rough" surface for paint to adhere.
A liquid sander deglosser brushes on quick and easy to remove the finish. It giving it a rough texture without the effort.
It's the easiest sanding shortcut and I've found it to be very effective! It hasn't failed me yet!
Read more about our Dutch Door and Dutch Door Hardware. We recently painted this door Benjamin Moore Silver Gray using this sanding free paint technique!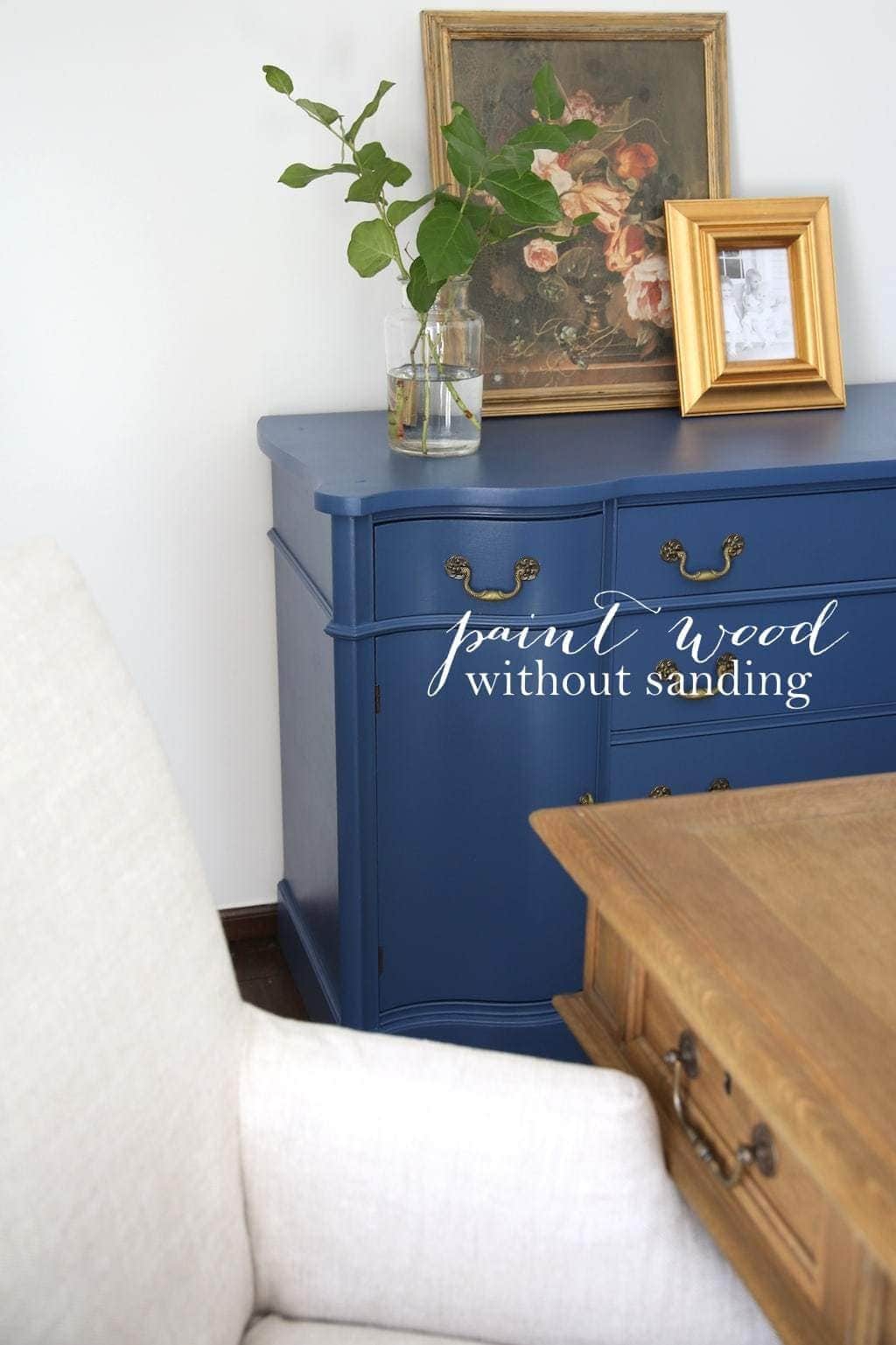 Benefits of Using Liquid Sander Deglosser
Save time – If you've ever sanded, you know just how time consuming it can be.
Saves money – This costs about $9 and uses a paint brush. Sandpaper and sanding pads (or sanders) can really add up. One bottle of this goes a long way!
Easier – Unlike sandpaper, liquid sandpaper can easily get into nooks, crannies and crevices. It also doesn't require any special tools or elbow grease.
Liquid Sandpaper Test
Before you start a huge project, consider testing this product to ensure it's right for your piece.
Apply it as described below.
Prime and paint a small area and allow the paint to dry.
With your fingernail or coin, do a scratch test to ensure that the paint adhered to the wood properly.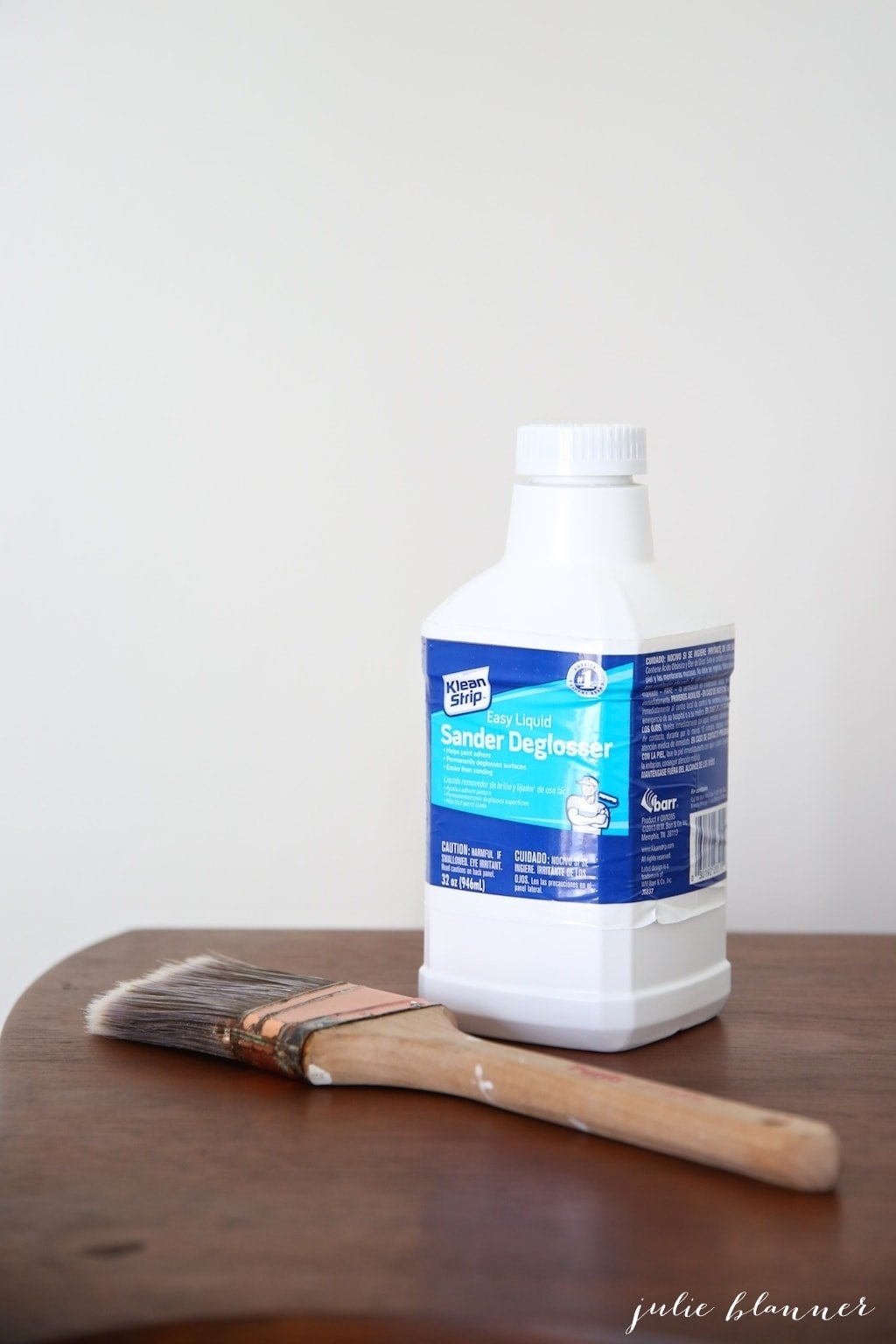 How to Paint Without Sanding
See below for the printable diy instructions. This was a glossy varnished buffet and you can see how dull it is after the deglosser. Work in a well ventilated area.
Using the deglosser, apply with a paint brush over the surface of the wood. You can see how it dulled the stained wood in the image below.
Allow it to penetrate the wood for 15 minutes.
Wipe it off with a lint free cloth. Then you're ready to prime and paint!
More Paint Tips
After following the steps in this tutorial, move on to prime and paint using your favorite oil based or latex paint.
I have used a water based latex paint, but if you're painting over stained wood that goes through heavy duty use, consider an oil based paint for better longevity. Read about my favorite Furniture Paint here.
Samples – Once you are ready to paint over your wood stained trim, doors or furniture, be sure to use paint samples!
Frequently Asked Questions
Do I need to prime stained wood before painting?
There are many primer and paint combinations on the market now, so it's not necessary for many furniture pieces. However, if you're painting cabinets or another item that needs to withstand heavy use, primer is always a great idea.
What Surfaces Is Liquid Sander Deglosser Good For?
But who has time for that? Whether you are painting over stained wood, lacquered wood or existing paint, you can use liquid sander deglosser so that the new paint will properly adhere.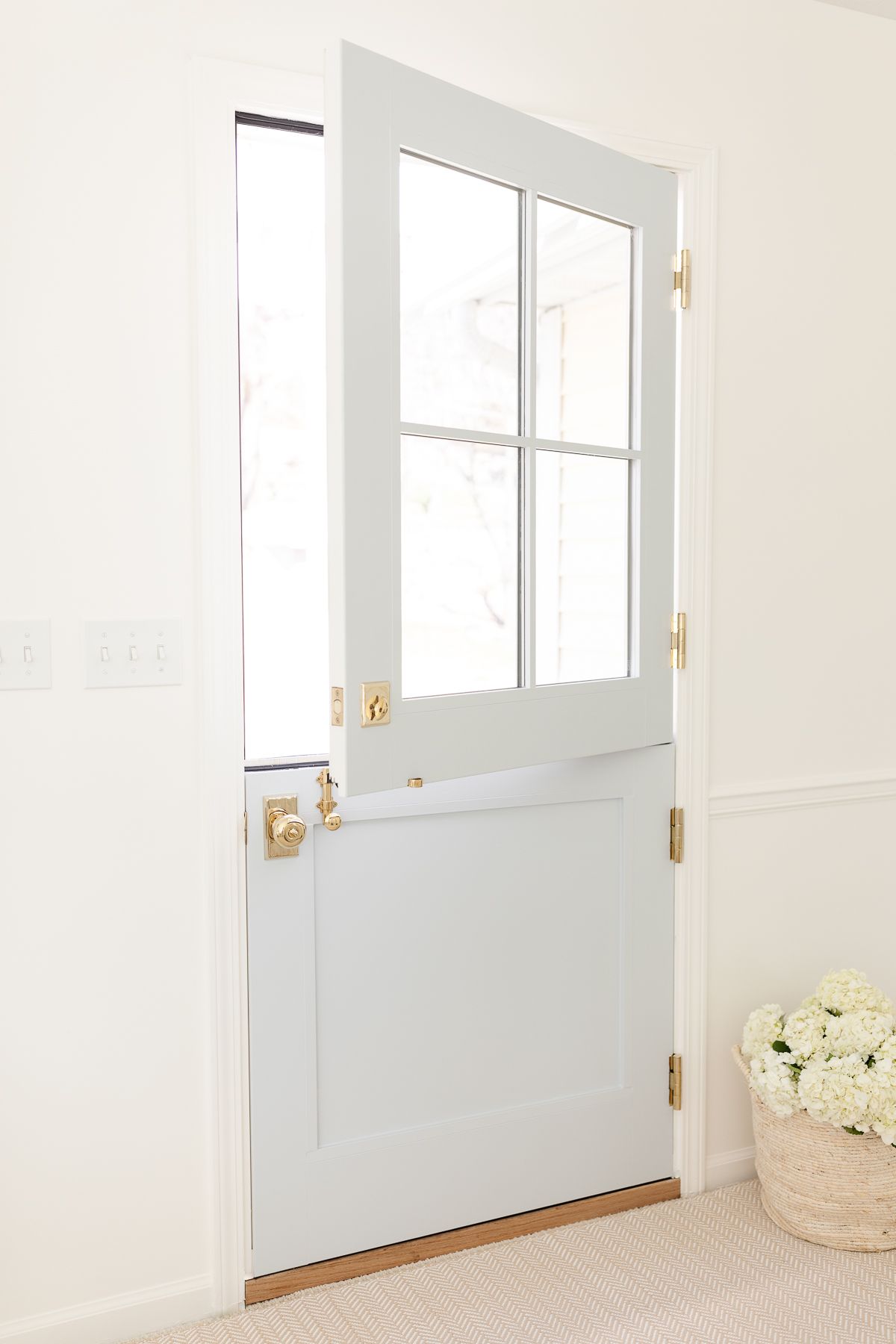 Where to Use Liquid Sandpaper
Remove cabinet doors and hardware to ensure you coat all surfaces of your cabinet. This works on dark wood, light wood, even previously painted cabinets.
Trim tends to experience a lot of wear and tear. Even the darkest stained wood can benefit from liquid sander deglosser and be primed and painted white or the color of your choice!
Give a piece a facelift using liquid sander. Remove hardware. Make sure you do any drawers or cabinet doors separately to get all surfaces and corners.
Remove hardware and take it off of hinges to get all surfaces. This even works on inexpensive hollow core doors.
You may have seen my pin how to paint without sanding on Pinterest…you can pin it here to save this idea for later!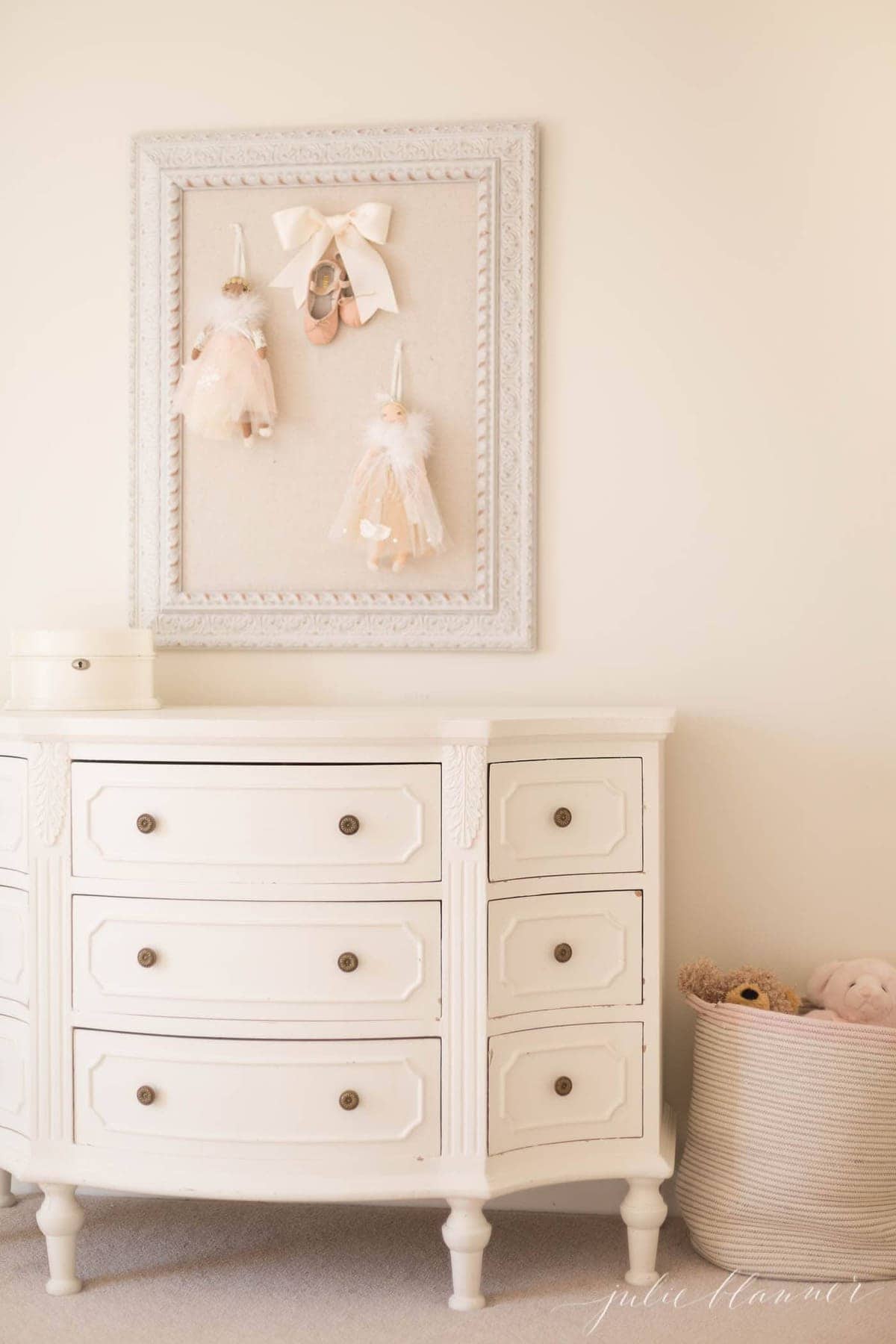 What paint projects are you working on? I'd love to hear from you!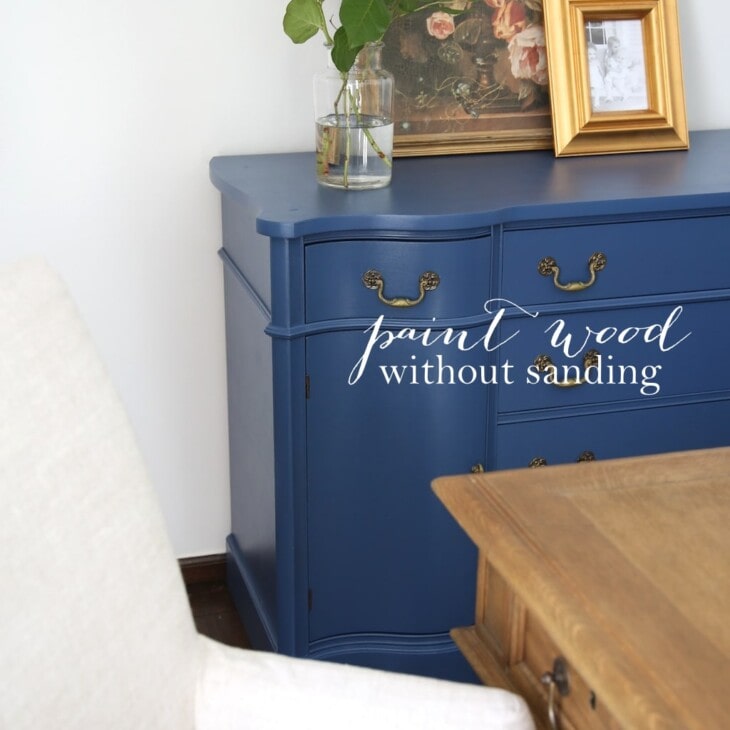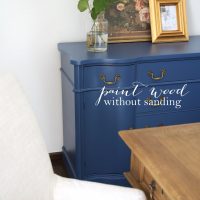 How to Paint Without Sanding
An easy shortcut to paint wood without sanding for a durable finish.
Ingredients
Instructions
Brush deglosser on wood to cover entire surface.

Allow it to penetrate the wood for 15 minutes.

Wipe it off with a cloth.
Tips
Prime and paint as usual!