Get all the details about beadboard backsplash for your kitchen. After we installed this pretty beadboard in our kitchen, we received many questions – so this guide is the answer!
We'll show you what products to use to achieve this look, how to paint the beadboard, and how to care for it.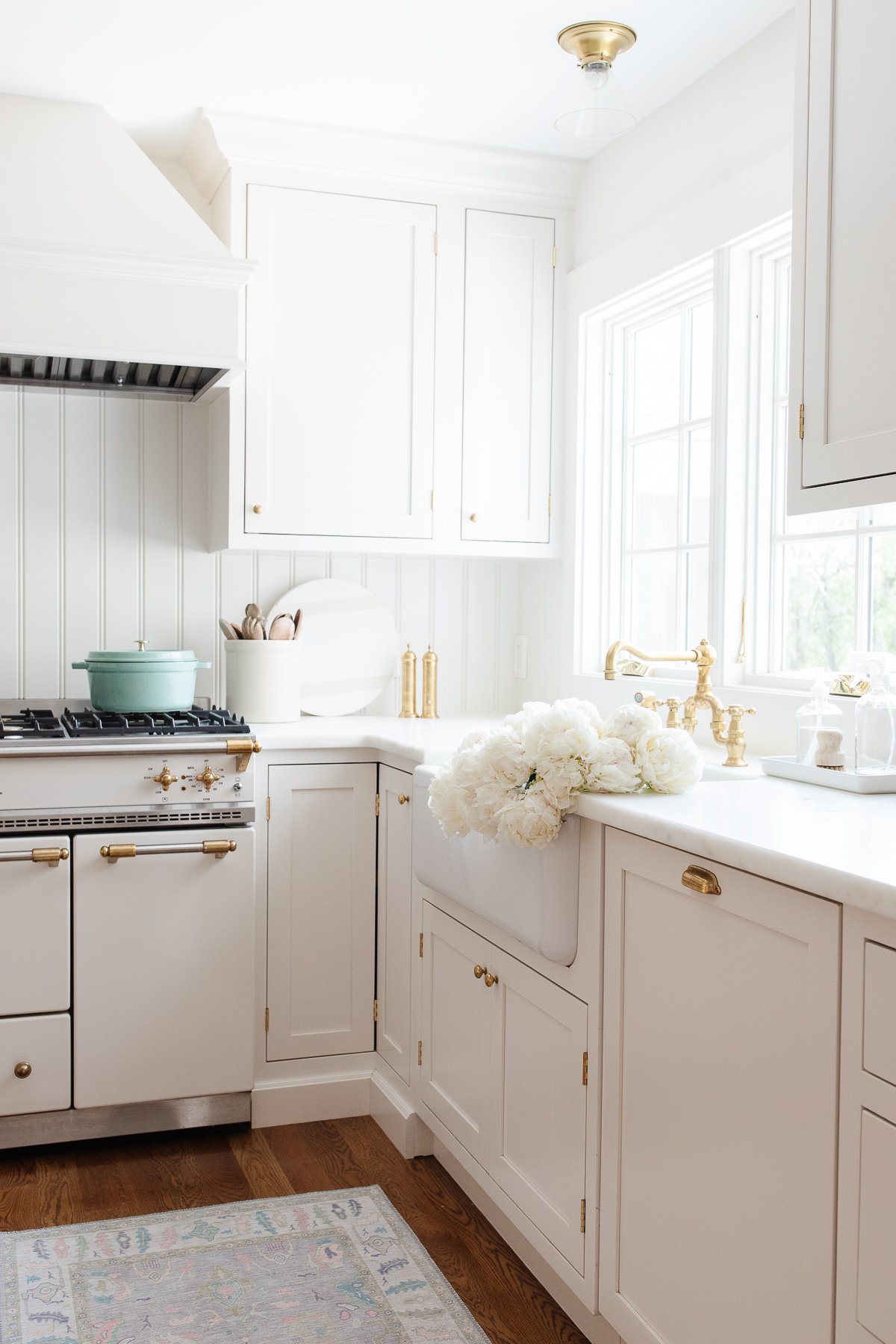 Though our kitchen is far from complete, I'm receiving a lot of emails and Instagram messages about our beadboard backsplash.
I love to chat design with you! Don't skip these popular posts: Subway Tile, How to Paint Tile, and our favorite Spa Bath renovation!
Beadboard is timeless, classic, and understated. Today, we're guiding you through our decision making process, as well as a simple installation guide.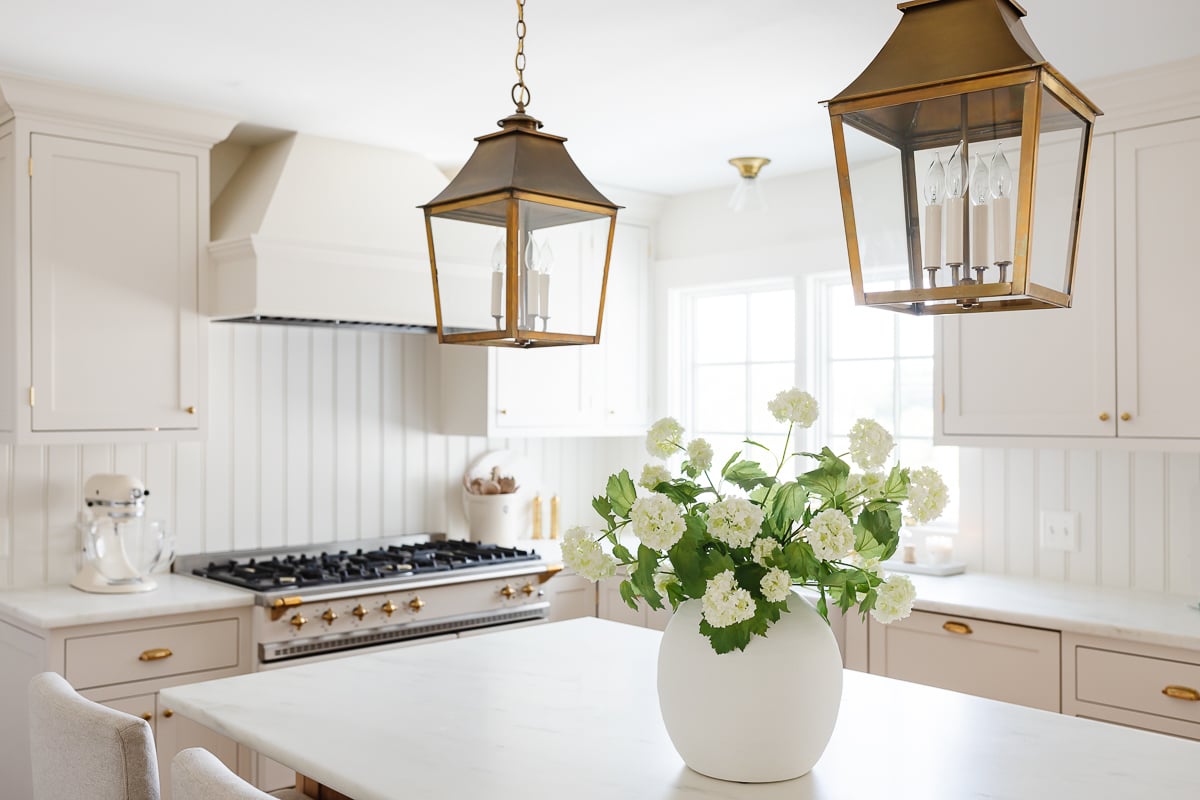 Beadboard Backsplash
We had considered using a soft cream subway tile as we did in our kitchen remodel, but I wanted this kitchen to feel a bit warmer. When we decided we wanted cream kitchen cabinets, I knew that the look of traditional white beadboard would work well here. We simply painted it in the same rich color as the cabinets for a built in look.
You don't want to miss our guides to Panel Ready Appliances, choosing a Microwave Drawer, and a guide to Insert Range Hoods.
I struggled finding the exact look that I was seeking, or to really zone in on what I was looking for, so, I turned it over to Chris, otherwise known as the most extensive unpaid researcher there is.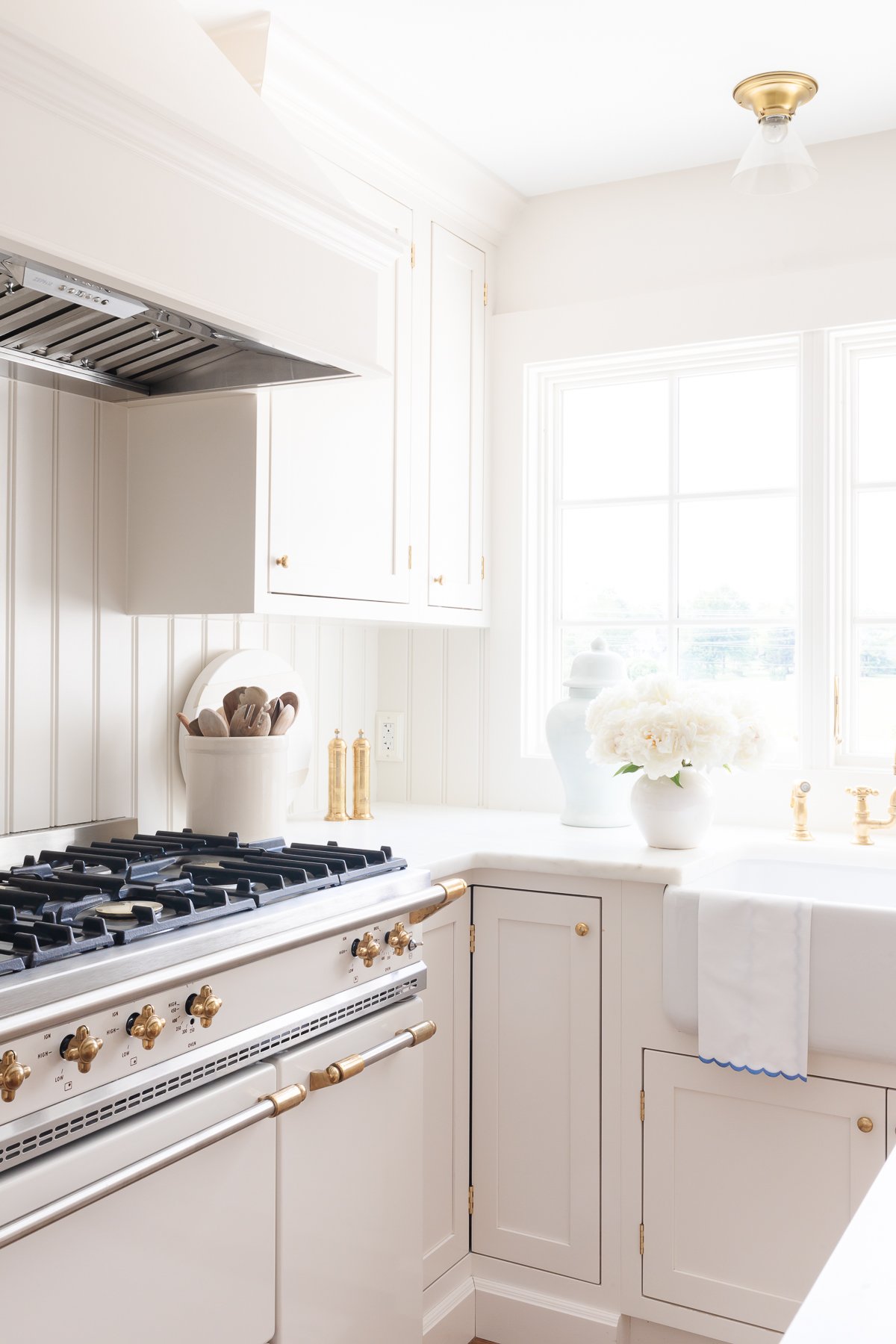 Beadboard is simply defined as paneling that features decorative beading, used typically on walls (as for wainscoting) and ceilings. Beadboard (also known as wainscoting in some parts of the country) comes in many widths and styles and was made famous in Victorian era homes.
You often see beadboard in kitchens and baths because it's a great alternative to tile. It's inexpensive and easy to install! It can be cut to any length.
With the right material and properly sealed (read below), it can safely be used for a backsplash.
Inspired by design favorites including Brooks and Falotico, Devol Kitchens and Humphrey Munson, Chris and I knew we wanted traditional elegance blended with classic comfort of an English country style kitchen. One common element is a beadboard backsplash.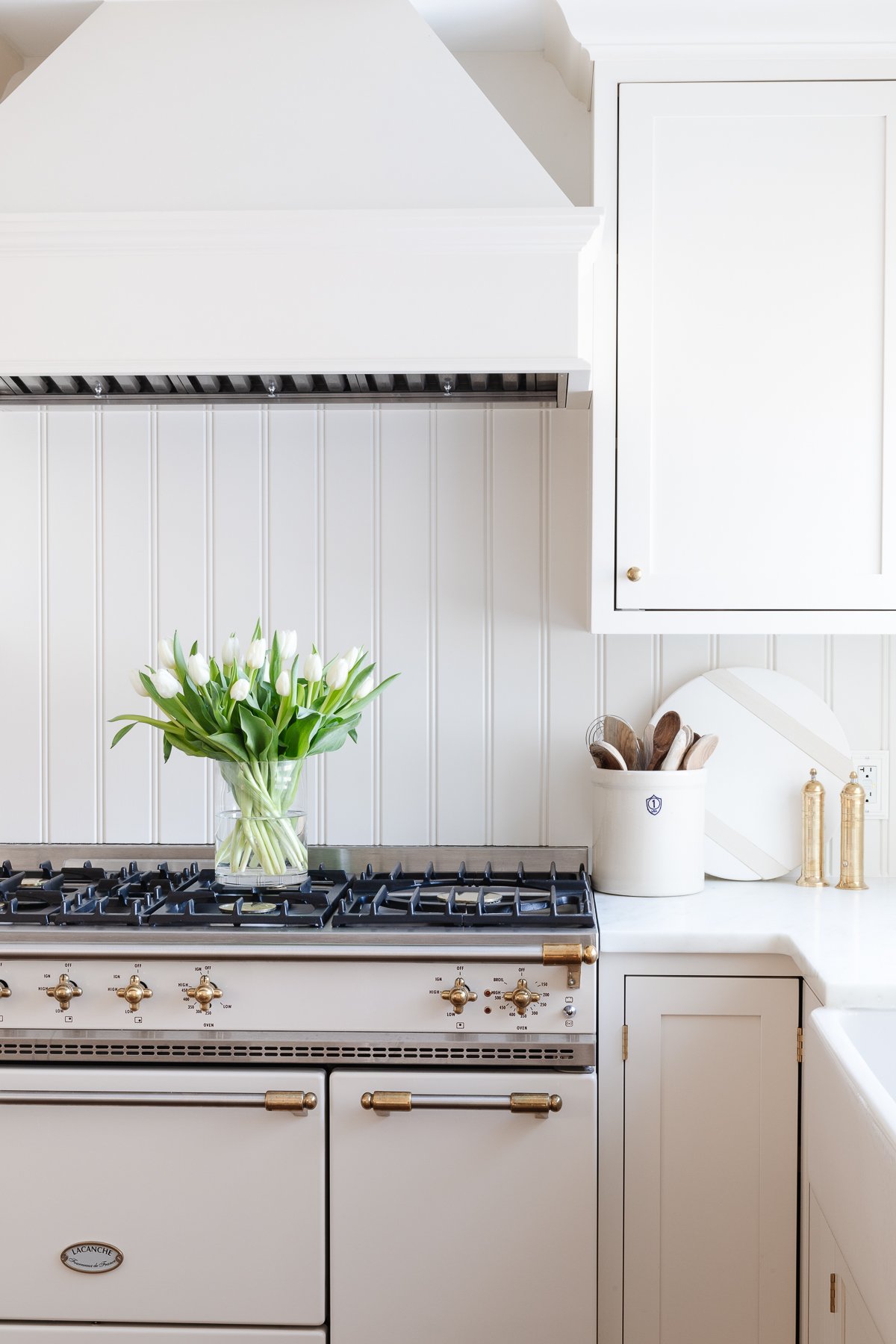 How to Install Beadboard Backsplash
There are several methods and options when choosing to install this look. Chris ended up selecting a moisture resistant 5/8″ thick reversible beadboard panel.
I had envisioned it arriving in sheets of paneling, but the type he chose actually interlocks. The weight gives a little depth to the product so it doesn't feel, well, cheap. Yet it's very cost effective.
Cut to scale.
Cover beadboard with liquid nails. Adhere to the wall.
How To Finish Beadboard
Add quarter round to exposed edges.
Caulk.
Paint.
Prior to the day of installation, we had not considered how to "finish" the edges where the beadboard ends with the cabinets, not a wall. It was an afterthought, so the carpenter had already installed the beadboard, but he finished it with a thin quarter round – because it was an after thought, it extends beyond the cabinets.
Should you choose to finish this way, you may want to start with the quarter round flush with your cabinetry.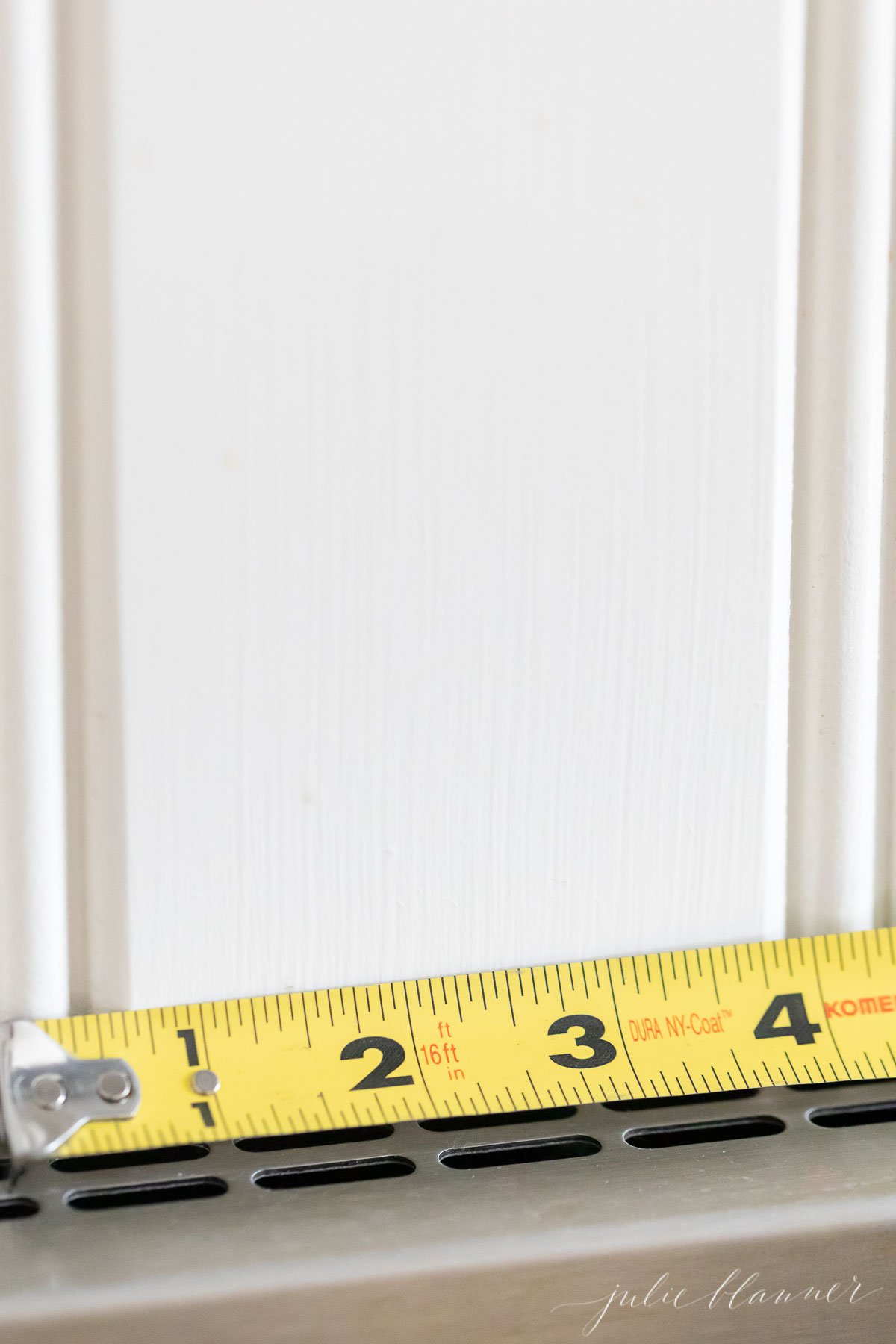 The only regret I have in the installation process is not having the painter spray before installing. Brush marks make me cringe, but maybe it's just because our cabinets are flawlessly sprayed.
Of course selecting the best paint is of upmost importance. We used my favorite Furniture Paint (and Trim Paint). It adheres well and is a semi-gloss so it wipes down easily.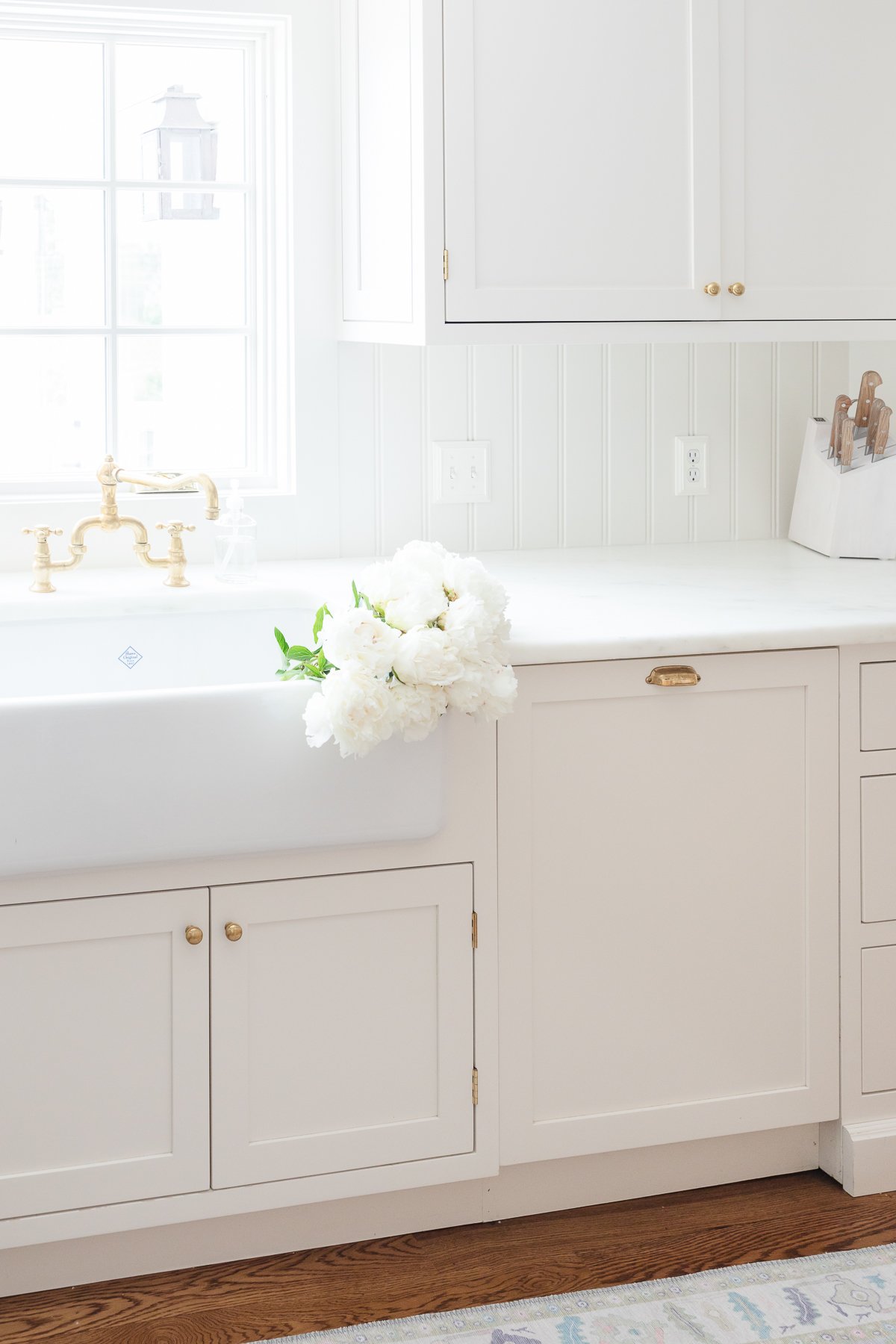 Frequently Asked Questions
Is beadboard water resistant?
We used our beadboard backsplash by the wine and coffee bar, sink, window, range, etc. Many of these areas are subject to splashing liquids, of course. When it's splashed, it wipes clean with ease, as it's painted with a durable semi-gloss.
After a significant amount of research, we found that this product is commonly used in traditional English kitchens and it holds up beautifully.
Cyndie says: I just love beadboard and we're considering it on the wall behind the stove with marble tile on the wall behind the sink. My contractor is concerned about the caulk line where the beadboard meets the quartz countertop so I'm curious if you used something special, or was it a regular caulk that would typically be used.
We just used regular caulk and a caulk gun, there are a couple tiny cracks where it gets SO cold (that side of the house gets a lot of wind), but otherwise fine. You can also get by without caulking if you get a close straight line (per our carpenter).
Debbie says: Is the beadboard also behind your stove? What about heat and steam from cooking? I'd think it would bubble the paint…
It is, but before installing we did extensive research. We used a moisture resistant beadboard with that in mind.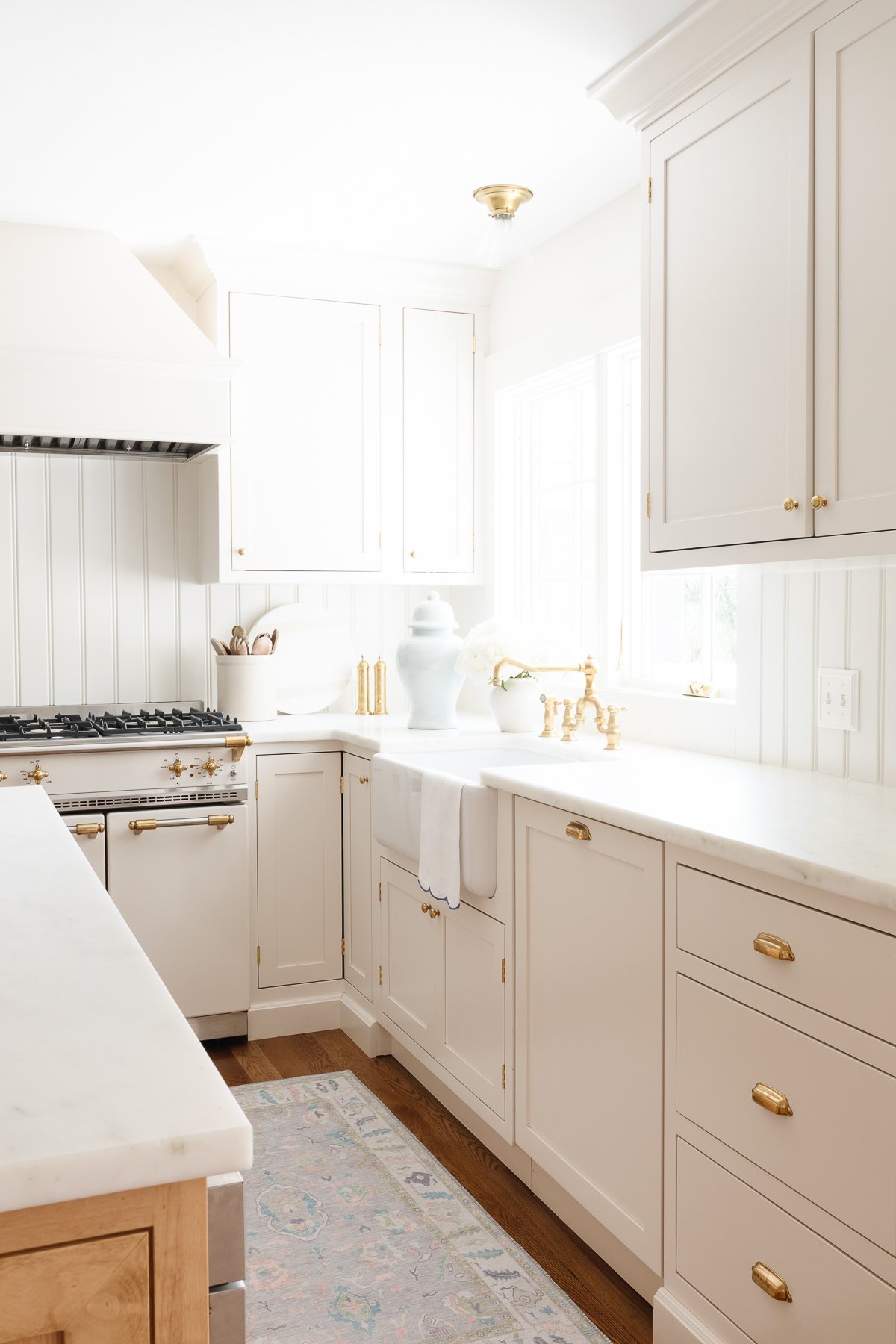 This is also a great alternative to add detail to the back of kitchen cabinets or an exposed hutch, a porch ceiling and more!
If you have any further questions, let me know, I'm happy to help!
Sources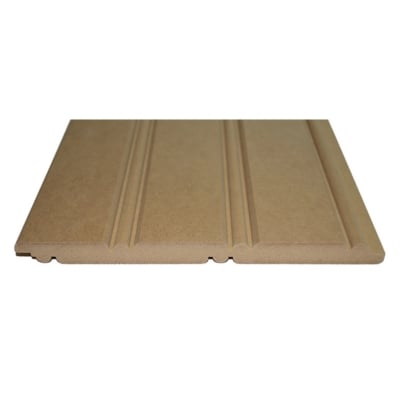 Our Beadboard Backsplash
We used this moisture resistant 5/8″ thick reversible beadboard panel for our beadboard backsplash!