A microwave drawer can give homeowners the ability to tuck this appliance under the counter in their kitchen design. If you're considering a drawer microwave, keep reading to learn all about how they work, the pros and cons, and more.
It's easy to see why microwave drawers are so popular! They are the ultimate in form and function, taking the kitchen design world by storm as soon as they hit the market.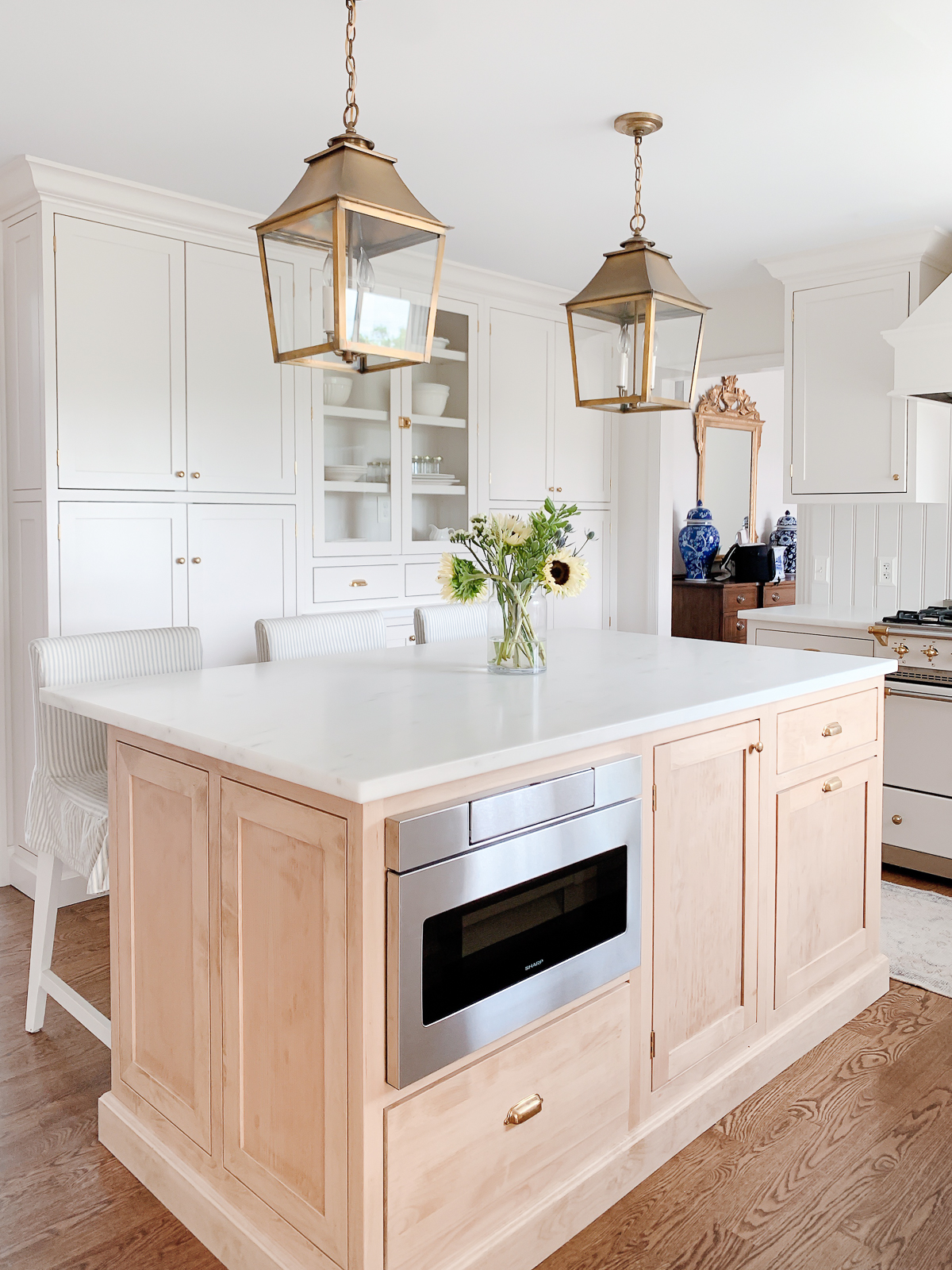 When we were designing our new kitchen, I knew right away that I wanted an under counter microwave in our island. It was the most visually unobtrusive option, and you all know that I love a clean, minimalist kitchen.
A microwave drawer is the modern choice, bringing form and function to your kitchen. There are a variety of makes, models, styles, and finishes to choose from.
In addition to a modern under counter microwave, we updated our kitchen with panel ready appliances that blend seamlessly with our creamy inset cabinets. We also added a gorgeous French Lacanche Range that is a showstopper and panel ready appliances.
If you're thinking of adding a microwave to your island, make sure to check out my Kitchen Island Dimension Guidelines. It's a lifesaver when it comes to planning your space!
If you're not quite ready for a big remodel, take a look at my Kitchen Remodel Ideas on a Budget and How to Update a Kitchen with Oak Cabinets (Without Painting Them). You'll find a lot of great ideas!
Keep reading for all about microwave drawers and how they can benefit your kitchen!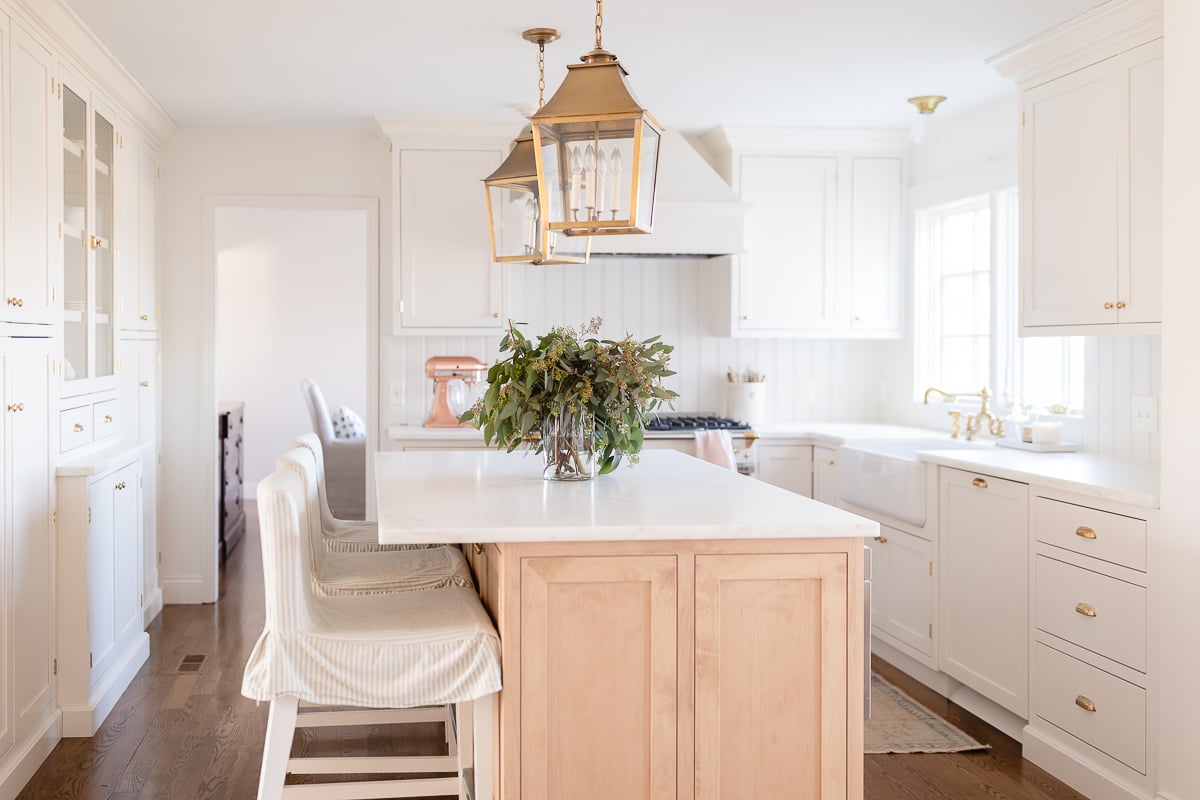 Types of Microwaves
There are three main types of microwaves: countertop, over-oven (aka built-in), and under-counter (aka microwave drawer). Here's a bit more about each one.
Countertop Microwaves – The first models to hit the market, countertop microwaves get the job done and they're usually the most inexpensive. However, they take up valuable real estate in the kitchen. Countertop space is at a premium, whether it's a workspace or just to keep it visually open. Find my favorite tips for how to eliminate kitchen counter clutter here.
Over the Oven Microwaves – Over the range microwaves are typically mounted to the wall and installed between two cabinets. Generally speaking, you purchase a size that is as close as possible to the space you have to fill, and it comes with filler pieces to make up the difference. This type of microwave requires some type of ventilation system.
Microwave Drawers – If you want the microwave in island look, you'll need to purchase a microwave drawer. A drawer microwave fits under the counter in a lower cabinet. They allow countertops to stay uncluttered, while also creating a more seamless aesthetic overall.
Where to Install Under Counter Microwave
Microwave drawers are especially popular in kitchen islands, because it's such a central, convenient location for use. However, they can be installed under any countertop or in any wall cabinet. They can go against a corner or next to a wall – basically anywhere a wall oven can be installed.
Some homeowners like to stack their microwave drawer just under a wall oven, so all of their cooking appliances are together in one place. There isn't a right or wrong way to do it.
One other thing to consider is that microwave drawers can be installed flush with the cabinet face for a more seamless look or installed proud, which means protruding slightly in front of the cabinets. How you choose to do it depends on your personal preference.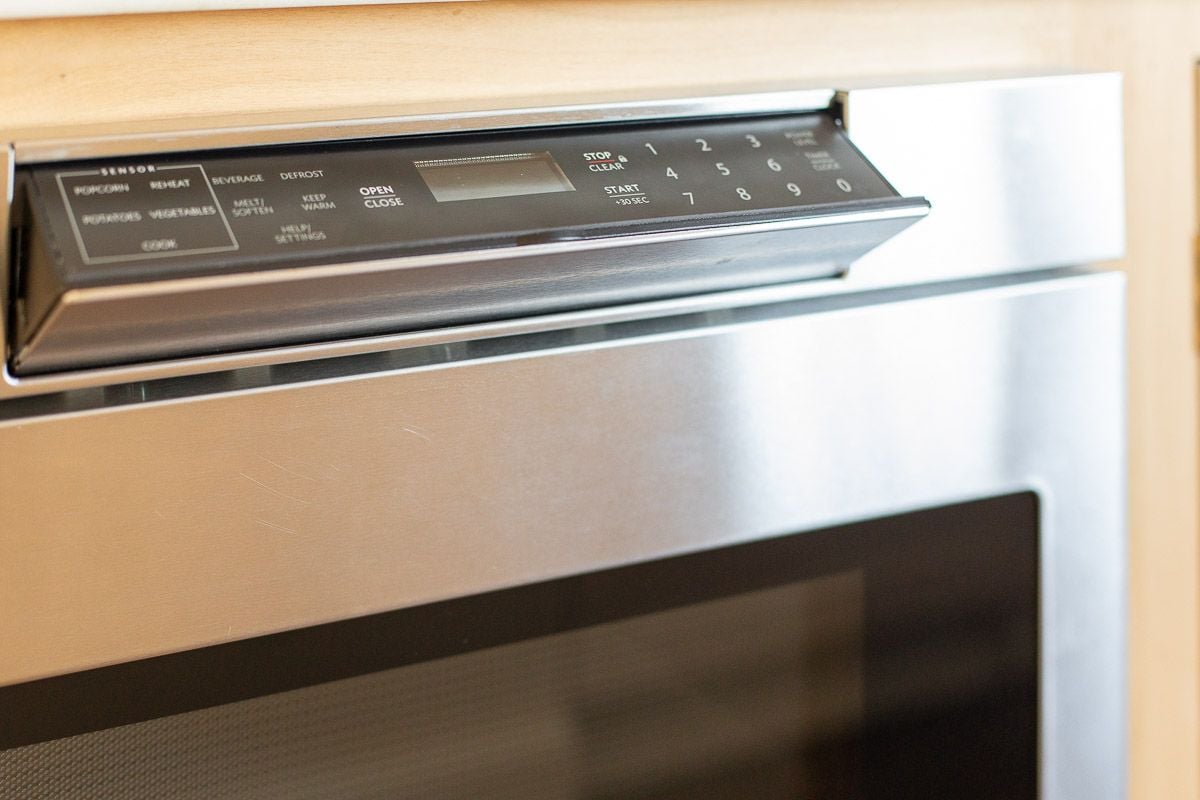 How Does an Under Counter Microwave Work?
Microwave drawers are extremely user friendly. When you're ready to use it, simply open it with the touch of a button. The drawer will slide out, rather than swing on a hinge like traditional microwaves.
Lower your food inside the tray, then select your desired settings on the control panel. Close the drawer with another touch of a button. That's it! Keep reading for some of the pros and cons.
Microwave in Island Sizes
Regardless of the brand, there are currently two sizes available for the exterior of the drawer, but the interior size is the same.
Outside width: 24″ or 30″ (24″ is the most popular size)
Interior measurements (same for 24″ and 30″ models): 17 5/16" W x 7 1/8" H x 16 9/16" D (1.2 cu. ft)
Microwave in Island Pros and Cons
Personally, I don't think there is much to not love about having a drawer-style microwave. But I'll let you decide for yourselves. Here's a list of some of the pros and cons of under counter microwaves:
Pros of Microwave Drawers
Additional countertop space – Like an over the oven microwave, a microwave drawer leaves your countertops clear for workspace, decor items, or just to be visually open.
Space for an oven hood – Custom oven hoods are trending right now, and you can't exactly have one with a microwave over your oven. A microwave drawer allows you to install an oven hood that can be a statement piece in your kitchen.
Improved accessibility – These open out instead of swinging on a hinge. This is good news for anyone who is left-handed or who may have trouble lifting heavy dishes above chest height. With a lower microwave, they can easily lower dishes in and lift them out.
Easy to clean – Not only are these microwaves easier to reach, but without a turntable they don't have any nooks and crannies. They have only easy-to-clean flat surfaces.
Design is modern – Most models have a sleek design that fits well into a modern aesthetic. However, it looks right at home in a more classic style like mine, because it makes the space look updated and fresh. For another example, look at this Modern Kitchen in an Old House that I toured – it's amazing!
Safety features – Some parents are concerned about having a microwave that is low enough for their children to reach. There's no need to worry! Under counter microwaves have a feature that allows adults to lock the control panel. It can be set as the default, so you can rest assured your children can't use it without you present.
Large capacity – You don't have to compromise on space. The interior can fit a 4-qt casserole dish, which I find is plenty of space.
Cook as you go – You can easily add seasoning or stir without removing your food from the microwave. Just open the drawer, stir your food, and close again. It's that simple!
Cons of Microwave Drawers
No convection – Convection cooking occurs through circulating hot air throughout the appliance. Currently, this can't be done in any microwave drawer due to lack of ventilation. This means no broiling or baking like you can in a regular oven.
No turntable – Microwave drawers have newer technology that doesn't use turntables to heat food. That's only a con if you're really set on the old way of doing things.
Same heating capabilities as other microwaves – They do a good job, but they aren't going to work miracles on frozen food.
Limited sizes – Only 24″ and 30″ widths are currently available, and the interior sizes are all the same across brands.
Installation – Installing a microwave in your island is a bit more complicated than plugging one into your wall. If you're not really familiar with what you're doing, I recommend hiring a professional electrician to do the job.
Cost – Traditional microwaves cost between $100 – $500. You will pay more to get the premium design and features of a microwave drawer in your island. An under counter microwave drawer typically costs about $1,000 but can cost up to $1,800, not including installation.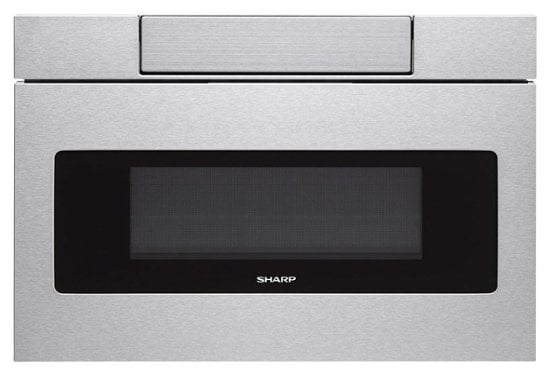 Why Are Microwave Drawers Expensive?
There's no way around it. If you want the microwave drawer look and function, you're going to pay more for it.
The main reason is because the technology belongs to SHARP, which means they make all of the microwave drawers and can charge as much as they want for them. Also, these are the only microwaves that don't rely on turntables to heat food, so the parts are unique. Unique equals more expensive. And finally, the parts are high-quality and up-to-date, which means they will cost more.
Other companies, like Bosch, GE, and KitchenAid, buy the base microwave from SHARP at a high price, then add extra parts to it to make it their own. Technically, they could add cheap parts to try to save a few dollars, but what's the point? If they're already spending $900 on a base microwave, it makes sense to add high-quality parts.
This is why microwave drawers are at their current pricepoint, and it's why they aren't likely to drop any time soon.
Is a Under Counter Microwave Worth It?
The answer to this question is entirely up to you. I obviously decided that for me, the answer was yes!
You can read all about how we designed our kitchen, specifically how we decided where to compromise and where to splurge in this post – Classic Kitchen: Give and Take. I hope it will give you some inspiration for your own spaces.
If cost is your only consideration, there are definitely more affordable options in microwaves. However, if you're considering the form, function, and premium features of a microwave drawer, the higher cost may be worth it to you. Only you can decide that.
For some people, other factors are more important than the cost. Maybe they love the sleek, uncluttered look of having a microwave in their island. Or perhaps they have a condition, such as arthritis, that makes it difficult to lift dishes into an over-oven microwave. Improved accessibility is a big reason many people choose to go with under counter microwaves.
One thing to consider is that sometimes brands will run deals that offer free microwave drawers when you purchase their appliance package. That could be a big savings if you're in the market for new appliances.
Think of what is important to you, then decide if the extra cost is worth it to you. If your answer is yes, maybe it would mean a few extra months of saving. That's worth it for years of enjoying what you want, right?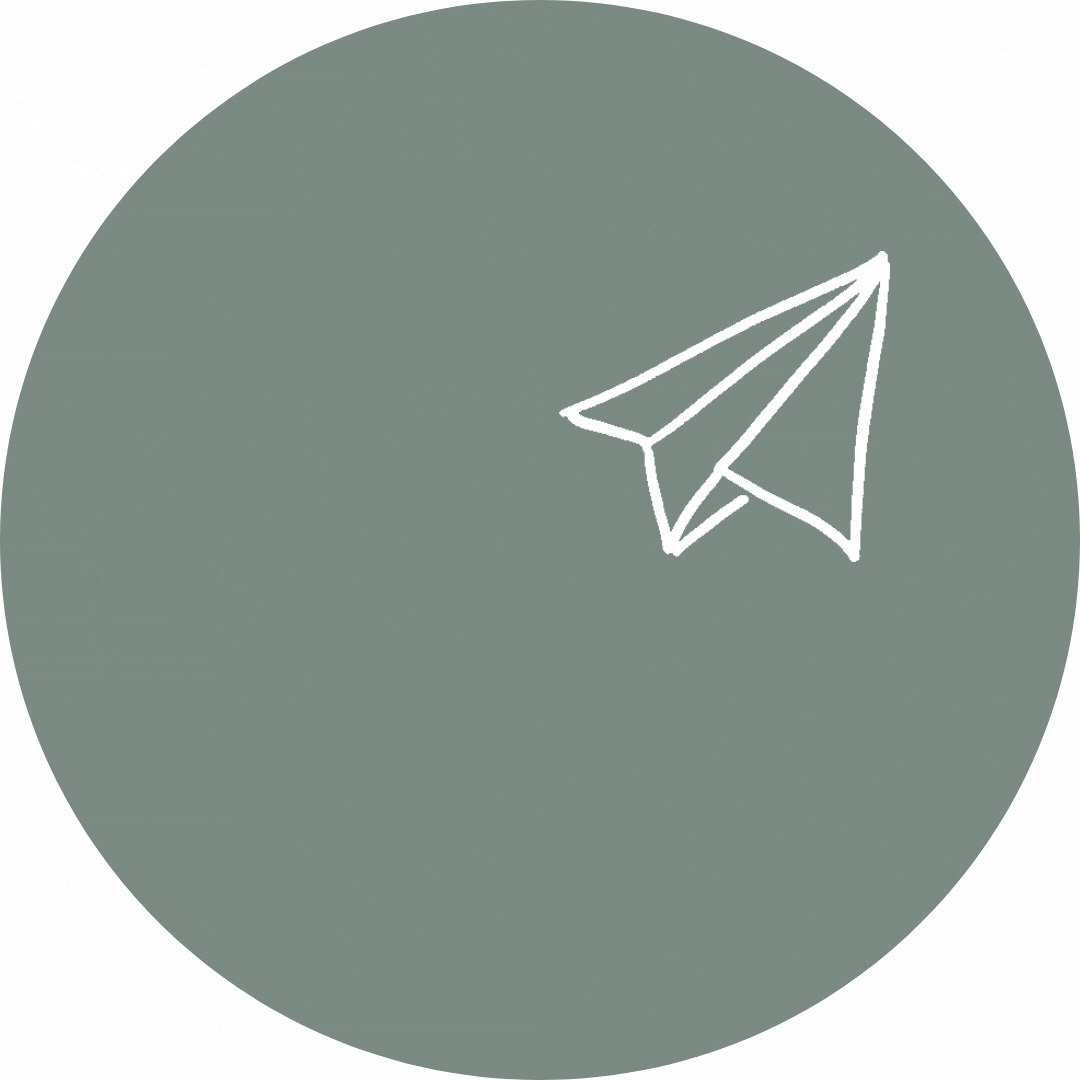 Frequently Asked Questions
Can you put a microwave in an island?
The answer is, it depends. You can't put a regular counter microwave in an island, because it doesn't have the right ventilation. The best way to have a microwave in island is to purchase a microwave drawer and have it professionally installed.

It is designed to be built in to a cabinet. Technically, you can put an over-oven microwave in an island IF the ventilation comes out the top front. You'd need to build a base for it to sit on, add brackets for it to rest on, and make sure it is ventilating properly. Do NOT put it behind a closed door.
Why do people put microwave in island?
Many people love the modern, sleek design of having a microwave in their island. It leaves the view of their kitchen more unobstructed. For others, they love the improved accessibility it offers.

Simply put, a microwave in the island is a lot easier to reach and clean. It's easier and saver for people who may struggle to lift heavy dishes up an over-oven microwave. For many people, the higher price tag is worth it.
What kind of microwave goes in an island?
It's called a microwave drawer or an under counter microwave. Almost all major brands make their own model, but most of the controls and features are similar across brands.

The major differences from regular microwaves are that it slides open like a drawer, rather than swinging on a hinge, and that it doesn't use a turntable to heat food.
How do drawer microwaves vent?
Microwave drawers are self-contained united, meaning that they have ventilation systems built in and no additional ventilation systems are necessary.
Sources
Sharp Stainless Steel Microwave Drawer | Sharp Microwave Drawer Oven with Handle | Bosch Stainless Steel Microwave Drawer | Frigidaire Professional Convection Microwave Oven with Drop-Down Door | Thermador Drawer Microwave | KitchenAid Microwave Drawer
Let's keep in touch! Receive exclusive content, including never-seen-before photos, our favorite home decor DIYs and more!