Learn what makes Serena and Lily outdoor furniture so special! It's more than comfort (and trust me, it's oh-so-comfortable). It's the beauty, clean lines, upscale style and quality that just can't be replicated with other brands.
Add instant texture, style and warmth to any outdoor space with Serena and Lily patio furniture.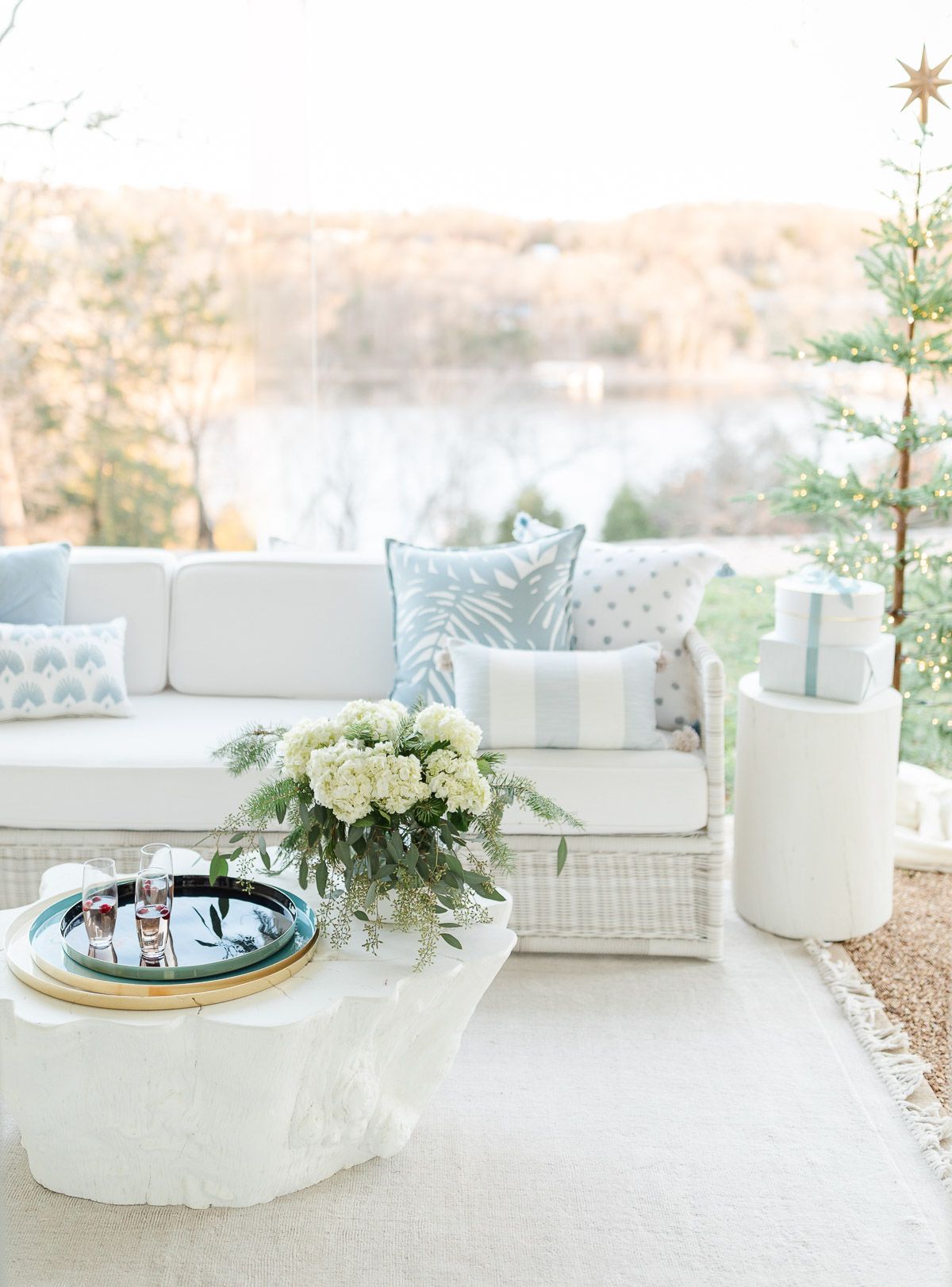 For years our lower patio was just a space under the deck where the girls would play. As we started entertaining more we wanted to make it another space sheltered from the weather where we could play games, hang out and soak up the views.
If you've seen the photo tours of our lake cottage, you've likely noticed that I'm obsessed with Serena & Lily. I love the clean lines, classic design, and most importantly, the quality. I partnered with them to complete our lower patio where we often entertain friends and family!
When we purchased our home, bushes consumed a lot of the outdoor space and the backyard felt undefined, and less than welcoming. We replaced our deck and added an under deck ceiling to protect it from the elements so we could enjoy it rain or shine.
As soon as we accomplished that makeover, I started planning a design for the patio that would serve our family for years to come!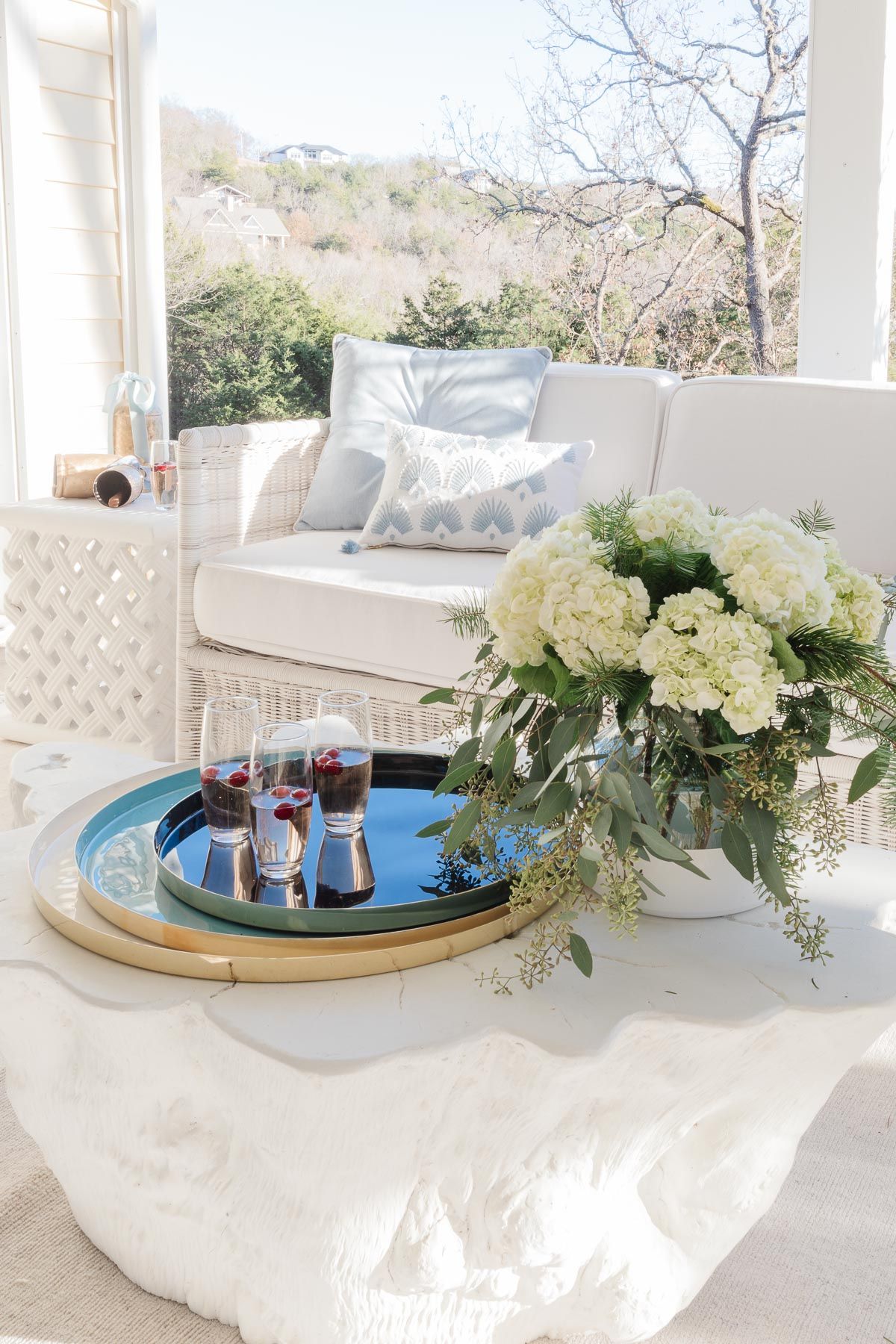 Serena and Lily Outdoor Furniture
I know what you're thinking – outdoor furniture in late November? Avoid any supply chain issues and shop this weekend while everything is 25% off! Not only will you save money, but your patio will be picture-perfect next spring so you can enjoy it all year!
The patio has become an extension of our living space. Now, we can enjoy all of the comforts of our living room, outdoors. Yes, even at this time of year. In fact, I'm sharing this space all dressed up for the holidays today – and we couldn't be more excited. I hope you love it as much as we do!
Serena and Lily offers durable, weather-resistant furniture and fabrics that are suitable both indoors and out (especially if you have children – see How I Maintain a Clean Home).
Patio Before and After
Before the full tour, here's a little before image. You can see the patio right when we moved in, and then after we replaced the deck and added under-decking.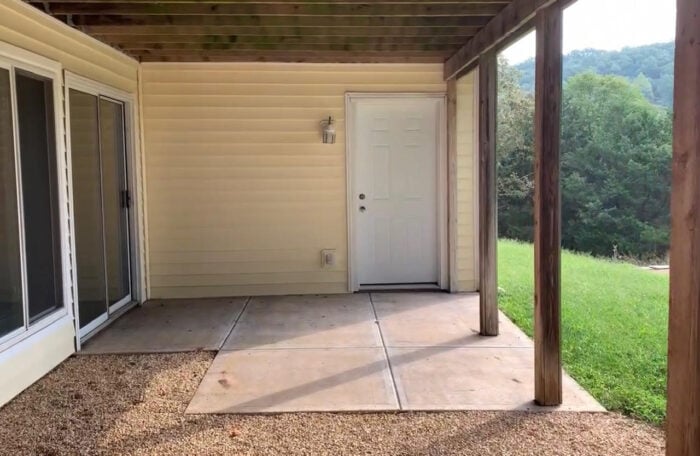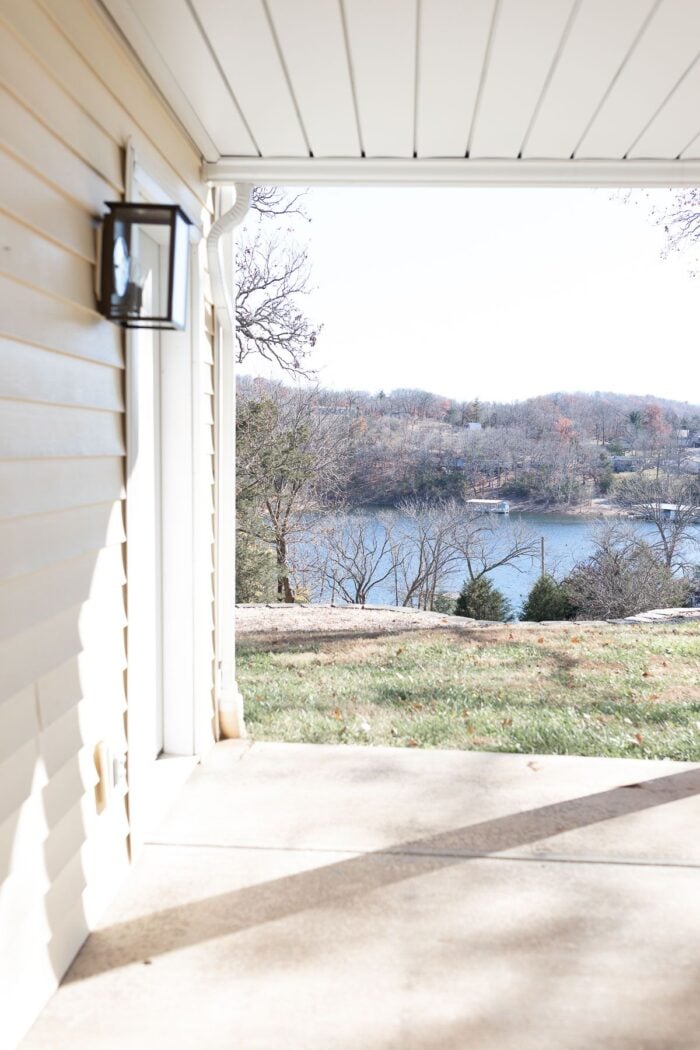 This space has gone through an incredible transformation of late. What started as a blank (and tired) space, has turned into one of the most special areas of our home!
Given we have three kids, frequent guests, and are subject to harsh Missouri winters, I wanted to integrate durable pieces that are easy to clean. Serena and Lily outdoor furniture is a fresh approach that is relaxed, yet refined.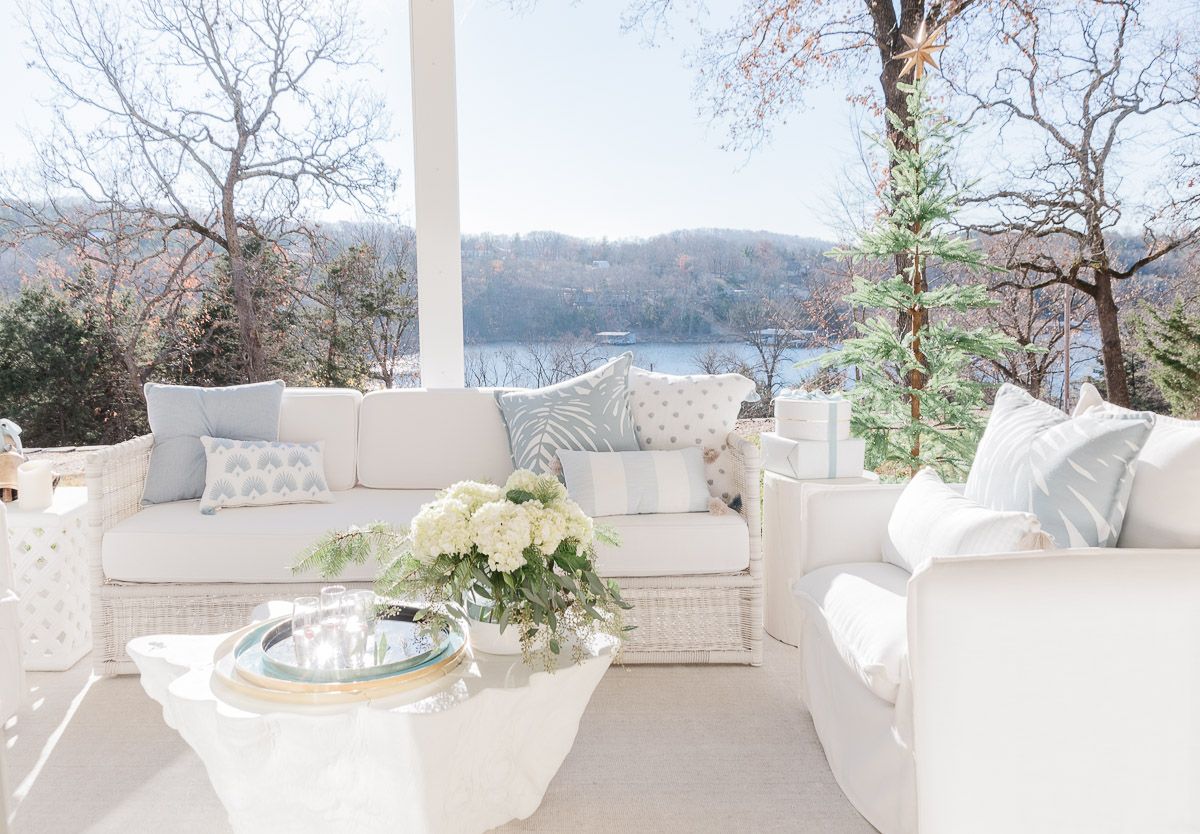 The wicker sofa offers classic style with slightly modern lines. The soft white wash mimics the driftwood we often see along the shoreline, giving it a natural feel. It's crafted of all-weather resin, with an aluminum frame that is rust-resistant.
The cushions are incredibly comfortable and made with all-weather foam and polyester fill. The removable covers can be made with your favorite performance fabric for easy care and maintenance.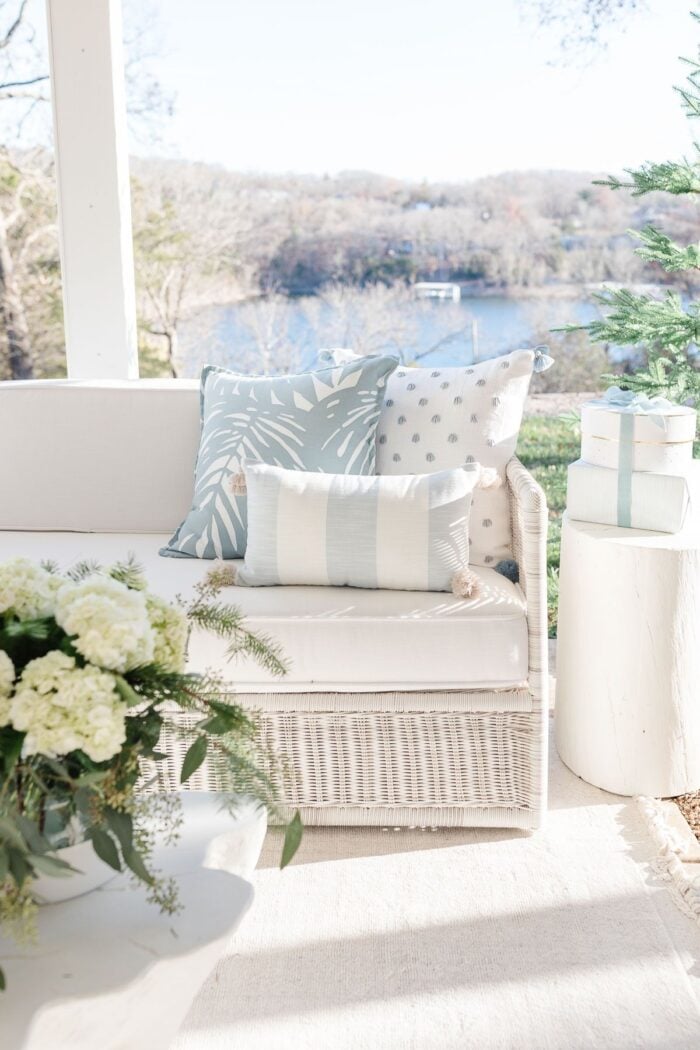 Styling your Serena and Lily Patio Furniture
For added interest and comfort, we piled our sofa and chairs high with pillows in pretty patterns and beautiful coastal blue hues. Design is always in the details and Serena and Lily pillow covers are filled to the brim with them!
From intricate embroidered block prints, tassels and button tufts these pillow covers have them all.
I am such a fan of throw pillows to switch up your decor! Learn about my favorite pillow inserts here. You can also learn all about how to mix and match pillow covers here and find the sources for the pillows pictured here, below!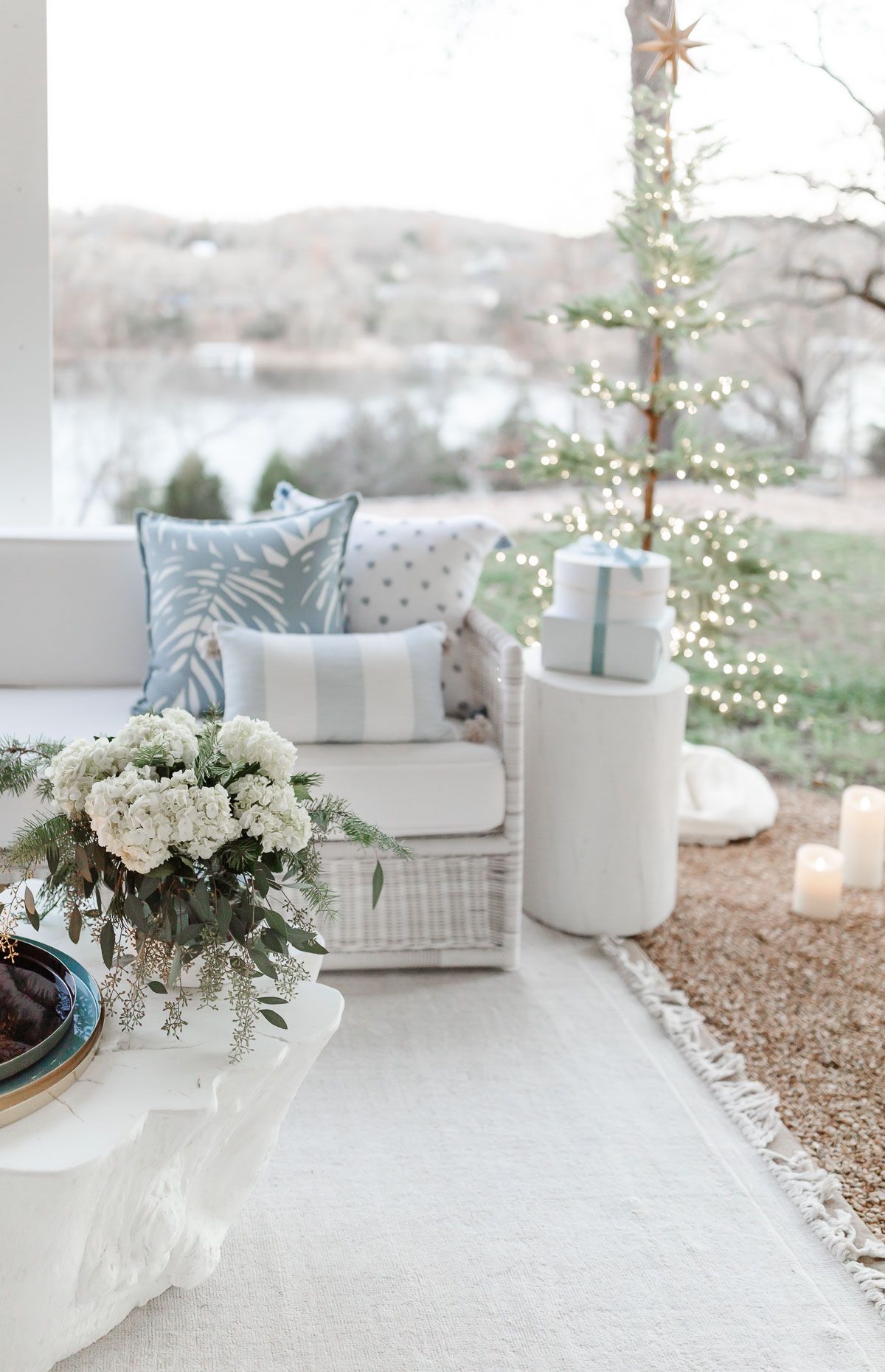 Serena and Lily Outdoor Chairs
I paired the sofa with French seam Sundial Chairs (available in an array of colors and patterns). They are the perfect blend of design and function. In fact, they're so comfortable you melt into them.
These chairs are so tailored and refined, with pretty, fresh and clean lines. Even better, they're practical! We're considering adding them to our coastal living room, too.
They're covered with a waterproof adhesive so they're easy to clean with mild detergent. Constructed of birch, they will stand the test of time. I love layering in cozy throws for chilly evenings so we can enjoy spring, summer and fall!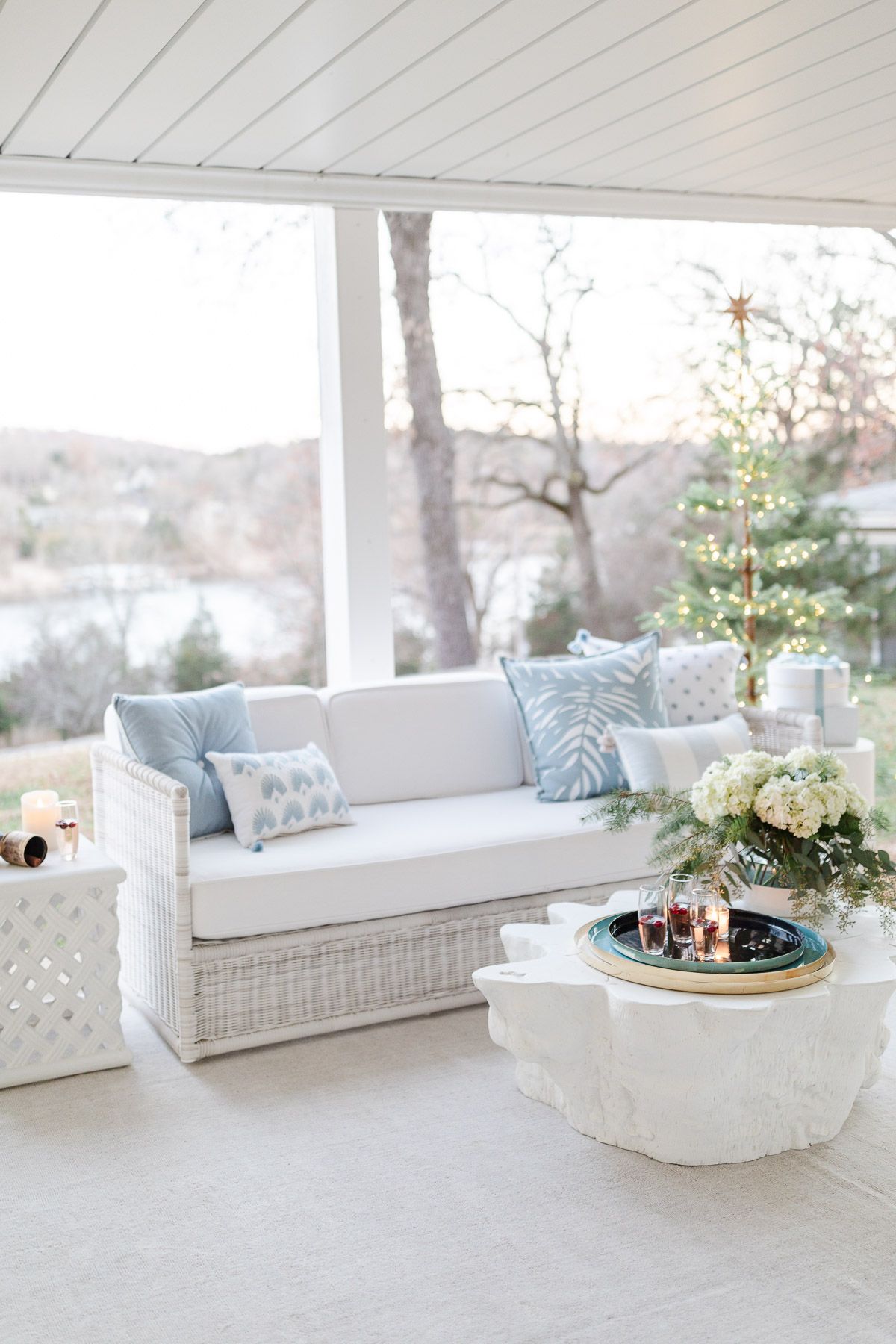 Accent Furniture
The Boonville coffee table is perfect to kick your feet up and relax or serve jarcuterie! It's cast from a real tree root and captures the lines and character with a modern, easy-to-clean matte white finish. Again, this unique piece can be used indoors or out.
When it came to choosing side tables, the options felt endless. We knew we wanted to add two different styles, creating a customized look that we adore! We went with a woven lattice table (Anacapa) on one side, and another tree trunk piece for the other (Bayville).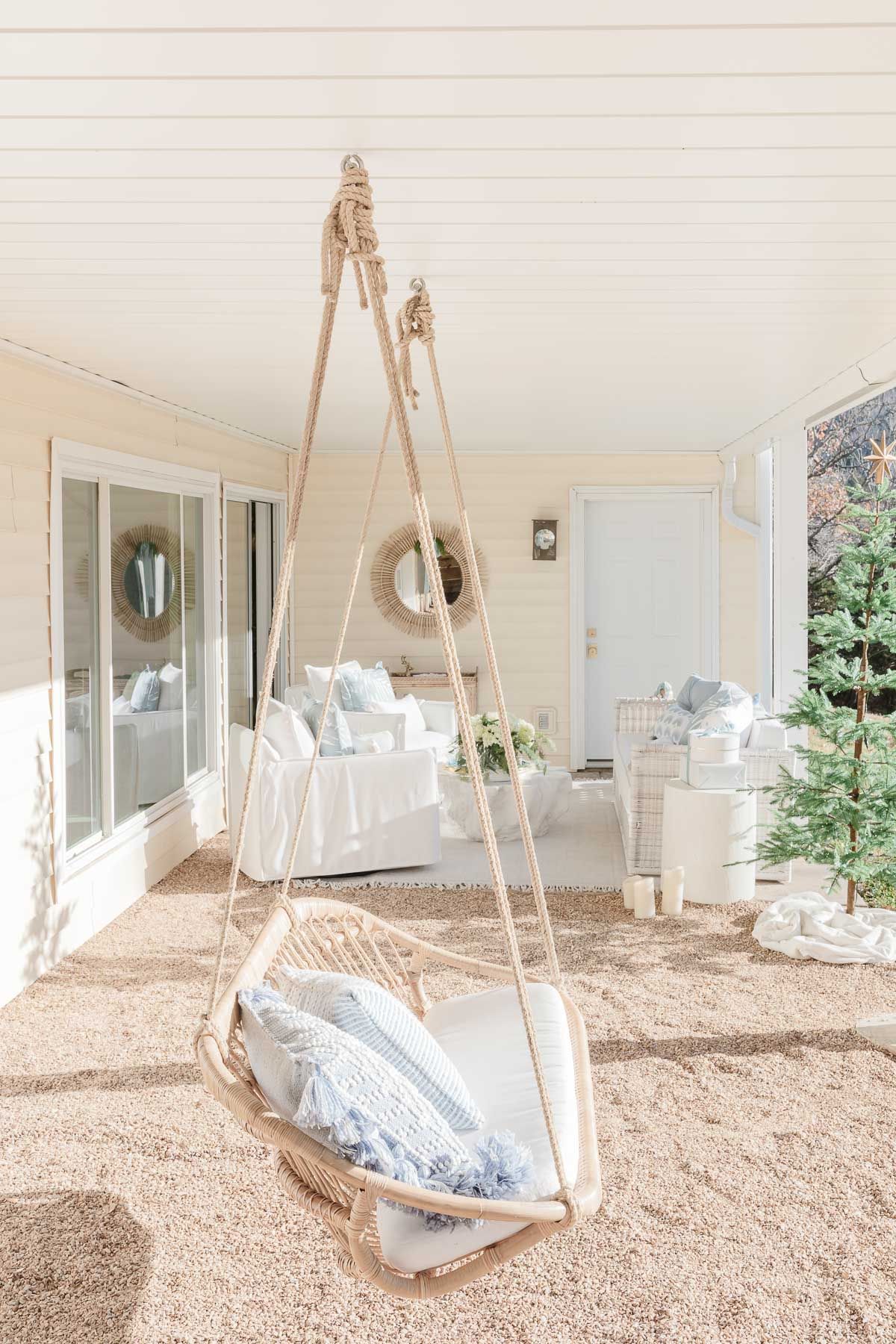 We can't forget the swing that we adore! It's one of the girls' favorite places to sit and hang outside, such a perfect spot to cozy up.
Design Tip: Rather than selecting a furniture set, mix and match pieces to make a space feel warm, thoughtful and interesting.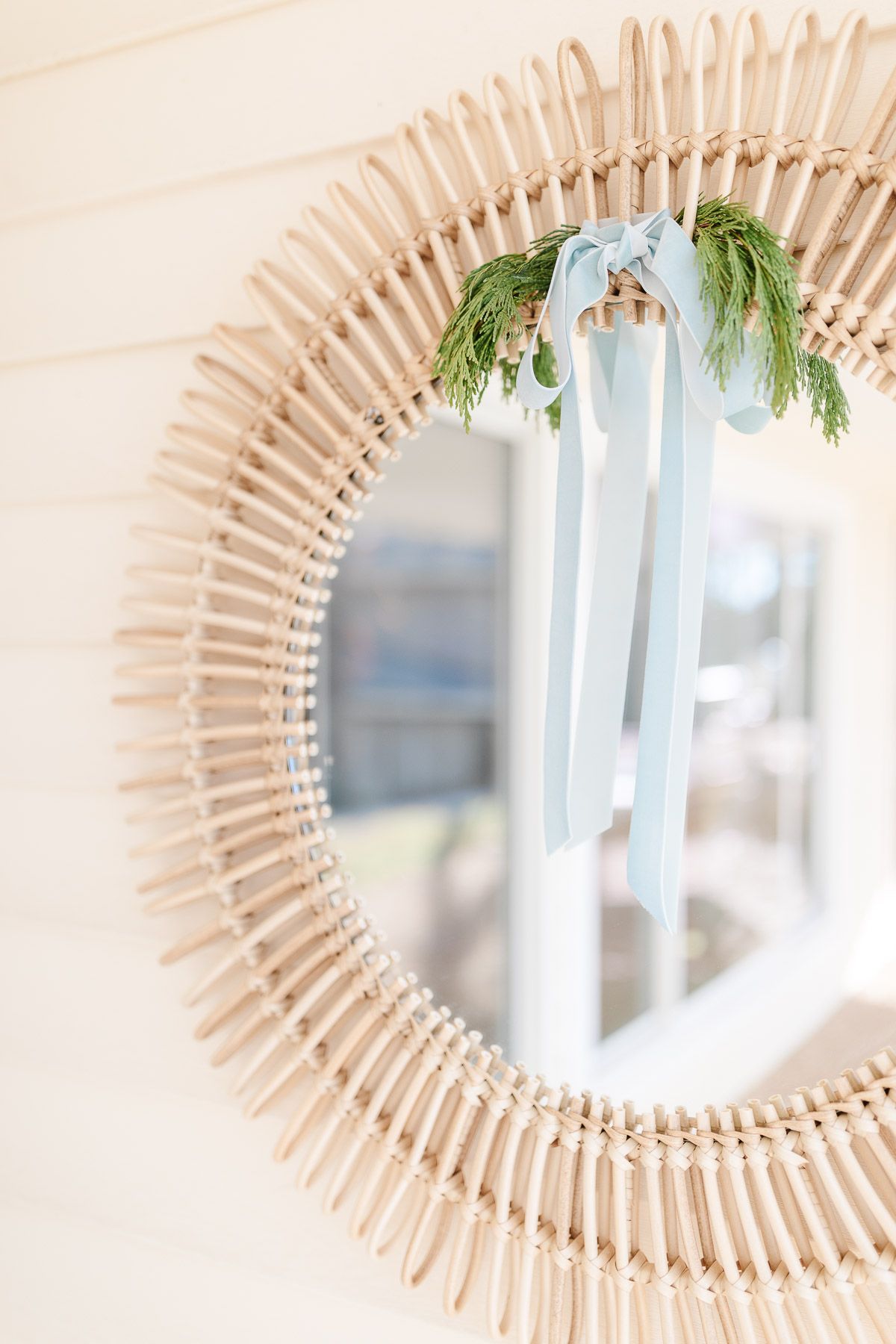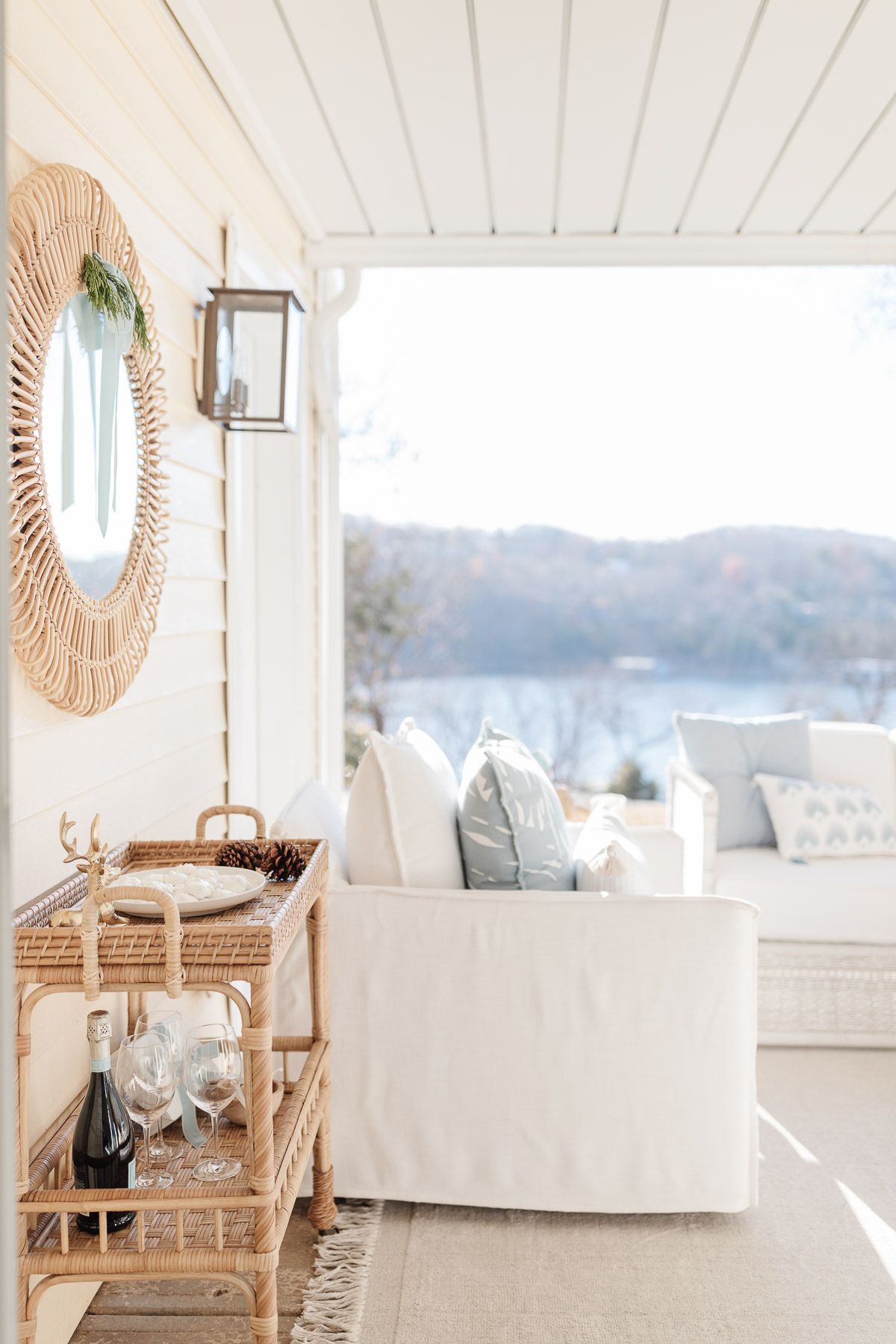 Serena and Lily Style Tips
One of the best things about Serena and Lily is that you can find everything you need to furnish and decorate your space saving you time, while ensuring your design will come together seamlessly!
Isn't this the most magical little Christmas patio? I hope you enjoyed this tour! Find all the shopping links below.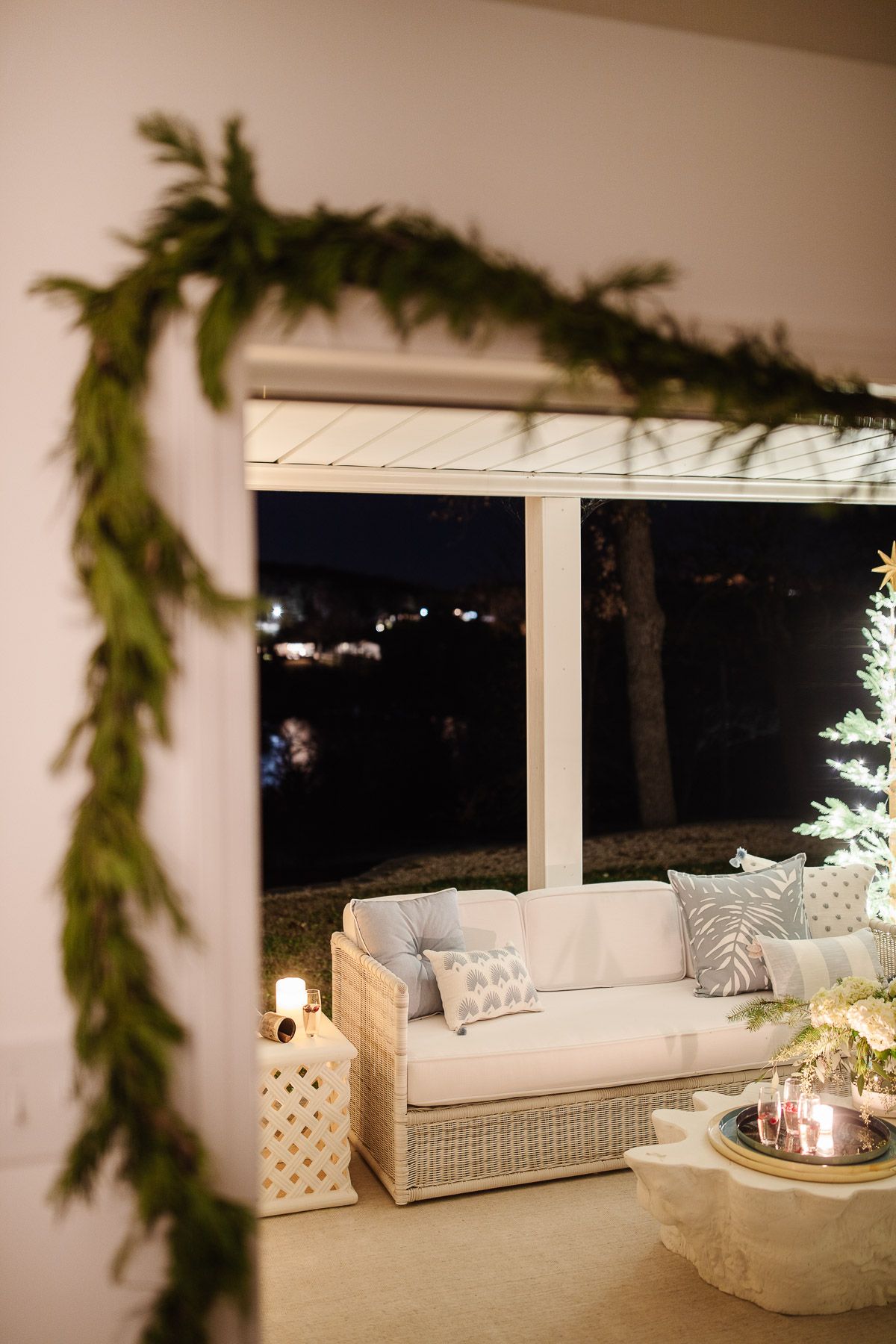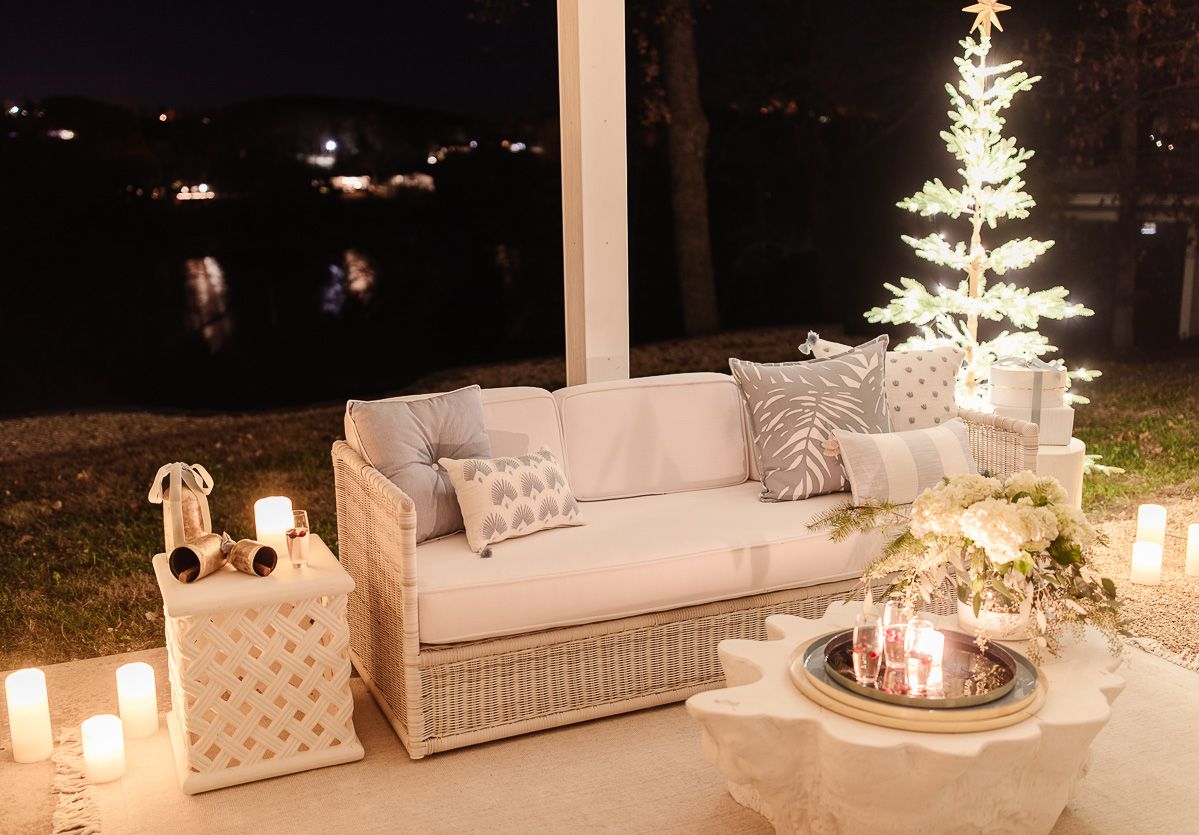 Thank you for supporting my small business shopping through my links!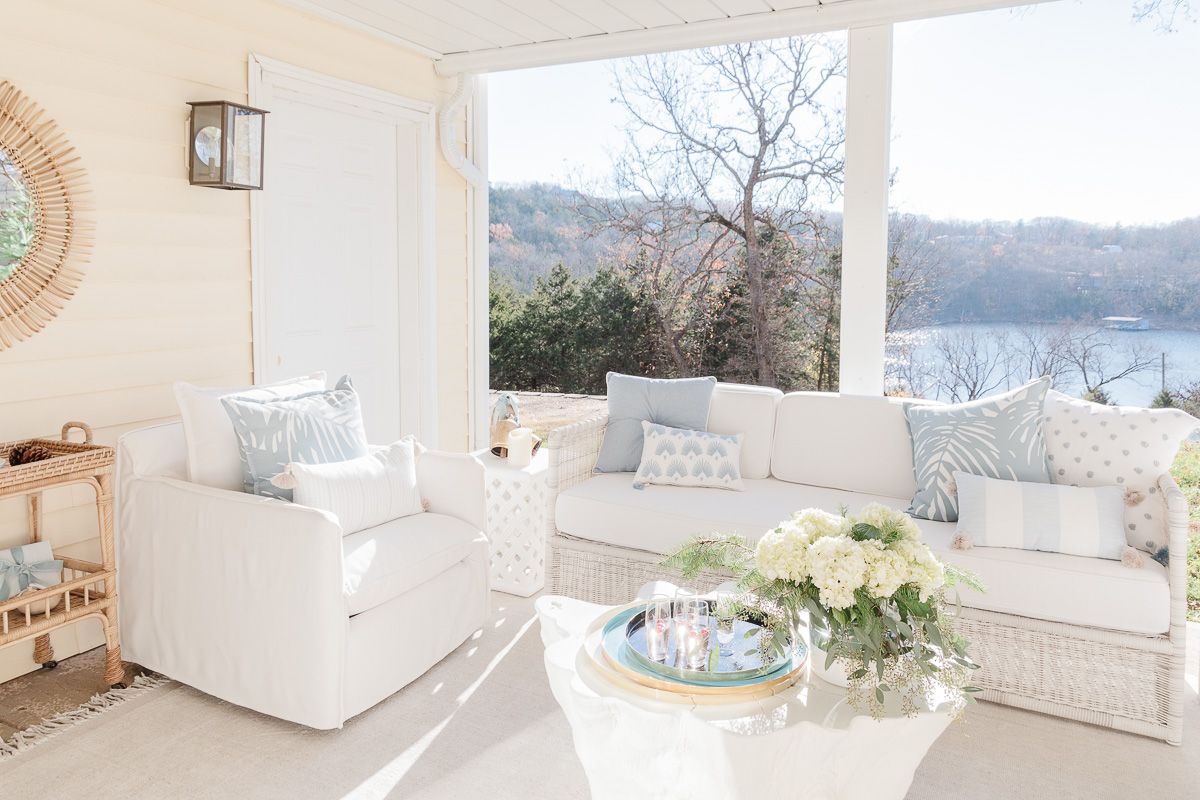 Learn about Screen Porch Kits and Potting Benches here! And don't forget String Lights and Deck Lighting for additional ambiance.