It's a tiny but mighty space, and one that we use nearly every single day: our laundry closet. With this fast and affordable little laundry room closet makeover, it's now super organized, pretty to look at, and most of all… bursting at the seams with organized laundry closet ideas!
Thankfully, we made this one into a space that we love, with a charming surprise behind the shelves and washer and dryer!
I've had laundry on the brain lately, and it's no wonder why! With three young kids in our house and a busy family schedule, it's something I work on every single day.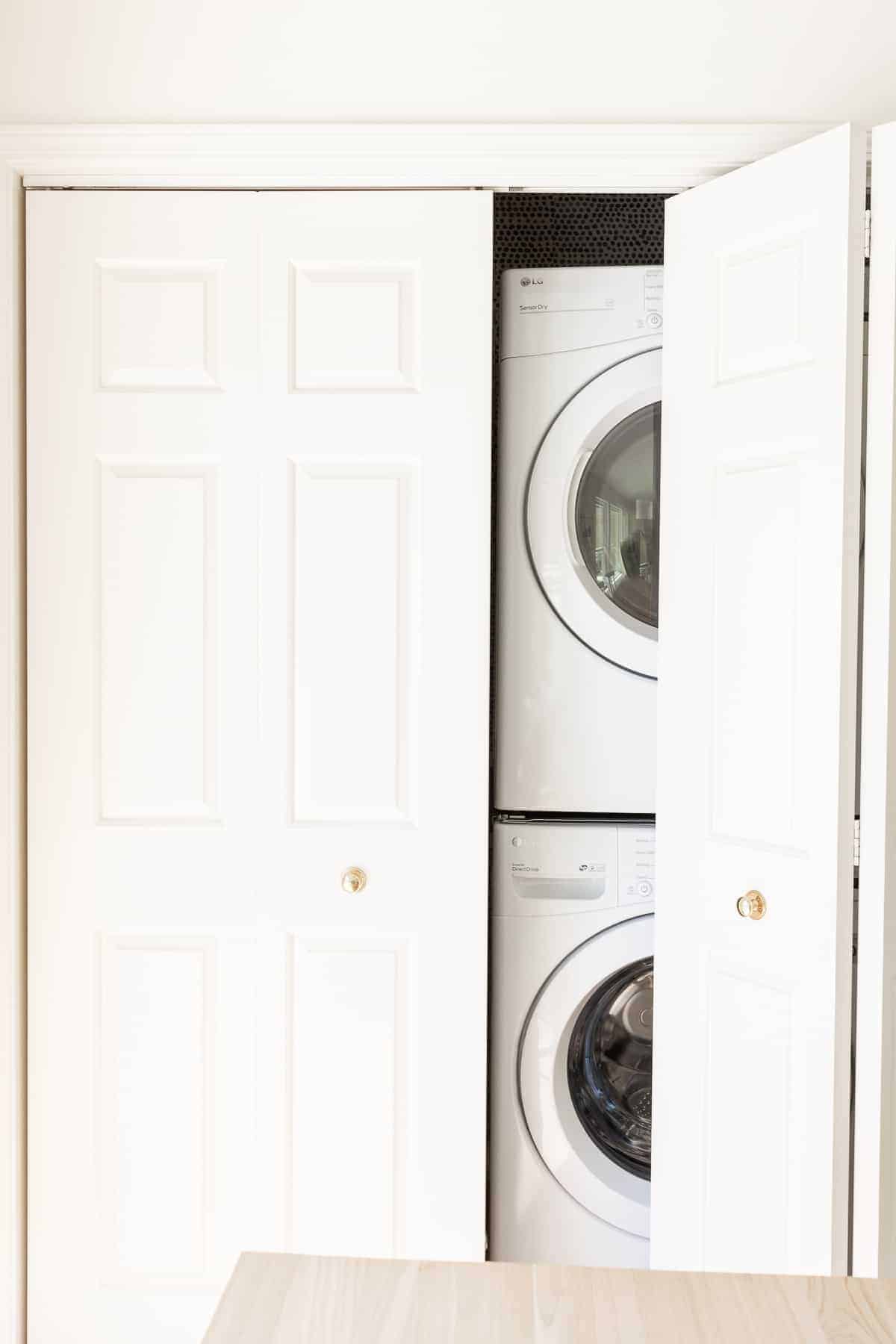 Recently, we redid our laundry room / exercise room in our St. Louis home, and we were thrilled with the results! So much so, in fact, that we jumped at the chance to upgrade the tiny but efficient laundry closet at the lake.
Unlike the spacious laundry room we have near the bedrooms of our other home, our little cottage at the lake features a laundry closet right off the eat in kitchen space. It works beautifully for our family!
It's tiny, yes, but perfectly suits our needs for this home. There's plenty of space to store beach towels, sunscreen, laundry detergent, the totes we use to hop onto the boat at a moment's notice, and so much more! It's a powerhouse of laundry room organization, and it's not really a room at all!
However, as efficient as it was, we knew we could give it a little character and make it much more pleasing to the eye while adding function. We did that in a quick weekend makeover and I'm so excited to share it with you today!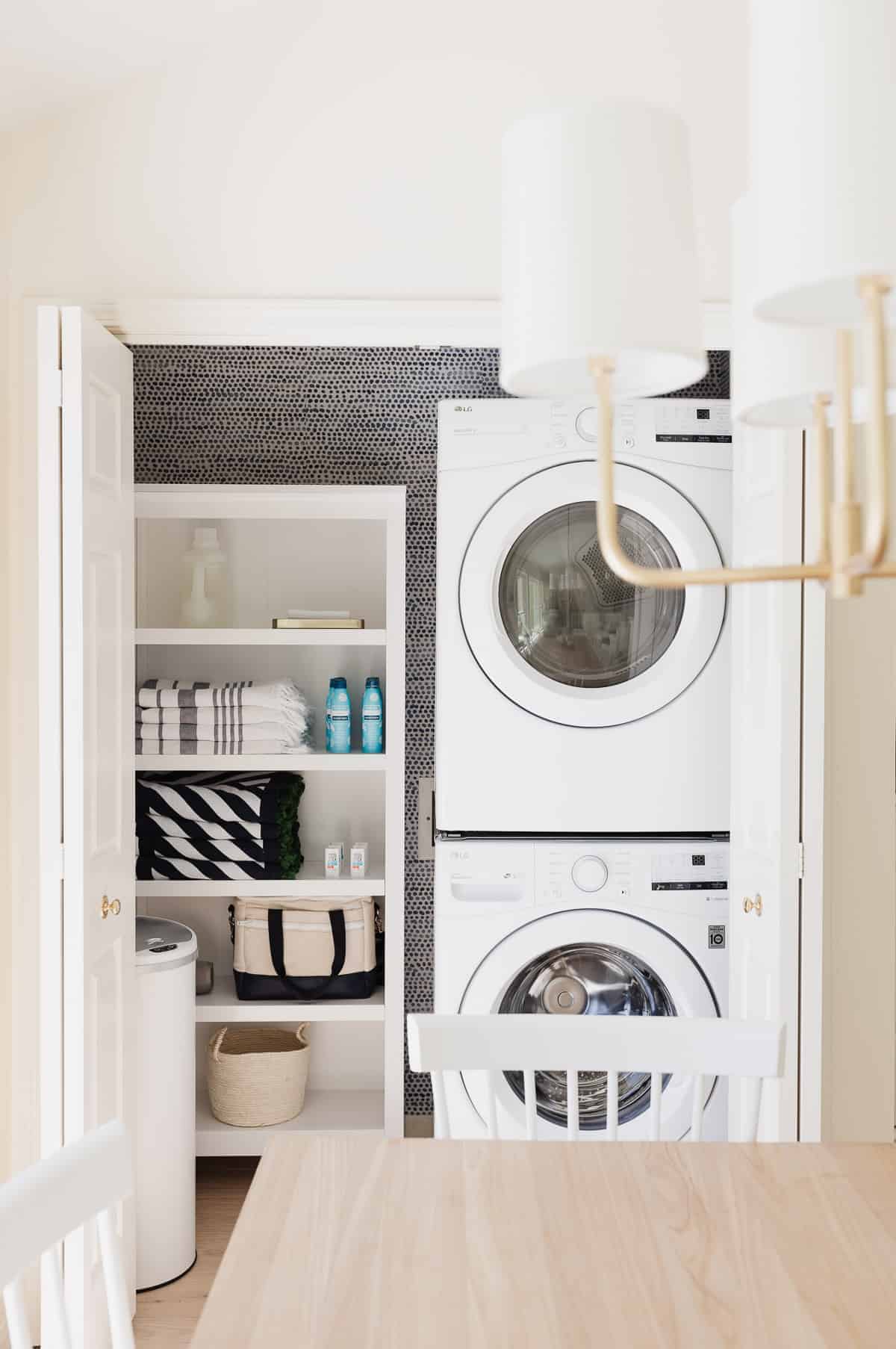 Laundry Closet Ideas
Behind those bi-fold doors lies a cute little unexpected secret: wallpaper! Yes, I love wallpaper, and we've had so much fun using it throughout this home.
I've kept the charming floral wallpaper in a couple of the bedrooms in this home, and they look fresh and so pretty. You can read more about how to decorate with Dated Wallpaper here, and you can also take a tour of our Modern Bath with the prettiest blue and white patterned paper!
In this small laundry closet, we went with a cute little polka dot print with a water color style, perfect for the Coastal Modern style of our home. It was such an affordable, efficient way to make a big statement.
It's lots of fun when the doors are opened, and a total secret when they're closed. We just love it!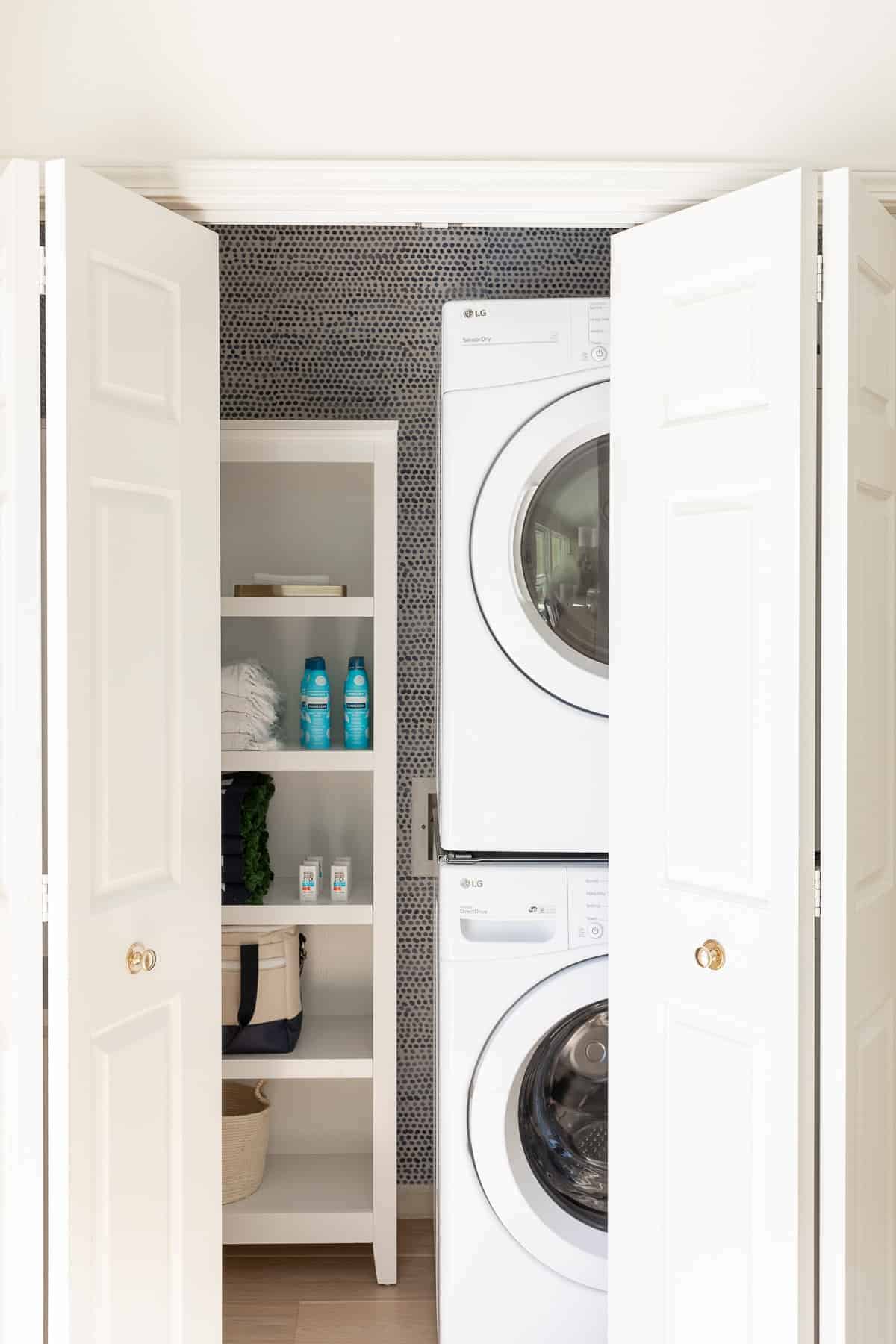 Laundry Room Closet
One of the biggest changes in this laundry space was the new white oak flooring. We did a continuous flooring throughout the kitchen, eat-in space, and then the closet. It makes the space feel bigger, brighter, and so much cleaner!
Can't afford to update your laundry closet flooring? No worries. Check out our tutorials for How to Paint Concrete, Painting Vinyl, and even How to Paint Tile!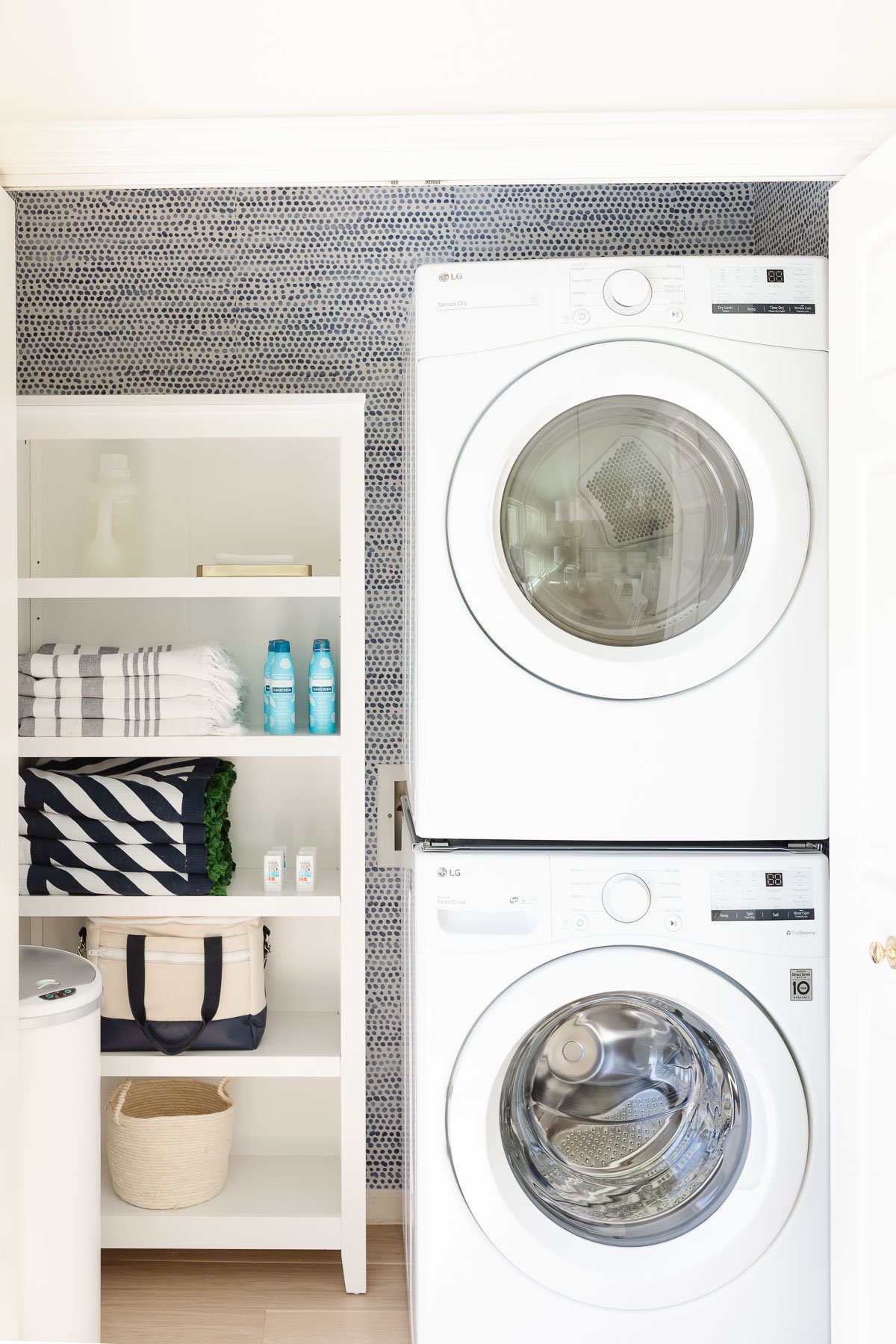 It's not just the flooring that got a refresh! Look up and you'll see this super cute new light fixture on the ceiling. It's a small detail but one that adds both form and function! Read more about my favorite Brass Light Fixtures here.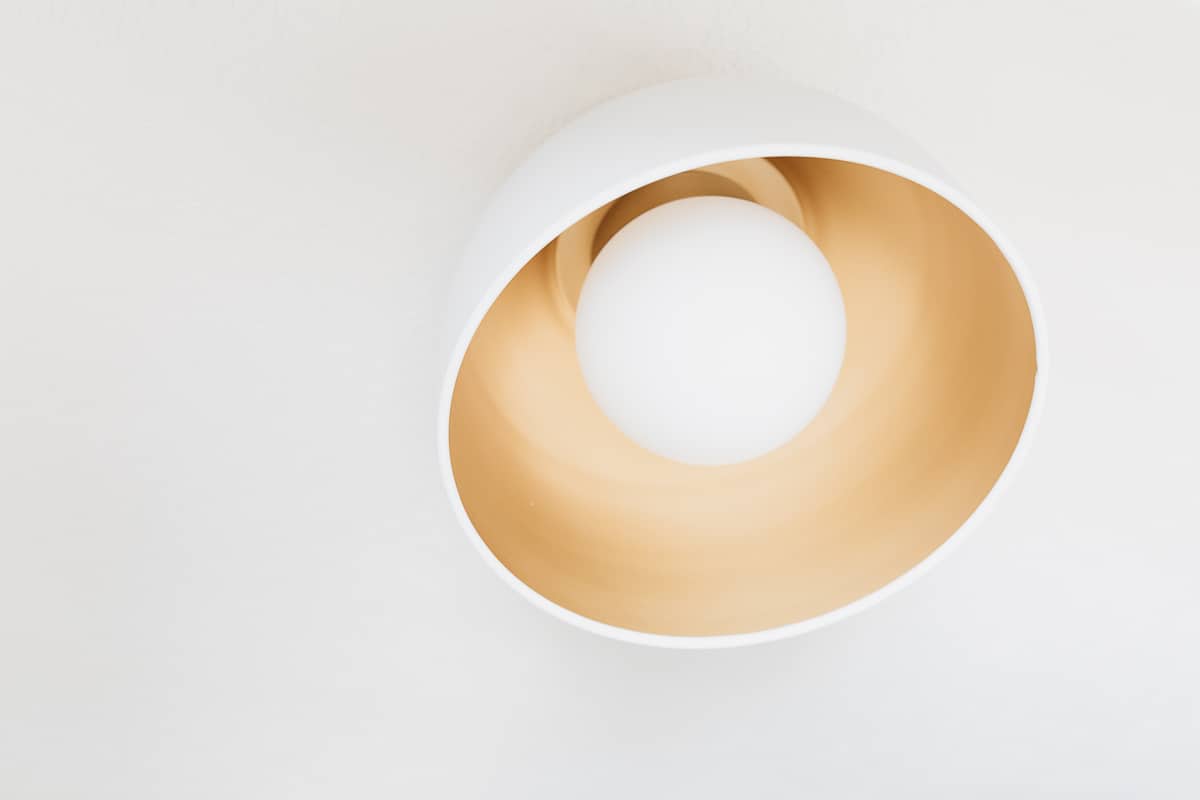 One of the biggest enhancements this little closet received is a light switch! Previously, like so many closets, it had a pull string light fixture which is often installed in closets to save on electrical.
Fortunately, you can simply replace the light bulb and add a switch without doing any electrical at all! This allowed me to choose a light fixture that fit the space to add a hint of detail as well!
It's SO easy and inexpensive. In fact, it took me less than 3 minutes to install the bulb and switch. You can even dim it! Add a light switch without electrical using this.
Laundry Closet Organization
First step for this organization project: new shelving! While the shelving in this space worked fine for our needs, it felt tired and a little dated. We bought an inexpensive shelving set in a fresh, bright white and added it for more storage to the left of the stackable washer and dryer.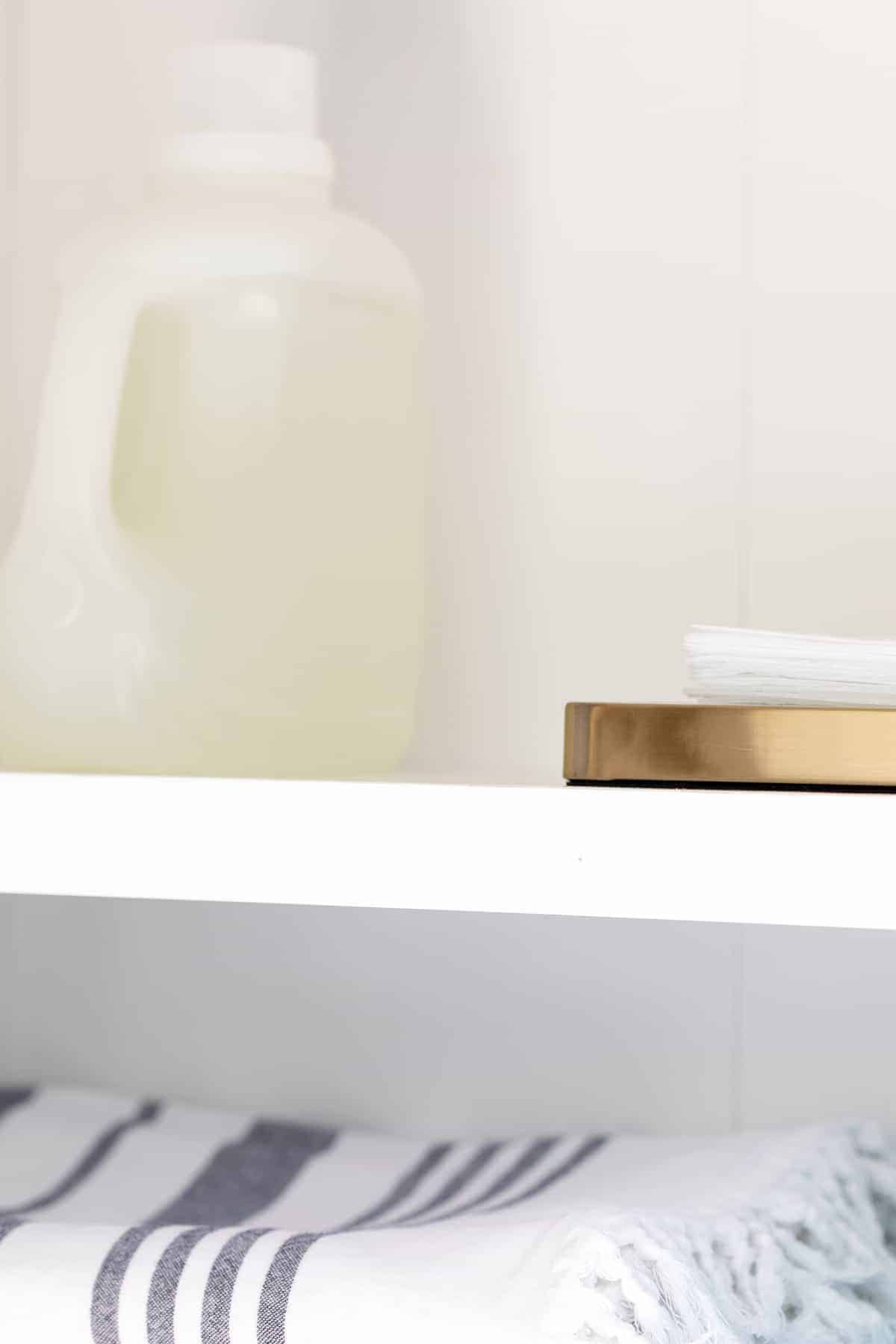 A few more of the ideas we implemented into this cute and organized space: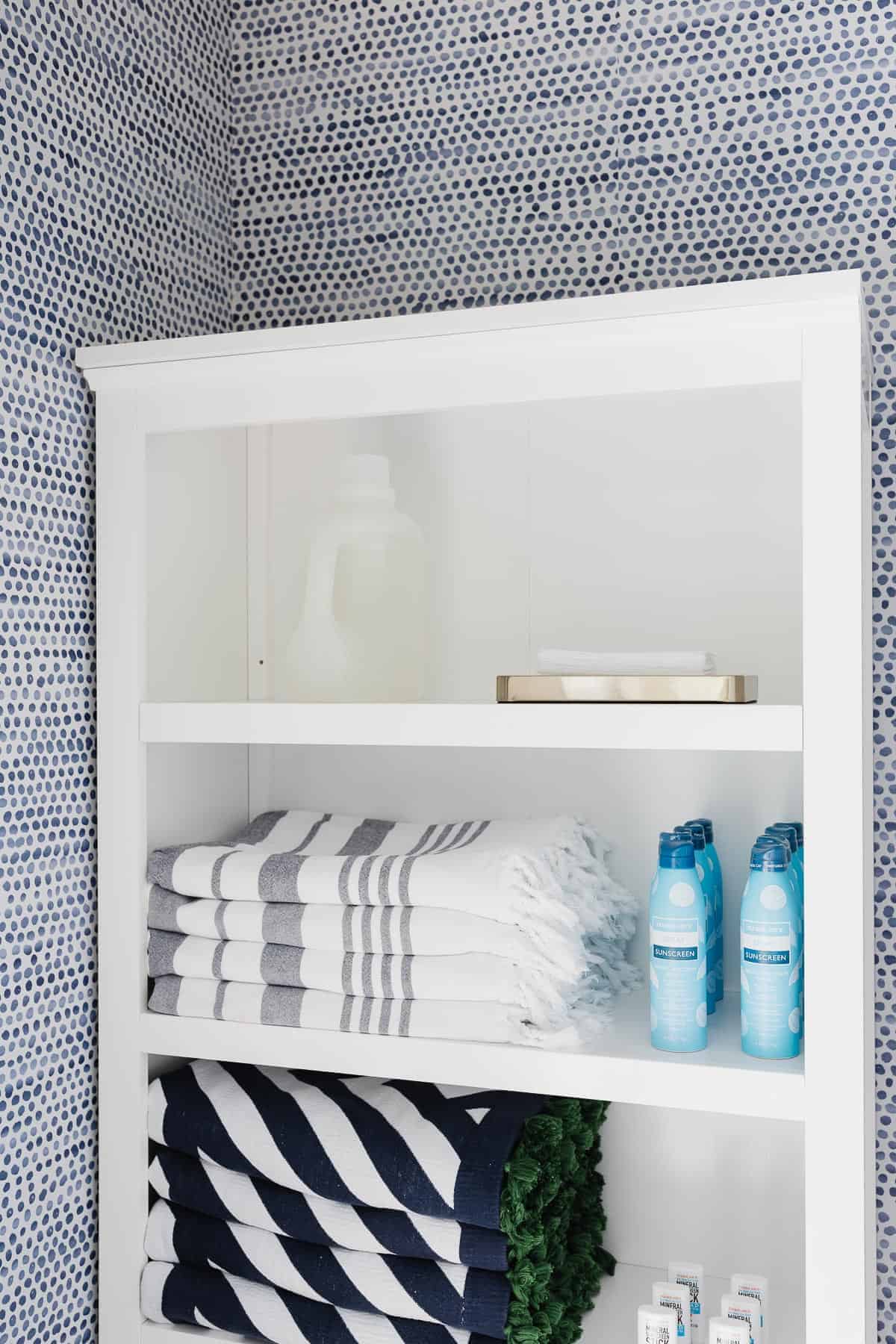 More Easy Small Laundry Ideas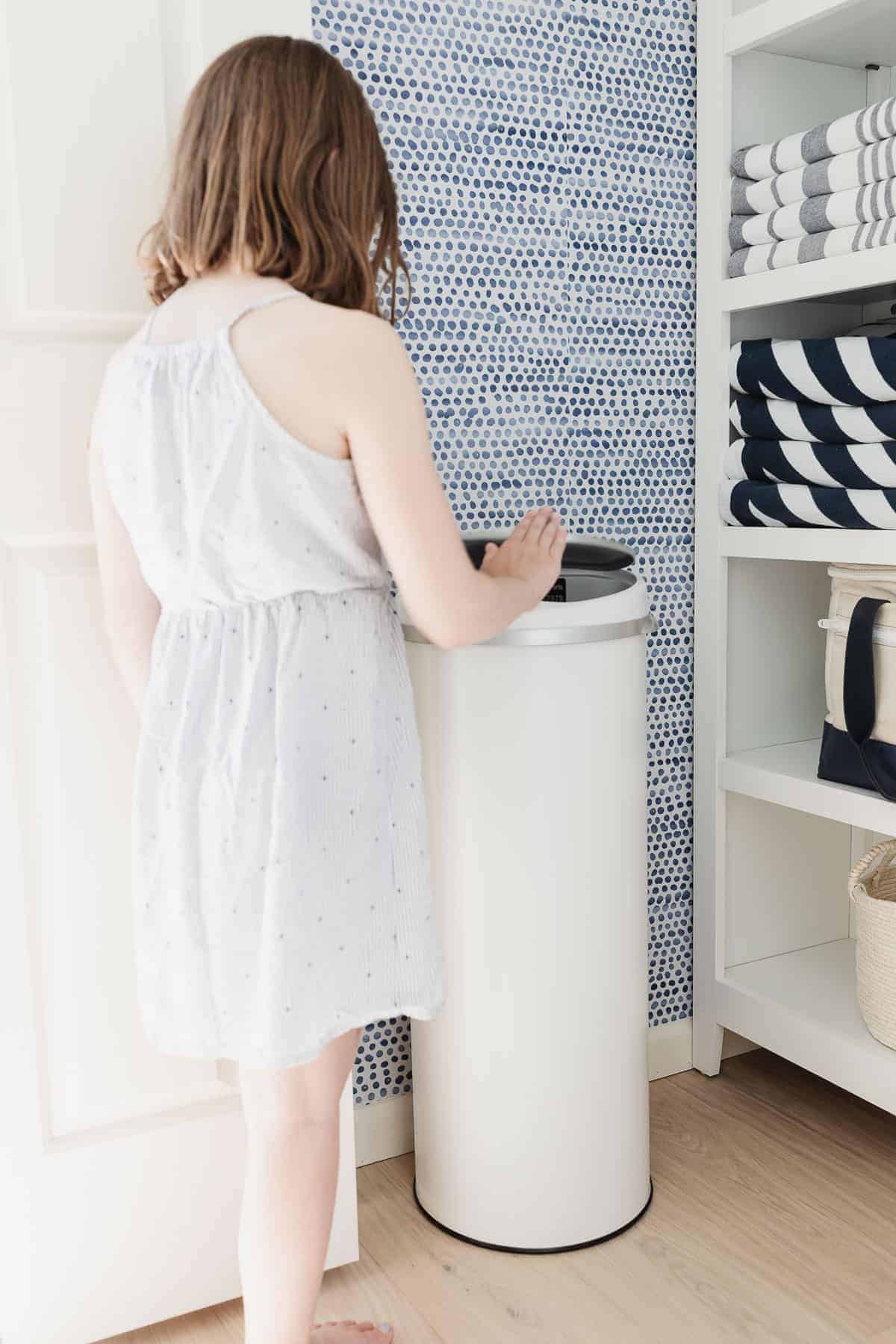 Laundry Closet Sources