Elevate your burgers with just a few additions that will turn them into a truly gourmet burger. Find the most delicious ways to create mouthwatering burgers to crave!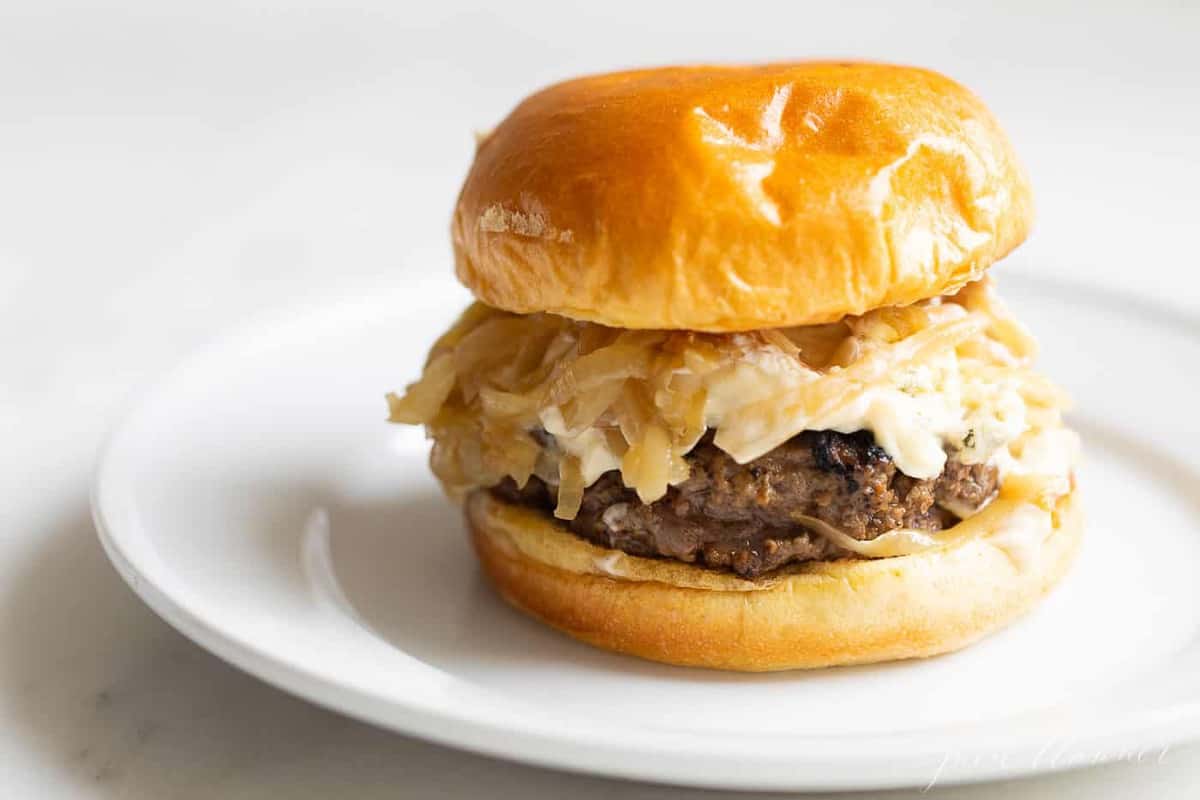 If you've ever wondered how to create truly delectable gourmet burgers at home, I'm here to show you the light!
There was a time in my life where I couldn't figure out the way to make truly delectable cheeseburgers on the grill, oven or stove top. They always seemed to turn out dry, a little tough and overcooked.
Since those early years, I've taught myself a few tricks of the trade. I've shown you how to create juicy burgers at home, how to make burgers in the oven, burger sliders, cast iron burgers, and even your own burger bar for the perfect entertaining set up!
Today I wanted to touch on a truly gourmet burger. This is the kind of burger I dream about… the ones we seek out at the best local restaurants! Yes, you can make a truly gourmet burger at home. Psst… don't forget to serve this with my incredible beer battered homemade onion rings!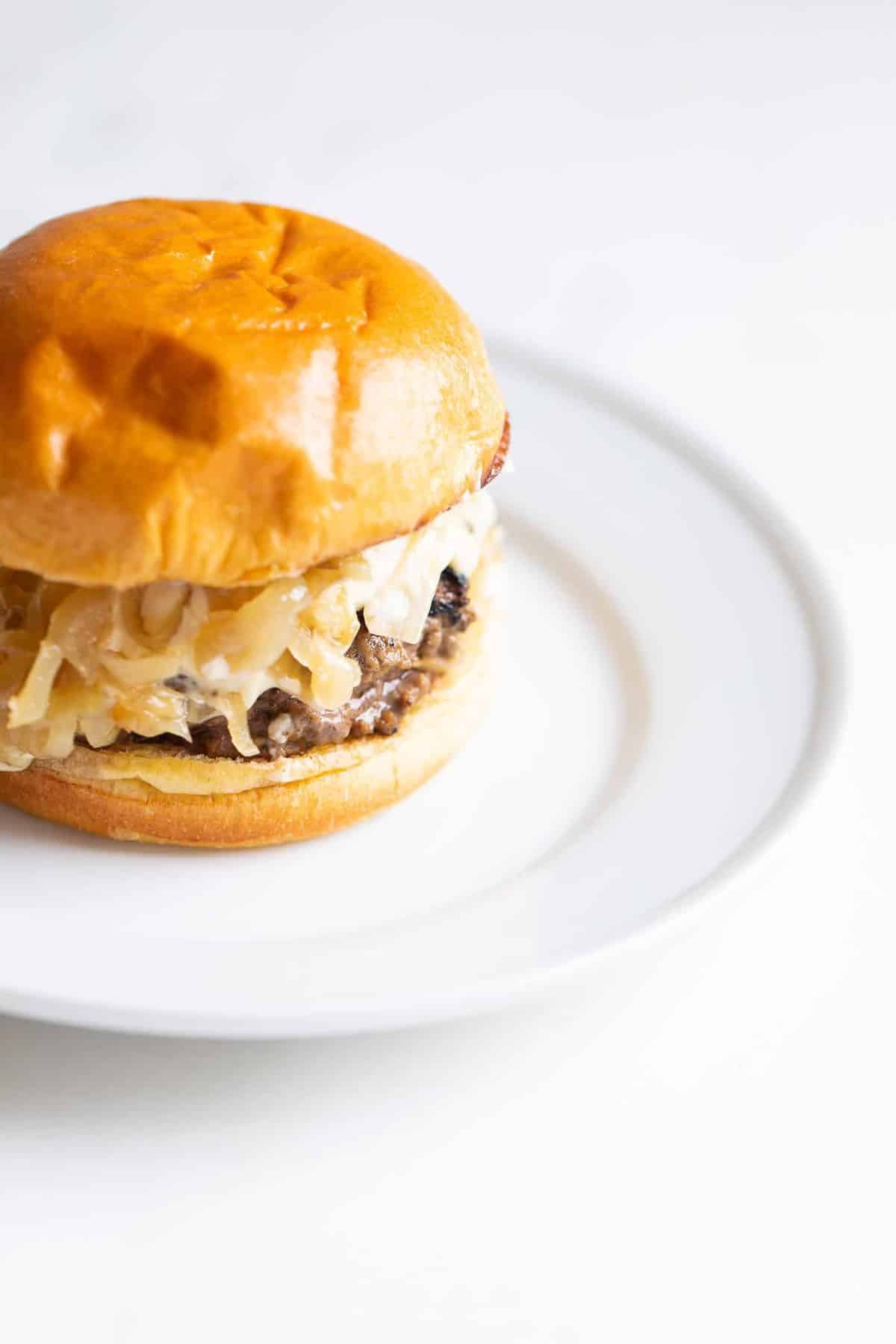 I like to give a lot of detail in my recipe posts to guide readers through any questions. If you're just here for the printable recipe, feel free to click "jump to recipe" right under the title of this post and you'll head straight there!
What is in a Gourmet Burger?
As I've discussed in the past, there is something to be said for the classic American burger combination we all know and love: cheese, lettuce, onion, tomato, ketchup and mustard.
However, the art of a gourmet burger is in creating a combination of more decadent, rich toppings. We're so lucky to have such incredible burger restaurants near us in St. Louis, and I love reading through the toppings on the menus. So much creativity and so many delicious ideas!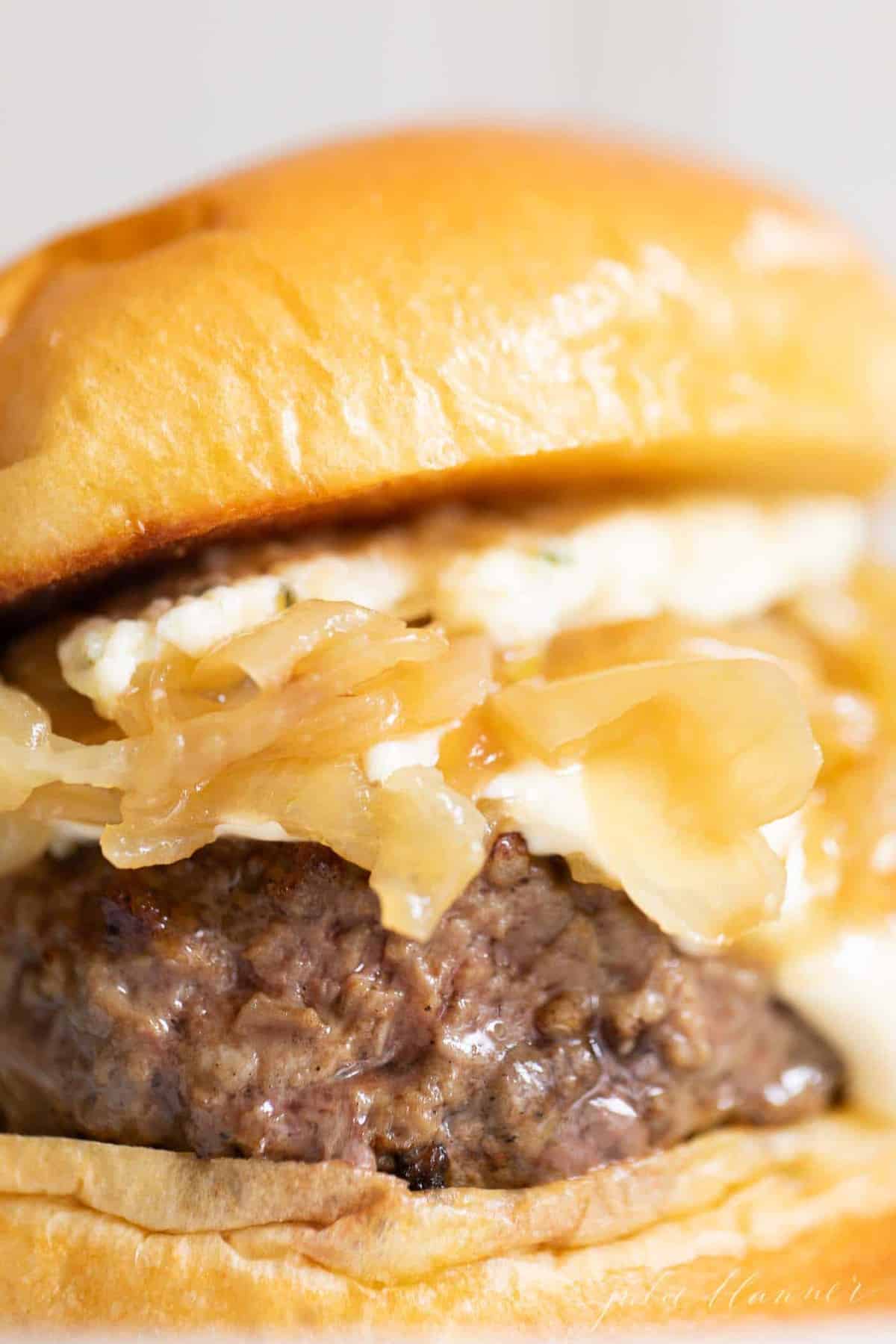 Burgers are perfect for game day! Don't skip my incredible Super Bowl Recipe Guide for all your planning needs!
Gourmet Burger Patty Ingredients
I always return to this same easy burger patty recipe (it's the same one I shared recently in my juicy burger post) because it's easy and classic. And while it's incredibly flavorful, it doesn't contain ingredients that will compete with toppings. It's simply a delicious, straightforward way to make a delicious beef patty.
Every good burger starts with the perfect ground beef patty. Don't overthink this! I promise, it's so much easier than you might think!
*Full directions in the printable recipe card at the bottom of this post!
Ground Chuck

– 80/20 is ideal. Yes, it's a high fat content, but you don't eat burgers every day!

Egg Yolk

– This helps add just a touch of extra moisture to your burgers and makes the patties easier to form.

Olive Oil

– This is the ultimate key to trapping a little extra moisture into your burgers! You'll be amazed at how this creates the best juicy finish.

Minced Garlic

– Garlic adds a deliciously fragrant flavor to your meat mixture. It also blends beautifully with any other seasonings you might like to add.

Fresh Cracked Pepper

– adds the perfect flavorful finish. Of course you can also add a crack of sea salt, but I don't like to over-salt my burgers. *You'll read more about this later on in this post. Also, keep in mind that most of the condiments that Americans like to add to burgers can also add a ton of salty flavors. No need to overdo it!

Butter

– a pat of butter in your pan if you're making these on the stove top is a delicious addition and helps brown the burger quickly, creating the perfect crust at high heat.
Quick Tip: Yes, you can create a delicious burger with chicken, turkey, or any number of ground meats! It's completely personal preference, but a gourmet burger is most frequently beef.
Variations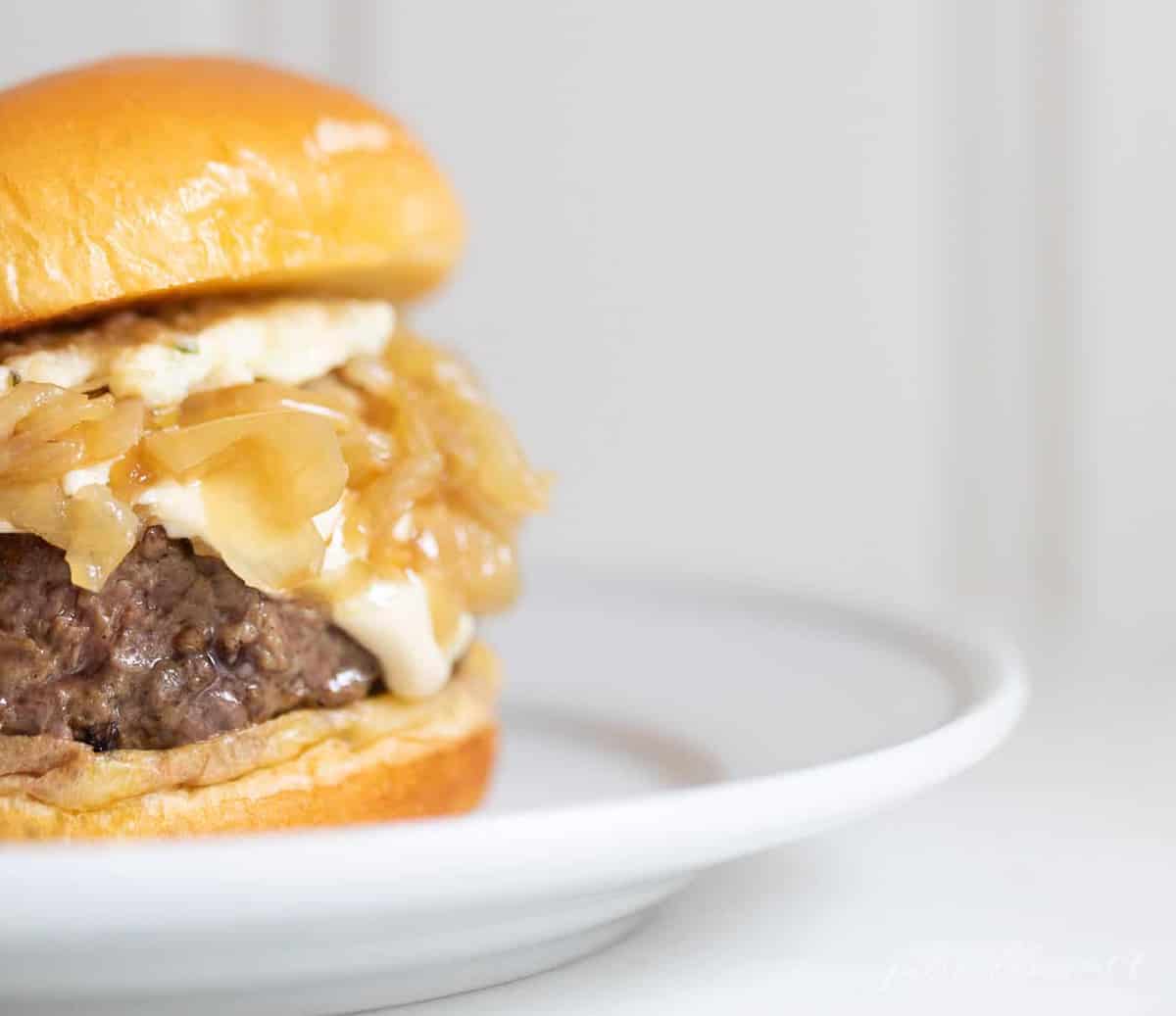 Creating a Gourmet Burger
Create burger patties according to directions (in printable recipe card at the bottom of this post)
Mix your truffle aioli.
Create your Boursin cheese mixture.
Cook burgers to your preferred temperature.
Toast your burger buns by slathering with butter and quickly toasting in a skillet on the stove top or in the oven. (Learn more by clicking through to the full tutorial)

Add cheese during the last 30 seconds of cooking to create the perfect melt!

Top with a healthy dollop of aioli.
Add caramelized onions.
Enjoy!
My Favorite Gourmet Burger Toppings
This is what will set your burgers apart. In fact, when you're building a truly gourmet burger, you'll want to put careful consideration into the flavor profiles of each topping! Don't combine too many things, and don't add items that will compete.
Creating a burger like this is a bit of an art form! That's why I have narrowed in on my absolute favorite combination to share with you today.
As pictured in this post, my favorite gourmet burger includes the following three items:
Caramelized onion – Slightly sweet and perfectly textured, these balance the salty flavors of your burger so well!
Truffle aioli – Why use regular mayo when you can use truffle aioli? It's decadent and deliciously flavorful.
Homemade Boursin Cheese – This soft, creamy cheese is blended with garlic and herbs. Don't skip this incredibly creamy step!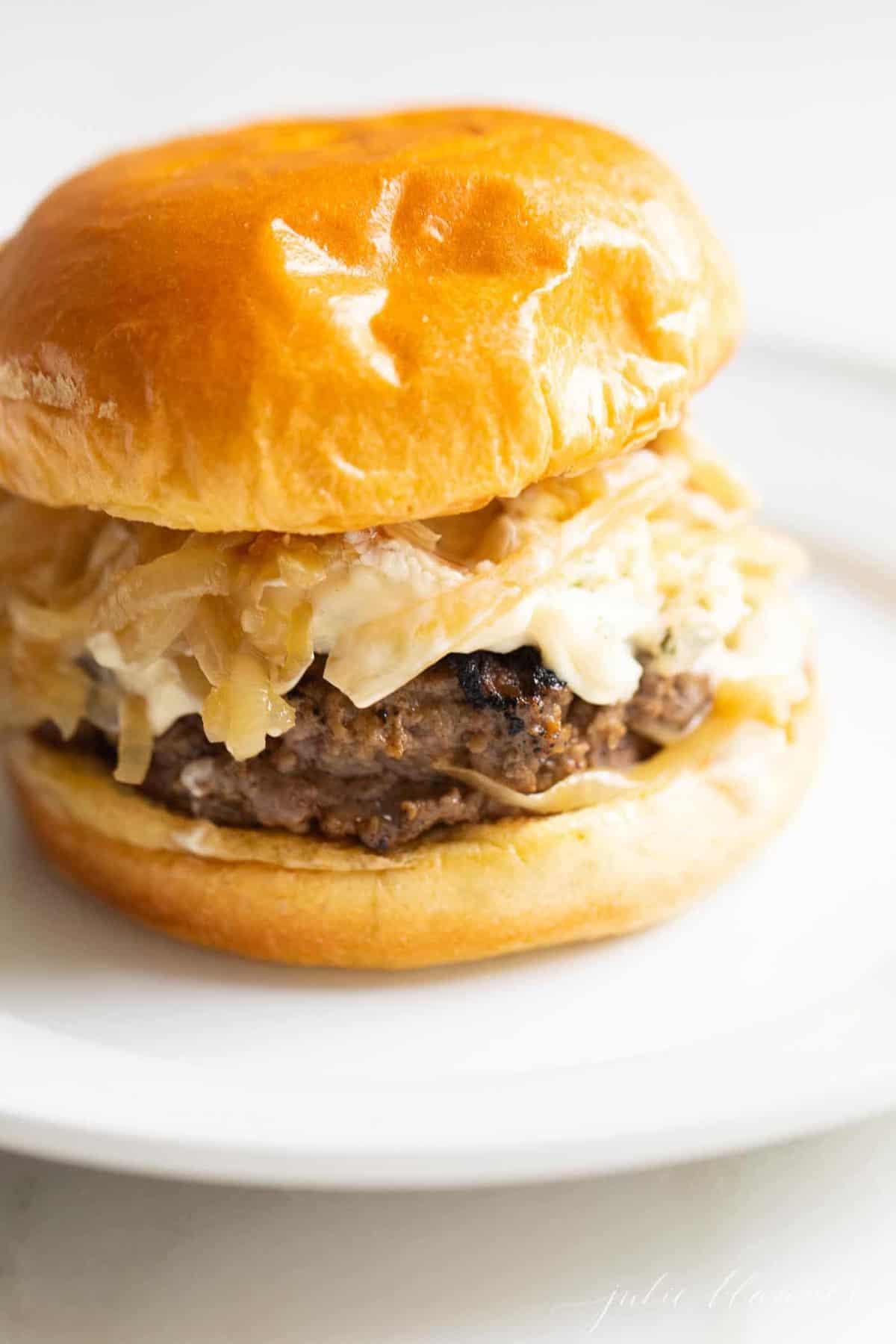 More of the Very Best Burger Toppings
Here's a few more of my favorite cheeses, condiments and additions to your gourmet burgers.
Homemade Pimento Cheese
blue cheese
Gruyere

jalapeños – add a spicy kick to burgers!

avocado slices – green, creamy and delicious, avocado is a delicious but memorable burger topping!

fried eggs – don't question this deliciousness. I promise you won't regret it- and when combined with bacon? The ultimate!

sauteed or

roasted mushrooms

– slice them thin and try this recipe.

peanut butter – trust me on this one. One of my favorite restaurants occasionally offers a PB&J burger and it's beyond amazing!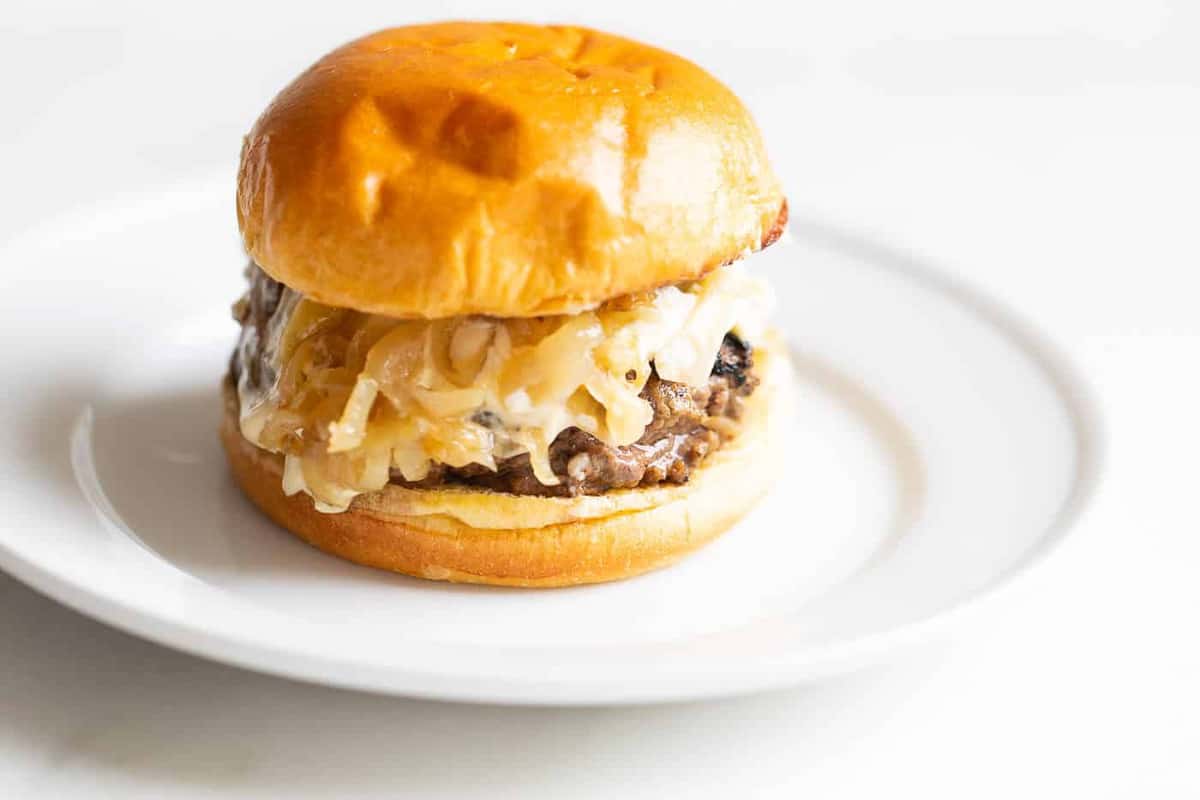 What Kind of Burger Buns are Best?
The most important tip for your gourmet burger buns? TOAST THEM! That's right, slather a little softened butter on the inside of your buns and toast them in the oven or stove top. Just a touch of crunch goes such a long way!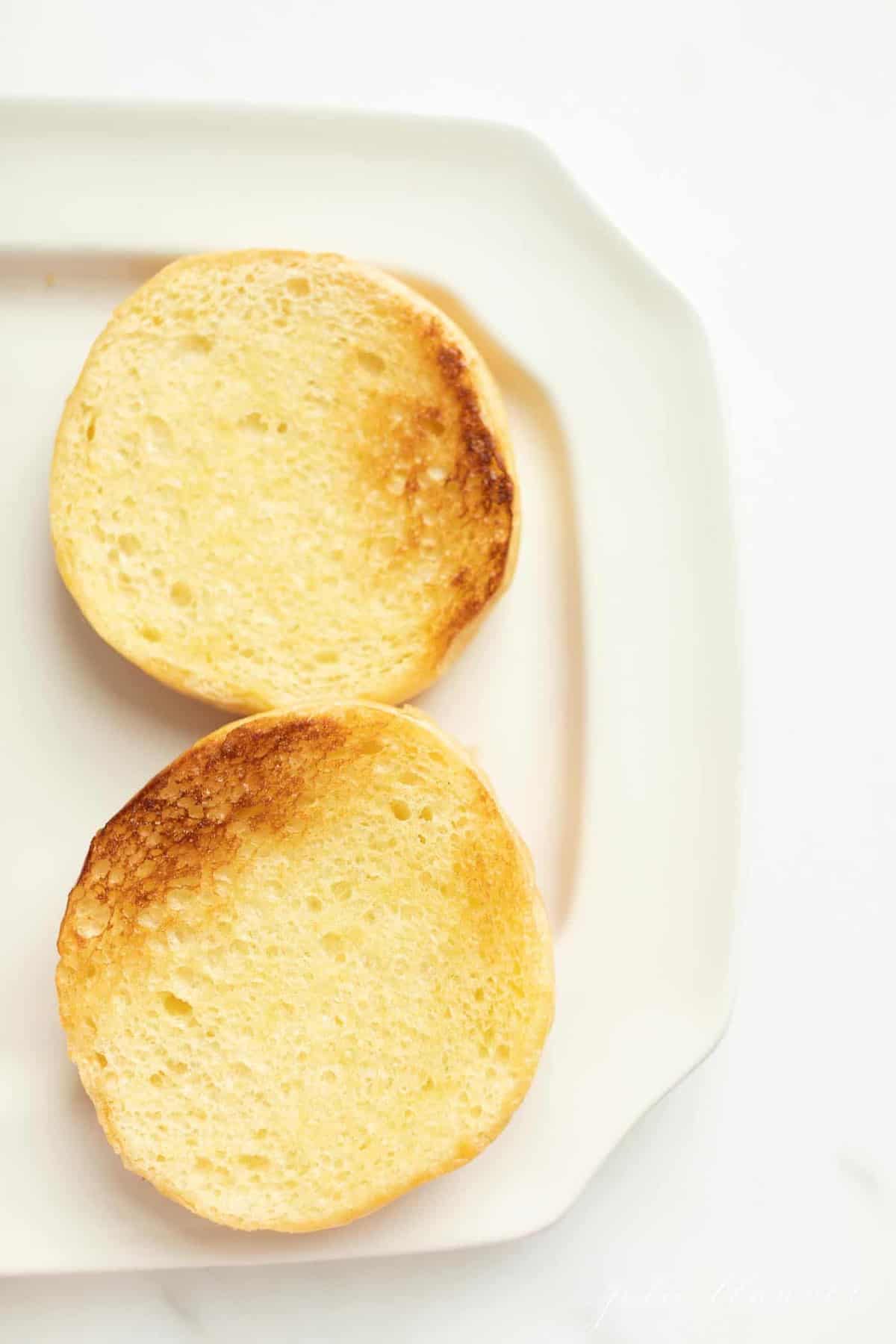 Of course you can just buy the classic soft sesame seed topped buns off the grocery store shelf. There's nothing wrong with that!
However, we're talking about an elevated burger today. This calls for a special bread! Try one of the following:
Brioche – very soft, a little sweet (as pictured in this post!)

Pretzel – salty, doughy and chewy

Ciabatta – thick crust, very structured

Onion Roll – sweet and savory addition of onion, usually added to a brioche bun

Challah – soft and yeasty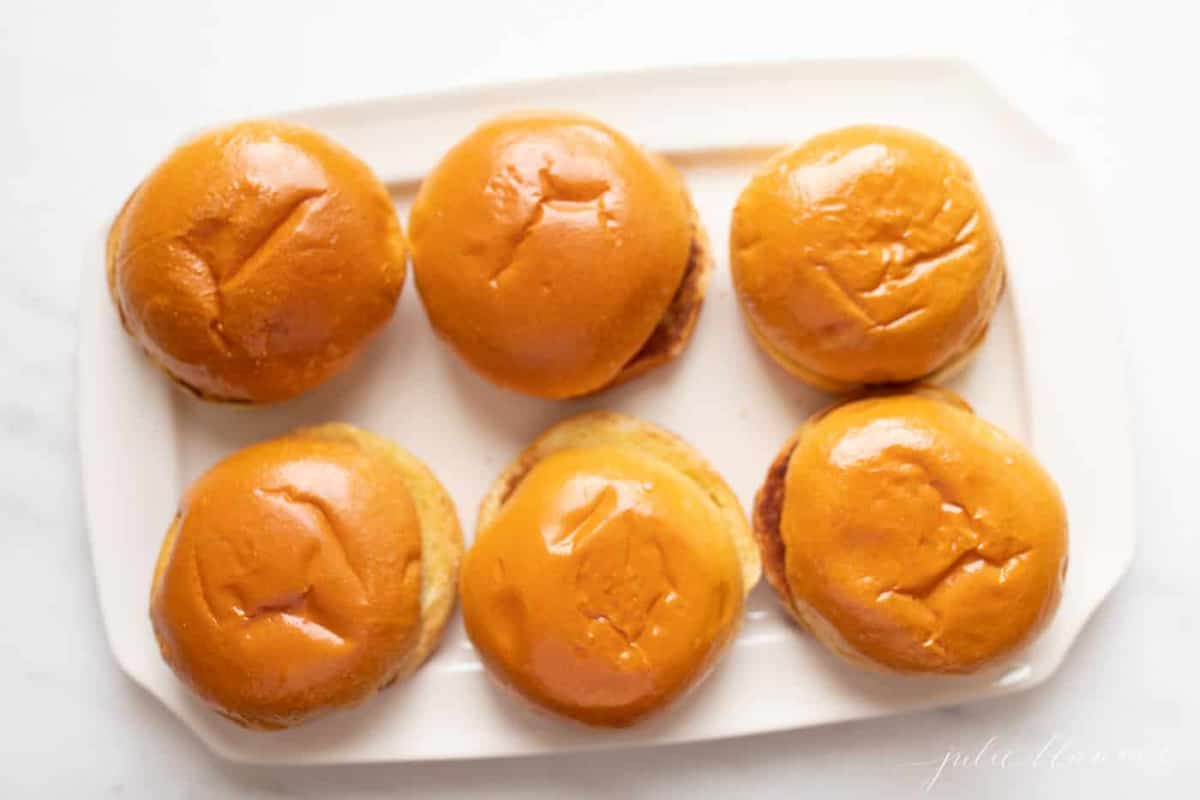 Wondering What to Serve With Burgers? Click through for a comprehensive list of 30+ printable tried and true burger sides!
The BEST Gourmet Burger Tips
Use the best quality ground beef you can afford – we tend to prefer 80/20 ground chuck.
Avoid handling the meat too much, you'll toughen it the more you touch it.Although it's hard not to do it, don't give into the temptation of pressing your burger patty down onto the pan or grill.
Keep those juices locked inside the burger patty!
Want your cheese to be perfectly melted? Throw a little water onto the cheese after you've place it on the burger patty, and cover the pan with a lid. It helps the cheese liquefy into perfection!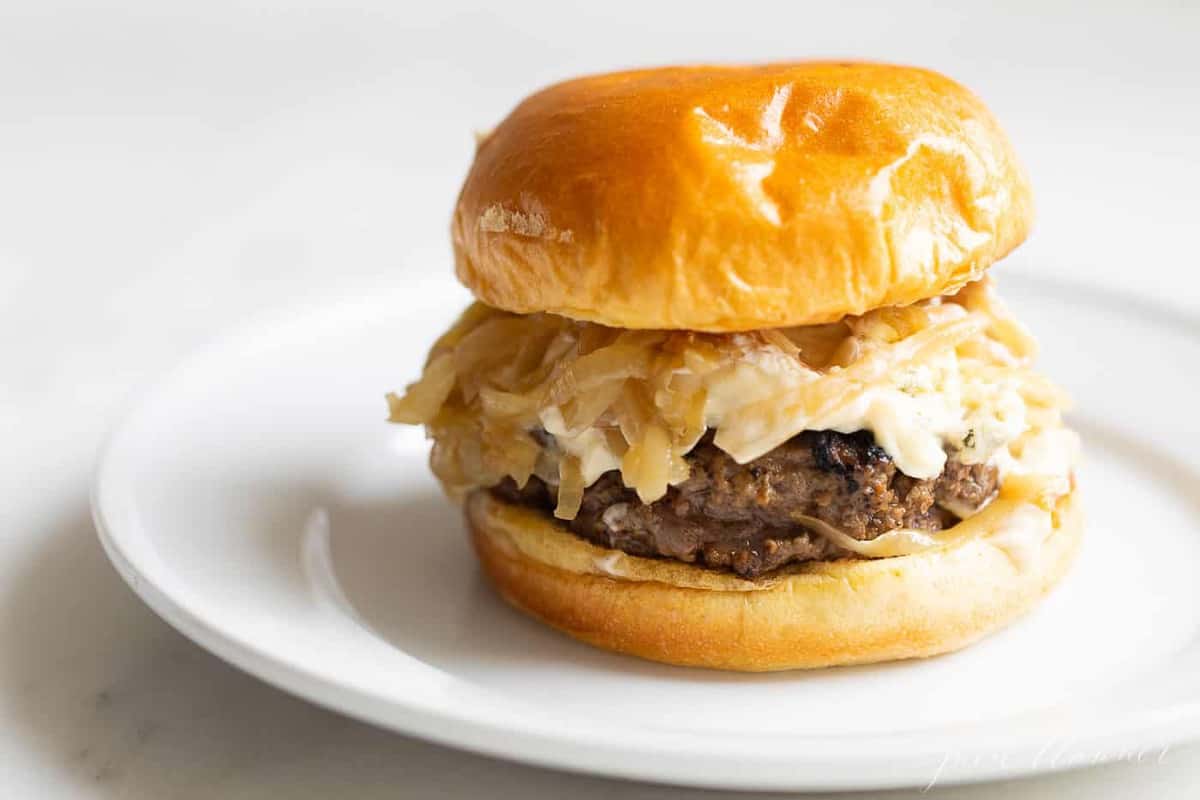 What's your favorite way to serve burgers at home? If you try this gourmet burger recipe, I'd love to hear about it! Be sure to leave a comment or share in my Facebook group, Celebrating Simple.
More Beef Recipes to Love