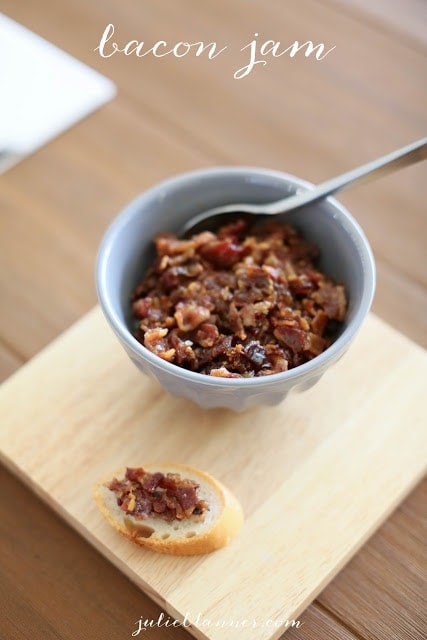 Love bacon? Then this jam's for you! Spread a little bacon jam on a toasted baguette, add it to a grilled cheese, toss with pasta & sauce, add it to a burger, swap it for bacon on a BLT, stuff chicken breasts with it, add it to eggs or potatoes. However you use it, you'll love it!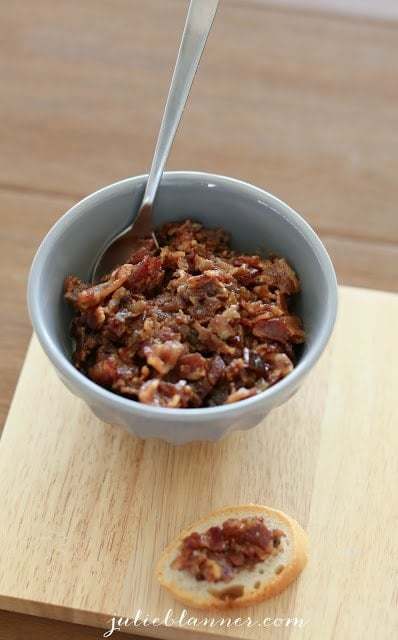 1 lb bacon, cooked
1 1/2 onions, diced
1 tbsp garlic
1/3 c cider vinegar
1/3 c brown sugar
1/4 c maple syrup
2/3 c coffee, brewed
Using a tablespoon of bacon grease, sauté onions and garlic on medium about 6 minutes. Add vinegar, brown sugar, syrup and coffee. Bring to a boil. Stir well and allow to boil 2 minutes. Stir in finely chopped bacon.
Transfer to a crock pot and cook uncovered on high for 4 hours. Mixture should be syrupy. Serve as is or for a true jam, transfer to a food processor. Allow to cool and refrigerate. Store in an airtight container up to 4 weeks.
And now, for the best grilled cheese recipe…