Adding garlic to a recipe can be a touch confusing at times, especially if you don't know garlic conversions off the top of your head. What's the clove of garlic to tsp conversion? What about garlic powder to cloves, or dried minced garlic to cloves?
Get all the answers you're searching for in this complete garlic guide! You'll find a garlic conversion guide for all the garlic substitutions you could ever need, all in one place.
Pin and save for later… that way, you'll never find yourself wondering how to convert these measurements again!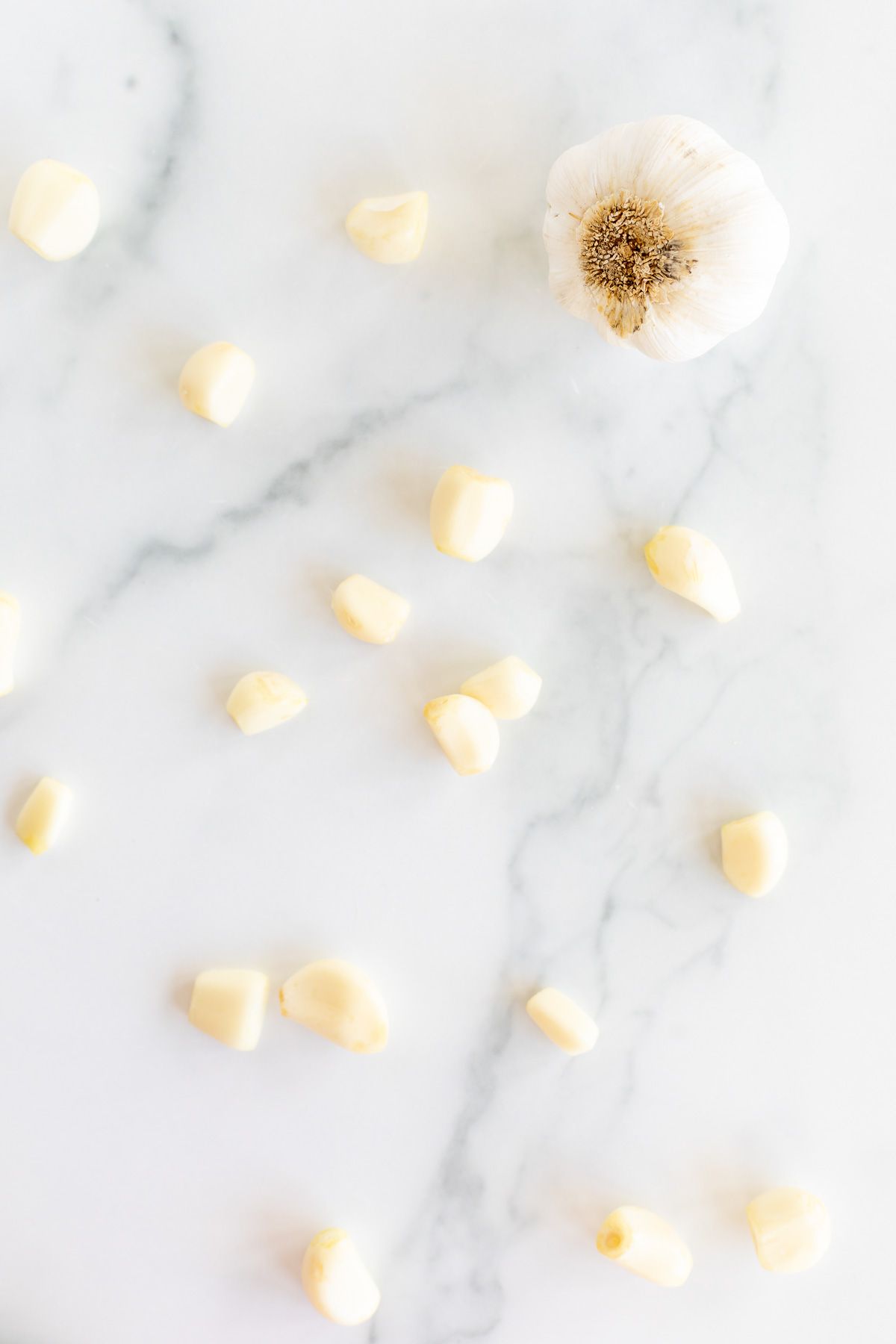 Garlic is one of those things that seems so simple when you're glancing at a list of recipe ingredients, right?
But then, before you know it, you're gathering ingredients and you decide to really read your recipe card for that delicious pasta dinner. (We'll imagine it's Braised Beef Ragu, because it should definitely be what's for dinner tonight…)
It calls for three fresh minced garlic cloves. While I generally try to include the fresh clove of garlic to tsp conversion, sometimes the internet doesn't readily offer that information to you.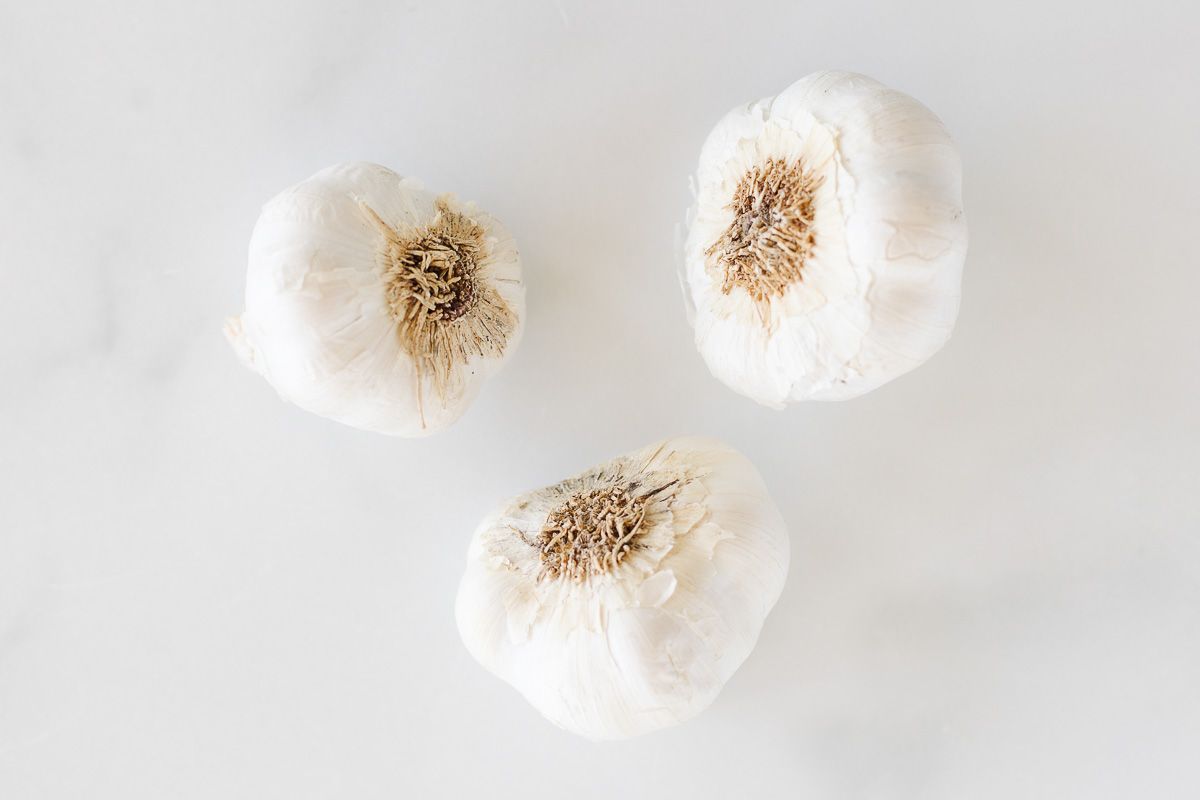 That's where this garlic measurement conversion guide comes in oh-so-handy! Find everything you need when it comes to garlic substitutions and measurements, in addition to some great basic info about fresh garlic, uses, benefits and storage methods.
You'll find out how to convert fresh whole garlic cloves to powder, garlic cloves to minced garlic, garlic flakes, garlic salt, and more… every type you might need!

BONUS: There's even a printable graphic you can pin up in your kitchen or add to your recipe books – and find out how to peel garlic and how to mince garlic the EASY way.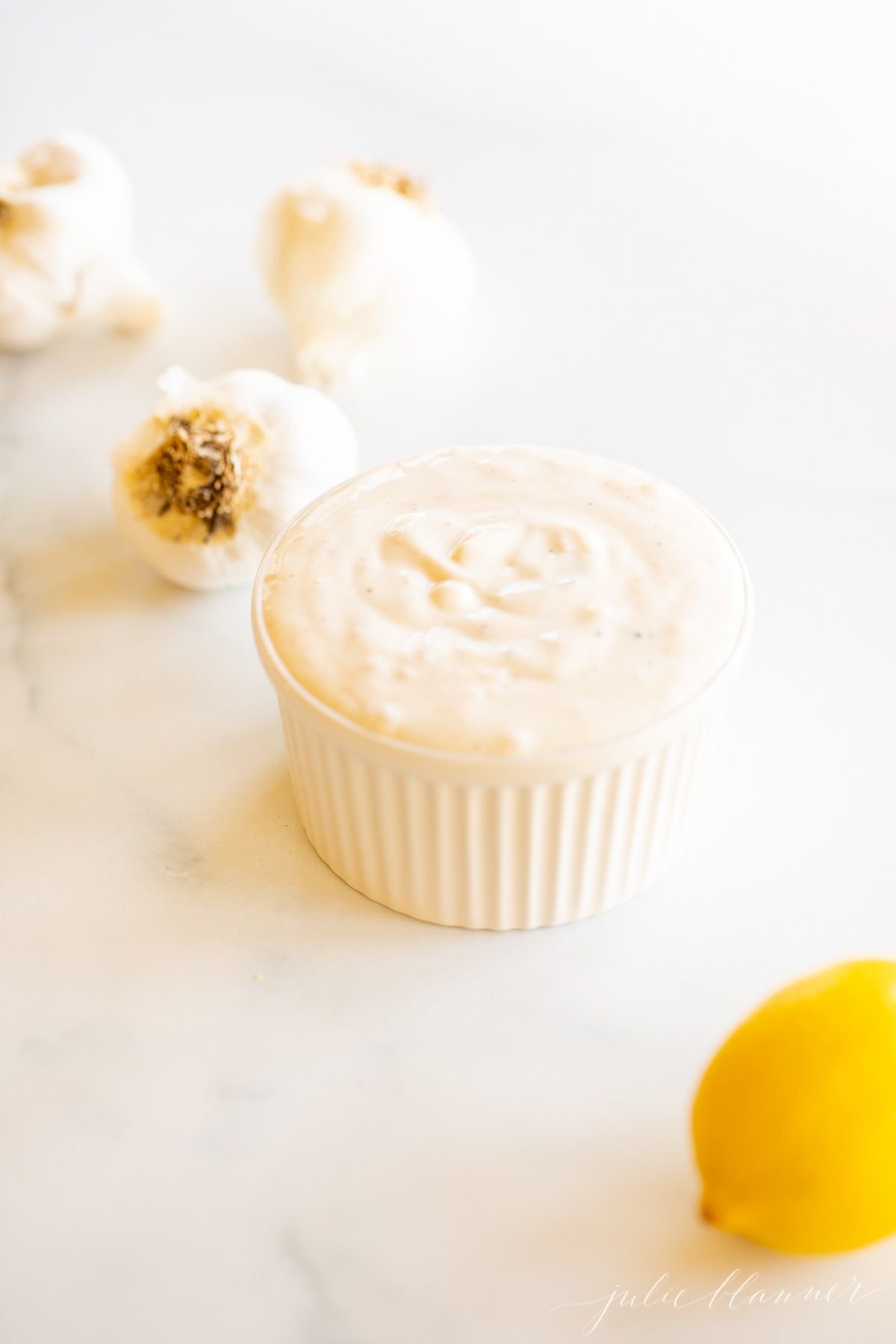 What is Garlic?
First, let's take a brief look garlic itself. Garlic is celebrated in a wide variety of cultures, known for its deeply pungent flavor in seasonings and condiments around the world.
Garlic is native to Asia and Iran, with a known record of thousands of years of human consumption and use. Even ancient Egyptians used garlic – and it's long been used for both food and medicine.
Is garlic an herb or a vegetable? Technically, garlic (Allium sativum) is very much a vegetable. It's a part of the onion family, along with chives, shallots, and leeks.
That means it's simply bursting with flavor and it's found in an incredible variety of recipes you might love… including most of my favorite Pasta Recipes.

While you can't always have fresh whole garlic cloves on hand, you can certainly have dried garlic or garlic powder in your spice rack collection.
Check out this guide to How to Stop Water from Boiling Over – it's so handy for pasta and potatoes!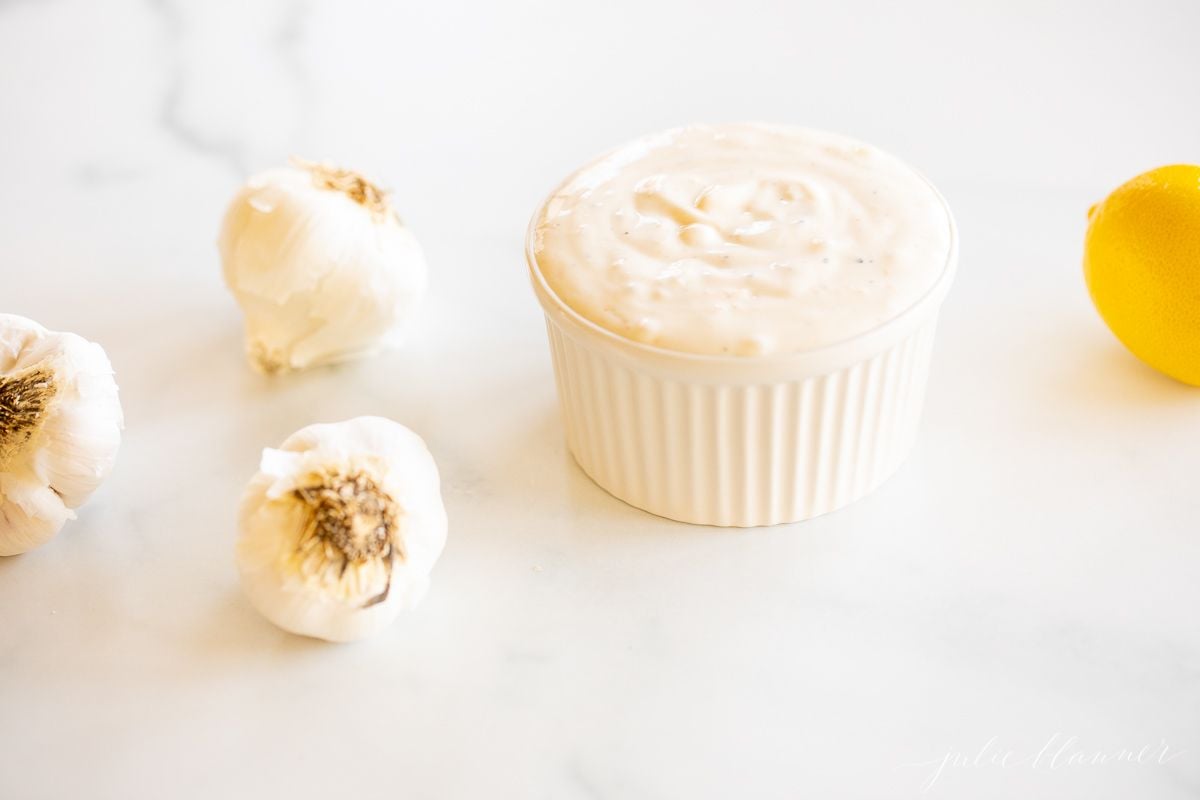 Garlic Clove Conversions
Minced garlic – Use 1/2 teaspoon of jarred minced garlic to replace a single garlic clove.
Garlic flakes – Also called dried minced garlic or dehydrated garlic, 1/2 teaspoon of garlic flakes replaces a single garlic clove.
Granulated garlic – Use 1/4 teaspoon of granulated garlic in place of each clove.
Garlic powder – Use just 1/8 teaspoon of garlic powder in place of each clove, as it's significantly more potent.
Garlic salt – Use 1/2 teaspoon of garlic salt in place of each clove. This adds an extra 3/8 teaspoon of salt, so keep that in mind to decrease any added salt in your recipe.
To convert a fresh clove of garlic to tsp, simply use one teaspoon of minced garlic for every clove requested in your recipe. It's one to one!
The garlic powder to clove conversion is much more complex, because garlic powder is so fine and concentrated. Use just 1/8 of a teaspoon for every clove of garlic requested in your recipe.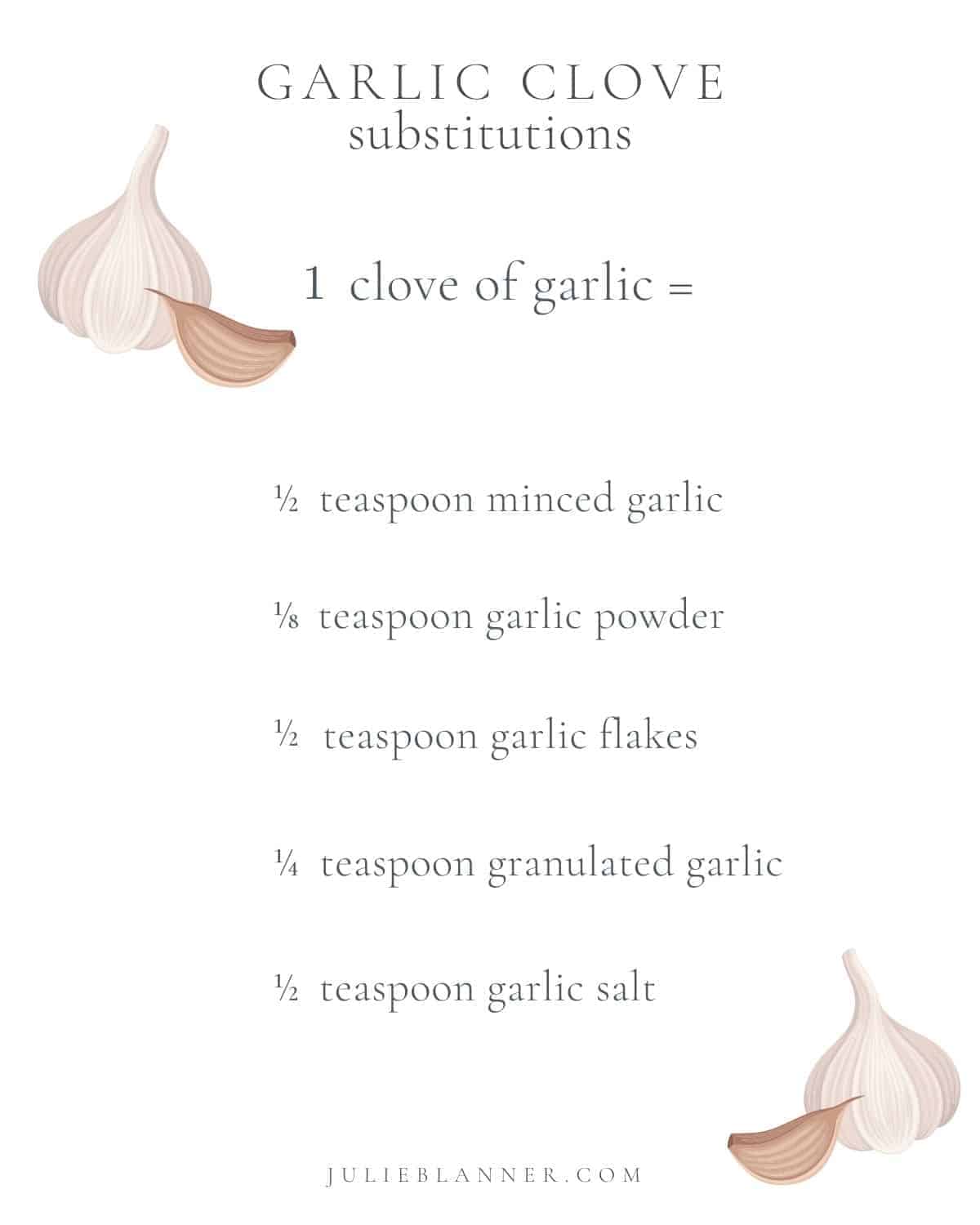 If you'd like, simply save these graphic images and print them out on your home printer! Pin them up in your kitchen or add them to your recipe folder and you'll never have to look it up again!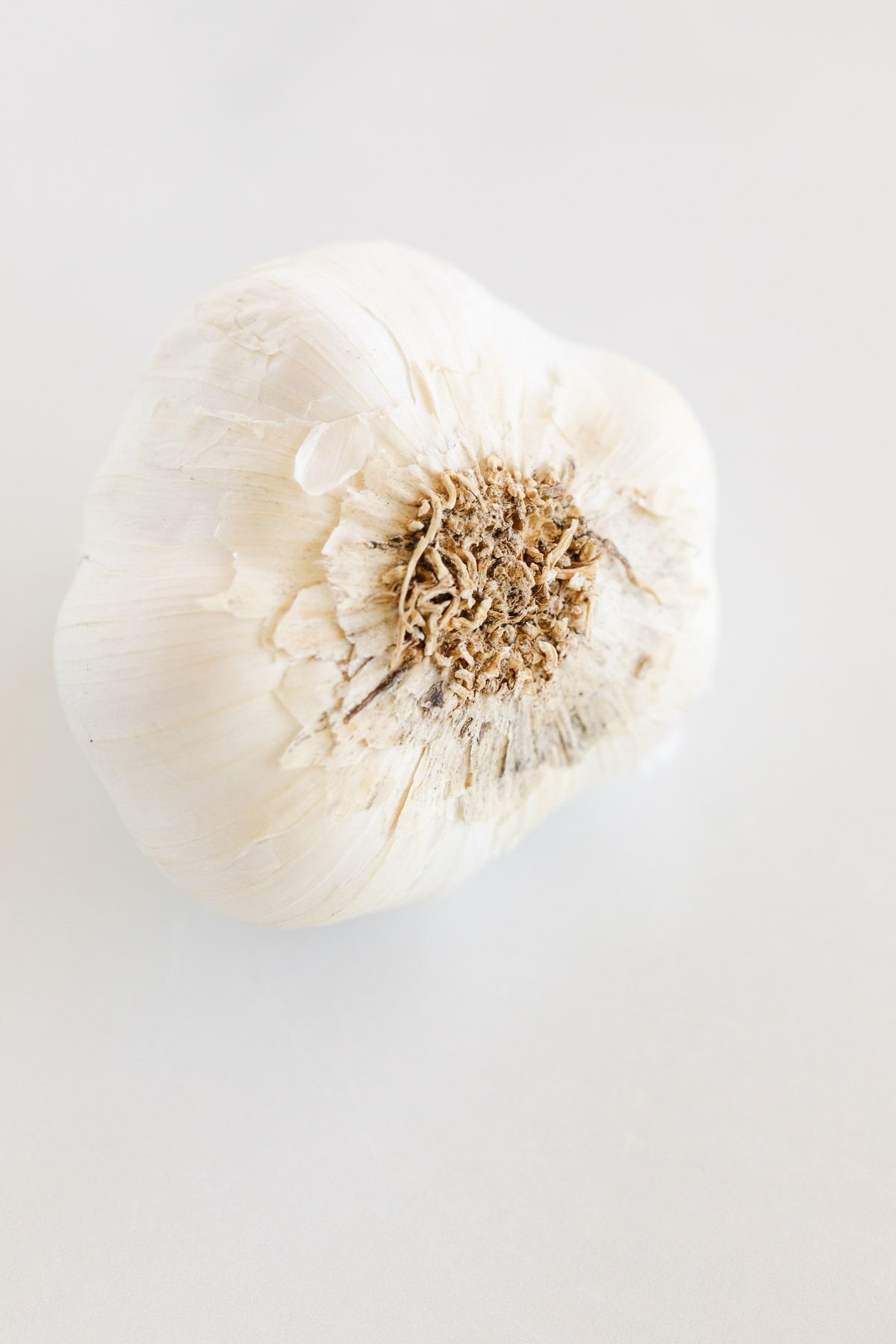 Frequently Asked Questions
What's the difference between diced garlic and minced garlic?
While the process of dicing and mincing might be similar, the difference is tremendous! Minced garlic cloves are cut into very tiny pieces, whereas diced garlic can be as large as 1/8" each. This is quite important to the final result of any recipe!

The smaller the pieces of minced garlic, the more of your dish is exposed to the pungent flavor. It also takes significantly longer to cook diced garlic because of the larger pieces.
What are the benefits of garlic?
Garlic is known to have many health benefits. It is thought to lower blood pressure, inflammation, cholesterol and more, along with boosting immunity and antioxidants.
What can I use as a substitute for garlic?
Try using shallots, onions, or garlic chives in place of fresh garlic if you don't have any garlic on hand or simply cannot consume.
Is minced garlic in a jar as good as fresh garlic?
It's a great substitute, but the flavor is not quite the same as fresh minced garlic cloves. Be sure to pay attention to conversion charts for accuracy, too, as jarred minced garlic is not quite as pungent as fresh.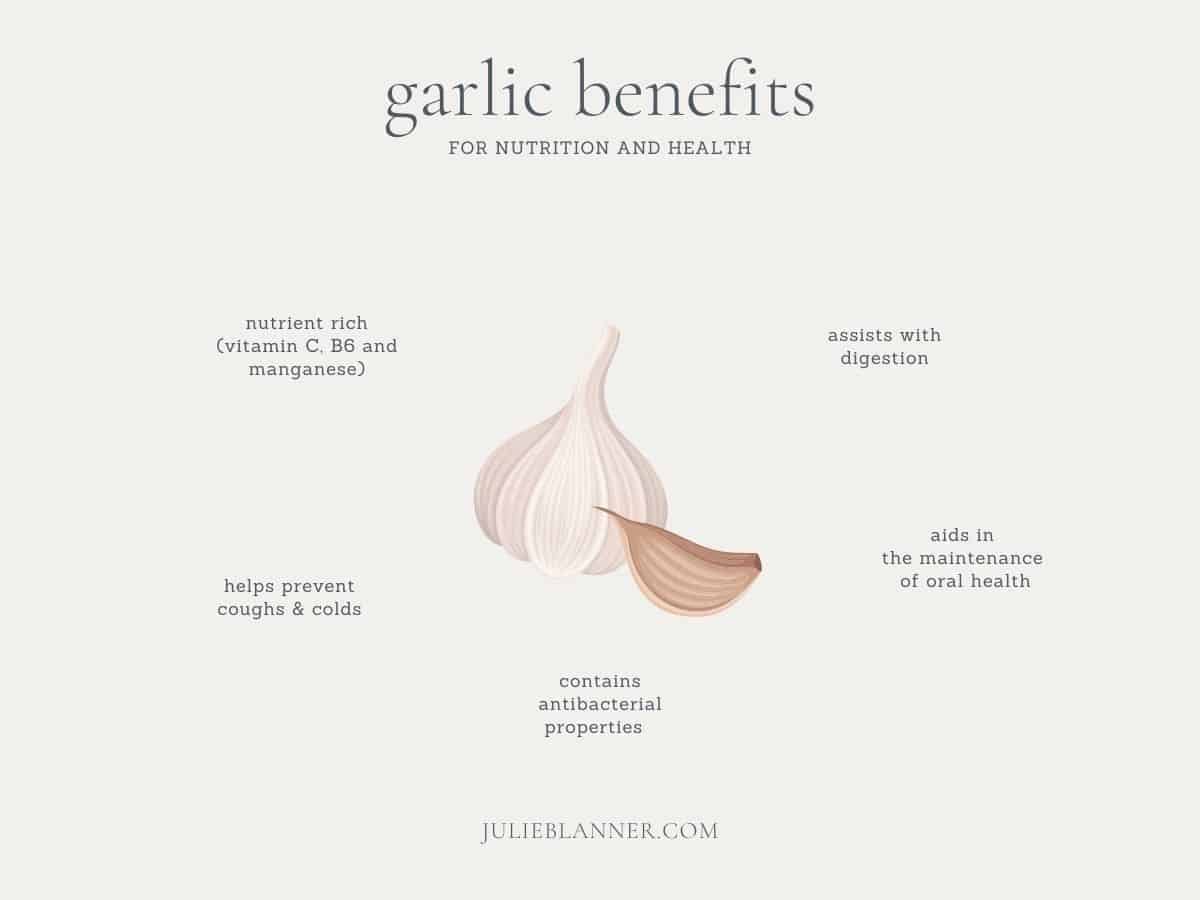 How to Store Garlic Cloves
Room Temperature – Store fresh garlic in an open container in a cool, dark place. Unbroken bulbs can be stored up to eight weeks. Once broken from the bulb, individual cloves will keep 3-10 days.
Refrigerator – Store fresh garlic in an open container in a cool, dark place. Unbroken bulbs can be stored up to 8 weeks. Once broken from the bulb, individual cloves will keep 3-10 days.
Freezer – Full heads of garlic, unpeeled (Papery skin attached) can be frozen for up to 12 months. Peeled, chopped garlic cloves can also be stored in the freezer for up to 12 months when they are properly bagged in airtight containers.
*If your garlic is sprouting small green or yellow sprouts in the center, it might be a sign it's going bad.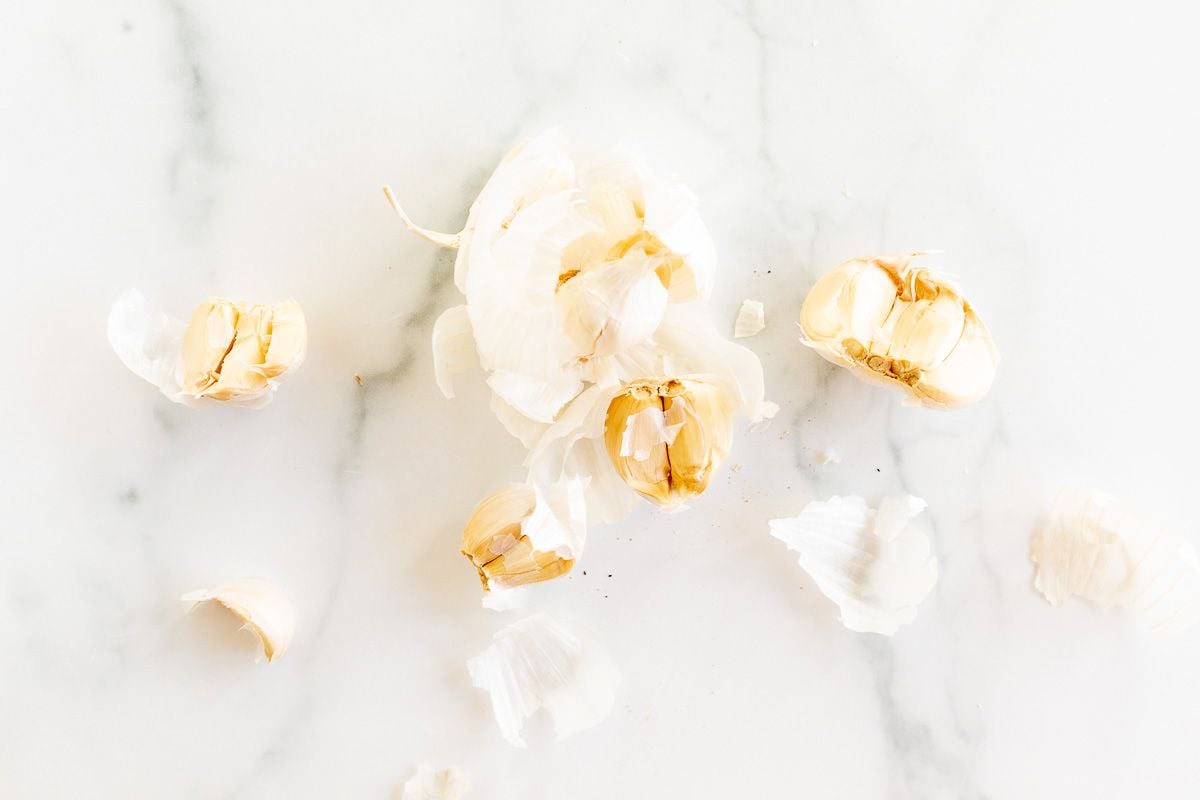 What do you think? Are you a fan of garlic, throwing it into every dinner recipe you make? I hope this garlic guide comes in handy for your future kitchen endeavors!