Hamburgers are an American classic! And whether you go simple or go big with your toppings, you should totally toast burger buns!
Let me share how to easily do it, and why toasting hamburger buns is such a good idea.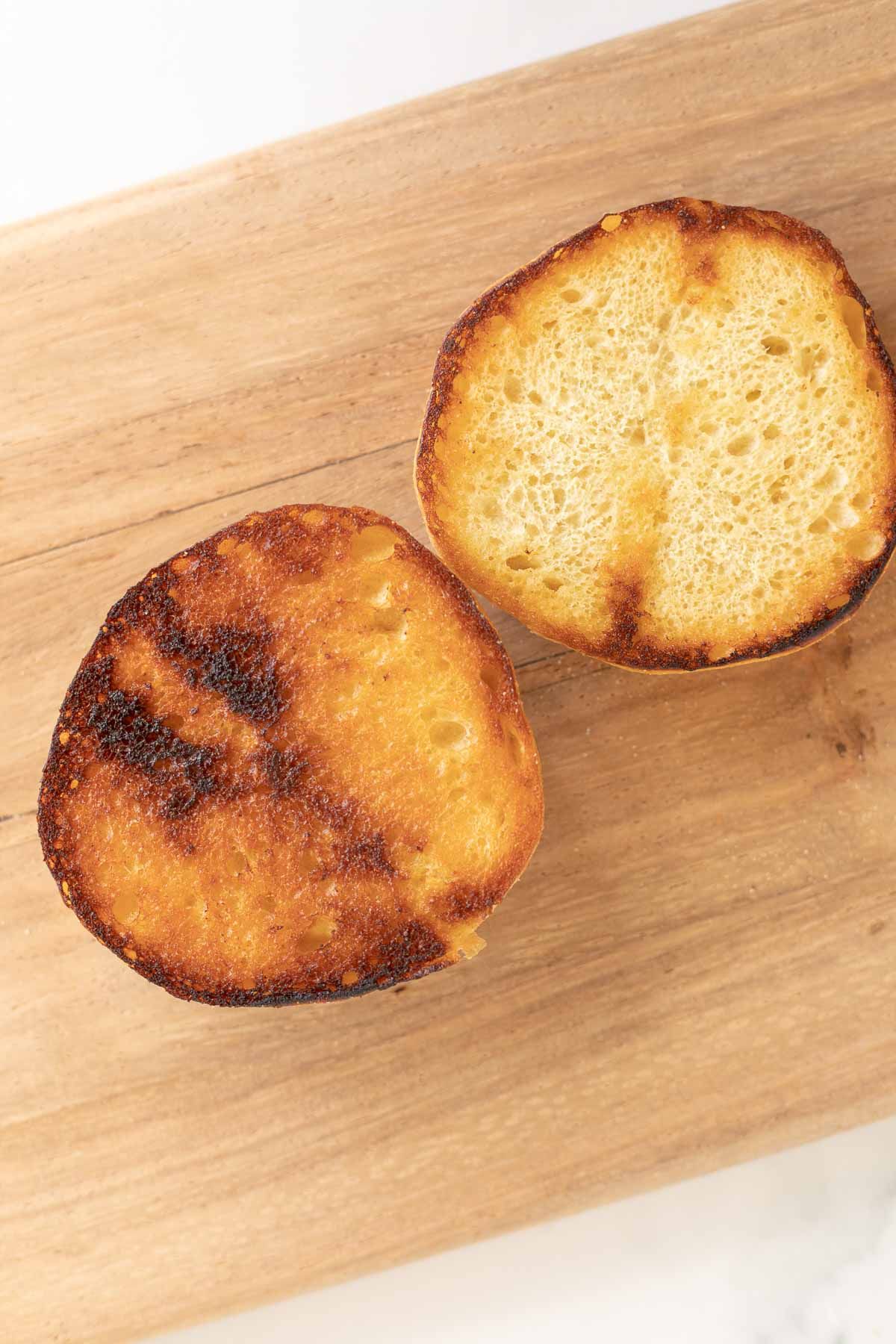 We spend so much time decking out our hamburgers in toppings – tomatoes, lettuce, mushrooms, onions, avocados, bacon, etc. to make them taste fantastic. But all too often we just sandwich them between regular buns. It's time to say good-bye to boring buns and make your burgers unbelievable with toasted buns.
I've talked a lot about burgers, including different methods to cook them, like Burgers on the Stove and Burgers in the Oven. And I love making them taste amazing with my Gourmet Cheeseburger Recipe and Bacon Burgers.
Read these guides for an in depth tutorial on the classic All American Burger and What to Serve with Burgers.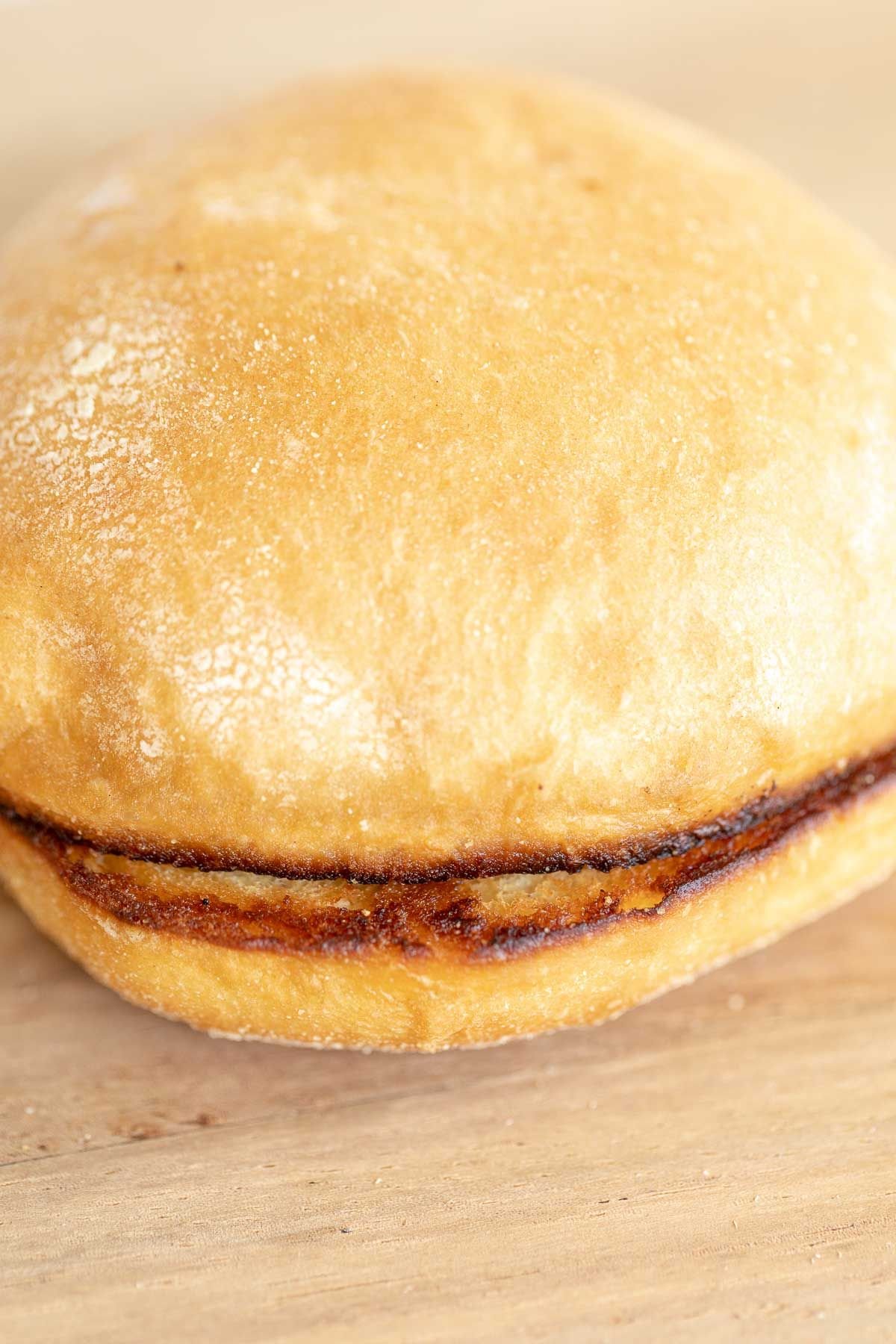 No matter how you cook burgers or what you put on them, I want to show you the hands down best way to instantly improve any burger! You need to toast burger buns! This will elevate your burgers to gourmet status. Toasted brioche buns or any other kind of bun taste so good!
All you need is a little butter and a frying pan on your stove (or oven or grill) to turn an ordinary bun into a crispy, buttery bun that deserves to bookend the rest of your delicious ingredients!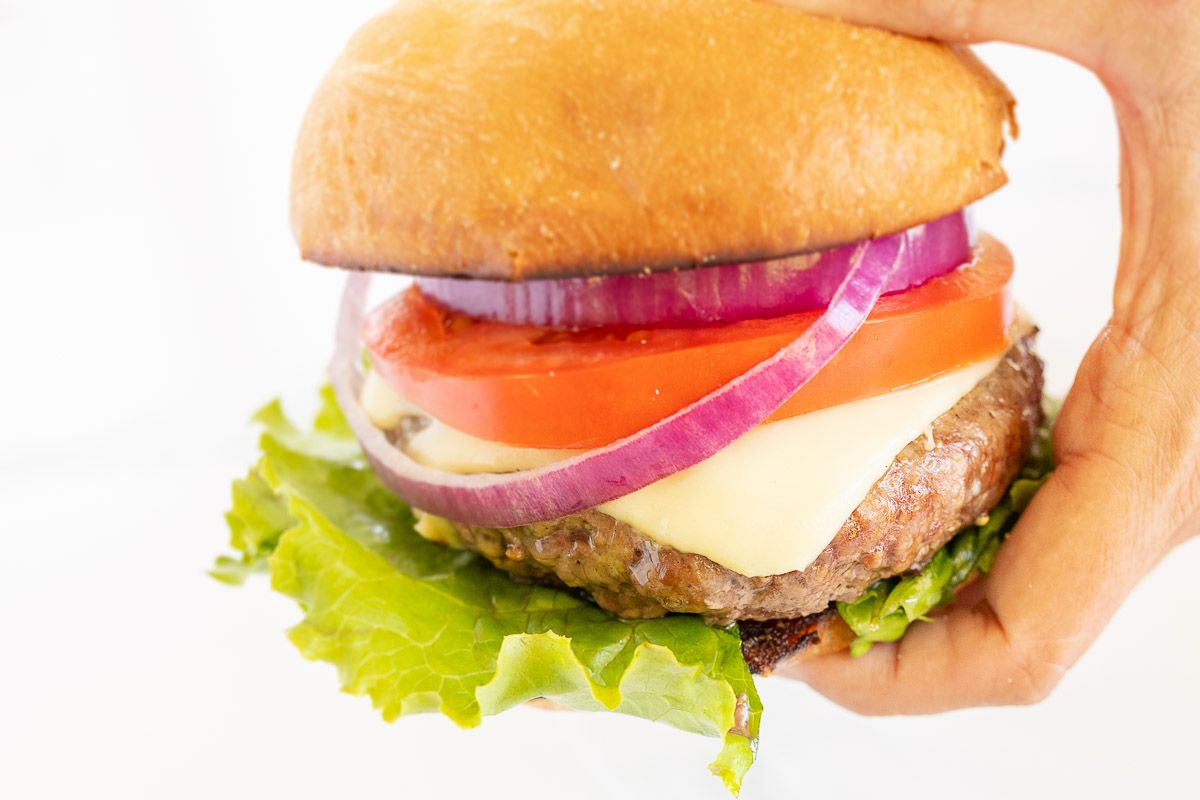 Why You Should Toast Burger Buns
Adds delicious, buttery flavor to your burger.
Keeps the bun from getting soggy from burger juices.
Adds a crispy texture that elevates your burger game.
It's so easy to do!
Ingredients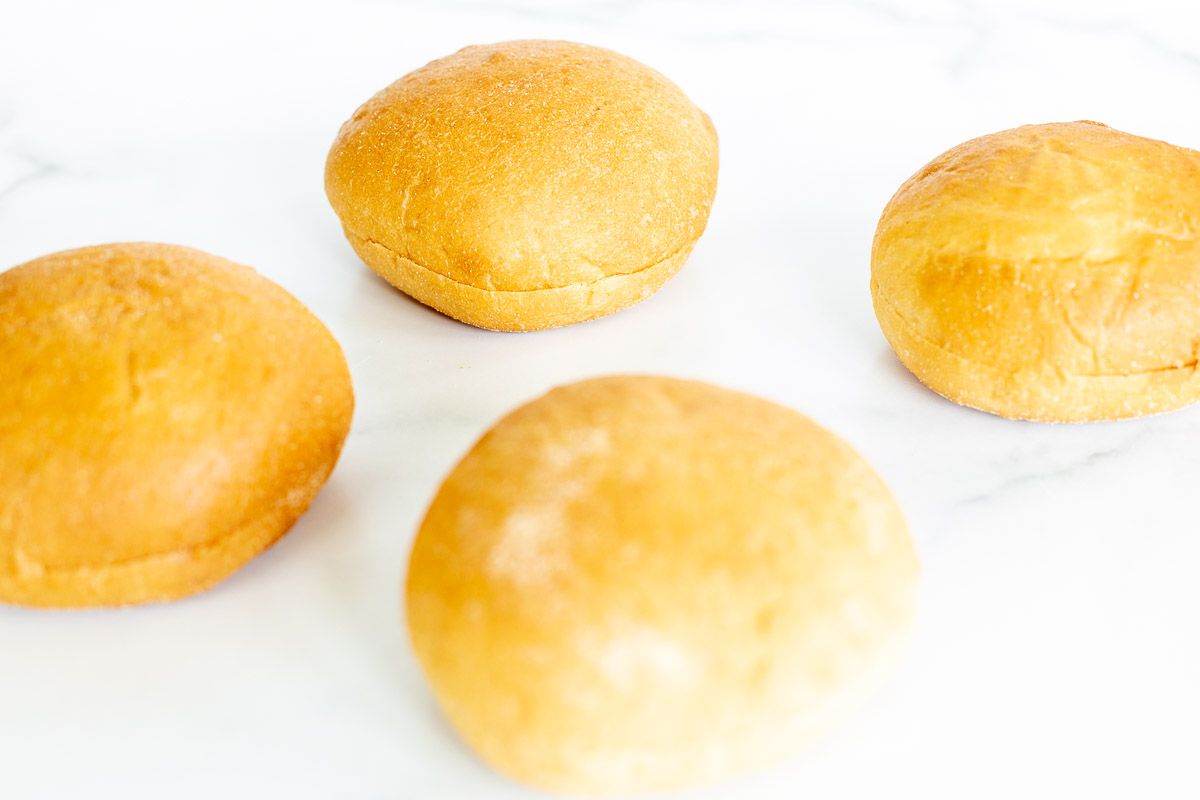 Buns – Brioche, pretzel, or any variety of bun that you like.
Butter – I like to use salted butter for the best flavor!
Variations
Oil – Use your favorite oil instead of butter. Try infused oils, like garlic-infused or herb-infused for amazing flavor.
Mayonnaise – If you use mayonnaise you'll want to spread the mayo on the bun and then place bun in pan. Watch it carefully because it will burn quickly. Use homemade Mayonnaise or Garlic Aioli for a delicious spread that will toast up beautifully.
Bacon Grease – If you just fried up some bacon for bacon burgers, then use the grease already in the frying pan. Remove extra grease so just a thin coating remains in the pan. Place buns in grease and cook until crispy.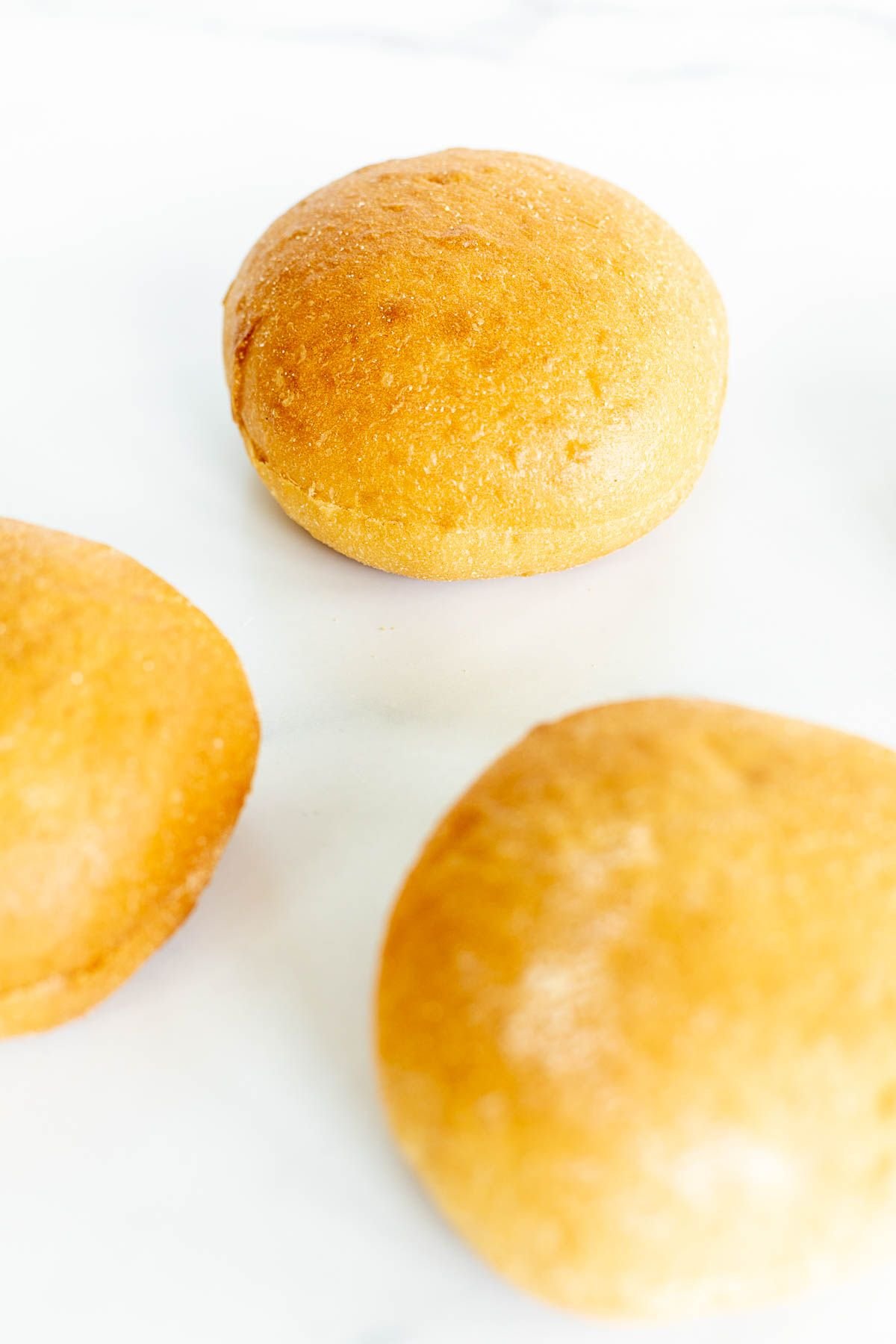 The Best Way to Toast Hamburger Buns
There are so many ways to toast buns, basically any place in the kitchen you have a heat source! Here are some of my favorite ways to do it.
Toasting Hamburger Buns on the Stove
If you're just making a few, the best way is to toast them in a pan on the stove.
Melt butter in a frying pan, making sure to coat the pan.
Place sliced side of buns into the butter and let cook for one minute.
Toasting Hamburger Buns in the Oven
If you're toasting a lot of buns, then using the oven is a great way to crisp up a lot of buns.
Spread butter onto the sliced side of hamburger buns.
Place the buttered side up on a baking sheet.
Place pan on the top rack under your broiler for about a minute – watch them carefully!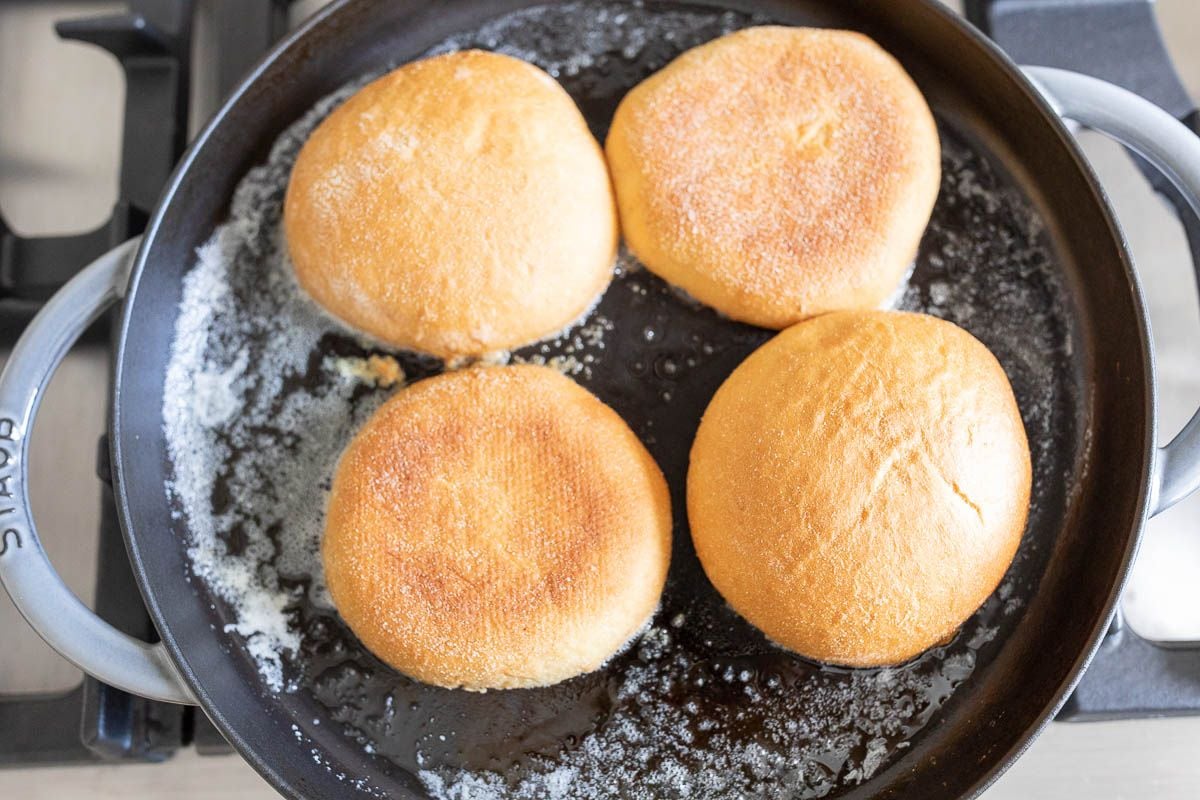 Toast Burger Buns on the Grill
If you're already grilling burgers, then you may as well use the grill for the buns, too.
Spread the butter onto the cut sides of buns.
Place the buns, buttered sides down, onto the grill away from direct flames. Let them cook for about a minute until the bread is toasted and there are grill marks across the bun.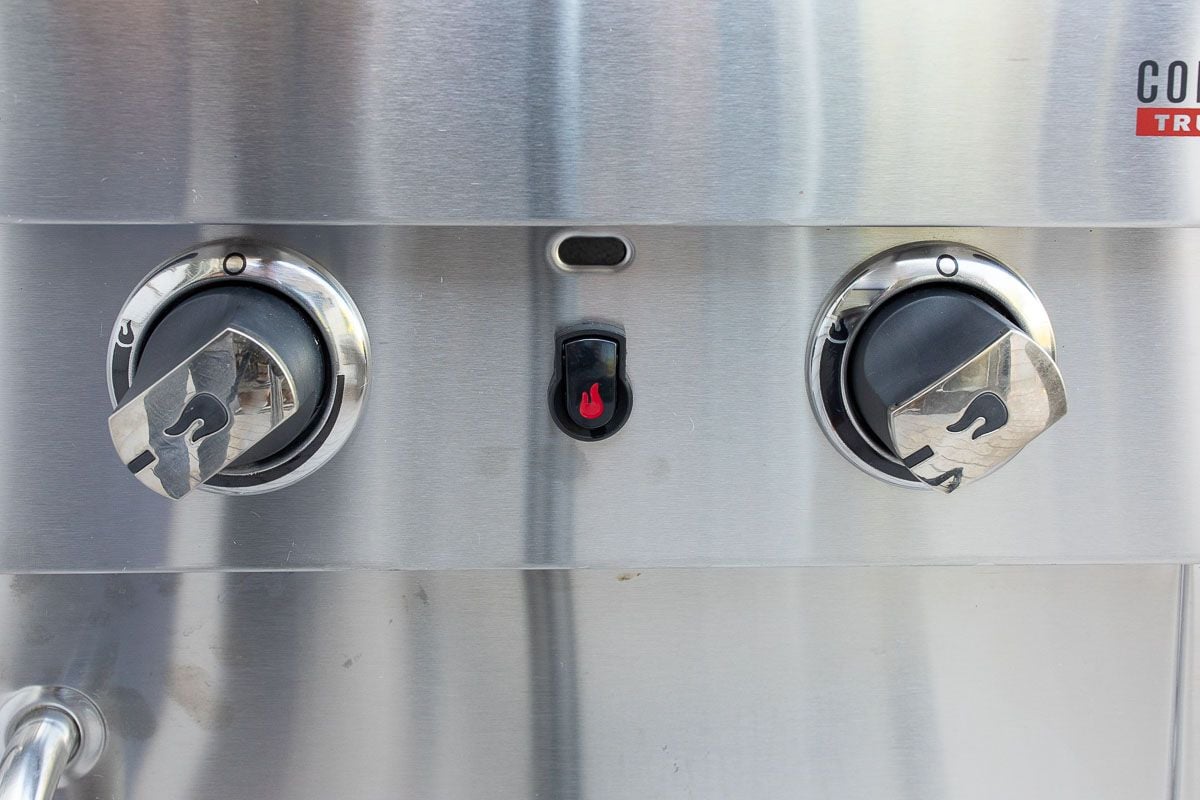 Watch the video where Julie will walk you through each step of this easy recipe. You will find a collection of recipe videos right here on our website with corresponding recipes.
Serving Suggestions
Tips
If using a method other than stove top, make sure to get the butter all the way to the edges. Crispy edges is one of the best parts of a toasted bun.
Use this method for hot dog buns, too. It'll make a regular hot dog or chili dog so much better!
Scaling up, down or substituting? You'll love this printable Measurement Conversion Chart!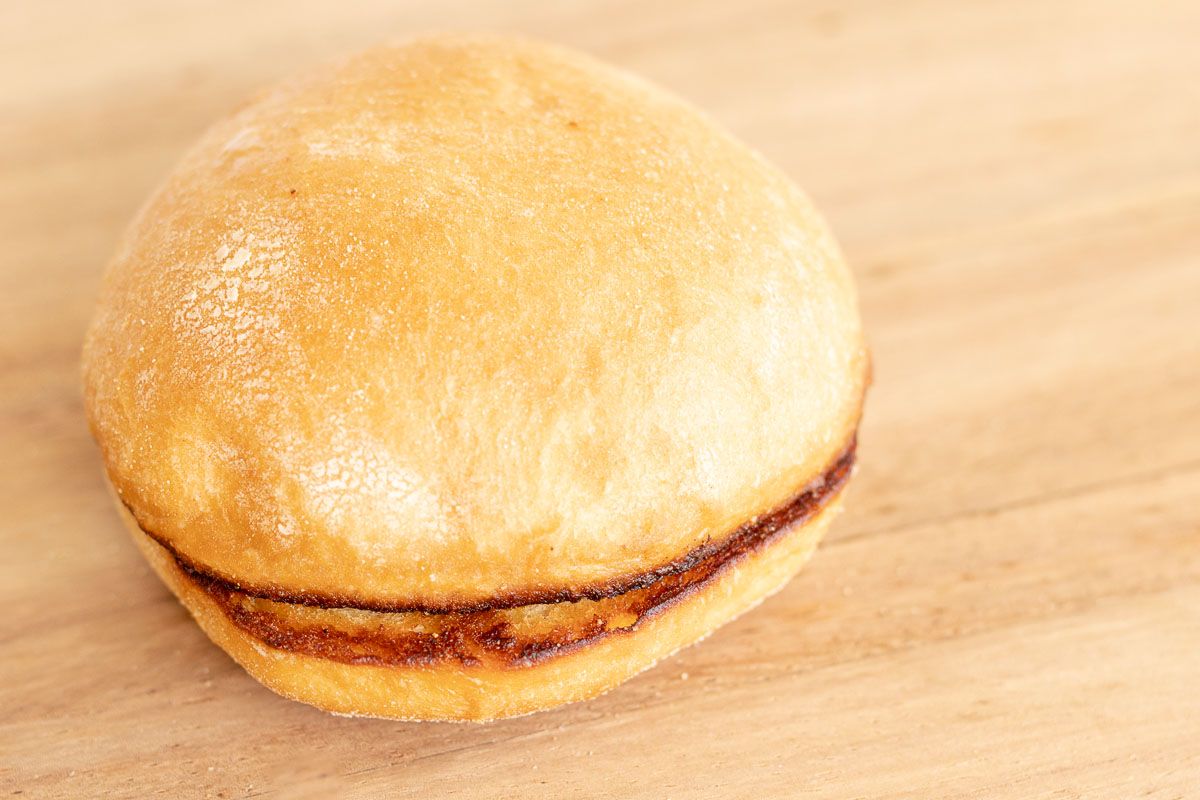 Frequently Asked Questions
What type of bun should I toast?
I love buttery soft toasted brioche buns. They make my burgers taste divine. I also like pretzel buns. Any bun will taste better toasted, but if you start out with a quality bun, like brioche, then the final product will be even better.
What is the best way to toast burger buns?
The answer to this question depends on where and for how many people you're cooking burgers for. If I'm just cooking burgers in the house for my family I prefer to use the stove top method. It is the quickest and most convenient for a small group.

If I'm grilling outside, then the grill is already heated up, so I may as well take advantage of that heat source. For a large group of people, toasting buns in the oven on a large sheet pan works really well.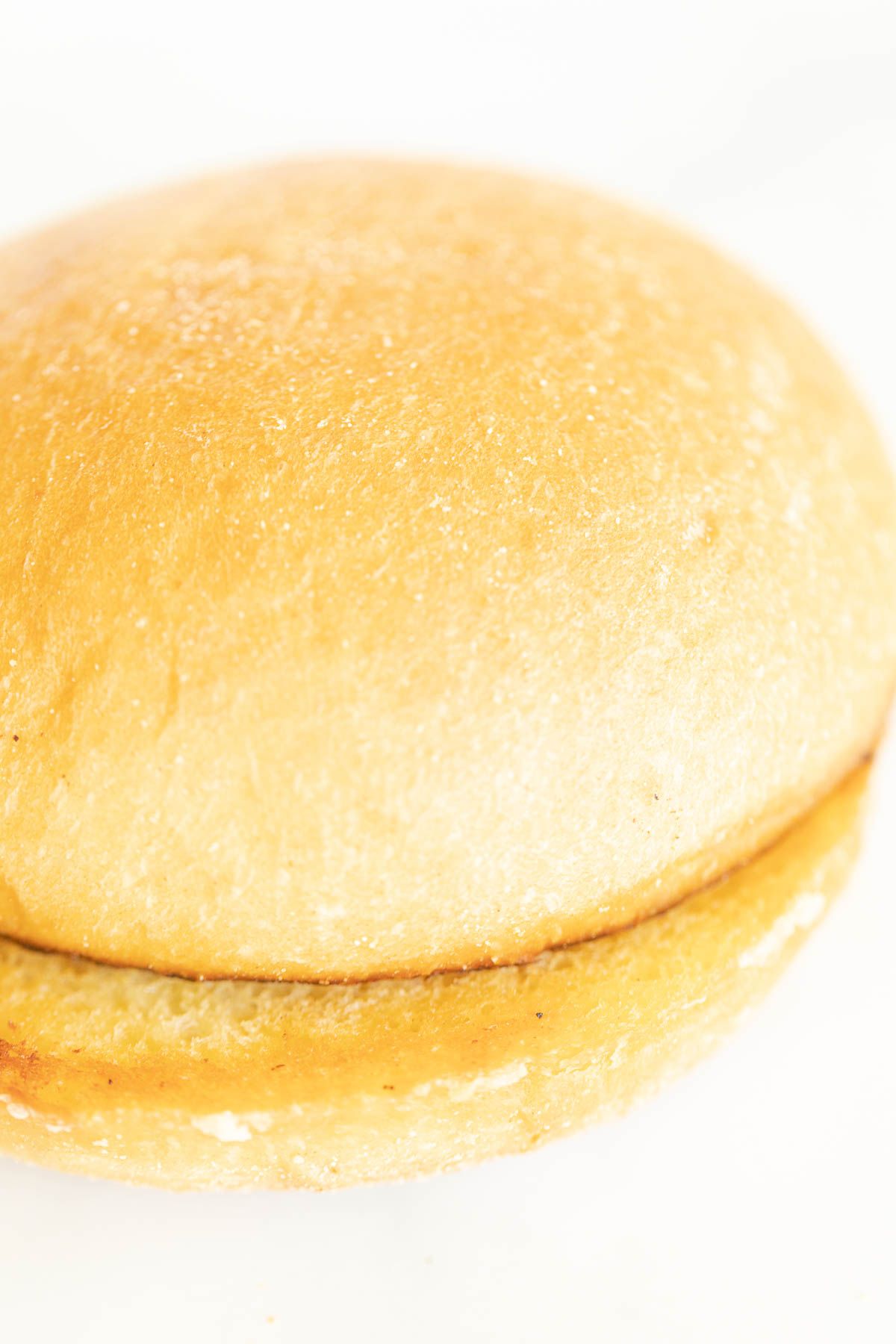 Make Ahead
If you'll be seasoning your butter with garlic or herbs, mix that up ahead of time. This Steak Butter is a fabulous combination of ingredients.
Go ahead and slice and butter the buns ahead of time, up to a couple of hours, so they'll be ready to go when its time to toast them.
How to Store
At Room Temperature – Cover your toasted burger buns and let them stay at room temperature for up to 3 days. The moisture in the butter will cause your buns to become soft. So, you'll want to re-toast them on a pan or in the oven before using them. You shouldn't need to add any more butter, just use the butter that is already on the bun to crisp it up.
Refrigerate – This method of storing is the same as at room temperature. Store the buns in a container and then re-toast the buns in a pan or in the oven before eating them.
Freeze – Store toasted buns in the freezer for up to 2 months in a covered container or bag. When you're ready to use them, just let them thaw and then put the buns face down in a frying pan until they're crispy again. You could also place them face up in the oven. Only add more butter if you feel they're not getting crispy enough.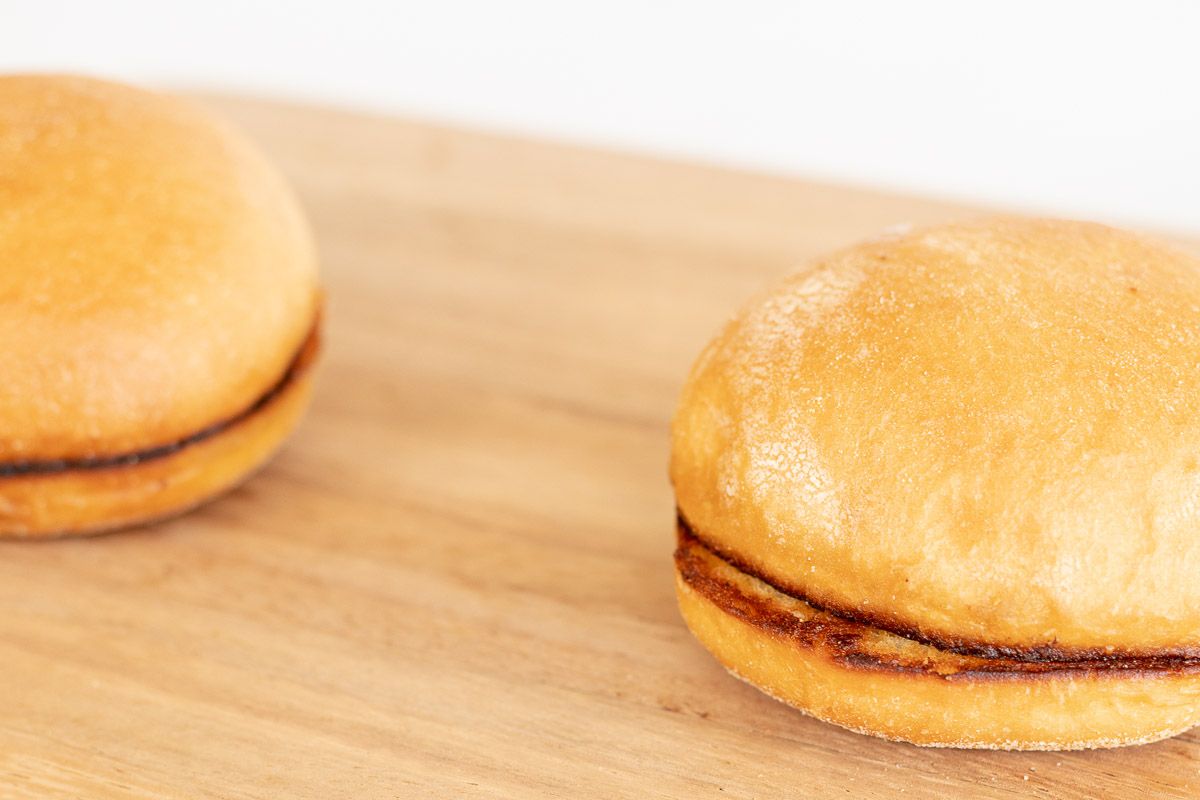 What to Do with Leftovers
Croutons – Cut buns into small cubes and pan fry with a little butter, stirring often. Season with salt, garlic powder, and Italian seasoning for delicious homemade croutons. Remove from heat when they're crispy.
Mini Breadsticks – Slice buns lengthwise into about 4 slices. Reheat in a broiler or on the pan and then serve with Pasta Bolognese.
Dietary Considerations
Gluten Free – To make gluten free, use your favorite gluten free buns and follow the recipe as directed.
Dairy Free – If you want to be dairy free, replace the butter with oil, margarine, or mayonnaise.
Nut Free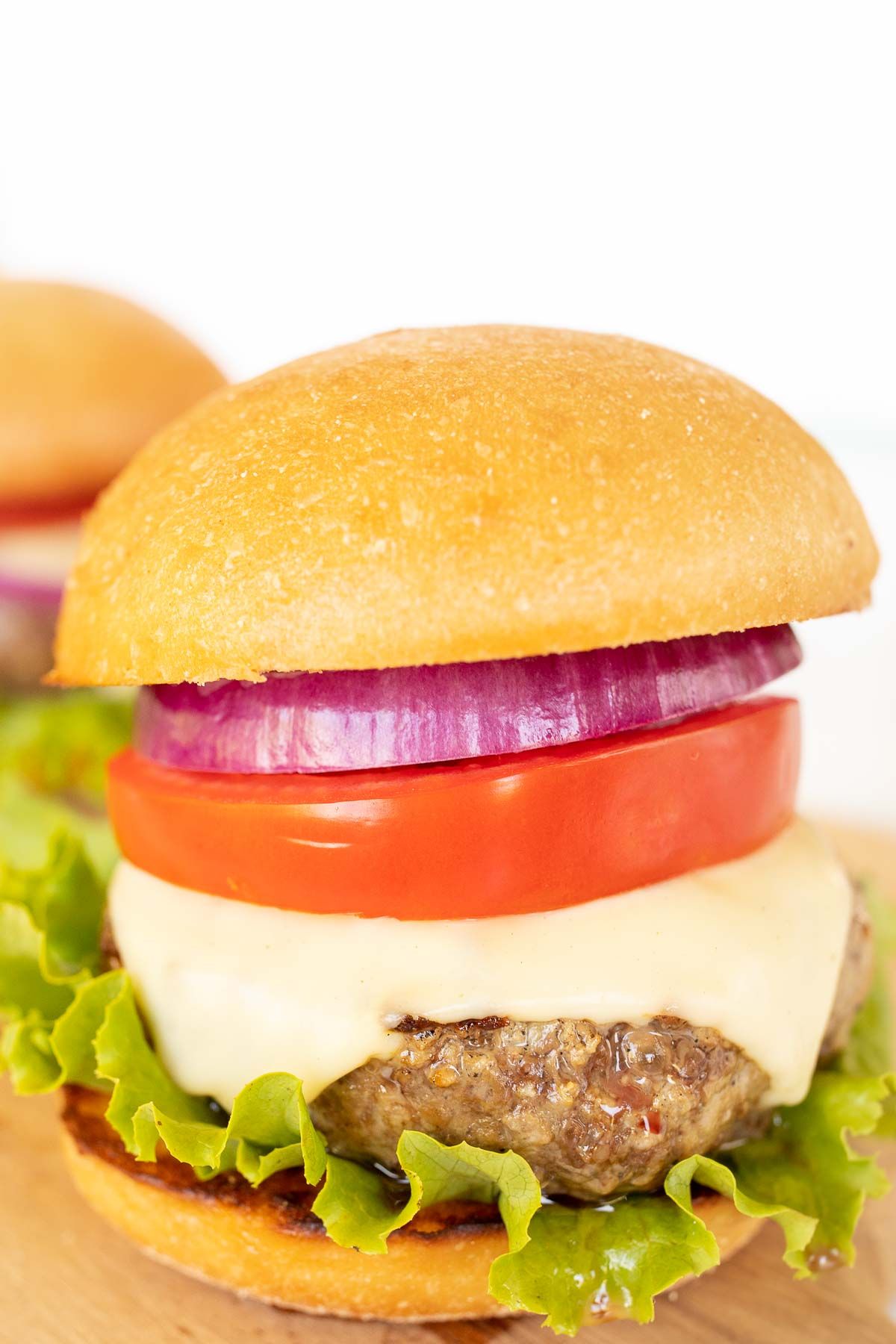 More Easy Recipes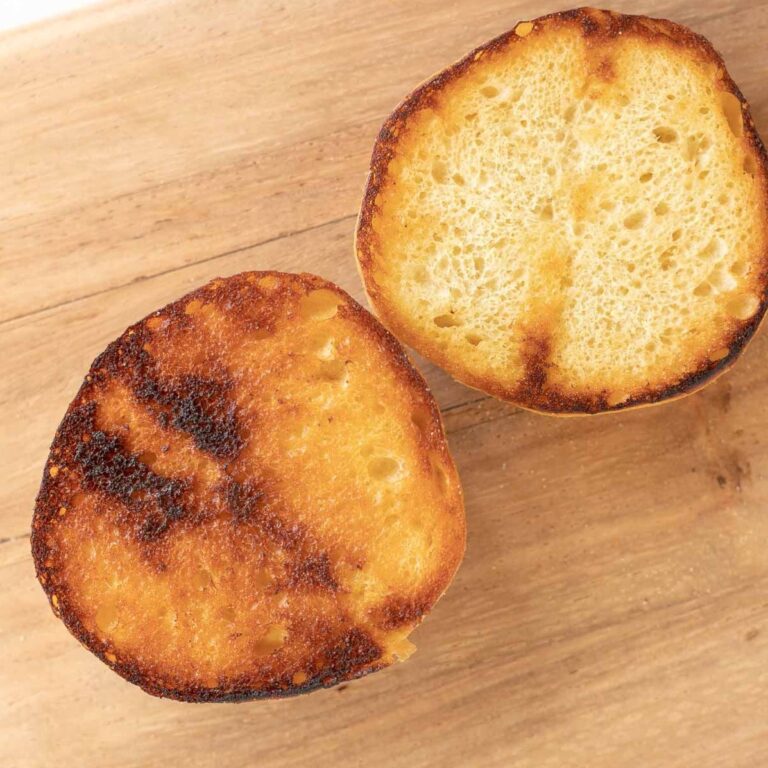 Toasted Burger Buns
Add rich flavor and crispy texture to your burger buns by toasting them! It's so easy and doesn't take long to make your burgers even better.
Ingredients
2

tablespoons

butter

salted or unsalted

4

buns

brioche, pretzel, sliced
Instructions
Add butter to a large pan or griddle over medium heat.

Swirl butter to coat the pan.

Add buns, sliced side facing down.

Toast buns about 1 minute or until golden brown. Remove from heat.
Tips
On the Grill
Spread butter on the cut side of each bun. Place butter side down on the grill away from the flame. Let them toast until they get nice grill marks, about 1 minute – depending on the heat in your grill.
In the Oven
Just like for toasting on the grill, spread butter on the cut side of each bun. However, in the oven you'll want to have the butter side facing up. Place the buns on a baking sheet with butter facing up.
Set your oven to broil and place the rack high. Using a broiler will toast the buttered side quickly so the rest of the bun won't get dry. Toast for about a minute, watching carefully so the bun doesn't burn.
Calories:
170
kcal
|
Carbohydrates:
22
g
|
Protein:
4
g
|
Fat:
7
g
|
Saturated Fat:
4
g
|
Polyunsaturated Fat:
1
g
|
Monounsaturated Fat:
2
g
|
Trans Fat:
1
g
|
Cholesterol:
15
mg
|
Sodium:
265
mg
|
Potassium:
56
mg
|
Fiber:
1
g
|
Sugar:
3
g
|
Vitamin A:
175
IU
|
Vitamin C:
1
mg
|
Calcium:
76
mg
|
Iron:
1
mg
Estimated nutrition information is provided as a courtesy and is not guaranteed.
Explore More