You can make mayonnaise from scratch, start to finish – in less than 10 minutes! It's quick, easy and so flavorful! You will never have to worry about running out of mayo again.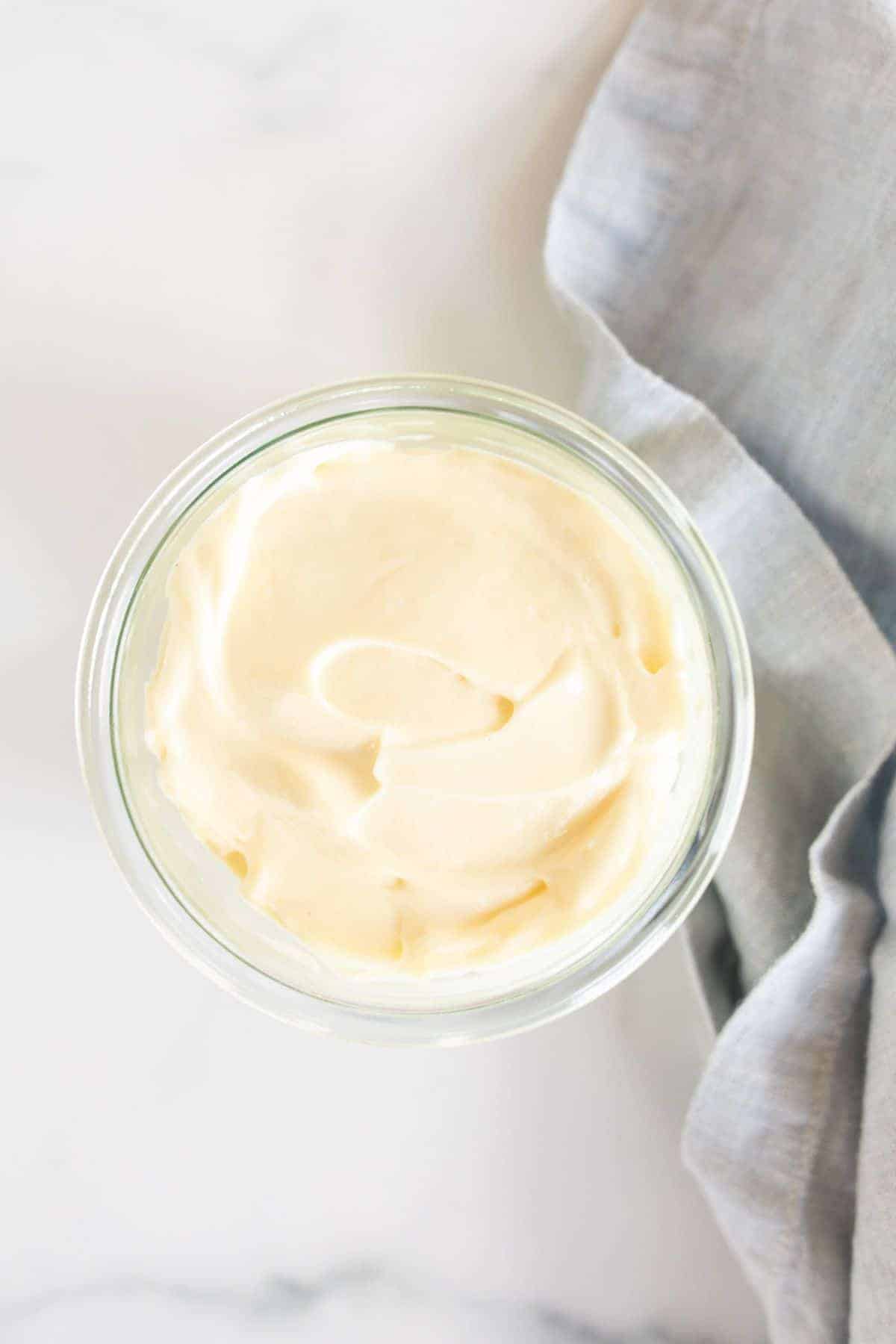 Homemade mayonnaise has an amazing creamy texture and a fresh, natural flavor. If you've heard rumors that mayo is difficult and finicky to make, you can rest assured that it is very doable and will taste incredible!
It can be used just as it is, or altered to suit your taste and the occasion. Spread it on sandwiches, mix it in salads, bake it in creamy dips, and turn it into a flavorful aioli. You'll find so many ways to use this versatile homemade condiment. It will definitely take your recipes up a notch!
Making your own mayo should be on everyone's kitchen bucket list for a couple of reasons. First, the flavor and consistency is so wonderful. Second, the process of emulsifying liquid ingredients into a semisolid is a fascinating kitchen science experiment you need to do at least once.
Chances are when you taste your first batch of mayo, you're going to love it so much you'll wonder why you've ever purchased it! Even if you're not a fan of mayonnaise, this homemade version will wow you.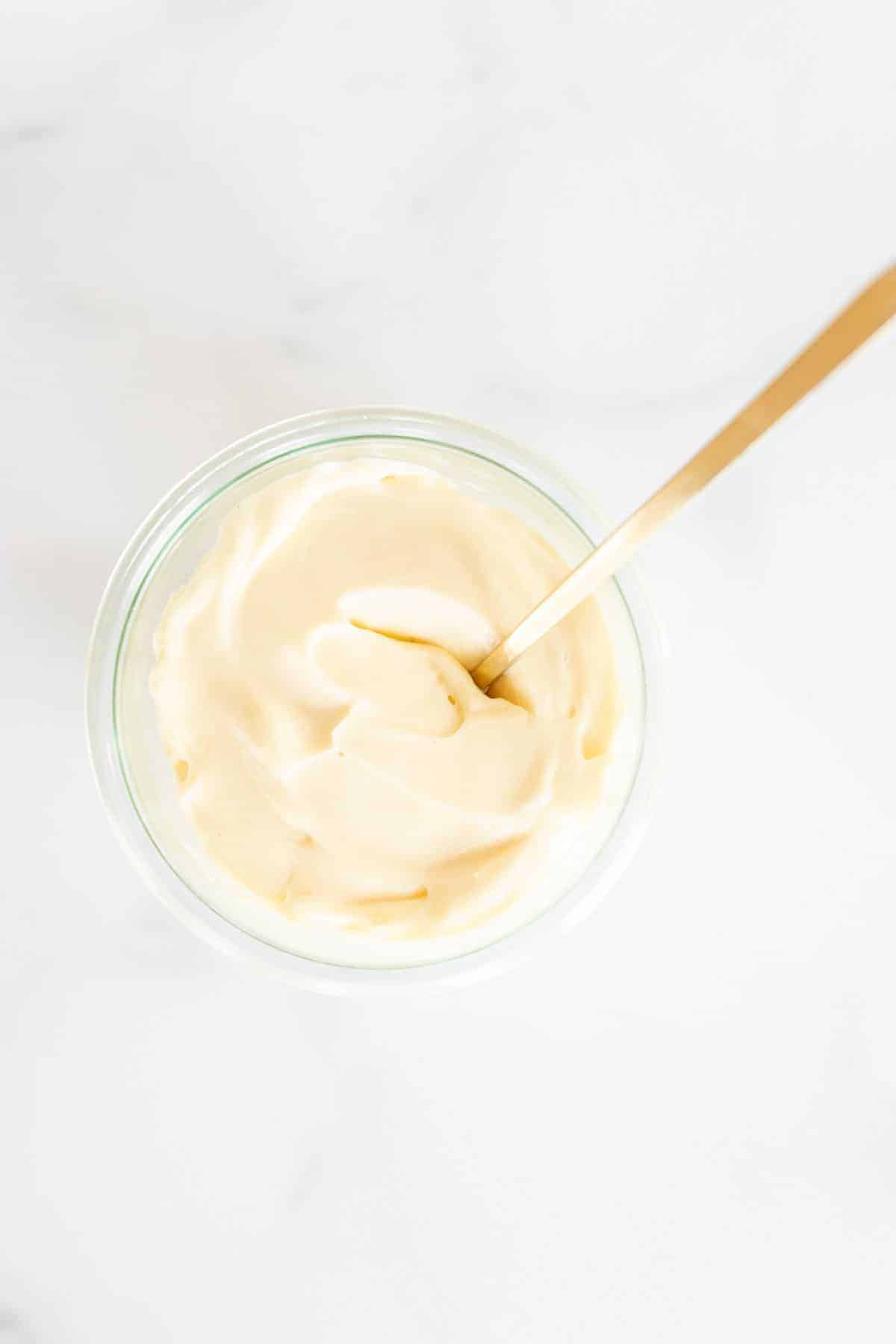 Why You'll Love Homemade Mayonnaise
Fresh
Quick and Easy
Made from Staple Ingredients
Make it on a Whim
Mayo Ingredients
Eggs – Raw or pasteurized. I use raw eggs but if you can use pasteurized if you prefer.
Dijon Mustard – Adds a hint of flavor and helps the mixture emulsify.
White Wine Vinegar – Vinegar keeps the mixture stable and adds flavor. I prefer white wine vinegar, but the options are endless. You can use the vinegar of your choice to customize the flavor profile.
Salt – Just a hint for flavor.
Oil – Use neutral oils like canola, grape seed, avocado or safflower for traditional flavor. Any oil can be used. Olive oil is among my favorites for a touch of additional flavor.
Lemon Juice – Adds a nice burst of flavor. Use fresh squeezed or 100% real lemon juice.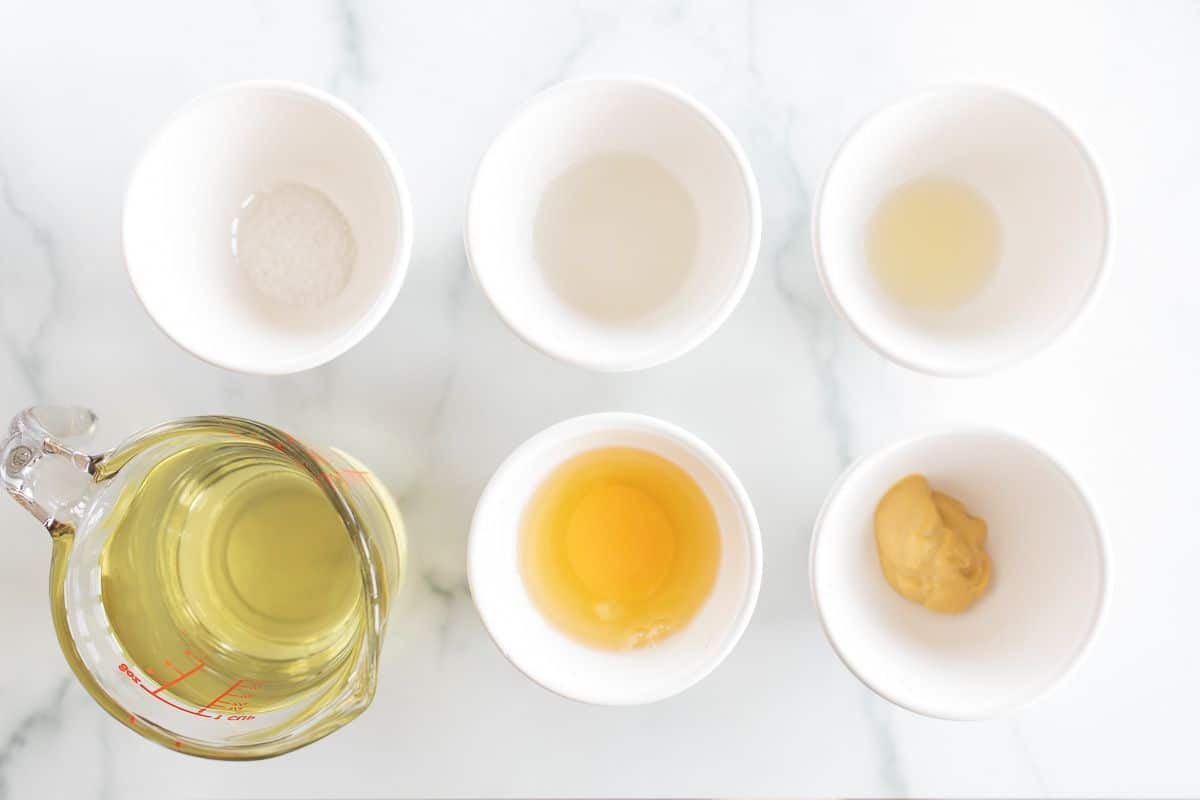 Variations
You can mix up homemade mayonnaise in so many amazing ways! Add your favorite seasonings and herbs and let it marinate for the best dipping sauce or drizzle.
Cilantro Aioli
Sriracha Mayo
Avocado Mayo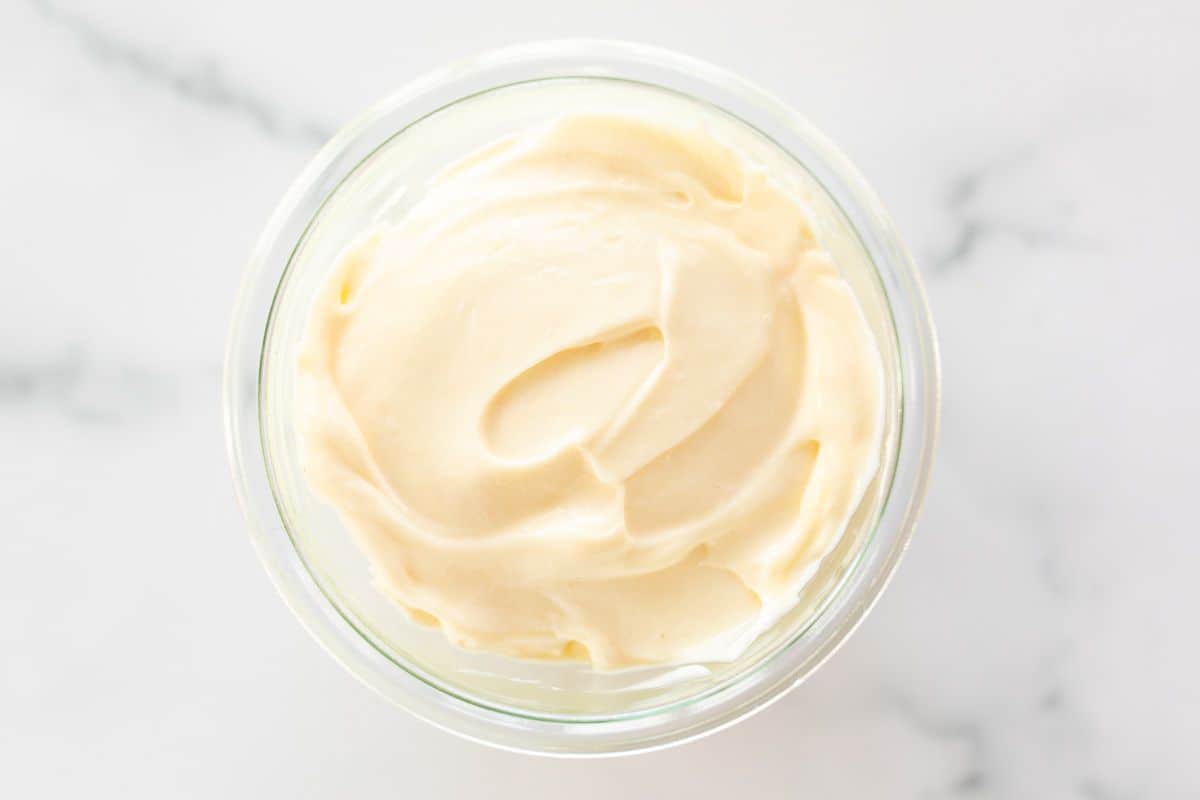 How to Make Mayonnaise from Scratch
Mix the egg in a food processor 20 seconds.
Add Flavors and Stabilizers – Dijon mustard, white wine vinegar and salt. Mix everything together.
Add Oil – Add a tablespoon of oil, pouring in a steady, slow stream. Process. Repeat this 4 times. It should be thickening at this point. Add more oil, in larger amounts than a tablespoon, making sure to pulse the processor in between each addition.
Add Lemon Juice – When all the oil has been added and the mayonnaise is fully emulsified, add the lemon juice and pulse until blended.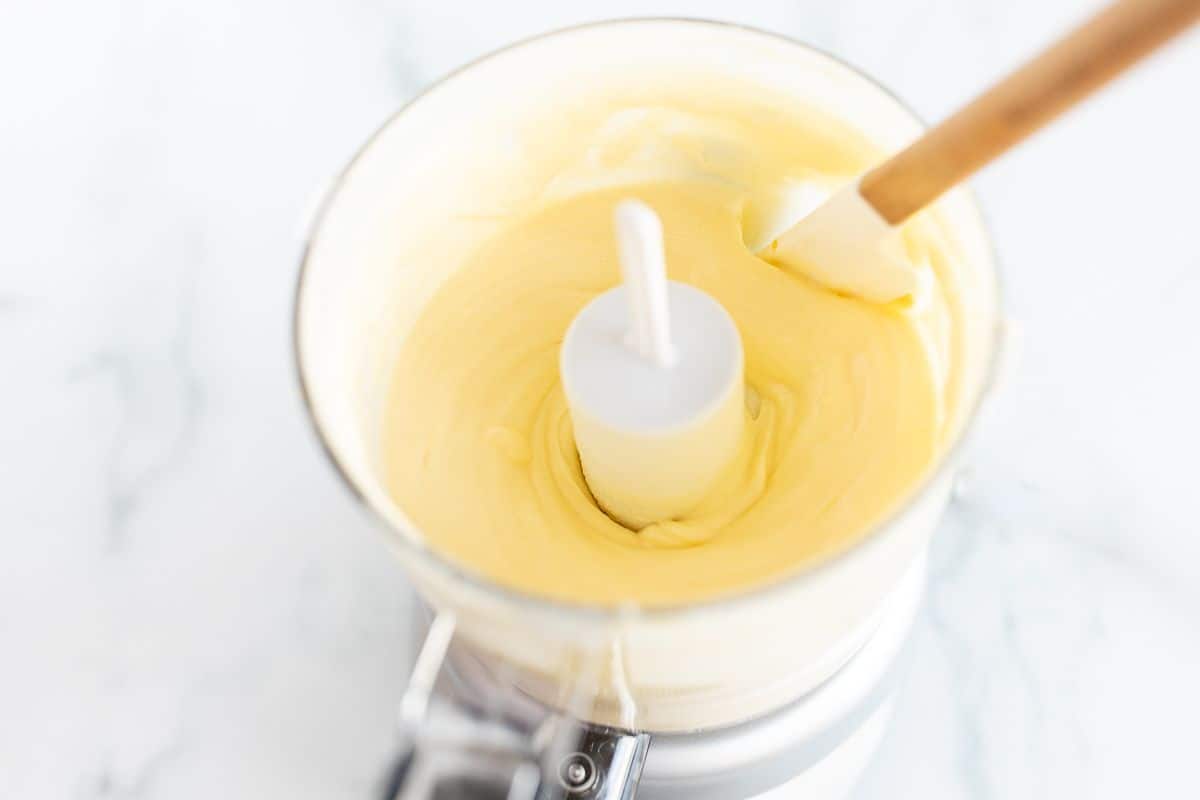 How to Fix Broken Mayonnaise
Broken mayonnaise occurs when the ingredients didn't emulsify correctly, causing the bonds between the ingredients to break. It leaves a curdled-looking mixture that certainly doesn't look like mayonnaise. The good news is that it is fixable by using one of these methods:
In another bowl, measure 1 teaspoon of mustard. Manually whisk the broken mayonnaise, a little at a time, into the mustard.
Put just the yolk of another egg into a bowl and slowly whisk your broken mixture into the yolk.
Add 2 teaspoons of hot water to the broken mayonnaise and whisk. This method will create a thin mayonnaise.
Any of these methods should fix your mayo so it is smooth, creamy, and emulsified.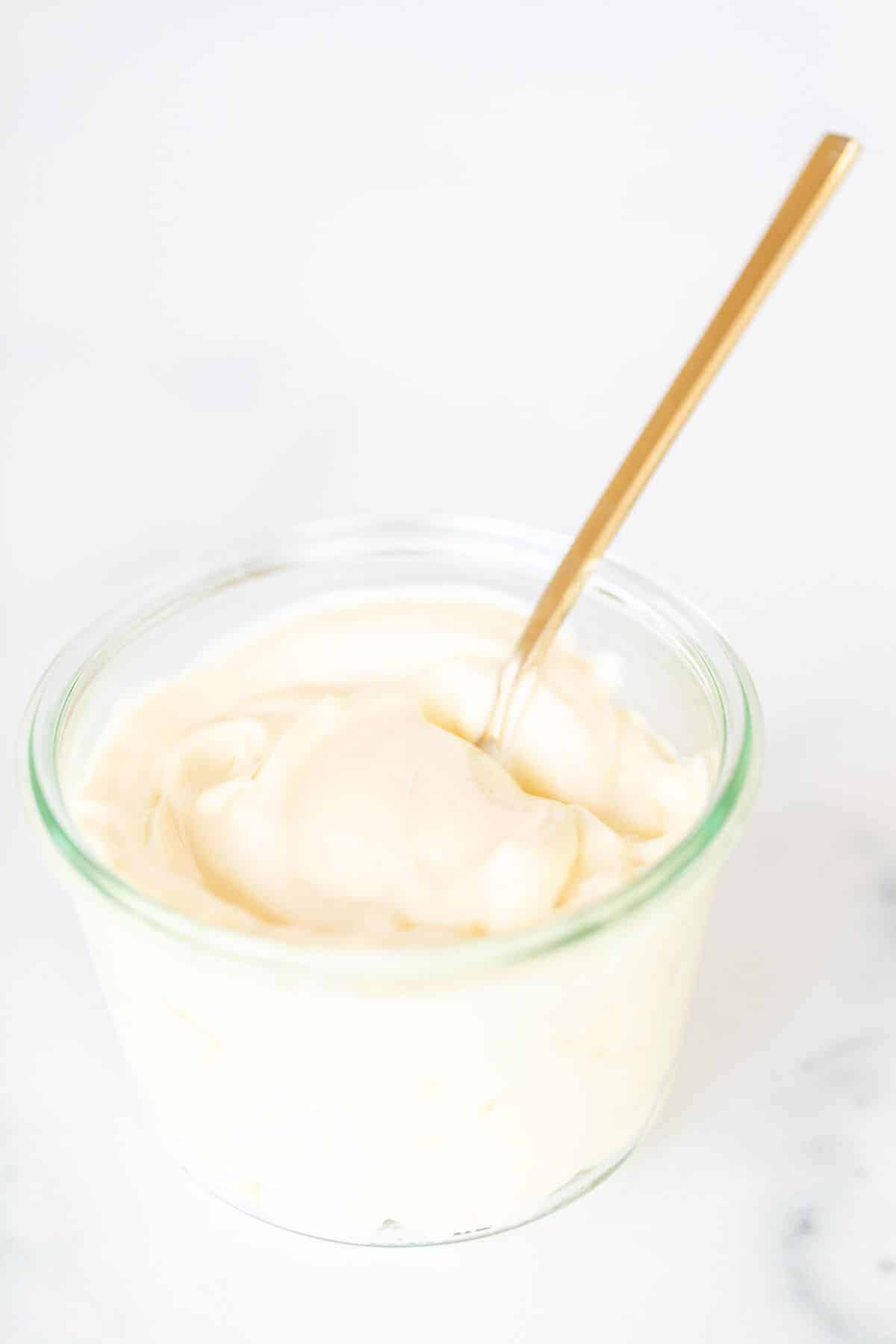 Serving Suggestions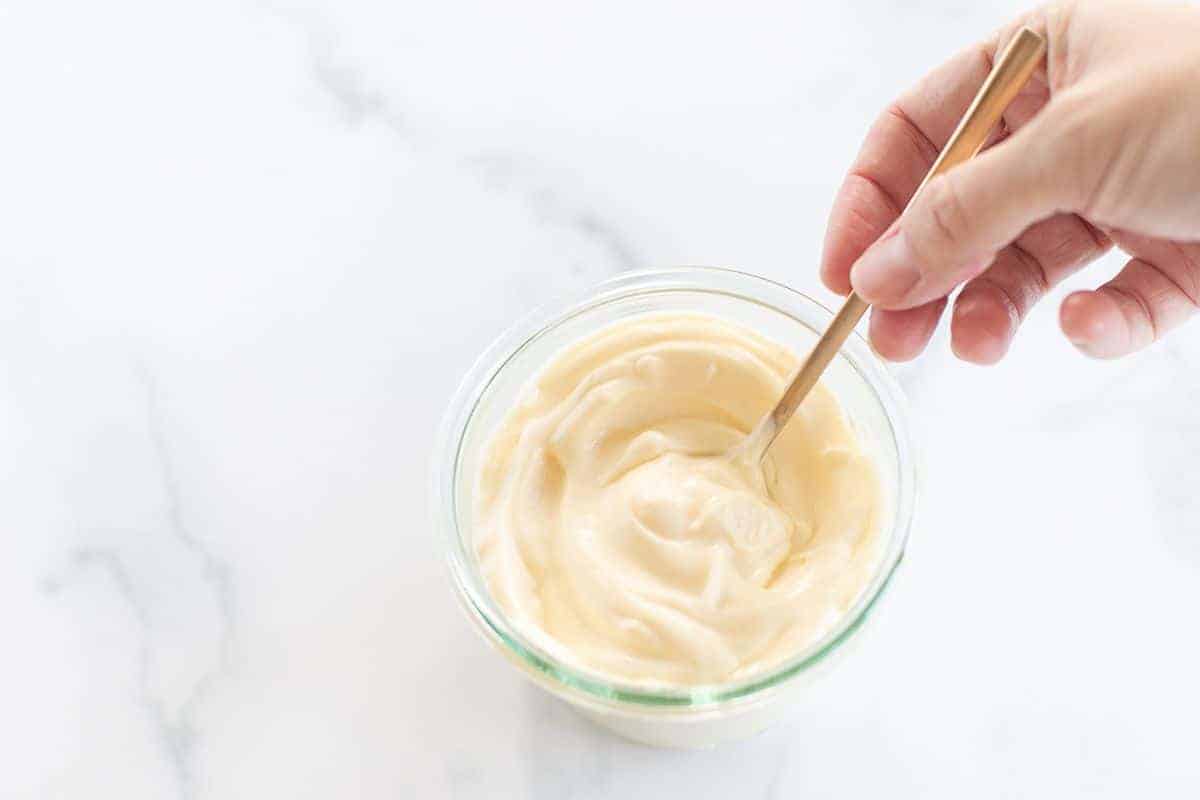 Tips
Add the oil slowly. Don't be impatient and try to add it all at once, because it won't set correctly. Remember, the whole process won't take more than 10 minutes, so don't rush this imporatnt step.
Use room temperature ingredients to help with emulsifying.
Experiment with different types of oil and see which flavors you like the best.
Is homemade mayonnaise safe?
Yes, it is safe. The risks associated with raw eggs are low, but if you feel safer using pasteurized eggs, then do that.
What do I do if my homemade mayonnaise is too thin?
Put a warmed egg yolk into your processor. Mix the egg until blended, then slowly add your thin mayonnaise into the yolk, processing while you add it. Your mayonnaise should thicken up.
How is homemade mayo different than store bought?
Homemade mayonnaise uses just a few ingredients, while store bought mayonnaise has a few extra ingredients, including sugar. Store bought mayo is usually thick and fluffy, while homemade mayo is thinner and creamy. Homemade mayonnaise won't last as long as store bought mayonnaise. They can be used interchangeably in recipes.
Scaling up, down or substituting? You'll love this printable Measurement Conversion Chart!
Shortcuts
Use Bottled 100% Lemon Juice – Lightly shake the bottle before using.
Use An Immersion Blender – In a jar that is barely larger than the head of your blender, add the ingredients with the oil added last. Wait 1 minute for ingredients to settle. With the blender firmly held at the bottom of the jar, blend for 30 seconds. Then, slowly lift your blender up and around to incorporate the rest of the oil. Mix for 1 to 2 minutes until done.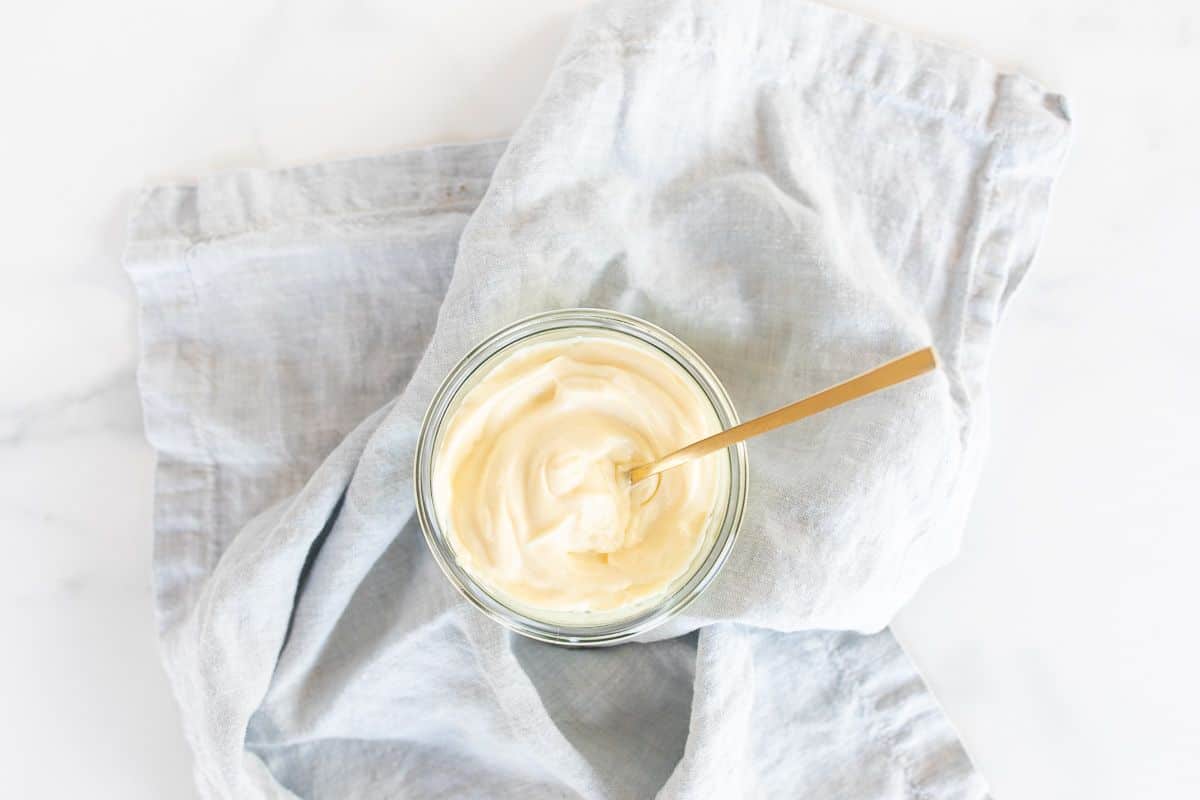 How to Store Homemade Mayonnaise
At Room Temperature – Mayonnaise shouldn't be left at room temperature for longer than two hours. If it is sitting on the counter it should be in a container that can keep the mayonnaise chilled, like a bowl that is specially made to freeze ahead of time to keep its contents cold.
Refrigerate – Homemade mayonnaise will usually stay fresh for up to a week in your refrigerator in a covered container. Or, check the expiration date on your eggs; mayo should last as long as the egg would have been good.
Freeze – Mayonnaise does not freeze well. The process of freezing and thawing will likely break down the emulsified ingredients. It might be okay to freeze if you plan on using the mayonnaise in your cooking once it has thawed, otherwise it is best to use it quickly and then make a new batch when you need it.
What to Do with Leftovers
Store your leftover mayonnaise in a sealed, airtight container in the fridge.
Use it in tuna or egg salad sandwiches.
Use it in your favorite dip that calls for mayonnaise. See recipe links above.
How to Serve
Serve in a small bowl alongside your other condiments for a sandwich or burger bar.
Keep mayonnaise in a bowl that has been chilled or sitting in another bowl that has ice in it.
If your mayonnaise will be sitting out for a while, serve a small portion of mayonnaise in a bowl, then replace it with more mayonnaise in a different bowl, so you're always serving fresh mayo.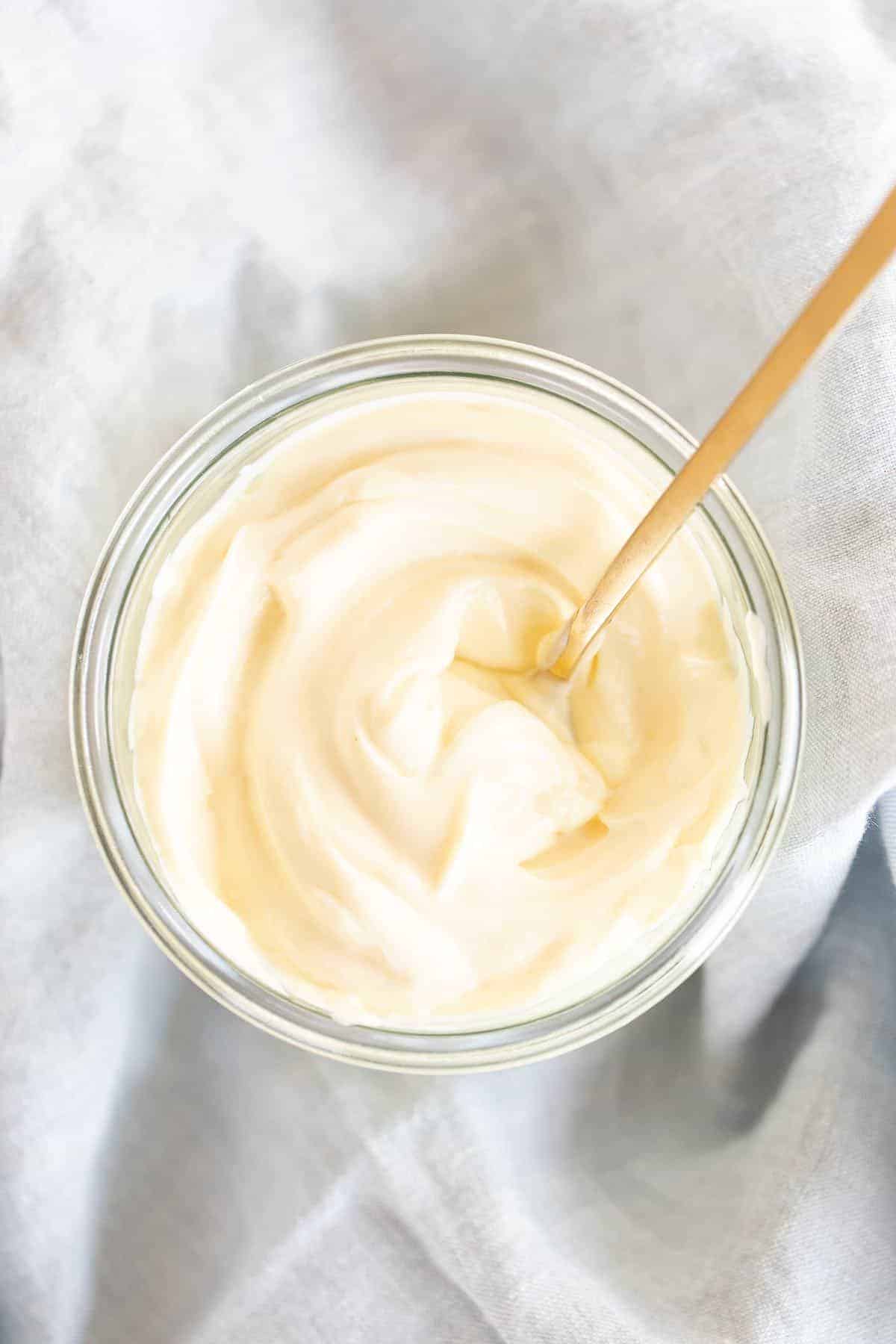 Dietary Considerations
Gluten Free
Dairy Free
Nut Free
Hungry for more easy recipes? Sign up for my free recipe club and have amazing recipes delivered directly to your inbox each week!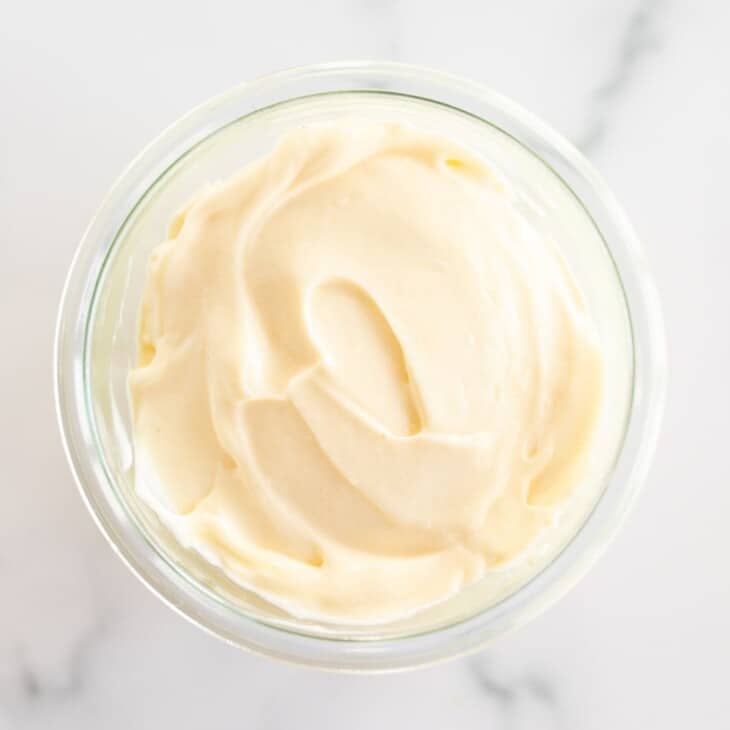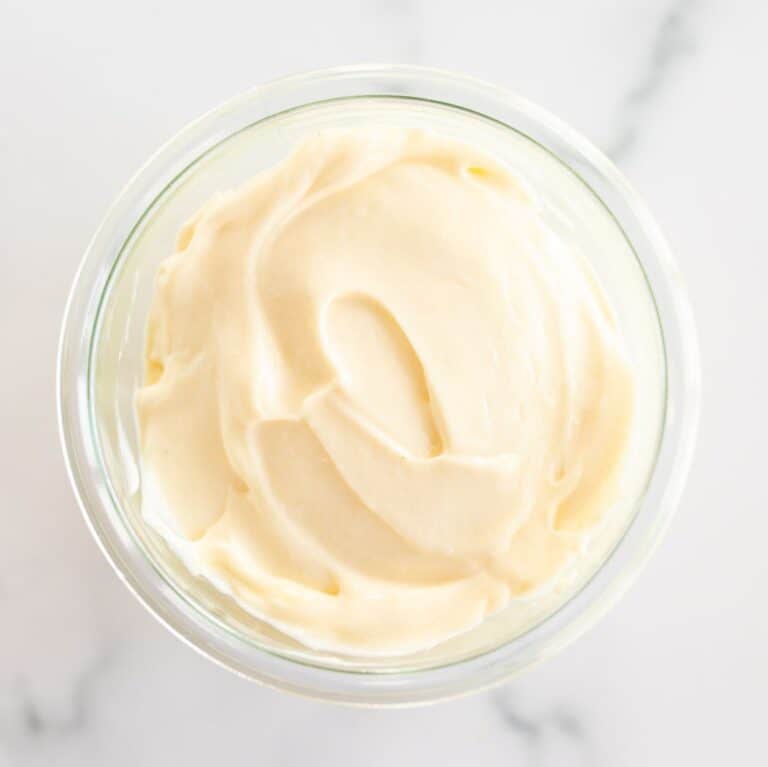 Mayonnaise
You can make mayonnaise from scratch, start to finish – in less than 10 minutes! It's quick, easy and so flavorful! You will never have to worry about running out of mayo again.
Ingredients
1

large

egg

room temperature

2

teaspoons

Dijon mustard

1

tablespoons

white wine vinegar

½

teaspoon

salt

1

cup

oil

canola, grapeseed, safflower or olive oil

1

teaspoon

lemon juice
Instructions
In a small food processor, add egg and pulse 20 seconds.

Add dijon mustard, white wine vinegar, and salt. Pulse 20 seconds.

Evenly add a stream of oil, a tablespoon at a time, processing for a few seconds in between for a total of 4 tablespoons or ¼ cup. The mixture will begin to thicken.

Once the mixture has emulsified, you can add a little more oil each time, pulsing in between until oil is consumed and mayonnaise has become thick.

Scrape the bowl down if needed and add lemon juice. Process 15 seconds.
Tips
If mayonnaise feels to thin, stream a tablespoon of oil in at a time processing until thick.
Homemade mayonnaise will usually stay fresh for up to a week in your refrigerator in a covered container. Or, check the expiration date on your eggs; mayo should last as long as the egg would have been good.
Nutrition Information
Calories:
129
kcal
(6%)
,
Carbohydrates:
1
g
,
Protein:
1
g
(2%)
,
Fat:
14
g
(22%)
,
Saturated Fat:
1
g
(5%)
,
Cholesterol:
12
mg
(4%)
,
Sodium:
84
mg
(4%)
,
Potassium:
4
mg
,
Fiber:
1
g
(4%)
,
Sugar:
1
g
(1%)
,
Vitamin A:
17
IU
,
Vitamin C:
1
mg
(1%)
,
Calcium:
2
mg
,
Iron:
1
mg
(6%)
Estimated nutrition information is provided as a courtesy and is not guaranteed.