There are so many good ways to cook meat – grilling, roasting, frying – the list goes on! No matter how you cook it, using a meat thermometer is the best way to get the maximum flavor and make sure your meat is safe to eat.
Here are my best tips for using a meat thermometer, plus an FDA-approved free printable meat temperature chart and links to my favorite recipes!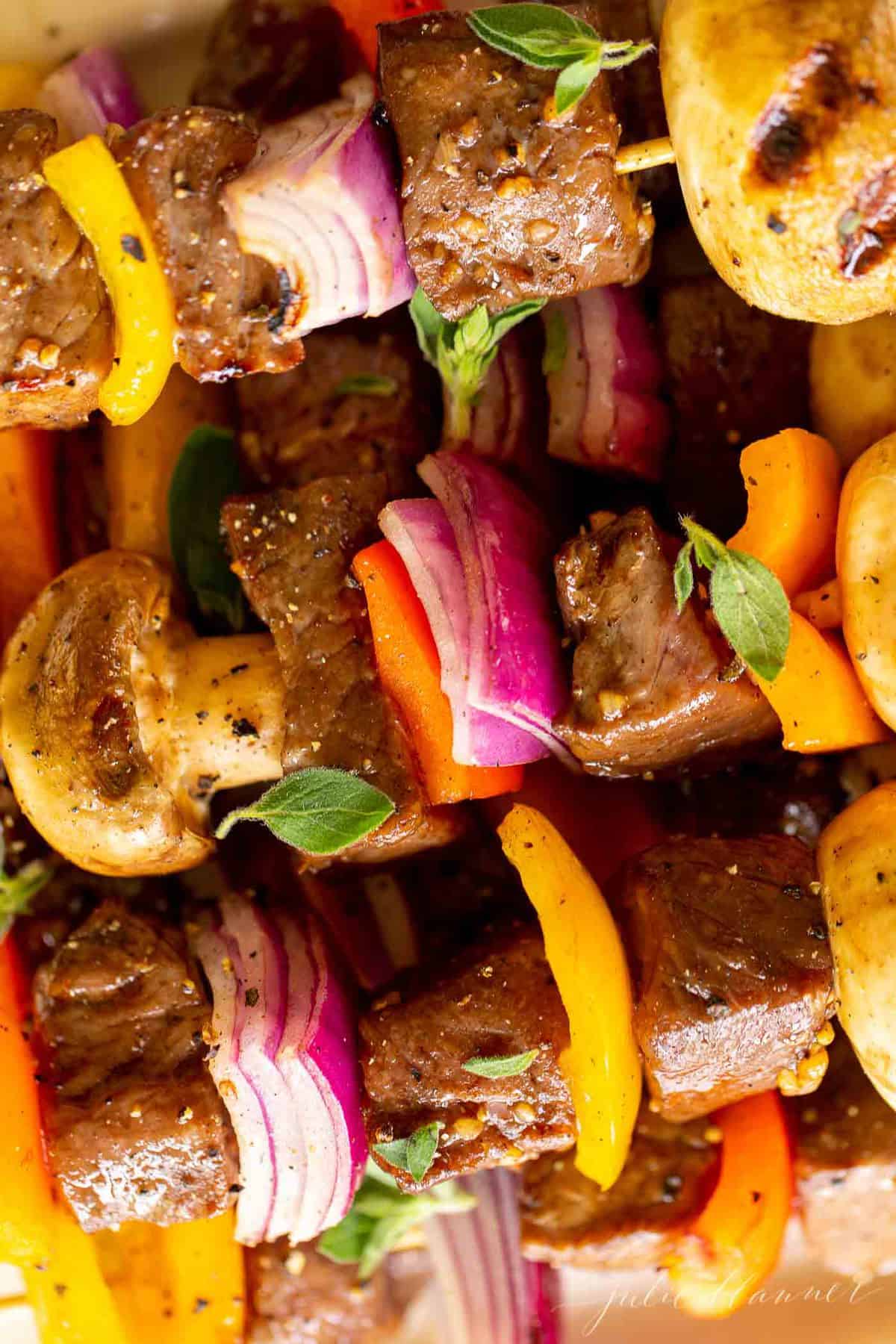 You all know that I love the perfect cut of meat, whether it's the main dish or part of a delicious grilled kabob on the side. I love to experiment with marinades and homemade seasonings until I get it just right.
Speaking of seasonings, you'll love my homemade blends! They are quick and easy to mix up and taste so fresh! Check out my Everything But the Elote, Cajun, Fajita, Taco, Lemon Pepper, Poultry, and Blackened Blend.
While I care about flavor, of course, I always put food safety first when cooking meat. It's easy to do with a simple digital meat thermometer and a meat temperature chart nearby for easy reference.
As long as we follow FDA guidelines, we can ensure the meat we're serving will be safe to eat. Check out this guide to How to Stop Water from Boiling Over – it's so handy for pasta and potatoes!
Free Printable Meat Temperature Chart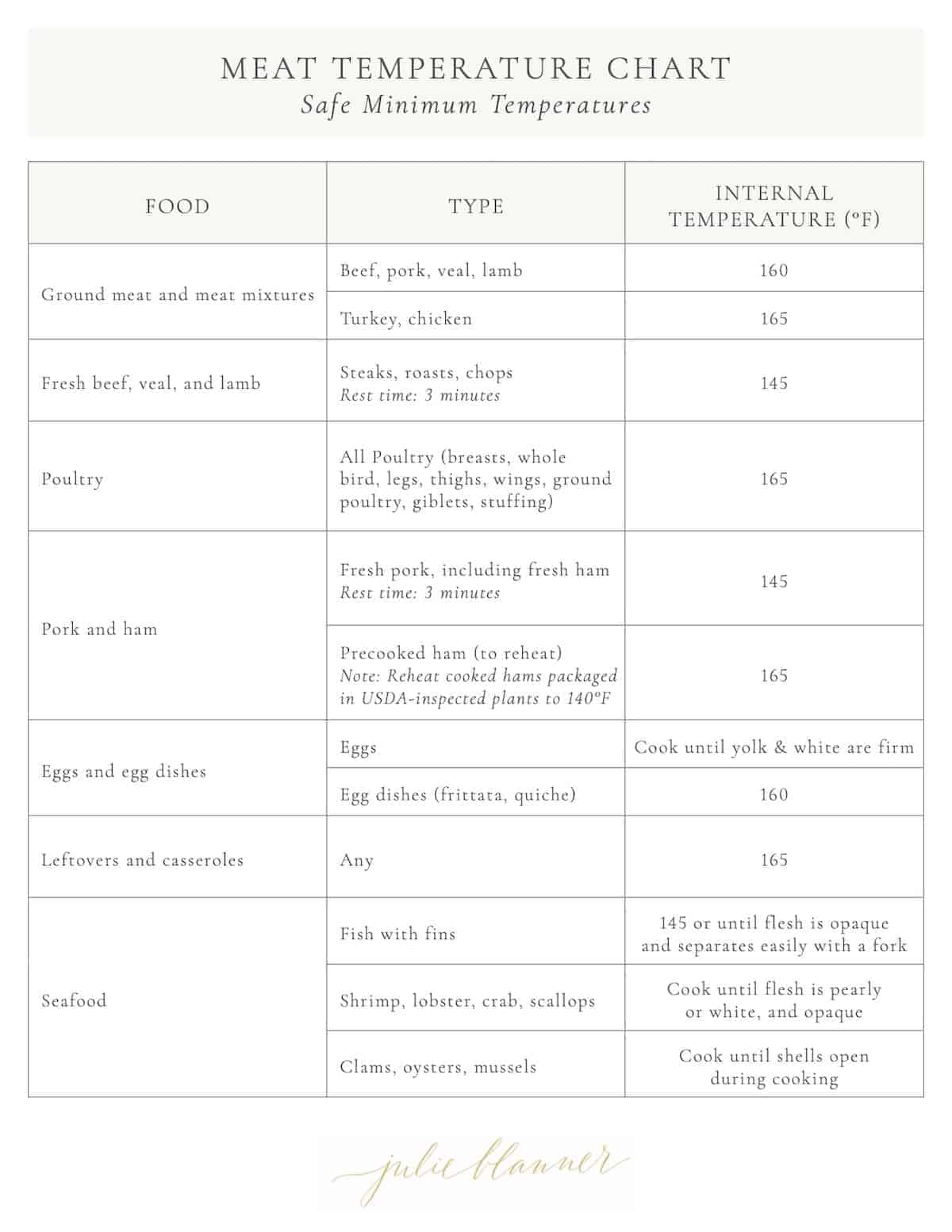 Download the printable chart here.
Then it's just up to me to make sure it's delicious, too! That's the fun part, if you ask me.
For my entire collection of fast and easy grilling recipes, be sure to check out what's On the Grill here, as well as my favorite BBQ Sides!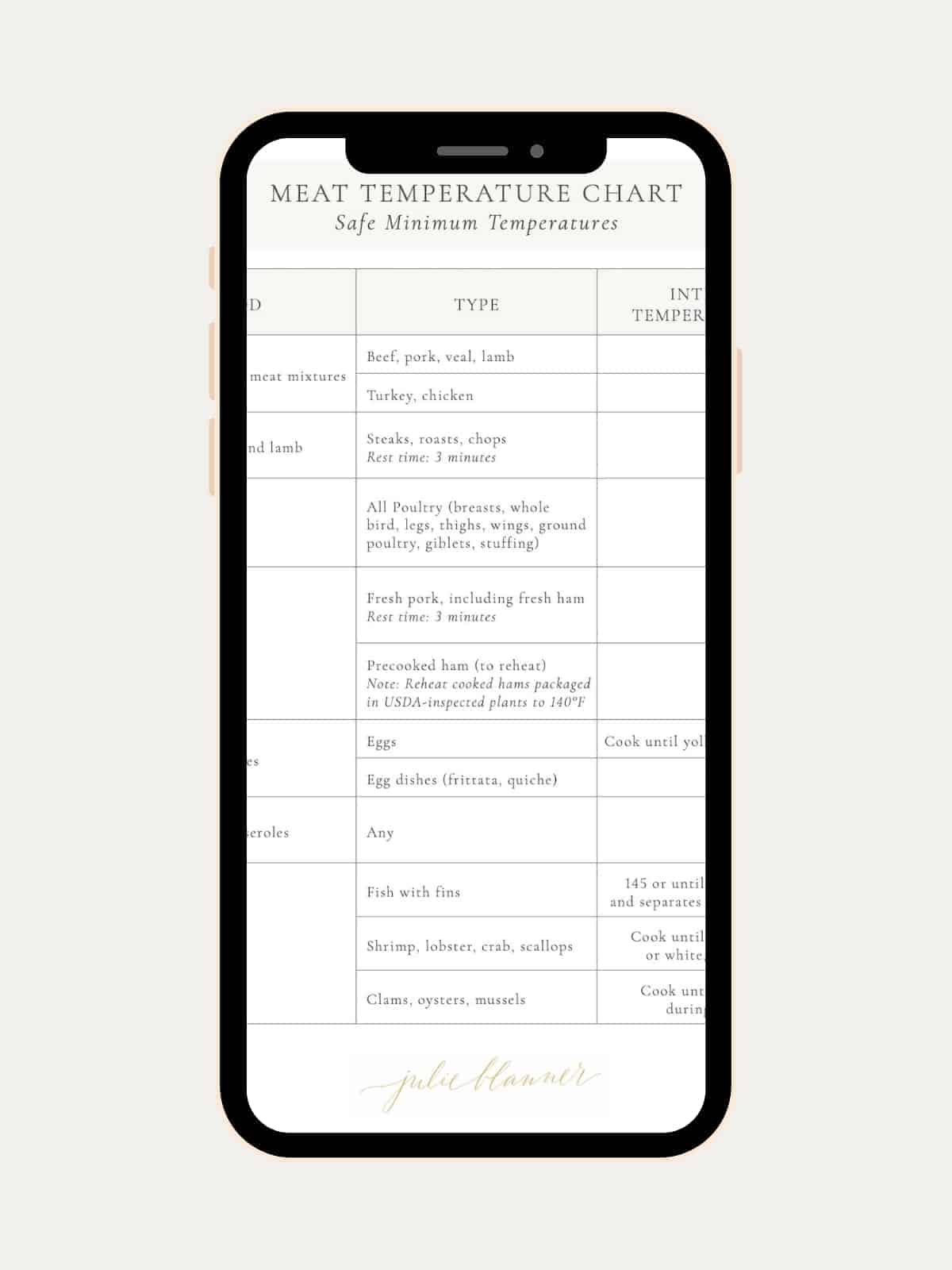 How to Use a Meat Thermometer
We all know why we should use a meat thermometer. Overcooking can lead to meat being dry and unappetizing. But to be safe to eat, meat has to be cooked to an internal temperature that is high enough to kill harmful bacteria.
We can't rely on what meat looks like, especially since freezing and thawing meat can sometimes make it brown faster than normal.
Fortunately, digital meat thermometers are easy to use and read. The idea is to try to find the lowest internal temperature you can, since that will be closest to the temperature at the core of the meat.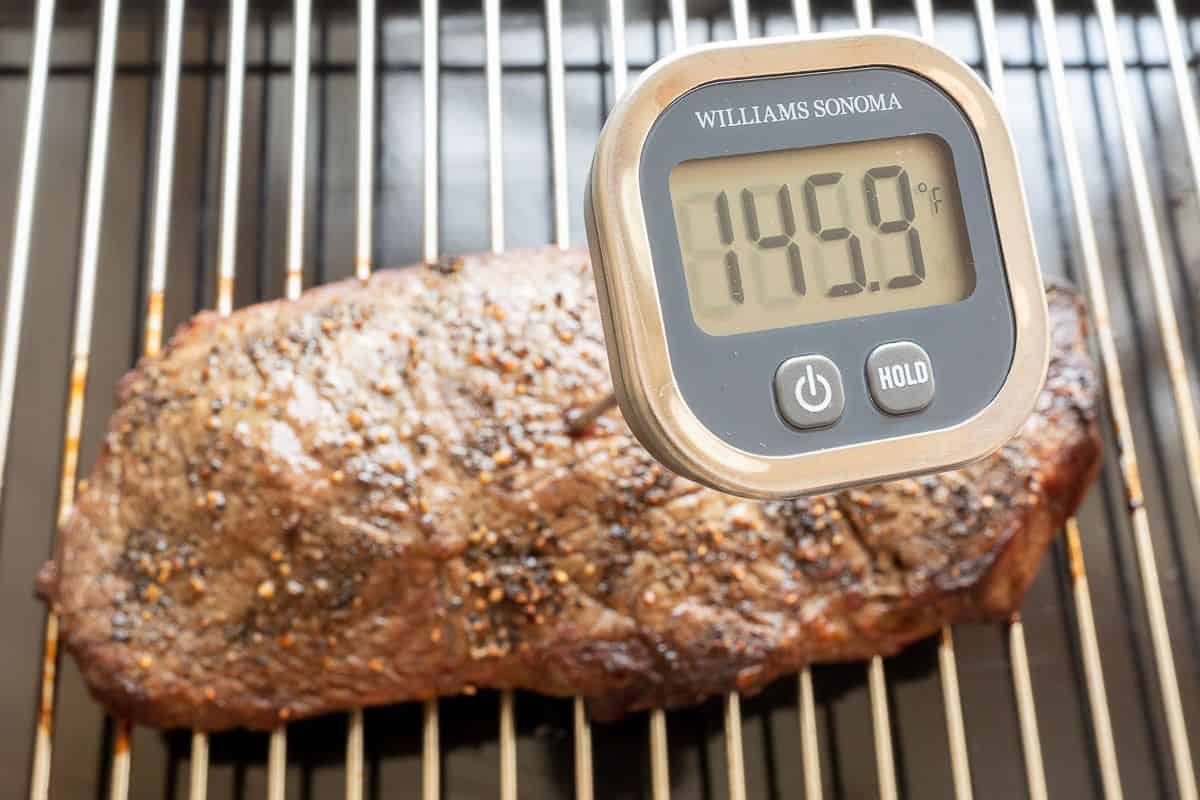 How to Check the Internal Temperature of Meats
Roasts and Steaks – Insert the thermometer into the center at the thickest part of the meat, away from bone and fat.
Whole Poultry – Insert the thermometer into the inner thigh area near the breast, making sure not to touch the bone.
Ground Meat (such as meat loaf) – Insert thermometer into the center of the thickest area.
Thin Meats (such as chops and hamburger patties) – Insert the thermometer sideways toward the center.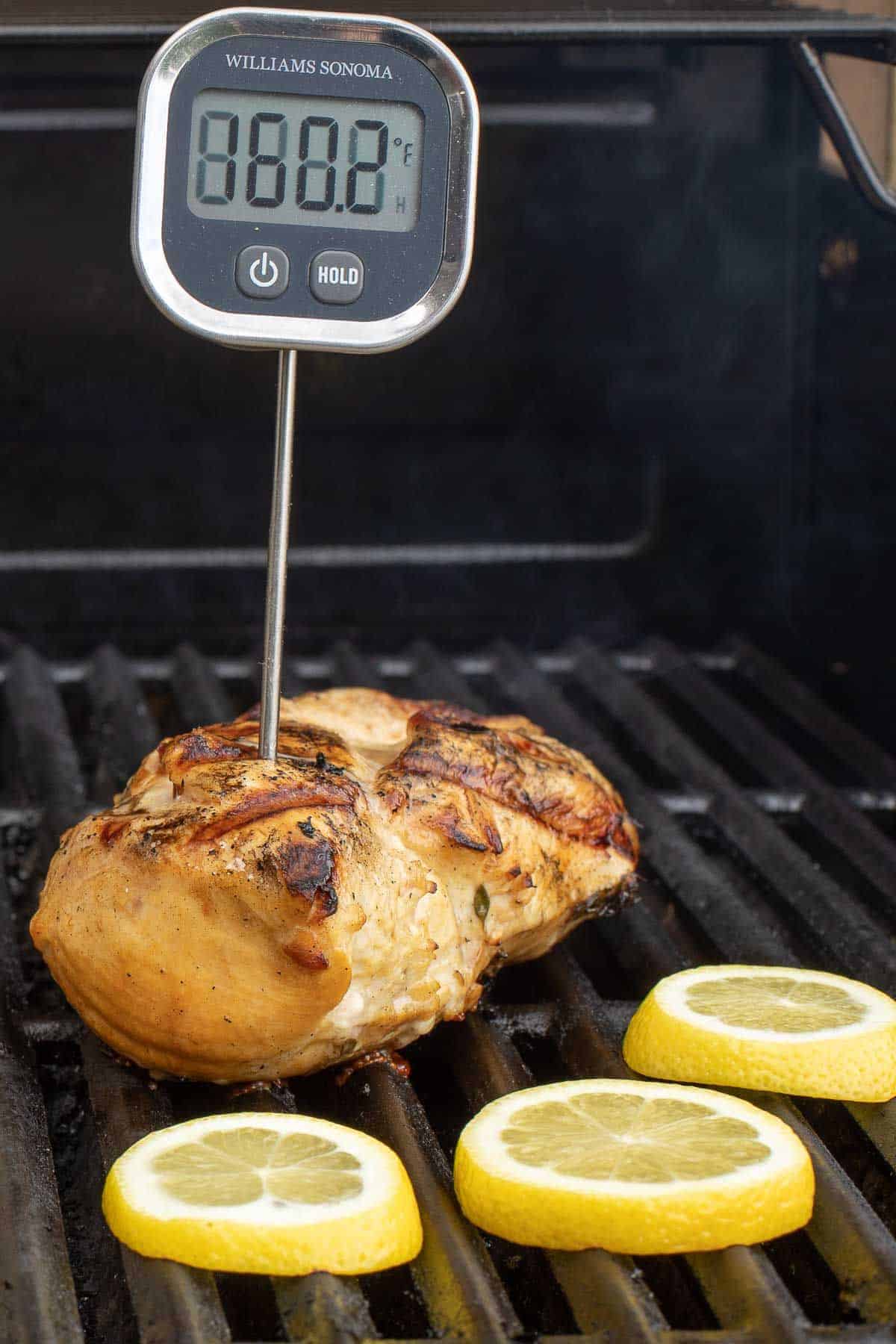 Meat Temperature
Take the guesswork out of your cooking! There's no need to rely on cook times, color, or random poke tests to know when your meat is done. Just follow these simple guidelines to know that your meat will be safe to eat.
Beef, Pork, Veal, and Lamb
Chops, roasts, steaks – 145ºF with a 3-minute rest time. This includes pork tenderloin and pork chops.
Pulled pork – should ideally be cooked to 200ºF before pulling, but it's cooked through at around 190ºF.
If you're in the mood for steak, here's my guide for How to Cook Steak on the Stove, or you can do Broiled Steak instead. Try our favorite Pork Medallions with Apple Cider Glaze for a delicious pork option, or this incredible Pork Ragu.
For a more specific steak temperature reference, be sure to head over to this Free Printable Steak Temperature Chart – so handy!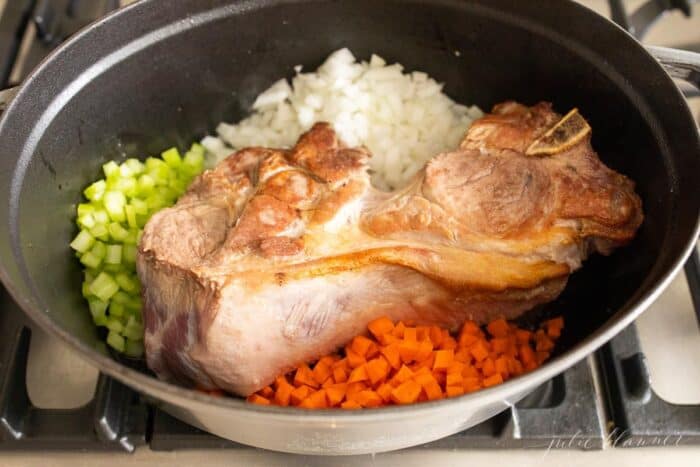 Ground Meat
This category includes burgers, tacos, meatballs, etc – 160ºF is ideal. Ground beef is safe to eat on the rarer side, but most people prefer it to be fully cooked through, with no pink showing through.
Ground chicken, turkey, etc should absolutely be fully cooked through to 165ºF as noted below. Looking for some easy ground beef recipes? Don't skip these ideas:
Ham
uncooked (fresh or smoked) – 145ºF with a 3-minute rest time
fully cooked (to reheat) – 140ºF
A few fabulous sandwich recipes that include ham:
Poultry
Chicken, turkey, game birds, etc – (ground, parts, whole, and stuffing) cook to 165ºF.
To get started, you can try my basic Baked Chicken Breast, Easiest 3-Ingredient Pesto Chicken Recipe, or Juiciest Beer Can Chicken in the Oven (or on the Grill!)
More Temperature Guidelines
Eggs – Cook until yolk & white are firm
Egg Dishes – 160ºF
Fin Fish – 145ºF or flesh is opaque & separates easily with fork
Shrimp, Lobster, and Crabs – Flesh pearly & opaque
Clams, Oysters, and Mussels – Shells open during cooking
Scallops – Flesh is milky white or opaque and firm
Leftovers and Casseroles – 165ºF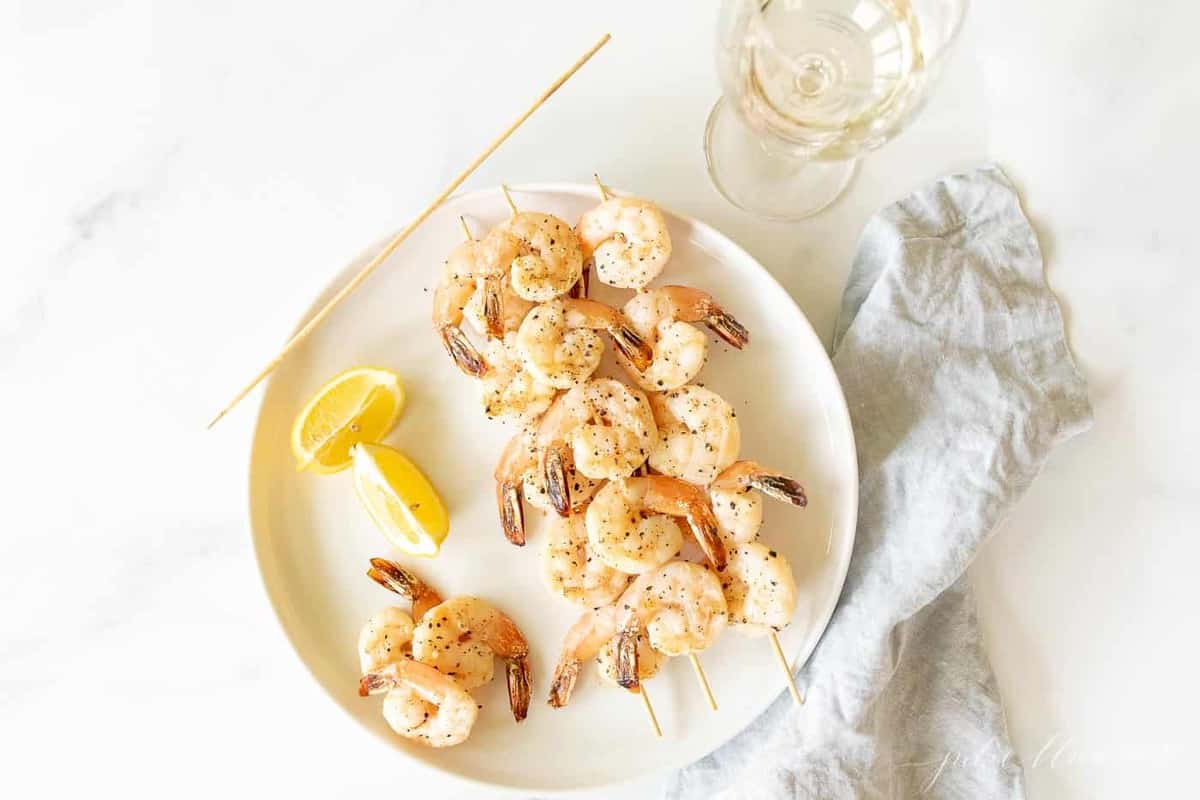 It's that easy! Rest assured that the food you cook is safe, so that you can sit back, relax, and enjoy a good meal with the people you care about.
My Favorite Digital Thermometers:

Williams Sonoma Digital Instant Read Thermometer
Frequently Asked Questions
What is the lowest temperature you can cook pork at?
The lowest temperature you'll ever want to cook pork to is 145ºF.
What is the proper way to take food temperature?
Insert the stem of a probe thermometer into the thickest part of the meat, or in the center, depending on thickness. If your meat has a bone, try to avoid it for a correct reading.
More Recipes You'll Love