Learn the keys to creating a calm, minimalist kitchen! Get my favorite tips for creating a simple kitchen with a style that will stand the test of time as the true center of your home life.
If you're hoping to blend form and function, a minimalist kitchen design is the perfect choice! Beauty and smart design can combine, and we're going to show you how.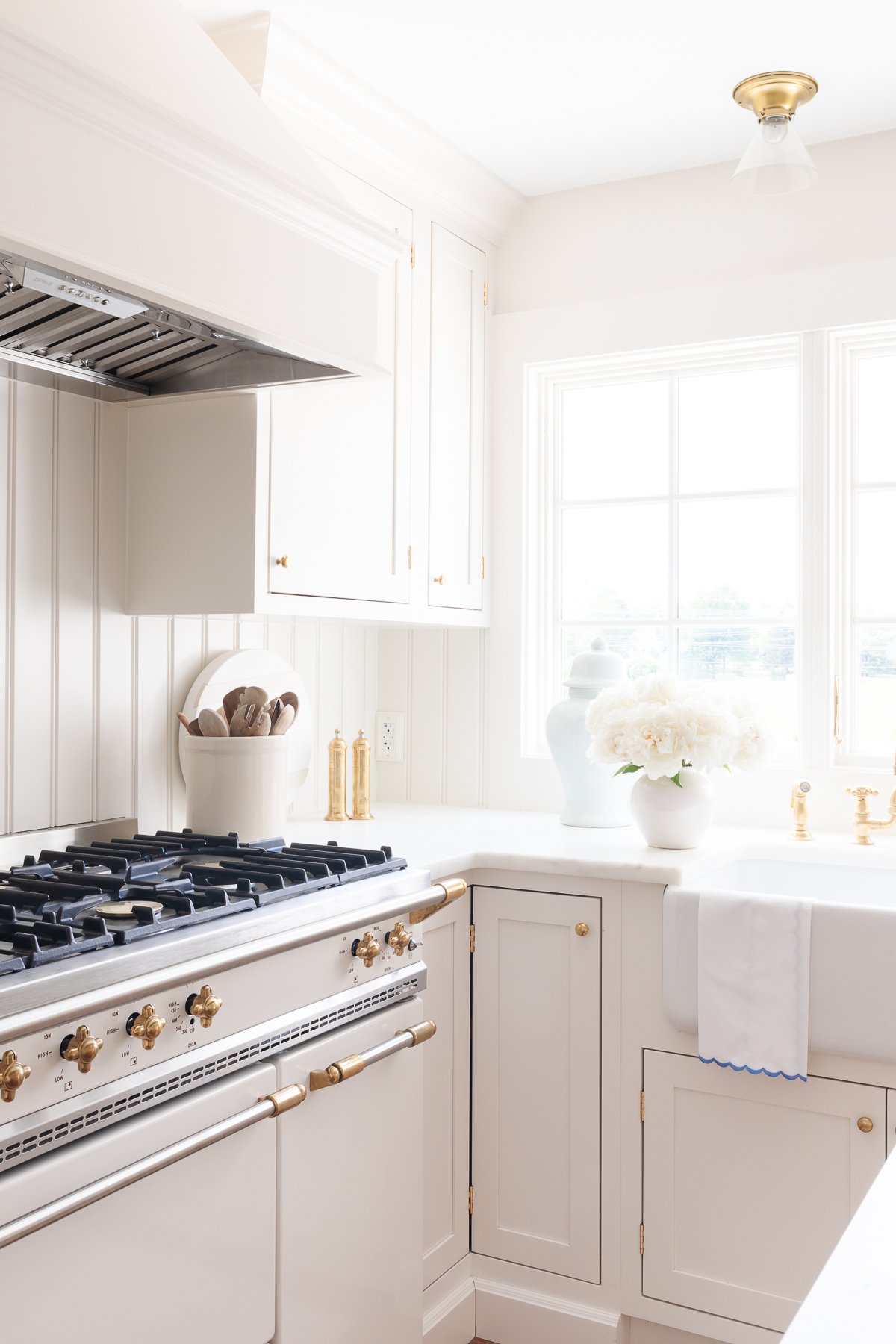 You already know I love a minimalist lifestyle. Embracing this life with less has allowed our family to focus on what's truly important!
I love sharing all my easy recipes with you, as well as all my favorite ideas for design, organization and decor. I've written about tips for living a simple life, how to ease into a minimalist lifestyle, and creating a cozy minimalist home.
Minimalist Kitchen
Living minimally has been the solution to less stress and more calm in our lives. I know it can work for you, too! Yes, even in the kitchen of a busy family, a minimalist mindset can win!
I've discussed our full kitchen remodel and kitchen organization in the past, and I knew it would be fun to put it into action with a guide to how I created a kitchen that embraces our minimalist style.
We'll cover all the design elements we chose for this minimalist kitchen, and how we used a few special details that kept it from being boring! Designing the minimalist kitchen of your dreams is easier than you might think.
Learn more in this YouTube video – don't forget to click subscribe!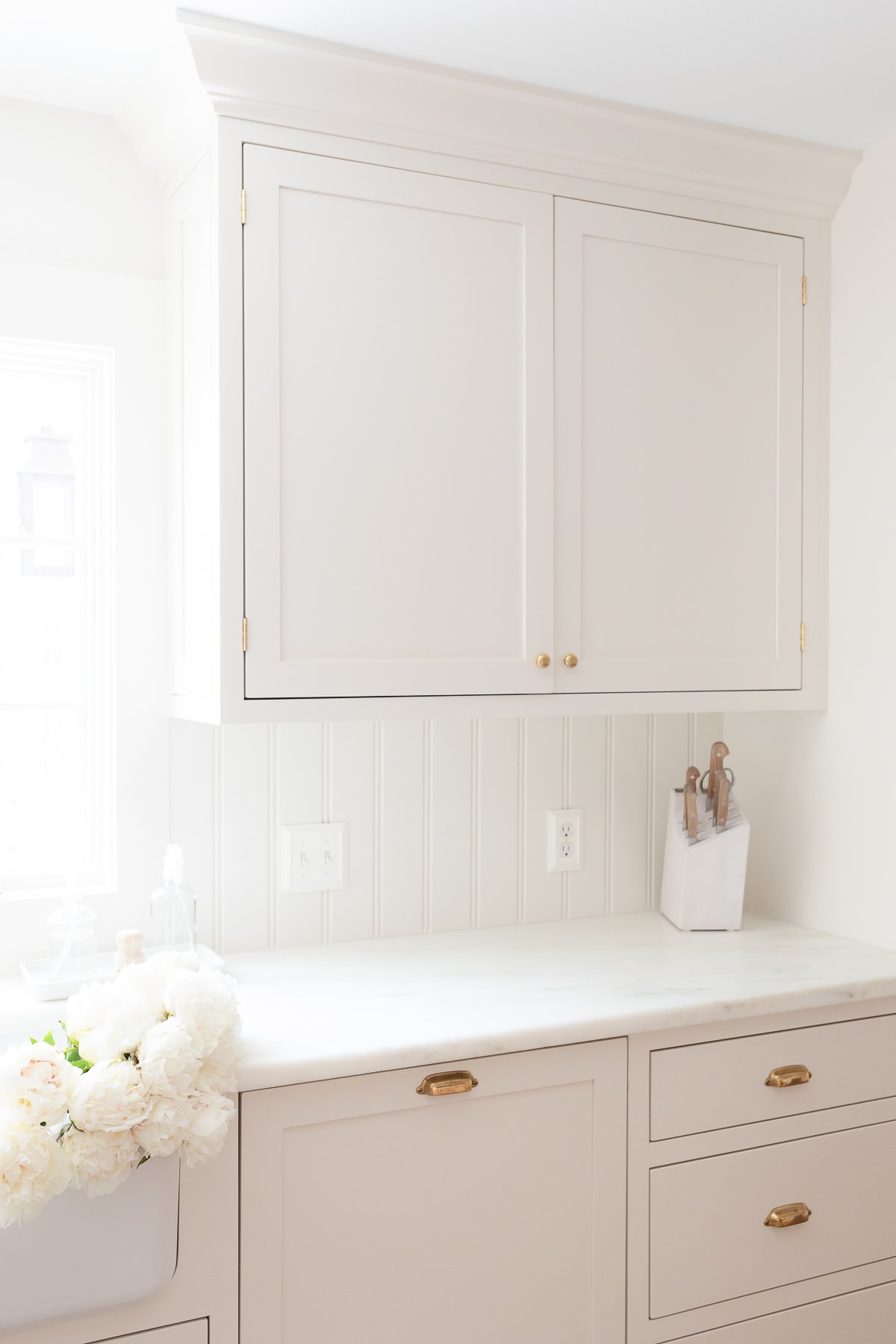 First, a few of my best tips for creating a chaos-free kitchen, no matter the style of design!
Tips
Declutter – remove anything that's expired, is in excess, damaged or infrequent used. That last one is my key to a minimalist mindset. Don't use it? It's likely that it's just weighing me down!
Clean – Organizing is a great opportunity to do a quick wipe down.
Take it one space at a time so you don't become overwhelmed. This will also prevent it from overflowing into other areas of your home.
Accessibility – keep items close to the space you utilize them in and kitchen appliances at eye level so they're easy to reach.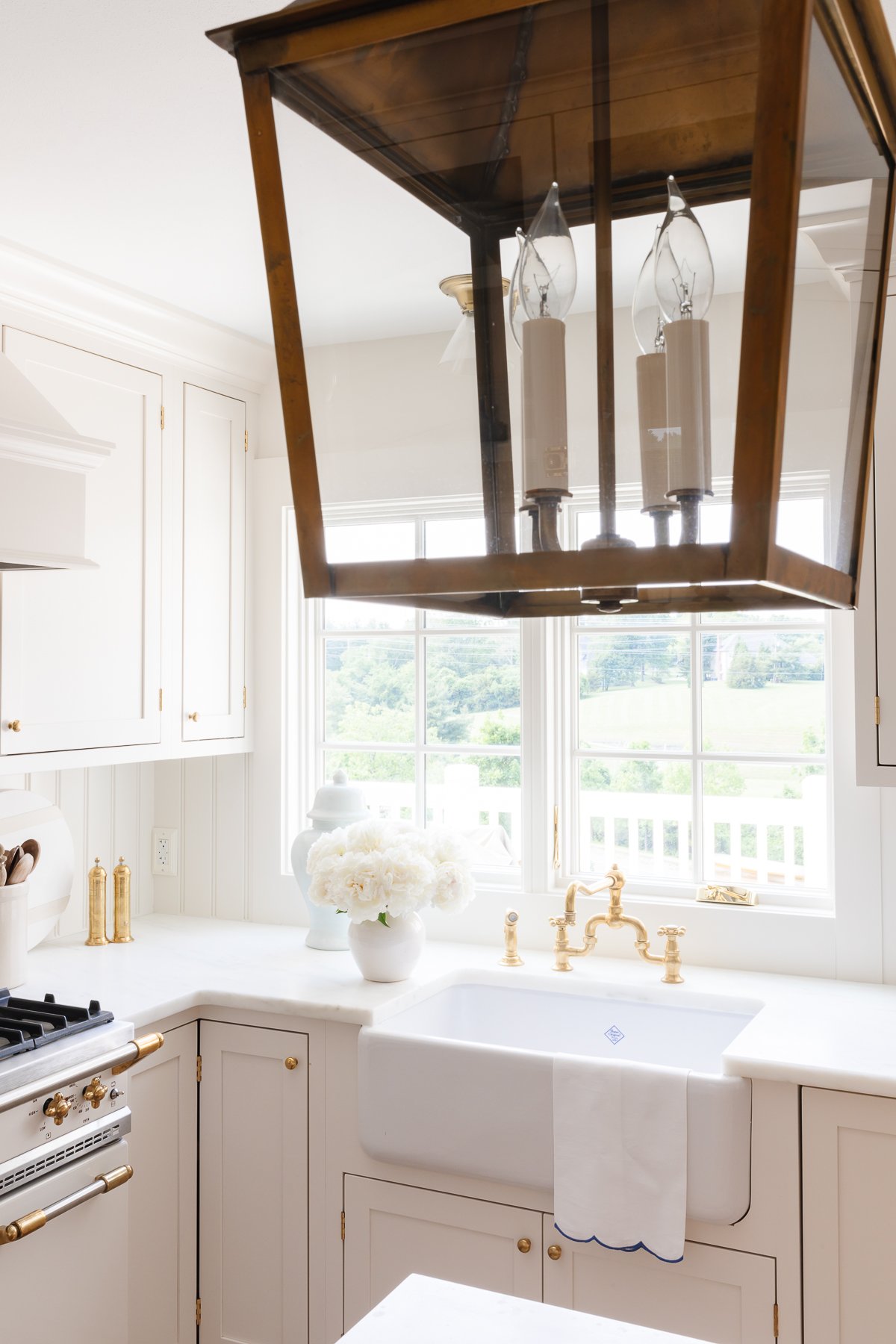 First thing's first – the cabinetry!
These clean lined cabinets are the center of our minimalist kitchen. They are timeless and will still be in style many years from now – in fact, I'd argue that they will never go out of style!
I have thoroughly researched countertops over the years between our two kitchen remodels, evaluating all of the options and the various types of marble.
Check out my popular post for excellent alternatives to Carrara marble. In our lake kitchen, we went with quartz countertops – and we love the clean, minimalist style of those as well!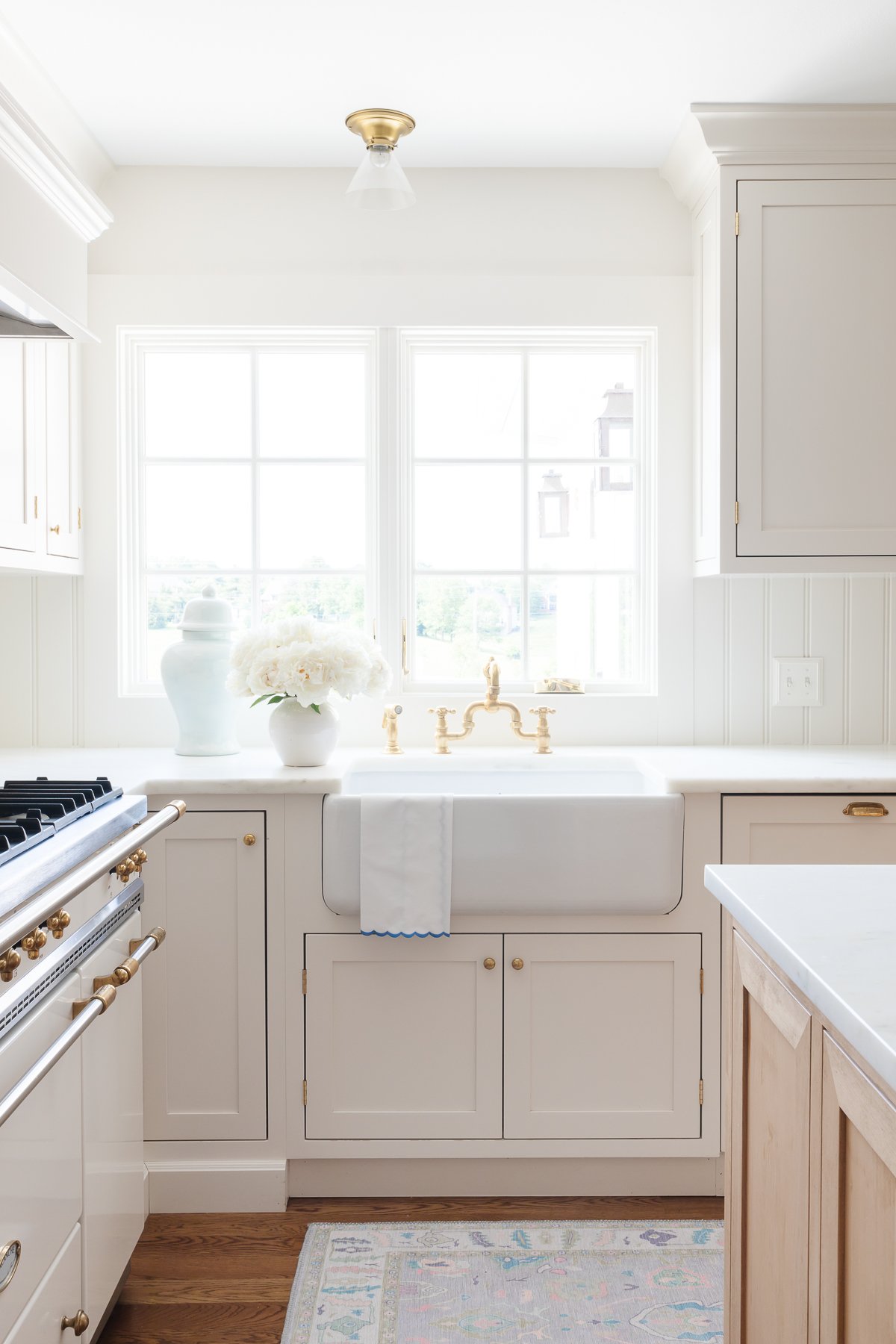 You often see beadboard in kitchens and baths because it's a great alternative to tile. It's inexpensive and easy to install! It can be cut to any length and is available in so many simple, historically accurate styles.
With the right material and properly sealed (click through to read about ours), it can safely be used for a backsplash. I love the clean lines and how the color is the same as our cabinetry to create a soothing, minimalistic space.
I have long loved a beautiful white farmhouse sink, also known as an apron front sink. In fact, I'd been dreaming of one for years, and we had previously considered adding one to the kitchen at our previous home when we remodeled.
I feel like this clean, simple look really adds to the feel of our minimalist kitchen. It's also incredibly functional, which is most important of all!
In fact, it's not just the faucet! It's all the warm unlacuered brass we chose – the Island Pendant Lanterns, the Unlacquered Brass Hardware, and more!
Choosing one type of metal for your kitchen might seem boring, but in our case it helped keep everything cohesive. We chose it for the warm, historically accurate and minimalist style we wanted to achieve.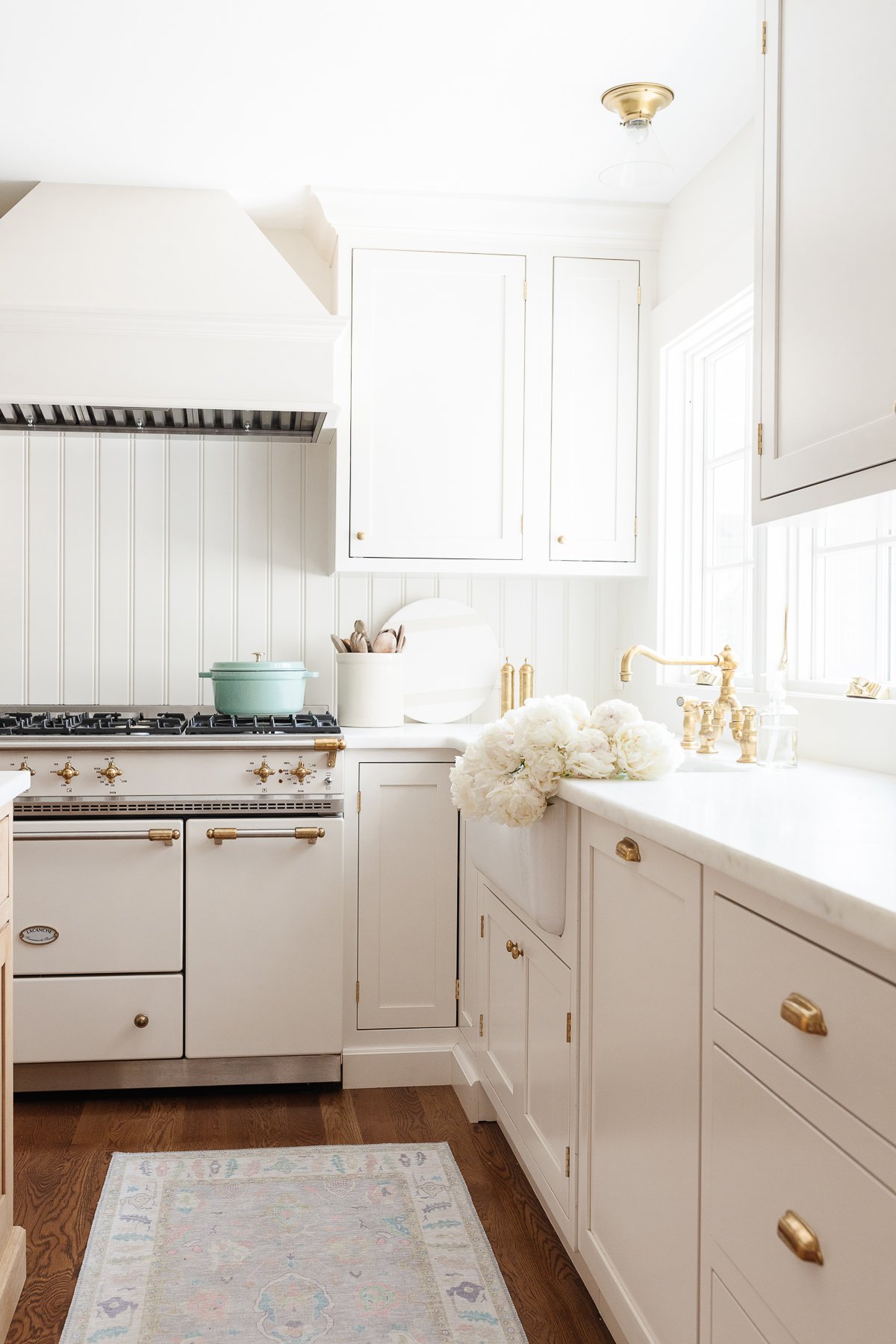 Choose a Focal Point
This is one way that we wanted to ensure that our minimalist kitchen wasn't boring! Chose a focal point that feels special and unique – whether it's an appliance, your lighting, or unique countertops.
We chose a stunning Lacanche Range to give the kitchen some depth, sparkle and interest.
Much like our brass hardware, it adds warmth and charm to the space, but still keeps it calm enough for my minimalist heart.
When we were remodeling our kitchen, the choices felt endless, and a little overwhelming. We didn't work with a kitchen designer because I knew that we needed to make some unconventional choices to make our limited space work for us.
After choosing our range, the hood and vent insert felt like a bit of an afterthought. It can't be, though. This decision is an important one because it's such a functional item in your kitchen.
Click through for all the points to consider when choosing your insert range hood so you can stick with your minimalist style.
One of the most important things to consider in a minimalist kitchen is that appliances, while functional, can also be eyesores!
That's why we hid our microwave in the island. We don't use it frequently enough to allow it to take up visual space in our kitchen!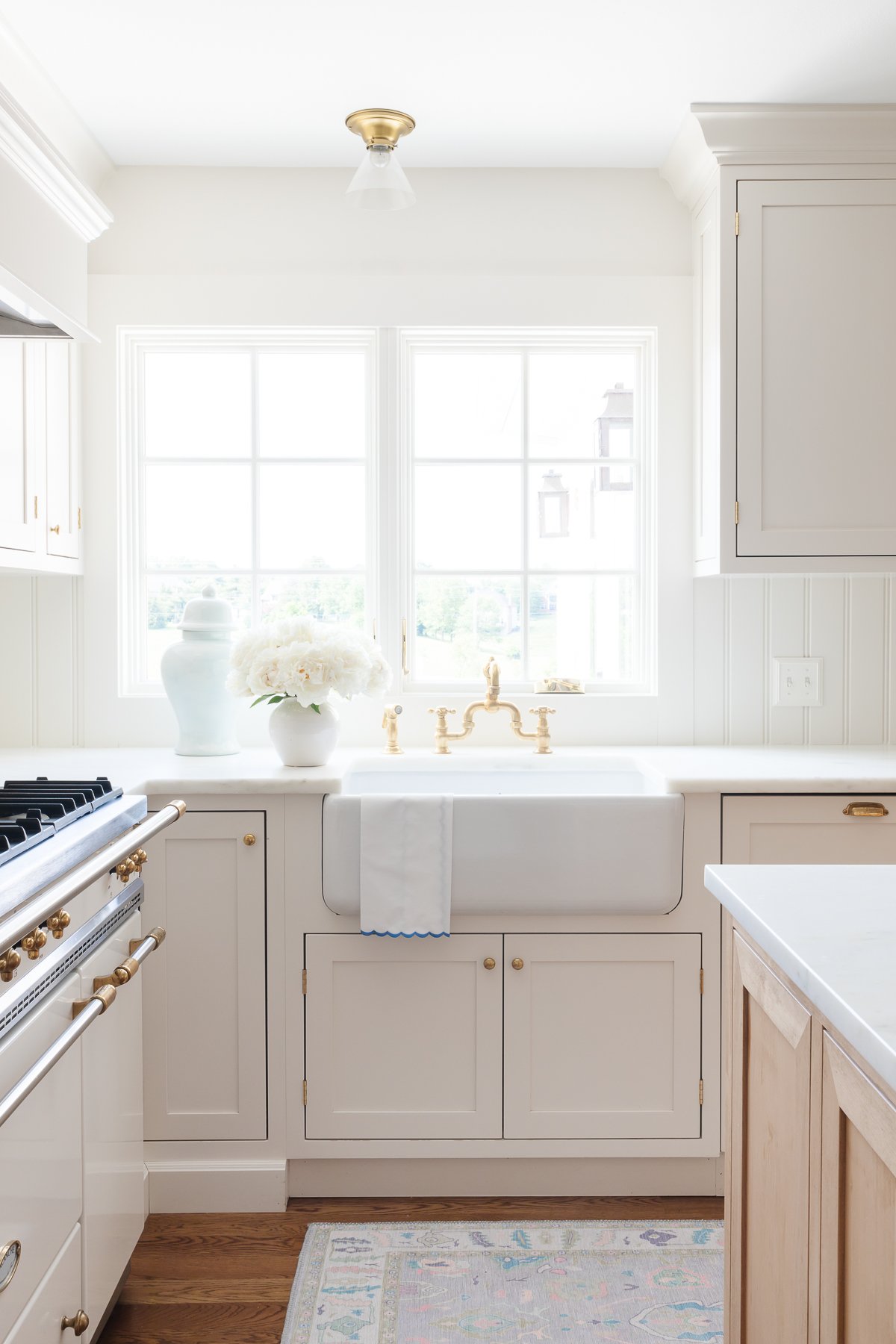 Counter top clutter is probably my biggest no-no for a minimalist kitchen. Want the look of a clean and simple minimalist kitchen? Avoid counter top clutter at all costs!
Assess what

needs

to be on your counter. If an item is used daily it can remain on the counter. For larger items, if you use it 3-5+ times a week, it's also a good fit for your counter.

In our kitchen, larger items include the coffee maker and stand mixer. I know many people have mixed feelings on a mixer being on the countertop. Our working countertop space is limited, but our mixer is used 3+ times a week whether it's to make homemade pasta, juice or baked goods.
I also love having a pretty maple cutting board out on our countertops, since it's something I use so frequently.
Using a knife block to keep them easily accessible is also another priority for my minimalist space.
Find kitchen counter storage ideas that fit your style. I use a crock for a country-inspired spin on our frequently used cooking utensils.

I like to keep our kitchen island very simple, with just a vase of fresh flowers or bowl of fruit in the center. This is in keeping with the minimalist style in the rest of our home.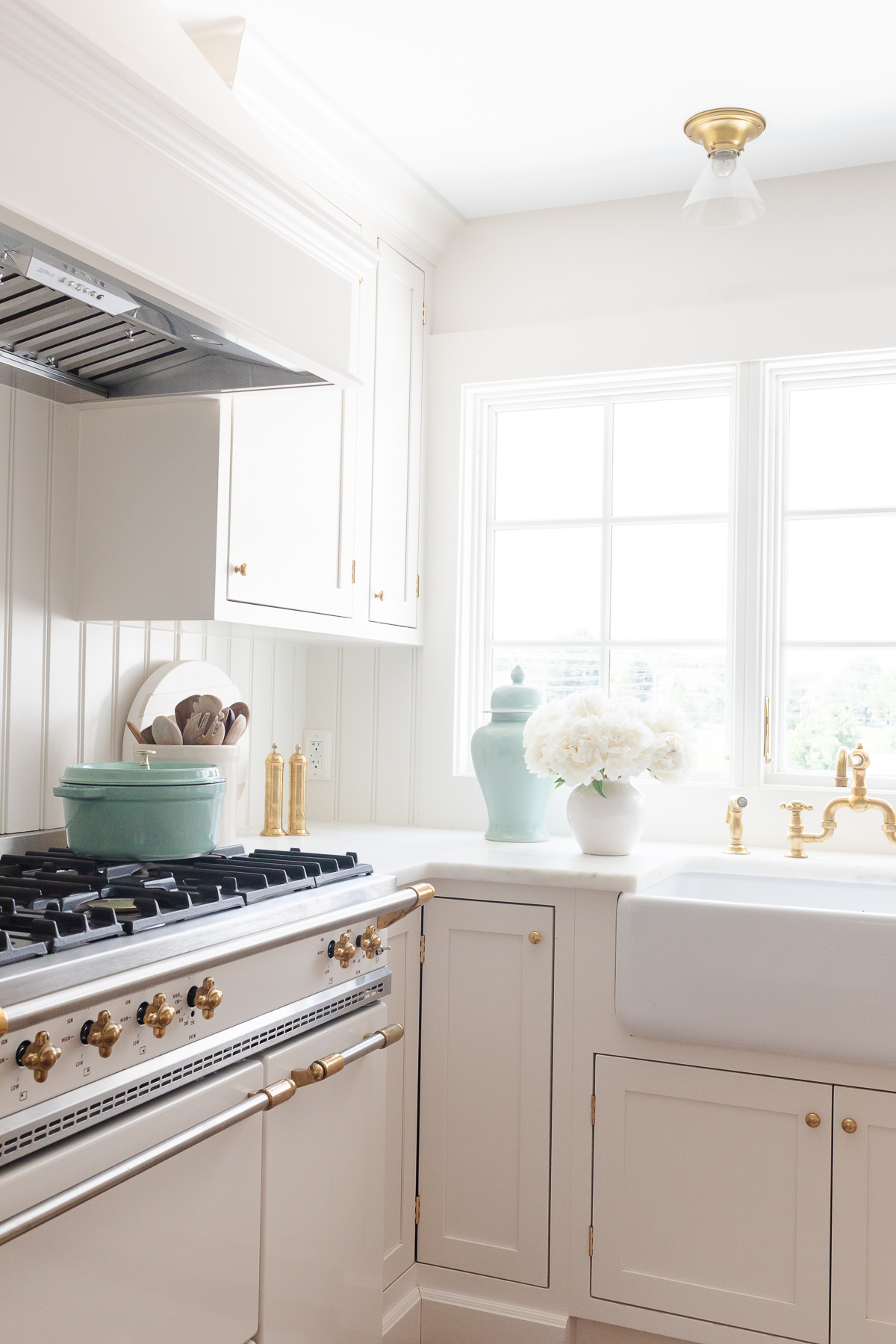 Thoughtful Storage
One of the biggest keys to a simple kitchen is the use of storage that is both useful and pretty. The inside of your cabinets can be minimalist too – making it easier to find what you need, and stop overbuying!
Determine how you use the space and what your needs are. This will help make it functional and easy to maintain!
For example – the girls pack their own lunches easily because we store everything they need in a particular order so they can grab items quickly.
Another of the most important systems in our simple kitchen is our easy methods for pots and pans storage!
When we designed our kitchen, we created shallow storage that was ideal for our roasting pans, stock pots, etc. This allows me to see what I have at all times – nothing is buried in the back of a cabinet! You can read more about the details of that storage in the post I linked above.
We also added pull-out storage near our range, which is amazing for holding more baking dishes, frying pans, and more. Again, seeing what you have and making it easily accessible are the keys to making your spaces work for you.