Minimalist Kitchen | Easy Organizing Tips for a Simple Kitchen
Learn the keys to an uber-organized, minimalist kitchen! Get my favorite tips for creating a simple kitchen that will stand the test of time as the true center of your home life.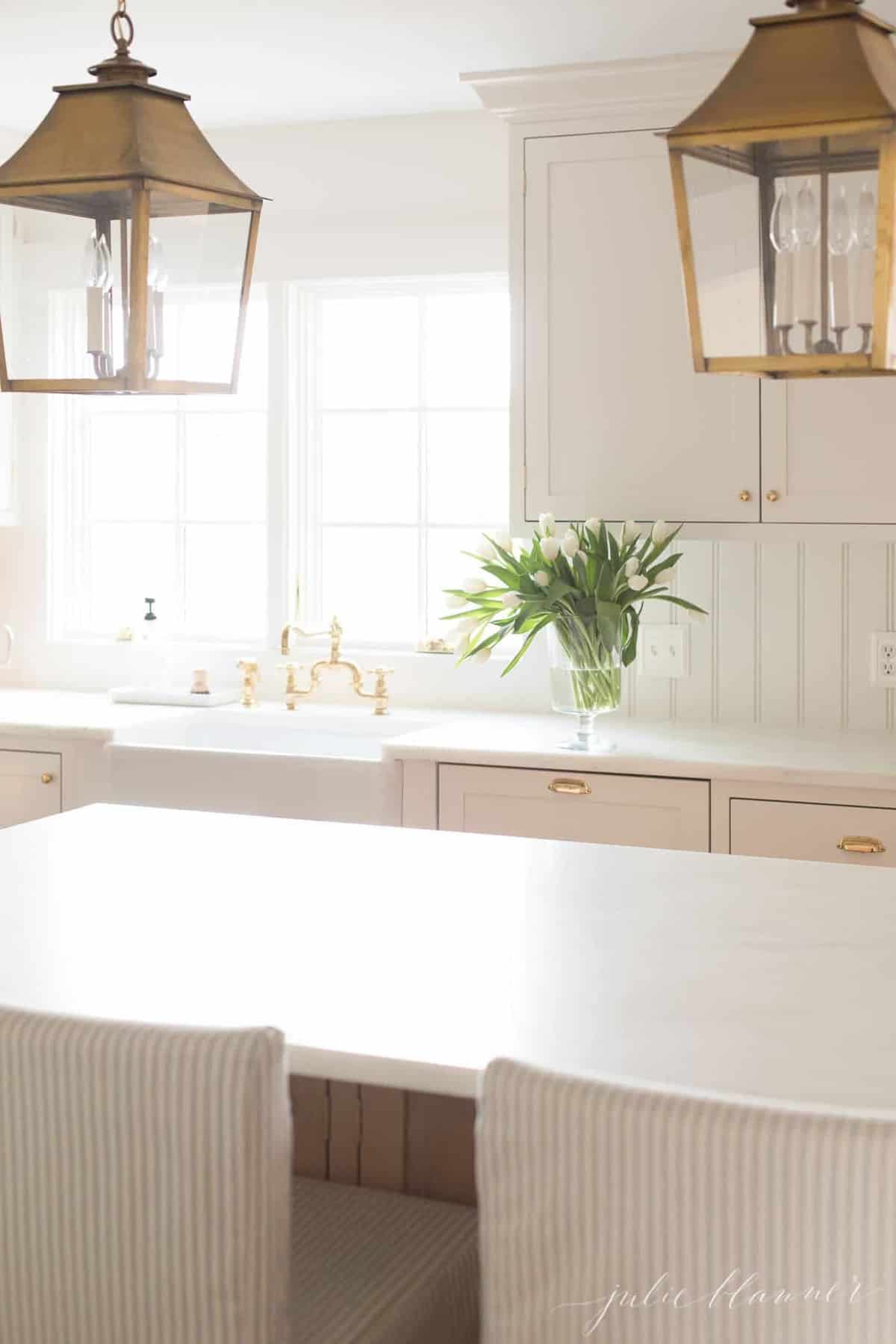 I love organization that blends design and function and today, I'm excited to share ALL the details about how I organized our kitchen.
Our Minimalist Kitchen
You already know I love a minimalist lifestyle. Embracing this life with less has allowed our family to focus on what's truly important!
I love sharing all my easy recipes with you, as well as all my favorite ideas for design, organization and decor. I've written about tips for living a simple life, how to ease into a minimalist lifestyle, and creating a cozy minimalist home.
Living minimally has been the solution to less stress and more calm in our lives. I know it can work for you, too! Yes, even in the kitchen of a busy family, a minimalist mindset can win!
I've discussed our full kitchen remodel and kitchen organization in the past, and I knew it would be fun to put it into action with a new video you can find on YouTube!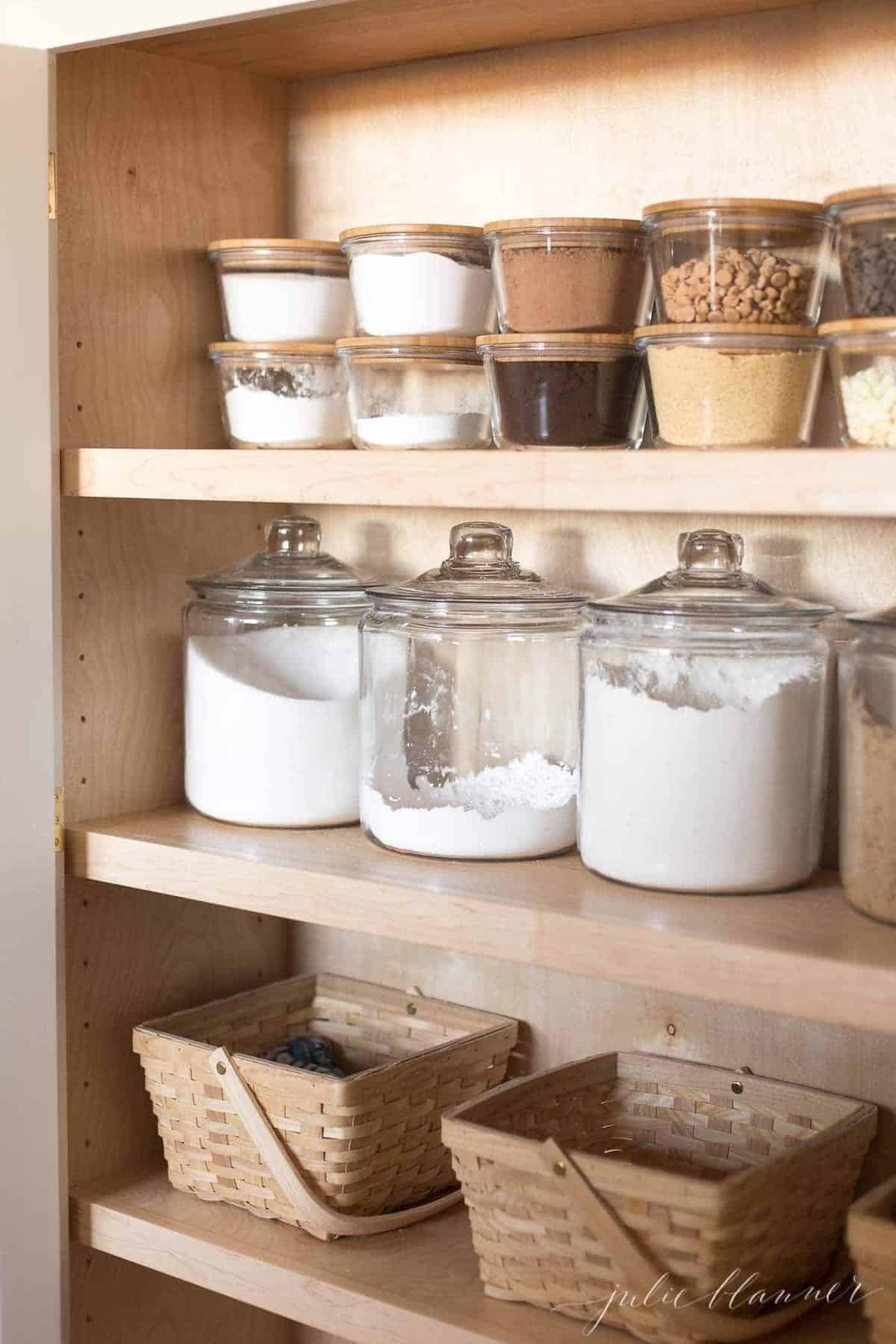 Simple Kitchen Organization Tips
Today I'm sharing how I organized our minimalist kitchen over a year ago! Even better? I've found that as a family of five, we have managed to keep it that way.
It's not a miracle! A simple kitchen plan that works for your family is possible with the implementation of a few simple organizational techniques.
Creating a minimalist kitchen is the key to organization that lasts!
These are kitchen organization tips and tricks you'll want to learn for your own sanity! I'm excited to share these ideas with you for endless inspiration that will start your year off right.
Learn more in this YouTube video – don't forget to click subscribe!
Easy Kitchen Strategies
I'll jump right in with my most important tip for a minimalist kitchen.
Does your kitchen have duplicates, or even three or four of the same item? Are there old, broken things in drawers that you're holding onto even though you don't know why? Kitchen gadgets that you just had to have, and then of course, barely used? (Believe me, we've all been there!)
Are you ready for this? It's time to get rid of the things that are weighing you down. If you haven't used it in a year, it's probably time to get rid of it!
The biggest reason that I love our minimalist kitchen design is that it lends itself to easy upkeep. A few simple strategies make it so easy to get started!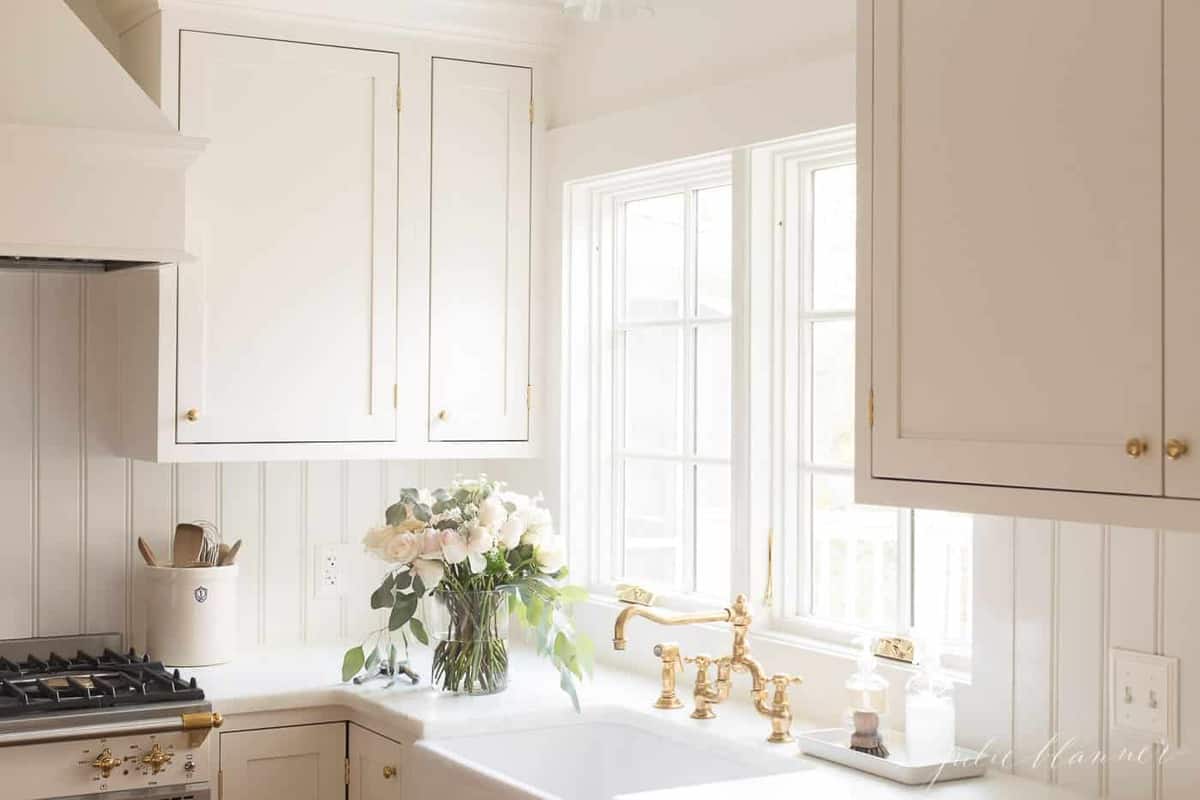 Many of the ideas in this post can be accomplished in 30 minutes or less. Even better? You could be well on your way to a clean and simple kitchen makeover in 30 days!
Declutter

– remove anything that's expired, is in excess, damaged or

infrequent used

. That last one is my key to a minimalist mindset. Don't use it? It's likely that it's just weighing me down!

Clean

– Organizing is a great opportunity to do a quick wipe down.

Take it

one space at a time

so you don't become overwhelmed. This will also prevent it from overflowing into other areas of your home.

Accessibility

– keep items close to the space you utilize them in and kitchen appliances at eye level so they're easy to reach.
Countertop Clutter Tips
Counter top clutter is probably my biggest no-no for a minimalist kitchen. Want the look of a clean, simple kitchen? Avoid counter top clutter at all costs!
Assess what

needs

to be on your counter. If an item is used daily it can remain on the counter. For larger items, if you use it 3-5+ times a week, it's also a good fit for your counter.

In our kitchen, larger items include the coffee maker and KitchenAid mixer. I know many people have mixed feelings on a mixer being on the countertop. Our working countertop space is limited, but our mixer is used 3+ times a week whether it's to make homemade pasta, juice or baked goods.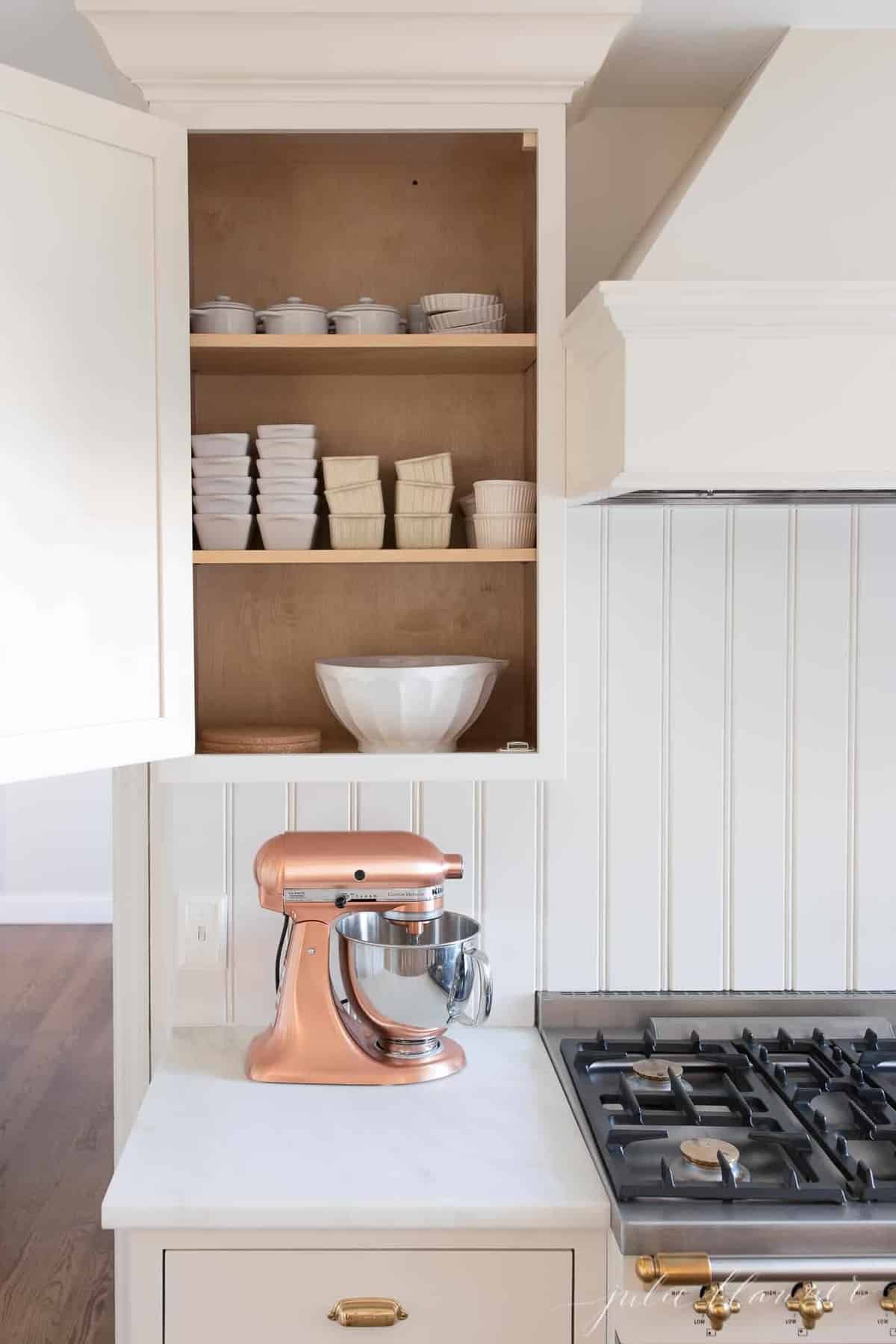 I also love having a pretty maple cutting board out on our countertops, since it's something I use so frequently.
Using a knife block to keep them easily accessible is also another priority for my minimalist space.
Find kitchen counter storage ideas that fit your style. I use a crock for a country-inspired spin on our frequently used cooking utensils.

I like to keep our kitchen island very simple, with just a vase of fresh flowers or bowl of fruit in the center. This is in keeping with the minimalist style in the rest of our home.
Consider items that multi-task and pull double-duty. For example, dish soap that doubles as hand soap, a blender that doubles as a food processor, etc.
Get more of my best tips to Eliminate Countertop Clutter here, and learn more about bar stools for kitchen islands here.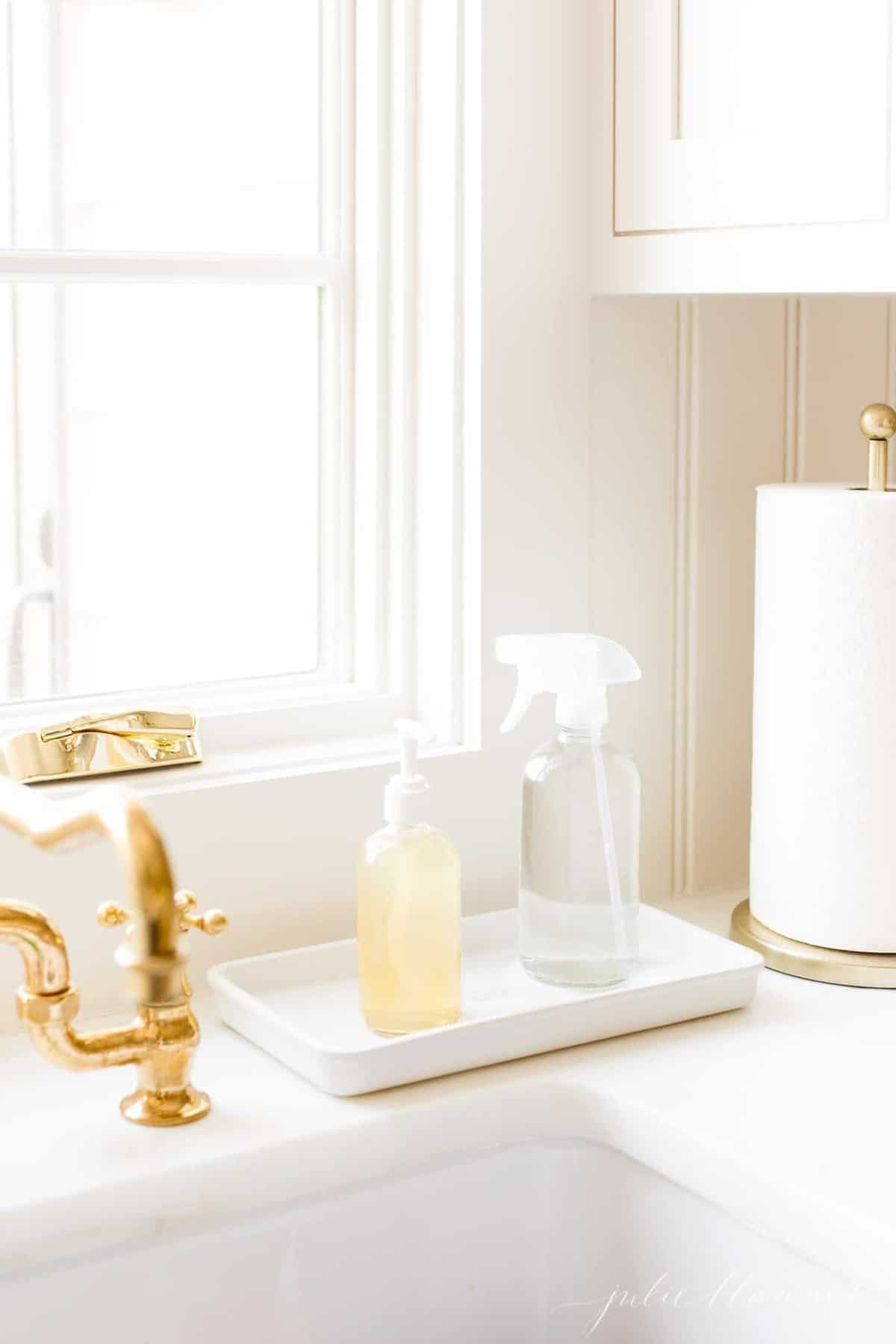 Implement Systems That Work for You
Determine how you use the space and what your needs are. This will help make it functional and easy to maintain!
For example – the girls pack their own lunches easily because we store everything they need in a particular order so they can grab items quickly.
Another of the most important systems in our simple kitchen is our easy methods for organizing pots and pans!
When we designed our kitchen, we created shallow storage that was ideal for our roasting pans, stock pots, etc. This allows me to see what I have at all times – nothing is buried in the back of a cabinet! You can read more about the details of that storage in the post I linked above.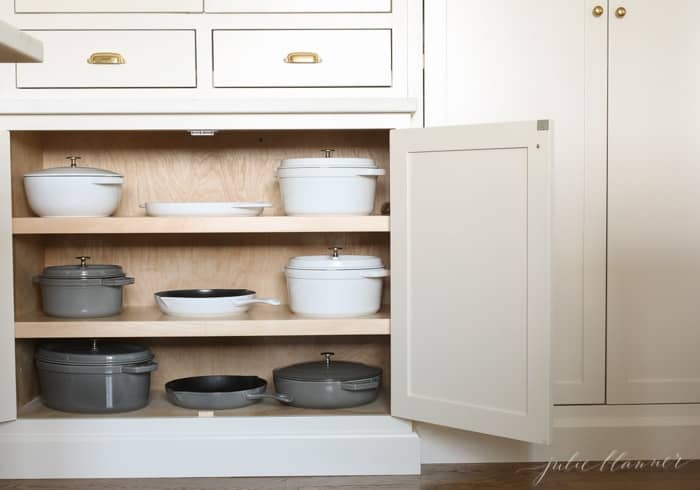 We also added pull-out storage near our range, which is amazing for holding more baking dishes, frying pans, and more. Again, seeing what you have and making it easily accessible are the keys to making your spaces work for you.
Whether it's storage for measuring cups or toddler cups, creating systems that work for your family is imperative to the minimalist way of life.
Thoughtful Storage
One of the biggest keys to a simple kitchen is the use of storage that is both useful and pretty.
Use baskets and closed canisters to stow away anything unsightly.
This not only keeps things together, but easily accessible. You can pull out the basket to deep dive and find what you're looking for.
Baskets also prevent things from falling over or out.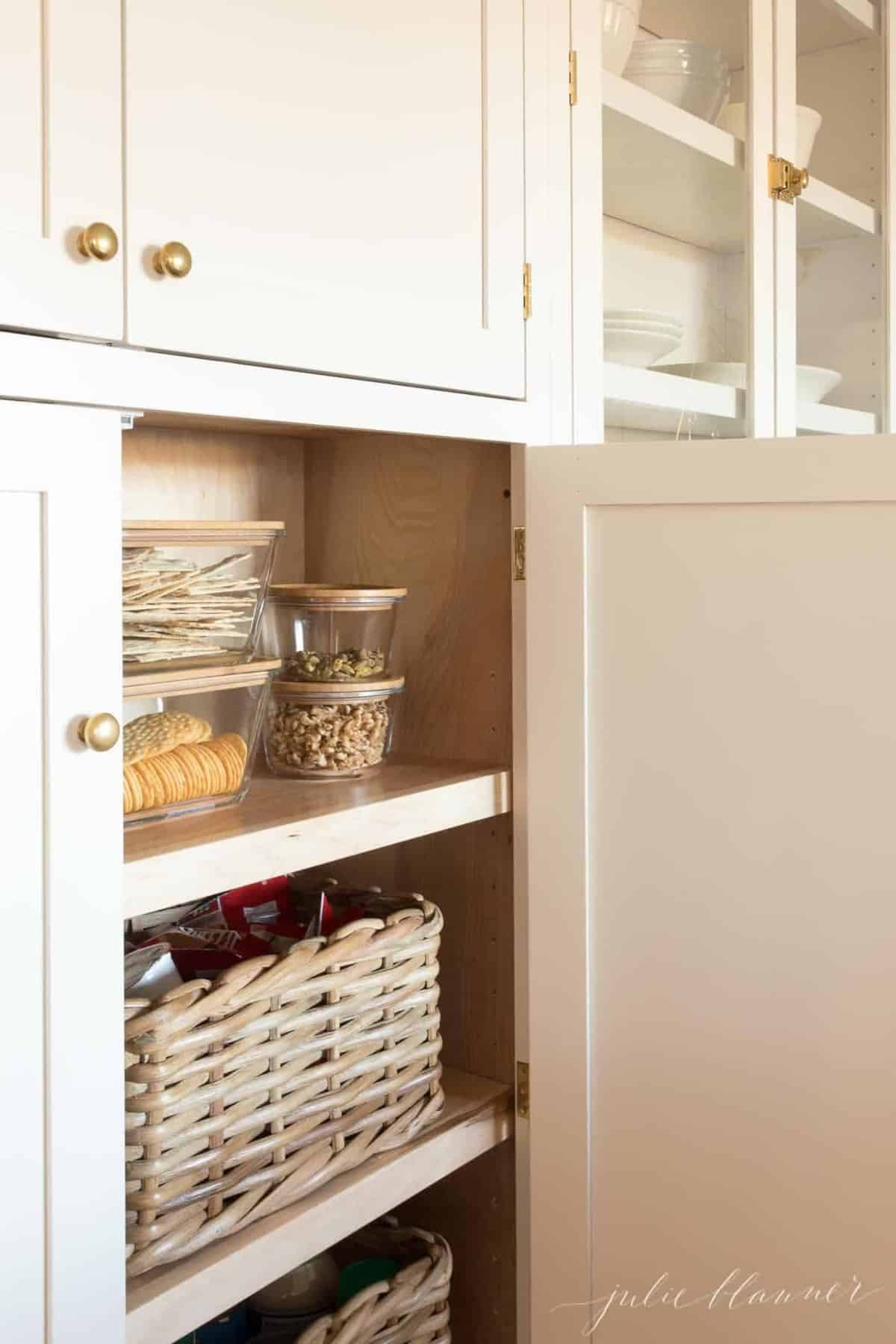 Where to use them:
In your pantry

Under your sink

In your cabinets or drawers for things like cookie cutters or food storage containers

Refrigerator
Use clear containers to make things easy to find.
I like to store dry baking ingredients like flours and sugars in clear canisters.

You can store things like nuts in clear containers as well to make them easy to spot.
Group things together utilizing trays.
This is perfect next to the kitchen sink for your soap, dish soap, scrubber, cleaner and more.

You can also use trays next to your range to coral oils or in the bar area for wine glasses, etc.
Use bamboo trays in drawers to keep everything in its place so you know exactly where to find what you need.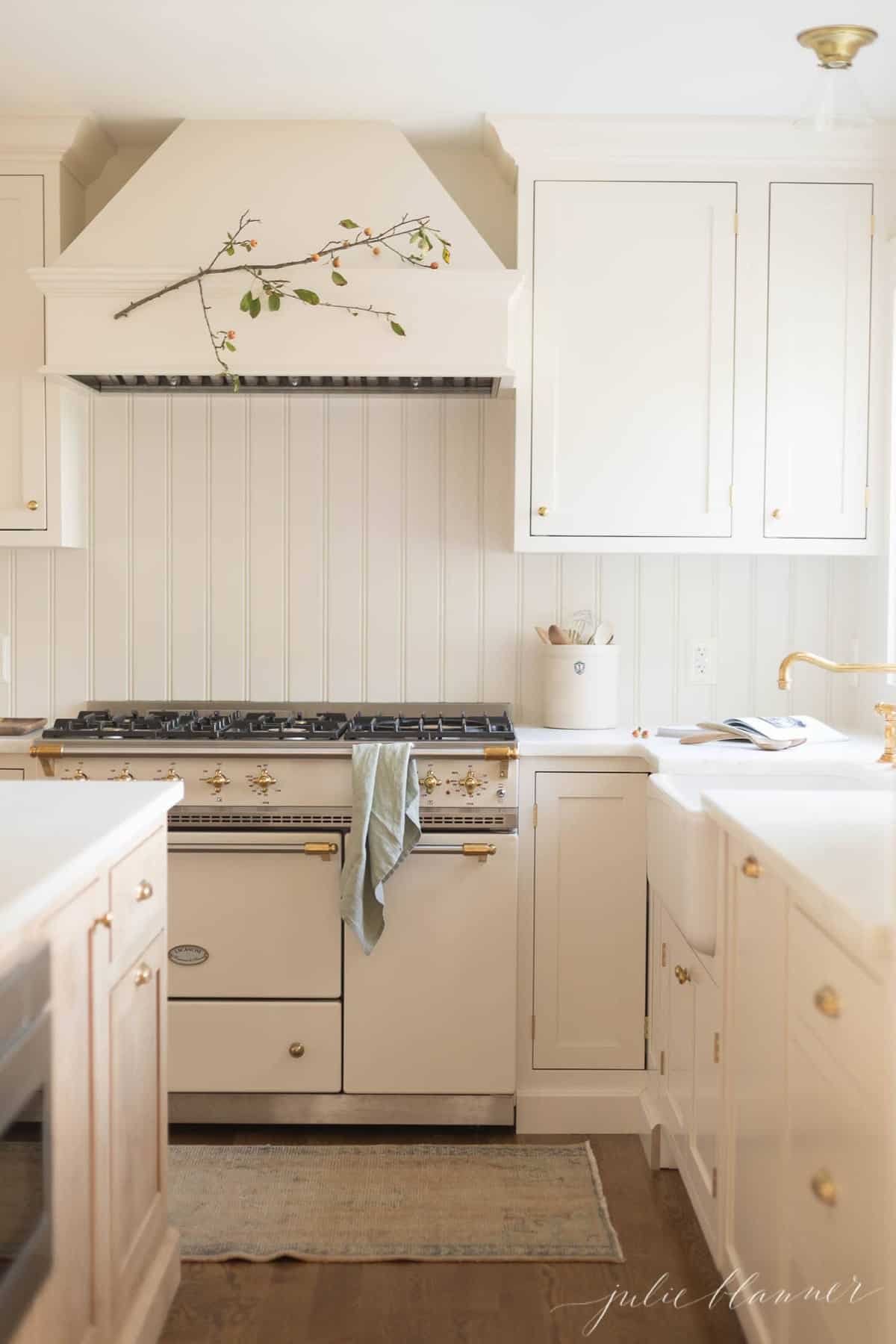 Keep it Cohesive
There's something about consistency that makes even a kitchen cabinet feel peaceful and in order. This is so important for that minimalist appearance in your simple kitchen design!
Think of the design of your kitchen just as you would your living room: what works there for a calm, serene vibe is the same here!
Keeping your containers, mixing bowls, and even pots and pans cohesive in style also allows your items to stack easily, and fit together into a visually pleasing system.
A few well-selected items can add a lot of function to your kitchen, while blending with the design.
I replaced all disposable food packaging with reusable glass containers throughout our refrigerator organization. It makes it clean, cohesive and easy to find everything.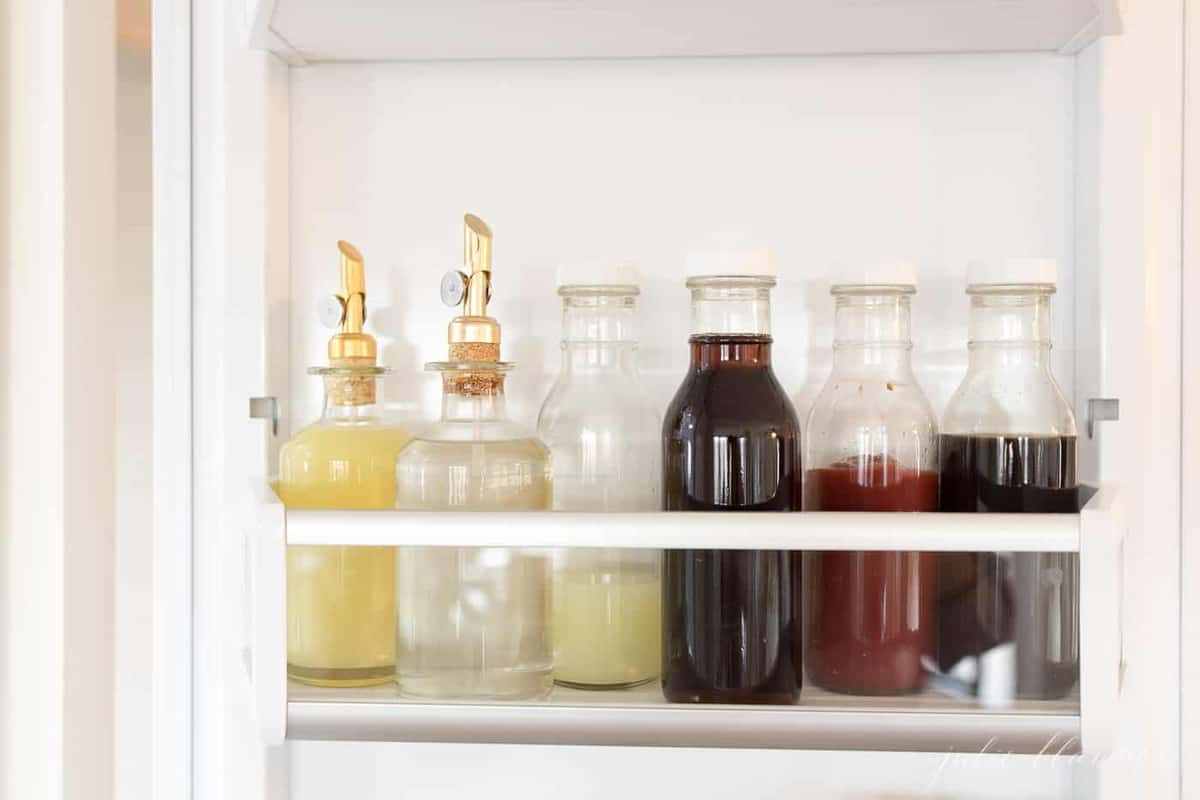 You can use a Sharpie to note dates as needed – which easily washes clean. Find all the sources for our refrigerator and cabinet organization in the post linked above!
Maximize Space
Use Lazy Susans for easy access to items inside your cabinets. This is especially helpful if you're short like me!
I like to use them in the spice cabinet to keep spices from falling over.

A quick spin and with clear glass containers and labels, you can find exactly what you need!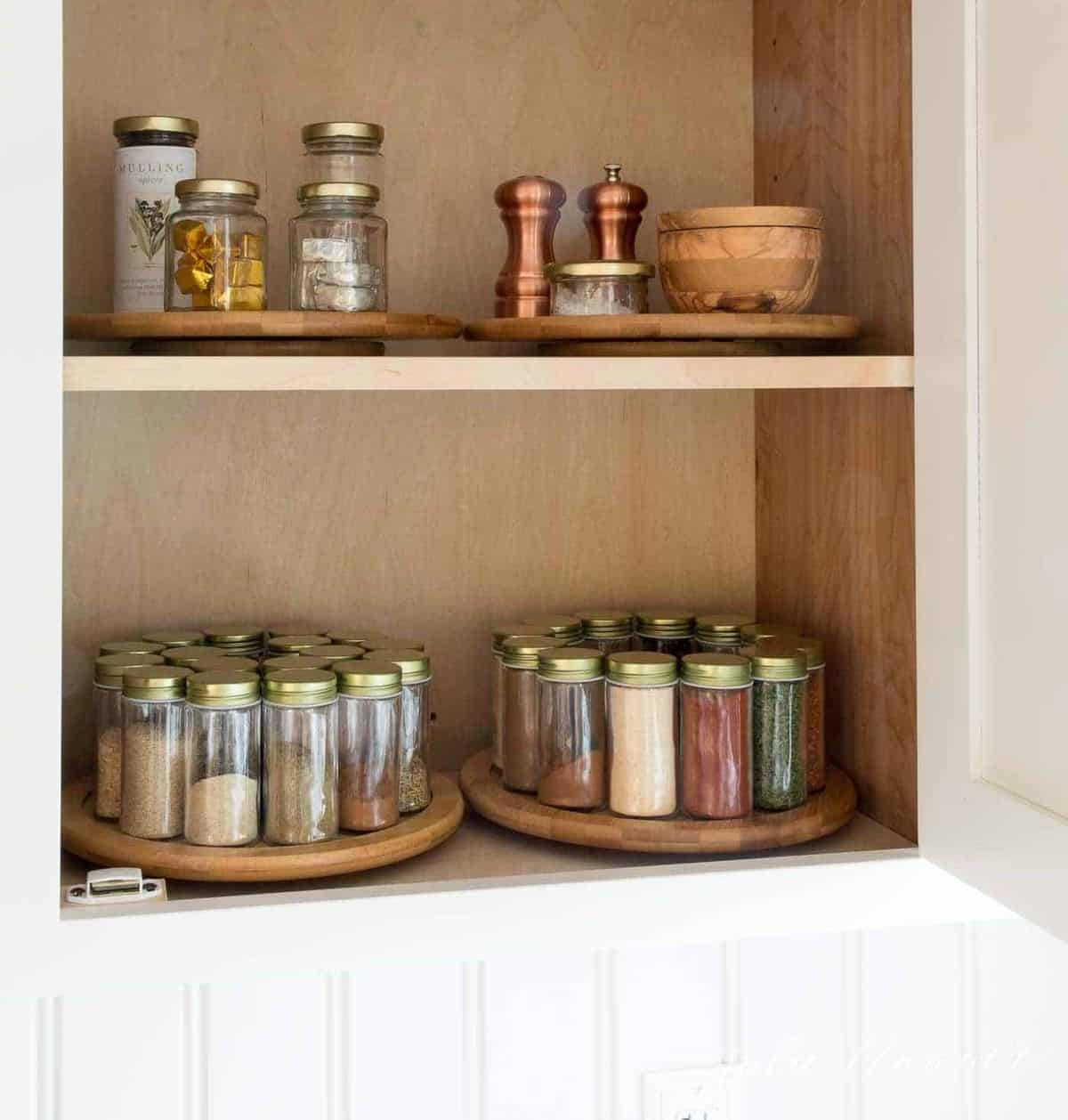 Purchase stackable cups, plates and bowls wherever possible. Our girls use these inexpensive pieces from Target – they've held up great and have totally changed our storage space because they stack so beautifully.
This also makes it so easy for the kids to set the dinner table. Even your dish towels and napkins should be cohesive and stackable. When they know exactly where each item is located, and they can reach them, your life is so much easier!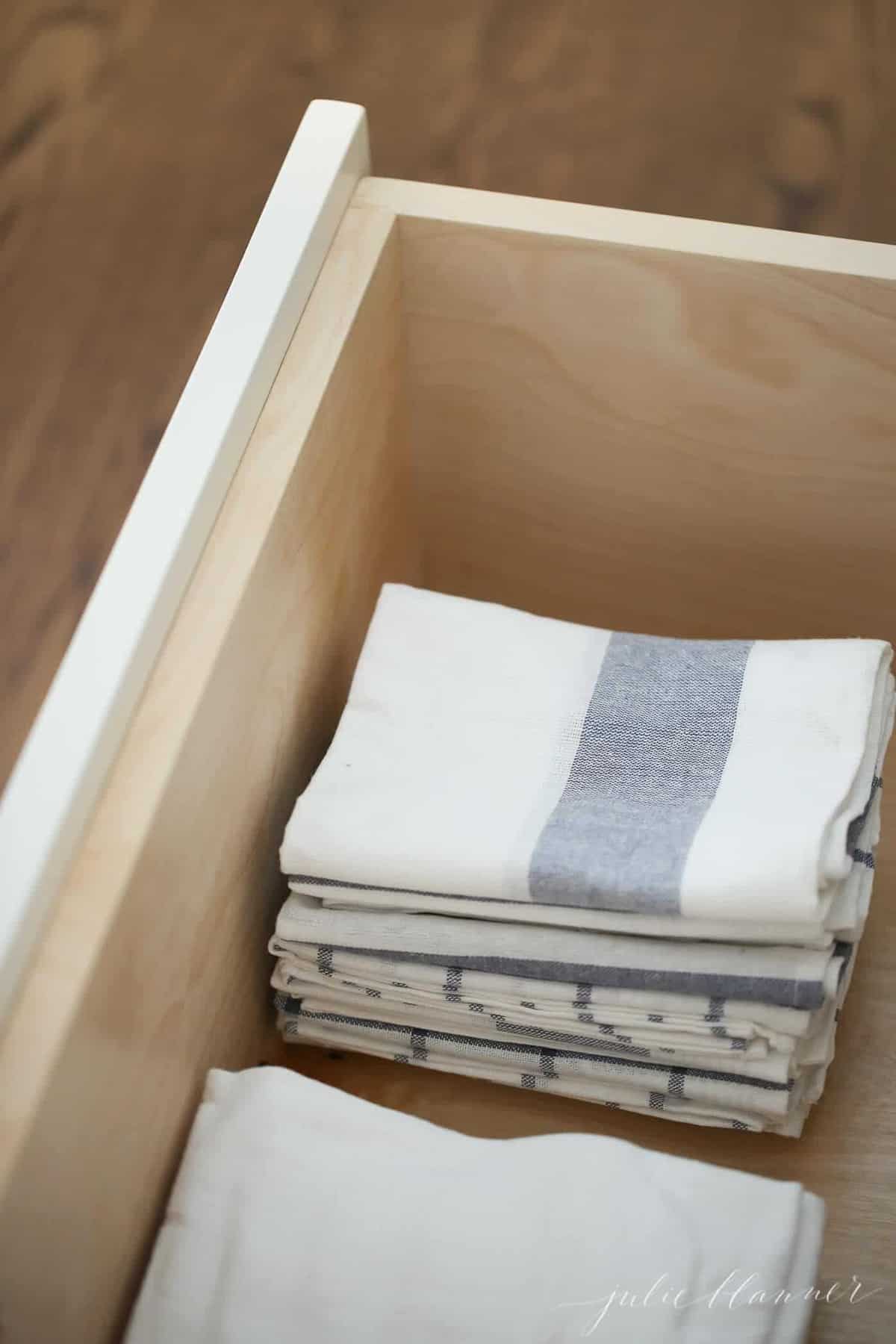 Do you have any kitchen organization ideas and tips I missed? Are you working towards a minimalist kitchen that is calm, serene and simple? I'd love to hear! Be sure to share your thoughts with me in the comments.
More Tips for an Organized Life