Refrigerator Organization tips and tricks to maximize space and function. Get unique refrigerator storage ideas and the best fridge organization containers to keep food fresh while maintaining a clean refrigerator.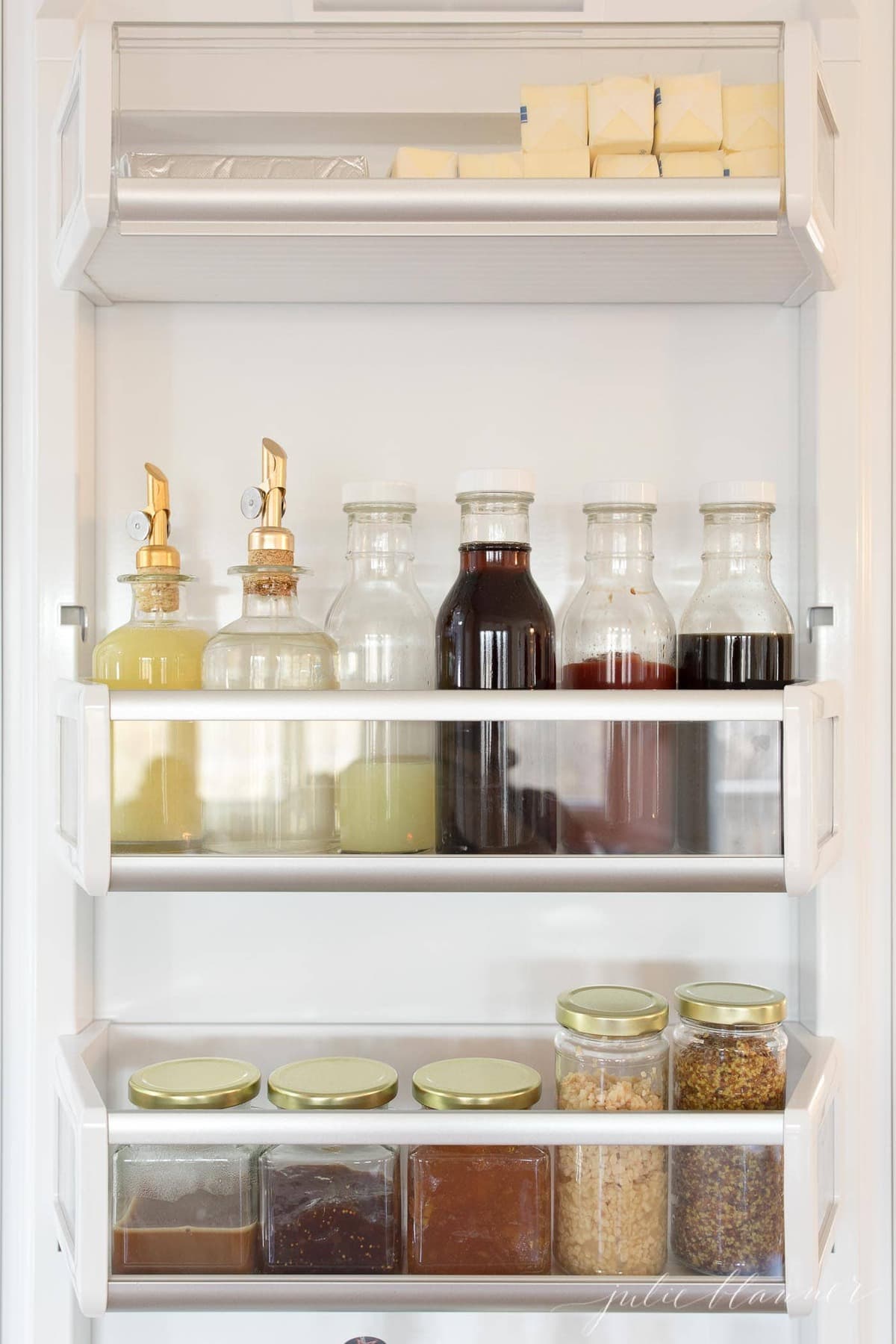 Refrigerator organization can be somewhat complicated, I think. This is one I have thought long and hard about.
It didn't come to me near as easily as our other kitchen organization projects including under the kitchen sink, the kitchen cabinets or pantry.
I think it's because I felt so compelled that it should be pretty or functional, I worried that I would have to buy an abundance of jars and containers to repackage everything… and in the process, lose function and ease.
As I worked through the process, I realized I was over-complicating it.
Even if you're not ready to go all in, there are simple things you can do to make your refrigerator more functional for you.
Easy Refrigerator Organization
But first, a full disclosure. Opening your refrigerator to the world makes you feel a bit, well, vulnerable.
I photographed the before photos the day before school returned from break and had stocked up on lunchables.
I decided not to include them for fear of being ridiculed for serving them to my kiddos (not a proud mom moment), but also fear I'll be ridiculed for having a bare shelf.
Regardless of how you feel about lunchables, please just know that I, too, am just doing my best to simplify life and find solutions that work for our family and am sharing to provide ideas and inspiration.
Fortunately, a week in to this project, I can say I'm back to preparing lunches and loving our refrigerator organization!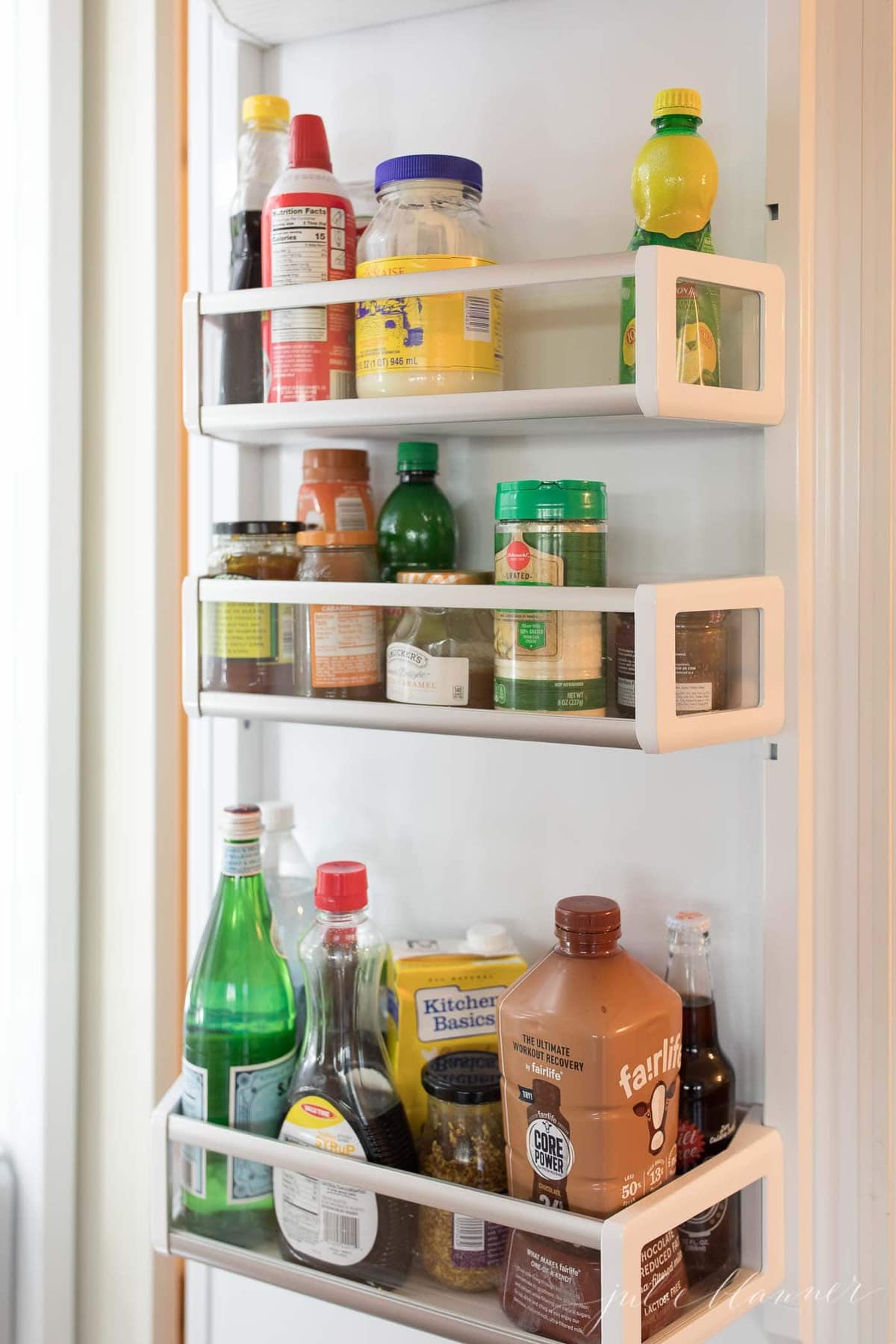 Refrigerator Storage Concerns
I also took this as an opportunity to eliminate some rarely used processed stuff that accumulated over the holidays or that we don't really use ie: store bought caramel sauce, whipped cream and Parmesan that I normally make from scratch or prefer to shred fresh.
Let's face it, the holidays turn everything upside down, which is why it feels so great to take the month of January to get organized. If you haven't yet, I hope you join my challenge to get organized in 30 days!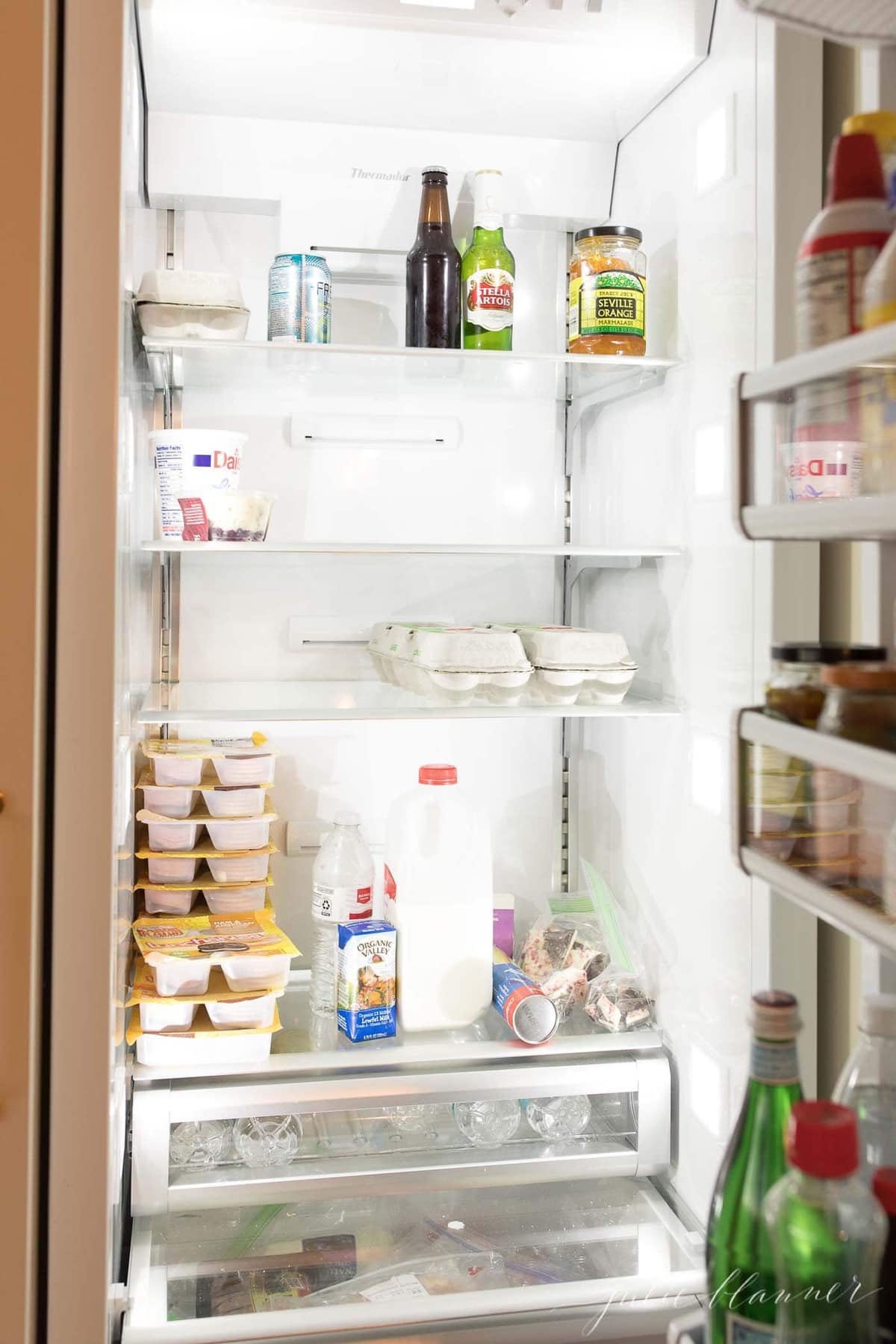 By looking at my before photos you can quickly see a lot of problem areas. I mean, we have three bottles of caramel sauce and two bottles of syrup.
I honestly can't even tell you the last time we had caramel, though I'm assuming it was for a photograph. (Keep in mind ours doubles as a work refrigerator).
You'll notice the doors are crowded, the meat and cheese drawer is full and a little debris in the fruit drawer (that I was over-anxious to add the strainer to.)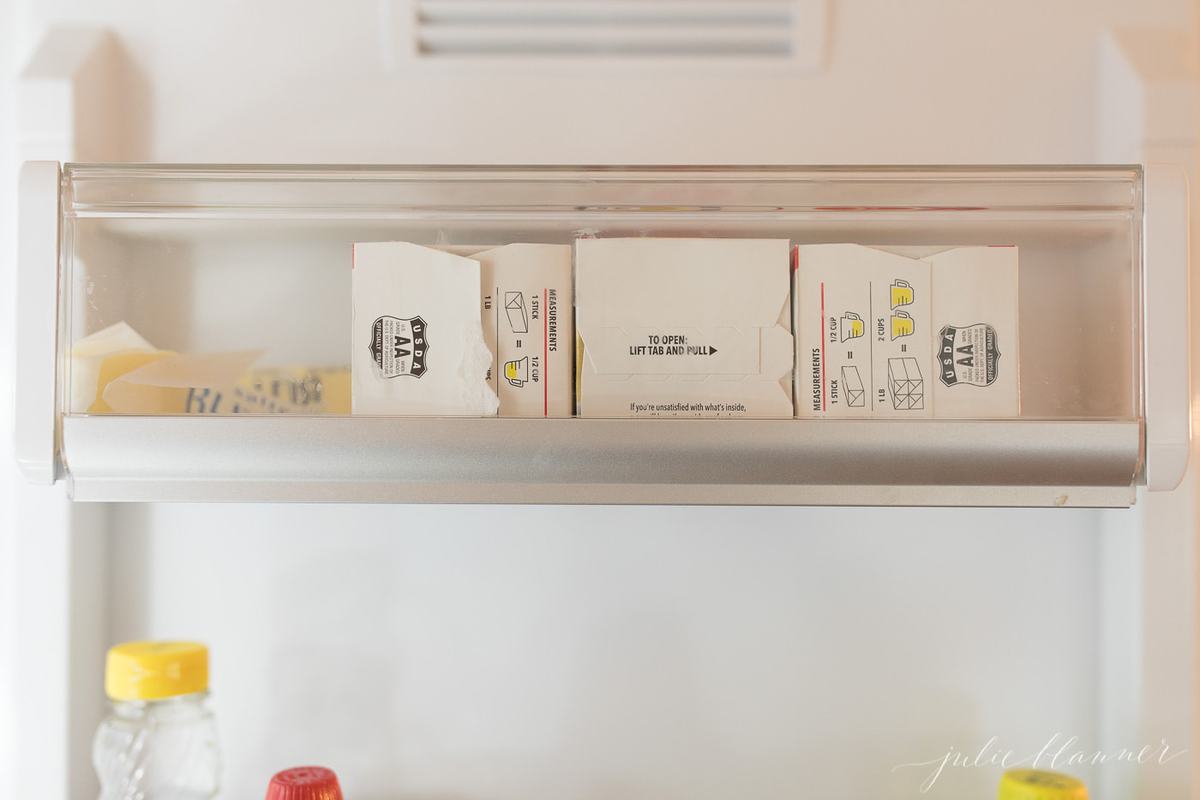 Determining what's not working/problem areas will help you find functional solutions. Let's get started, shall we?
Refrigerator Organization Tips and Tricks
Start by removing everything from your refrigerator. This should take less than five minutes, don't overthink it.
If it is expired or if you don't use it, remove it. Doing so, you'll likely eliminate a large part of your refrigerator. I was shocked at how much stuff we used for a single recipe and don't intend to use again and the number of expired items in our refrigerator.
Wipe it down. I know, I know, not fun at all, but when your fridge gleams, you will, too! One of the greatest perks of organizing is starting with a clean slate!
Adjust your shelf height to fit your new design.
Consider what should go back in in its current container and what would be better transferred into a new vessel. I decided jam fits perfectly and stands out more in a consistent container. The same for milk, cream, lemon and lime juice. I just write the expiration date on the bottle with a permanent marker (which comes off when you wash it).
Immediately remove items from excess packaging when you walk in from the grocery store. For example, individually wrapped items no longer need their outer packaging. This is particularly true with butter and sour cream.
Place all fruits in a strainer, rinse and place them in the fruit drawer. This will prevent bits and vines from entering the fruit drawer which isn't nearly as easy or accessible to clean.
We placed deli meats in individual fridge organization containers in hopes of not allowing them to expire prior to consuming.
Fresh herbs can go in an open jar or small vase.
It's okay to keep packaging. You'll notice that I don't find egg cartons to be visually offensive and feel it's easier to keep eggs in their cartons.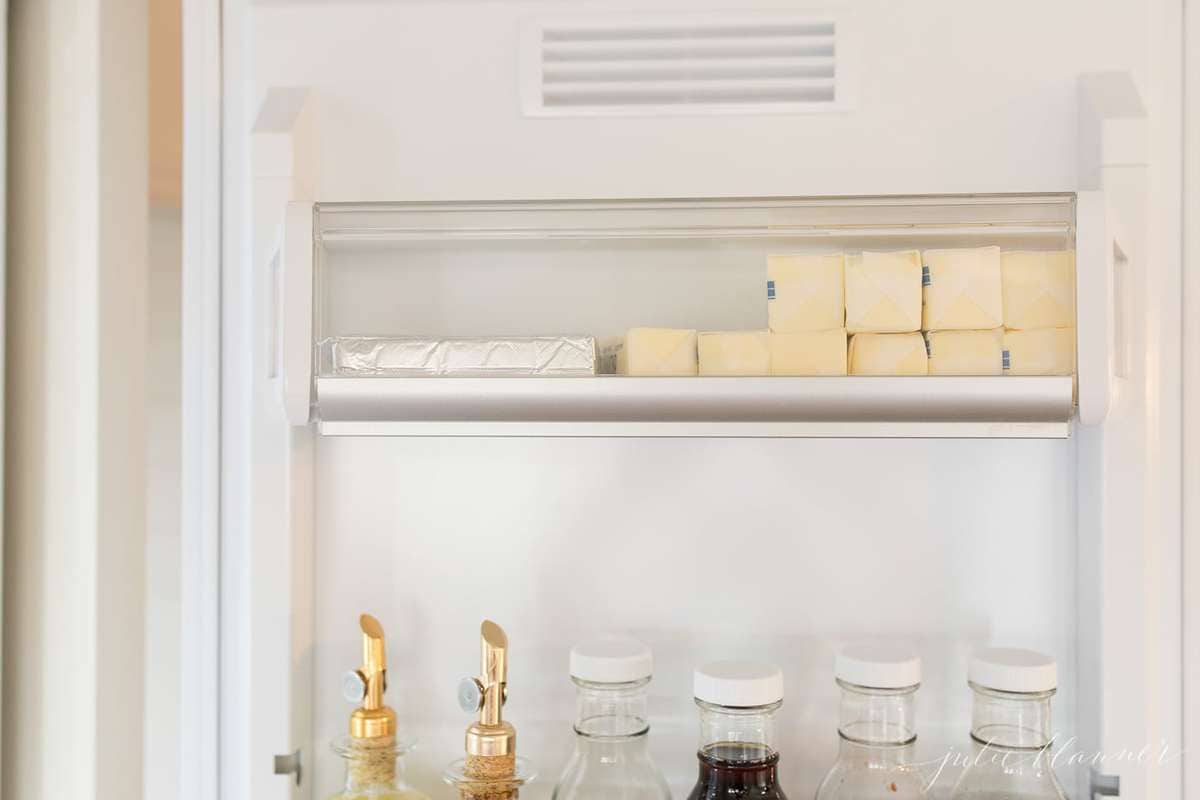 Refrigerator Storage
When we renovated our kitchen, we opted for a smaller refrigerator. We truly don't need that much refrigerator storage if we keep it cohesive, so we can easily assess what we do and don't need prior to running to the grocery store.
Make it work for you – I like to keep small bottles of water accessible for the girls to pack their lunches.
Only use storage bins as needed.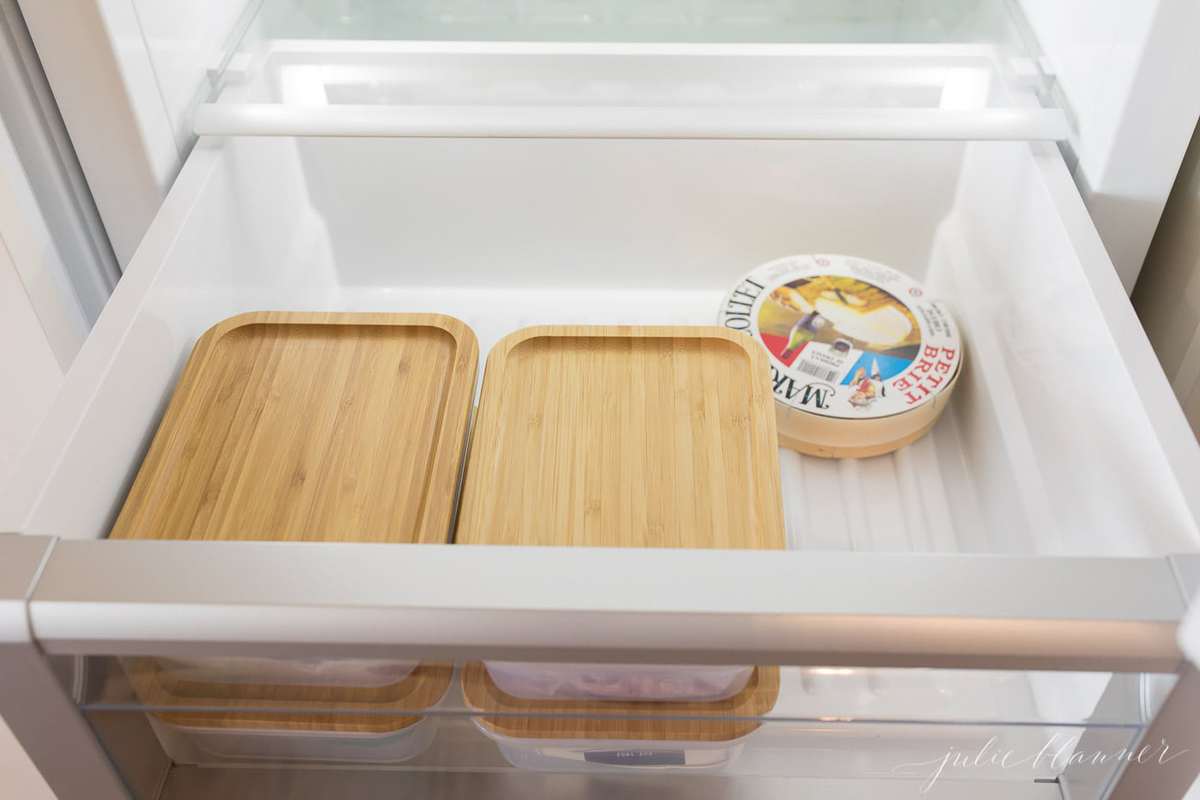 Fridge Organization Containers
As I mentioned before, you don't need fridge organization containers. But they can often be helpful to maximize space in fridge doors, see what you have to eliminate excess and keep it cohesive (pretty).
I used the following refrigerator storage containers: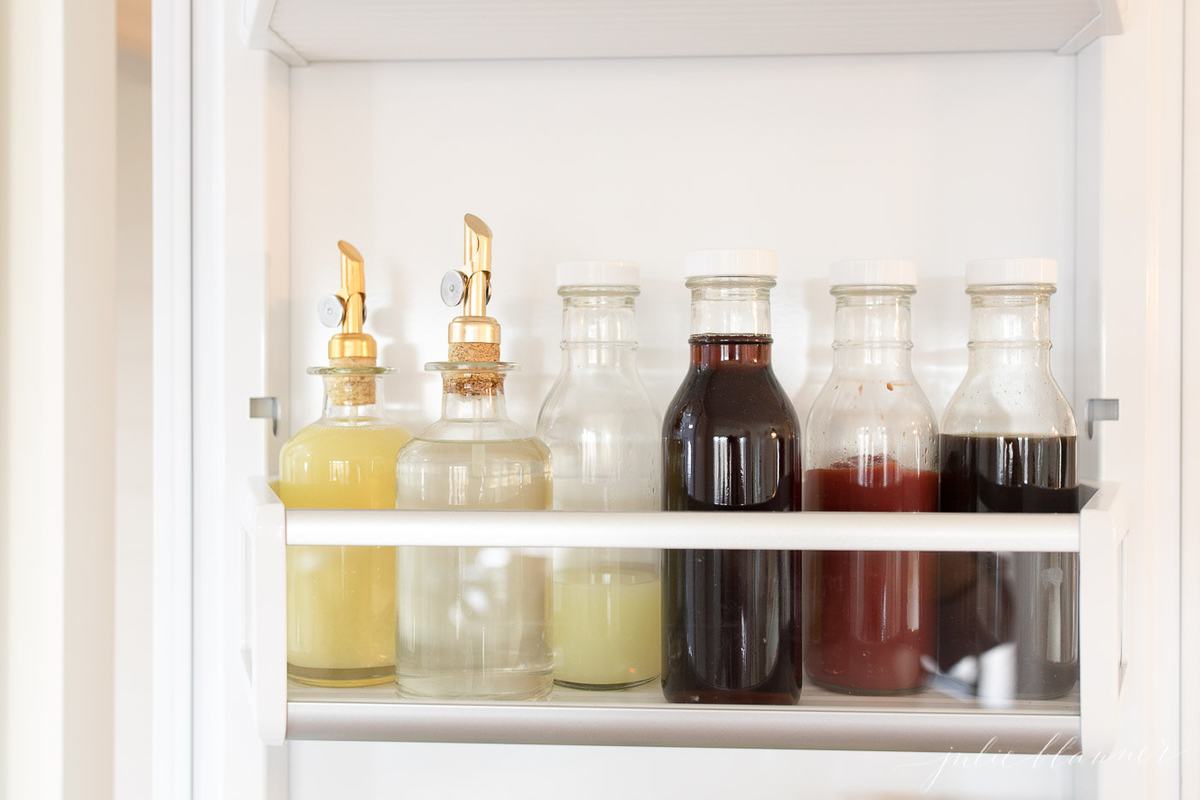 More Storage Containers You'll Love

How to Organize Your Refrigerator
This is very personal and exclusive to your refrigerator design and your lifestyle but I'll share how and why we organized ours.
I like to put drinks on top with the girls bottle water in a lower drawer that is easily accessible for them.
Refrigerator Door
staples like butter, eggs, and milks
condiments including jams, ketchup, mustard, minced garlic
Middle Shelves (so that they can be easily spotted in effort to keep them from expiring without notice)
things that tend to expire quickly like meat, sour cream
herbs
eggs
ready to eat foods like leftovers
Drawers
cheeses, deli meats
fruits and vegetables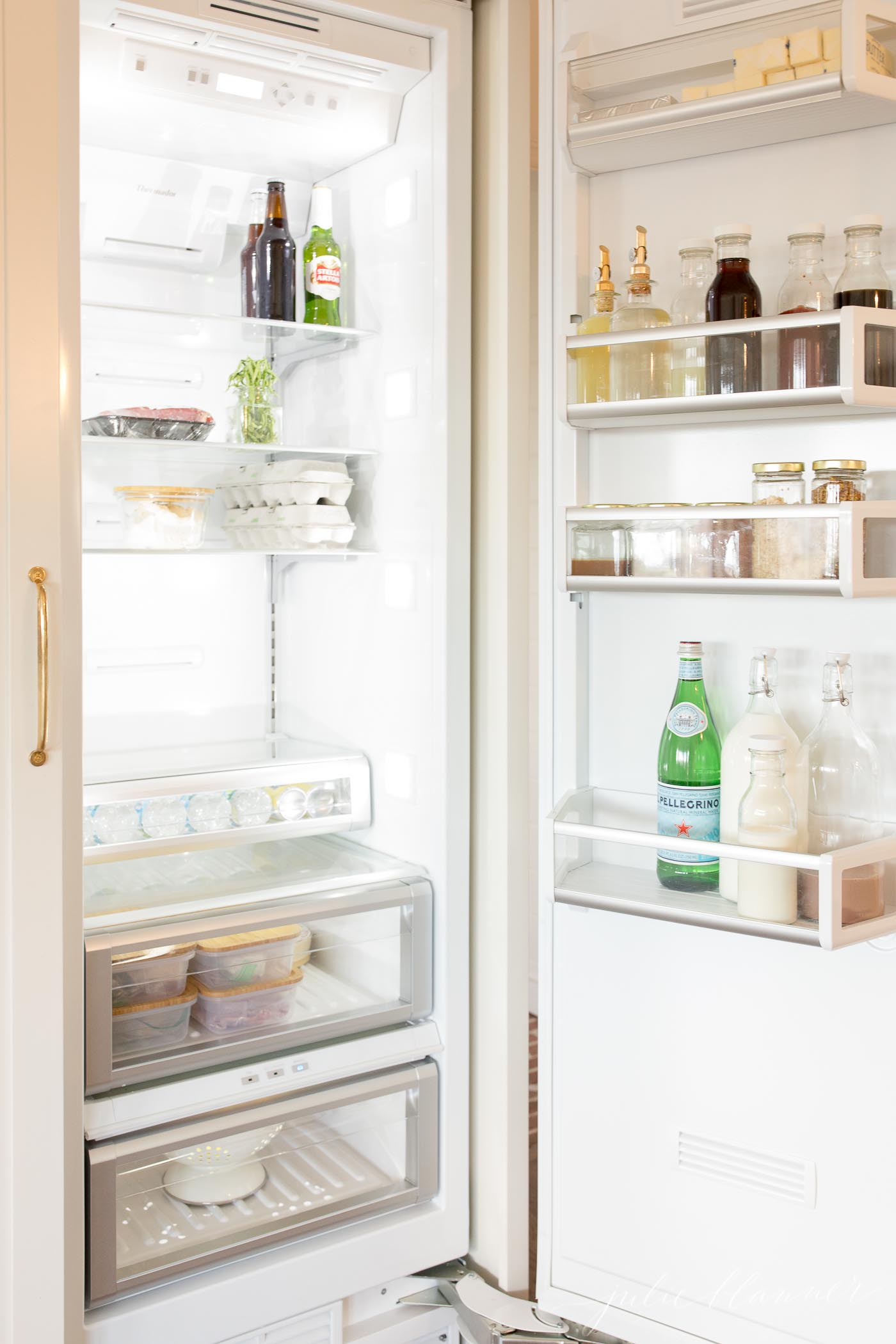 If you use these refrigerator organization ideas, I'd love to see! Tag me on Instagram!
You can see our more of our organized refrigerator in the YouTube video below. Don't forget to click subscribe!
More Cleaning and Organizing