Get easy, affordable office and desk organization ideas, including tips and tricks for using desk drawer organizers and clever, unexpected storage techniques.
If you're ready to finally get your home office organized, you're in the right place!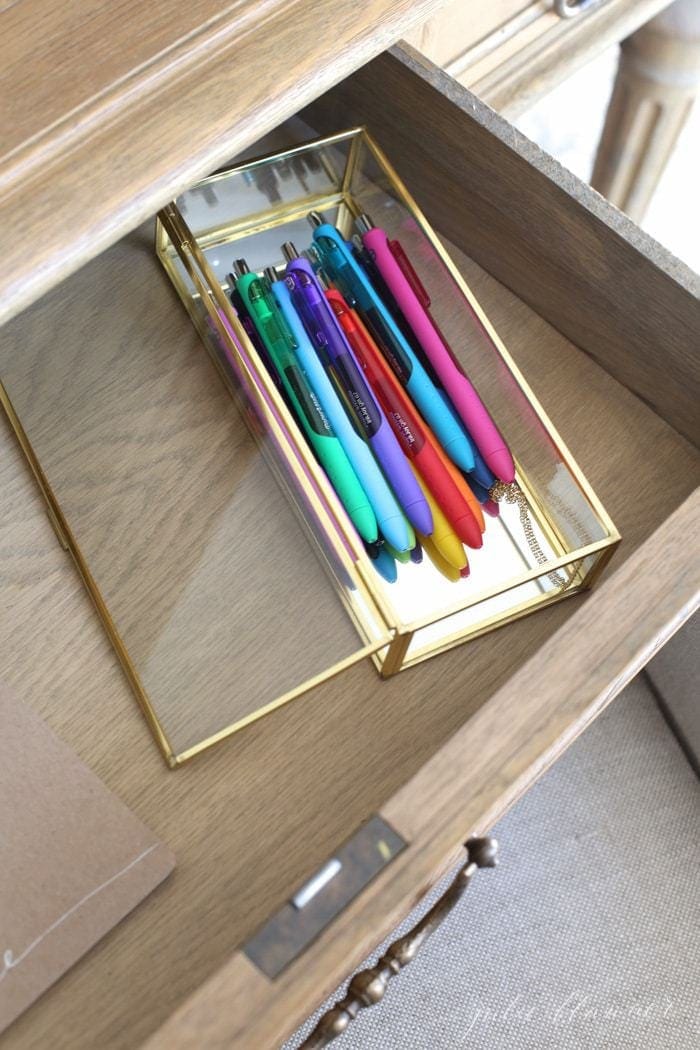 Recently, I was having lunch with friends and they were in disbelief when I told them that my home office was a hot mess. Sadly, it was true… because until I make a space functional for our needs, I'm anything but organized.
Luckily, thinking and chatting about that mess was all it took to get me started.
Home Office Organization Ideas
When we moved into this home, we started moving furniture in piece by piece, without ever establishing any type of organization for the office. I was just happy when I unpacked the majority of my office supplies.
Of course, chaos ensued. When our home office is a hot mess, I'm a hot mess. It's where I run my business, our home, where I wrap gifts, store crafts supplies and so much more.
After organizing the mudroom, the kitchen, the garage, and several closets (including this linen closet), I decided it was time to tackle the office, especially the desk. Here's an image of the not-so-pretty before…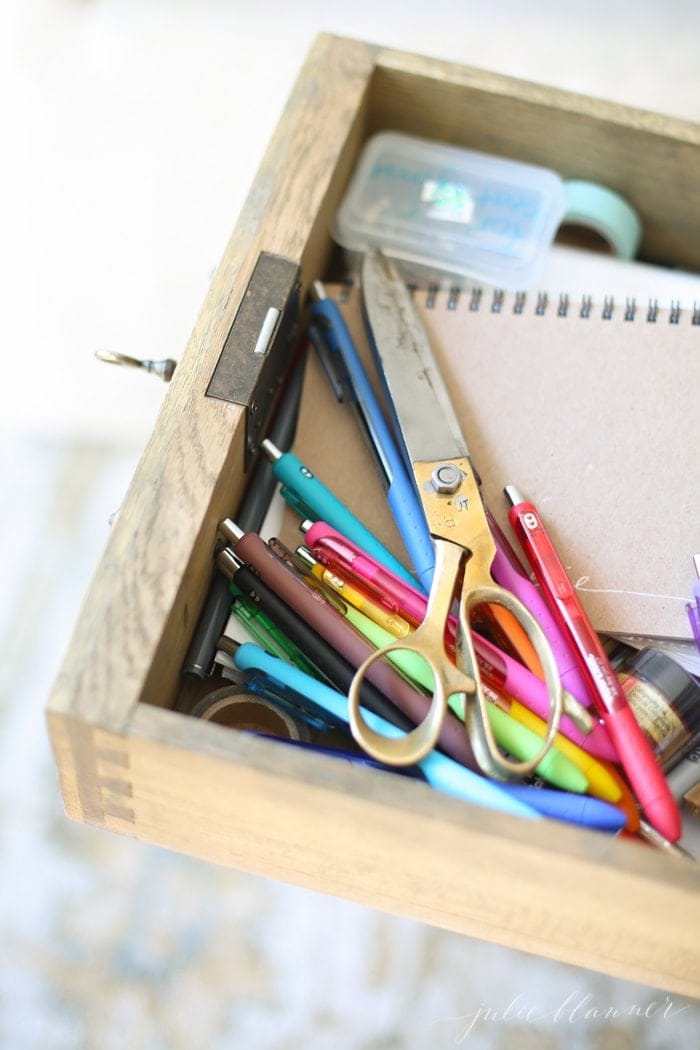 Messy Desk Solutions
A lot of experts suggest that you should start organizing, and then see what you need to purchase. I tend to disagree, especially when you organize a home office or drawers in any area of your home.
What do I do instead? I recommend removing everything from your drawers to see what you really need.
Often, I feel amazed at what I accumulate, most of which doesn't belong at all, like copies of magazines from features I've received or the hospital bracelets from when the girls were born.
Those types of items are best kept in my memento box in the guest bedroom closet. Yes… even if Nate is adorable and my mama heart skips a beat every time I see one of the girls' hospital bracelets.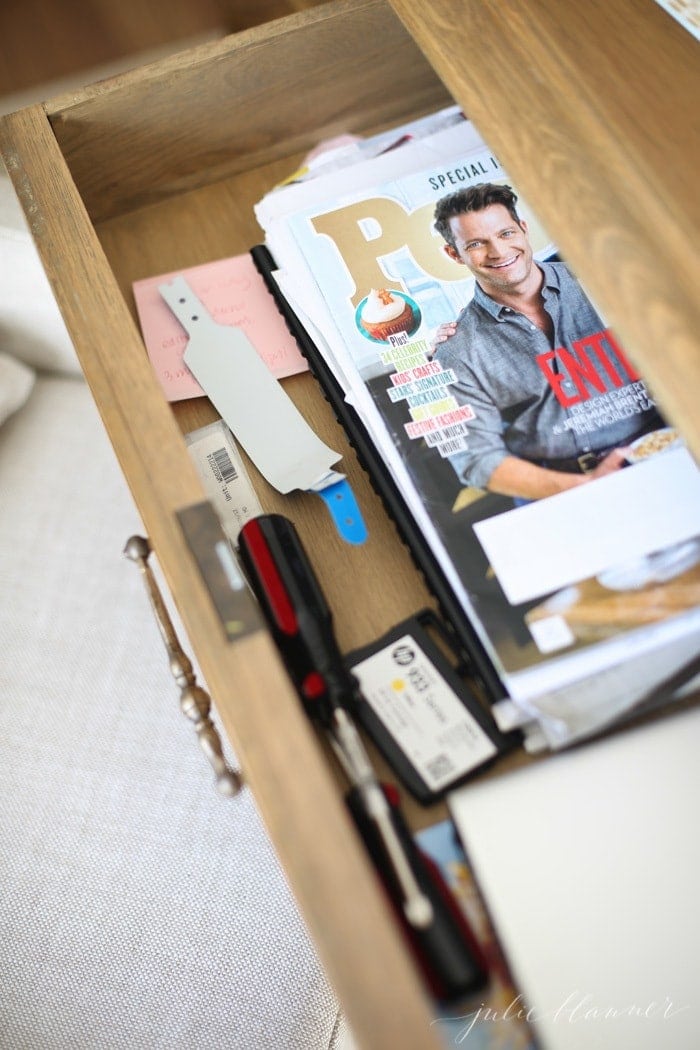 Desk Organization Step by Step
Take it one drawer at a time! There's nothing worse than emptying eight drawers in a room and feeling exhausted, hours later, with no end in sight.
First, empty your drawer completely. I like to do this one at a time – don't empty every drawer in your house intending to accomplish everything at once!
Wipe the interior of your drawer down well so you're starting with a truly clean slate.
Place your desk drawer organizers as they fit. Play around with various configurations to ensure the best layout for your needs.
Now begin to return the items you're keeping into your drawers.
Remember, now is the time to eliminate the things you rarely (if ever) use. I bet you'll never miss those items!
Place like items together! This not only makes it more visually pleasing, but it also adds efficiency when you open the drawer to find something.
Stand back and admire your brilliant organization skills!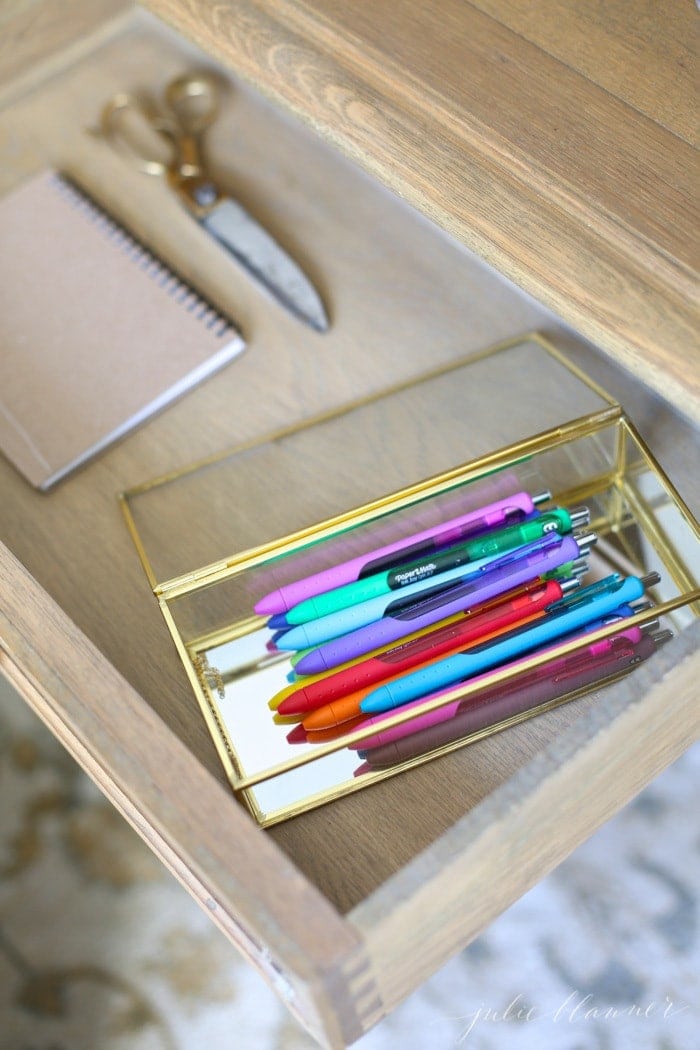 Pretty Desk Drawer Organizers
I like to treat myself before I organize, as a little incentive to motivate me, if you will. Purchasing pretty glass storage boxes makes me excited to organize. It's true, an organized space gives me joy… I can admit that! The copper and glass tray pictured here is meant as a vanity tray but works beautifully as a desk drawer organizer, too.
One of the biggest issues with my home office was that everything just floated around my desk. I integrated these jewelry organizers (turned desk organization) to keep things in their place, even with drawers frequently opening and closing.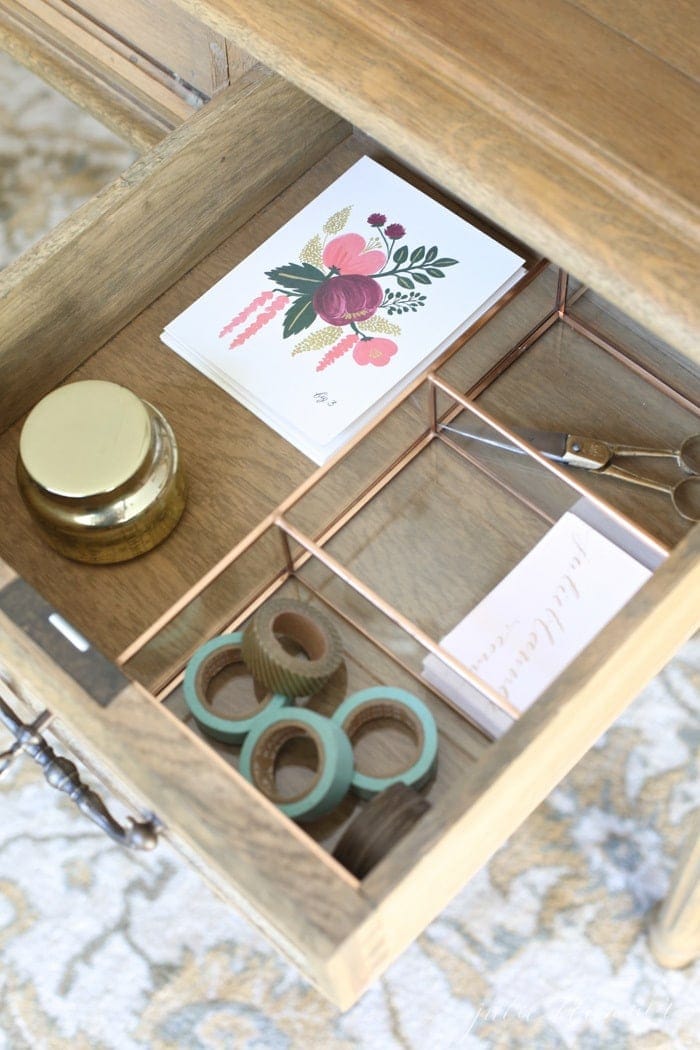 Psst… want to see the full before and after of this home office? You won't believe the difference! Find the full tour of our home here, and more details about the office here.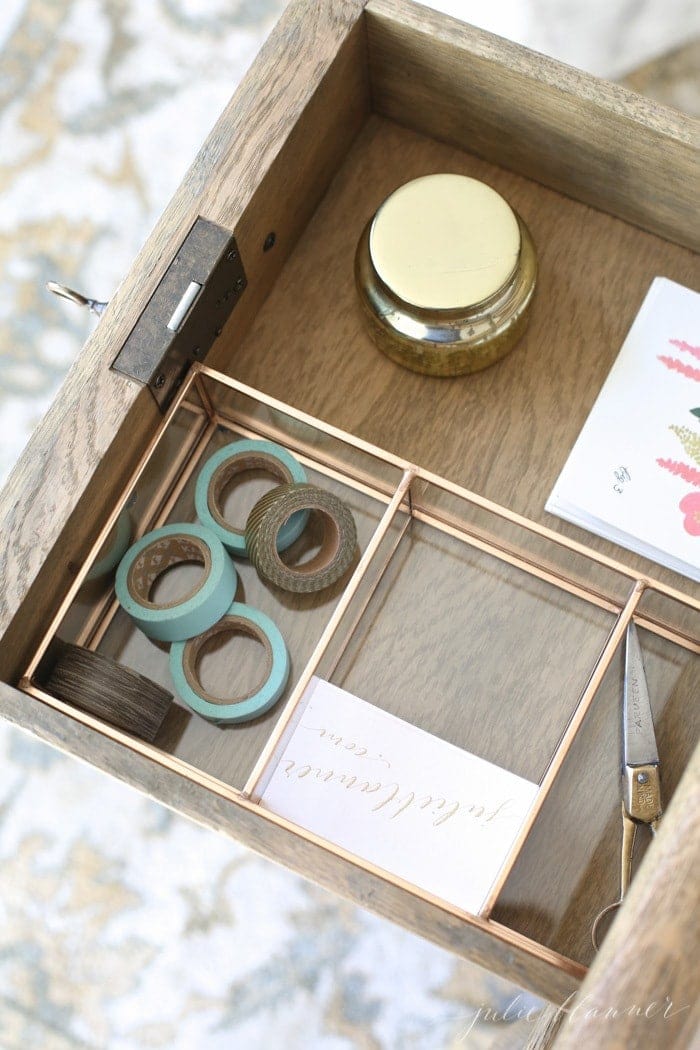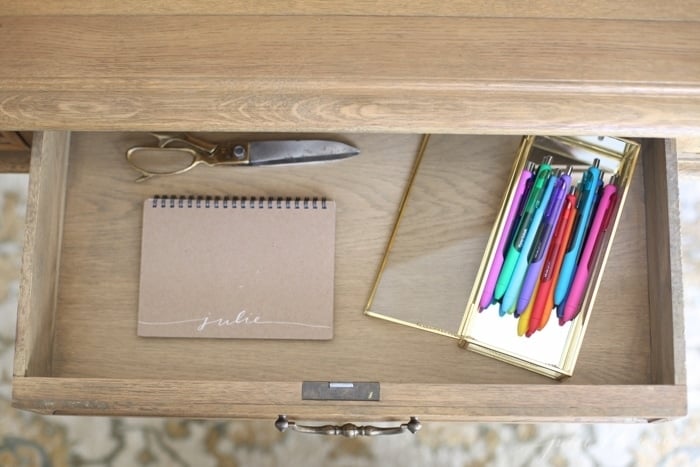 Identify the essential, eliminate the rest.

Leo Babauta
Filing System Without a File Cabinet
Yes, you can have an organized filing system without a dedicated filing cabinet!
I've dedicated one desk drawer to file folders, since I don't have a file cabinet in my office. Using colored gel pens helps me separate my work files from home files, while being able to file them all away in one concise place.
This is a super easy way to keep a dedicated area for files, without taking up a large amount of space with a file cabinet.
Before: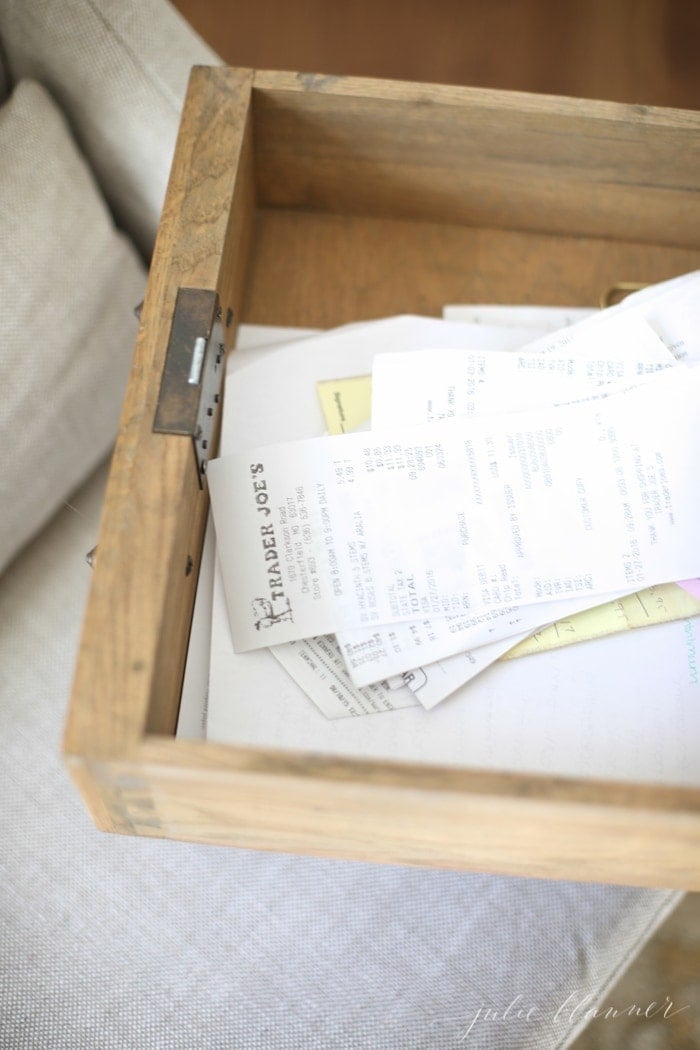 After: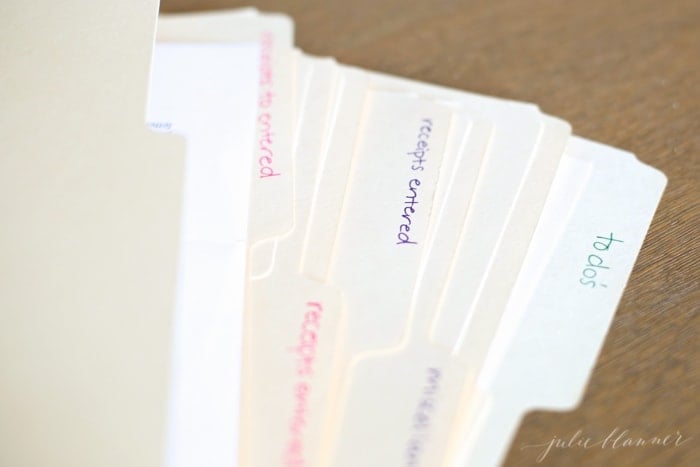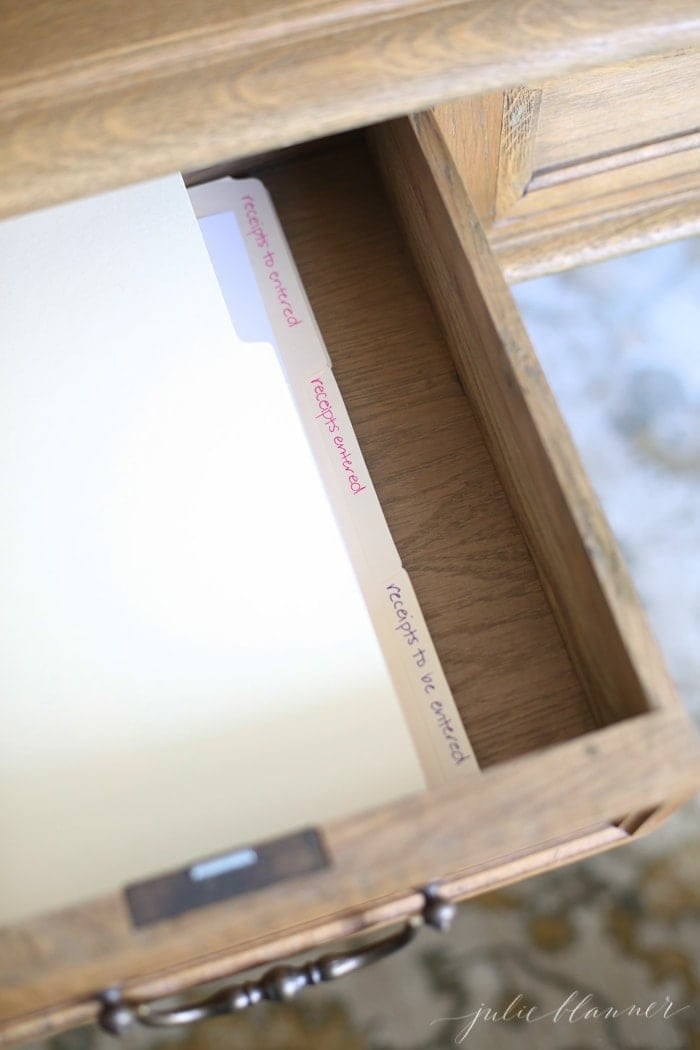 Wrapping and Ribbon Storage
As I previously mentioned, my home office works hard. Really hard. It's also my craft/gift wrap center.
I had initially tried to store wrapping paper in my buffet-turned-credenza, but quickly realized that half of my wrapping paper rolls were too long for the drawers.
So, they leaned next to the credenza and would fall any time I looked at them wrong, so I put them in a beautiful basket in the corner where they're easily accessible without becoming a disaster.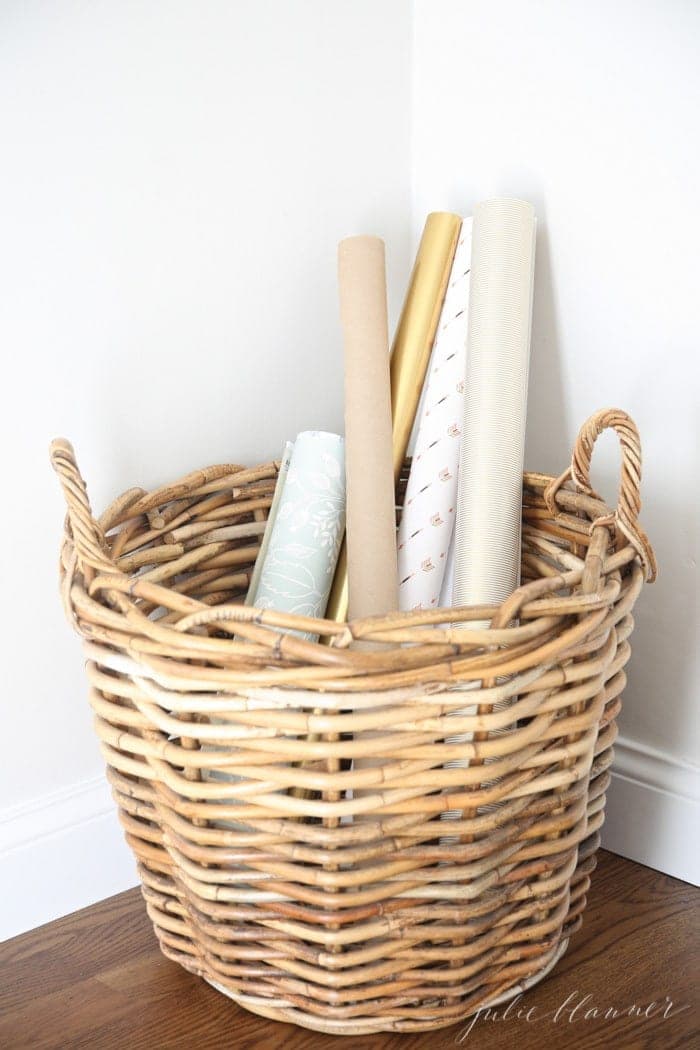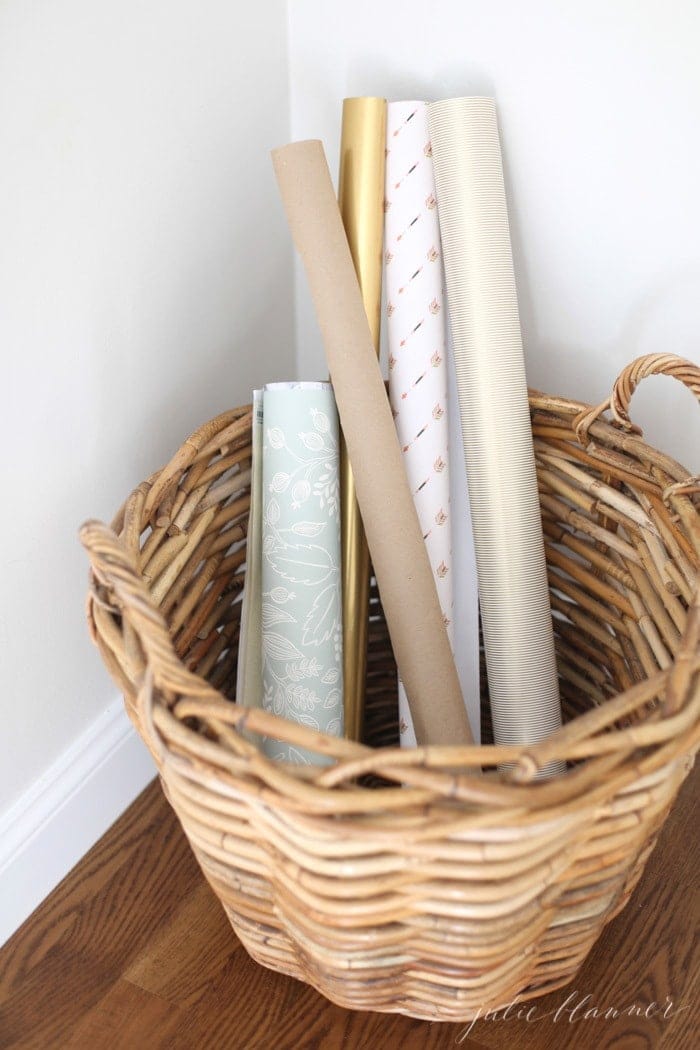 The Easiest Ribbon Storage Technique
Speaking of disaster, I'm embarrassed to share the before photo of my ribbon drawer, but in effort to be transparent, I'll show you just how imperfect I am.
I started organizing my ribbon drawer by removing everything. That alone was a challenge. Ribbon started flying off the spools, becoming entangled with fishing line and I realized I had a problem: I'm a ribbon hoarder.
I selected a few favorite colors along with craft store ribbons that I was able to organize with an inexpensive tension rod. I then donated the rest to the girls' school. I used pins to hold the ends of the ribbon in place to keep them from unwinding.
Before:
After: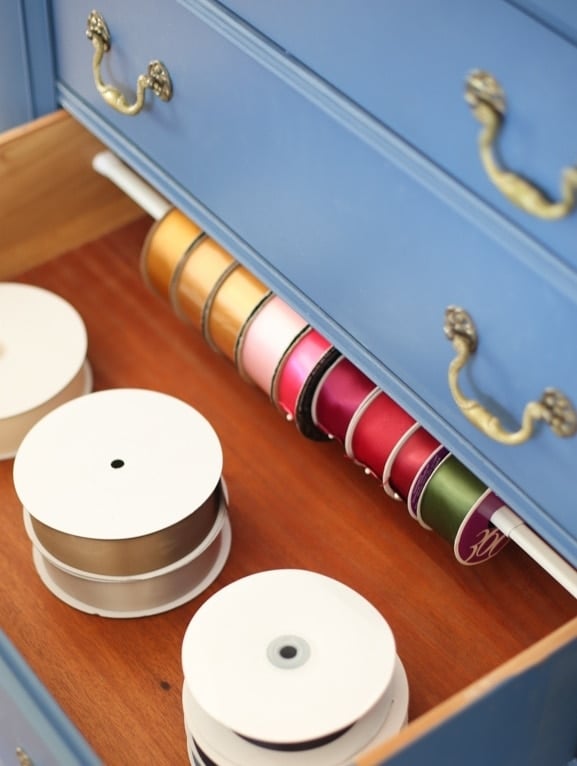 ---
To install a tension rod in a drawer and fill it with pinned rolls of ribbon, allow the ends to rest flush with the sides of the drawer. Insert your spring, screw and insert the tension rod. It's SO quick and easy and makes snipping ribbon to wrap a gift effortless.
---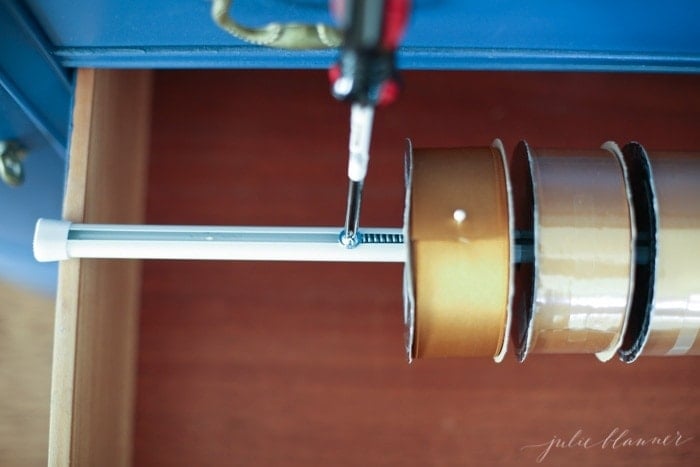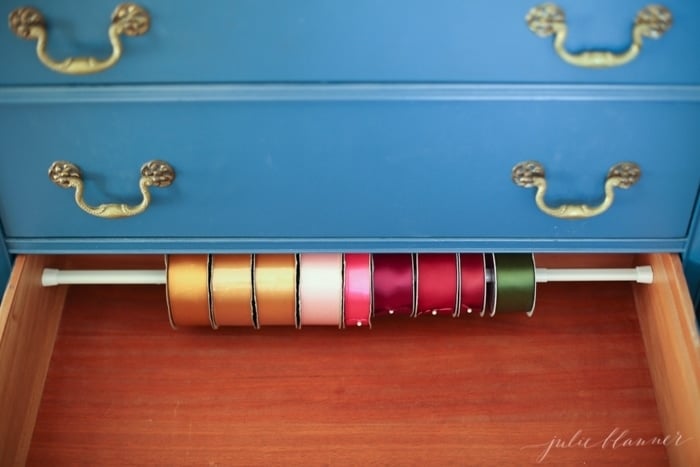 Organizing my home office took just a couple of hours. It has helped me organize my work schedule while reducing my stress and adding a little color to the office!
Do you have a home office? Is it as organized as you'd like it to be? I hope these tips have provided a little inspiration!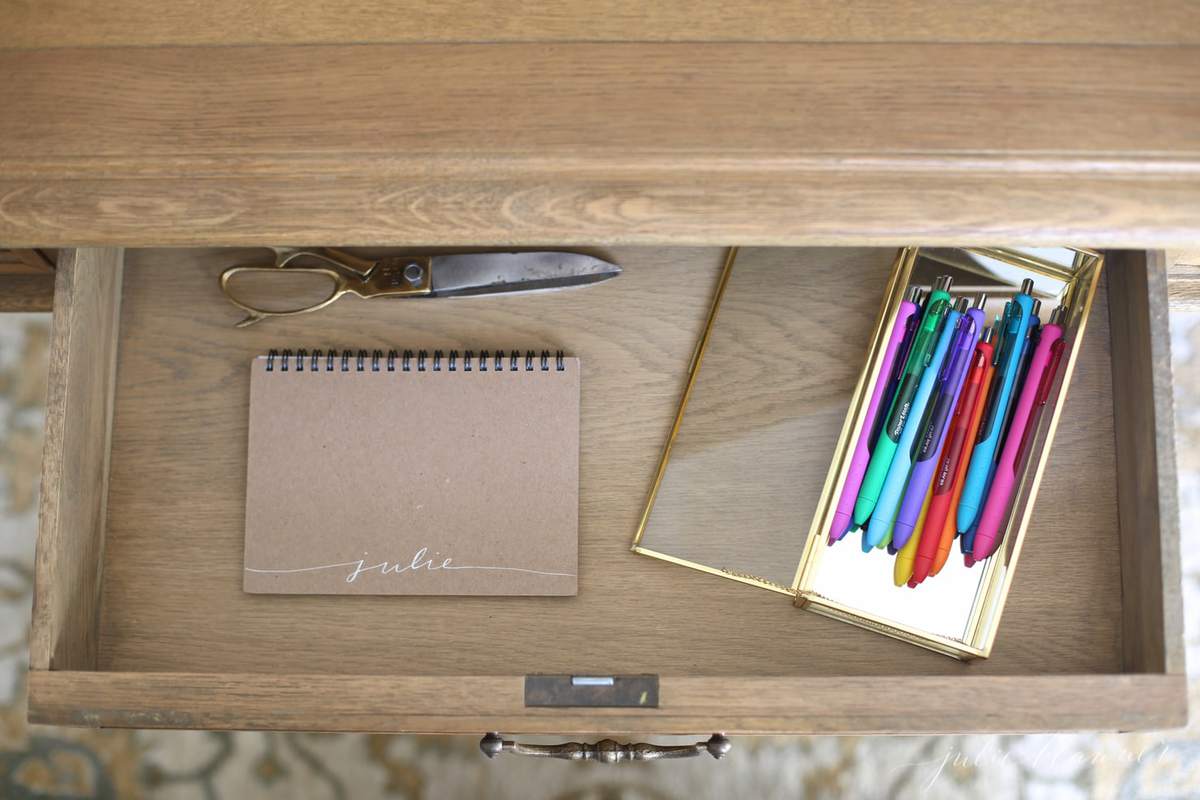 If you're anything like me, being home so much lately has helped me accomplish a multitude of organization projects around our home of late.
I'd love to hear from you! Don't hesitate to reach out with questions or comments, I am always here with advice.