Incorporate Hexagon Tile into your home's interior design. The geometric, modern shape looks stunning in so many spaces.
With a variety of sizes, materials, and styles, you'll want to let hexagon tiles take up permanent residence in your home.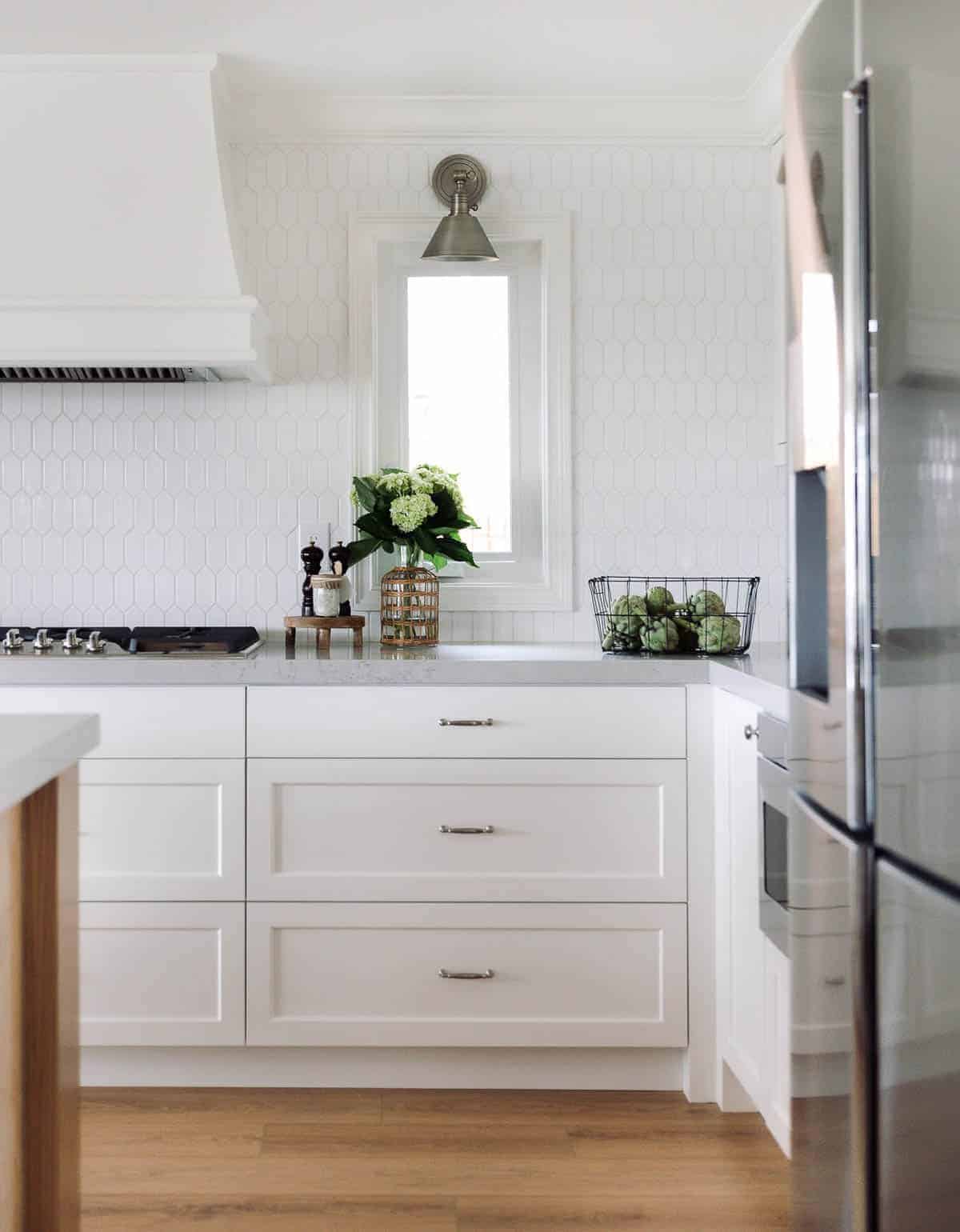 Kitchen via Boxwood Avenue.
If you're looking for a simple update that makes a huge impact, look no further than hexagon tile. Its versatility in the design world makes it a top choice.
Hexagon tile tends to mirror its environment, so it blends with every design style – classic, farmhouse, modern, traditional, bohemian, minimalist, etc.
Hexagons are any 6-sided shape, but most people are familiar with an equilateral hexagon, meaning all six sides are the same length and all angles are 120° – like honeycomb.
The simple, modern shape of a hexagon allows them to repeat in a tile pattern easily. They create beautiful lines that are more interesting and less harsh than 90° angles, but still offer visual precision in their design.
Other tile shapes that also add instant style to a home are Subway Tile and octagon tiles that I used in my Spa Bath. So many tile options mean you can find exactly what you're looking for.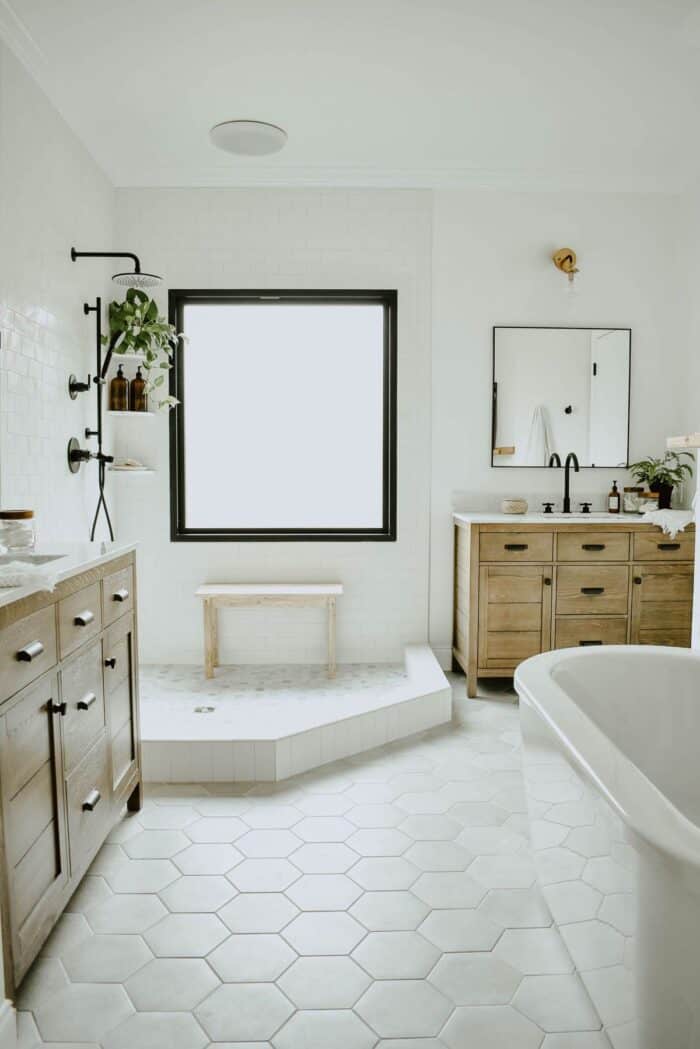 Image via House on Longwood Lane.
History of Hexagon Tile
Hexagon tiles made a big entrance into home decorating in the early 1900s. In the 1" size, small tiles were mainly used for bathroom floors. White hexagon tiles were used to promote the feeling of a space being sanitized and clean.
Today they continue to have that clean, finished look and command attention wherever they are placed. This classic geometric shape may be vintage, but its lines, angles and look are timeless.
Hexagon Tile Varieties
Like any other shape of tile, this one is available in a variety of materials. The most common include ceramic, porcelain, and natural stone.
Use ceramic and porcelain for a surface that is easy to clean and looks fresh. Natural stone has a more traditional feel and adds texture to your design. You're sure to find the right one in the material that you want for your space.
They are sold in a variety of sizes, from 1″ to 12″ in diameter. The smaller sizes are sold with mesh backing for easy installation. These make a space feel fresh and peppy.
They can also be incorporated into mosaics and borders. Small white hexagon tile tends to be the most classic and cost effective.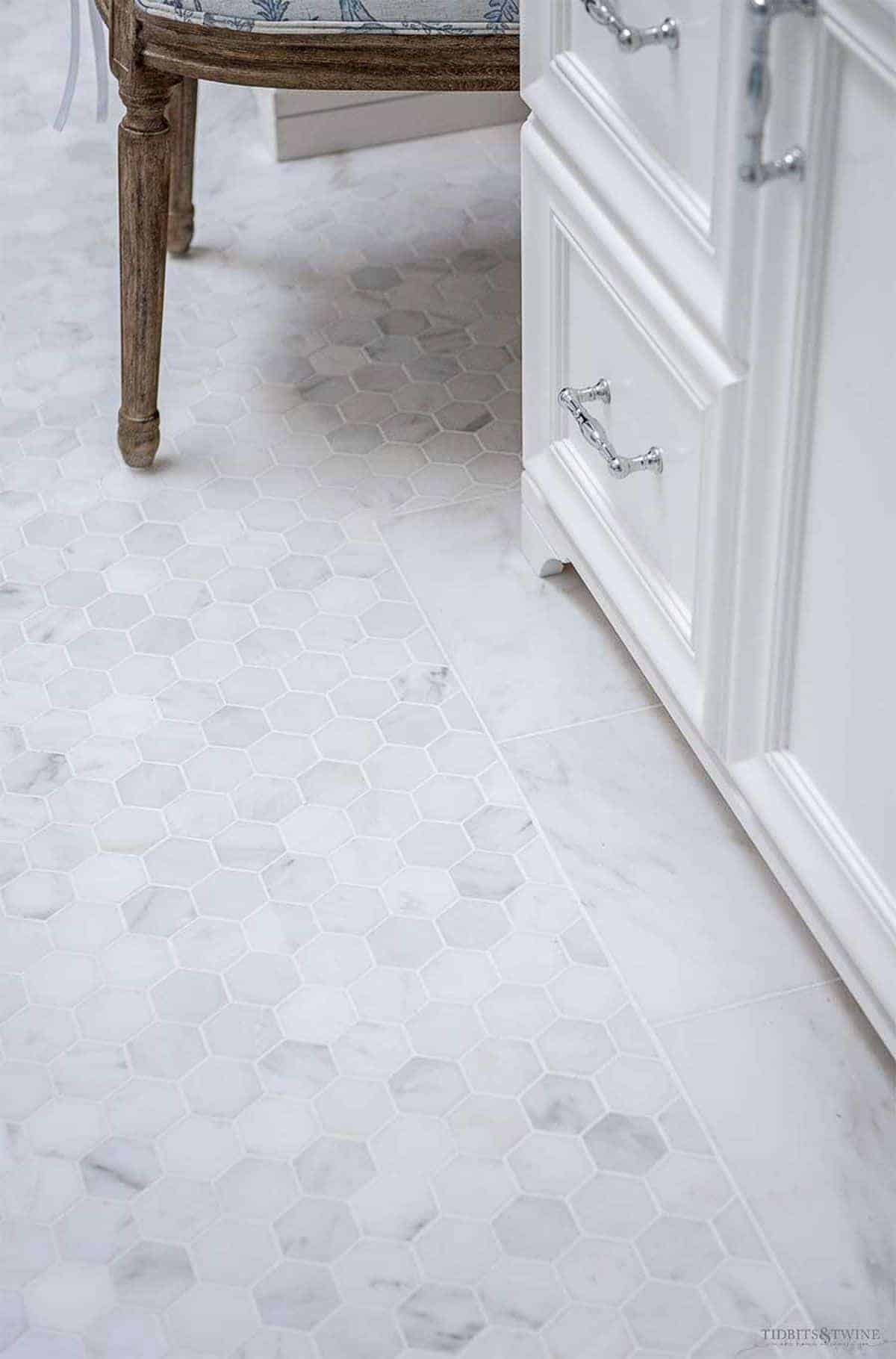 Hexagon tile floor via Tidbits and Twine.
Large tiles are sold individually. They can be used anywhere large square tiles are used. Their wide lines and angles make a bold statement wherever they are placed in a home.
Hexagon tiles come in a multitude of colors and patterns. Use colors in a glossy, matte, or muted finish to achieve your desired style result. Patterned tiles have designs on them so you can even arrange them in different ways to create unique designs.
Additional 6-Sided Shapes
Elongated Hexagon Tiles
This tile looks like a hexagon that has been stretched out. Four of the sides are long and the 2 end pieces are short. It's a great way to get a fun shape that looks fascinating yet has soft corners and angles.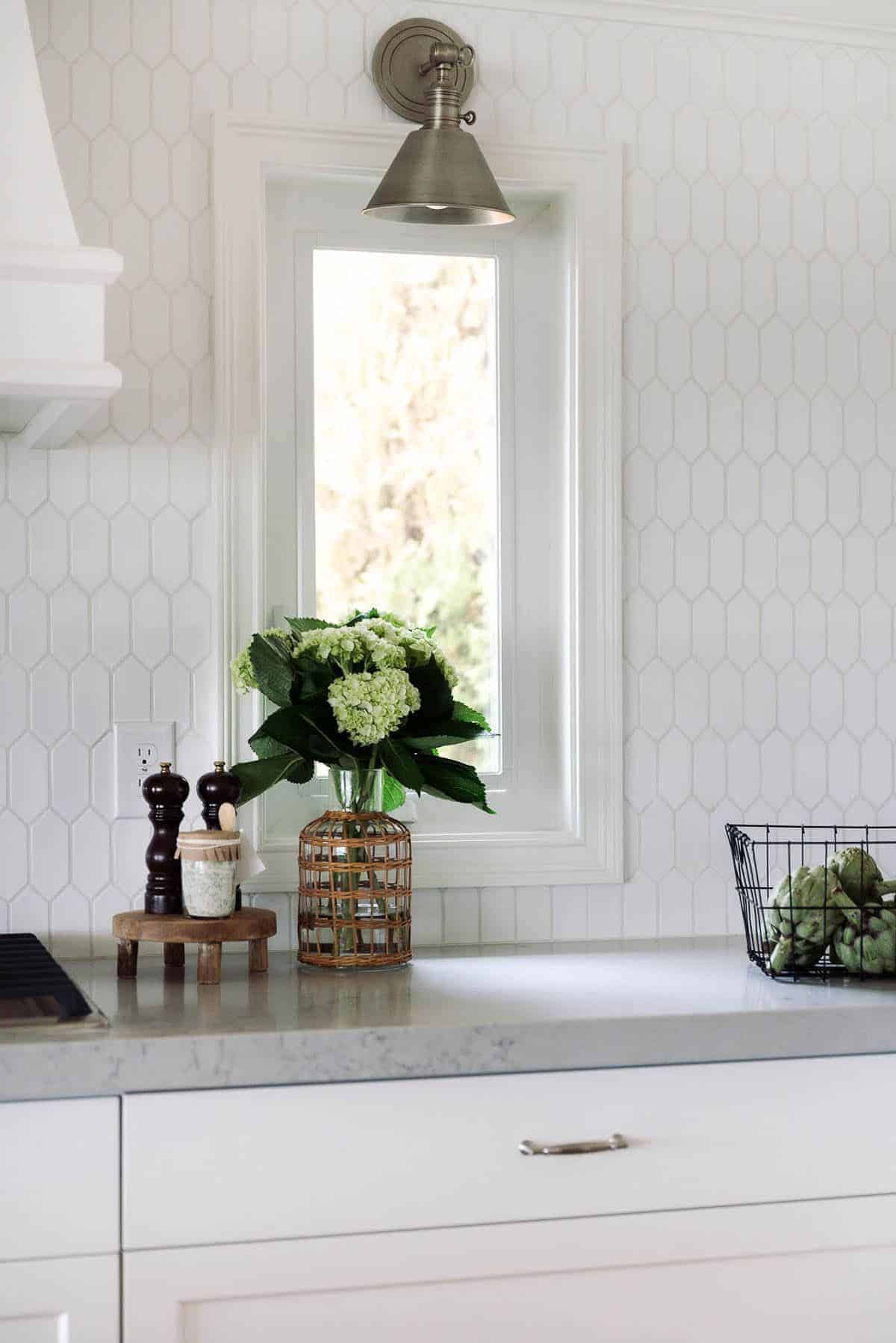 Image via Boxwood Avenue.
Picket Tiles
These tiles have 2 parallel sides that are long – similar to subway tile – with the ends coming to a point using shorter sides so they resemble the top of a picket fence. This shape is classic like subway tile and creates visual movement in the room, but adds the extra angles for a more unique look.
Where to Use Hexagon Tile
Shower
Any type or size of hexagon tile can be used in a shower to make it absolutely stunning. White hexagon tiles are a great choice for a bright and fresh look – and they're always a classic. But any color adds style – bright looks bold, while gray and beige are more calming. And the combination of black and white is always a fantastic contrast.
Tiles can be used on the floor and continue up the walls to create a seamless flow. Or, use different sizes on the wall and floor. Small tiles are reminiscent of vintage bathrooms and showers while promoting a clean and fresh feeling. Larger tiles are more pronounced and definitely trendy now.
Use solid colors in ceramic and porcelain for a modern and pristine look. Natural stone with texture and marbling sets a polished and formal tone.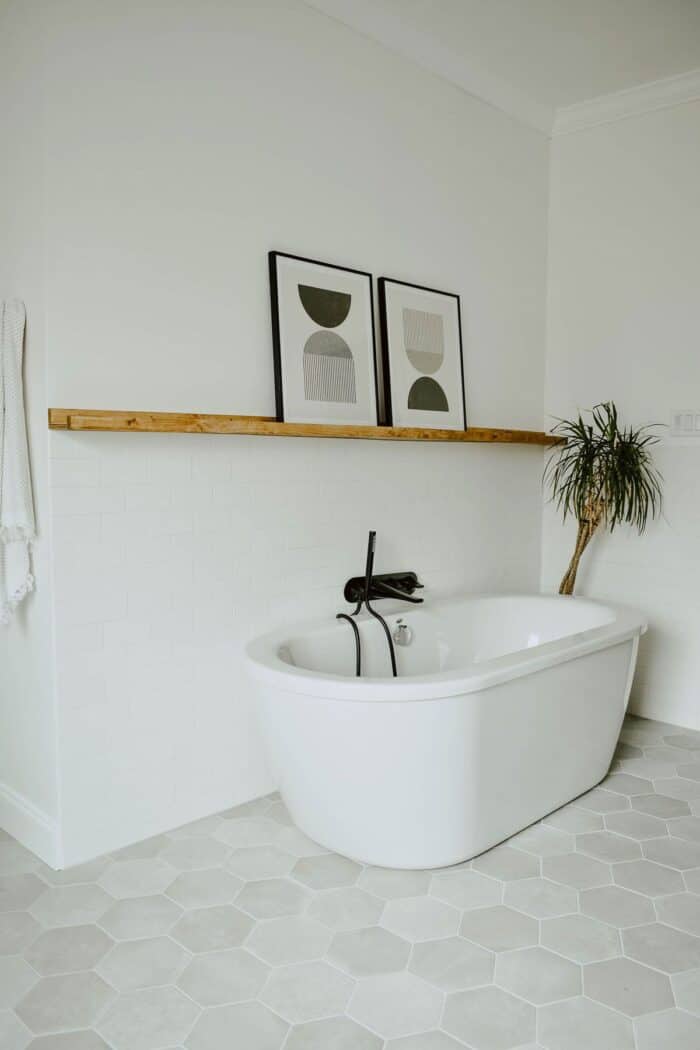 Hexagon floor tile via House on Longwood Lane.
Hexagon Floor Tile
Hexagon floor tile can be used in any area of the house for an update that stands out. They work anywhere square tiles are used. Install them on floors in the kitchen, bathroom, laundry, entry, mud room, and even larger rooms like bedrooms and living spaces.
Again, white is always timeless, but other neutral colors will withstand the test of time, too. Make a statement by choosing colorful tiles or interspersing bright tiles in a mostly neutral floor.
Large hexagon floor tiles work well in larger spaces to cover the floor without as much contrasting grout, creating fewer busy lines. The size is also more proportionate to the size of the room.
This tile definitely looks at home in a bathroom, recreating its roots from the early 1900s. Any size of hexagon floor tile will work in a bathroom. Small tiles can be used to create borders and mosaic patterns with different colors.
Note that the picket style is not the best alternative for floors. Its width is too narrow compared to its length, and it is prone to cracking in the center when placed under pressure.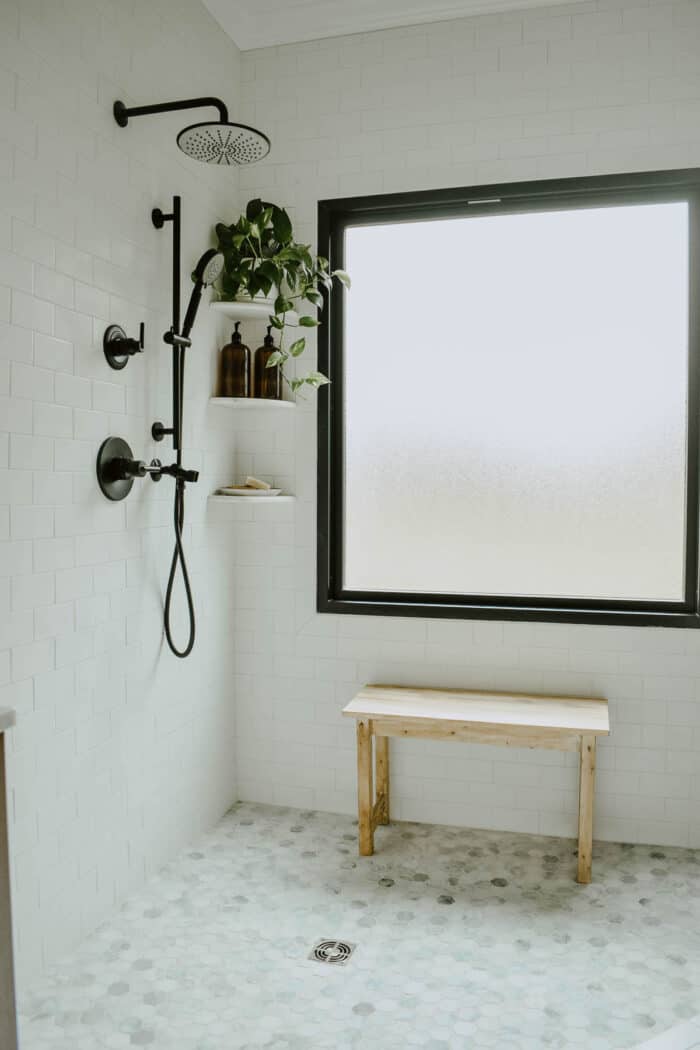 Hexagon floor tile via House on Longwood Lane.
Backsplash
Backsplashes are a great place to introduce hexagon tiles. Small tiles work in small places to make a big impact. Definitely use white hexagon tiles for a clean, subtle look, which is always my personal favorite.
However, if you're looking to create a feature backsplash, colored tiles are in order.
You can also use tile in other places similar to backsplashes. Tile livens up the back of a kitchen island, prevent scuff marks from little feet on bar stools.
Far beyond a basic backsplash installation, this tile also makes a statement around a fireplace. Show your personality through the tile you choose to use in your home.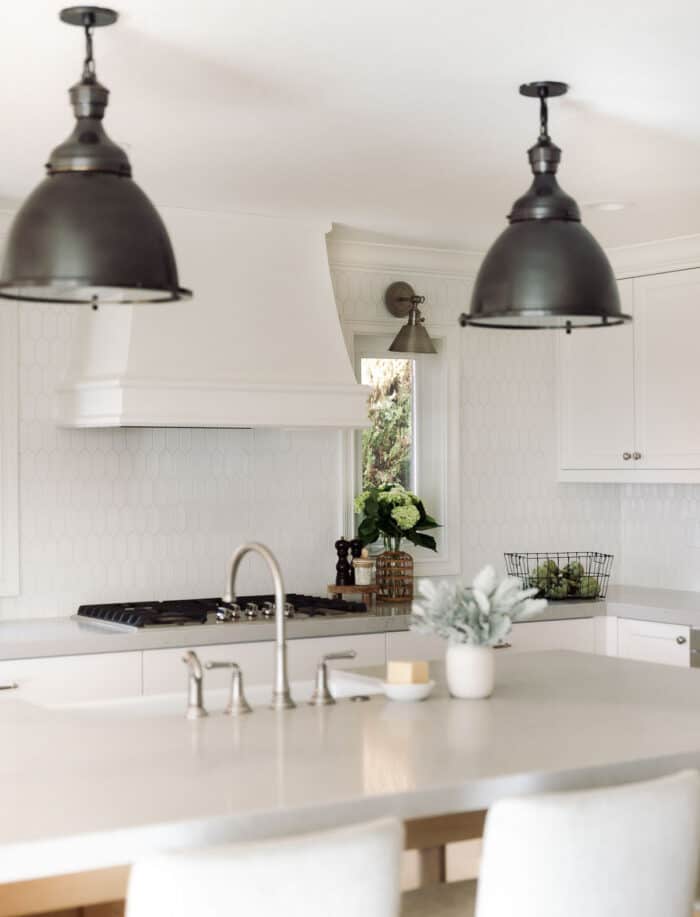 Hexagon Tile Kitchen via Boxwood Avenue.
Grout for Tile
Give plenty of thought to grout after choosing the tile. How much you want an individual tile to stand out depends on the grout color. Choose the same or similar color of grout as your tile for an even tone.
Or, choose a contrasting color to make the shape stand out. It really is up to you and the look you're going for. Learn more about Choosing Grout Colors here.
Is hexagon tile trendy?
Hexagon tile is definitely trending right now, but retailers are just now getting a large selection and variety of tiles in stock. This means that hexagon tile will remain stylish and popular for years. And because hexagons are a natural shape, they'll always be in style.
Where should I start hexagon tile?
Lay tile so that the cuts that are most visible still look nice. You'll want to lay them out or use a computer program to see which direction you want them laid. Do you want them up against the wall with their straight side or with one of their angles? If you start at one side with a whole tile, what will the other side look like – will you end up having a cut that is really small? In short, it depends a lot on the size of your room and the cuts you'll need to make.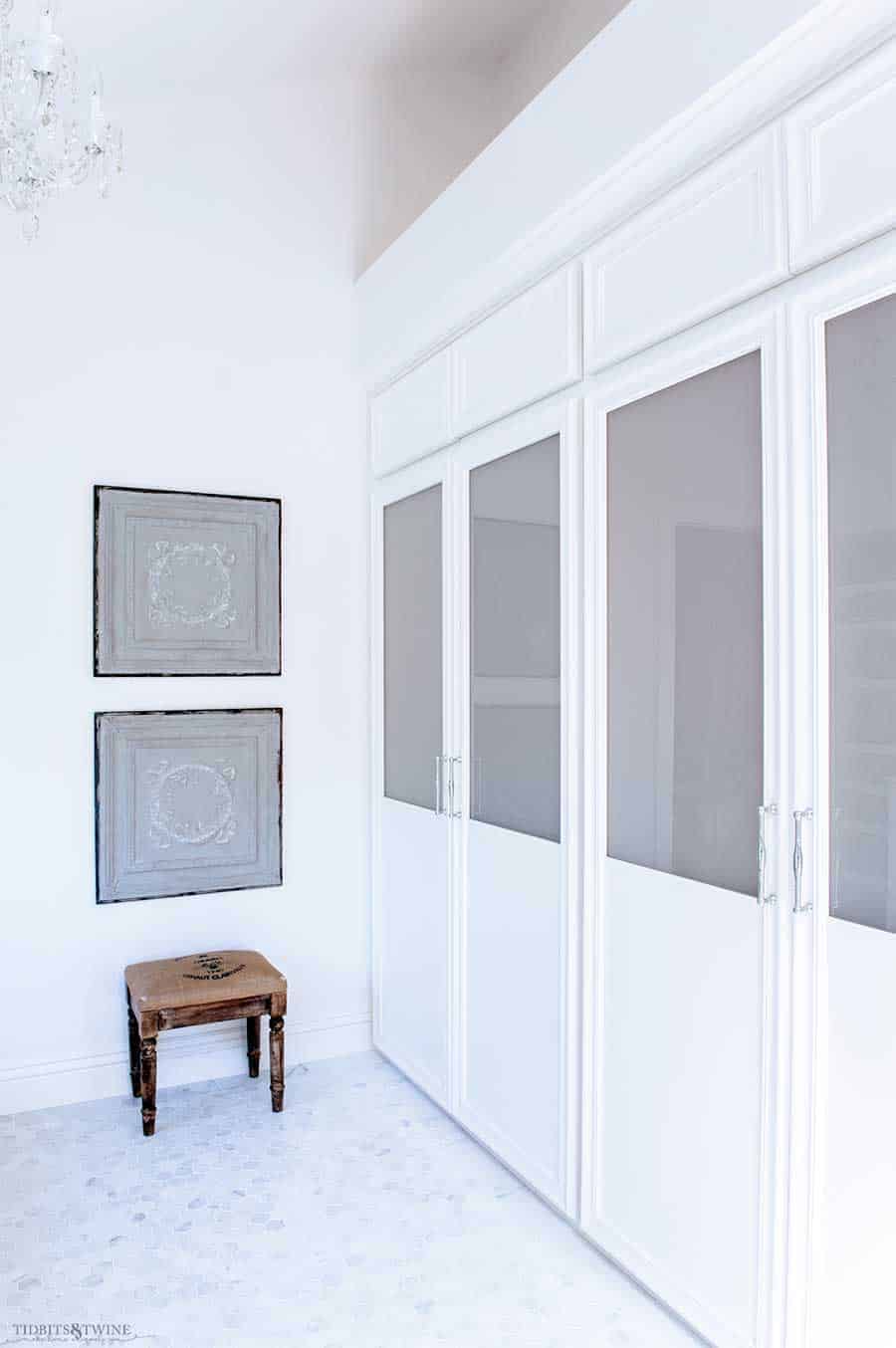 Image via Tidbits and Twine.
Let's stay in touch! Join our newsletter for access to exclusive content, never-before-seen photos, your questions answered, and our favorite projects. You'll receive the best design secrets delivered directly to your inbox! Sign up here!