Have a small kitchen? You don't need a huge space to make an amazing impact. These small kitchen storage ideas are easy, affordable + FAST!
These tips, tricks and affordable organization sources are just what you need to get your kitchen clutter under control, once and for all.
You'll find photos and ideas that will inspire you and take your small kitchen to a whole new level. Let's get organized together!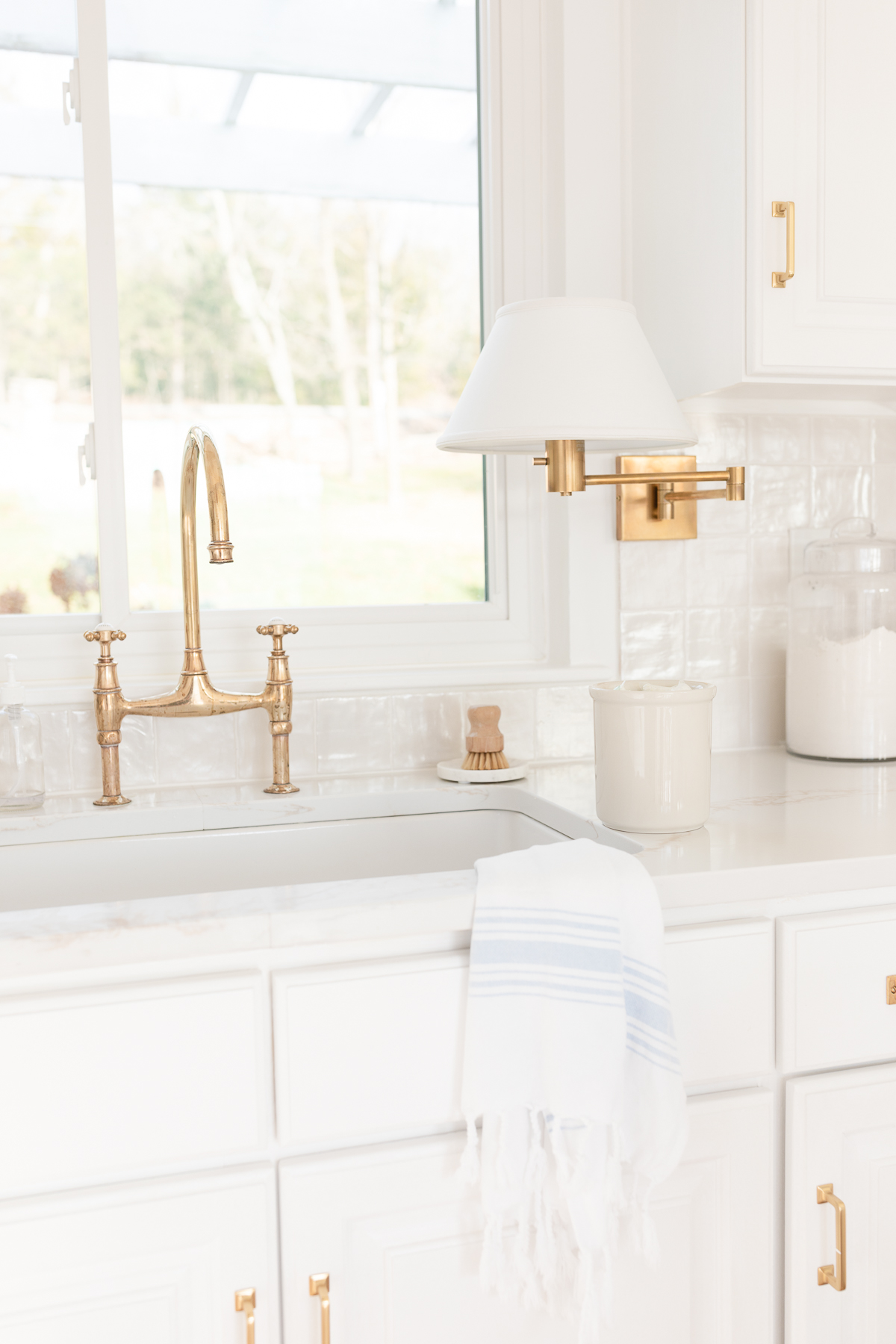 We've all been there. You're living your best life… thinking your spaces are fairly organized. It happens suddenly, when you realize too much is piling up and the clutter becomes overwhelming.
That's what happened in our lake cottage kitchen recently. Luckily, when we had the cabinets painted, new quartz countertops installed and added a new backsplash, it forced us to remove items and start fresh. We got down to business and added a few simple systems to keep us on track.
I'm so glad we made it happen, and I wanted to share a few of my favorite small kitchen storage ideas with you so you can make it happen, too! Throughout this post, you'll see the lake cottage kitchen and our Kansas kitchen, as well – two small kitchen where we created clever storage spaces.
We've got 20 incredible small kitchen storage ideas you're going to love. This post features a drop down table of contents menu so you can head to any category with ease- let's get started!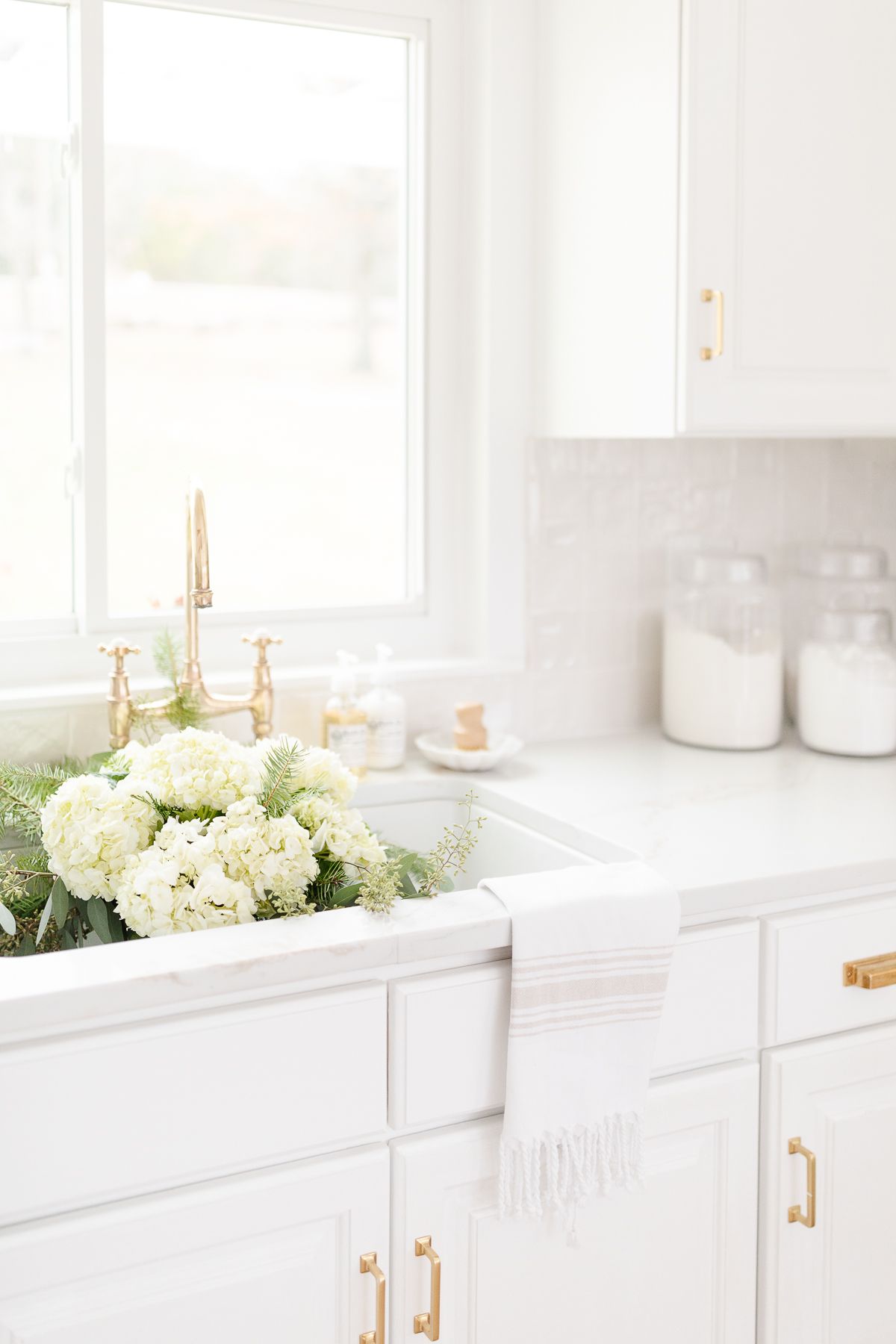 Declutter
Evaluate what you have and eliminate excess. Remove duplicates, expired goods and things you no longer use so they are not consuming precious space. Decluttering is always your first step when it comes to organizing any space in your home.
It's so important! In fact, you can check out all my tips in this How to Declutter post, along with my handy decluttering checklist to help you get started.
Add Storage to Your Cabinet Doors
The inside of your cabinet doors is an often under-utilized area for storage, and one I'm a big advocate for.
In our Kansas colonial home, we updated our small white kitchen with paint and marble countertops. However, the items that made the biggest difference were things like organizing a baking cabinet and adding removable hooks!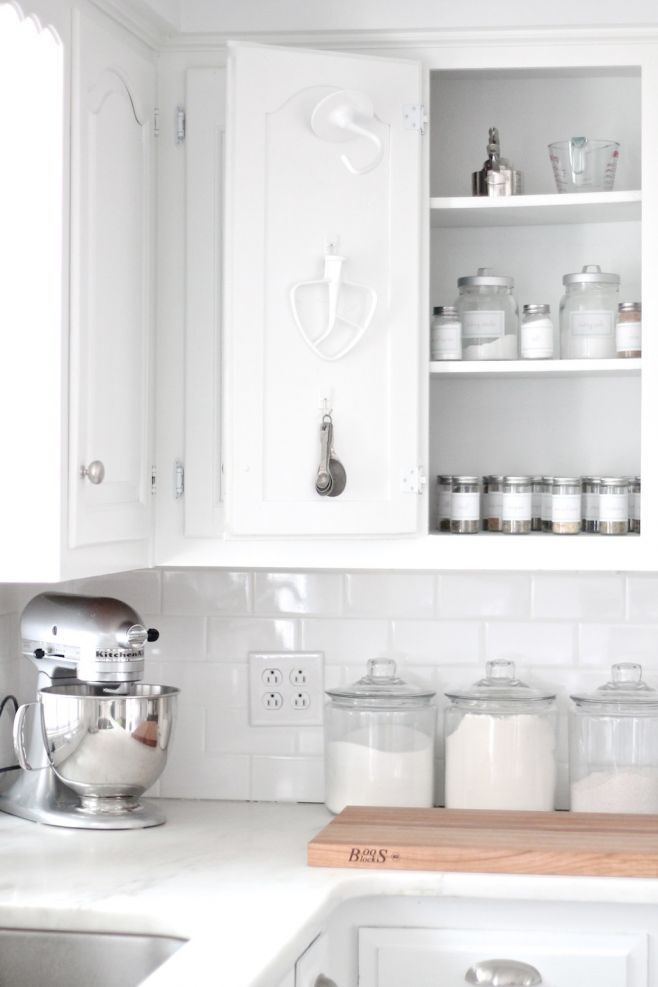 Those hooks can hold things like measuring spoons, spatulas, pot holders and mixer attachments.
I have written extensively about the joys of drawer organizers! Click the link above and you'll see an entire post dedicated to them – where we use them, the styles we love and why!
Drawer organizers can make an incredible impact in a small kitchen and help remove clutter from your countertops and cabinets! You can find drawer organizers that are knife blocks, traditional plastic or bamboo drawer inserts for flatware and more, dividers, and even spice rack inserts.
Maximize Cabinet Space
One of the easiest ways to ensure that you're not wasting space is the addition of a lazy susan inside your cabinets.
These allow you to spin items like spices, oils and vinegars, and so much more. It prevents items from getting shoved into corners and lost forever!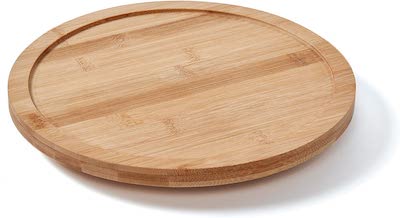 Lazy Susan
Never fear the back of your cabinet again!
Use Hanging Storage
No room for those pots and pans? Why not hang them up?
We are lucky enough to have pull out drawers for pots and pans in one kitchen, but not so lucky at the lake! I love the look of this shelf and hook combo – so efficient.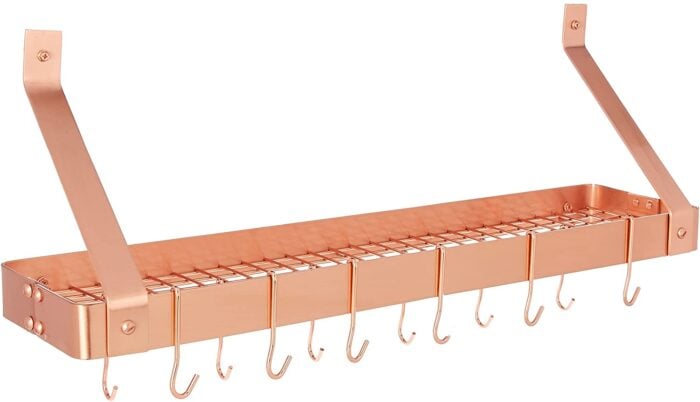 Shelf and Hook Pot Rack
It's a two in one storage system!
Create a Pantry with Cabinets
Neither our St. Louis classic kitchen or our lake kitchen have a walk-in pantry. While that sounds dreamy to me, it's just not realistic for everyone's space.
So, we have created pantry storage inside our cabinets, and it works beautifully for us.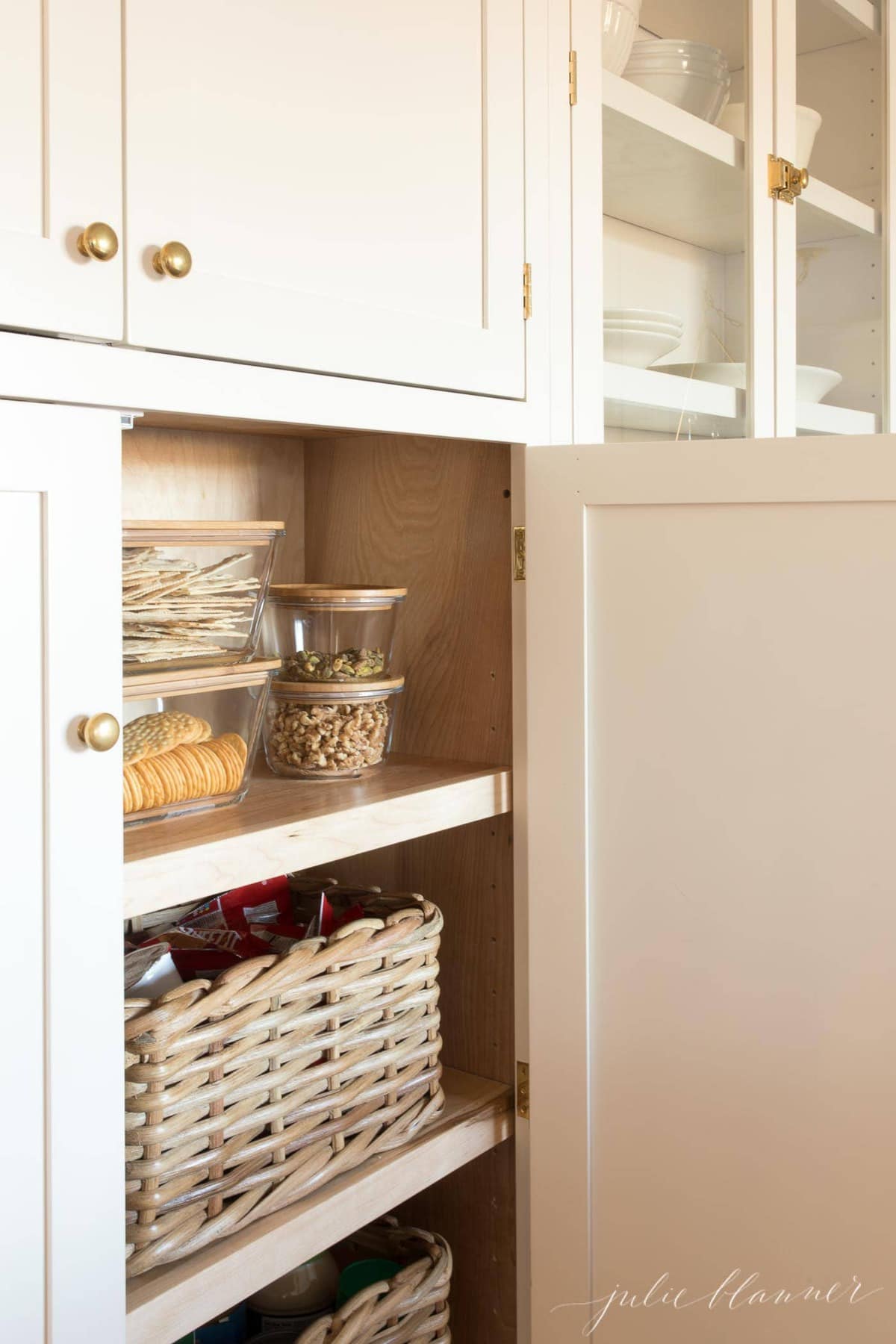 Appliance Garage
Our old kitchen came with a wall convection oven… but we did not need a convection oven. Replacing it would have been too expensive and I am much more likely to use the microwave to soften butter in a pinch.
It was hardly worth the coveted countertop space. Same with the toaster. The solution? Create an appliance cabinet to hide appliances without compromising countertops. Read more about the appliance garage here.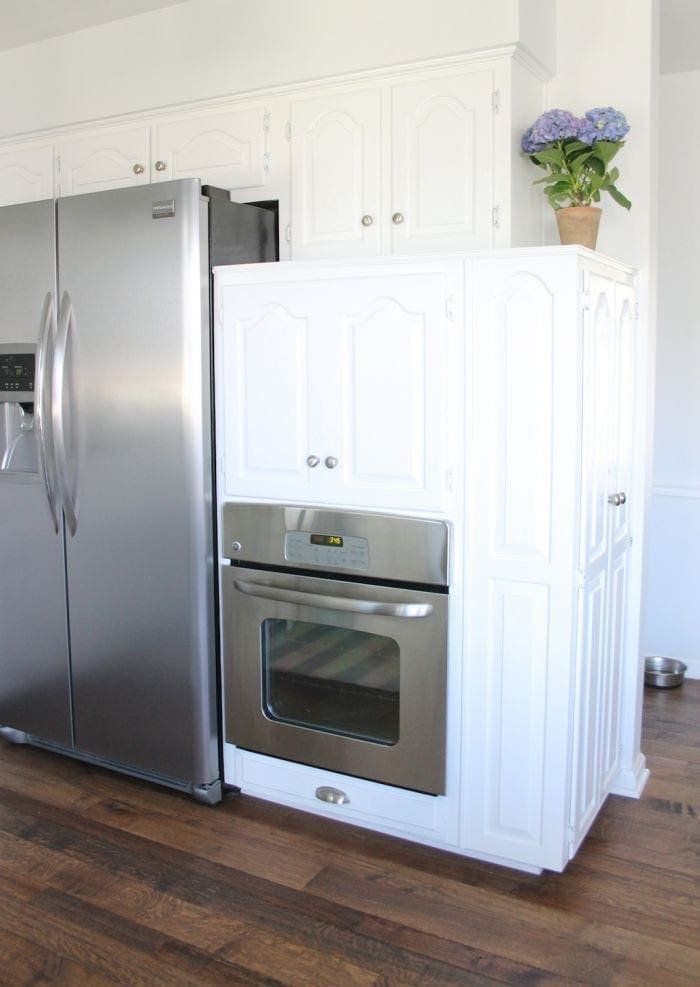 Utilize Every Space
That means you can organize with baskets over your cabinets, under your sink and even in the corners of your kitchen. Use the space over your range for knife storage or pots and pans. Fill the skinniest cabinets with baking sheets and cutting boards – just use that space to the best of its ability!
Ensure that you're using every space efficiently so nothing goes to waste.
Use Risers
Risers work beautifully for a variety of storage needs inside your cabinets. It helps you to see what you have and creates less waste because you won't double up on items at the grocery store.
Use risers for items like spices, baking items like sprinkles and of course, canned goods.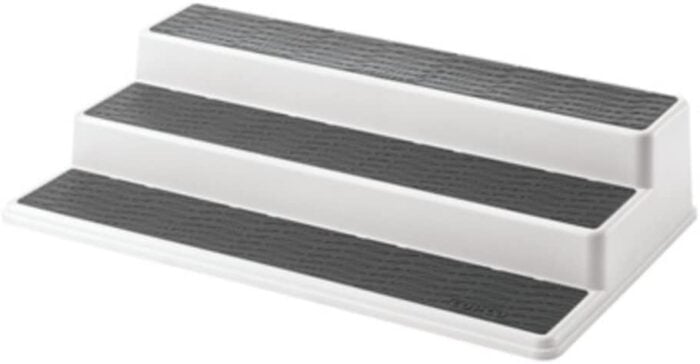 Riser for Cans and More
Make the best use of that space!
Make the Most of Your Countertop
Assess what you utilized the most often and display it! (Canisters, knife block, tray for dishwashing essentials, canister for tools, cutting boards)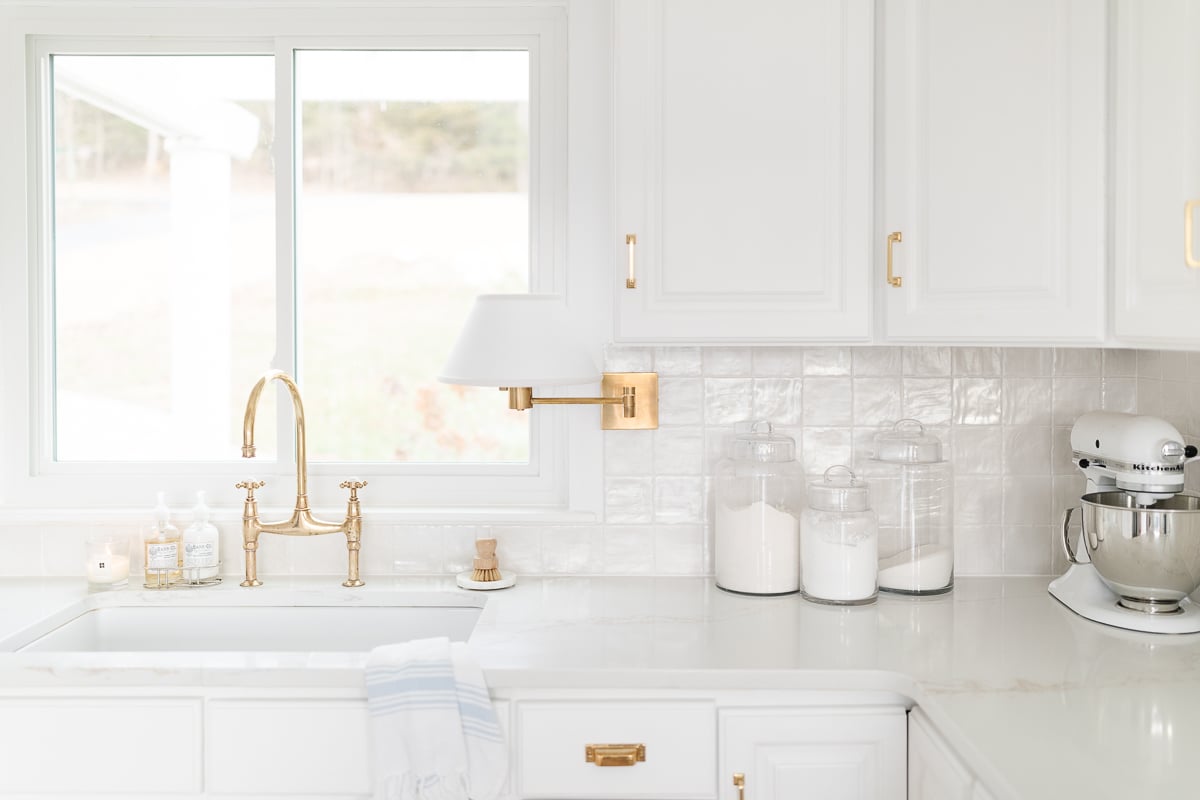 Baskets
I have long sung the praises of basket storage in our homes! We use them everywhere because they are such functional, beautiful and textural items.
If your kitchen cabinets don't go to ceiling, add baskets above for extra storage. Use them to wrangle food in your cabinets, or under your sink for cleaning supplies.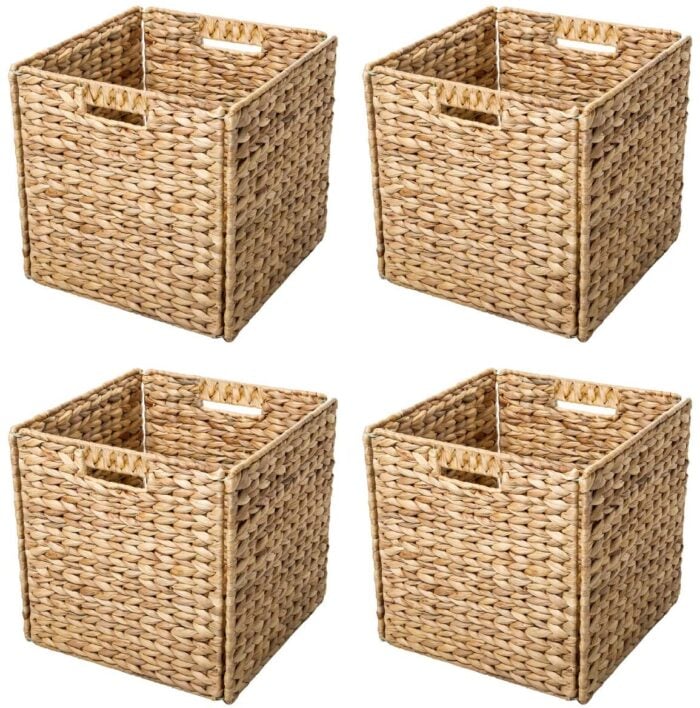 Set of Four Hyacinth Baskets
These even fold down for more efficiency when not in use!
Shelf Storage
Open shelves have been on trend for quite a while, and they are very practical for items you use frequently. Fit shelving into the smallest areas and use them to display dishes, serve ware, glassware.
This space can be difficult to organize, so choose flexible items like baskets or pull out drawers to utilize every inch of space!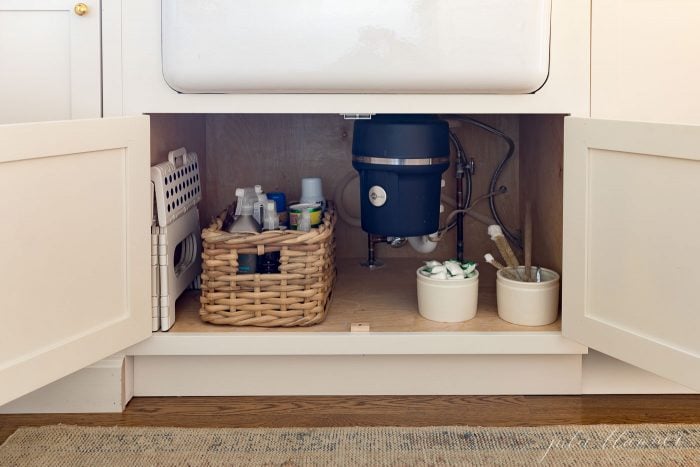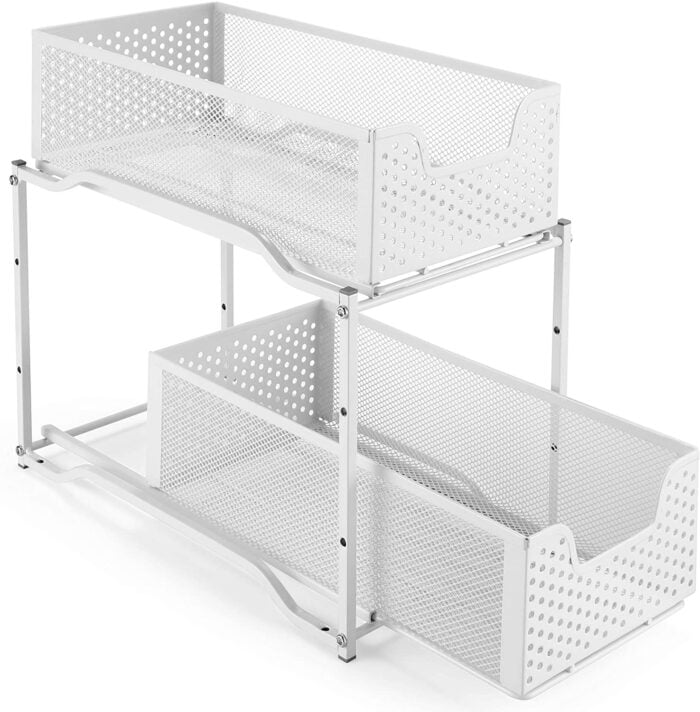 Stackable Under Sink Organizer
Double your storage using a drawer riser system under the sink.
Turn One Shelf Into Two
Just like the space under your sink, your cabinet shelving can be better utilized, too! Make space for items like plates, bowls, and even canned food with shelf risers.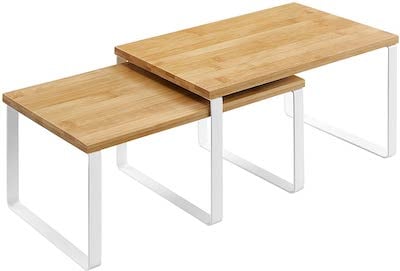 Shelf Riser
Double your storage using shelf risers that fit seamlessly into your cabinets.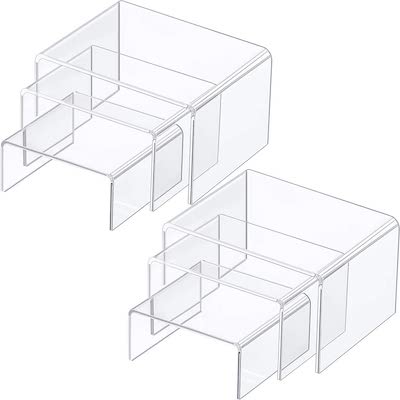 Plastic Shelf Riser
Clear and clean. You can see everything in your cabinets while doubling storage space.
Use Stackable Canisters
If your kitchen is like our lake kitchen, we don't have a real pantry. We use a cabinet for food storage and we need it to be efficient, tidy and stackable!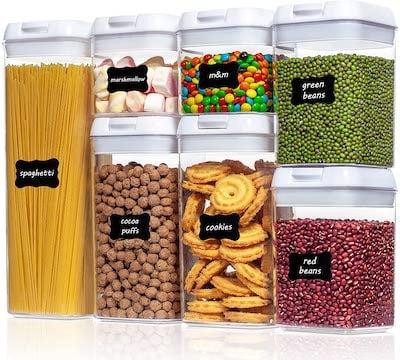 Stackable Containers
Clear storage allows you to see everything you have while stacking effortless to maximize space.
Turn Drawer into Double Drawer
Much like a traditional drawer organizer, but double! Ensure that you'll never overpack your drawers again with an incredible efficient double drawer insert for beautiful storage.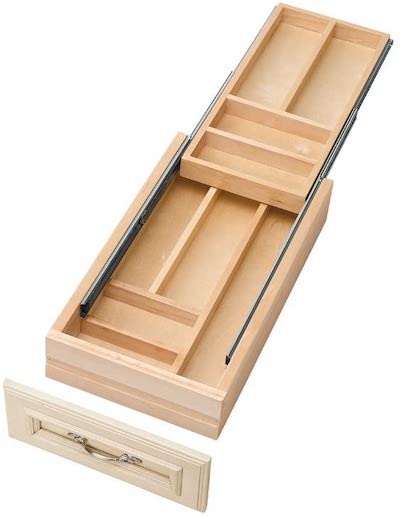 Double Drawer Insert
Stacked storage is incredibly functional without consuming additional space.
When you think about it, your refrigerator might be the biggest storage item in your entire kitchen! Learn how to organize it beautifully, and keep it that way, in the link above.
Hide Your Trash
Another particularly happy space saving kitchen feature in any home is a trash chute!
Does your kitchen share a wall with the garage? If so, it's a candidate for this life saver. In three years, we never had to take out the kitchen trash in our Kansas home. Jealous? Well, you can laugh at us now.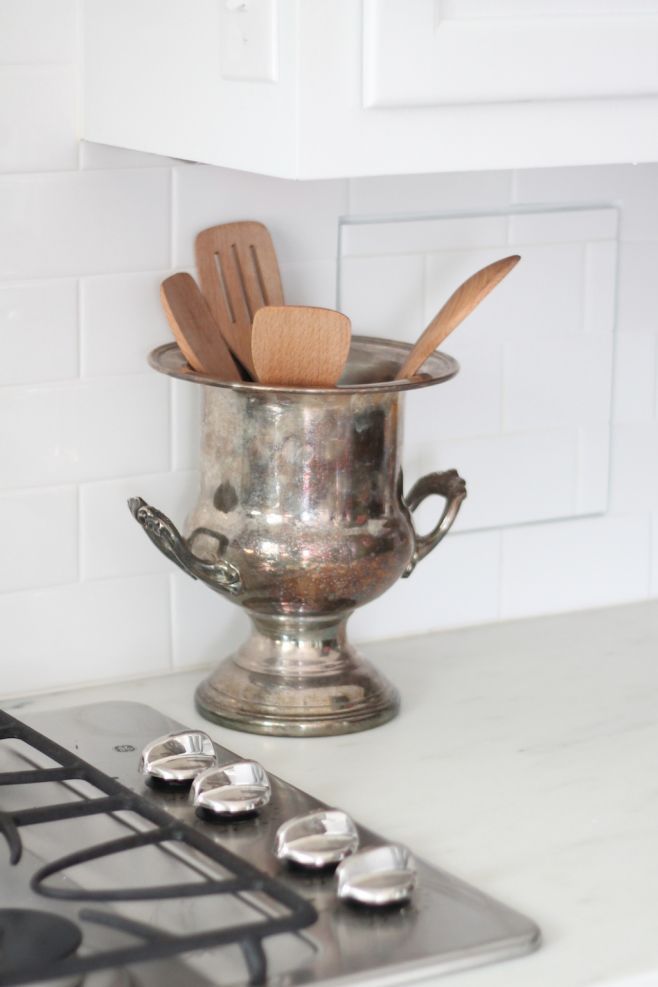 Add a Rolling Island
Need a workspace but don't have enough space for an island? Consider a cute, efficient rolling island. This can act as a side board or an island, depending on your needs.
Whether you're chopping veggies or serving drinks, a rolling island in your small kitchen can make an awesome impact!
Frequently Asked Questions
How do I get more storage in a small kitchen?
Use stackable storage items to ensure that you're utilizing every inch of space available! Drawer organizers, lazy susans and shelf risers can all help with this.
How can I organize my small kitchen without cabinets?
If possible, add floating shelves and even a rolling island for additional storage.
How can I organize my small kitchen without a pantry?
Create a pantry in a cabinet! Even if you just use one side of a small kitchen cabinet, you can create all the storage you need with stackable storage materials and shelf risers.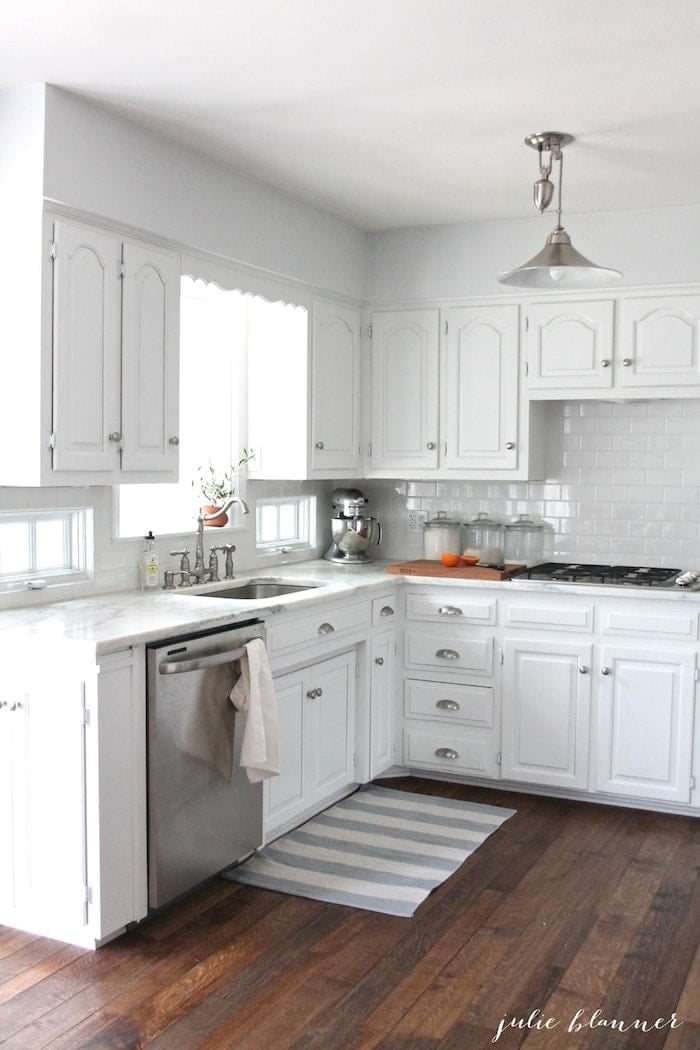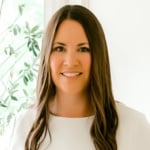 Tips
Living with less is the ultimate way to stay organized – learn how to become a minimalist in a few easy steps.
The best way to stay organized is to leave empty space for new items as they come in. If you have a system, you're less likely to overwhelm that system!
All the organizational items in the world won't help a space that holds too much. Declutter first, and then organize.
What are your favorite ideas for adding space to a small kitchen?
Let's keep in touch! Receive exclusive content, including never-seen-before photos, our favorite home decor DIYs and more!
Design Guides, Decor & Tips