5 Designer Secrets to Decorate the Perfect Room
There are no design rules. In fact, anything goes! But if you find decorating to be a bit overwhelming these decorating secrets will help you design a beautiful space without effort!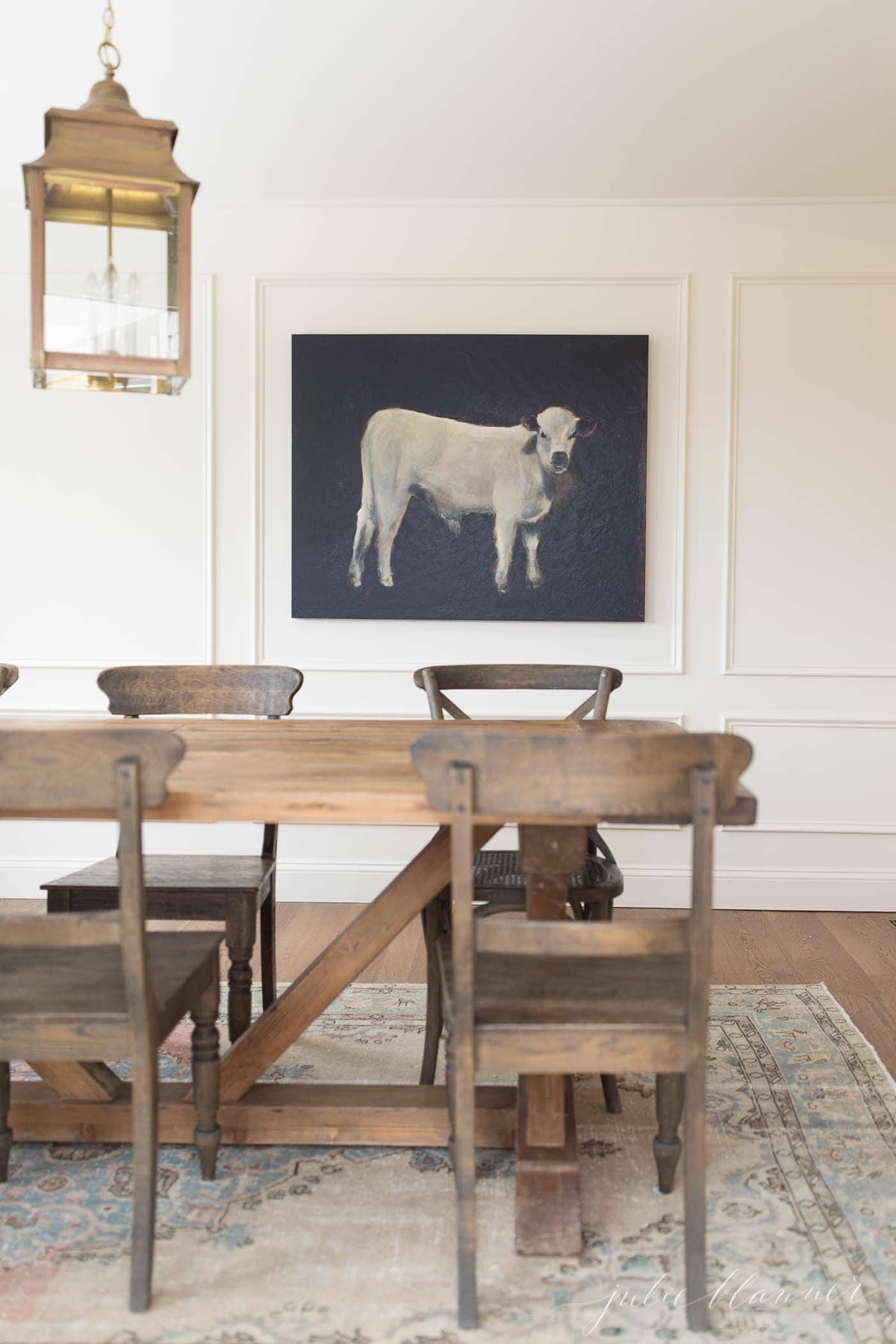 Without even realizing it, you've seen these decorating secrets used in every magazine and catalog. I'm breaking them down for you today!
I love chatting home design details with you! Don't skip these popular posts about choosing a sofa: Pottery Barn Sofa, Ikea Ektorp, and Sectional Sofas.
Scale
Scale can be a bit challenging, but in general, if you have a small room, you'll want to select a small sofa, smaller artwork, etc. For a large living room you may want to have a large sofa made.
You really see this come to play in our small living room!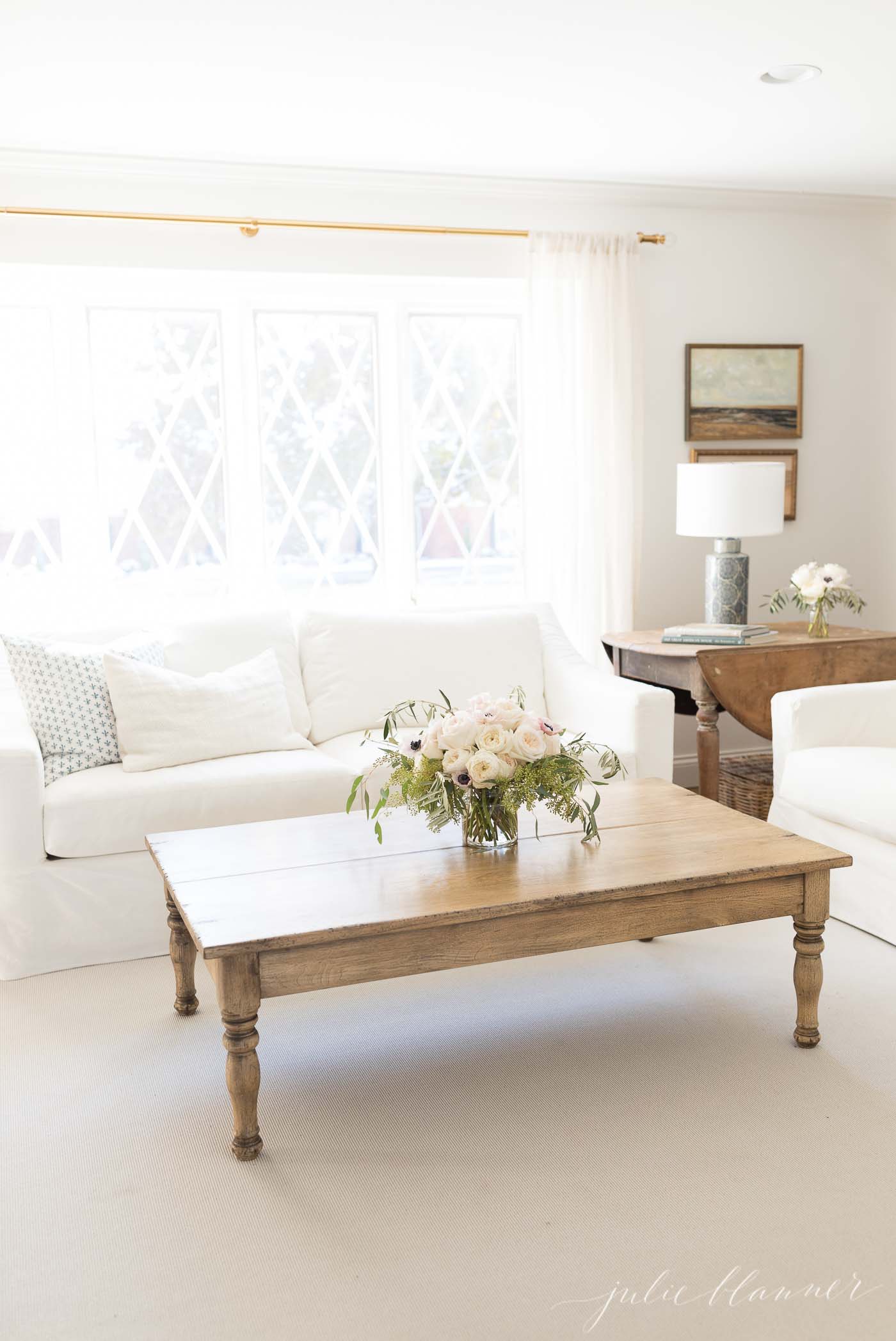 Start with the basics (in the living room it's the sofa) and allow that to be your guide. Find your little black dress – something that you can dress up, dress down and that will grow with you as your style evolves.
In our family room it is a 9′ sofa Belgian Linen sofa. It is a soft, neutral color, classic design and it translates to traditional, cottage and modern.
I accessorize it with throws and pillows to transition it with the seasons – or my mood!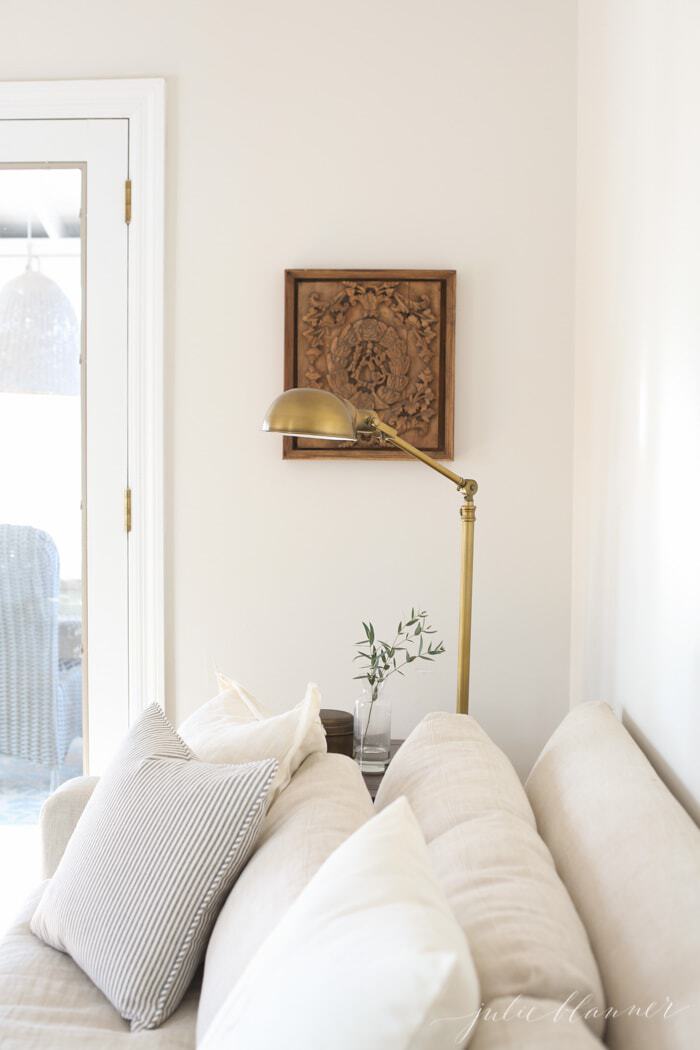 When selecting a rug, the bigger the better. A small rug will make a room feel smaller. Floating a seating arrangement on a rug draws your eye in, immediately shrinking the room.
A general rule of thumb for choosing a rug size is to maintain a 12-24″ perimeter of exposed wood.
You can see a lot of these design secrets in play in our living room decor!
Consistent Color Palette
You all know I love a good cream color paint. It's easy to transition, but no matter what paint palette you choose, choose a color palette for your room to keep it consistent.
A good color story typically includes three colors through furniture, pillows, rugs, art and accessories. Limit your purchases to those colors and play with pattern and texture.
Of course you can use more (I never go beyond five), but you'll find the best results for amateur decorators (like myself) by limiting to three. Our spa bath is a great example of this!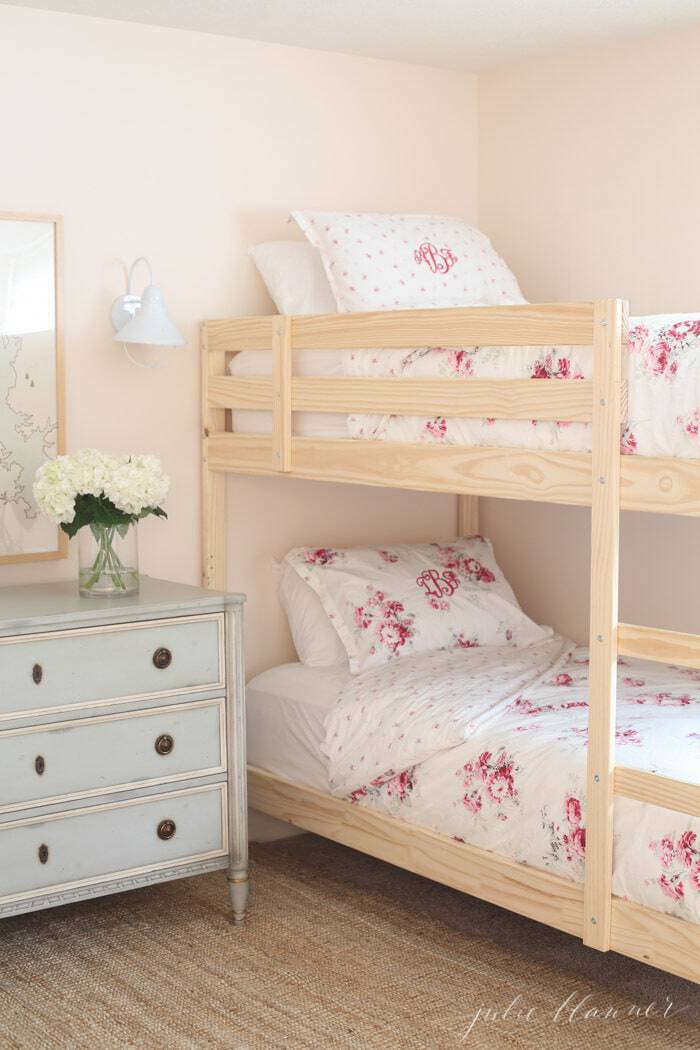 I chose this space to share because I integrated painted furniture and color on the walls which is rare for me. You'll note that the room is pink with a grey/blue chest, various shades of pink in the bedding and a hint of dusty green.
While they're not typically colors you see together, it works because the palette is limited to three.
Blend Old and New
For anything to come into our home, I have to love it. It can't just "work", "make do" or be a "great deal". Honestly, if it isn't something you love & are excited about, it's never a great deal. You'll always try to make it work or replace it later.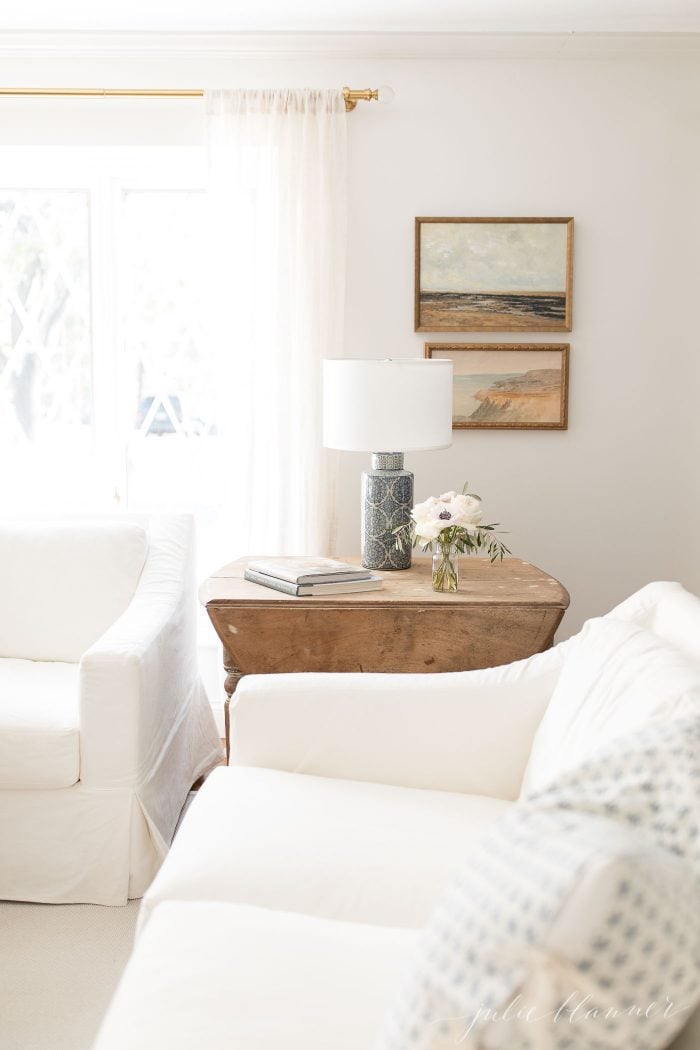 Old or new, if it's something you love, it will never go out of style. Incorporate family heirlooms, vintage or antique pieces you're drawn to. It will instantly make your home feel warm, adding character and personality.
It takes a room from generic to interesting.
You don't have to maintain a specific style period, but it is best to maintain a consistent color palette. It doesn't have to match – in fact, it's more interesting when it doesn't!
Break away from a "set" of furniture and start collecting pieces you love, old and new. This can be a little scary at first, but you'll be surprised of the depth it adds to your home.
Lighting
There are three basic types of lighting:
ambient lighting – overhead lighting including ceiling mounted or recessed light (includes can lights)
task lighting – targeted for a specific area (ie: over an island or a desk, under cabinets, a lamp on an end table)
accent lighting – draws attention to an area (ie: over artwork)
Incorporating at least two out of three will add interest to the space. Of course, choosing the right light bulbs is equally important.
I prefer a warm white bulb. Check out my post on lighting design to see how light can create a warm and intimate space.
Add Something Organic
Adding anything organic brings a room to life. It is the easiest and least expensive thing to do to make a room stand out. Think about how you feel when you see fresh flowers!
Bowl of Fruit
Flower Arrangement – you'll find an array of easy and inexpensive flower arrangements here on my site complete with video!
Plant – select a low maintenance plant like succulents, ferns, etc
Branches – bring in branches from outdoors – anything goes! In spring cherry blossom branches, in summer I love bringing lanterns in and in fall, a few berry branches or from whatever tree is changing colors.
To put all of these elements together, use my trick of how to design a room when you're not a designer. You can also find my favorite Free Art Sources here!
Thinking of starting your own blog? Take my Blogger Course and learn How to Become a Blogger!
More Design Tips