Join me for all the best tips and tricks for hosting a charming Woodland Baby Shower. Learn how to incorporate effortless Woodland Theme Baby Shower decor, recipes and the sweetest woodland baby shower invitations that will simplify your hostess workload!
Last weekend I went back to my event designer roots and hosted a woodland theme baby shower for my sweet niece and her baby boy on the way.
A woodland theme baby shower can even be gender neutral. From the woodland baby shower invitations to sweet eats it was so much fun to plan! I'm sharing all of my woodland baby shower decorations, diy woodland cake and effortless ideas with you today!
Woodland Baby Shower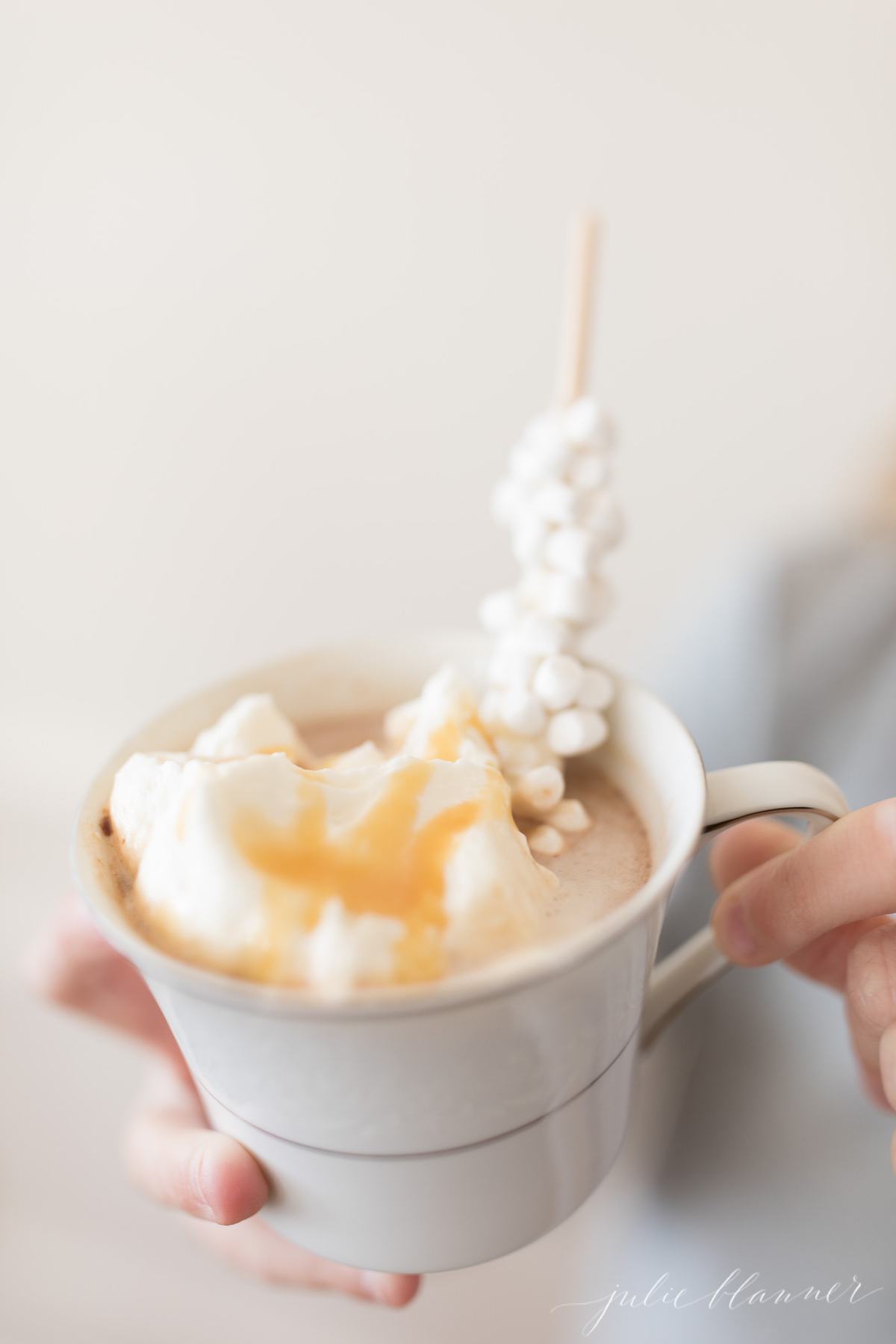 Is there any more joyful occasional than showering our loved ones for a much-wanted baby on the way? When I learned that our niece was planning a woodland theme for her nursery, I was thrilled! I knew this would be such a charming idea for hosting her baby shower.
Because I have hosted many of these events over the years, I knew that keeping a realistic, simple game plan for my hostessing duties was key. I chose to decorate affordably with many items that we already have in our home, as well as incorporating recipes and serving ideas that could be made ahead. It was a fun theme to work with because there are so many ideas to include- I just had to be careful to choose ideas that I could actually implement without stress. I promise, you can do the same! Read on for all the woodland theme baby shower ideas that will impress your guests and wow your loved ones!
Woodland Baby Shower Invitations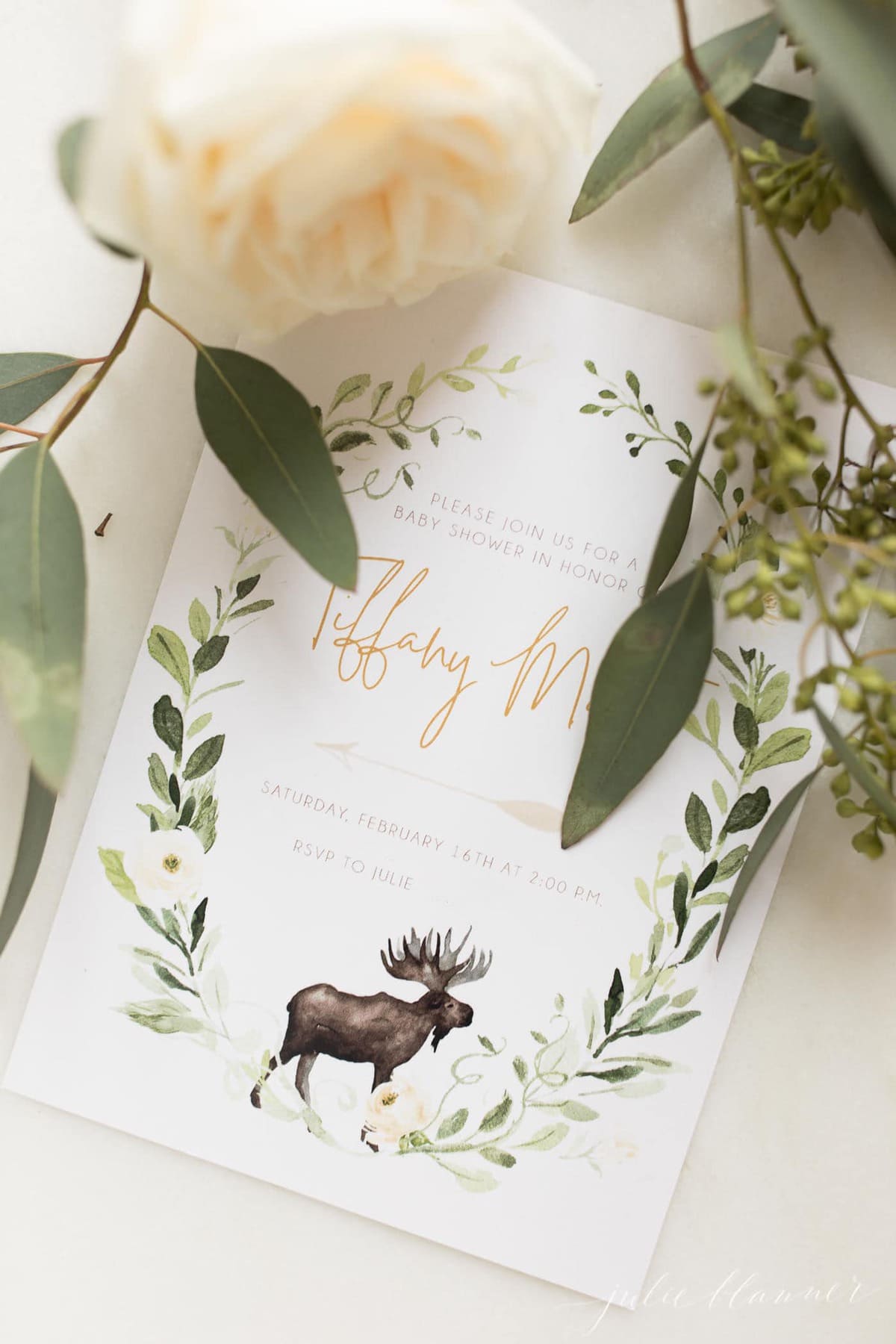 A designer on Etsy offers the most beautiful print at home woodland baby shower invitations with roses and greenery. Since my niece is integrating a charming moose theme in the nursery, I had the designer update the invitation from a deer to a moose. They are so sweet and set a soft tone for the woodland theme baby shower. You can find them here.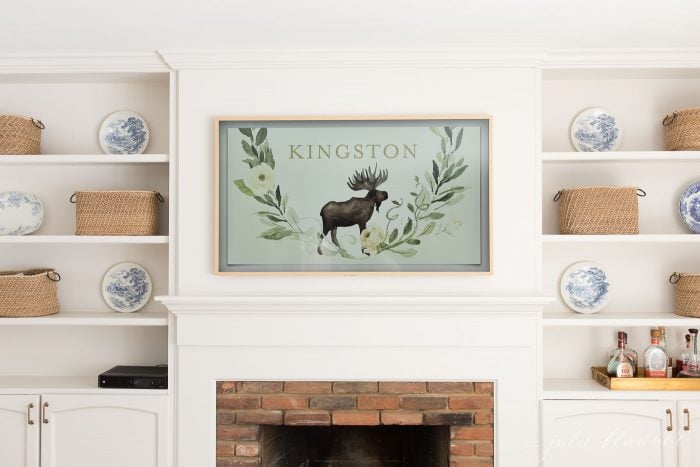 I uploaded the woodland baby shower invitations to my tv to make it the centerpiece of the living room. They also made darling food place cards.
Woodland Theme Baby Shower Game Ideas
Ready for a little confession? I don't actually love many shower games. I know, I know… it's tradition and it's meant to be fun. Some people love them, but I tend to avoid. I find that it's more fun to keep things simple and just let guests do their own thing! Mingling, snacking, catching up and watching the mom-to-be open all the cute presents is plenty of fun!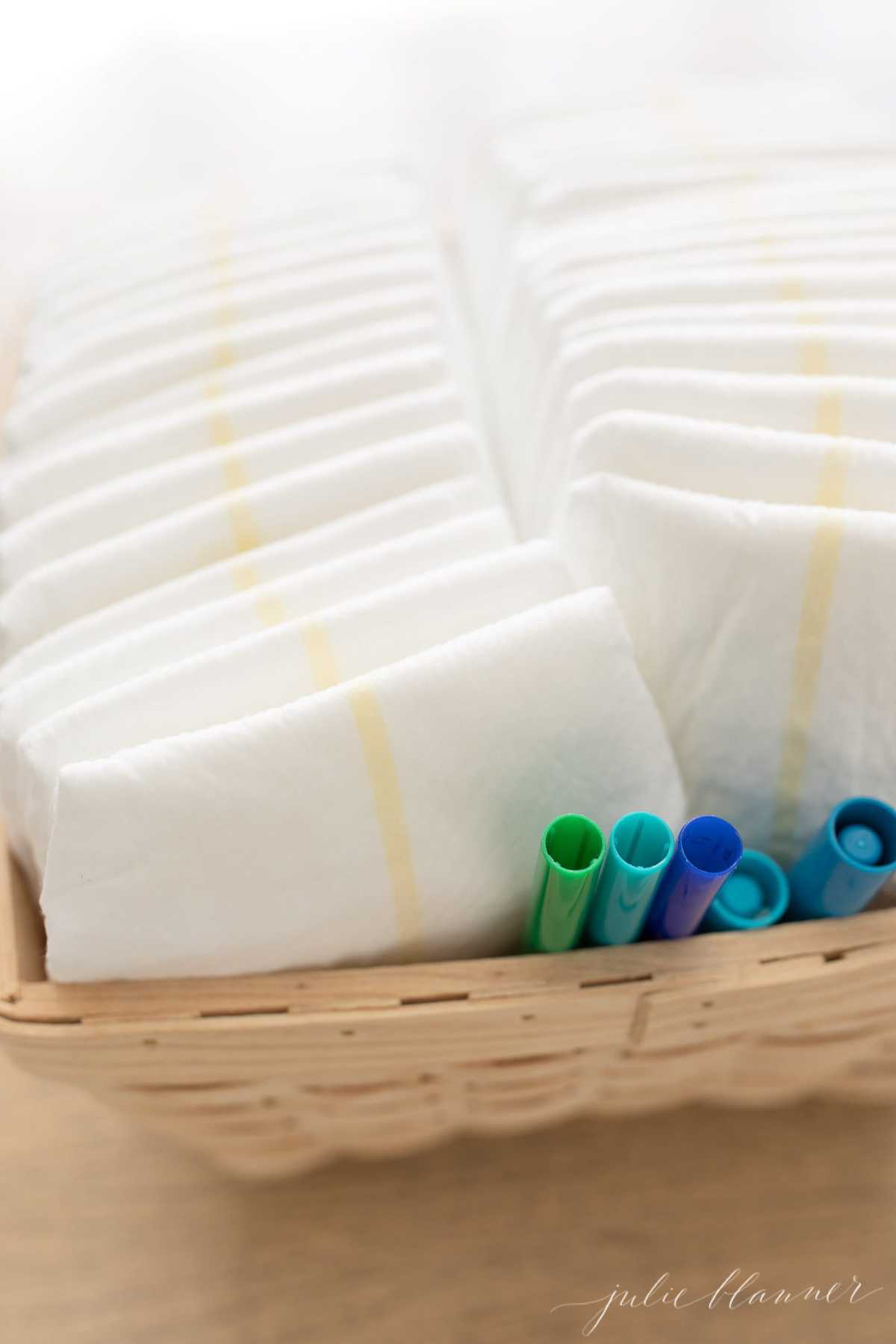 With that in mind, we only incorporated one fun group project. The "message on a diaper" was a big hit and it is so funny to see the messages that people come up with.
Woodland Cake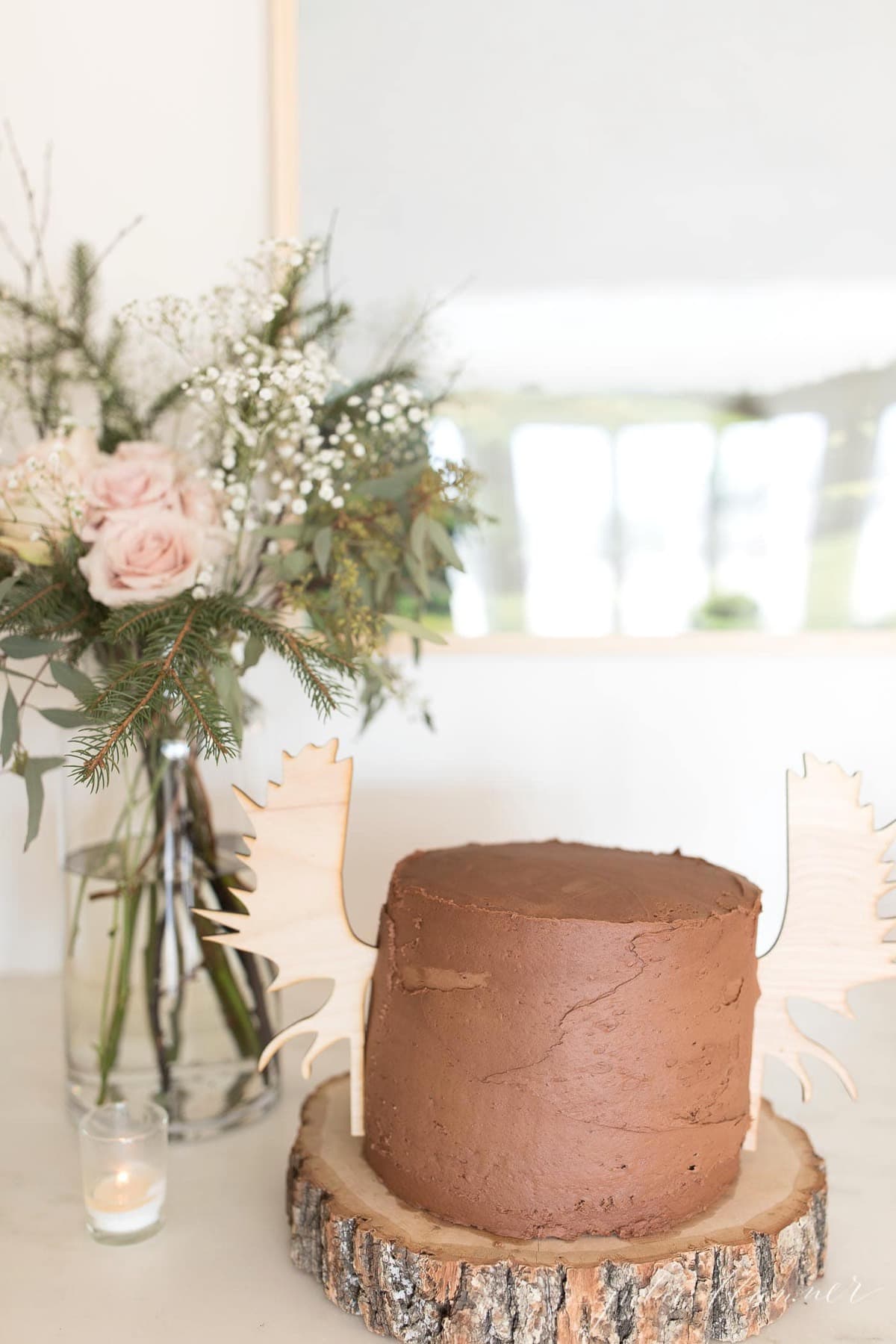 For her shower, I simply stacked 2 grocery store cakes and added wood antlers made on Etsy. Both deer and moose (shown) play well with the woodland cake theme. This could not be easier! I also love the idea of "naked" cakes (where the frosting is spread thin to give the appearance of rustic birch bark) for a woodland cake. However, this was a much less expensive option (since it came from our neighborhood grocer) that turned out just as cute!
Woodland Baby Shower Decorations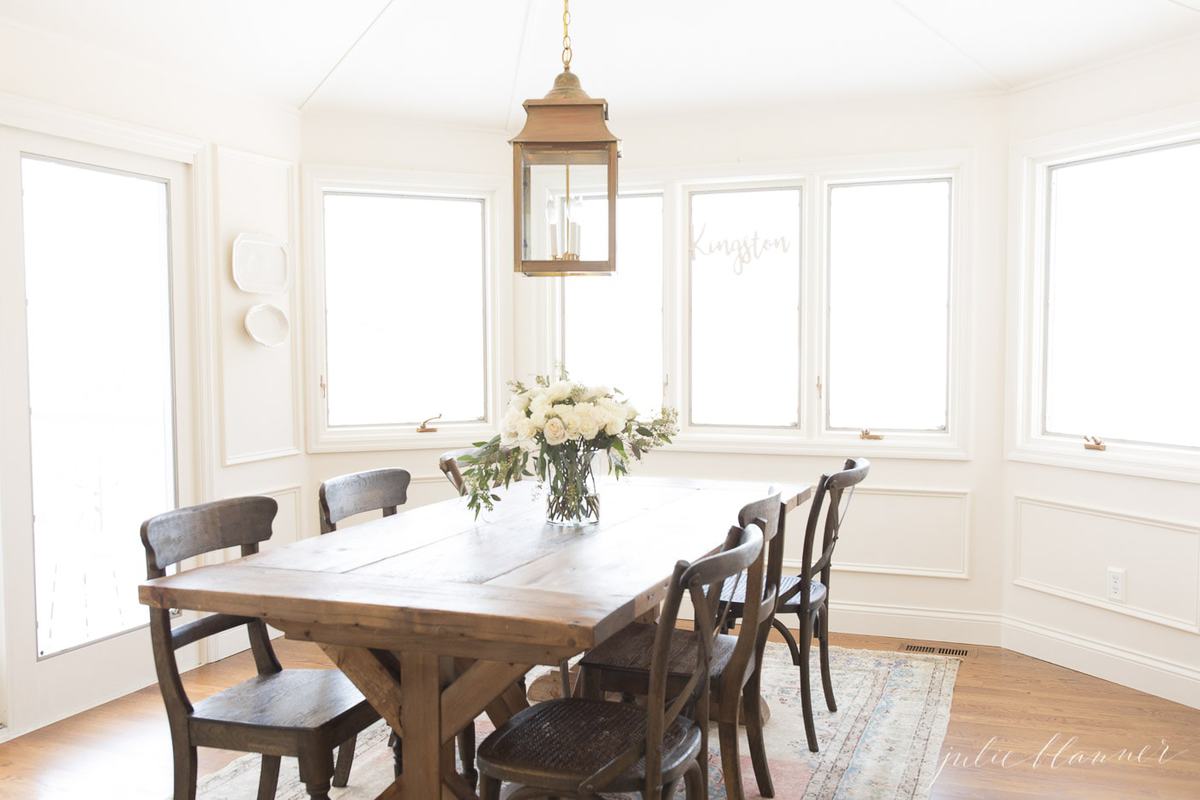 I tend to be somewhat of a minimalist in my everyday life and this same approach applies to hosting. There's no need to go over the top decorating for a shower when you can source from your own home. I wanted subtle and beautiful woodland baby shower decorations so I selected a handful of our Christmas decorations including birch logs, birch trees and an array of flowers and greenery. (Read more detail about the woodland flowers below!)
Rather than focusing on adding woodland baby shower decorations in just one space, sprinkling throughout creates a bigger impact. It makes everything feel special. With that in mind, I love the printable label options available on Etsy! It's so convenient to have such a customized element (often sold in packages alongside printable woodland baby shower invitations) to add labels to your food, drinks, and even games! This is my favorite card stock for printing at home.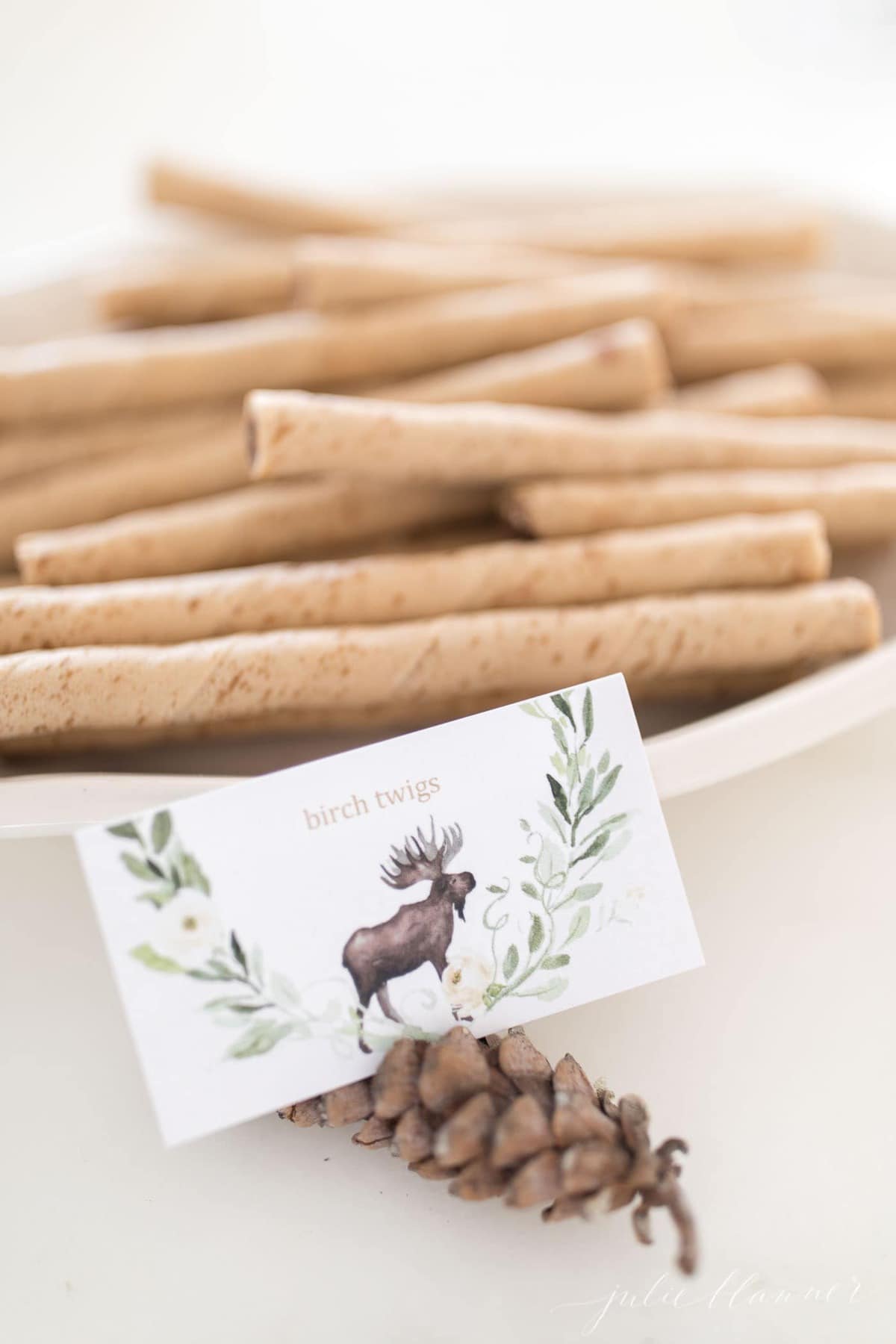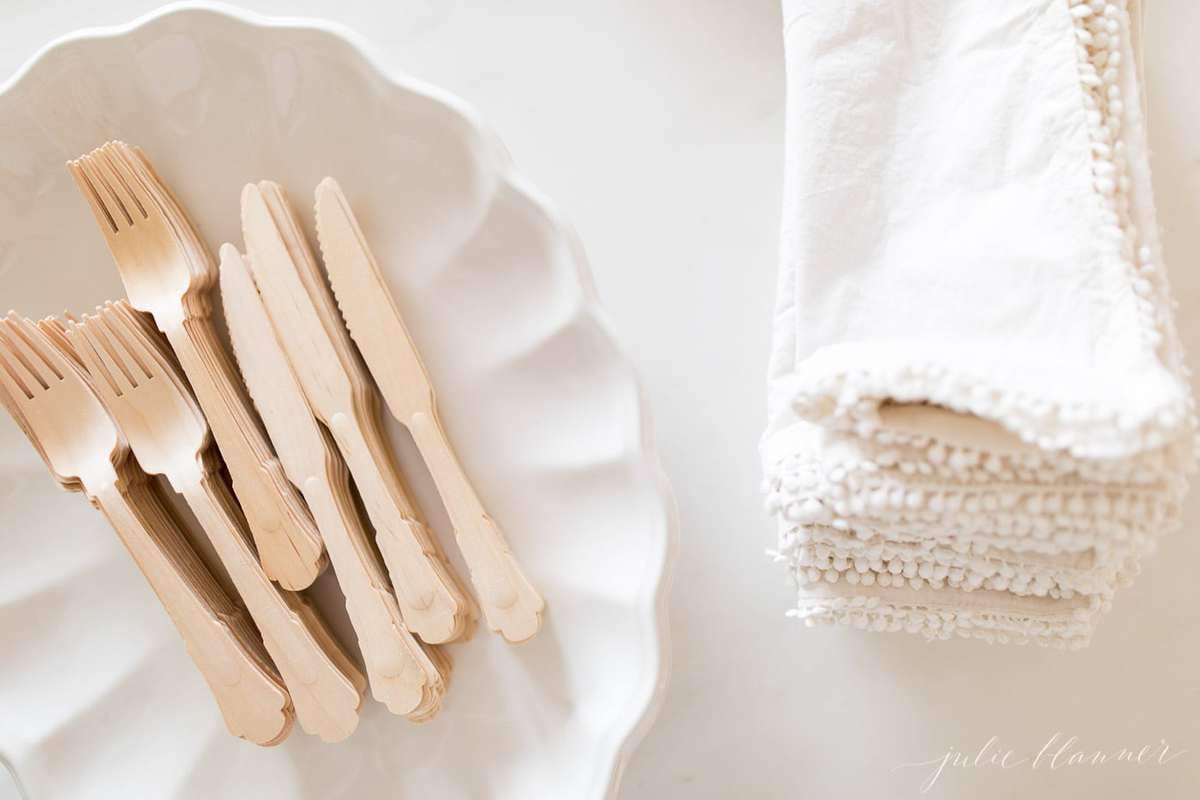 As with all my design decisions, I try to purchase and incorporate items into our home that have multiple uses. These cloth napkins, for instance. They are neutral and work beautifully for a variety of events.
You can also integrate stuffed animals and gifts like this beautiful rocking "horse" into your woodland baby shower decorations.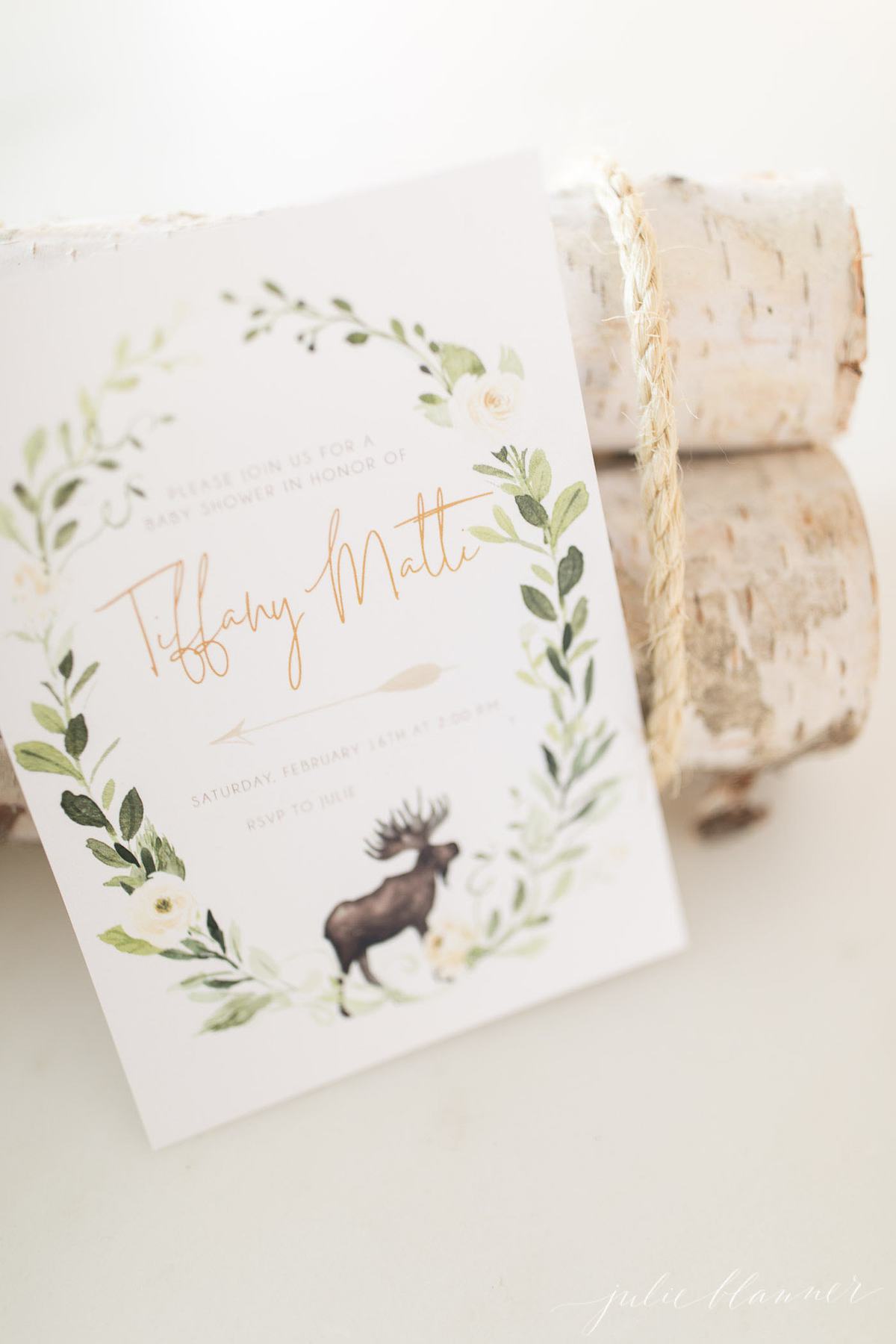 Another easy idea is to display one of your woodland baby shower invitations at the gift table, side table or dessert bar. You can display it framed or lean it up against birch logs.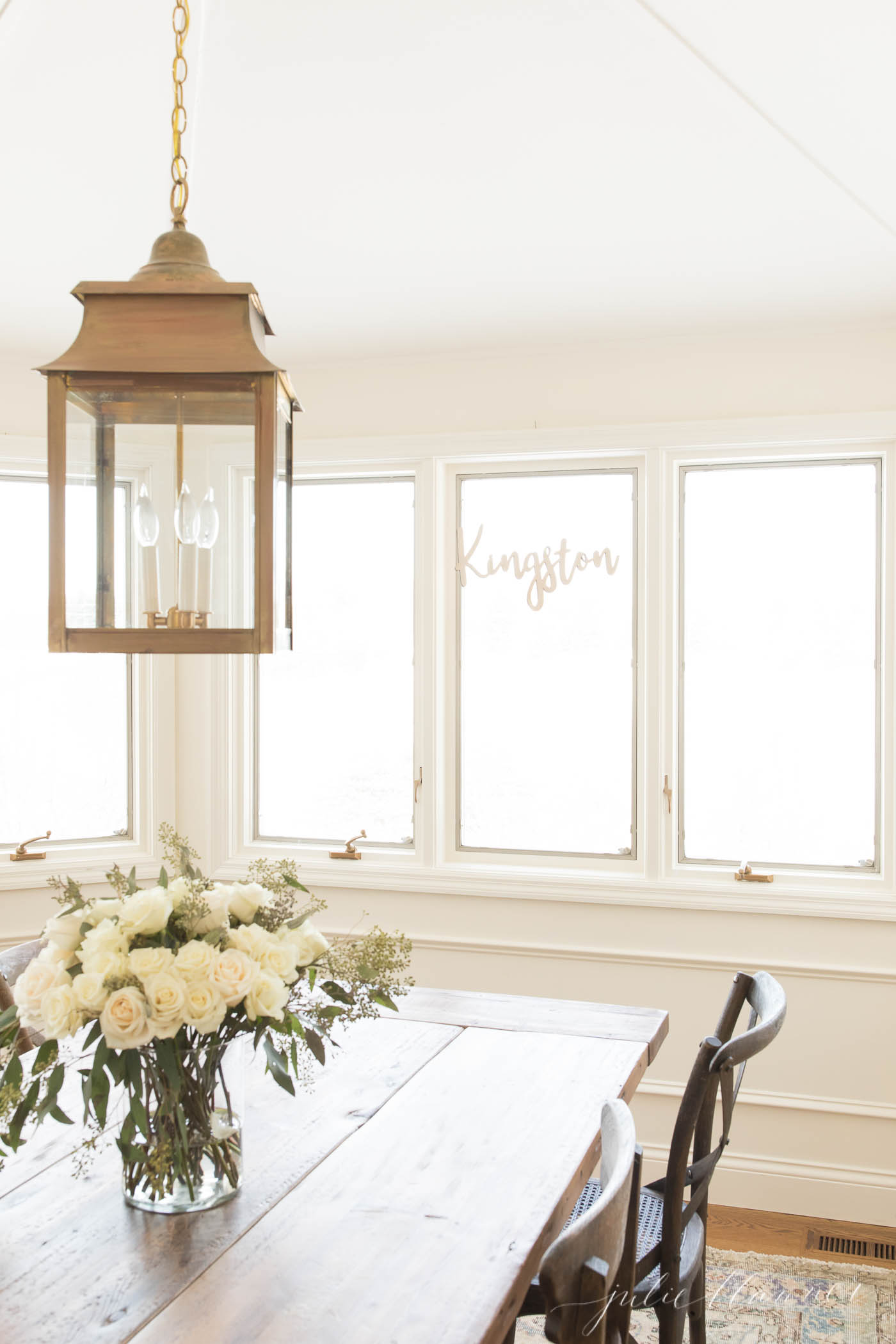 I also had the baby's name made in wood that hung in the breakfast room for another simple centerpiece to personalize the shower.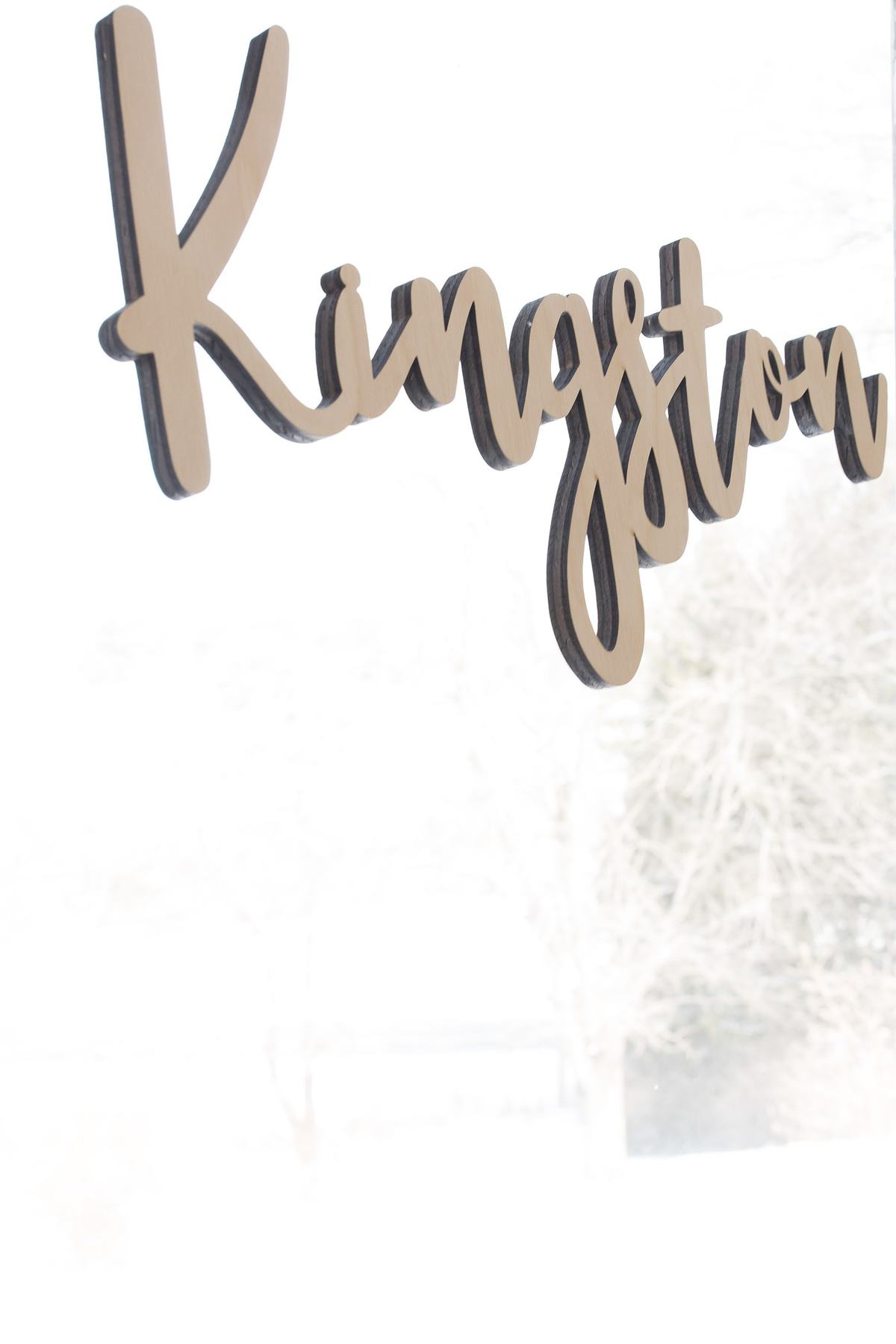 One of the best (and least expensive way) to infuse woodland baby shower decorations into your home is by foraging. I sent the girls outside to find pinecones to use to display food cards.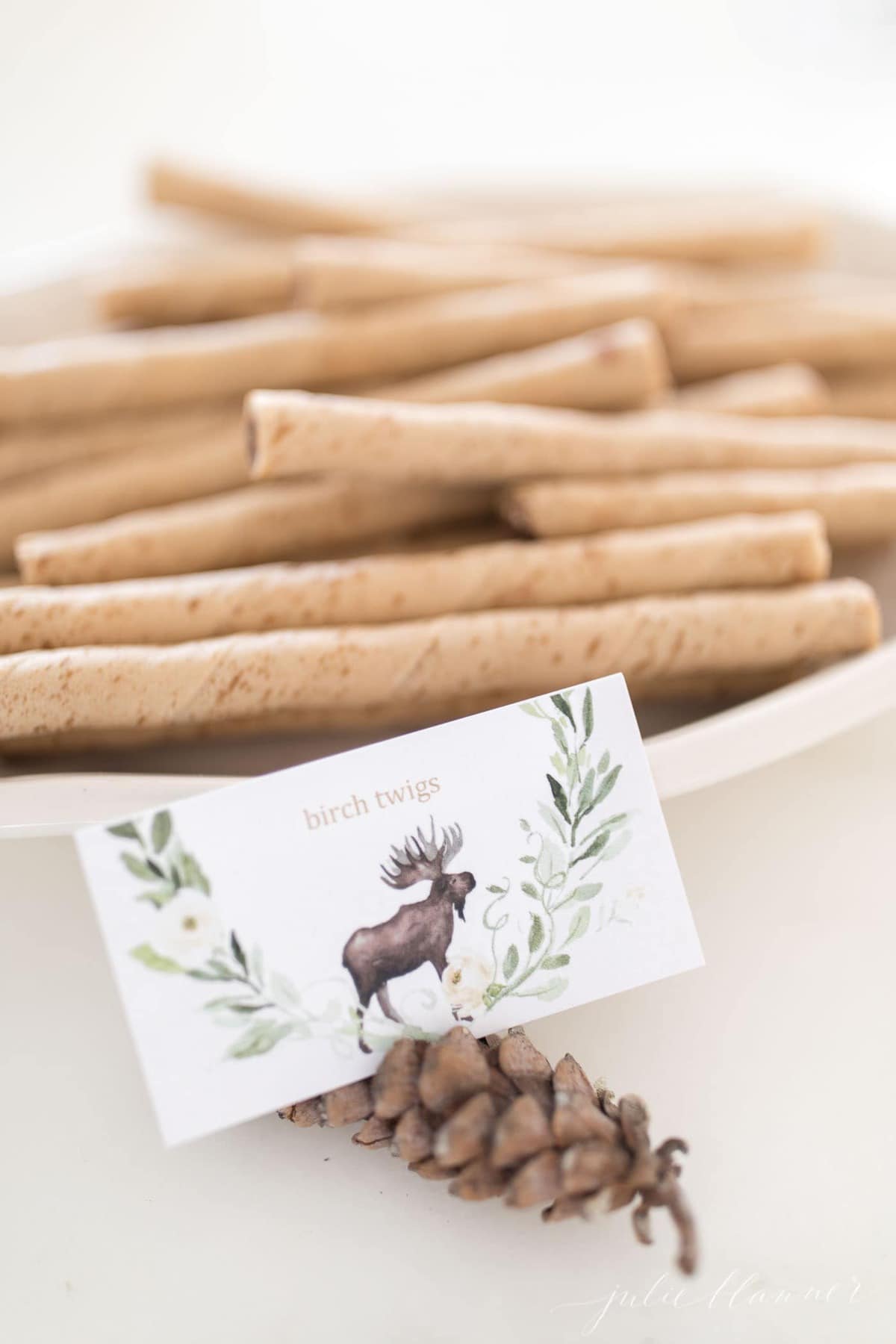 Woodland Floral Arrangements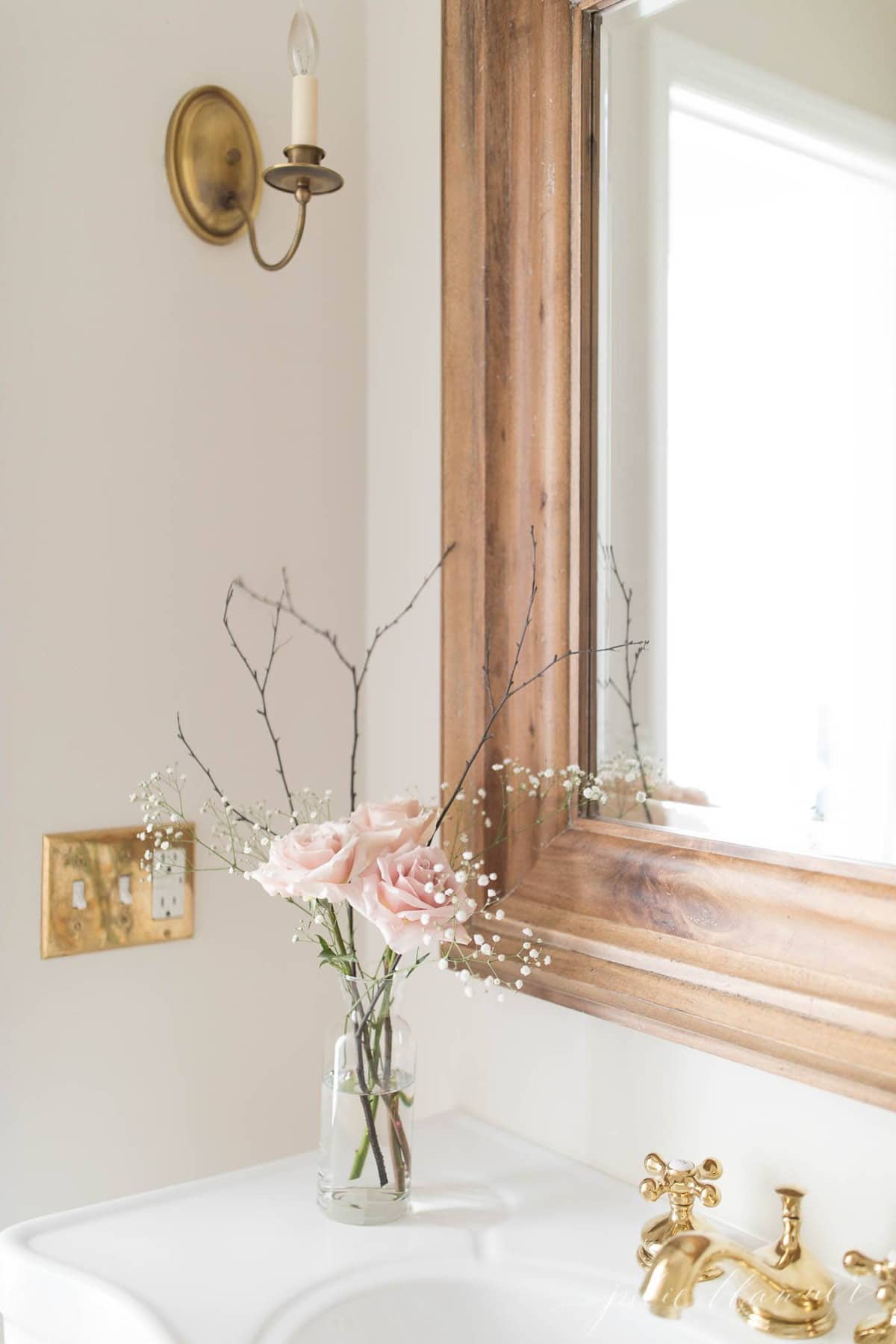 A few simple woodland flower arrangements sprinkled throughout our home added to the woodland baby shower decorations. Using roses, baby's breath, eucalyptus, greenery from our yard and rustic branches, I created flower arrangements that feel whimsical.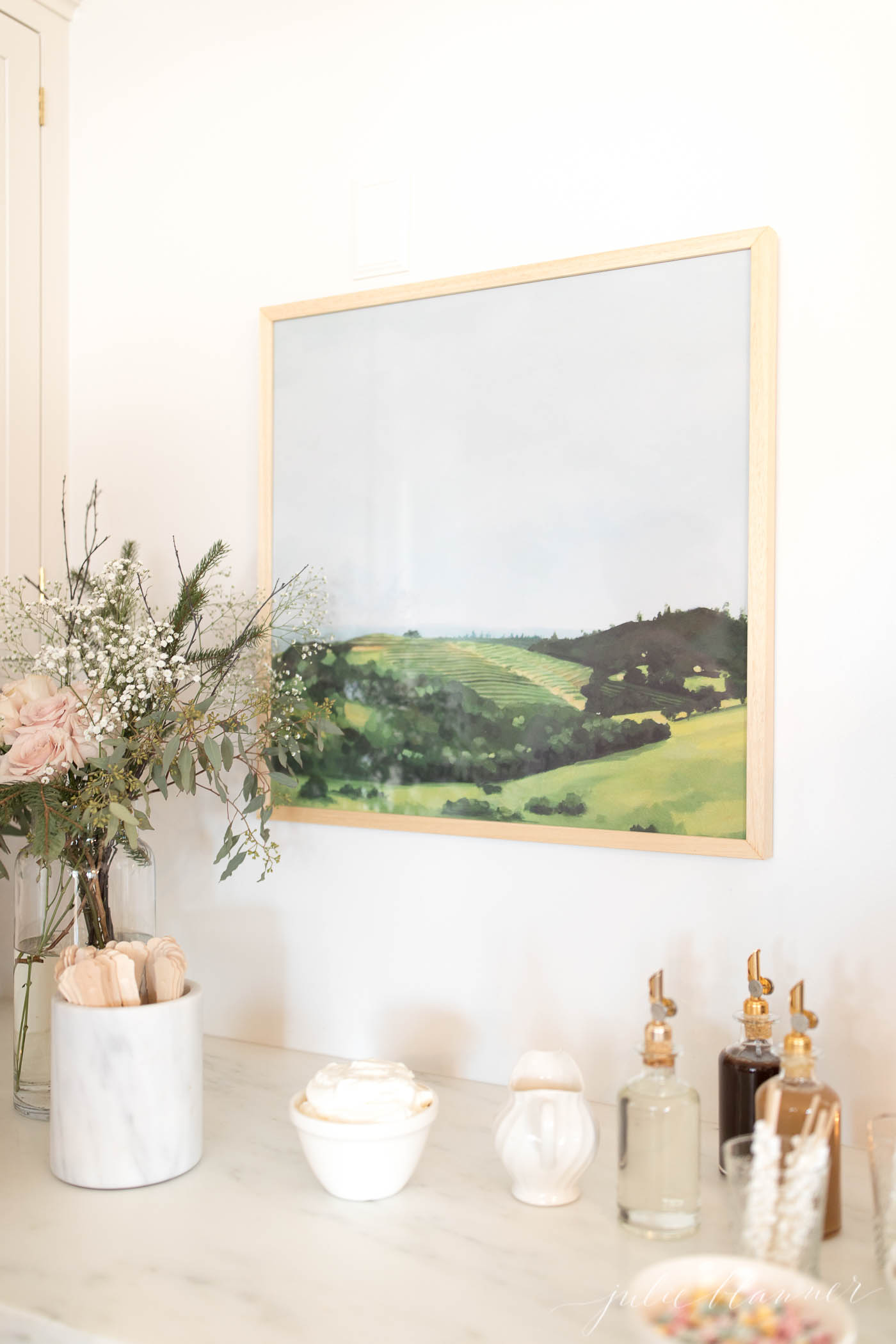 You can make the most out of your arrangements utilizing bud vases and foraging your yard. If you primarily fill with greenery, a few blooms will go a long way even in larger vases! Find all my favorite floral ideas and tutorials here.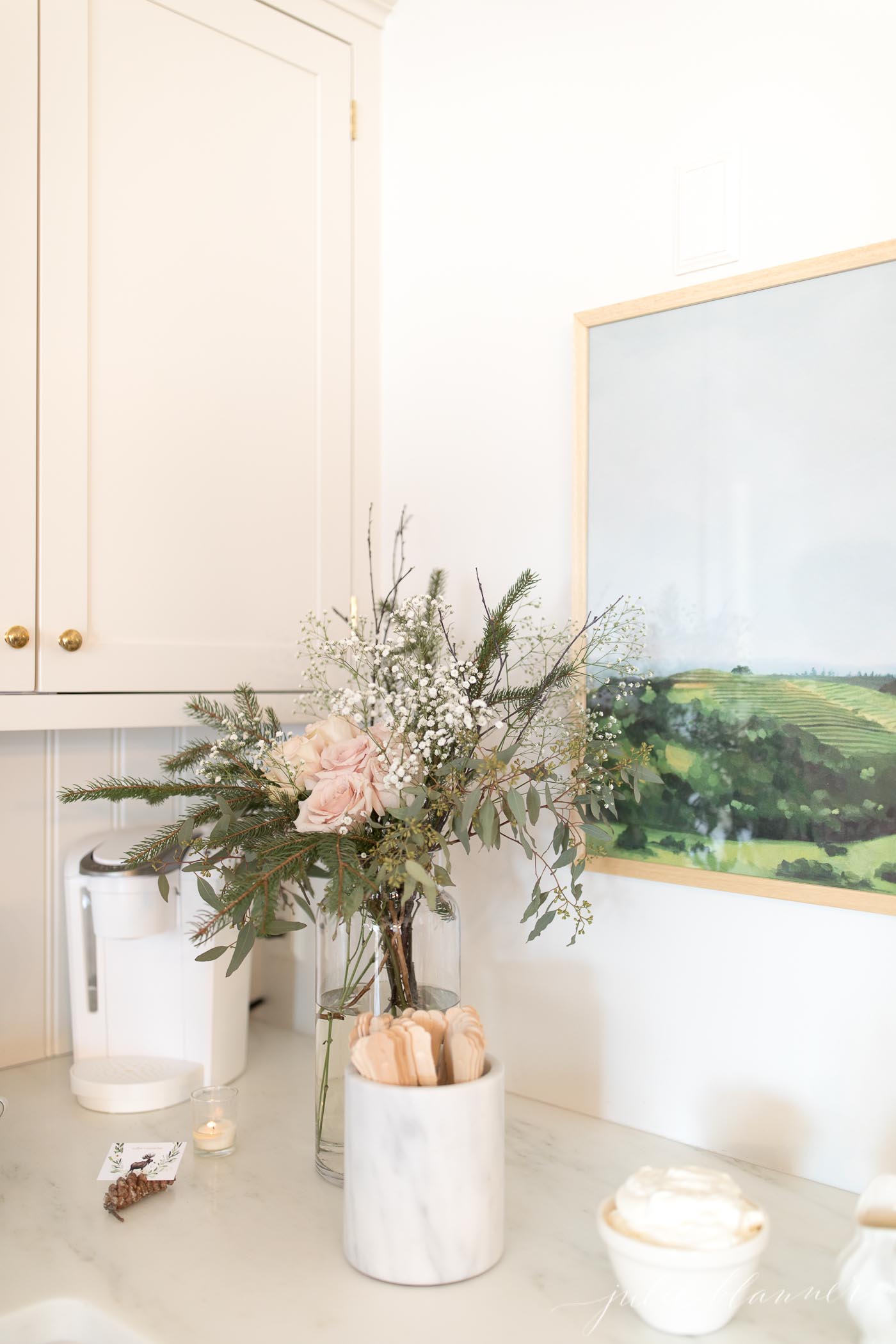 For this rustic woodland-inspired cylinder arrangement, I used the following:
6 full size roses
3 stems of seeded eucalyptus
5 stems of baby's breath
3 large stems of evergreen branches (cut from our yard)
3 slender birch twig branches
To arrange, I simply placed the stems of eucalyptus and evergreen around the edges of the vase. Next, group the roses towards the center, and fill the space around them with baby's breath. Add touches of birch branches for a whimsical woodland finish! So cute, and so inexpensive!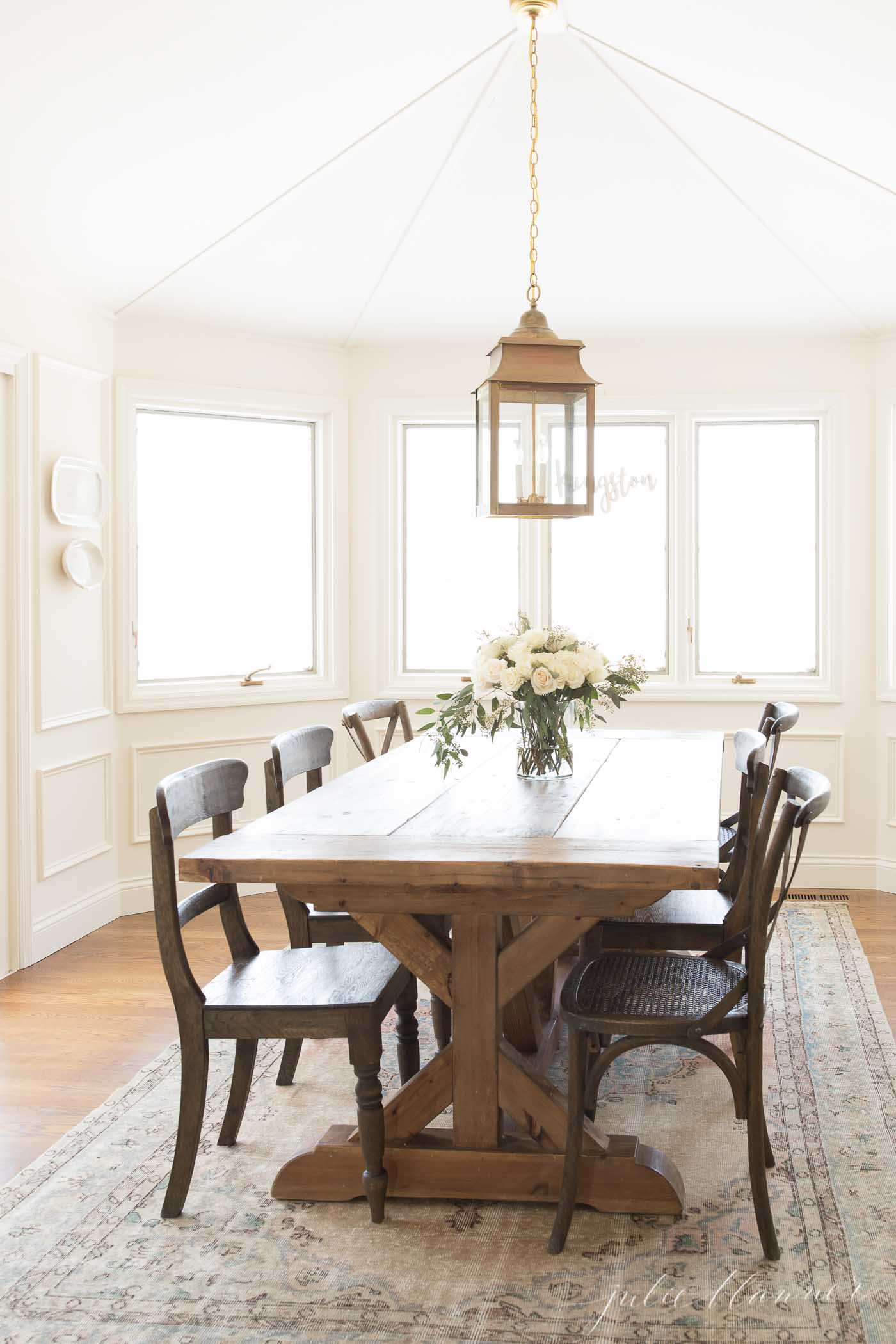 Woodland Theme Baby Shower Recipes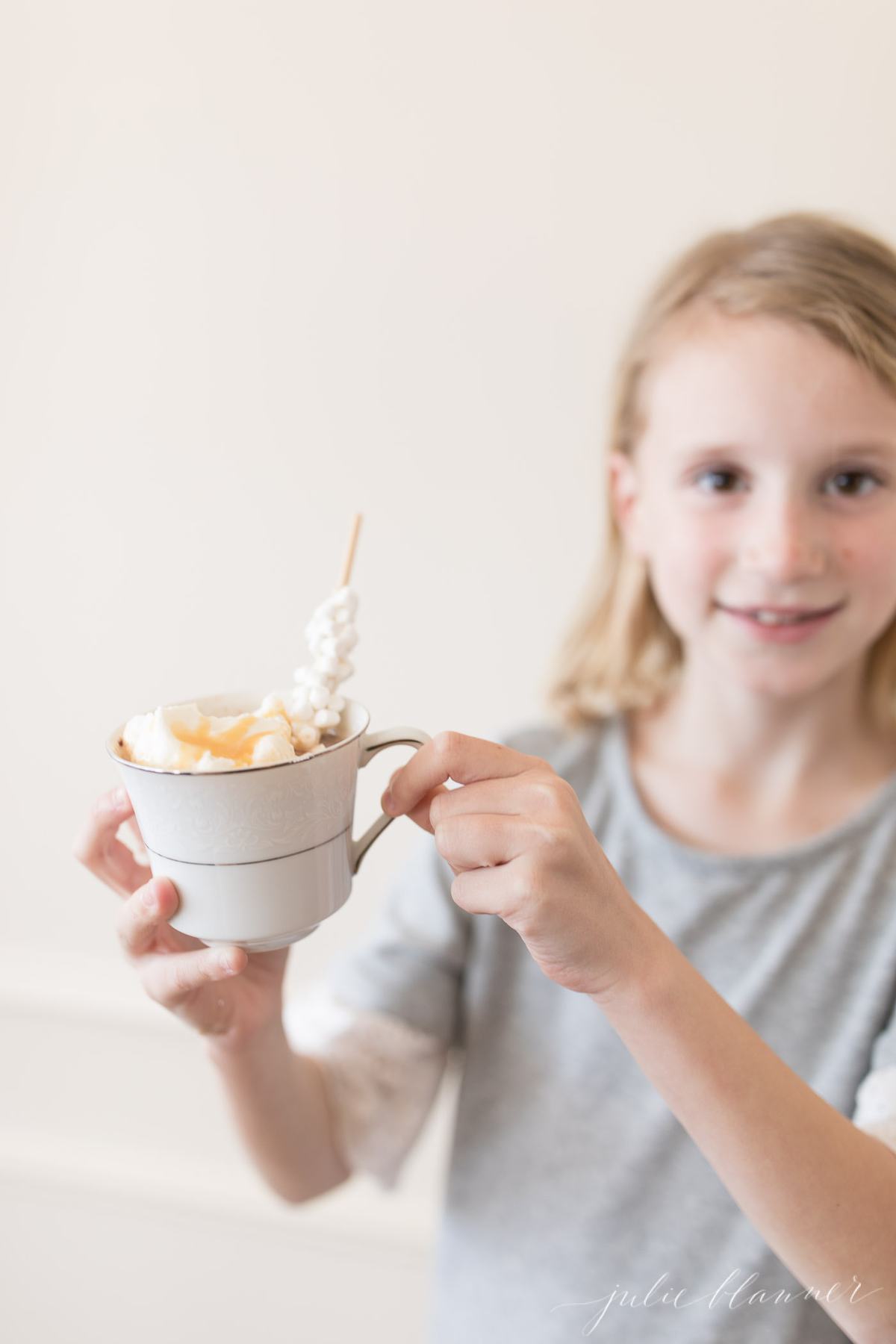 For the sake of ease, I blended some of my favorite recipes along with store bought selections into her woodland baby shower. Baby showers are such a fun reason to create cute food, don't you think? Making it, displaying it and certainly, eating it are all part of the fun in this kind of celebration.
Hot chocolate bombs make a beautiful display and are an easy way to whip up a creamy cup of hot chocolate for entertaining!
One of the best parts of hosting this shower was coming up with charming names for all these snacks and appetizers. Many of these ideas are recipes that you can serve anytime, they are simply named in a funny way in order to tie into the theme. These are a few of my favorite woodland baby shower recipes:
Store-bought woodland baby shower foods included:
Moose Poop (works with deer and rabbits as well) – Salted Butterscotch from Trader Joe's
Birch Logs – pirouette sticks
Chocolate Moose Cake
Fox and Deer Sugar Cookies
For utensils, I incorporated these rustic birchwood cutlery. They fit the theme of the woodland baby shower decorations beautifully, and I love that they are earth-friendly and not plastic!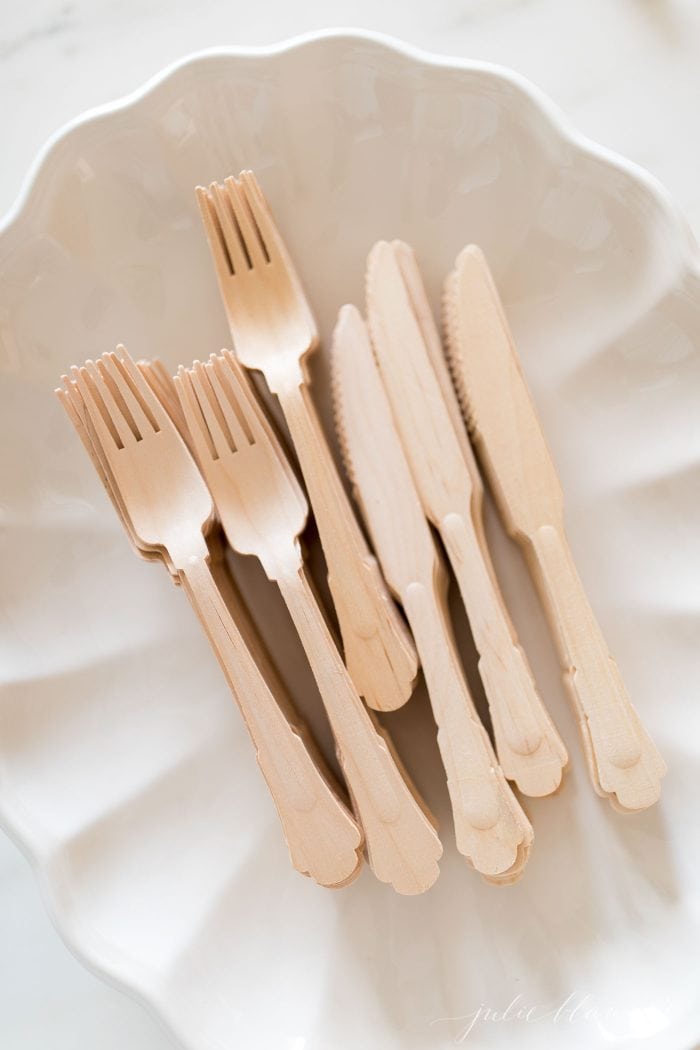 Have you hosted a baby shower recently? I'd love to hear!
For more easy entertaining ideas, you'll love this 40th birthday party – hosted at a restaurant!