Al fresco dining can be such a magical experience. It's the perfect way to enjoy the open air, gather with friends, and relax under a sunny blue sky or evening starlight. Add some twinkling lights, a relaxed menu, and a few of your favorite people, and you're ready for a dreamy dinner al fresco!
Check out these easy, beautiful ways to impress your guests with al fresco dining and entertaining.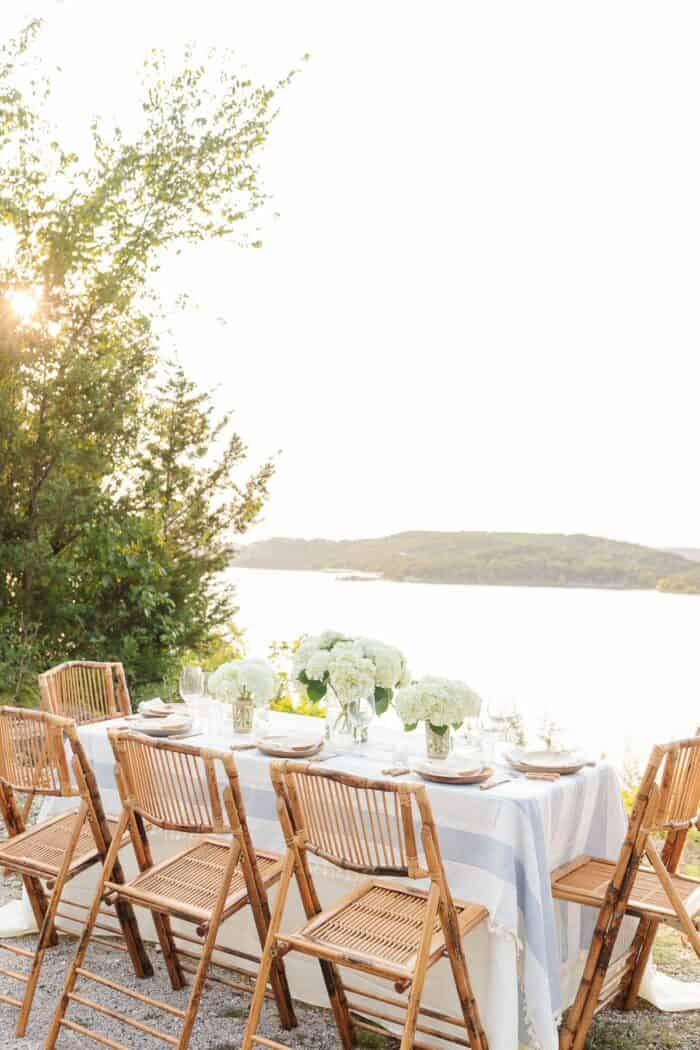 Al fresco. It just sounds dreamy, doesn't it? Well, that's how I feel about our lake cottage deck and patio. Dreamy.
It's so peaceful and I'm so excited when we are spending time here, and especially when we are able to share it with others. So, unless it's pouring down rain or freezing cold, we'll be al fresco dining to make the most of the picturesque late summer and fall weekends.
Our outdoor spaces at the lake cottage have evolved so much in the past few years. We are really enjoying our new vinyl deck, glass deck railings and underdecking, which have given us endless opportunities for outdoor entertaining.
Last week I was lucky enough to host friends for a few very special dinners, and I'm so excited to share them with you today!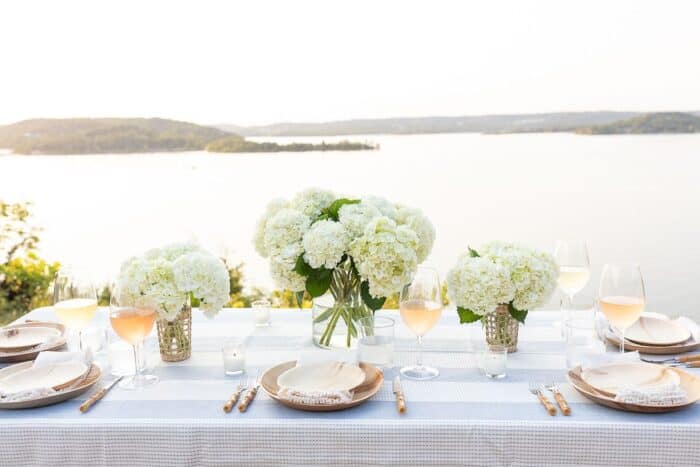 What is Al Fresco Dining?
Al fresco dining is simply eating outside. It's derived from an old Italian phrase made up of two words for "in the fresh air", although Italians use different terms now.
Dinner al fresco has long been considered a special dining experience. It's often at the heart of vibrant social scenes in your favorite urban areas, because it encourages a community feeling and leisurely pedestrian traffic.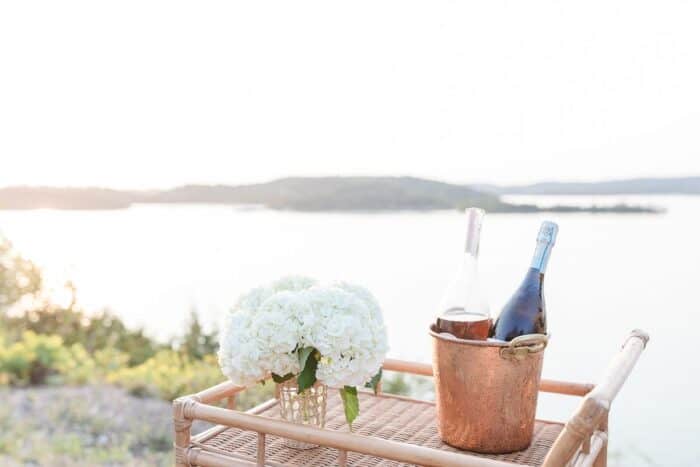 What could be better than dining on a beautiful patio at a charming restaurant? Well… maybe your own backyard is even better!
We love dining outdoors at our favorite restaurants and when are vacationing, but it's so easy to create this same style right outside your own home!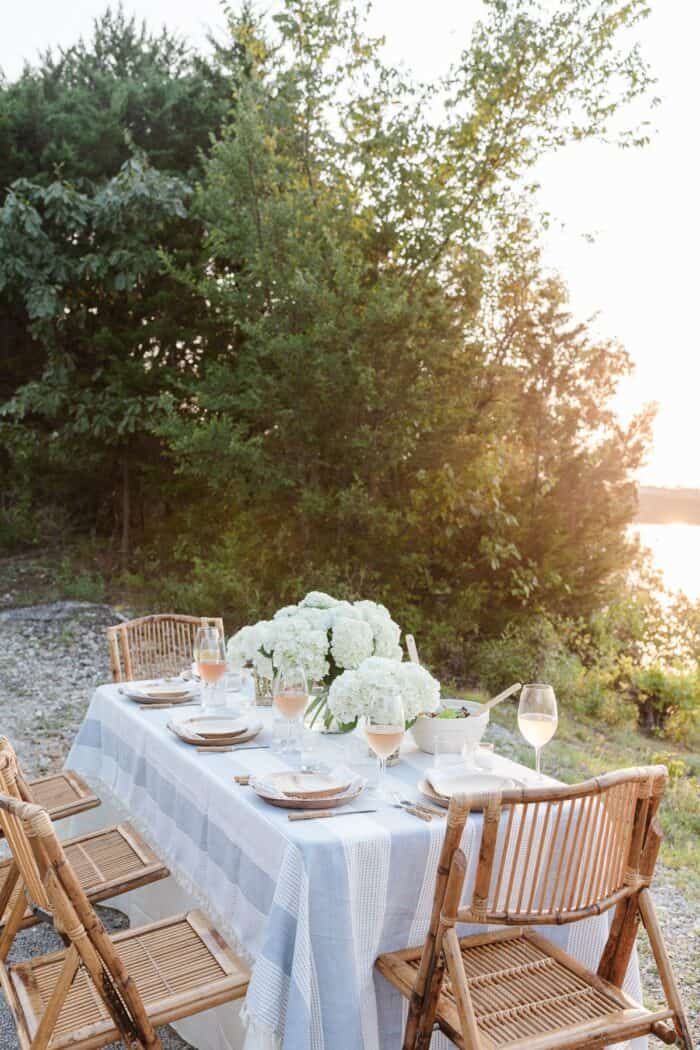 We recently hosted friends and dined al fresco several times. You'll find details on each, including all sources for these table settings at the end of this post!
How to Create an Amazing Al Fresco Dinner
Choose a Location – Dinner on the deck, patio, dock, park, overlook or bluff.
Plan the Menu – If you're hosting away from home, select dishes that are easy to transport like Picnic Sandwiches, Basil Lemon Pasta Salad and make ahead dishes like Lemon Pepper Shrimp that can be served hot or cold. Use seasonal flavors to embrace the beautiful weather and the great outdoors.
Set the Table – Use a folding table to create an al fresco dining experience anywhere and layer with linens or an outdoor dining table. Consider integrating acrylic and bamboo where glass is not practical or prohibited.
Add a Centerpiece – Integrate multiple flower arrangements, a single large centerpiece or create a table runner using fresh fruit and greenery. Hurricanes work well, too!
Add Lighting – String Lights, candlelight, luminaries or lanterns. Create a memorable evening by integrating multiple light sources overhead, on the ground and on the table.
Add a Bar Cart or Tray – Make serving easy by setting up a beverage bar with mini bottles, wine, a pitcher of water or a signature cocktail (or create a cocktail station like a Margarita Bar or Mojito Bar!)
Add Music – Bring a speaker if you're dining at a remote location. Put on a great playlist to set the tone for the evening.
Dining Al Fresco Tips
Is there anything better than soaking up a magical sunset with an incredible view? It's such a memorable way to dine! And for me, if that view includes a serene shot of the water, I always know I'm in for a real treat.
We are lucky enough to enjoy this fabulous view at Table Rock lake every weekend. When we hosted friends recently, I knew this little bluff right up the road from our house was the perfect spot to set up a table for an al fresco dinner.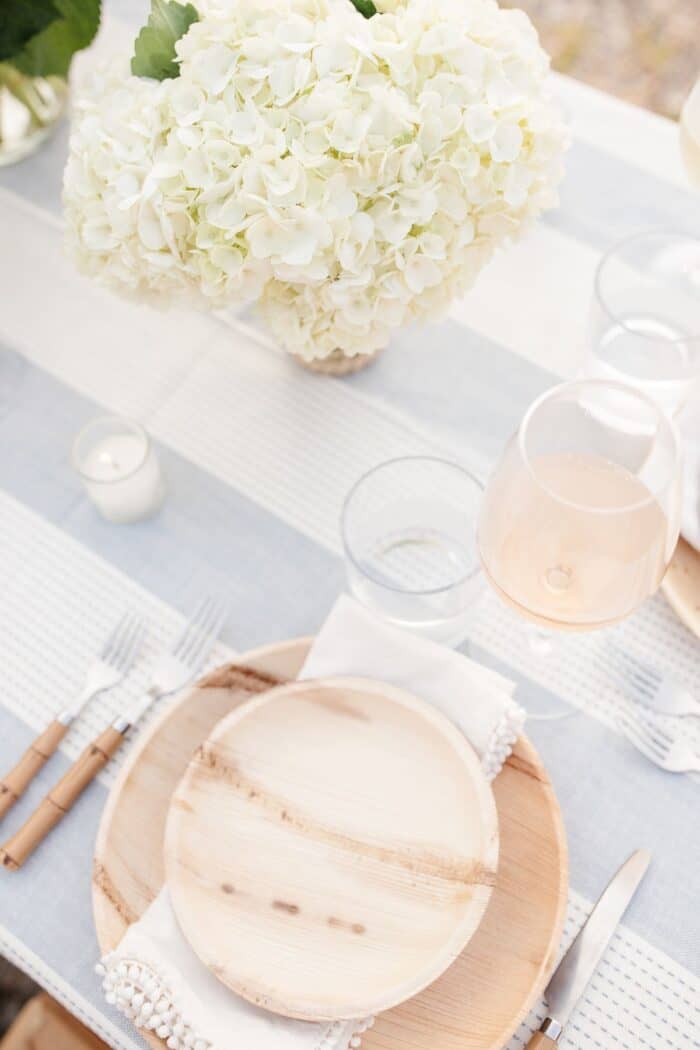 I put together a simple centerpiece, with candles, fluffy hydrangeas (learn how to make a hydrangea centerpiece here) and more.
I found a pretty blue and white striped table cloth, and purchased these gorgeous new bamboo folding chairs!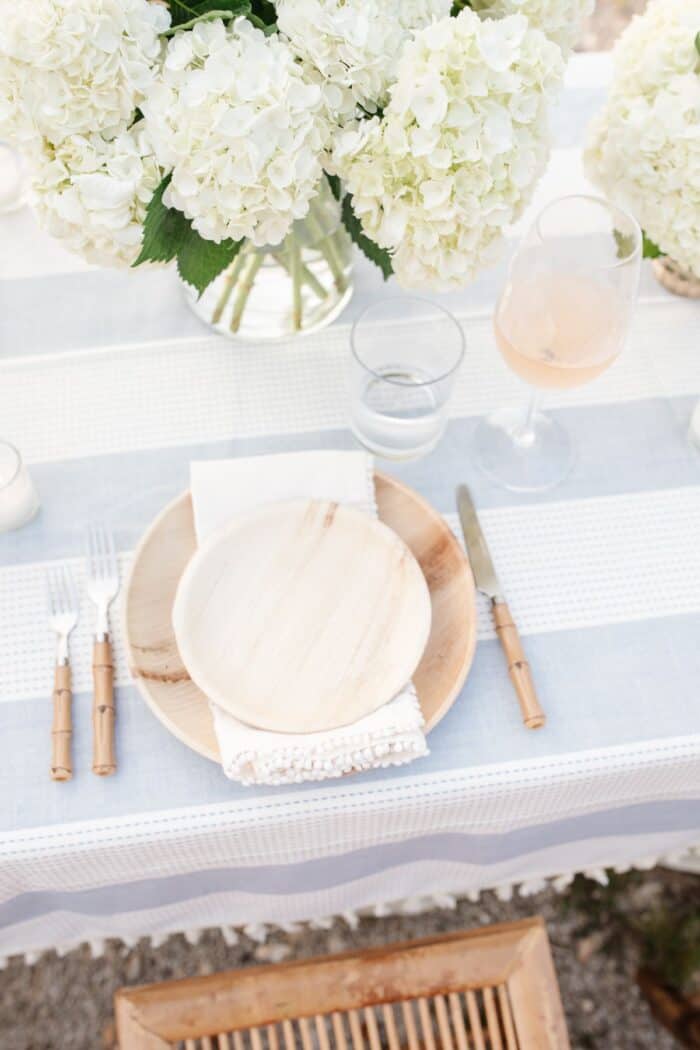 We served a dinner that was catered by one of our favorite local restaurants, Vino Cellars. Check out this list of Table Rock Lake Restaurants if you're ever vacationing here!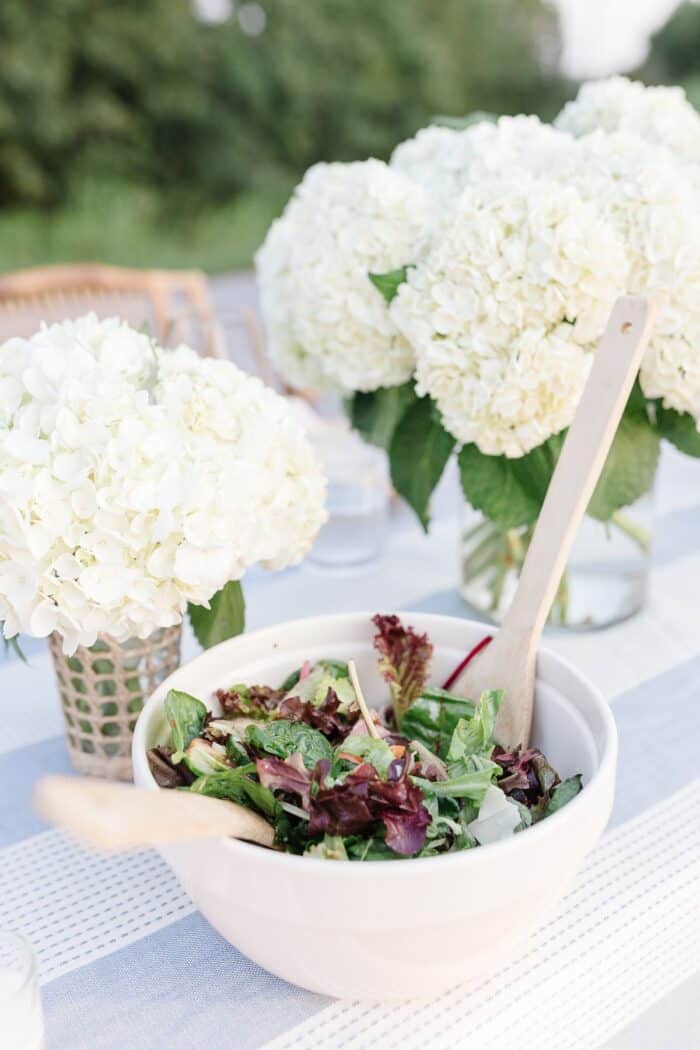 It turned out to be such a beautiful and memorable evening. We treasure every sunset at the lake, and there is nothing more beautiful than sharing it with friends.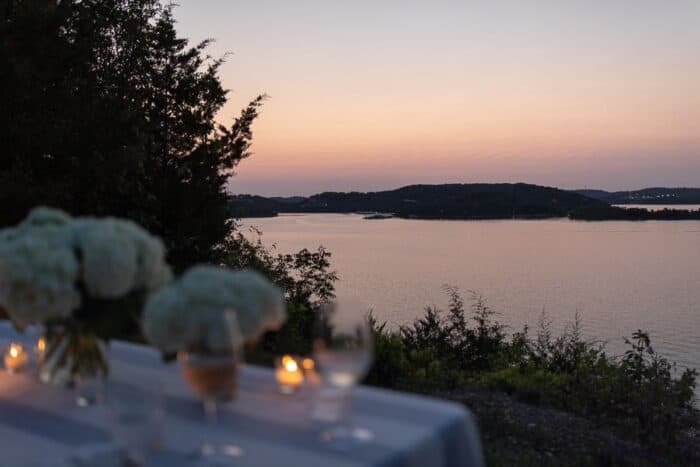 Dock Dinner Al Fresco
For this fabulous dinner, we set up our folding table on the dock. It was the perfect way to enjoy a calm, relaxing evening on the water.
We added string lights, little white paper luminaries along the walkway, and a bar cart to help with serving.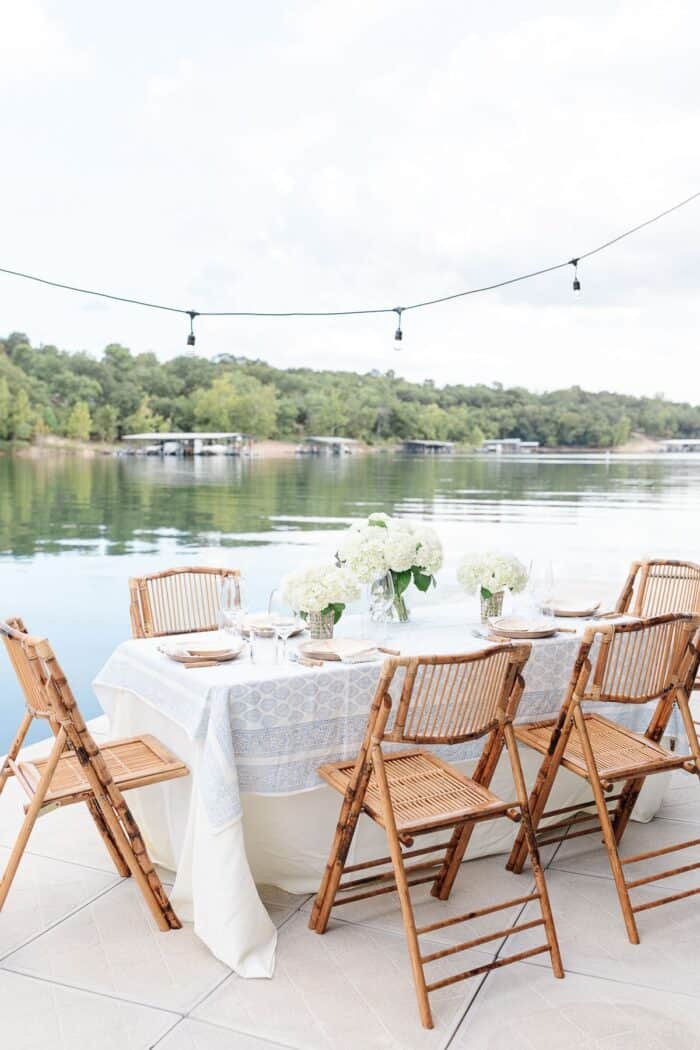 Bamboo plates and acrylic glassware were great additions – casual and eco-friendly at once. We used the same hydrangea centerpieces here, but switched up the tablecloth for a different feel.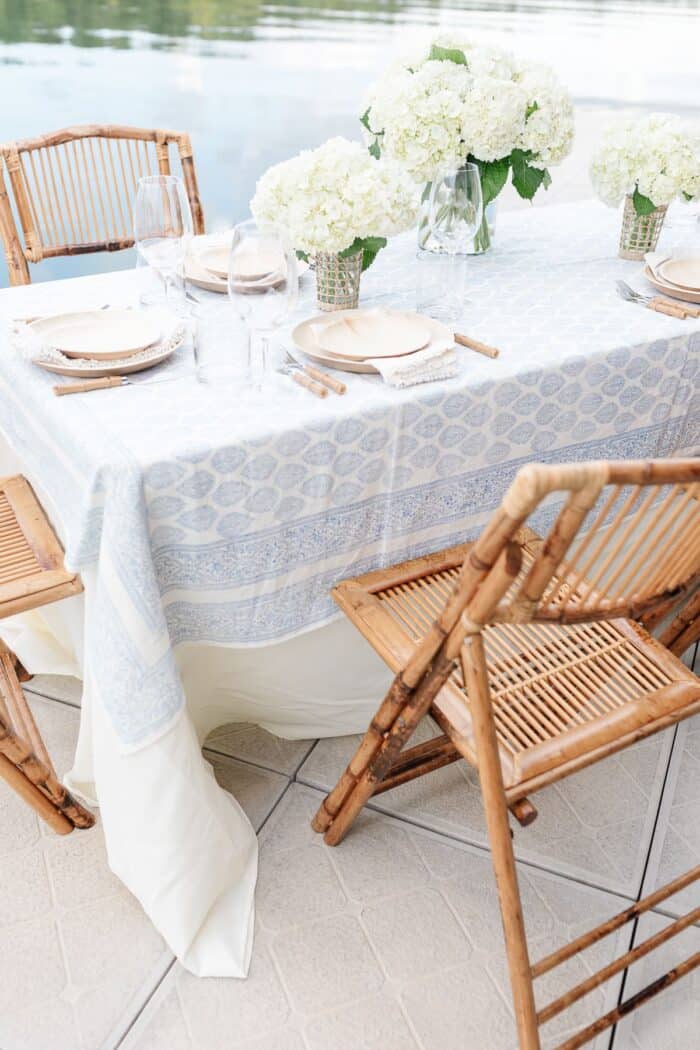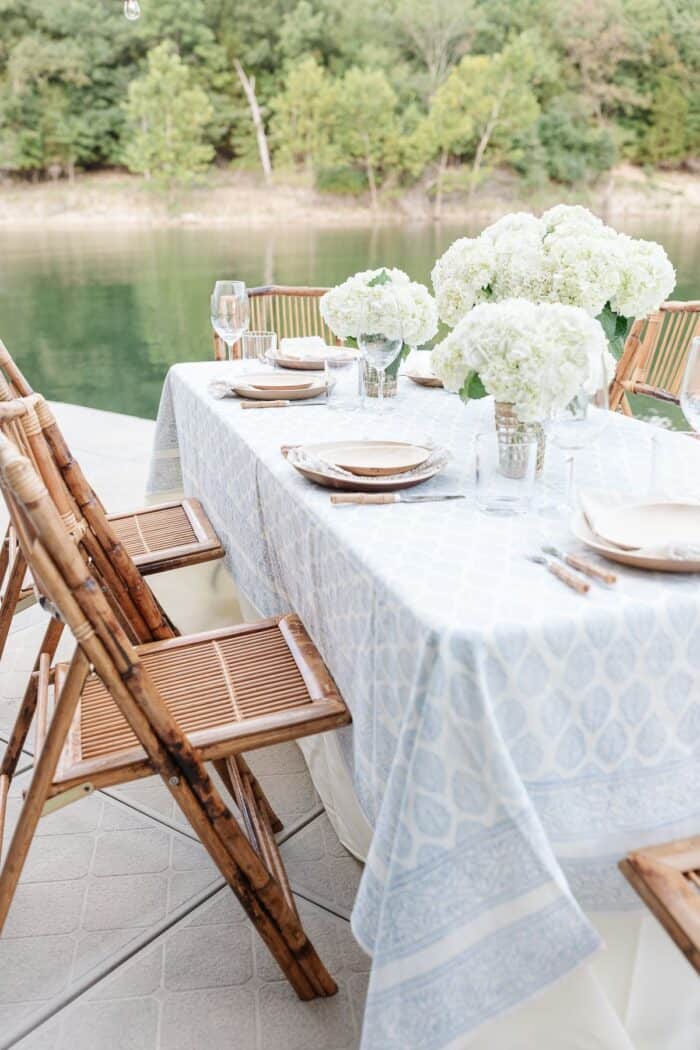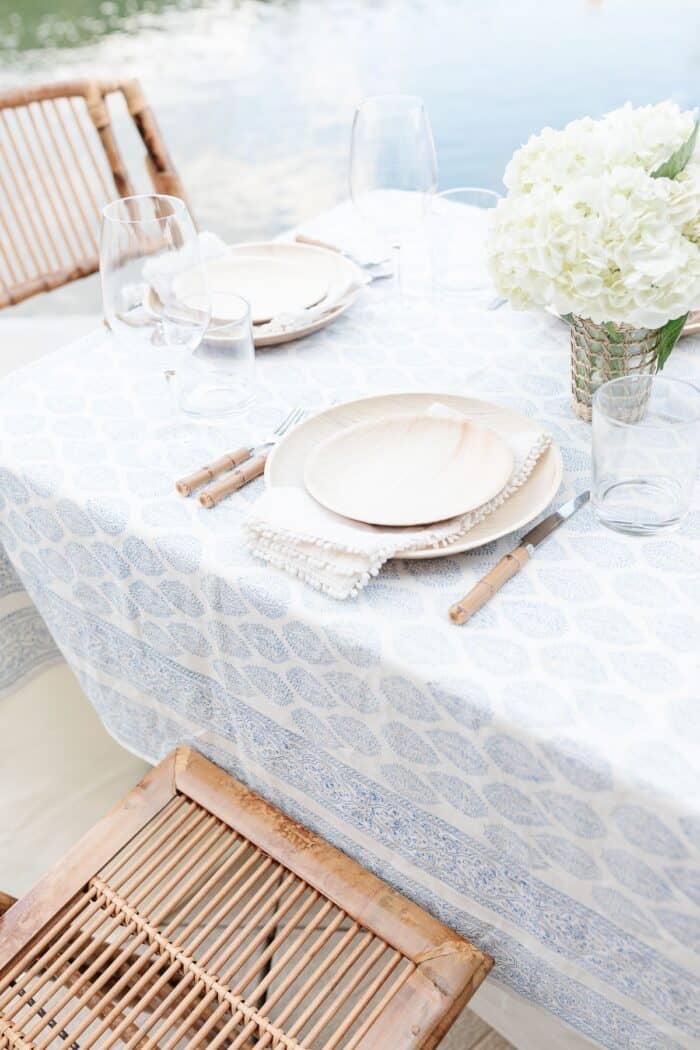 For this evening's dinner, we served a delicious late summer feast with a little something for everyone!
The menu featured my favorite arugula lemon salad, focaccia bread, and lemon artichoke spaghetti. There was a homemade brown butter gooey butter cake for dessert and we enjoyed each and every bite!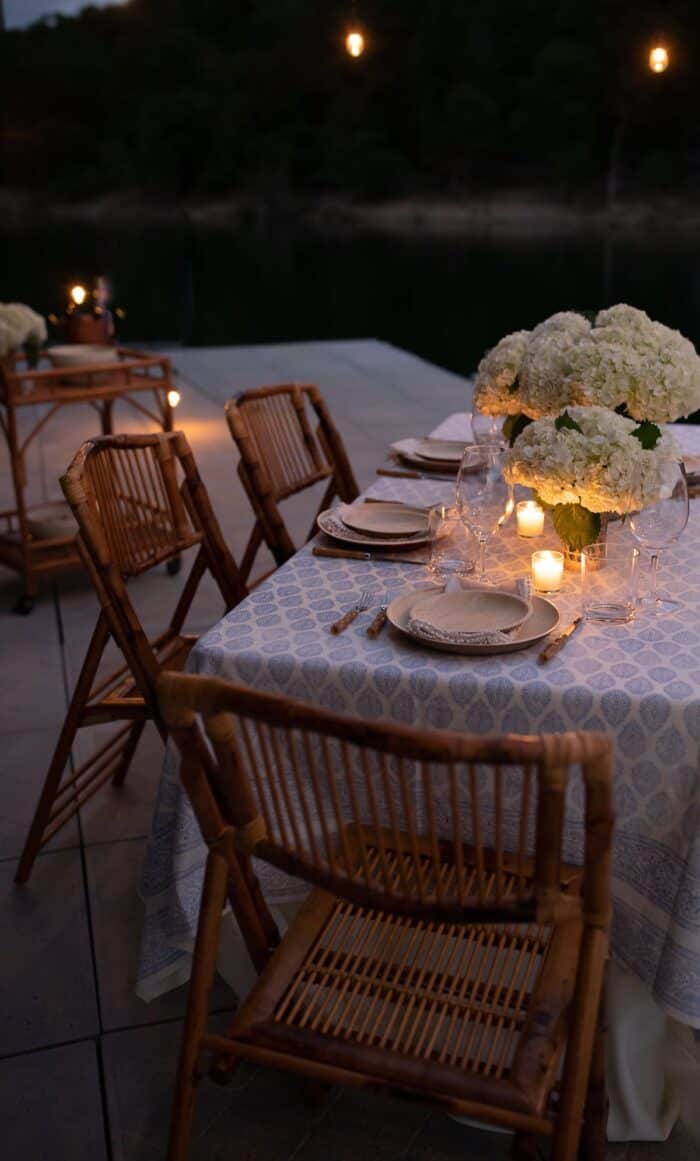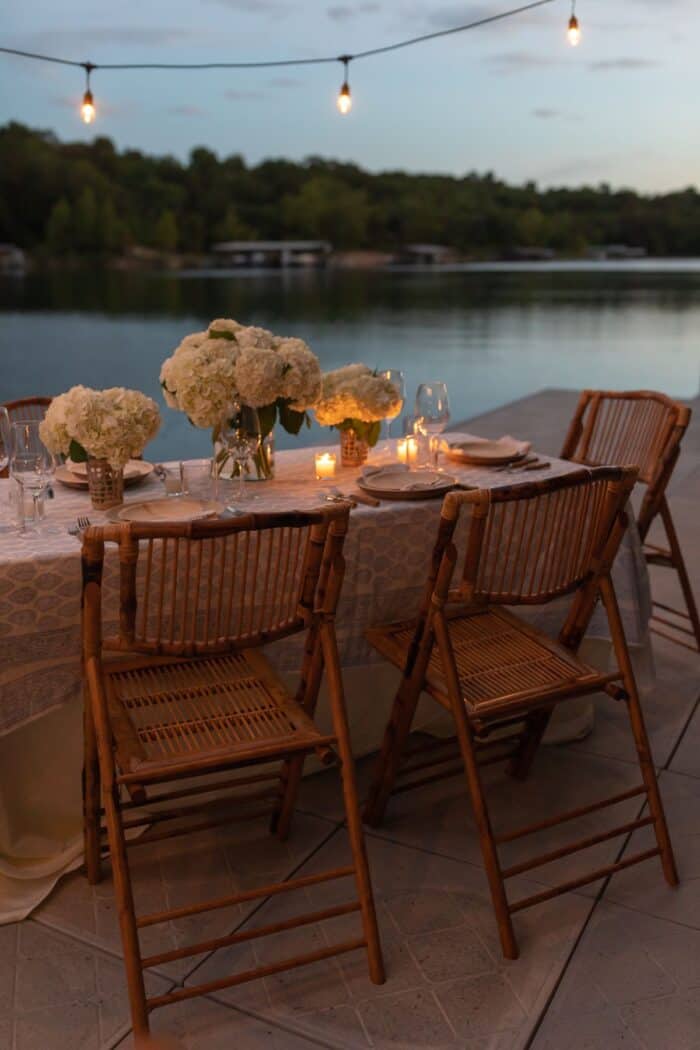 Is there anything better? Dockside dining is filled with the sounds of croaking frogs and Midwestern locusts buzzing. It's such a fun and relaxed way to enjoy an elegant dinner with friends!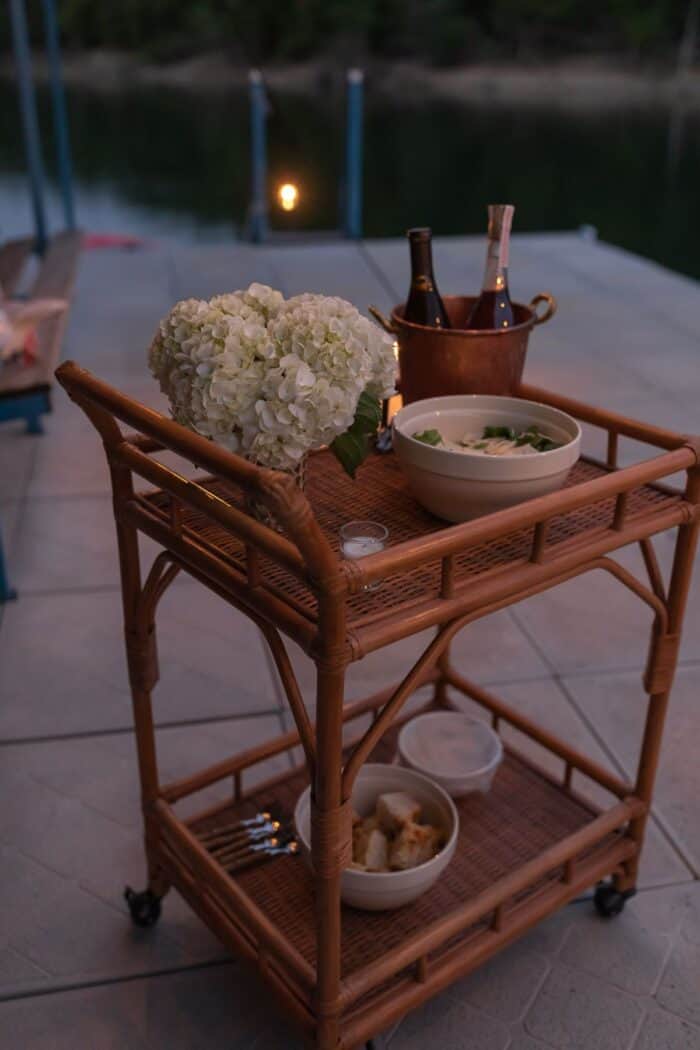 Eating Al Fresco on the Deck
For the last meal, we catered in with our favorite Mexican restaurant taco spread! This was a super casual meal on our deck (read more about our Teak Outdoor Furniture here).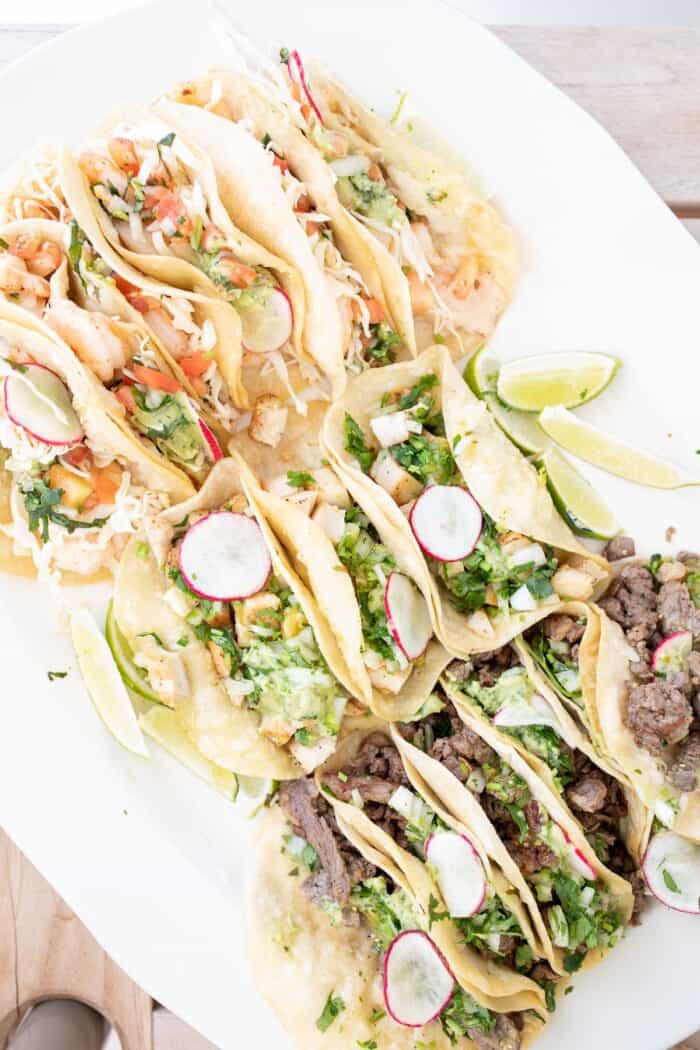 These simple tacos are affordable, easy to transfer to platters or plates, and make for such a festive lunch or dinner! I'm such a fan of easy, effortless meals with friends.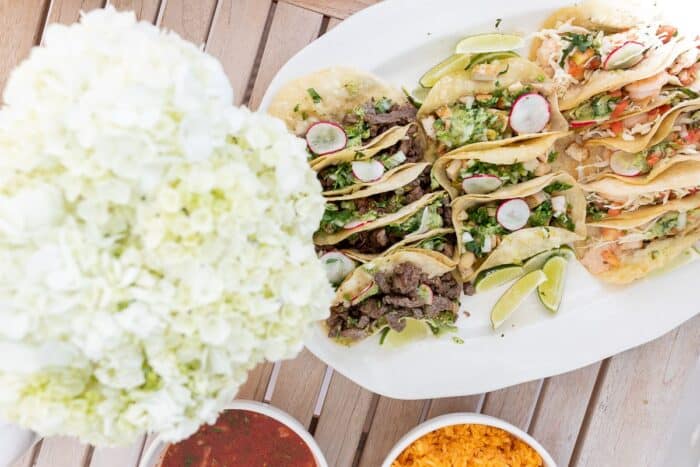 In addition to this festive taco platter, we served cute margaritas that came pre-packaged in individual flavored bottles. This made it so easy to simply serve everyone an iced glass and allow them to choose their favorite cocktail flavor.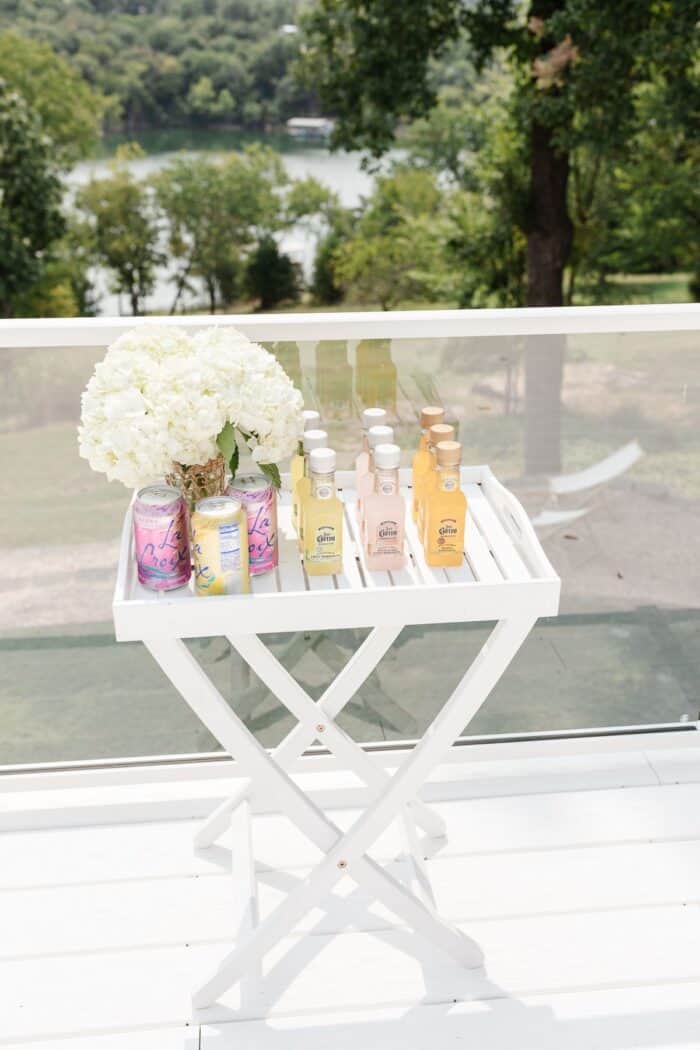 Al Fresco Dining Sources
Al Fresco Recipes
Easy, right? I love that you can make a table feel special, without a lot of effort. Which of these three al fresco dining set-ups is your favorite – the dock, the bluff, or the casual tacos on the deck?
Have you enjoyed any al fresco dining lately? I'd love to hear from you!