Monograms are an elegant and simple way to personalize any special event or space in your home. Make them in any font or finish to suit your style, and since the letters represent your name, these DIY monogram initials really can be YOU – that's the best kind of decor!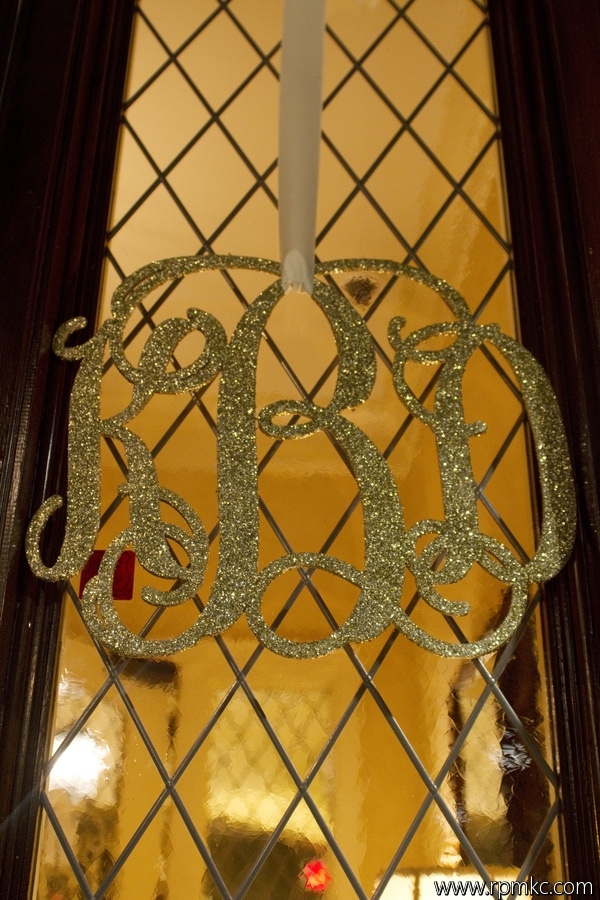 This post was originally published October 17, 2011 and updated with fresh details June 28, 2021.
DIY monograms are quick and easy to personalize, but they look upscale. They are perfect decor for weddings, nurseries, master bedrooms, or anywhere else that you'd like to announce your name in a bold way. Learn how with this easy how to.
For another easy monogram project, try making this quick and easy monogram wreath. It is so sweet! Or for some beautiful lettering ideas, check out this modern calligraphy alphabet.
What Is a Monogram vs. Initials?
This may seem basic, but it is worth a quick review. A monogram is a person's initials, usually interwoven to form a decorative design or logo. With initials, the first letters of a person's first, middle, and last names are listed in order. For a monogram, the first letter of the last name goes in the center, with the first initial to the left and the middle initial to the right.
For a couple, the first letter of the last name is at the center. The first letter of one person's name goes to the left and the other person's first initial goes to the right.
For example, Jane Sue Doe's initials are J.S.D. but her monogram is JDS, with the D typically being emphasized. John and Jane Doe's combined monogram would be JDJ, with the D being the largest letter.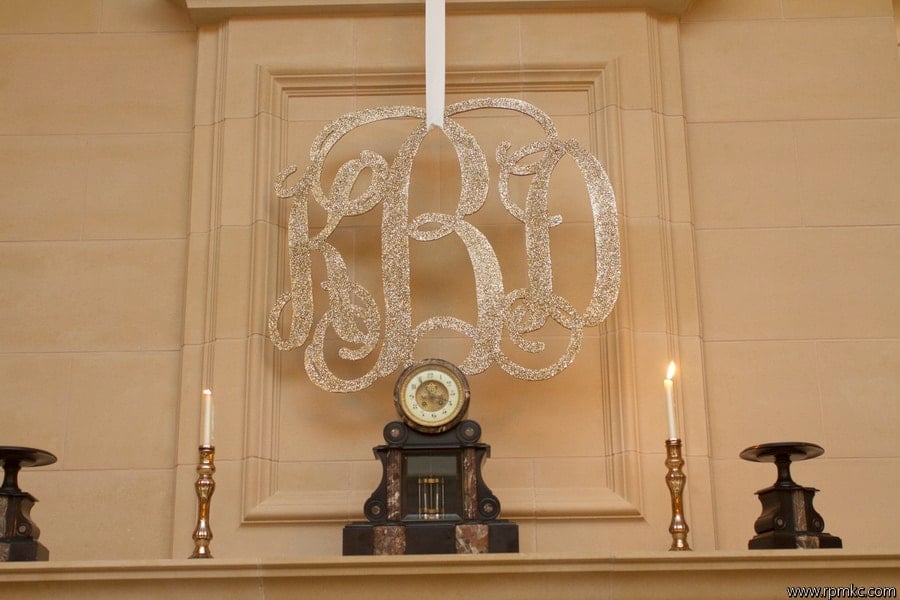 Traditionally, monograms have been used to identify someone's possessions, such as table linens and towels. In more recent years, however, monograms have become a popular decoration. For example, they are a beautiful backdrop at weddings, an elegant statement over a headboard in a master bedroom, or sweet wall decor in a nursery. Monograms are also great in children's shared bedrooms, to help define separate spaces.
Gold Glitter Wedding Monogram
When planning her wedding, this beautiful bride fell in love with this gold monogram from Martha Stewart. Using it as our inspiration, we easily recreated it for her, and it added so much simple elegance to her special day. Here is how we did it.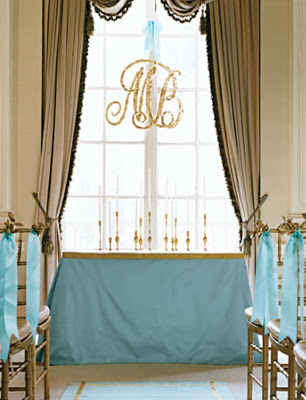 We made it easy on ourselves and ordered the birch wood monogram cutout from Southern Proper Monograms. There are so many companies that do this now – it is easy to find one with a quick Internet search.
The cutout we received was high quality, with smooth edges and wood grain. For a wedding, we wanted a lot of glitz and glamor, so we sprayed with a spray adhesive and dusted it with A LOT of glitter. The result was personalized, large-scale, sparkly decor – it was stunning!
We hung monograms from the doorways and above the fireplace using Paper Source 36 mm satin ribbon.
The monograms were hung from the doorways and above the fireplace with Paper Source 36 mm satin ribbon. The largest monogram was the perfect backdrop for the head table. It made for gorgeous, memorable photographs!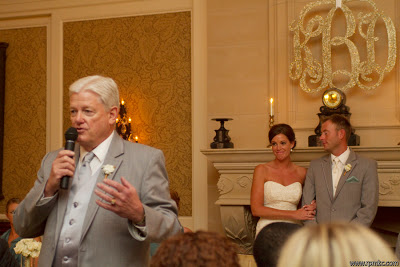 How to Glitter a DIY Monogram
There are many options for adding sparkle to a precut wood monogram. But first, you have to choose and order your design.
A scrolled, cursive font will look elegant, a simple serif font will look sweet, and a straight non-serif font will look modern. Match the style of your monogram to the space you will be decorating.
Spray Adhesive and Glitter
The bride I worked with wanted a thick coating of glitter, so this is the option we chose. This would also work with a brush-on adhesive such as Mod Podge.
Lay monogram on tarp or other work surface in a well-ventilated area.
Spray generously with clear-drying spray adhesive.
Coat with glitter while adhesive is still wet. Let dry then shake off excess glitter.
Try not to get glue on top of glitter, since this will dull the glitter.
With this option, the wood cut out is entirely covered by glitter. You can find glitter in any color for a beautiful result – gold and silver for a wedding, soft pink or green for a nursery, white or cream for a stunning neutral bedroom.
Spray Paint with Glitter
For a solid color with just a hint of sparkle, use any glittered spray paint in a color of your choice. Follow the instructions on the spray paint can and use thin, even coats.
The difference with this option is that the paint color will be the main finish, with a touch of glitter. You can find glittered spray paint in any color to match any space. This is a good option when you want to add a little sparkle, but you want it to be subtle.
Clear Coat with Glitter
Finally, if you want a more natural look, consider using a clear coat with glitter in it. A clear coat works like spray paint, but it dries clear to let the wood grain show through.
You can find clear coats in gloss, semi-gloss, or matte finishes with glitter. It's a beautiful option if you want to keep the warmth of the wood grain with just a little extra sparkle on top. You can also choose to stain the wood a different color first, if desired.
However you make these DIY monograms, they are sure to add personality and style to any space or special occasion.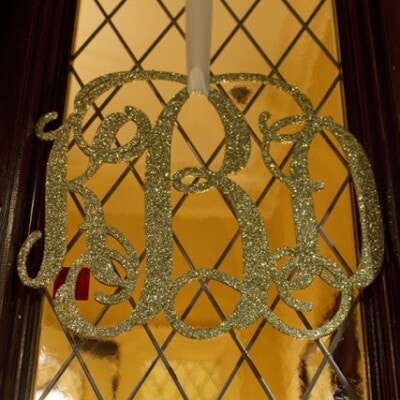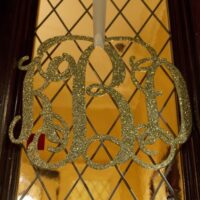 How to Make a DIY Monogram
How to make a beautiful DIY monogram to personalize any space or special event.
Ingredients
Monogram Cutout

Spray Adhesive

Glitter

Ribbon
Instructions
Order a precut wood monogram to finish as desired.

Spray generously with spray adhesive.

While wet, coat thickly with glitter. Let dry then shake off excess glitter.

Don't let glue get on top of glitter, since it can dull finish.

Hang with ribbon from a small nail or tack.
Tips
You can also use spray paint with glitter for a solid color with a touch of sparkle, or clear coat with glitter for a transparent coating that lets the wood grain show through. Follow instructions on can, using thin, even coats.