Inspiration for your winter decor – for beautiful decorating between Christmas and spring. Learn how to incorporate natural, printed, and craft store finds into your winter home decor so your home is beautiful and cozy all winter long.
In general, I keep my home's decor as timeless as possible. I like a minimalist style, a neutral paint pallete, and natural additions to my home.
These elements make my home feel calm, organized, and welcoming – just the way I want my life to feel, no matter the season.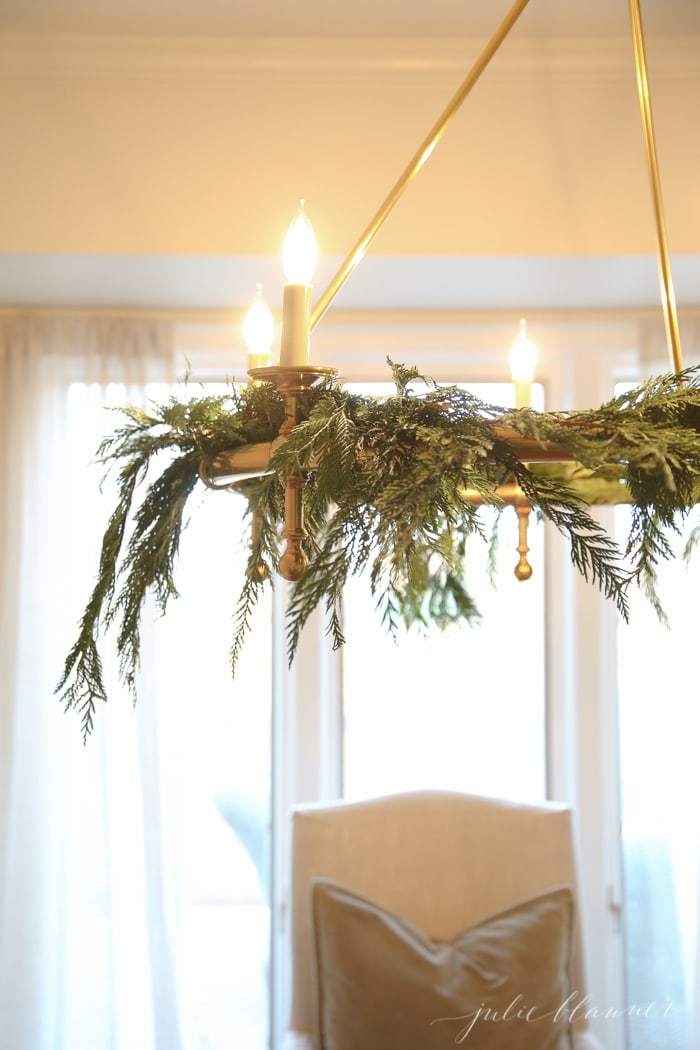 This post was originally published November 29, 2013 and updated with fresh content December 2, 2021.
This style carries over into my holiday decorating. I love to celebrate and decorate for holidays, but I like it to complement my home and enhance the mood that I work hard to create all year long.
Step inside and learn all my favorite tips for how to incorporate simple winter decor elements into your home for the season.
The beauty and perfect imperfections of real items make a home feel comfortable. For example, a wayward branch, an upturned stem, or a drooping leaf remind us that we're not striving for perfection, just trying to find joy and beauty in the everyday.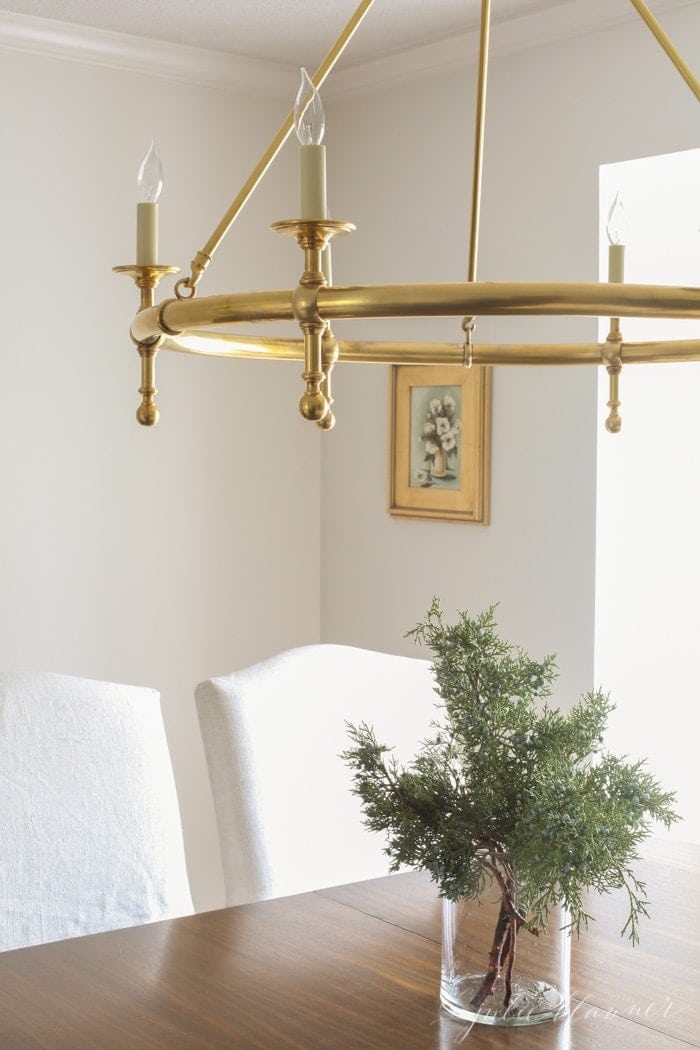 My Winter Decor Style
We love and celebrate Christmas in our home. Right after Thanksgiving I put up our seasonal decorations to begin the festivities for this fun and exciting time of year.
I realize, though, that a lot of people don't celebrate Christmas but still want to invite a serene winter atmosphere into their home. These ideas will work perfectly for your home as well.
Actually, most of my holiday decor is simply just winter decor. In keeping with my decorating philosophy, my Christmas decorations are natural and minimal – celebrating winter and all of its glories rather than bringing gaudy and intrusive objects into my home.
I accomplish this by bringing little hints of the outdoors inside that add cozy touches to warm our home up. I don't typically use a lot of artificial decor, preferring real greenery, branches, and floral.
Here, red cedar garland adorns our chandelier. It adds a little more cheer to the dining room, while still being totally appropriate for continued decoration throughout the winter months.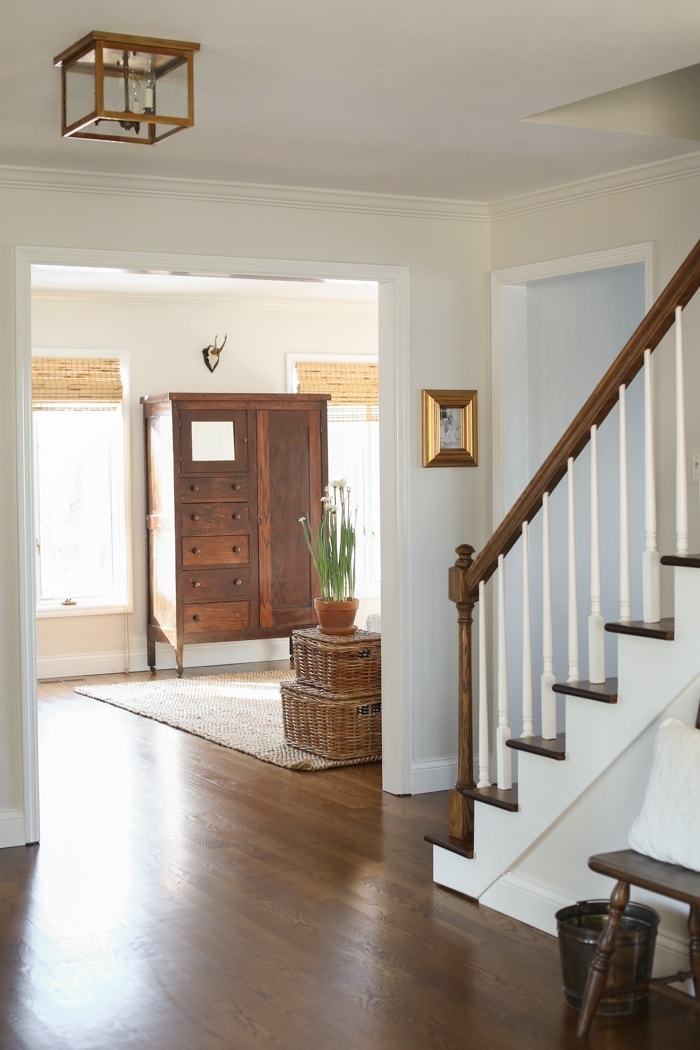 Transitioning to Winter Home Decor
When planning our fall and Christmas decor, I often think about how it will transcend through the seasons. My decorating style tends to be a progression rather than an overnight turnover.
A lot of our winter home decor transitions from season to season so that decorating is a process, rather than a one-time effort for each holiday and season. It also keeps the need for an abundance of bins in the basement to a minimum.
After Christmas, I start paring down our decorations, leaving just winter decor out. First I remove the trees, ornaments and other Christmas-specific elements. I remove a lot of the heavier fresh greenery, leaving some pieces that will work for wintertime decor.
I don't want to clear everything out because there can be a lull between Christmas and spring, and I don't want my home or mood to feel empty.
My winter decor ideas come from these basic categories: Greenery and Floral, Art and Prints, and Textile, Metal, and Lights.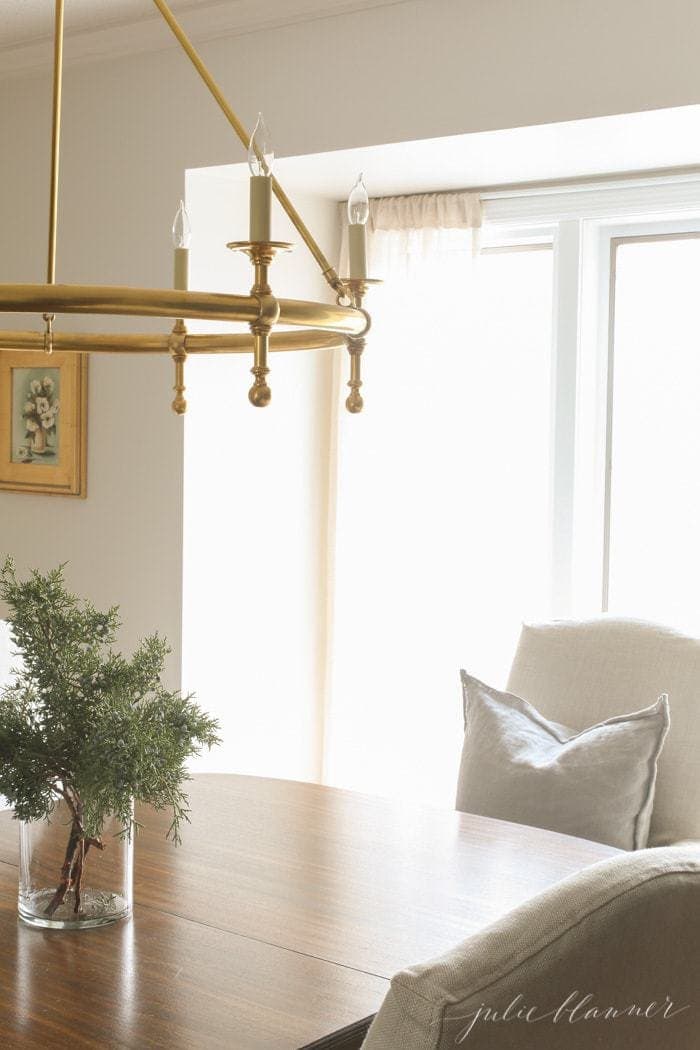 Greenery and Floral
Greenery is classic and timeless – especially winter greenery because it is, after all, evergreen.
Boughs and Pinecones
I find that cutting a few branches from an evergreen tree add a coziness into my decor that lasts the entire winter. They work as displays on dressers, sideboards, and tables. Putting a couple of small branches in a vase makes a lovely winter bouquet.
I love adding pinecones to winter decor. They're easy to find outside and are also sold inexpensively. Put them alongside the branches on a platter for a woodsy wintery feeling.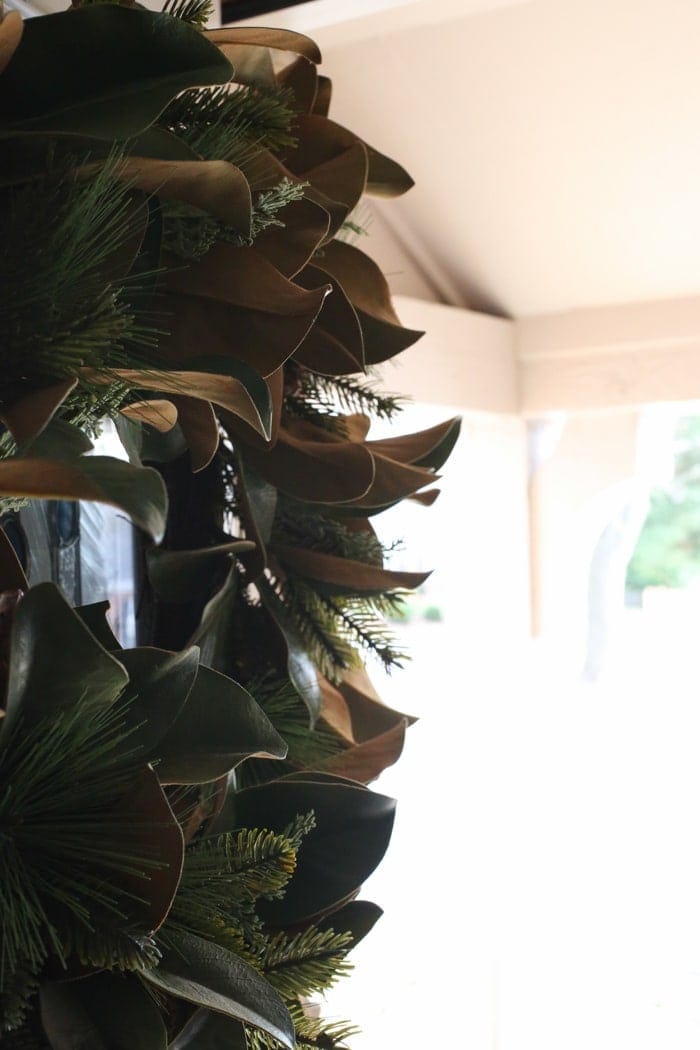 Wreaths
Wreaths are a beautiful Christmas touch, especially fresh greenery. They can last a few weeks, so you're able to display them all through the winter. A wreath doesn't just have to be made of pine boughs.
Boxwood is a brilliant color that shapes beautifully into a wreath. You can even preserve it to have it last longer.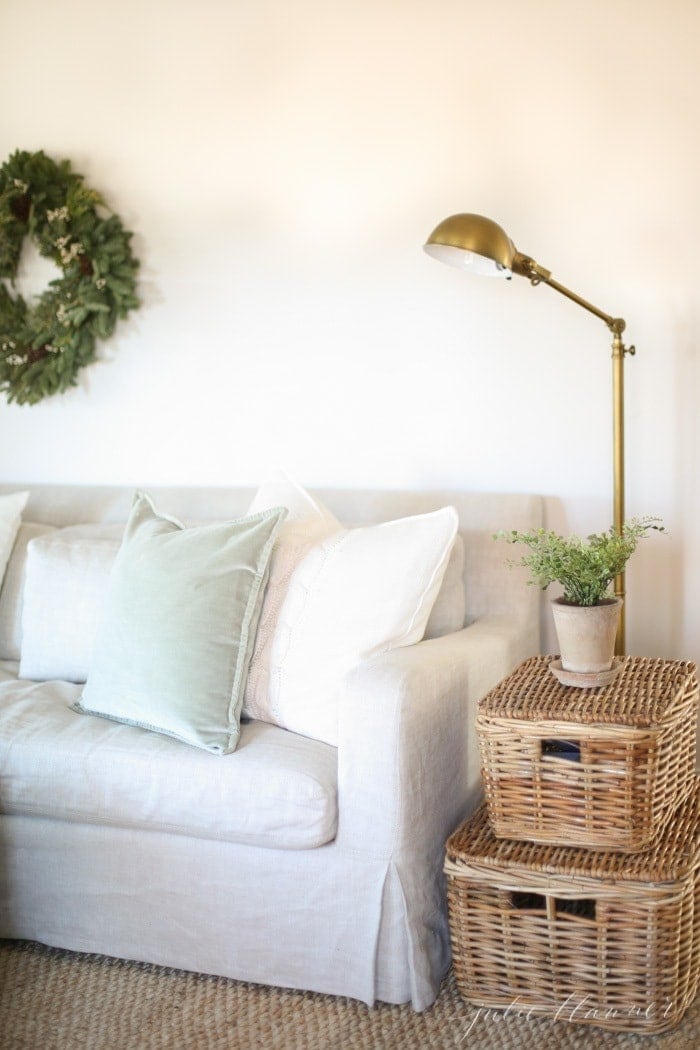 Artificial wreaths and greens can also be great options. Try to choose a wreath or greenery that isn't season specific so you can adapt it to different seasons and holidays.
Below, a simple accent of magnolia in the bathroom gives an unexpected seasonal touch to the space.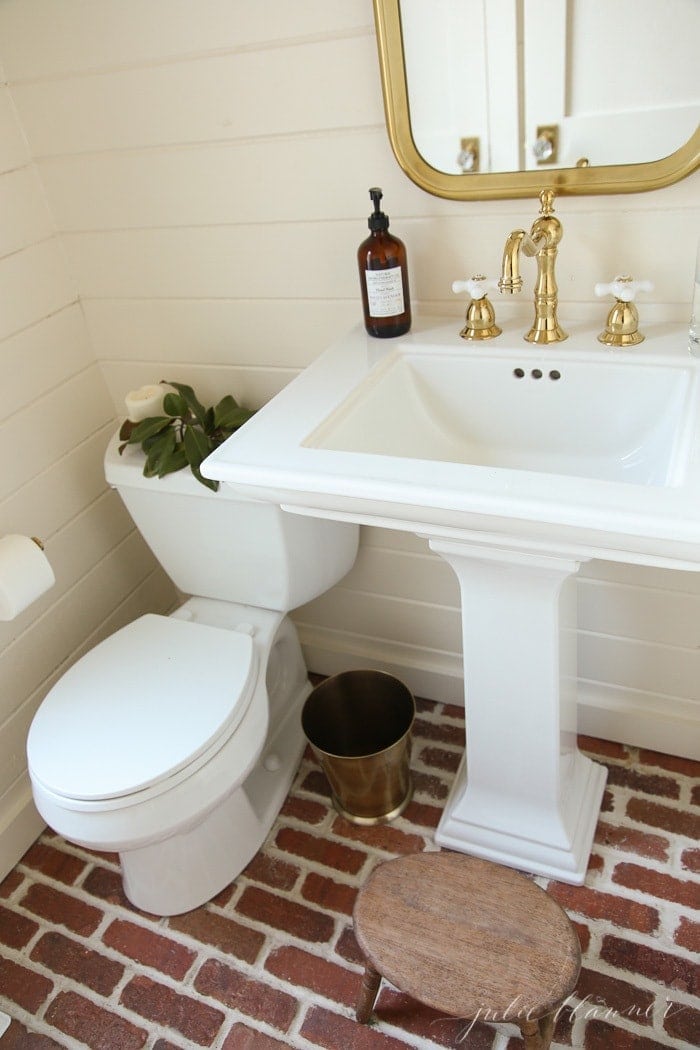 And here in the mudroom, a sweet faux evergreen is the perfect touch in our little crock.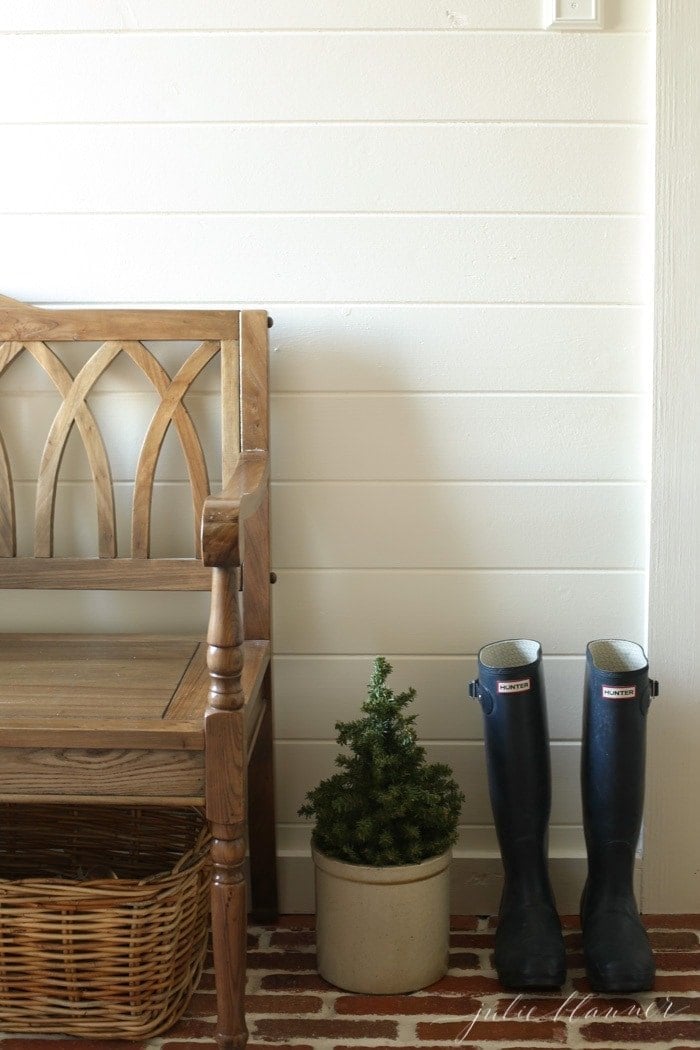 You can read about how I update a basic wreath here. An artificial wreath can give you many years of use, variety, and beauty.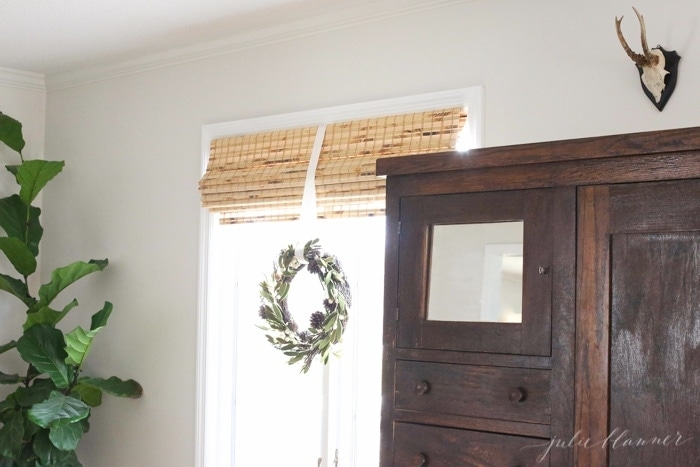 Live Plants
And let's not forget live trees. Potted evergreens smell so good and look stunning in rooms. They come in various sizes and can be placed anywhere- end tables, benches, floors, bookshelves, or wherever one looks pretty to you.
See how I use my olive tree and fiddle leaf fig tree for natural year round decor.
This sweet cedar was the perfect touch in our primary bedroom!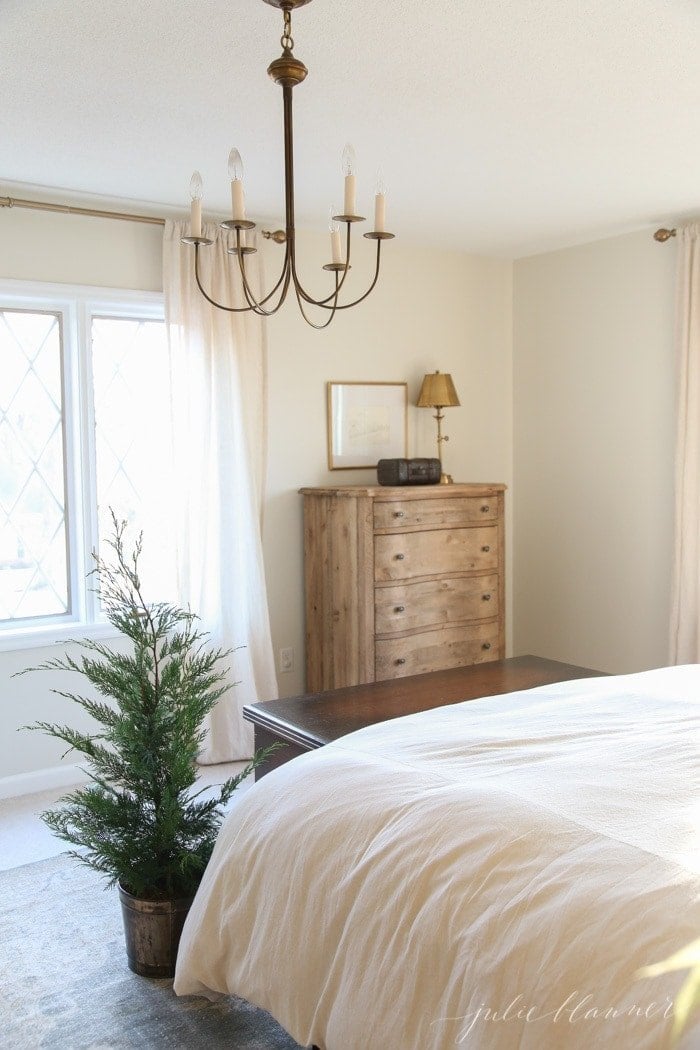 I also love to bring paperwhites into my winter decor. Paperwhites bring a sense of calm and peace after the chaos of the holidays.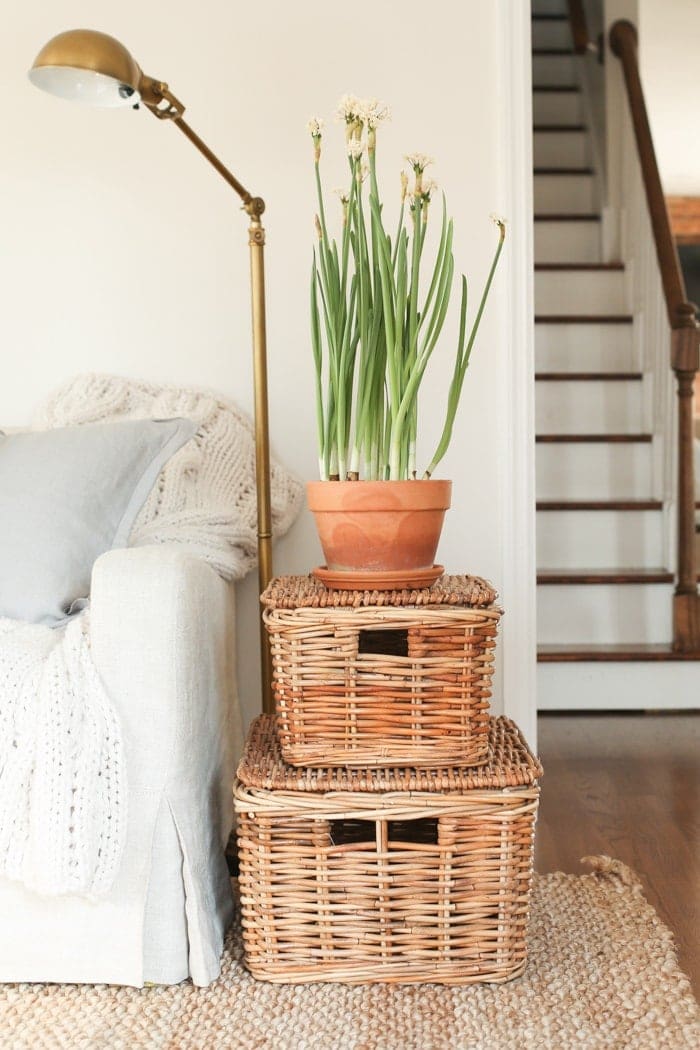 Art and Prints
One of my simple decorating tricks is to change out prints. It's easy for us to get in the mindset that once we put a picture in a frame it has to stay there indefinitely. On the contrary, I actually plan on having some framed art be temporary and to change it out with the seasons.
To make that process easier on myself, I leave the rotating pictures inside the frame and just put the current picture in the front to be seen. Then when it is time to change, I just switch up the pictures, keeping all the photos where I need them for when it is their turn to be displayed.
Art doesn't even have to be just professional art prints. I found wrapping paper that I loved, so I cut a small piece and framed it! There are a lot of images online that I print and frame as well.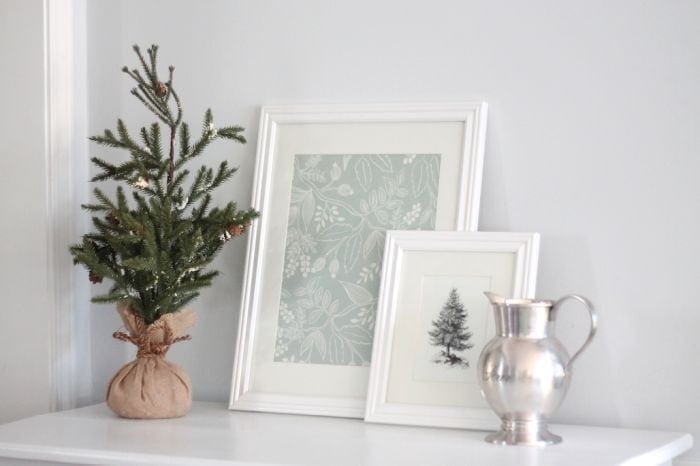 Printable Art for Winter Decor
I printed and framed the pine tree and overlapped it with the framed wrapping paper. These pictures will last all winter long. You can find a beautiful tree printable here.
You'll notice that most of my winter decor ideas mix a lot of different elements to create the perfect vignettes. While I don't typically use much artificial decor, I couldn't resist this sweet little tree wrapped in burlap.
To complete the look, I added a silver pitcher on top of the sideboard. With no sign of Christmas, I created a sweet winter scene that looks seasonal and inviting.
See how I create my own botanical prints and pictures printed on linen. And here's my complete guide for free art sources that you won't want to miss!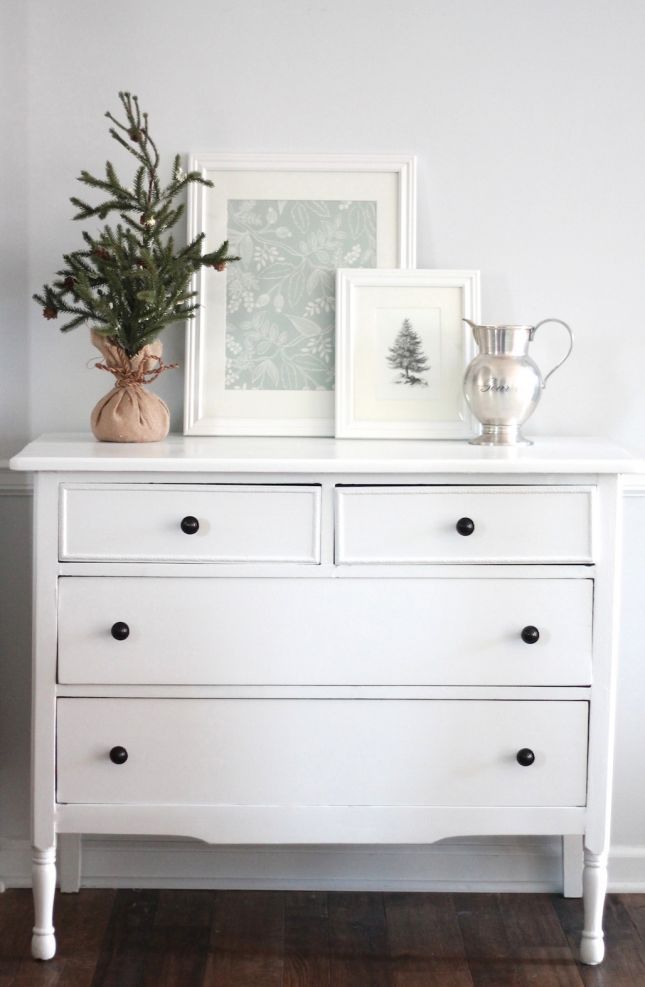 Framed photos of past winters make great holiday decorating. They're a fun way to reminisce, and they add a personal touch in winter home decor.
A picture of my grandparent's red house on their farm is perfect in a winter arrangement. Nostalgia is always in season!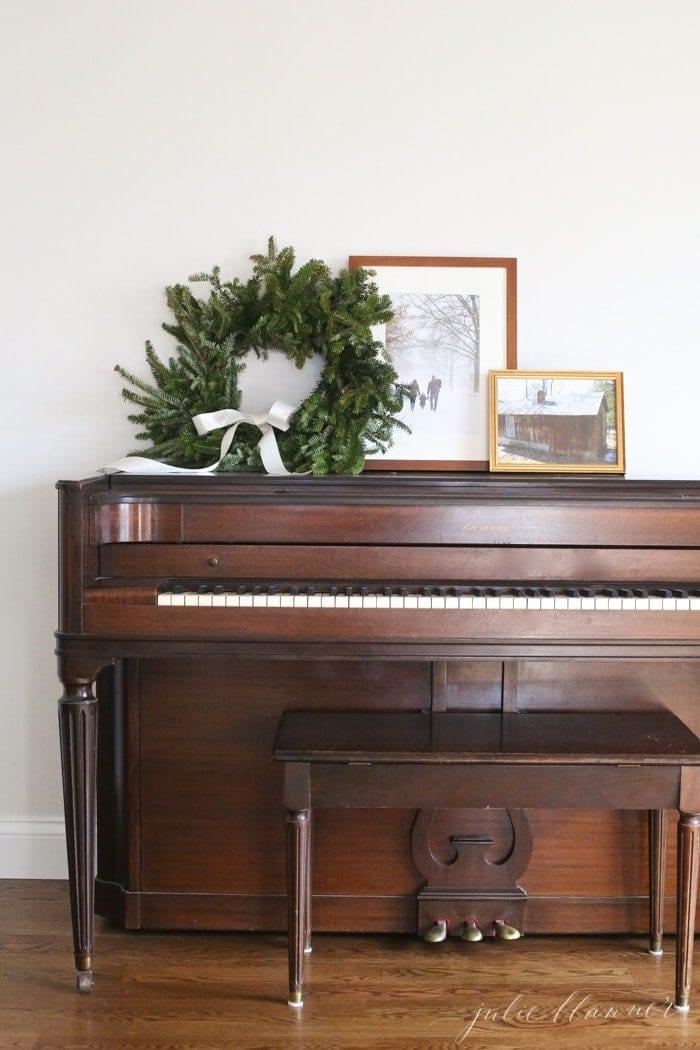 Textiles, Metal Finishes, and Lights
I tend to incorporate different textures and finishes into all of the vignettes I place around the house. It makes the scene look complete.
Don't underestimate the power of the the finishing touch – ribbon or fabric. You can find a decoration in a craft store that you love, except that the ribbon isn't right at all!
Don't let it scare you away. Just change out the ribbon you don't like for some ribbon or strips of fabric that look great in your house.
Textiles play a big part in decorating between Christmas and spring. It's a process of give and take to get the right mood.
For example, the Stewart plaid pillow cover is stowed away in favor of something a little lighter, because when the forecast shows clouds, rain and snow for the next 10 days, you need all of the sunny moments you can get!
Pillow Covers and More
I'll swap out pillows and throws to make sure that the Christmas theme is gone, but a wintery theme remains. And then as we begin to get ready for spring, I'll bring out lighter textures and prints.
I find that light blue is a lovely color in the winter, especially when partnered with a striking wreath that is still hanging on the wall.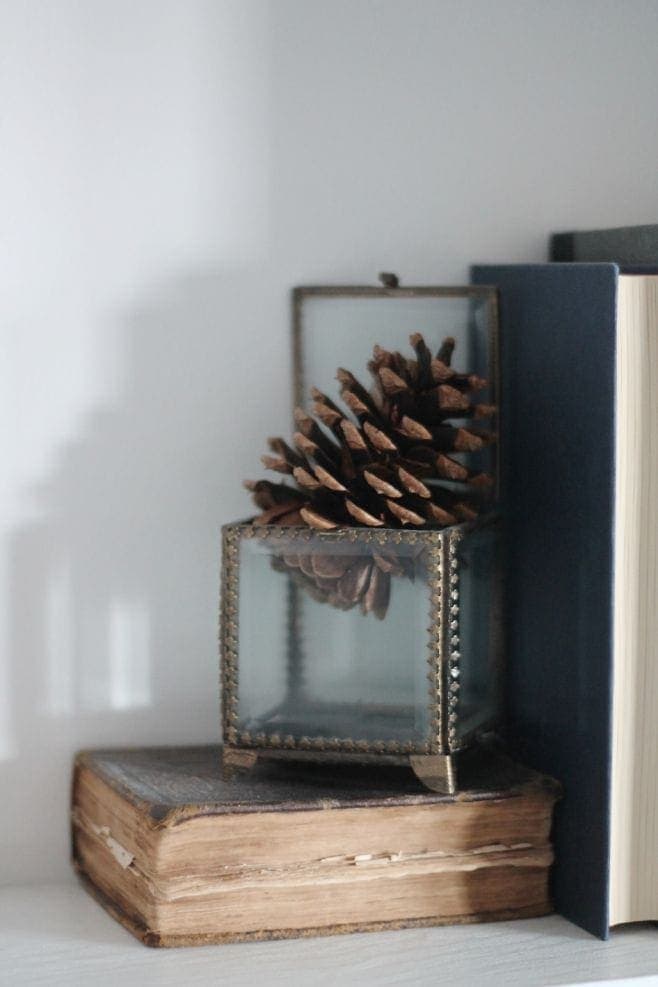 Using containers with different metallic finishes is also something I incorporate into winter decor. This little brass and glass container looks almost magical, so it's perfect for Christmastime – and the winter months that follow.
Pair vases, boxes, platters, and bowls with a little wintery item to transform it into a winter decoration.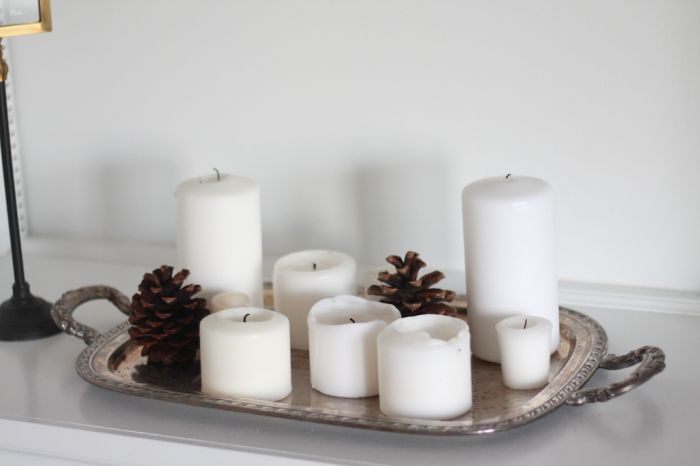 In Ani's bedroom I created a little winter's dream with vintage figurines that stand on a mirror. Around the base of a mini undecorated tree I wrapped a scarf – a chunky texture that adds warmth and coziness.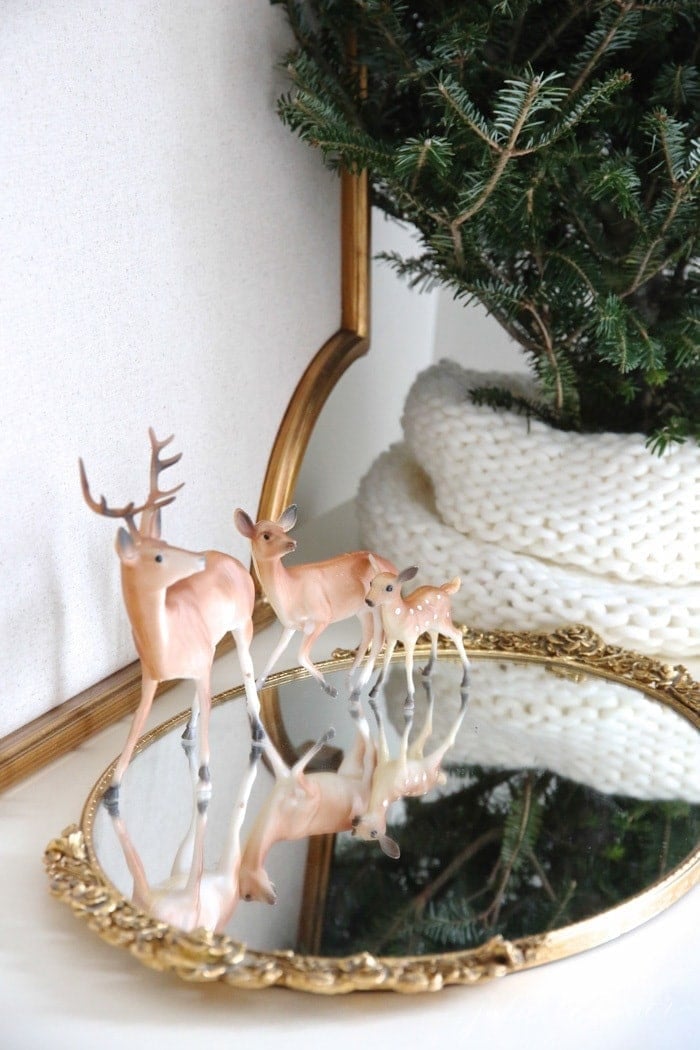 Definitely don't forget the lights. Christmas and winter should be full of lights. Candles and starry string lights transition from Christmas through winter perfectly.
Candles can be placed alongside greenery, floral, vases, and on platters to soften the atmosphere and make it feel warm inside.
Starry string lights are so versatile. They're made so small now that they can discreetly be incorporated into floral and greenery arrangements, along photo walls, and any other place you think could use a bit of whimsy.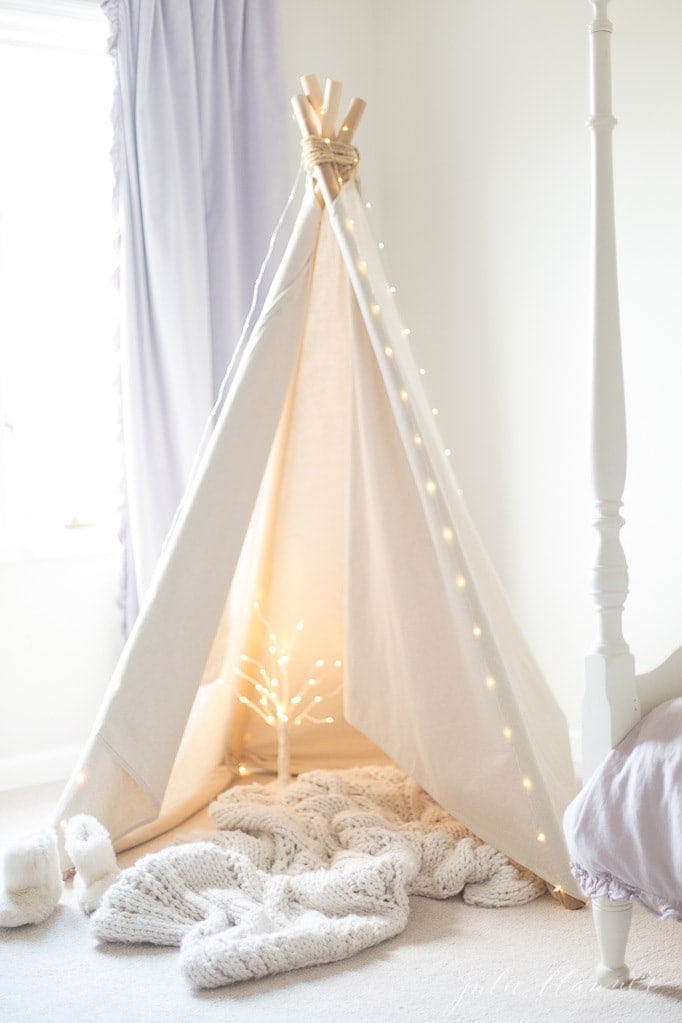 These sweet little trees have the perfect effect for winter. They have the look of bare trees, with lives lit up by magical tiny lights. They work beautifully to add charm to any room of your home – learn more and find your own by clicking through to the full post about them!
Birch Logs
These pretty white logs look so beautiful and natural in any area of your home. In fact, we've even tucked them into areas like our bedroom, for an element of charming, rustic outdoorsy decor!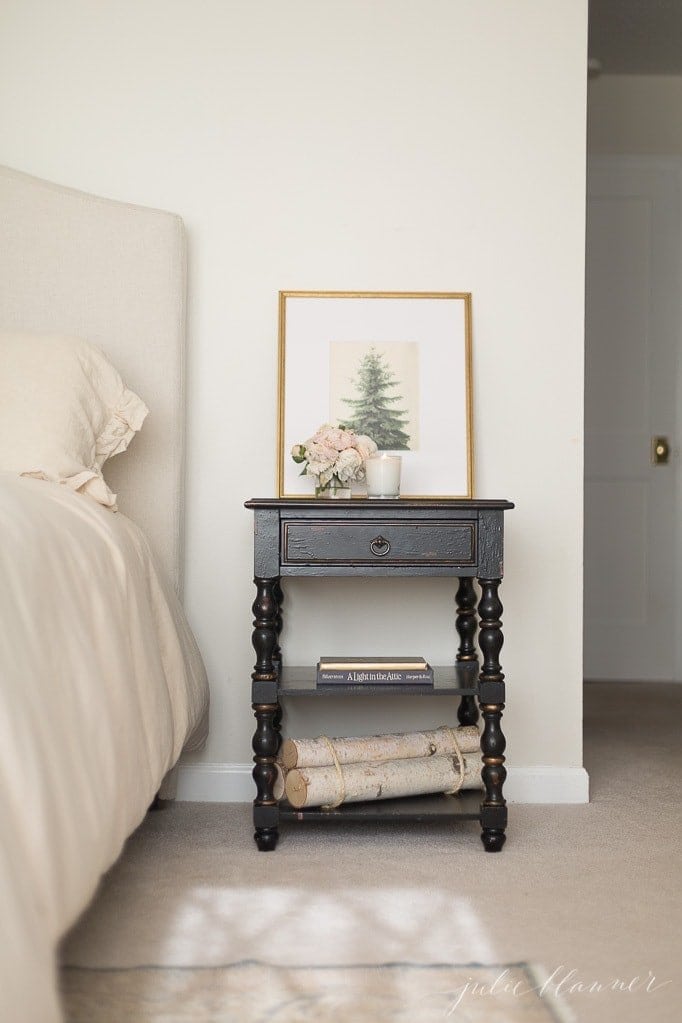 More Winter Decor Tips
Use Christmas decorations that also look wintery so they can stay up through the winter months.
Greenery and floral is always in season. Change out small pieces in a wreath or arrangement to make it fit the season.
Don't think all of your decorations have to go up all at once and then come down all at once. You can let wreaths and other fresh greenery live out its time all during the winter.
Make little vignettes of natural items like boughs and pinecones, art, metallic vases and plates, and candles.
I like to keep my decorations out of the way of the flow of traffic. I set up pieces of winter home decor in bookshelves, on tables and dressers, and on the walls so it is is easy to see, but doesn't get in our way of living.
Look around your house and keep your eyes open at thrift stores for items that could be incorporated into your decorating between winter and spring. Items don't have to be sold as "Christmas" or "Winter" items to work in a winter home decor.
Ready to move past winter decor? Don't skip my favorite Spring Wreaths in this incredible round-up for even more seasonal inspiration!
Let's keep in touch! Receive exclusive content, including never-seen-before photos, our favorite home decor DIYs and more!