Get all the details about one of my favorite warm and cozy paint colors, Sherwin Williams Zurich White. It's a little creamy, a touch greige, and it might just be the perfect soft neutral color for your home!
Learn all about how to use Zurich White, what colors to pair it with, and how it feels in a space. Find photo examples of this color used in a variety of interior and exterior spaces, too!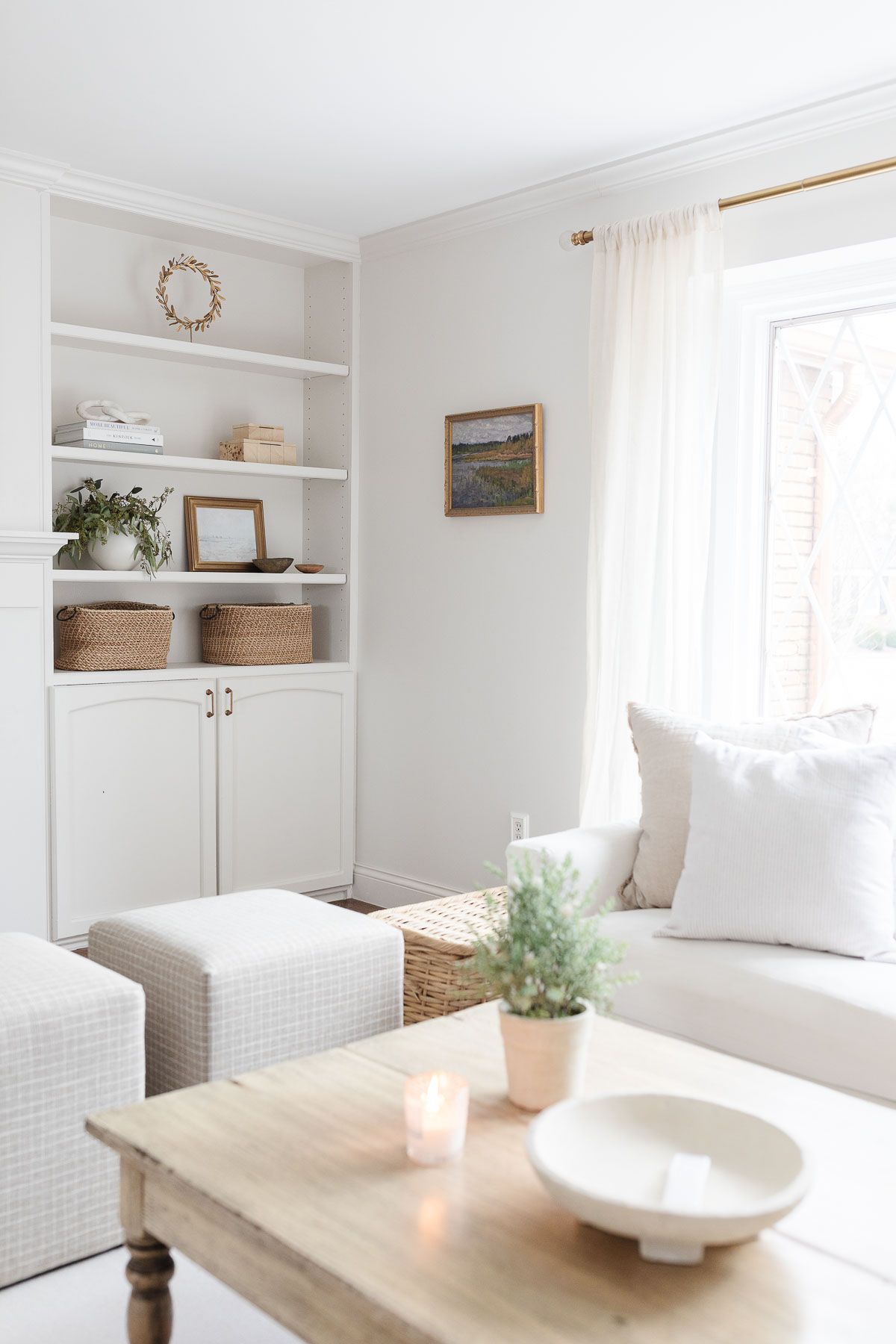 We first used Sherwin Williams Zurich White in our previous home throughout the entire second level on recommendation of a friend and painter.
We loved it so much that we decided to use it again in our current home throughout some of the main level including the entryway, living room, family room, and dining room.
It's a color that I love sharing with people, because it's such a great mix of all those tones so many of us are looking for… it's a little creamy, a little antique, and so very soft. In fact, it's beautiful in a variety of lighting situations!
I love chatting paint with you – don't miss my favorite Warm Whites, the best Cream Paint Colors, and Greige Paint Colors!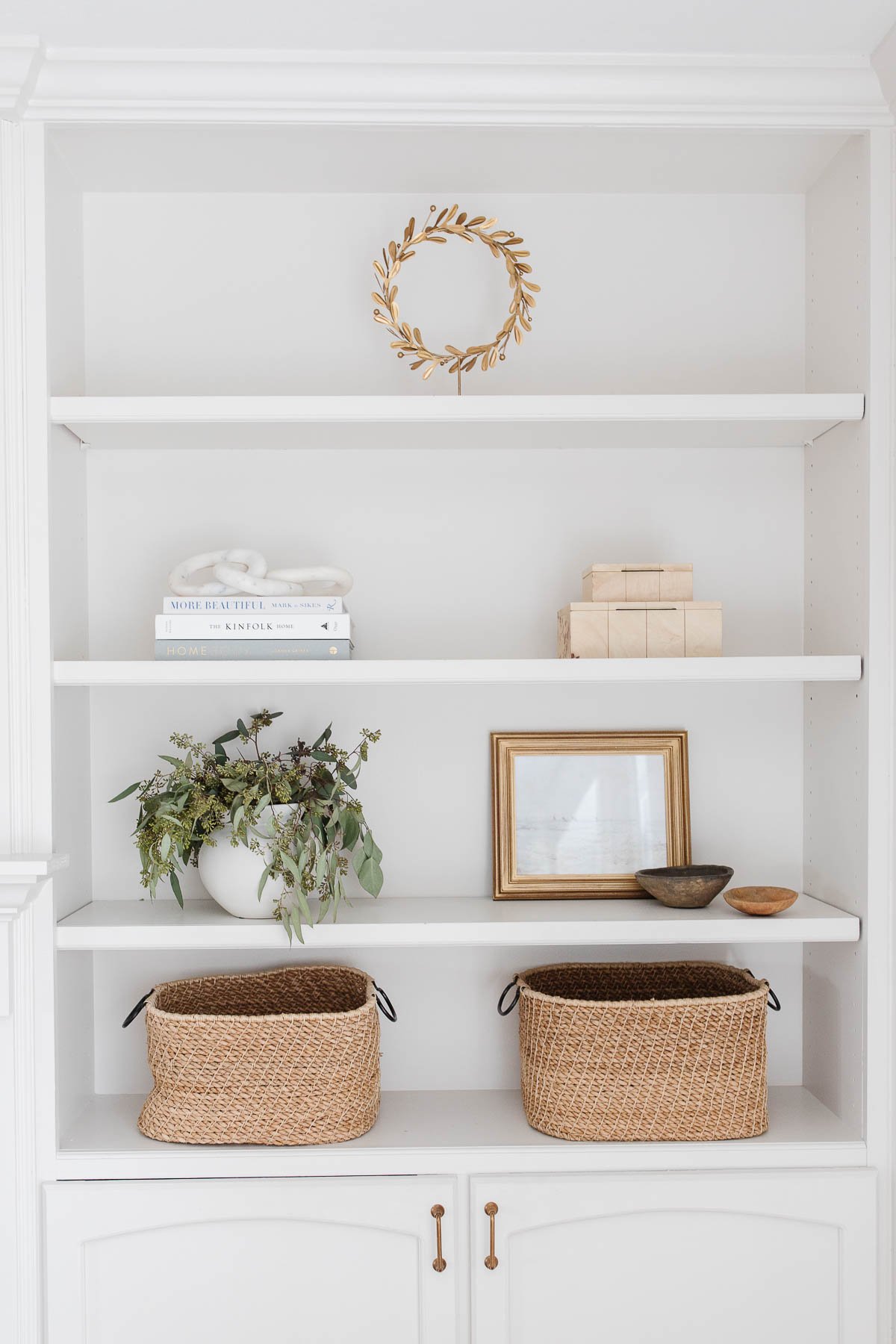 Why You'll Love Sherwin Williams Zurich White
This color is perfect for those who love grey, but would like something a touch warmer or a slightly greige tone or if you're transitioning from a grey room.
Soft White
Warm + Cozy
Creamy but Not Too Yellow
The Perfect Neutral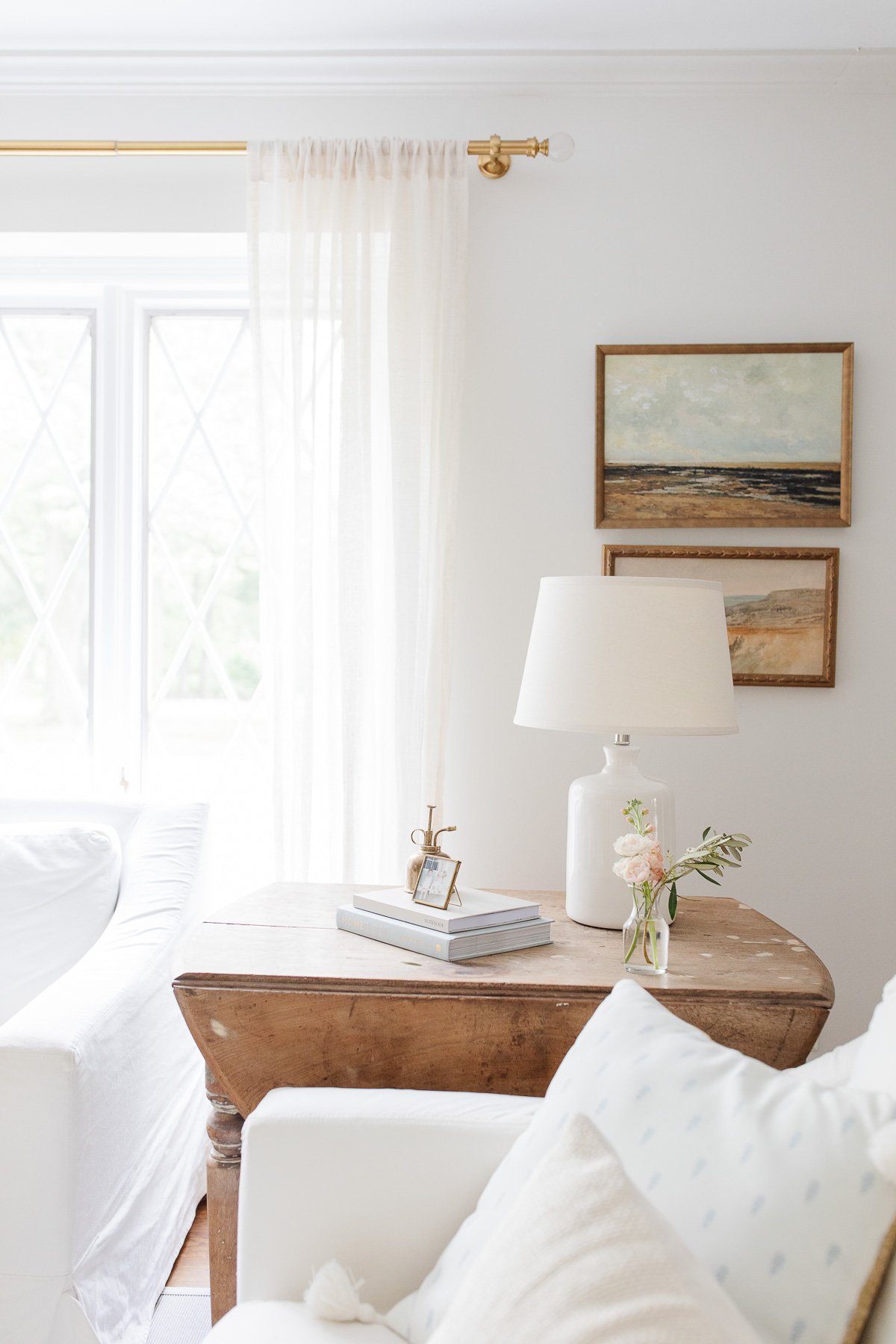 Sherwin Williams Zurich White Details
Best For
East / West facing rooms are most ideal
South rooms
Makes a Room Feel
light
slightly more modern
not too cool, not too warm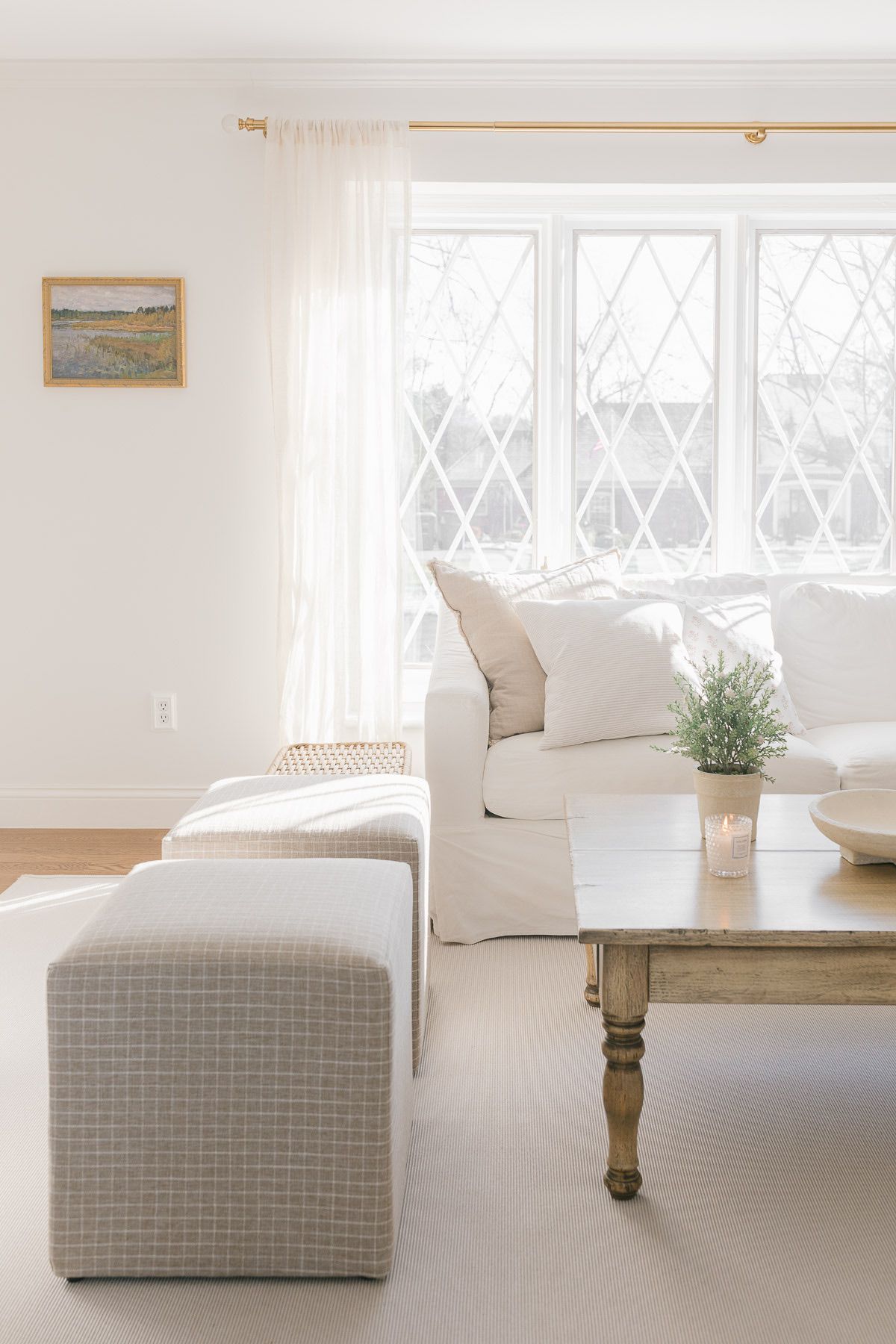 Undertones
gray to greige
touch of yellow
Styles it Fits
traditional
country
modern
transitional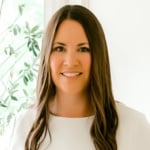 Tips
Get a sample, or even 5-6 samples if that's what it takes. Learn more about Paint Samples here!
Try the warm white color on two walls in the room, or exterior that face different directions.
Look at the paint at various times during the day to see how it reads in various lighting situations.
Test it with your trim color.
Shades of white will have a high light reflectance value, picking up the reflection of the colors around them.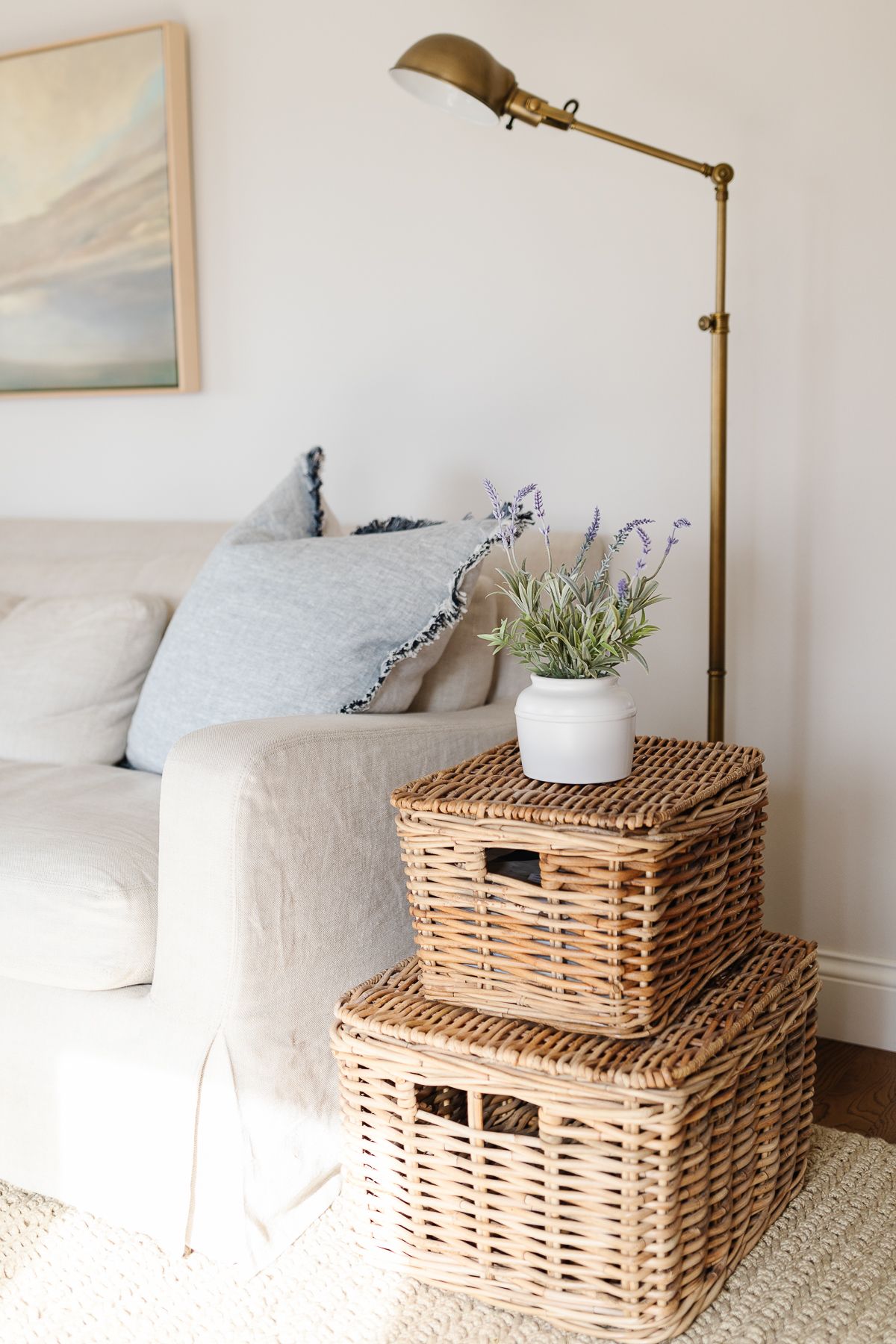 LRV
The LRV of Zurich White is 76, making this a soft, creamy neutral color that isn't nearly as bright as many whites on the market.
LRV stands for Light Reflectance Value – click through to read all about it. It's the measure of how much light a color reflects… or in other words, how bright a color is. On a scale of 0-100, 0 is the deepest black and 100 is pure white.
In rooms that don't feature much natural light, consider choosing a color with an LRV of above 60 – check out my round-up of beautiful Warm Whites.
Below, you can see how much warmer it feels with direct sunlight in my South-facing office.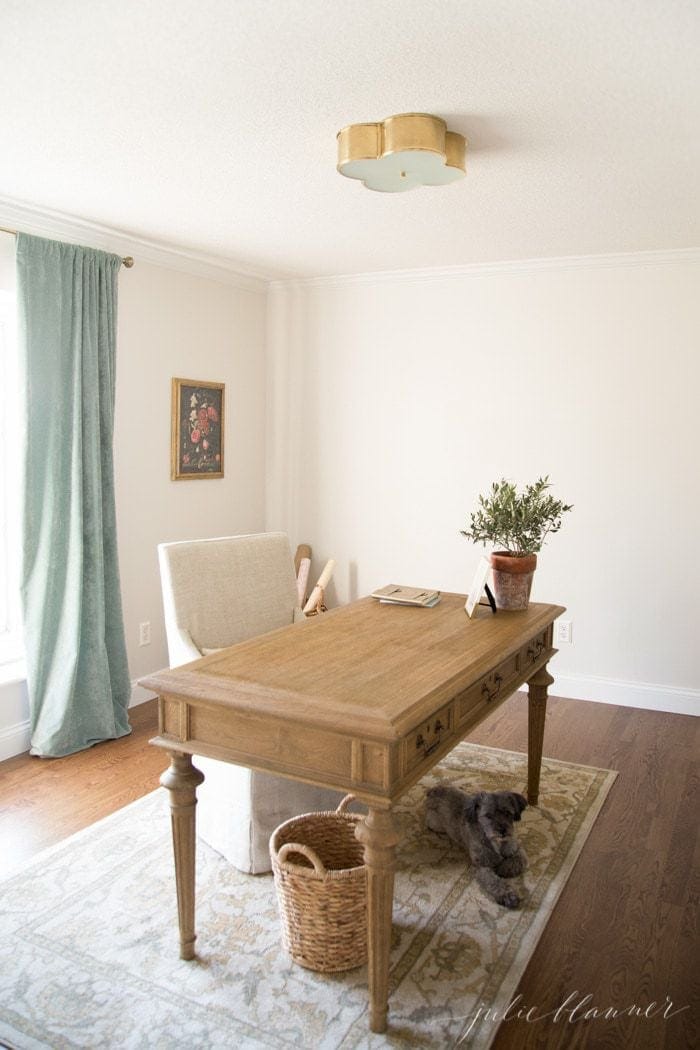 Trim Colors to Pair with Zurich White
In the living room we opted to not only paint the walls with it, but all the trim including bookcases, crown molding, and baseboards as well, just one sheen higher. Learn more about Painting Walls and Trim the Same Color!
Throughout the rest of our home we paired it with an un-tinted white paint for trim.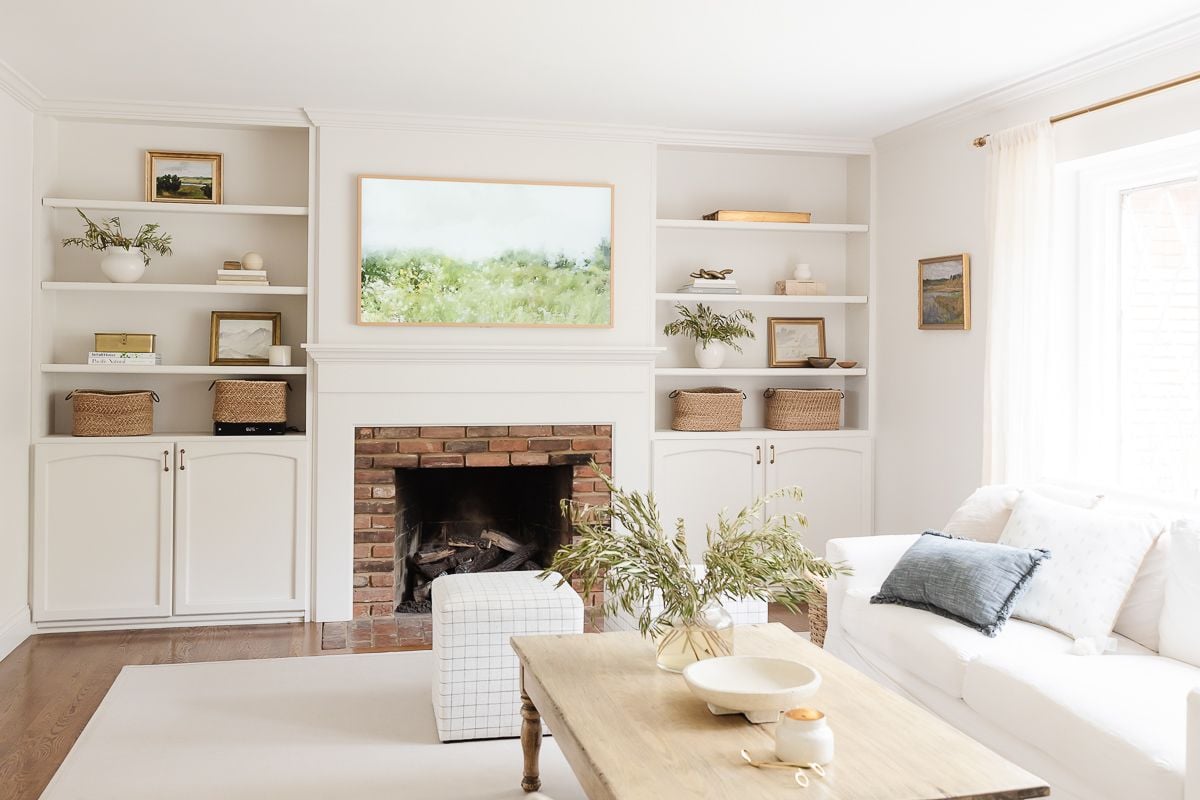 Colors to Pair With SW Zurich White
One of the best things about this color is just how versatile it is! This is looks beautiful with a variety of elements that surround it. I think that's because it's not too yellow or too gray in its undertones, so it can feel either warm or cool depending on lighting and accents.
Here are some of my favorite color combinations for you to consider:
Deep Grays – Choose a striking charcoal or even a beautiful black (as seen in the windows below) for a beautiful contrast. This will make Agreeable Gray read as more of a creamy beige.
Navy Blues – One of my favorites is Benjamin Moore Hale Navy. It is a beautiful, deep navy that looks good with so many colors.
Greens – Fresh shades of green, ranging from soft mossy tones to deep evergreen, will look beautiful when paired with Agreeable Gray.
Frequently Asked Questions
Is Sherwin Williams Zurich white warm or cool?
I love this color because it's actually a hint of both. With undertones of both yellow and gray, it's not too warm and not too cool.
Is Zurich White a greige color?
While it does have some greige undertones, it also has some cream to it. So while it might read as greige in some homes, in other rooms it will pick up the yellow a little more.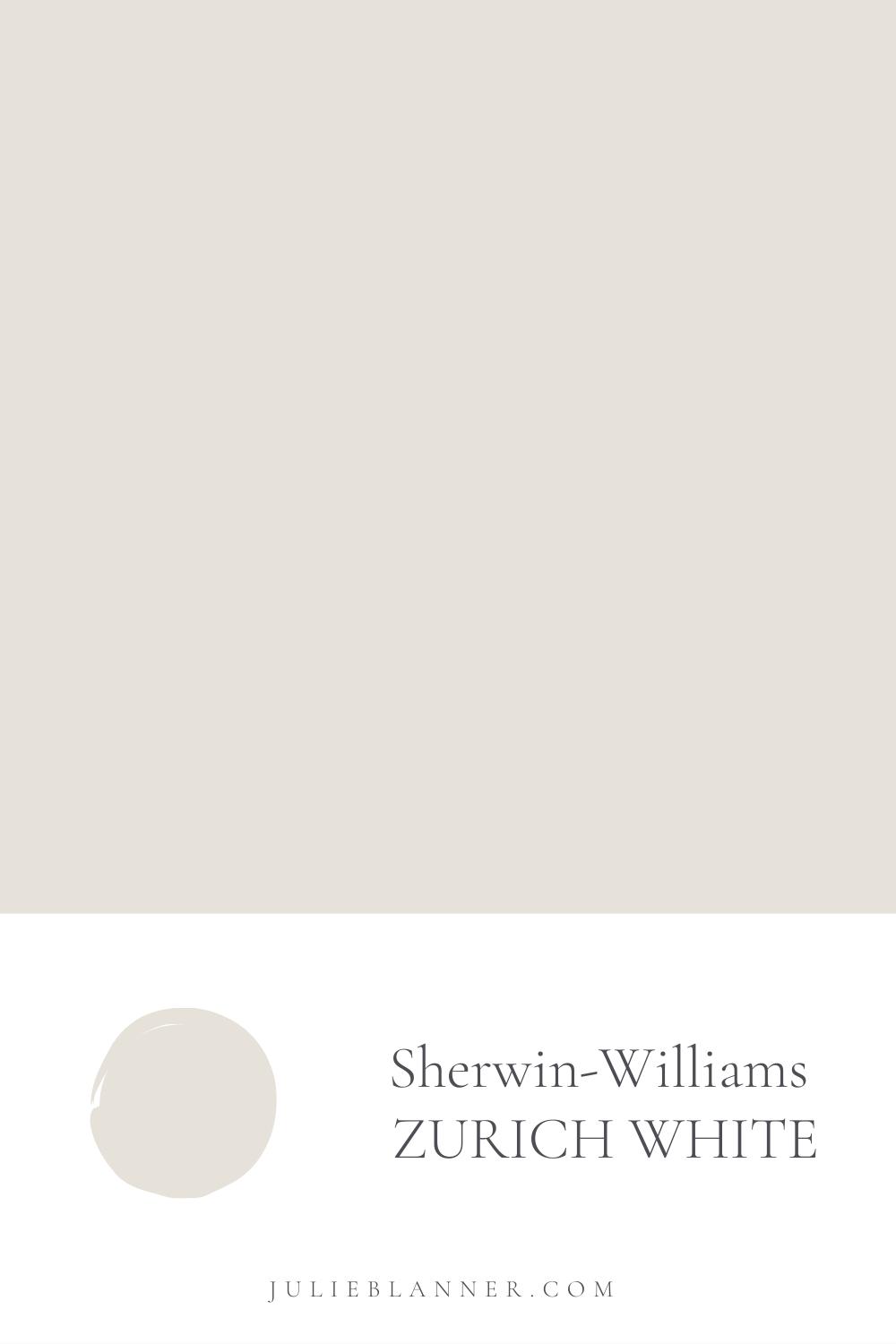 Where to Use this Color
Walls – It's especially wonderful in rooms with natural light. Don't skip my complete guide to paint sheens so you know how to make this decision!
Trim & Doors – Use Zurich White on your trim and doors, and combine it with a deeper wall color for contrast. Or, go the opposite and choose a more true white for the walls, like Chantilly Lace.
Cabinetry – I love the inspiration photo included here of this color on kitchen cabinetry!
Furniture – much like we painted our nightstands in our primary bedroom, this color would be beautiful on a variety of furniture pieces. Read more about my favorite furniture paint.
Exterior – With its perfect blend of warm and cool undertones, this color is a wonderful choice for home exteriors. Keep in mind that colors will always appear much lighter on an exterior than an interior surface, as you can see in the follow photo. Check out my tips and tricks on how to select exterior paint colors here.
Below, this house is trimmed in Zurich White and the body is painted in SW Dovetail.
More Paint Inspiration
You can find all of our paint colors here and keep track of all of yours here. If you use any of them, please return to share your thoughts!
Let's keep in touch! Receive exclusive content, including never-seen-before photos, our favorite home decor DIYs and more!
More Paint Colors You'll Love
Paint Colors, Tutorials & Tips