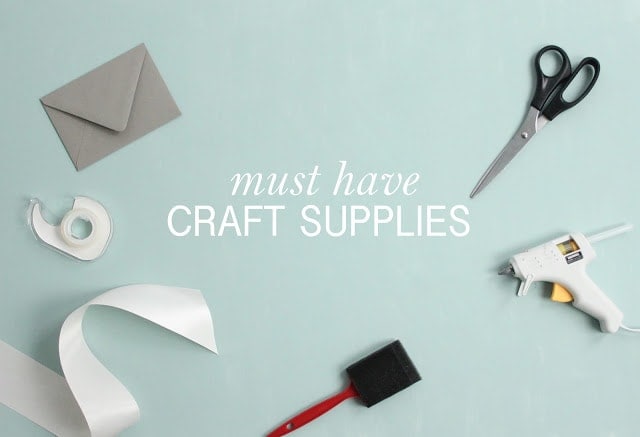 I'm often asked to do a project last minute, or need a quick gift. I can't always run out to the store to get supplies, and don't care for a lot of clutter. This is a list of craft supplies I cannot live without. They are tucked into my first two desk drawers for convenient use.
ribbon – offers beautiful presentation for gifts, parties and more
double stick tape – I use this in so many ways, such as these little flags, this birthday display, or lined envelopes
sticker paper – I use it on a whim to create mailing labels, labels for items in my kitchen, gifts, favor bags and more
great card stock – you can quickly create a thank you card or use it for one of many craft projects
paper cutter – quick straight lines!
fabric scissors – fabric scissors give ribbon a polished edge
foam brushes – I rarely use anything else. I've used them to paint on fabric, pots, etc.
glue gun
envelopes – again, great for quick stationery or a birthday card
kraft paper – I use this for easy cleanup, gift wrap and everything in between
one great spray paint – I have in a soft gold
spray adhesive – adhere anything from fabric, paper or glitter in seconds
What craft items can you not live without?