Get the easiest pots and pans storage ideas in two different real life kitchens! Learn about pull out pots and pans storage options, as well as the most efficient pot lid organizers.
No matter how much space you have in your kitchen, or how old or new it is, storage for pots and pans can be a conundrum. We're here to show you some great, realistic options!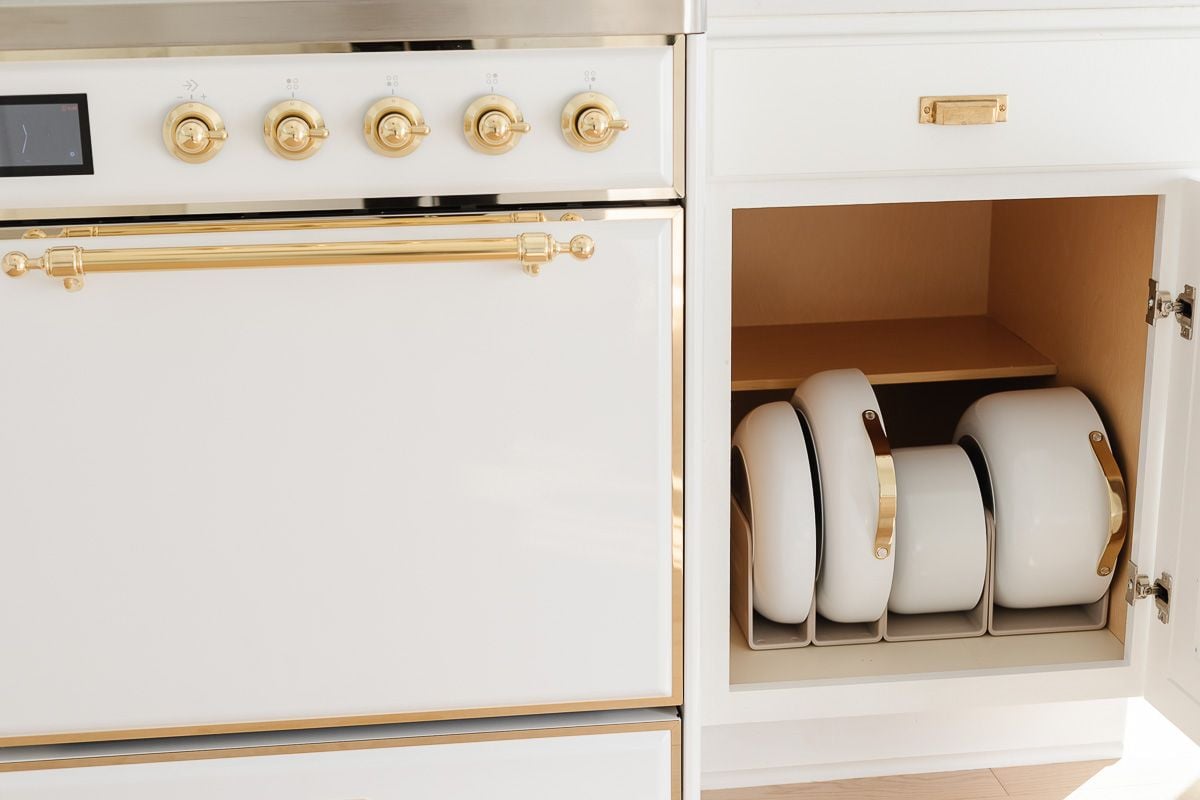 Now that both our St. Louis kitchen and our lake cottage kitchen have been remodeled, I love sharing the bits and pieces with you.
While we added new custom cabinets in our full time home, we chose to keep the original cabinetry at the lake. Both kitchens have unique storage challenges, and we approached them both in different ways.
Pots and pans storage was at the top of my list for organization projects after both of our kitchen remodels. We needed something convenient, functional, but that didn't consume a lot of space.
Luckily, there are so many great options available to store your pots and pans efficiently. Today, we're going to show you our new Caraway cookware with their incredible storage system, as well as our integrated storage in our St. Louis kitchen.
Pots and Pans Organizer Inserts
Most recently, we have undertaken a slow remodel of our lake cottage kitchen. This modern lake house has undergone a gradual renovation over the years we've owned it, but the timeline works for our family.
We are lucky to be able to enjoy this home and still make upgrades as we can! To see more of this modern cottage kitchen, click through for the full before and after.
First, we painted the kitchen in Benjamin Moore Simply White. It's the prettiest warm white with the slightest hint of cream.
We've added new quartz countertops, an unlacquered brass bridge kitchen faucet, and most recently, a gorgeous new Italian range (an Ilve Range).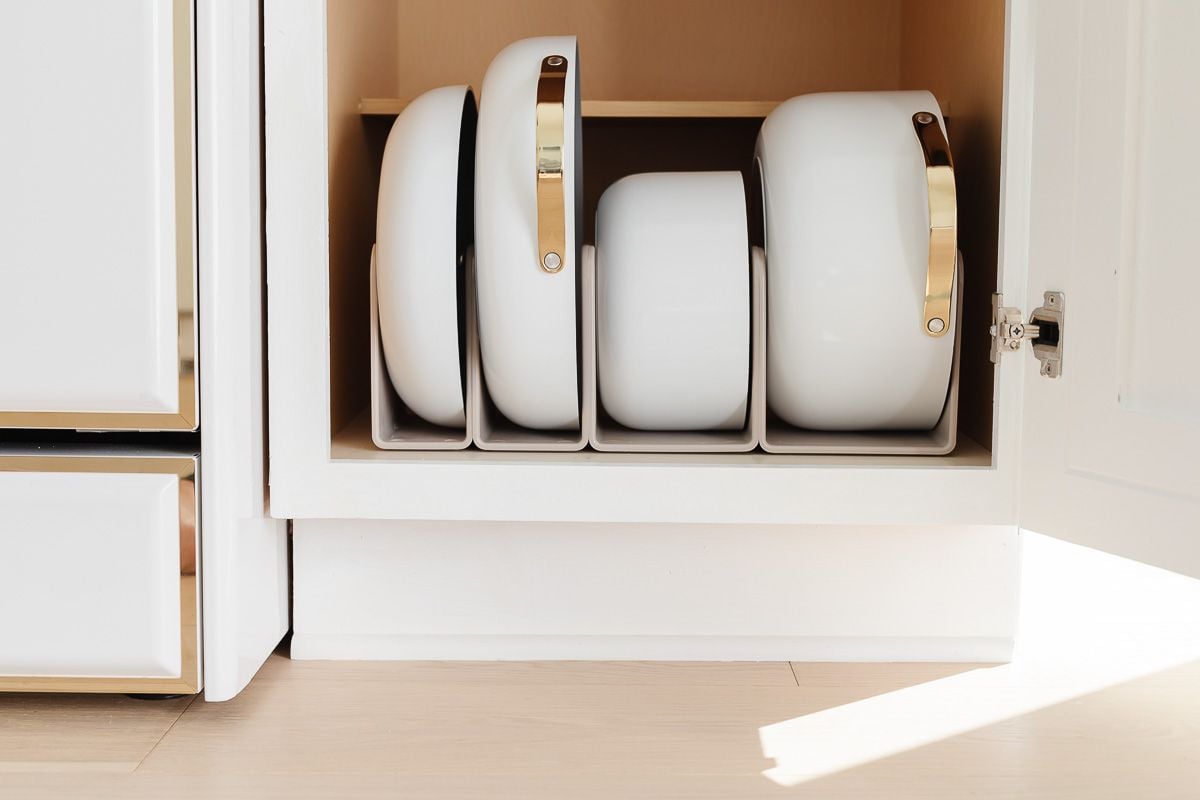 It was the range installation that made me realize we were in dire need of new pots and pans for our kitchen. Luckily, I learned about these fabulous ceramic coated pieces from Caraway, and they even come with the most incredible pots and pans organizer inserts.
It's so simple, but incredibly efficient. These high quality, sturdy dividers are perfectly sized to hold your pots and pans. They are magnetic, which is even cooler – and it makes it so easy to use!
Each piece is surprisingly heavy duty, as I initially worried that the weight of the pots and lids would be too much. Not the case – they are incredible and I'm in love! I think it's such a great option for a kitchen that can benefit from better storage, without the cost of customized cabinetry.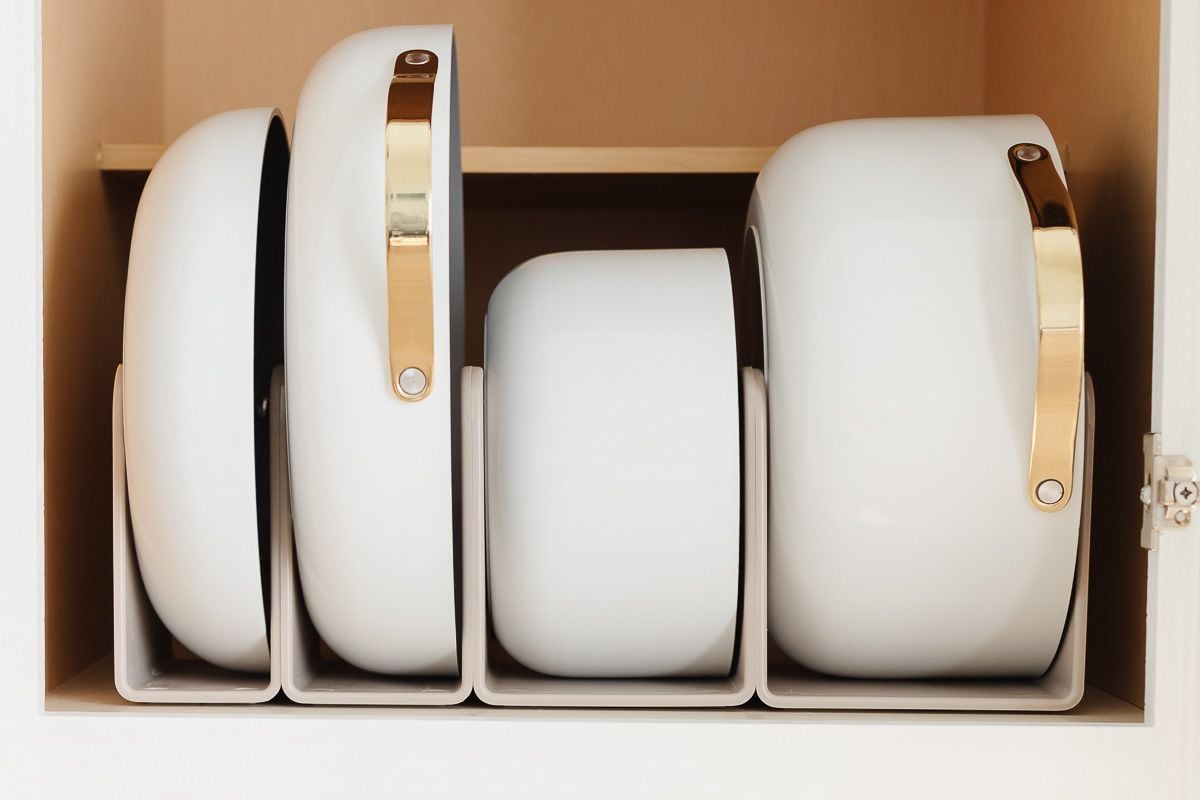 Pot Lid Organizer
You might be thinking… but what about the lids? Well, they thought of that too!
This heavy duty canvas lid holder attaches easily to the interior of your cabinet door. Each lid slides easily and safe in and out, and I love that the heavy fabric protects our newly painted kitchen cabinets.
Wondering if this pot lid organizer will work for you? It's 12.8″ wide and 22.2″ high. That fits inside most standard cabinet doors with ease!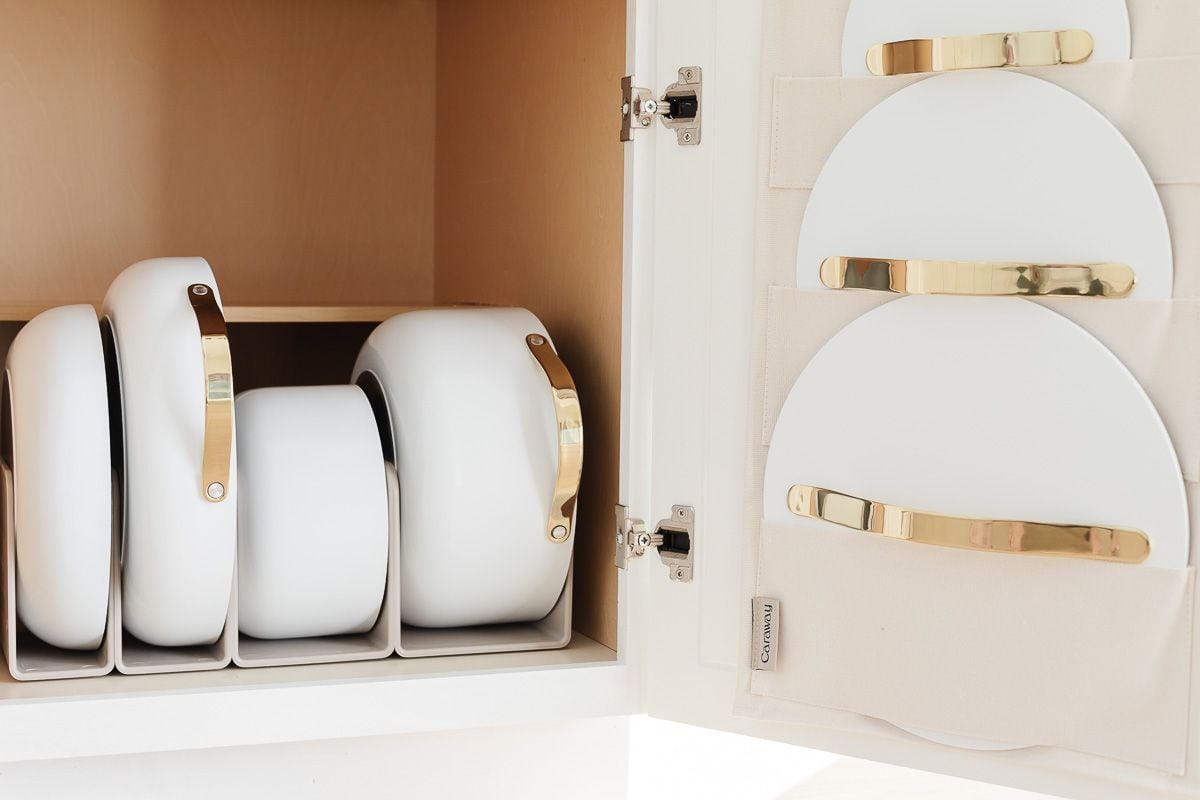 Pull Out Pot and Pan Organizer
We kept some of the original kitchen footprint with our new cabinetry in the St. Louis kitchen, but since we replaced our wall ovens and gas top with a much larger Lacanche range, (a 43.5″ range) we lost a little storage for our pots and pans.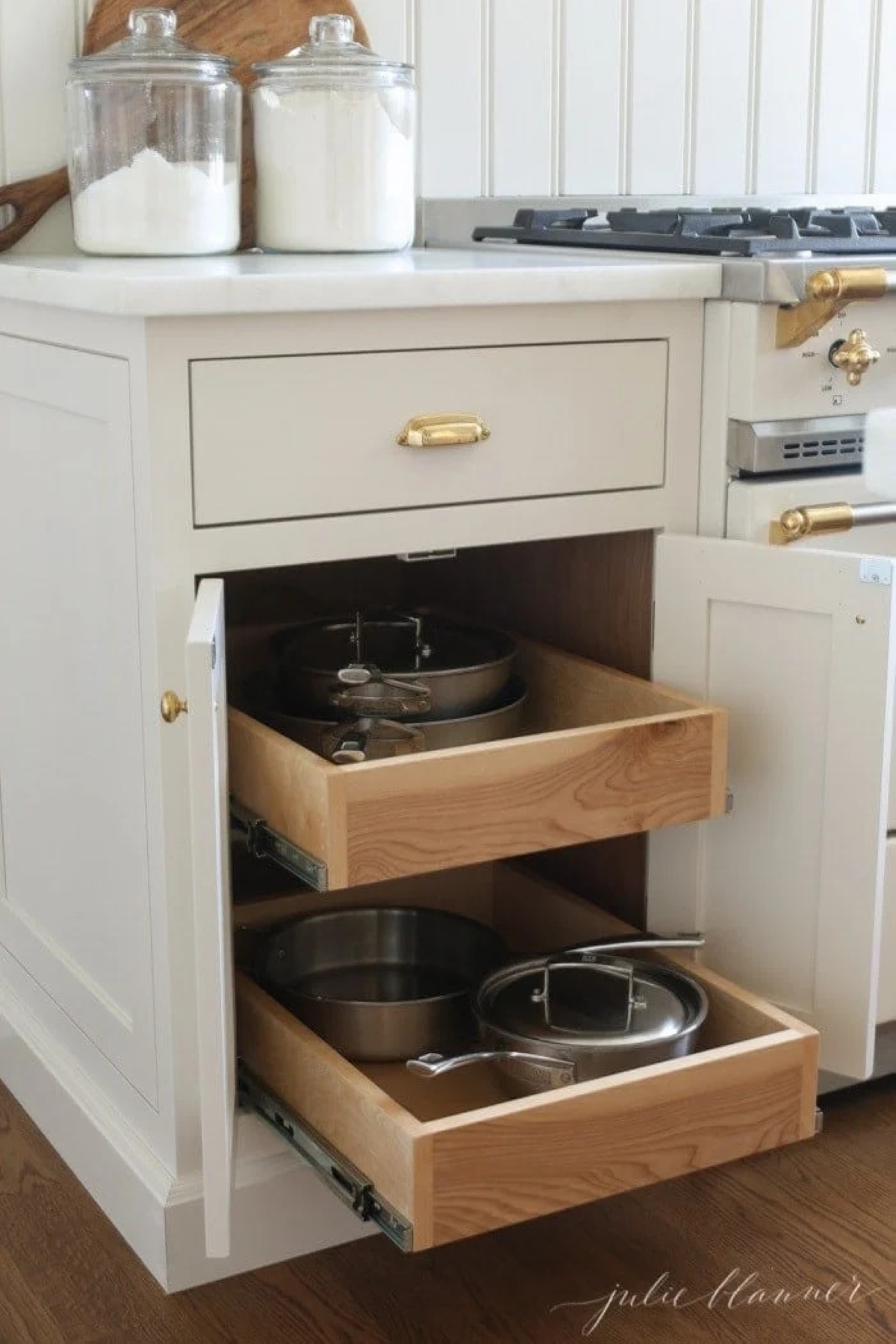 If you love the look of our classic cream kitchen, don't skip this post about our Inset Cabinets! You can find our cream cabinet color and details about our Danby Marble countertops, too!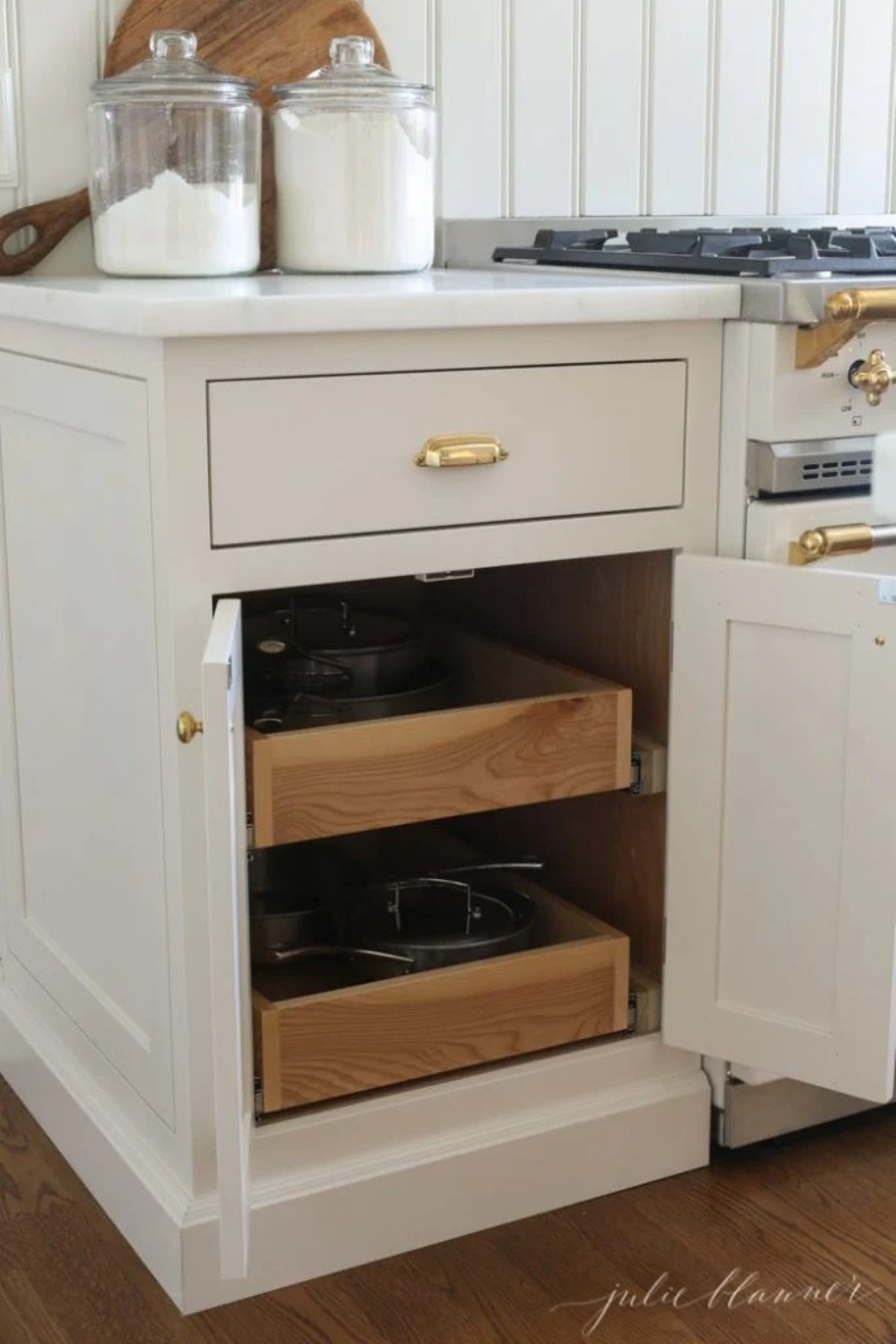 To accommodate the smaller cabinet size, we had pullouts installed. You lose a little space when using pullouts, but gain a lot of function.
A quick pull and the pots and pans are easily accessible – it's also nice to be able to see them in less than desirable lighting. While these are custom drawer inserts, I'll show you a few readily available options in the source section of this post!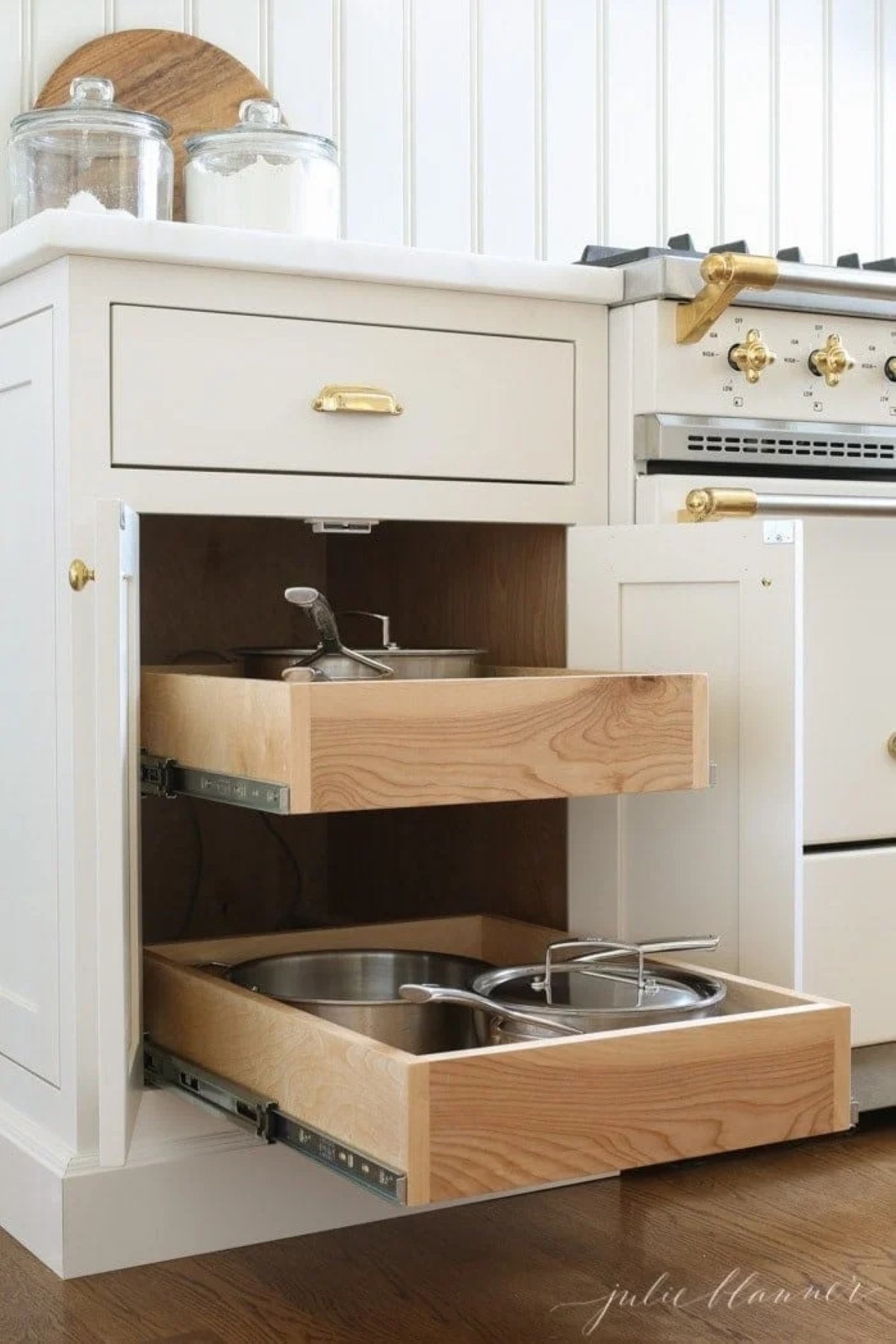 Shallow Shelves for Cast Iron
We also had our narrow pantry wall bumped out in the middle to add a little interest and accommodate my cast iron collection. It's functional, beautiful and near the oven/range for convenience.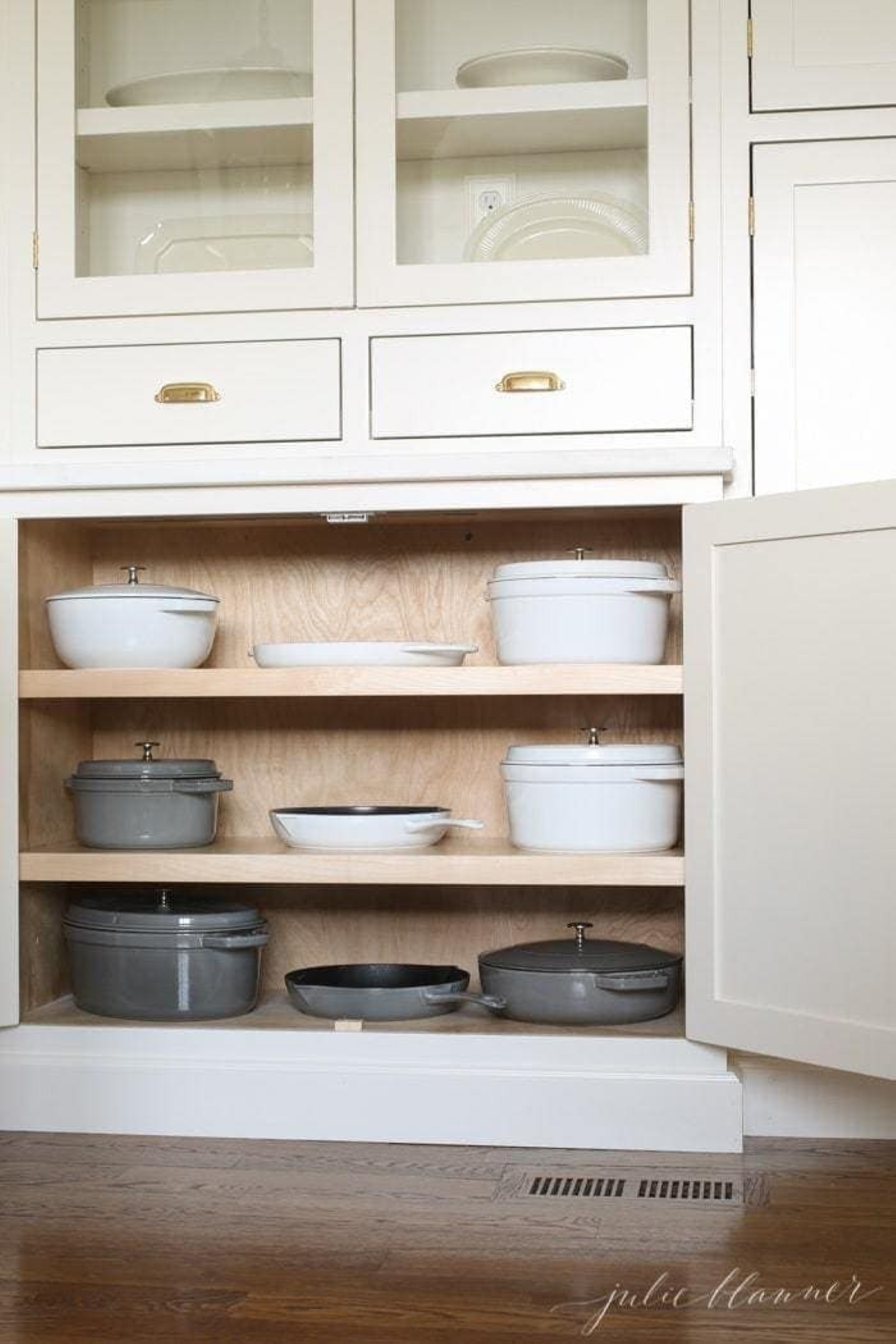 I'm happy they have a home now. They were once stacked to the max in the larger, but overcrowded cabinet our pullouts are in, which is undesirable given their weight.
Shallow shelving is beneficial in many ways. While your initial inclination might be to go as deep as possible to allow for more storage, my experience says that many items just get lost in the back.
We like the shallow depth of this wall for our pantry storage, too – check it out!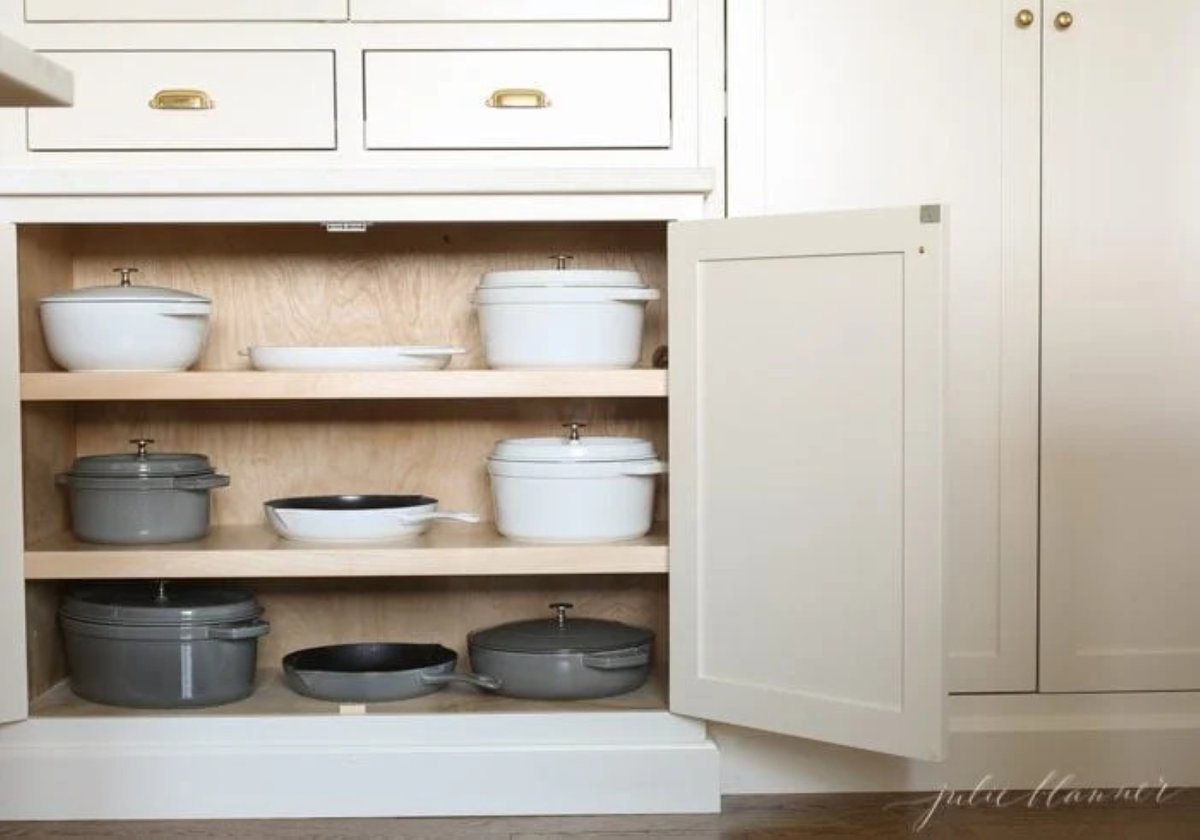 Sources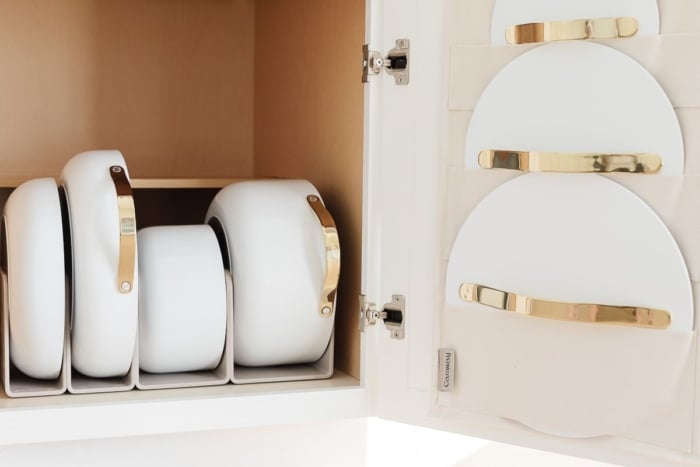 This ceramic coated cookware set comes with three pans + a Dutch oven, and storage for the pans and lids. You can also find them here.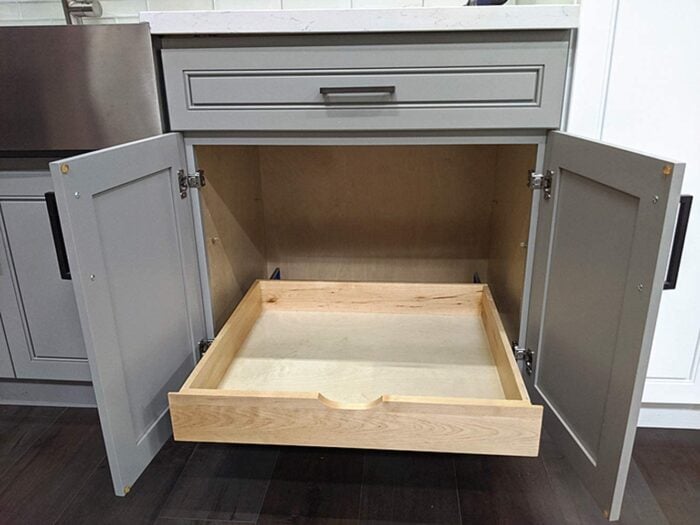 These are sturdy and beautiful, too!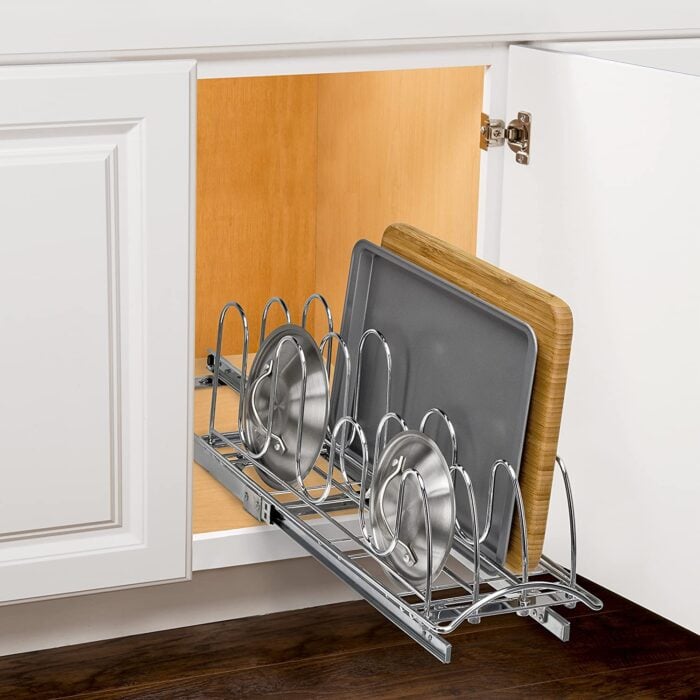 Slide Out Drawer Inserts
This brand features a wide variety of sizes and concepts to easily customize your kitchen, without the high end cost.
Let's keep in touch! Receive exclusive content, including never-seen-before photos, our favorite home decor DIYs and more!
More Kitchen Organization