Make the most of an open staircase with these under stairs ideas for a kids reading nook that doubles as an extra bed when needed!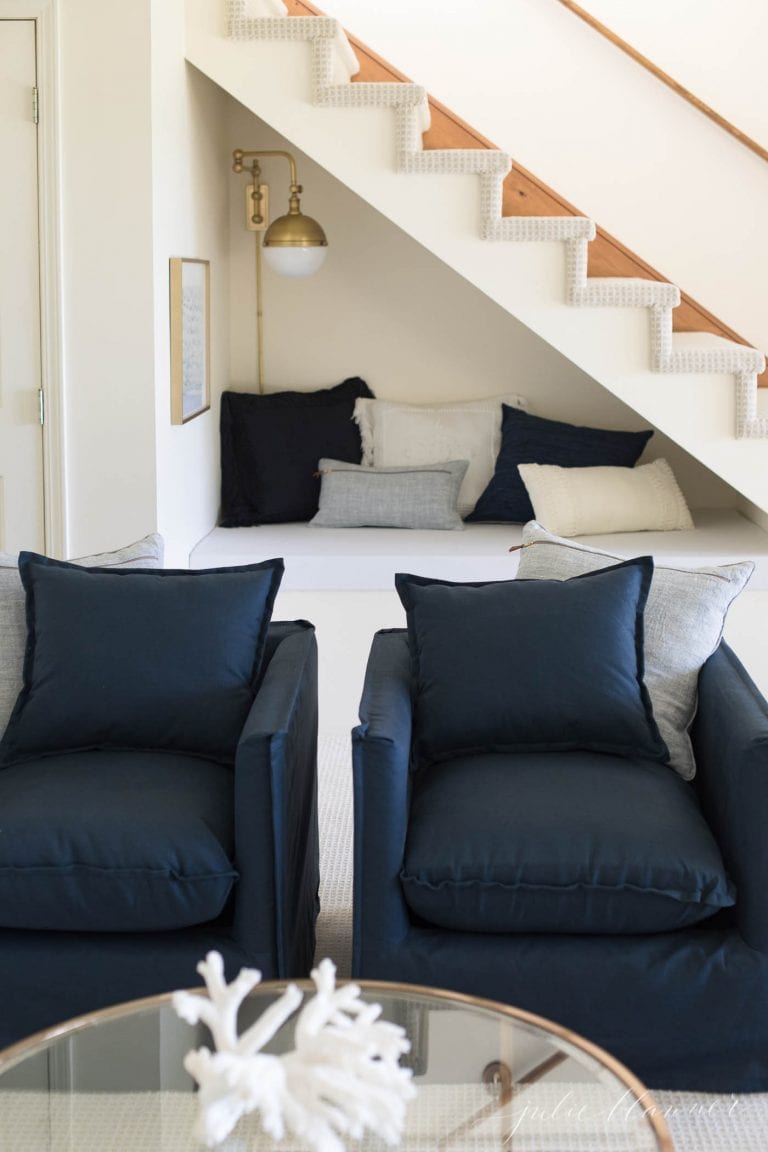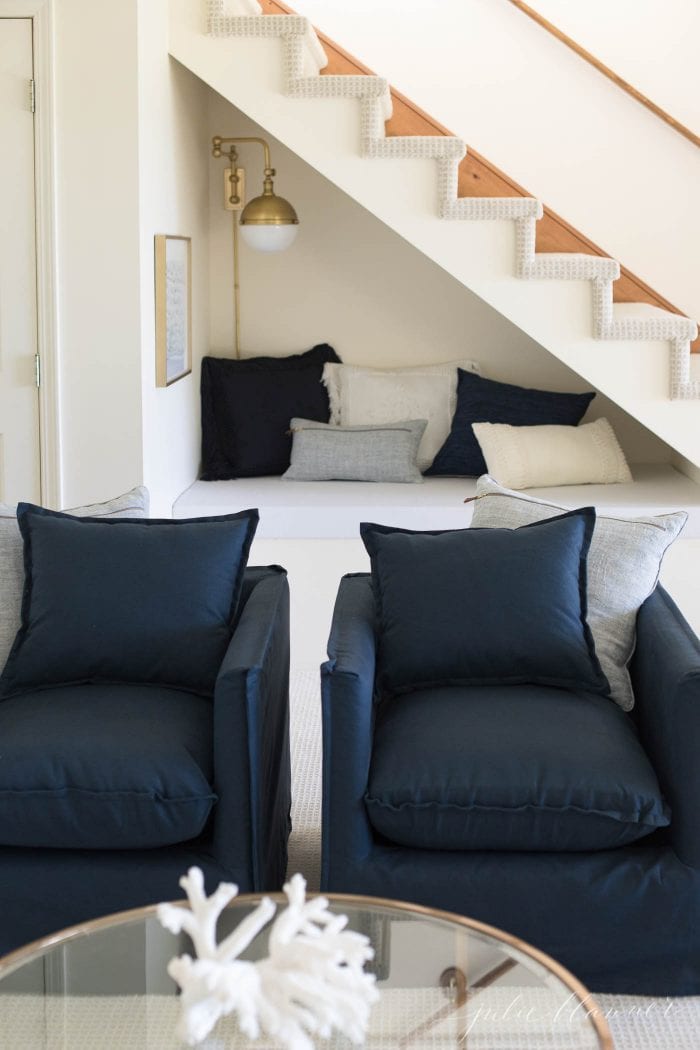 From the moment we conceptualized this idea, I have been incredibly excited to create and share this kids reading nook with you!
From the moment we told the girls, they have been dreaming of squeezing into the space for a little "sleepover". Finally, both came together last fall!
I love sharing decorating ideas with you, and I've shared many ideas for children's rooms over the years! Don't miss these five favorite children's bedroom decorating ideas, as well as these kids bedroom ideas!
Open Staircase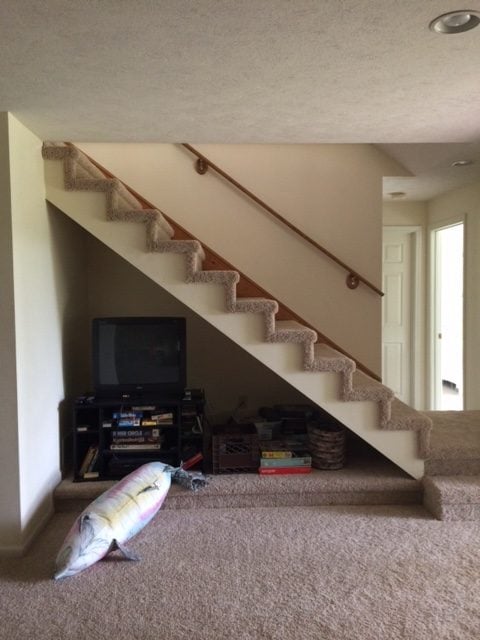 As you know, I love to start with a before photo for context. When we purchased the lake cottage we were uncomfortable with the open staircase having young children. After a couple estimates and a lot of thought, we decided to embrace it and make the most of it!
Under Stairs Ideas
Some of the under stairs ideas we considered were building a bookcase that would block the open staircase, creating a storage closet that would cover the floor to ceiling, using nautical rope and cleats to create a unique stair railing and a standard railing.
Logistics were challenging to make a railing work with the existing design and we found that the kids loved playing under the stairs!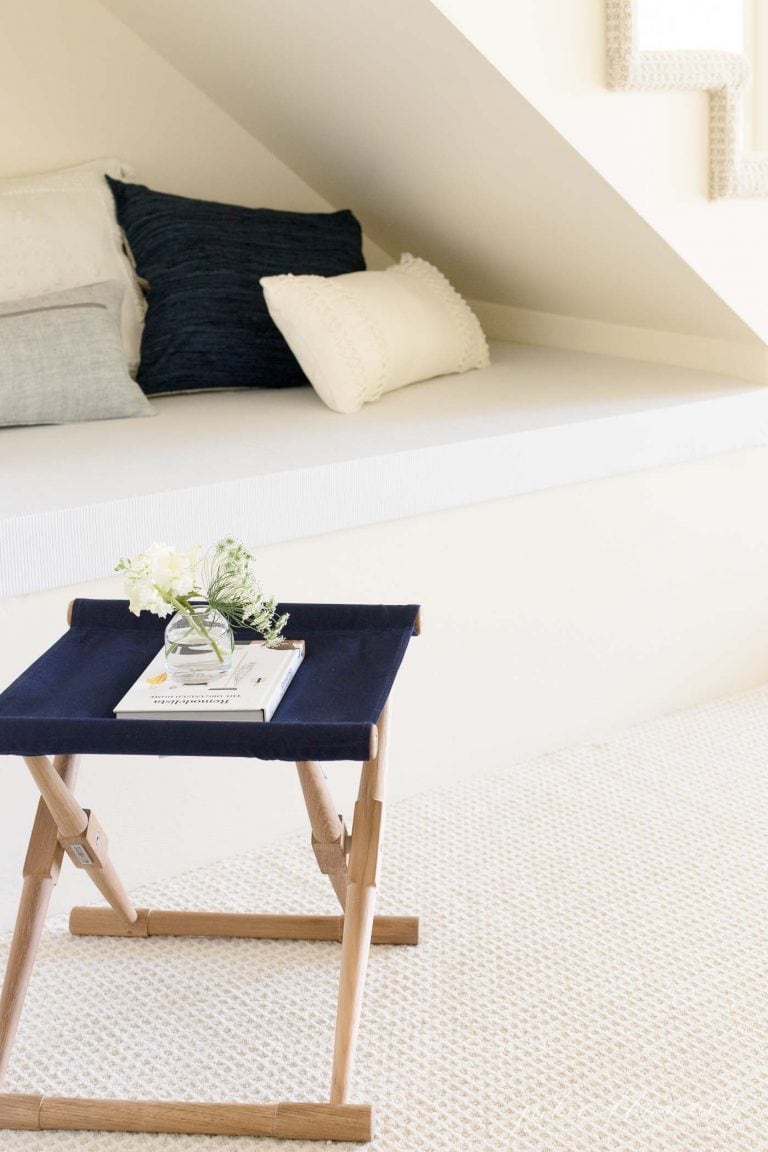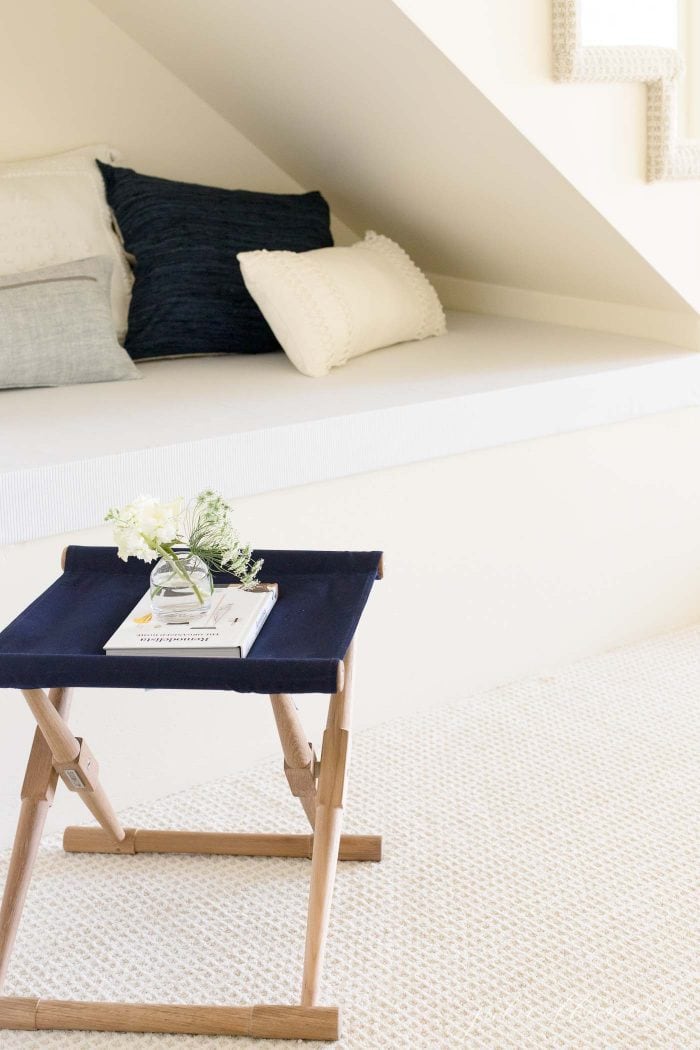 Kids Reading Nook
Ultimately, we decided to create a reading nook under the stairs for the girls to play and read. Even better, the nook could double as an extra bed when needed! In fact, it is just a couple inches shorter than a twin bed and wider, offering a lot of comfort in a little space. It's a versatile space that allows us to accommodate additional guests.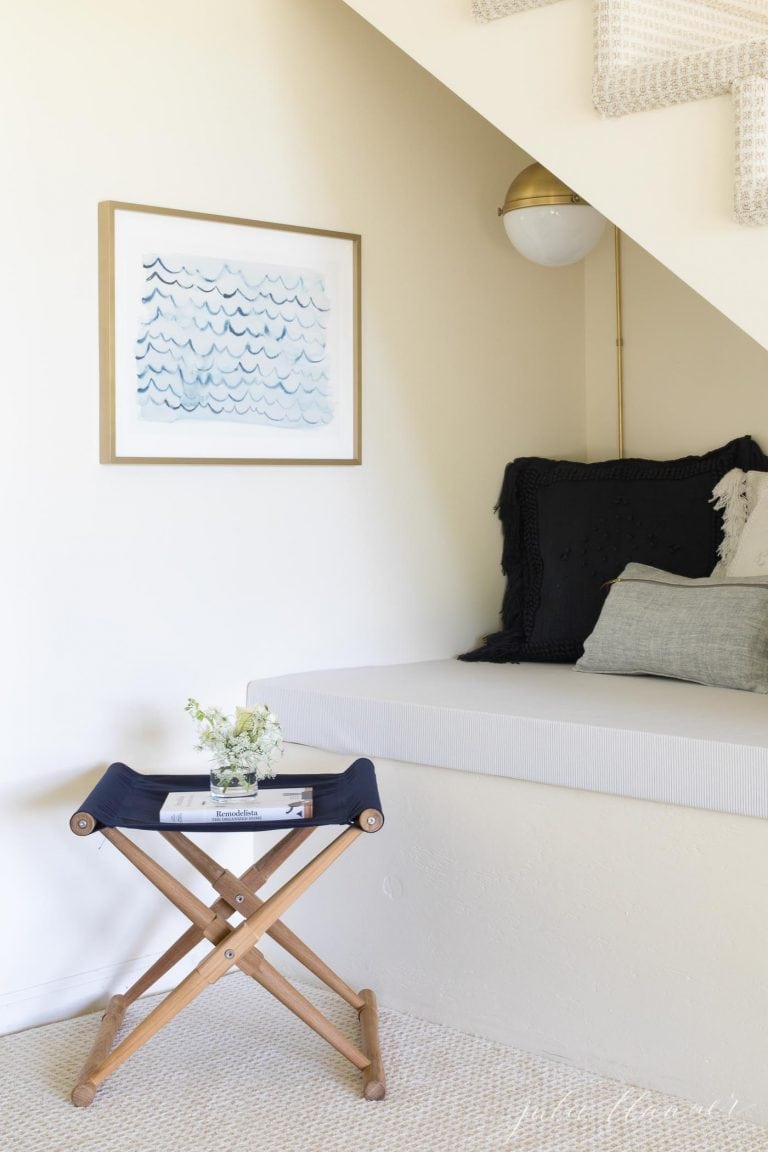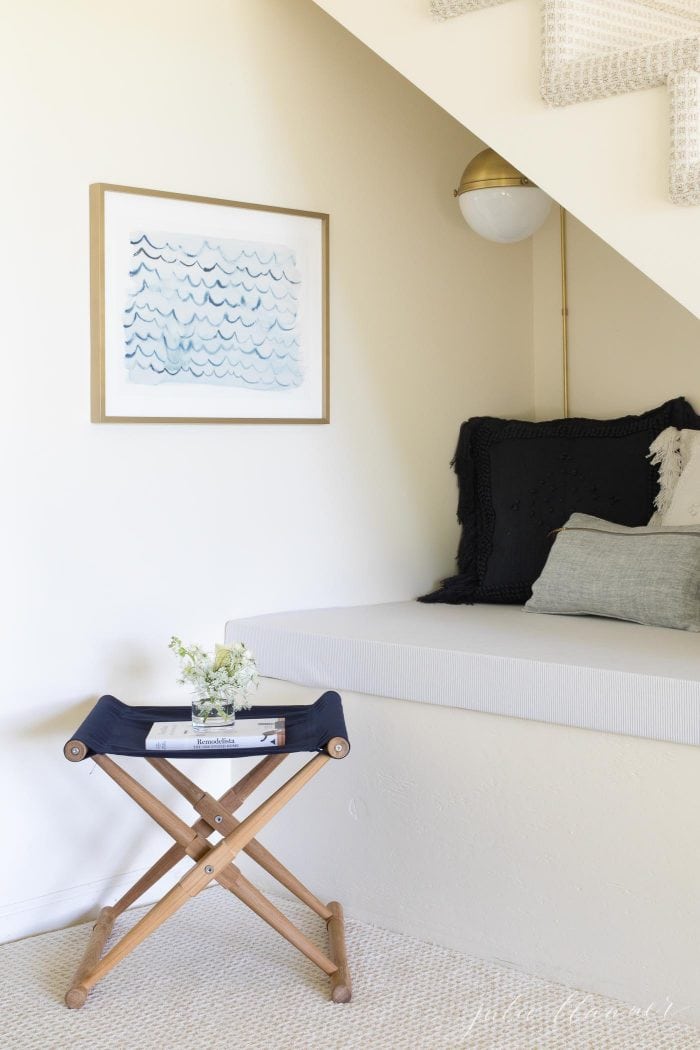 Chris ventured down to the lake for a day to build kids reading nook, meanwhile, I did what I do best – shopped! I designed the space around a pretty piece of art I found that works seamlessly with our Modern Living Room. You can learn How to Choose Framed Art here.
I ordered a custom cut mattress, intended for sleep knowing that no matter how the space is used, it would provide maximum comfort. You can have a custom mattress made inexpensively to your specs online that are intended for RV and boat use. Sadly, it arrived with 2 out of 3 wrong dimensions. I ordered 6″ thick to fit the space Chris built so that it would feel more significant and the width is 1″ wider than measurements I provided.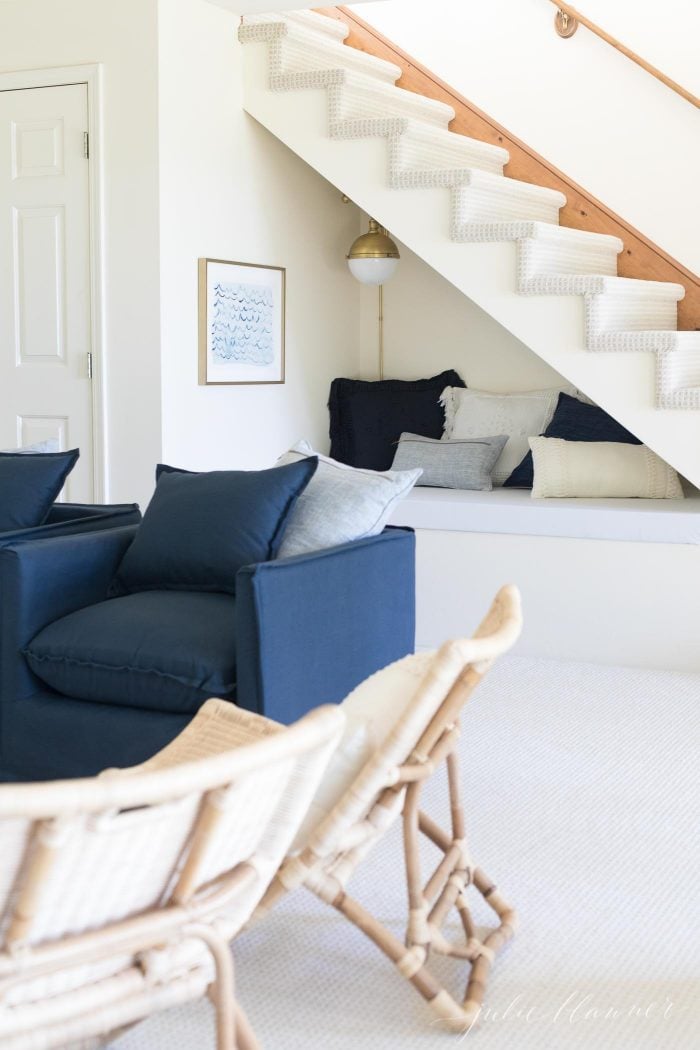 A new mattress is on it's way from the more reputable company I linked to above, but I couldn't wait to share! Eventually I will have a custom cover made, but until then, I used these oh so soft and inexpensive patterned sheets. In fact, I love them so much I might have the cover made from them.
Throw pillows add extra comfort to this cozy little nook and make the kids reading nook feel complete. (You can shop them all below.)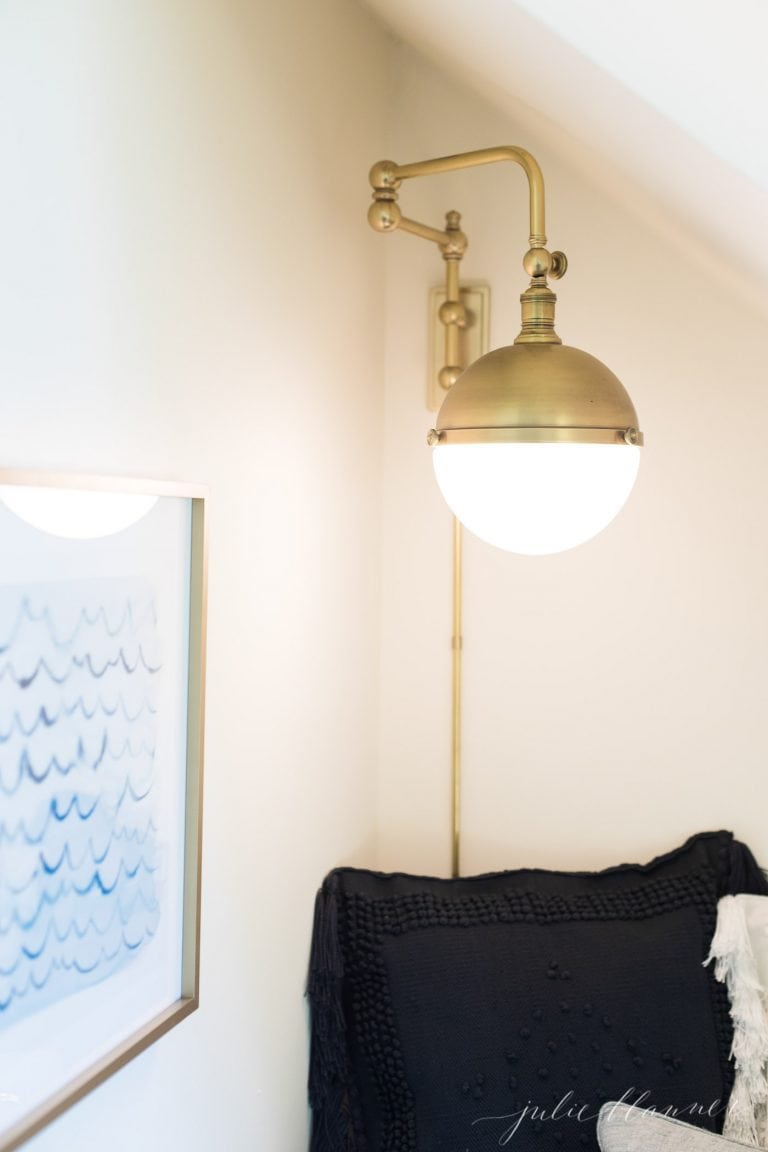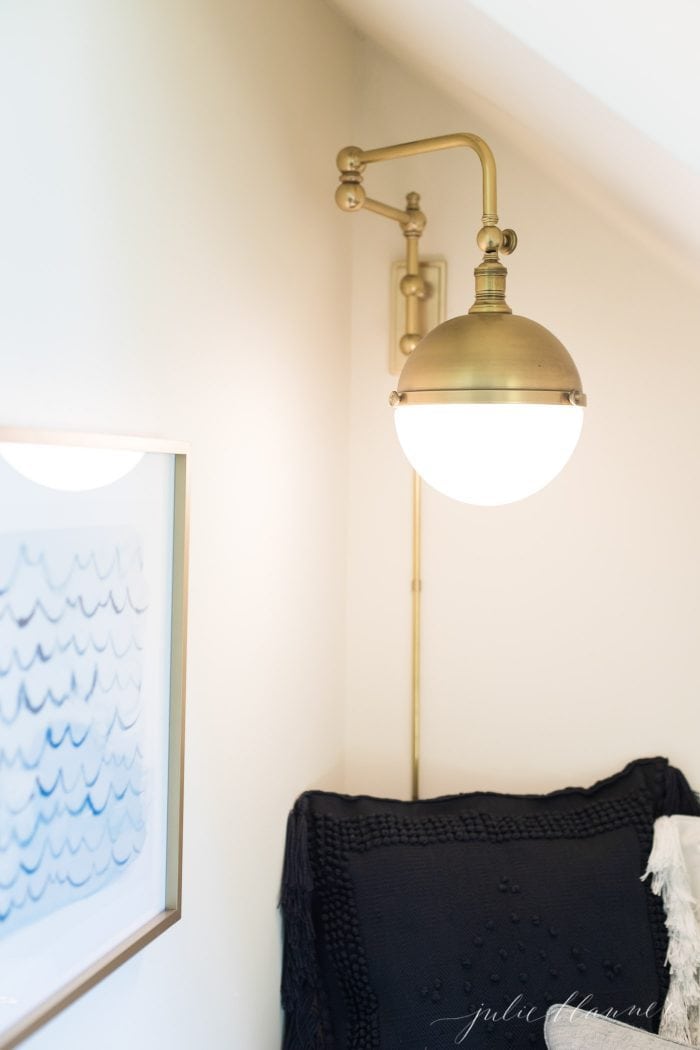 Finally, a beautiful brass plug-in sconce completed the space. Adding task lighting not only adds function, ambiance and gives it character, but it also defines the reading nook under the stairs. This makes it feel like an additional space or room!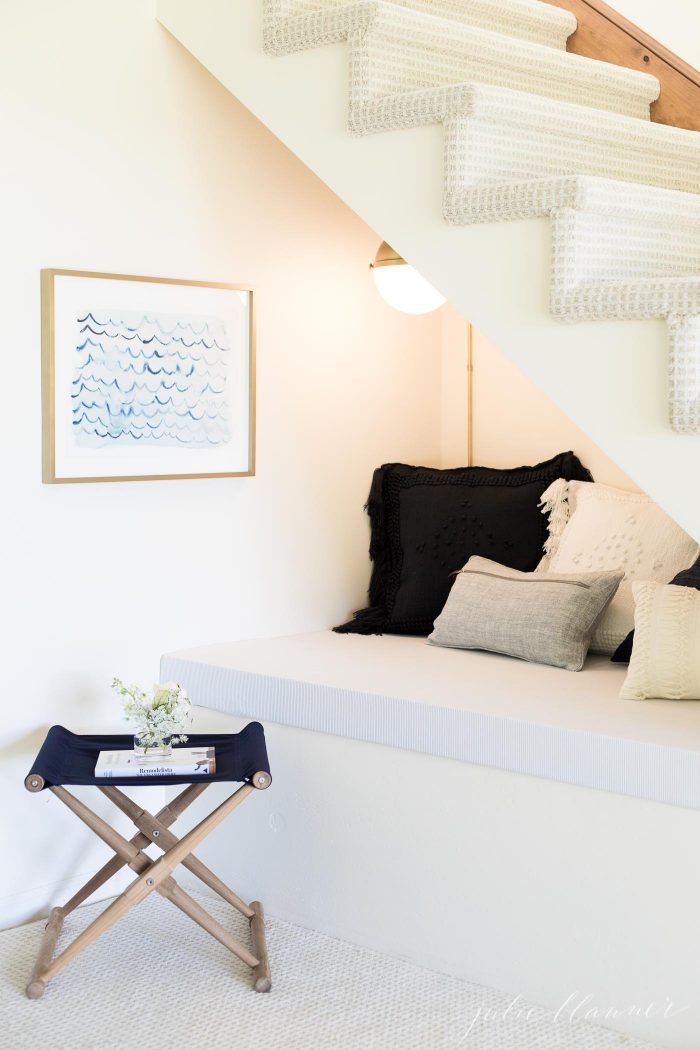 I chose a plug in wall sconce for the nautical nod and my love of brass. The convenient plugin means no electrical work necessary and it's easy to hang. For your convenience, you can shop everything you see in this post below!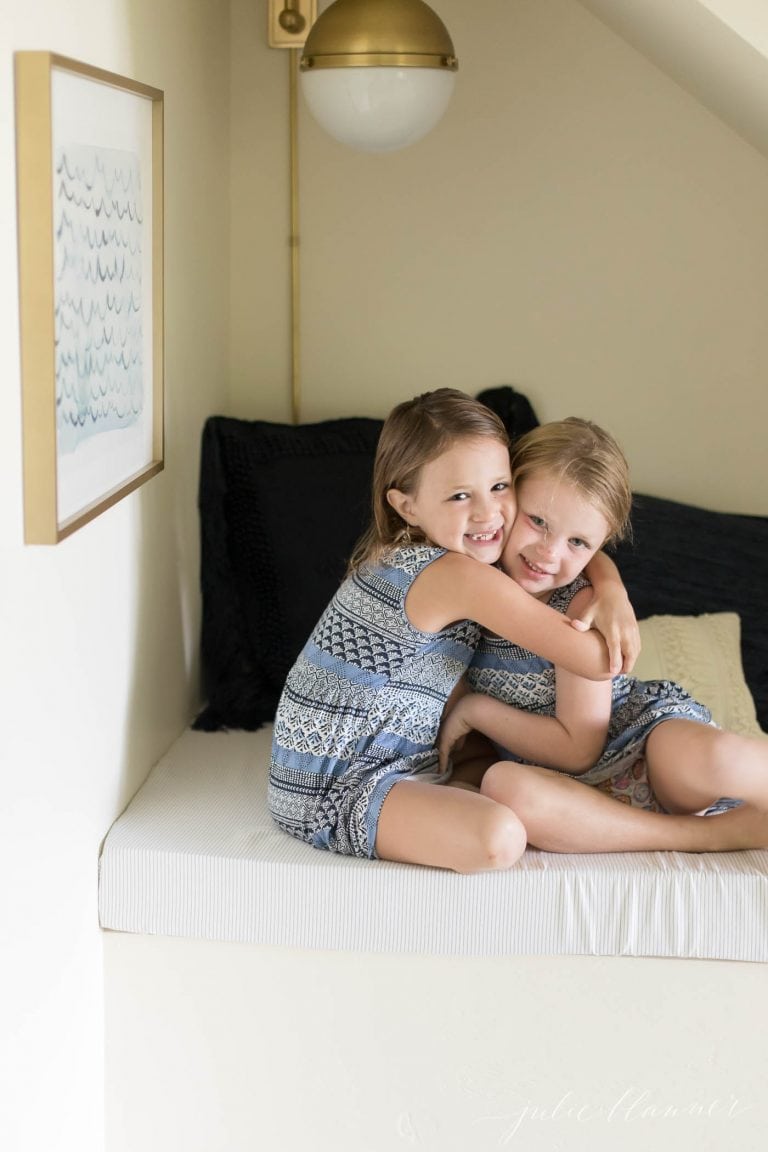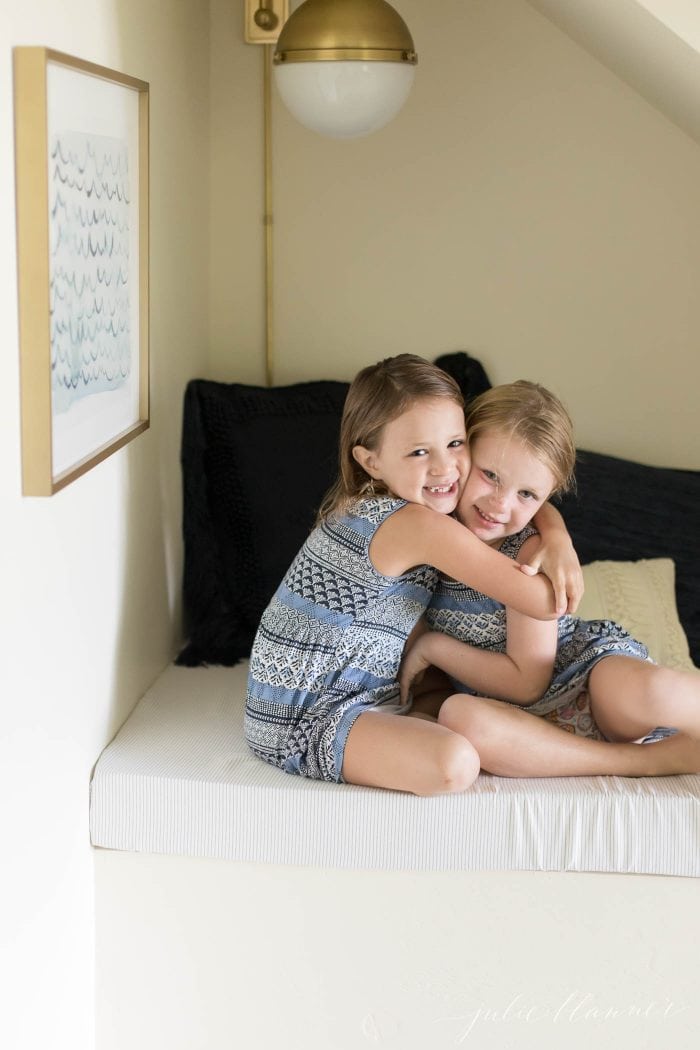 Soon I'll be sharing a detailed step-by-step tutorial to construct your own kids reading nook in an open staircase. Do you have any unique under stairs ideas?
Want to know more about how we got here? Check it out on my post about No Space Left Behind!