If you're searching through the long lists of white colors available from paint brands, you're not alone! Learn why Benjamin Moore Decorator's White might be the answer you've been seeking.
Decorator's White is a bright white paint color that has just the slightest touch of a gray background. It's a pretty white color that is excellent for trim, baseboards, doors and cabinets.
Read on to learn why BM Decorator's White might be a great fit for your home. I'm sharing all the details in this complete color review!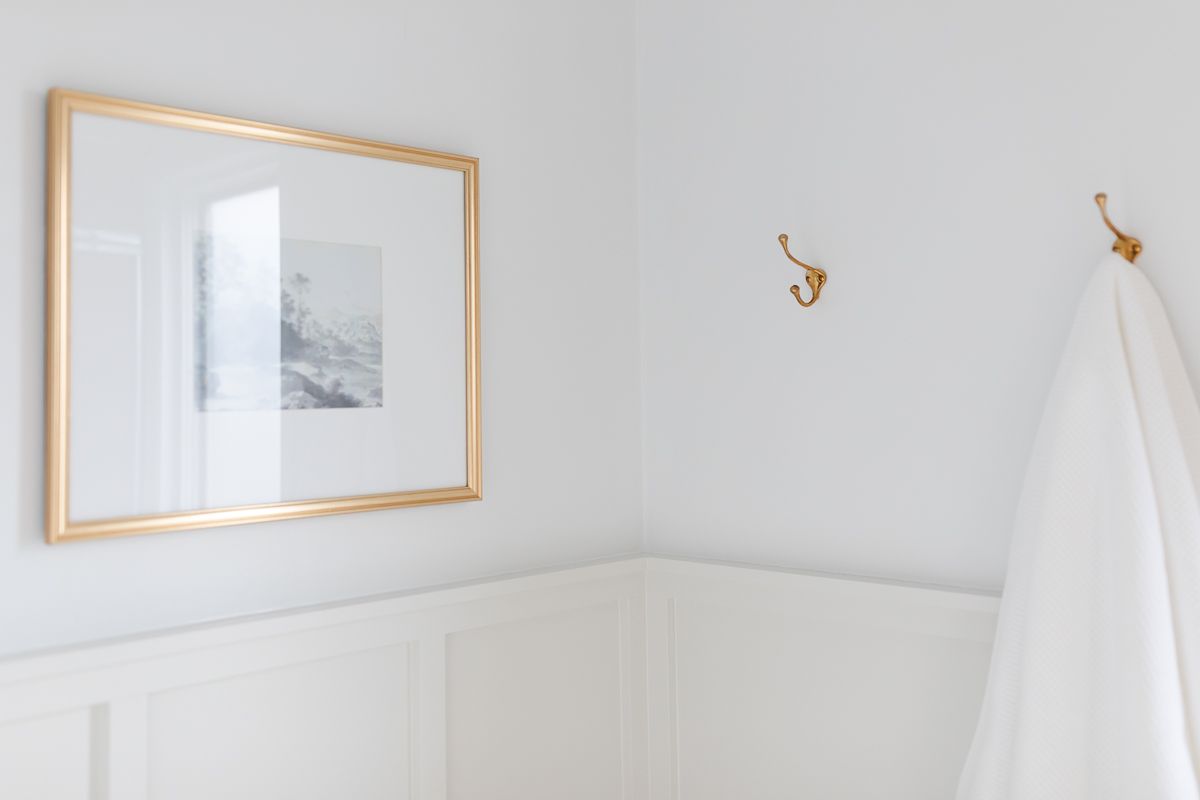 Choosing paint colors is difficult – even for people who have made a career out of analyzing them (ME). After years of sampling paint colors in every room of our homes, we still make lots of mistakes. I'm learning something new every day!
That's why I've created these paint color guides to make your decisions easier. Studying a few of your favorite paint colors is the best way to make a decision you'll love for a long time to come.
Benjamin Moore Decorator's White feels like a true, bright white. However, it has some depth and interest that makes it more unique than a clear white. With a barely-there soft gray undertone, it's great for a variety of places in your home, but lighting situations do matter.
That's why I'll show it to you in a variety of beautiful spaces throughout this post, including the primary bathroom we're updating. It's so helpful to see a color in real homes!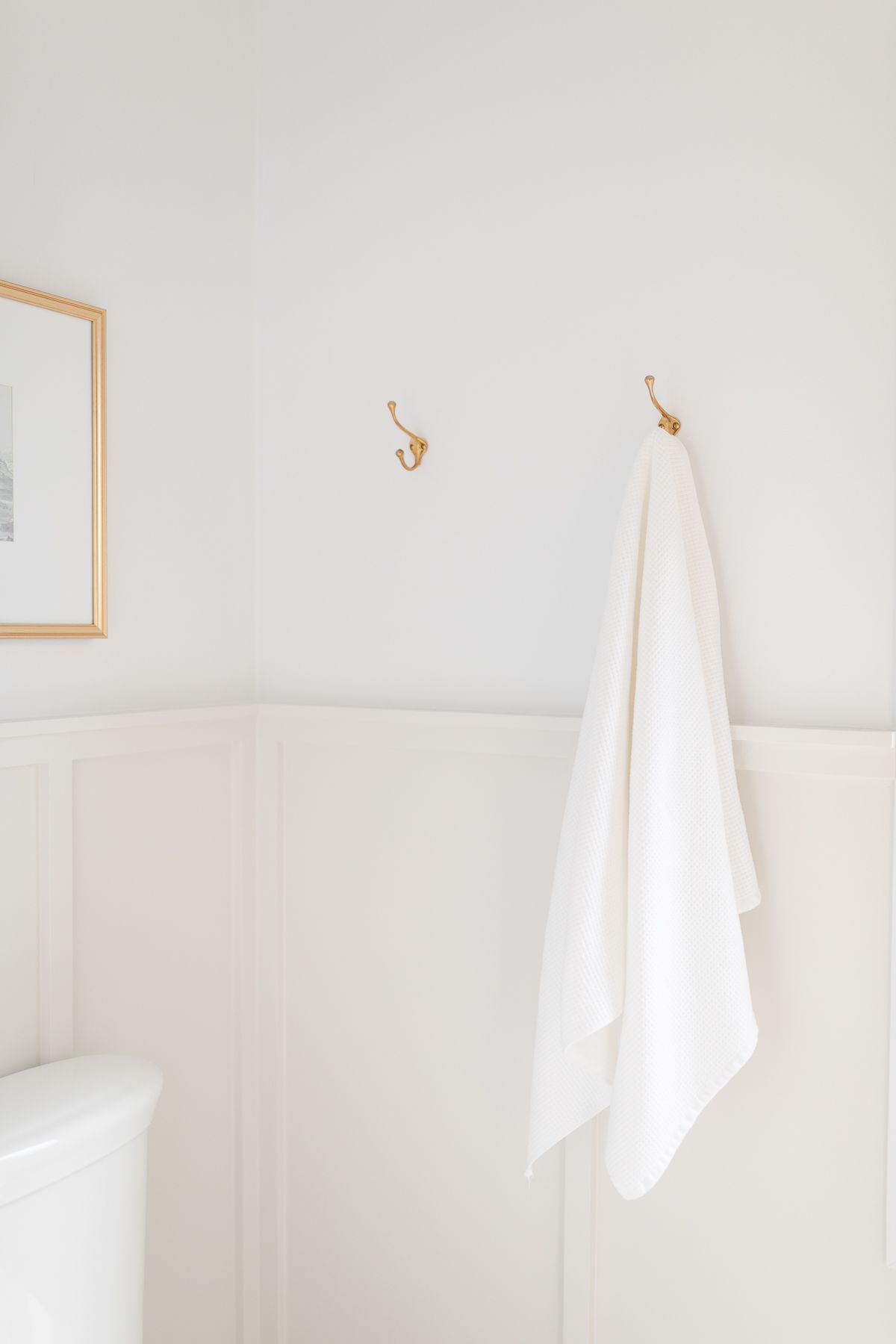 Benjamin Moore Decorator's White
I hope this guide inspires you to take the leap with a fresh new color in your home. Use the drop down Table of Contents menu to navigate this post with ease and find everything you need to know!
If your room faces north, Decorator's White might show more cool undertones. But in warmer light (southern or western facing) it will often read as more of an authentic white, even a little warmer.
It's beautiful with the gray tones of marble countertops, making it an excellent option for kitchen installations.
Decorator's White Overview
Installations
Cabinetry
Trim
Walls
Exterior (Body or Trim)
Ceilings
Furniture
Feels
Undertones
BM Decorator's White is a cool white color.
Light Reflective Value (LRV)
Decorator's White has an LRV (Light Reflectance Value) of 84.6. Click through to learn more about LRV, which is an important factor in choosing your paint colors!
This system is a scale used by design professionals. Basically, 0 = the darkest black and 100 is a true white paint color. The higher the number, the more light that paint color reflects. So the more "white" a paint color is, the higher the number.
For comparison purposes, Benjamin Moore Chantilly Lace (one of my favorite white colors, and also on the cool side of the spectrum) has an LRV of 92. That means Decorator's White isn't quite as "white" as you might initially think!
Recommended Sheens
Learn all about Paint Sheens here. The best sheens for BM Decorator's White will be dependent on where you're using it, of course!
For walls, use an Eggshell Paint. You can use this color for Trim Paint, too, which also requires a specific paint. For ceilings, use a Flat Paint which tends to hide imperfections.
Styles
Modern
Contemporary
Transitional
Coastal
Print this complimentary paint color chart to keep our paint colors organized for quick touch-ups!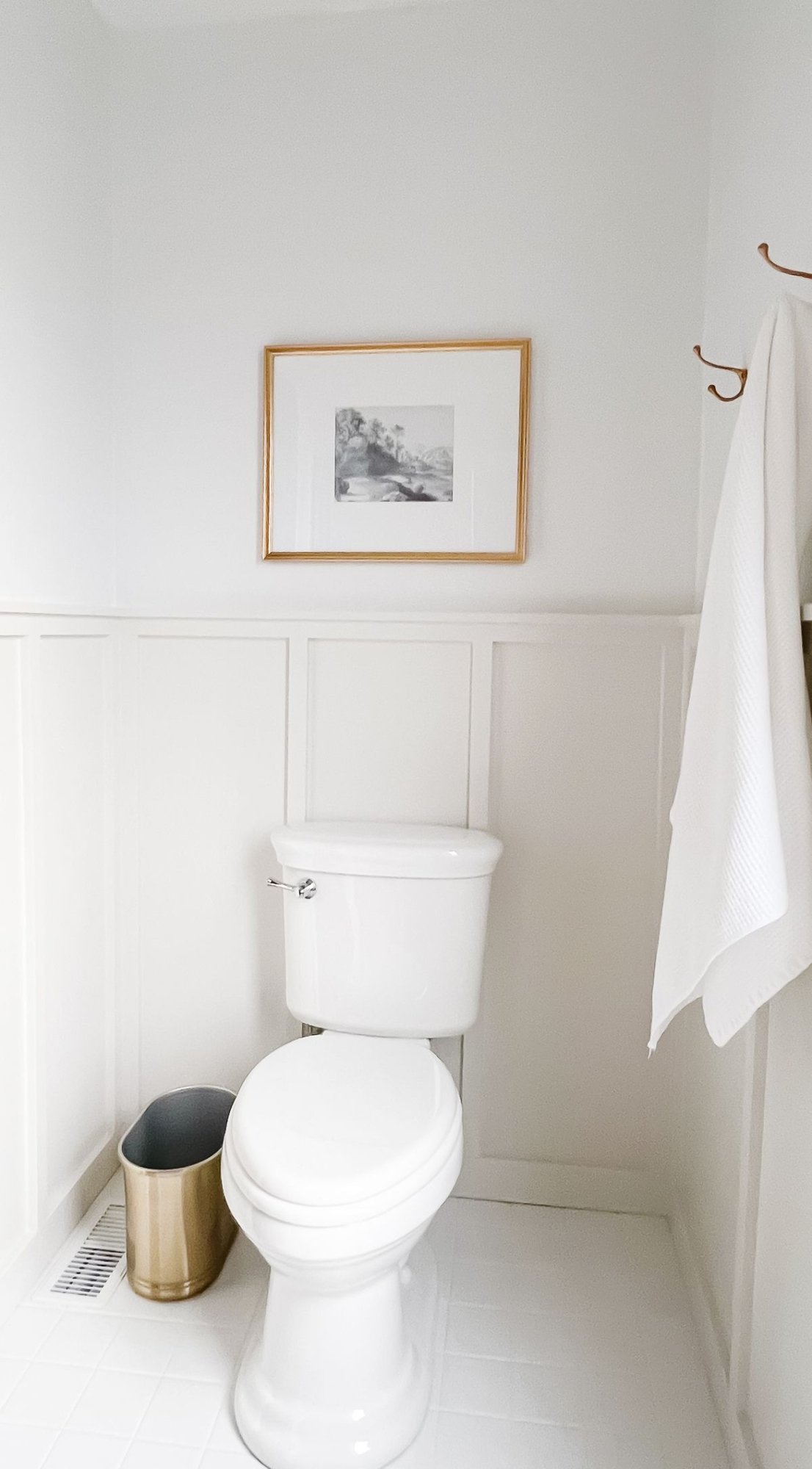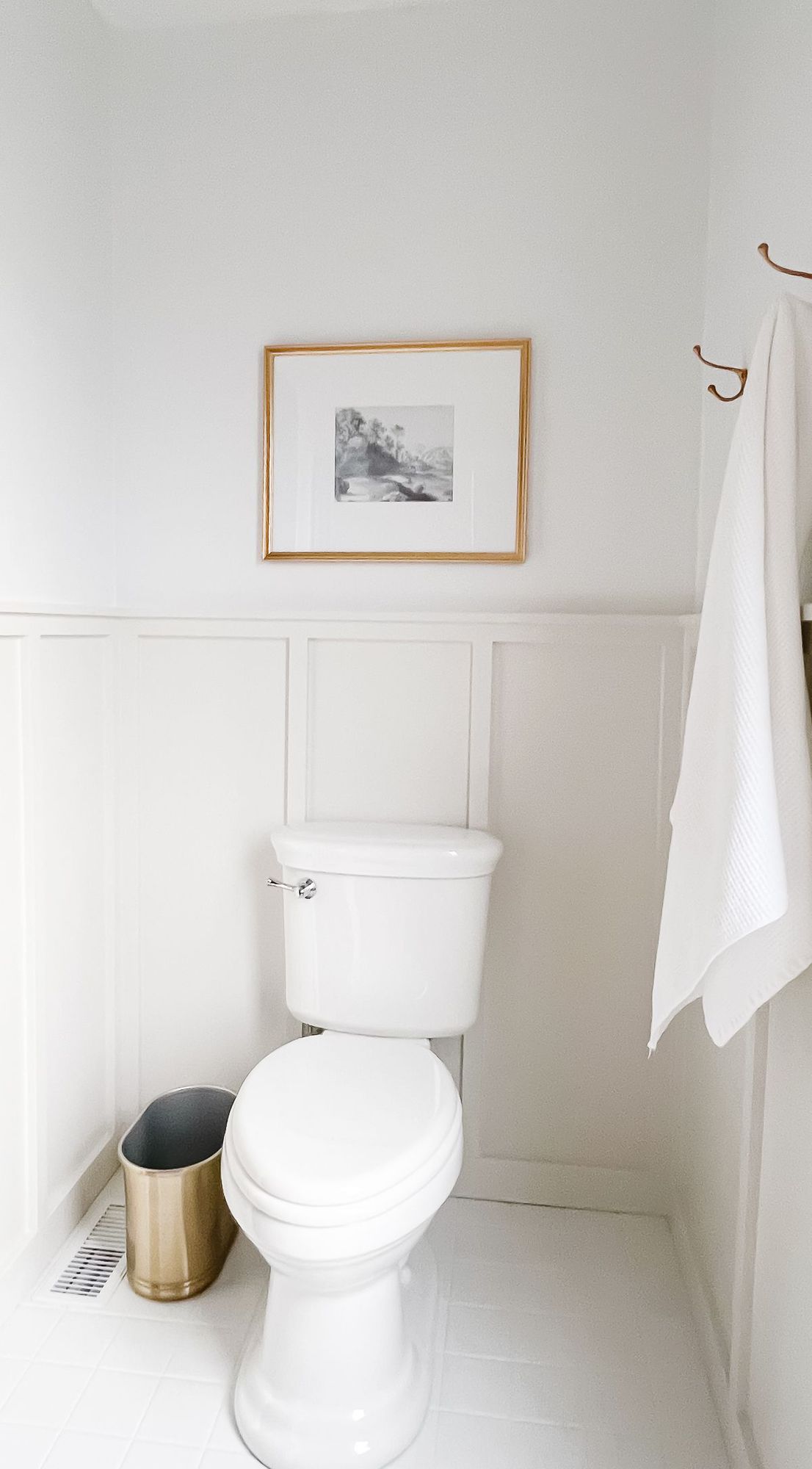 Colors to Pair Decorator's White With
Since this is a slightly cool white, it pairs beautifully with all your favorite cooler grays, greens, and blues.
Trim Paint to Pair With OC -149
Avoid pairing any creamy whites with yellow undertones next to Decorator's White. They will compete and make this one look more dirty or gray. Pair it with a true bright white or cooler whites.
Benjamin Moore Super White OC-152
How does a monochromatic paint scheme like that work? Well, you paint the walls in eggshell, and use semi-gloss for the trim in the same color. It looks and feels rich and cohesive, and you'd won't have the struggles of matching walls and trim!
Ceiling Paint to Pair With OC -149
A traditional white ceiling paint right off the shelf
Match ceiling paint to BM Decorator's White to avoid clashing with your ceiling.
Tips
Sample – I recommend starting with removable paint samples and then testing your favorites prior to committing.
Test near your finishes like flooring and cabinetry.
Look at paint color during the morning, afternoon and evening light.
Check the quality and consistency of your light bulbs to ensure your lighting is showcasing the color correctly.
Frequently Asked Questions
Is Decorator's White too white?
No, it's not! In fact, this color has a very moderate LRV on the white paint scale, there are many colors that are technically brighter whites.
Is Decorator's White a good color for walls?
Yes! Especially if you're looking for a calm, cool white, this one is an excellent choice. Because it has no yellow undertones, it works beautifully if you have a variety of gray colors in your home, too.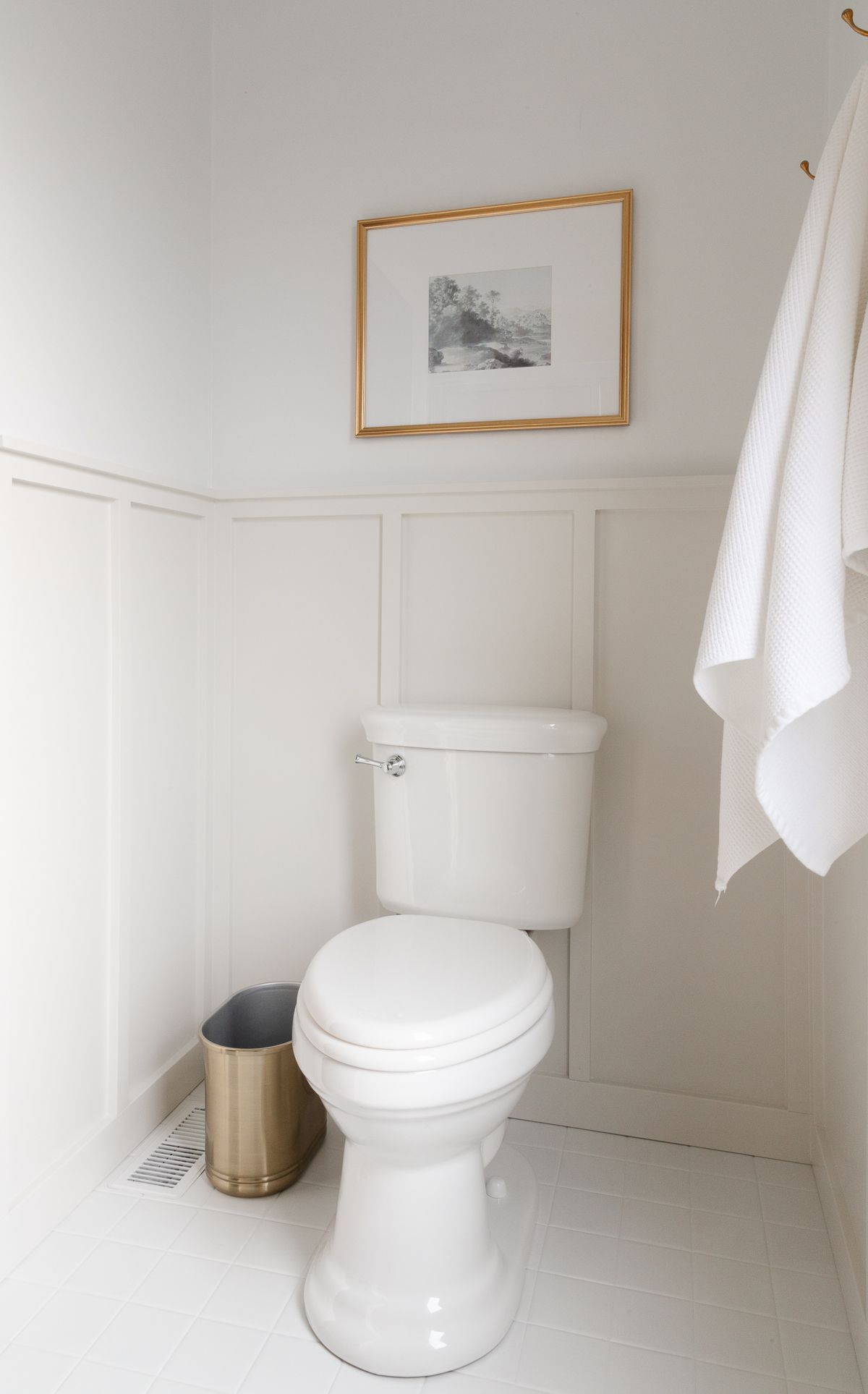 Color Comparisons
Decorator's White vs Sherwin Williams Snowbound
Snowbound has a similar LRV, coming in at 83 compared to Decorator White's 84. It's also got a similarly cool, gray undertone, so this one would be a great paint sample comparison as they are quite similar!
Decorator's White vs White Dove
White Dove has an LRV of 85, coming in very closely to Decorator's White. However, the undertones of white dove are a little warmer and more greige.
Chantilly Lace has a significantly higher LRV, at 92, but it's a very similar cool white background. They pair well together for trim and walls, for that reason!
Sherwin Williams Equivalent
The closest color from Sherwin Williams would be Snowbound. Check them both out to cover all your bases!