When it's time to choose a paint finish, don't overlook flat paint as a beautiful option for your home! It won't be as durable to frequent cleanings as the higher gloss sheens, but it has several pros that may make it the perfect choice for your space.
Flat paint, sometimes called matte, creates a truly warm, cozy feel inside a space. It offers an almost velvety matte finish that looks so lovely. This no-fuss choice creates a cozy first layer, then lets other elements in the room be the stars of the show.
Most often used for ceilings, flat paint is having a moment in design and can be beautiful in other areas of your home, too. Let's learn more about it!
For an overview of the six most common finishes, check out my post all about Paint Sheens. Or for a more detailed review of one of the most popular paint sheens, don't forget to read all about Eggshell Paint. It's just a notch above flat paint on the sheen spectrum!
Keep reading to find out if flat paint is the right choice for your space!
What Is Flat Paint?
There is a spectrum of paint sheens, from flat to glossy. "Sheen" or "finish" means how much light reflects off a paint's surface. On the spectrum, flat paint has the lowest sheen, or amount of shine. The most common finishes are flat, flat enamel, eggshell, satin, semi-gloss, and gloss.
Flat and flat enamel sound like the same thing, but they are actually slightly different. They are both considered a "no luster" or "no shine" finish. However, flat enamel has been formulated to dry with a very thin film over its surface, making it a touch more durable than plain flat paint.
In general, the higher the sheen, the more durable and cleanable a paint becomes. The lower the sheen, the more porous a paint is and the less it is able to resist stains or hold up to frequent cleanings.
The cheapest flat paint options will have an almost chalky feeling when dried. To avoid this, choose a high-quality flat paint. Yes, it will cost a little more, but it will also be formulated to avoid that chalky finish. Note that flat enamel does not have that same feeling because that protective film covers it.
Higher sheen paint finishes – even eggshell that is just above flat on the spectrum – will reflect light and bounce it around a room. One of flat paint's greatest pros is that it absorbs light instead of reflecting it.
This makes it fantastic for smoothing out imperfect walls, since it can hide dings, nicks, and scratches on walls. It is also great at hiding heavy texture for the same reason. A flat finish will smooth over walls and camouflage those little inconsistencies.
Higher sheen paints, on the other hand, reflect light off of every blemish. In other words, they amplify flaws and texture.
Where to Use Flat Paint
Flat paint has battled a reputation of not being durable or washable, so some people are afraid to use it in their homes. While it's true that higher sheens are more durable and easier to clean, flat paint has come a long way in recent years!
Modern advancements in the paint industry have made flat paint stronger than it used to be. It won't wipe off with just a light scrubbing. Plus there are advantages to using it. So don't be scared to try flat paint in your home!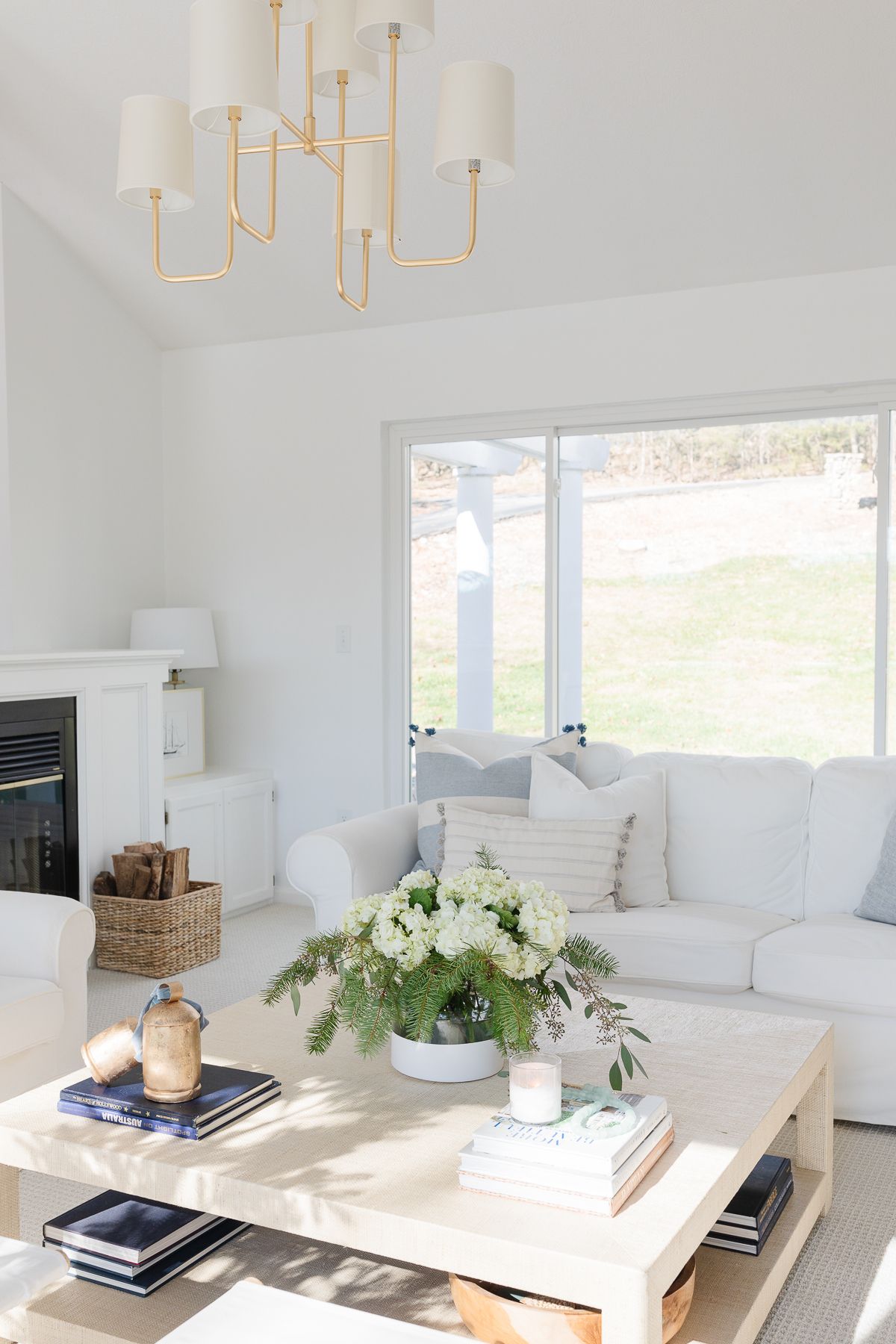 On Ceilings
Flat paint is perfect for ceilings! If you buy a can of ceiling paint, you're essentially buying a can of plain flat paint. Ceilings are often heavily textured, and it's not always in your favorite style.
Even if you don't love your ceilings, covering them or removing the texture may not be an option for you right now. Your best bet is to paint them with a high-quality flat enamel or flat paint. It will absorb the light and keep it from highlighting that texture you don't love. Yes, it will even help soften popcorn texture on ceilings!
Ceilings usually don't get too dirty, so high durability and cleanability isn't as much of a concern as it is for walls.
On Walls
Flat paint can also be used on walls in low-traffic areas, such as formal living and dining rooms. It could also be a good choice for a home office space, depending on how much wear and tear it gets. You may even get away with using it in infrequently used guest rooms.
It probably isn't your best choice, however, for kitchens or kids' bedrooms. With all of the cooking splatters that happen, satin or even semi-gloss is better suited to kitchens.
Kids are more likely to touch bedroom walls, leaving fingerprints to clean up behind them. Young children may even create a crayon work of art on their walls! Choose a good eggshell or satin finish for bedrooms – not too glossy but still easier to clean than flat.
On Furniture
Flat paint is perfect for painting furniture if you're wanting a rustic, farmhouse, or cottage look. Modern styles call for more gloss and shine, but the rustic look is all about beautiful matte finishes.
This is the best classic white paint color for furniture. And don't forget to check out my tips on how to paint furniture without sanding. Such a timesaver!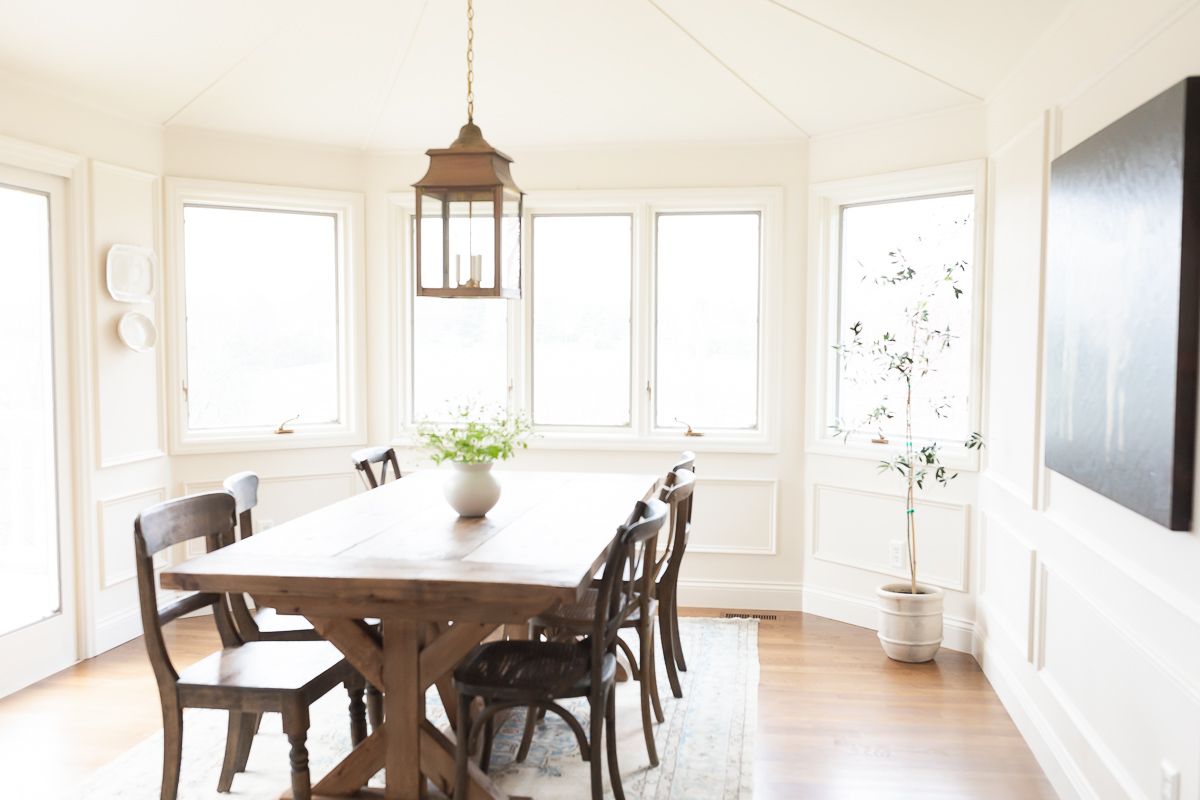 NOT for Bathrooms
Flat paint does not resist moisture, mold, or mildew, so it's not the right choice for bathrooms. Flat walls may begin to mold or mildew in high moisture areas. You could end up with a mess to clean up or even an entire bathroom in need of renovation.
The exception may be an infrequently used powder bathroom without a bathtub or shower. If the bathroom doesn't get a lot of use, and there won't be excess steam and moisture to contend with, then flat paint may be all right. To be safe though, use an eggshell or satin finish!
See how we redid our girls' bathroom into a lovely Spa Bath here, with some paint and new shower and floor tile.
Flat Paint Touch Ups
Touching up with flat paint couldn't be easier! It is hands down the best paint finish for doing touch ups down the road.
Flat paint doesn't withstand a lot of scrubbing, so sometimes it's best to just touch up paint or repaint sections that start to look a little worn or dingy. Simply clean lightly for good adhesion, then paint over the top.
Higher sheen paints are different. Even eggshell and satin paints, both in the low-luster category, still reflect enough light to show off any areas you touch up after the fact. They will show off brush or roller marks, so for the best results you have to repaint an entire wall corner to corner.
The good news is, since it doesn't reflect light, flat paint also doesn't showcase brush or roller marks. This makes painting over a small section a breeze – no one will ever know!
Tips and Tricks
Keep extra paint on hand. It's always a good idea to have a little bit of flat paint left over, for when you need to do a quick touch up.
Go lighter. Since flat finishes absorb light, your color could end up looking just a little darker once it is on the wall. Try choosing one shade lighter on the color card. Or for a truer color match, ask the paint store to lighten your original color by up to 25%.
Use different sheens throughout your home. Don't feel limited to choosing just one paint finish for your entire home. You may want to use semi-gloss on trim, satin in the kitchen and kids' bedrooms, eggshell in your own bedroom, and flat in your home office. And that's okay! Choose the best sheen for each space.
Have fun with sheen! Who says you have to stick with just one sheen in a space? Think outside the box and try stripes or a pattern using two different sheens in the same color. For example, use flat and satin for just a subtle difference.
Frequently Asked Questions
Is flat paint washable?
Inexpensive flat paint does not hold up well to scrubbing. It can wear off or show light abrasions. Choosing a high-quality flat finish, however, will give you a touch more durability for cleaning.
To clean flat paint surfaces, lightly dab or rub with a soft cloth and warm water. If stains persist, add a small amount of vinegar to the water and repeat process. Finally, you can use a cleaning eraser for stubborn spots. Avoid using abrasive or harsh chemical cleaners.
Is it okay to paint a bathroom with flat paint?
Flat paint is not well suited to bathrooms or other high-moisture areas. It doesn't resist moisture, mold, or mildew well, so you're likely to end up with problems down the road.
Instead, choose a high-quality eggshell or satin. You can even use semi-gloss if you want a shiny look.